Hanoi, the capital of Vietnam, is a bustling city with historical and cultural significance. Centrally located in Northern Vietnam and with the only international airport in the region, Hanoi is one of Vietnam's most visited destinations.
I spent two days in Hanoi during my 12-day trip to Vietnam and here, I share practical tips on visiting it. This post covers:
💡 Practical Hanoi tips
⭐️ Top attractions to visit and skip
📍 Map with key places pinned
💰 An expense breakdown
Planning a trip to Vietnam? This Vietnam guide covers things to know before getting there, including how to get around, common scams, cultural differences and more.
Disclosure: This post may contain affiliate links. If you make a purchase through them, I may earn a small commission, at no extra cost to you. Thanks for your support!
Trip Planning Information for Hanoi
Here's some general information on Hanoi to help you plan your trip:
🇻🇳 Known for: Hanoi is known as a busy city in Northern Vietnam with historical and cultural significance (e.g., it's the home of the preserved body of the revolutionary Ho Chi Minh).
🏍️ Vibe: Hanoi's vibe can seem chaotic to visitors, with motorbikes honking and zooming along the streets. It's a city with lots of open businesses in a vibrant community.
📍 Location: Centrally located in Northern Vietnam and with the only international airport in the region, Hanoi is the ideal entry point to other popular areas (e.g., Ninh Bình is two hours south, Ha Giang City is six hours north, Ha Long Bay is three hours east).
☀️ Best time to visit: The most popular time to visit Hanoi is from October to April when humidity is low and the weather is not too warm. June to October is considered the rainy season.
⏳ How long to visit: Two to four days is the recommended time to spend in Hanoi. I stayed for two full days which gave me enough time to see some of the popular sites.
This Vietnam travel guide has other general travel information relevant to Hanoi.
4 Essential Tips for Visiting Hanoi
Here are four practical tips when traveling to Hanoi:
Tip #1: Bring toilet paper for bathrooms. Many bathrooms in Hanoi don't have toilet paper and a lot of them are squat toilets. They also won't have paper towels to dry your hands.
Tip #2: Learn to cross the streets with confidence. Vehicles, especially in Hanoi, don't stop for pedestrians. Step into the street while keeping an eye on traffic and walk straight in a predictable path with a consistent pace so that vehicles can go around you.
Hanoi also has tuk-tuks and other negotiation-based methods of transportation. Grab generally has competitive pricing; a pro tip is to use Grab as a baseline for negotiations when tuk-tuks and other transportations are more convenient.
Getting Around Hanoi
Hanoi is home to the only international airport in Northern Vietnam, Noi Bai International Airport. Once you're at Hanoi's airport, you can get into Hanoi by taxi, shuttle or bus. Welcome Pickups, a highly-rated airport transfer service, is also a great option for the same price as a regular taxi if you want to have an English-speaking driver ready for you when you land.
Once you are in Hanoi city, you can get around by:
👟 Walking. Hanoi's Old Quarter is very walkable in that you can get to most attractions on foot. Walking is how I primarily got around Hanoi and crossing the streets is an experience in itself.
Remember that crossing the streets in Hanoi is very hectic as cars do not stop for pedestrians; you must walk straight with confidence and let vehicles go around you.
🚙 Ridesharing/Taxi. In Hanoi, you can also flag down a taxi or use Grab. Grab (iOS, Android) is the Uber of Southeast Asia and it's usually more convenient and cheaper than riding a taxi. I used Grab several times while traveling around Hanoi and Hoi An.
🏍️ Motorbike rental. The streets of Vietnam are filled with motorbikes (95% of registered vehicles are motorbikes) and renting one is relatively easy. Keep in mind that the laws and regulations around motorbike rental are ambiguous or confusing.
🚗 Driver for hire. In many places in Vietnam, including Hanoi, you'll find willing drivers who are ready to drive you to places for cheap (e.g., $30 USD for several hours). How you hire these drivers can be very casual. For example, my Hoi An tailor connected me to a local driver to take me to several places in Da Nang for $28 USD.
🚌 Bus. If you want to take a day trip outside of Hanoi, know that Vietnam has an extensive and affordable bus system to get around the country. You'll likely be able to find a bus that takes you from your location to your desired destination. For example, I took a bus from Hanoi to Cát Bà Island that cost $28 USD round-trip.
Vietnam also has a lot of sleeper buses, a type of bus designed for riders to sleep in, which can double as accommodation for the night. I took a sleeper bus when I traveled from Hanoi to Ha Giang for a stunning three-day motorbike Ha Giang loop tour.
Hanoi Map With Recommended Places
This Vietnam map has the recommended places in Hanoi pinned.
5 Great Things To Do in Hanoi
I did many of the top attractions in Hanoi and here are the five attractions I recommend in rough priority order.
1. Visit the Ho Chi Minh Mausoleum
🤔 Why: Arguably Hanoi's most famous site, the Ho Chi Minh Mausoleum contains the preserved body of the revolutionary President Ho Chi Minh who united Vietnam. The complex also contains other buildings, like the Ho Chi Minh Museum.
📍 Getting there: Ho Chi Minh Mausoleum is located a bit outside of Hanoi's Old Quarter. The entrance is located here on the southwest side of the complex.
Ho Chi Minh Mausoleum enforces a dress code (knees and shoulders must be covered), so dress accordingly. I saw visitors denied entry otherwise.
No cameras are allowed inside the Ho Chi Minh Mausoleum, but they are allowed on the surrounding grounds. They stow cameras in a bag and keep them at a station that you can pick them up from when you exit the mausoleum.
⏰ Suggested duration: One hour is sufficient to visit the mausoleum. Security and the line can take a bit and you can only view the body of Ho Chi Minh for about 20 seconds (there's a line that loops around the display and there are guards that keep the line moving). Budget more time if you want to visit other buildings in the complex.
💰 Expected cost: Ho Chi Minh Mausoleum does not have an entrance fee, so it's free. Other places within the complex, such as the museum, have an entrance fee.
🍀 My take: Viewing the preserved body of Ho Chi Minh is a brief, but interesting and unique experience. Given Ho Chi Minh's role in Vietnam's history and the importance of this site, I recommend visiting the mausoleum.
2. Take a day trip to Ninh Bình
🤔 Why: Just two hours south of Hanoi, Ninh Bình is called "Ha Long Bay on Land" for its green rice paddies and limestone cliffs. Their big attractions include the Bai Dinh Pagoda, the second largest pagoda in Vietnam; the panoramic views at Lying Dragon Mountain; and the boat rides on Tràng An and Tam Cốc river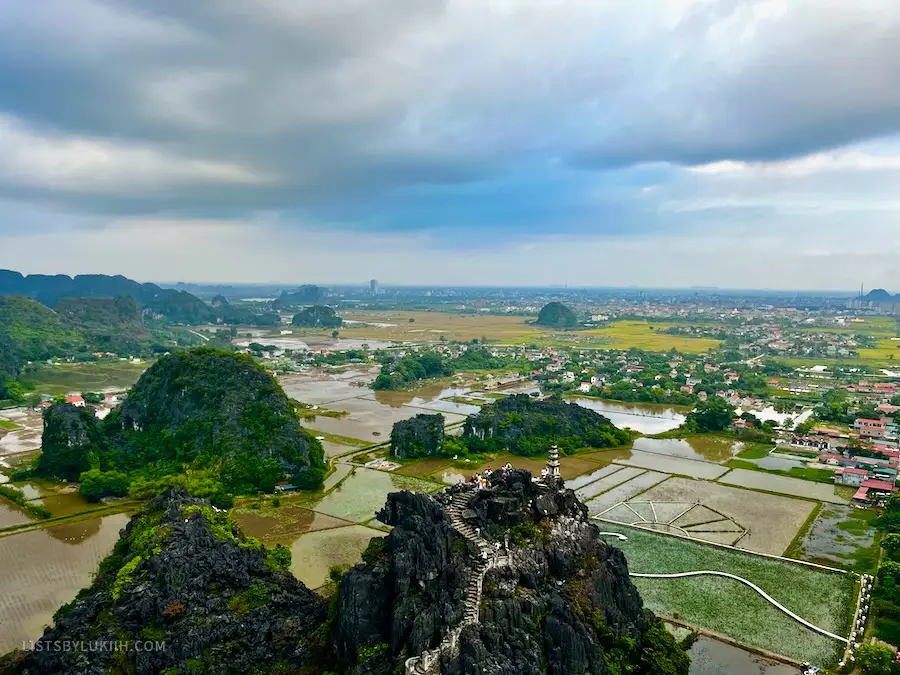 📍 Getting there: You can take a bus or train from Hanoi to Ninh Bình. If you don't want to plan too much, you can also take a Ninh Bình tour like I did.
⏰ Suggested duration: A day trip to Ninh Bình usually entails a full day. The tour I did lasted three and a half hours, not including the four-hour round-trip transportation time.
💰 Expected cost: Most Ninh Bình day tours will cost $50 USD per person and include transportation and lunch. I paid $55 USD for my tour.
🍀 My take: Ninh Bình is beautiful and a nice day trip to get away from chaotic Hanoi. As a heads up, visitors generally amass in the same popular places at around the same times (e.g., there were dozens of boats in the water in Tràng An and the view from Lying Dragon Mountain had a line).
3. Go on an Old Quarter street food tour
🤔 Why: Hanoi is one of Vietnam's foodie spots. Old Quarter is the main business and tourist hot spot, composed of 36 streets where you can see many historical sights, shops, etc.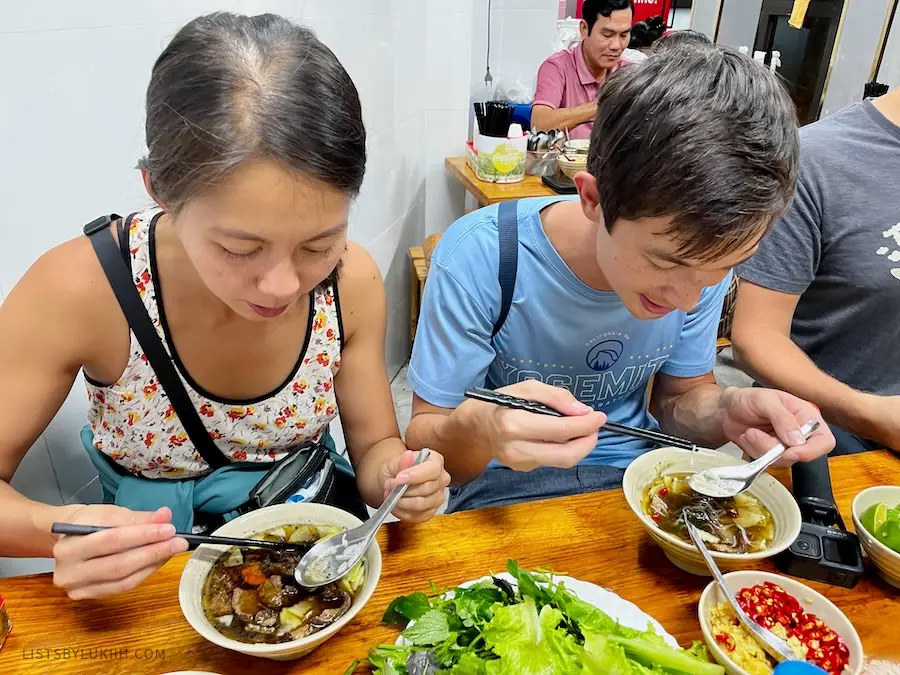 Going on a Hanoi street food tour was one of the most valuable things I did early in my Vietnam trip. It's a great way to familiarize yourself with authentic Vietnamese food and the tour I did also recommended other local restaurants to eat at that tourists don't normally know about.
⏰ Suggested duration: Most Hanoi street food tours will last three to five hours. The tour I did lasted around four hours and we ate at seven different locations.
💰 Expected cost: Expect to spend around $30 USD for a half-day street food tour in Hanoi. My Old Quarter street food tour cost $26 USD, which I thought was worth it given the large quantity of food that was given.
🍀 My take: Local street food in Vietnam is difficult to navigate so a tour is likely your best bet to eat very authentic food. The tour was a great combination of popular tourist restaurants with local places where no one speaks English.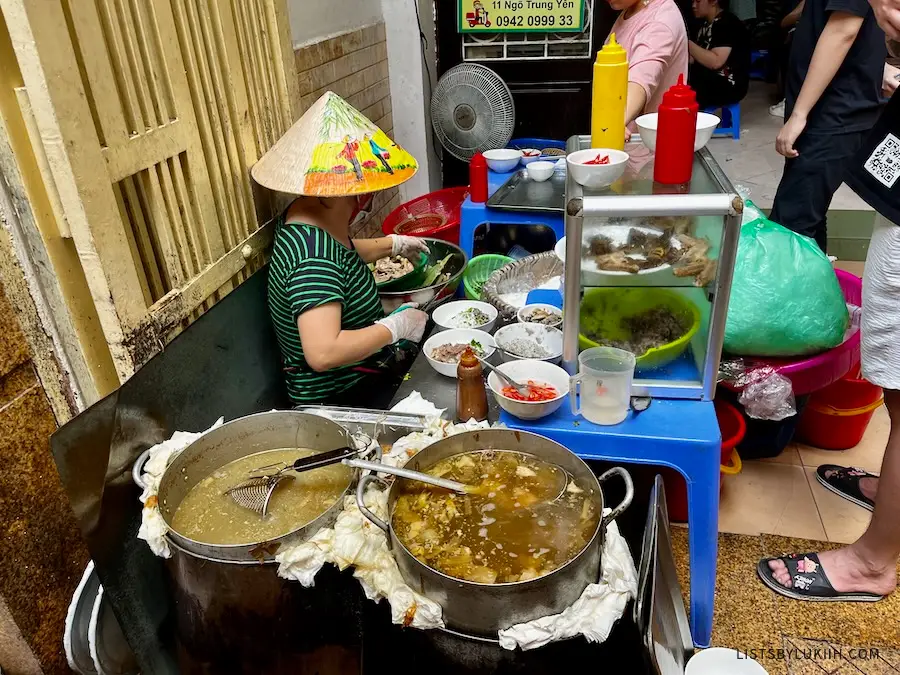 4. Walk around Hoan Kiem Lake
🤔 Why: The Hoan Kiem Lake is surrounded by pagoda gateways (Ngoc Sơn Temple is the most popular one) and gives visitors a break from the chaotic streets of Hanoi.
One of the most interesting things in the Ngọc Sơn Temple is the giant, preserved turtles on display. Turtles are an important animal in Vietnamese culture.
📍 Getting there: Hoan Kiem Lake is located in the heart of Hanoi's Old Quarter.
⏰ Suggested duration: 30 minutes to one hour is enough time to walk the bridge, look at the temple and take photos around Hoan Kiem Lake.
💰 Expected cost: The Ngoc Son Temple on Hoan Kiem Lake has a ~$1 USD entrance fee.
🍀 My take: The Hoan Kiem Lake provides a good place to get away from the more chaotic side of Hanoi. That said, it's not going to be the most beautiful lake you've ever seen in my opinion since the air quality is generally poor in Hanoi.
5. Attend a Water Puppet Theater Show
🤔 Why: Water puppet is a traditional Vietnamese performance that's difficult to experience elsewhere. The water puppet theater show in Hanoi show consists of a dozen puppeteers controlling puppets while in water, accompanied by traditional instruments.
📍 Getting there: There are several water puppet theater shows in Hanoi. The popular show is in Thang Long on the northeast side of Hoan Kiem Lake.
⏰ Suggested duration: Hanoi's Water Puppet show is 50 minutes long.
Make sure to get to the show on time. If you're late, you'll have to nudge your way through very tight seats. Also, don't forget to pick up your English translation device before entering the theater.
💰 Expected cost: The Water Puppet Theater offers different pricing tiers based on seating. I chose the middle tier, which costs ~$6 USD. This is a popular show with sometimes long lines; you can also pay to skip the line.
🍀 My take: The Water Puppet Theater show doesn't have a complex plot or dialogue. What made it interesting to me is trying to figure out how exactly the puppeteers are controlling the puppets, which is not straightforward.
Vietnam is one of the most affordable countries to visit. This Vietnam cost breakdown outlines all my trip expenses.
5 Things To Potentially Skip
Below are five popular things in Hanoi that I did that I recommend skipping if you're pressed for time or want to prioritize other things.
1. Temple of Literature
🤔 What it is: Dating back to 1,000 years and constructed in honor of Confucius, the Temple of Literature is considered one of the most beautiful buildings in Hanoi and is a popular place to take photos.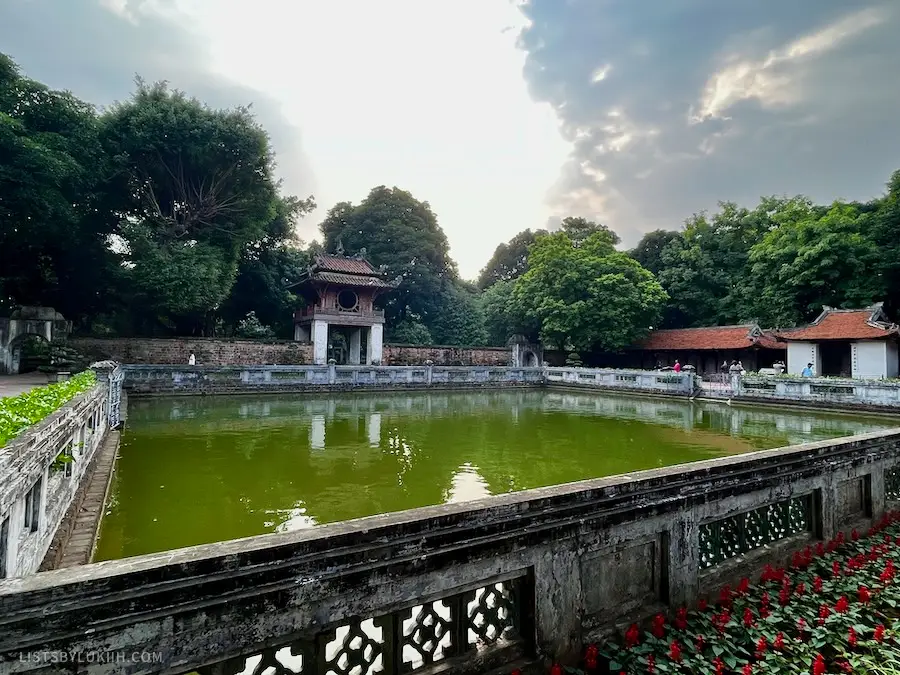 🍀 My take: I found the Temple of Literature underwhelming compared to other buildings and temples I saw in Vietnam. It's a nice, accessible complex for Hanoi, but not for Vietnam overall.
💰 Expected cost: The Temple of Literature has an entrance fee of ~$1.25 USD.
2. Vietnam Military History Museum
🤔 What it is: A popular museum, the Vietnam Military History Museum showcases the multiple wars, including the Vietnam War, from Vietnam's perspective. It also has cool artifacts (e.g., planes, tanks).
🍀 My take: I had high hopes for this museum as I was interested in learning about the war from a non-American perspective, but I found the museum a bit poorly designed and therefore confusing.
💰 Expected cost: The Vietnam Military History Museum has an entrance fee of ~$1.50 USD.
3. Train Street
🤔 What it is: Train Street is a famous, narrow street in Hanoi where a train runs close to a handful of shops and cafes. Many visitors find it to be a unique experience.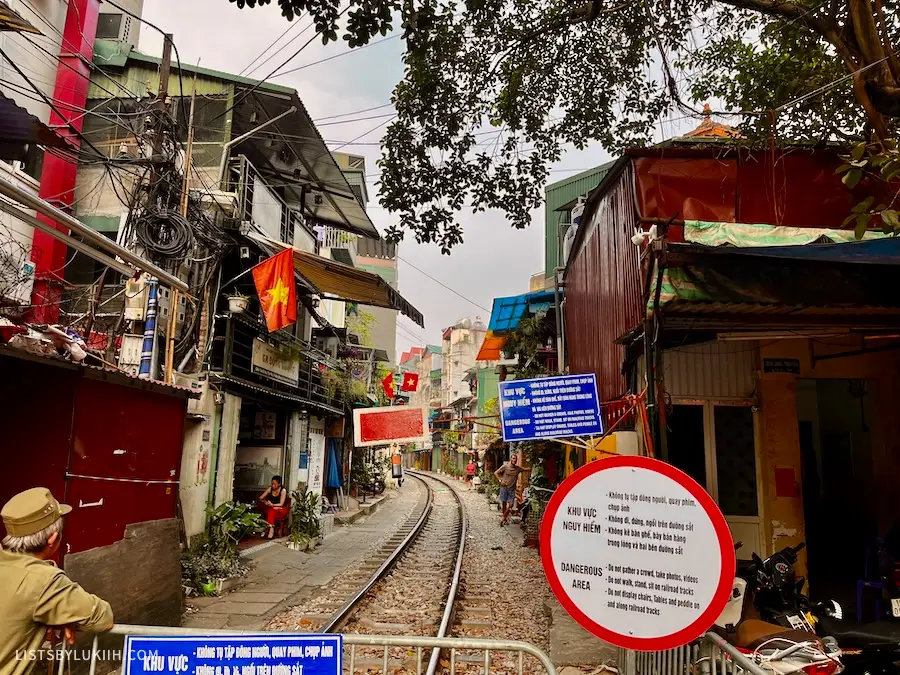 🍀 My take: Train Street was officially closed after a tourist incident when I visited. While I am intrigued by it, many visitors now complain that it's a poor experience because of the high and aggressive level of solicitation tourists get when approaching the street. In
4. Joseph's Cathedral
🤔 What it is: Nhà Thờ Lớn Hà Nội Church, also known as Joseph's Cathedral, is the oldest church in Hanoi.
🍀 My take: Joseph's Cathedral is located in a touristy area of Hanoi so it's easy to walk by it and take a look. I didn't find the church's design that impressive or unique, so I wouldn't go out of my way to see it.
💰 Expected cost: The church does not have an entrance fee, so it's free.
5. Dong Xuan Market
🤔 What it is: Dong Xuan Market is a local market that shows up as a tourist attraction when you research things to do in Hanoi.
🍀 My take: Dong Xuan Market is more of a wholesale market aimed at locals, not visitors. When I walked by it, it didn't seem very inviting to non-locals.
💰 Expected cost: The Dong Xuan Market does not have an entrance fee.
4 Great Places To Eat in Hanoi
One of my favorite things to do in Hanoi was eating authentic Vietnamese cuisine for very affordable prices. Here are four local restaurants that stood out to me.
1. Xôi Gia Truyền Bà Thu
🍚 What it is: Xôi Gia Truyền Bà Thu is a super local place that serves delicious sticky rice (called xôi) with pork belly, sausage, egg, etc. and soy milk. This is a no-frills place that's great for breakfast. You'll get to sit on a small stool by the street if you want to eat on premise.
💰 Expected cost: I paid ~$2 USD for a bowl and a cup of soy milk.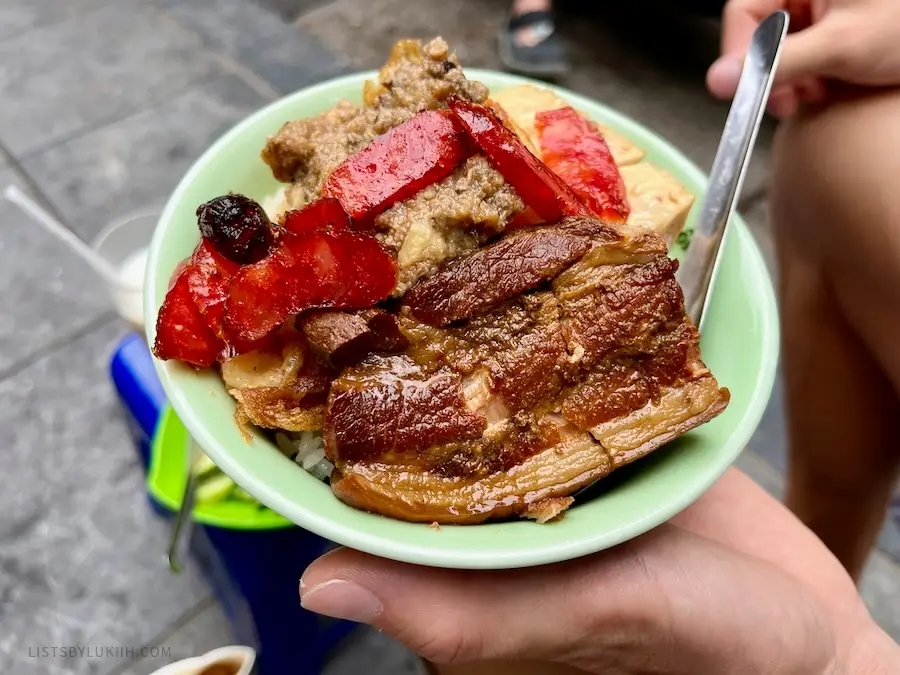 2. Bánh Mì 25
🥖 What it is: Bánh Mì 25 is a popular restaurant with locals and tourists, serving exceptional bánh mì, a baguette sandwich filled with savory ingredients.
💰 Expected cost: I paid ~$3 USD for a watermelon juice and bánh mì.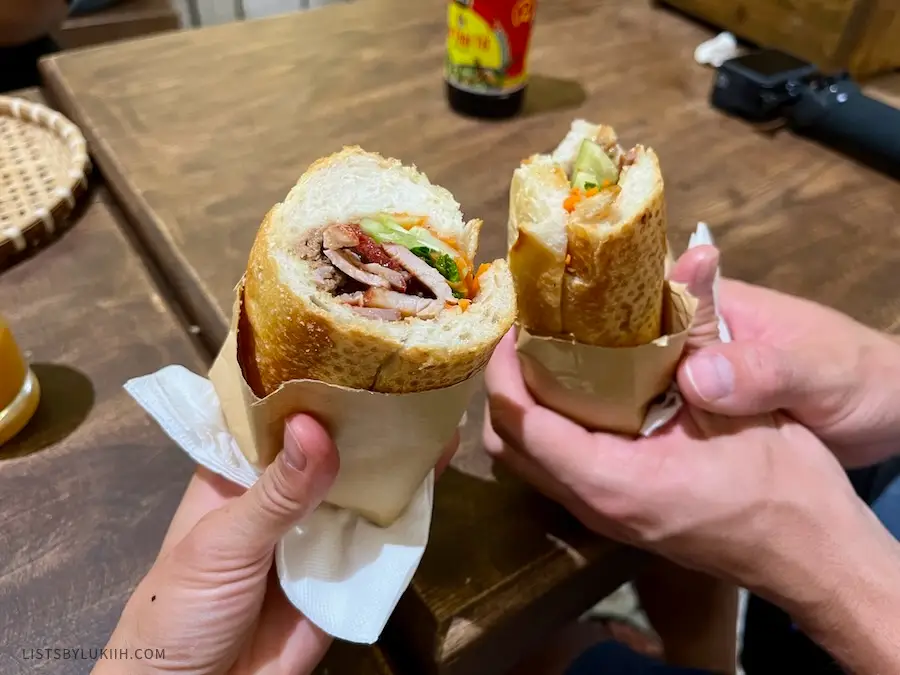 3. Bánh xèo, Nem cuốn
🥞 What it is: Bánh xèo, Nem cuốn serves bánh xèo, a crispy, stuffed rice pancake. I ate it at four different locations and this local place was my favorite.
💰 Expected cost: A bánh xèo in this local restaurant costs less than $1 USD.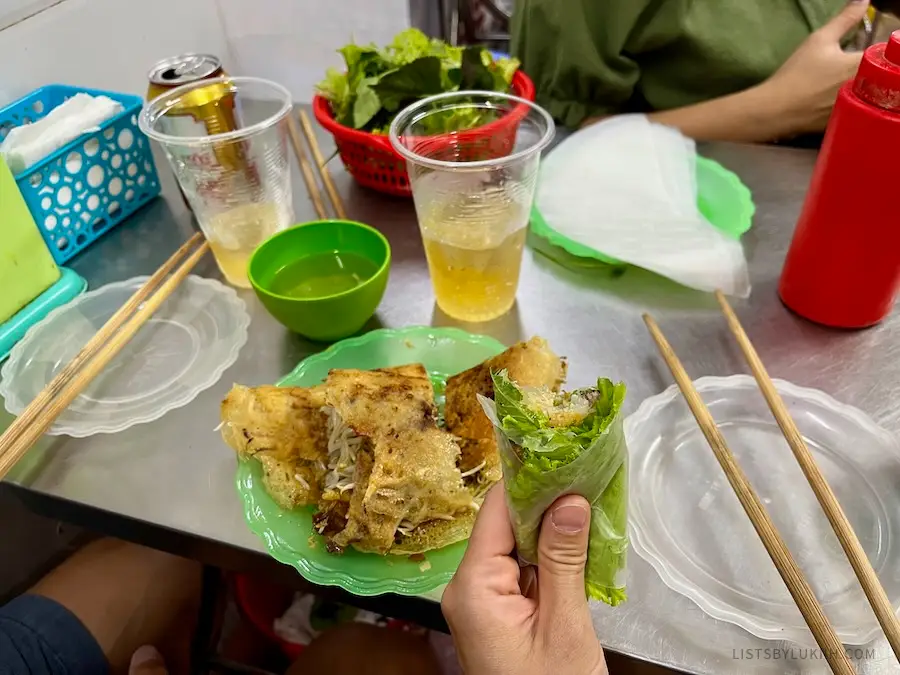 4. Cafe Giang
☕️ What it is: Cafe Giang is hardly a secret, but I found it exceptional. Egg coffee is a Vietnam specialty and is more similar to a dessert than coffee. I had egg coffee at four different places and strongly recommend going to Cafe Giang, which is also said to be the inventor of egg coffee. I tried their egg coffee (hot and iced), egg hot chocolate (hot and iced), and egg beer.
💰 Expected cost: Each Cafe Giang drink was ~$1.50 USD.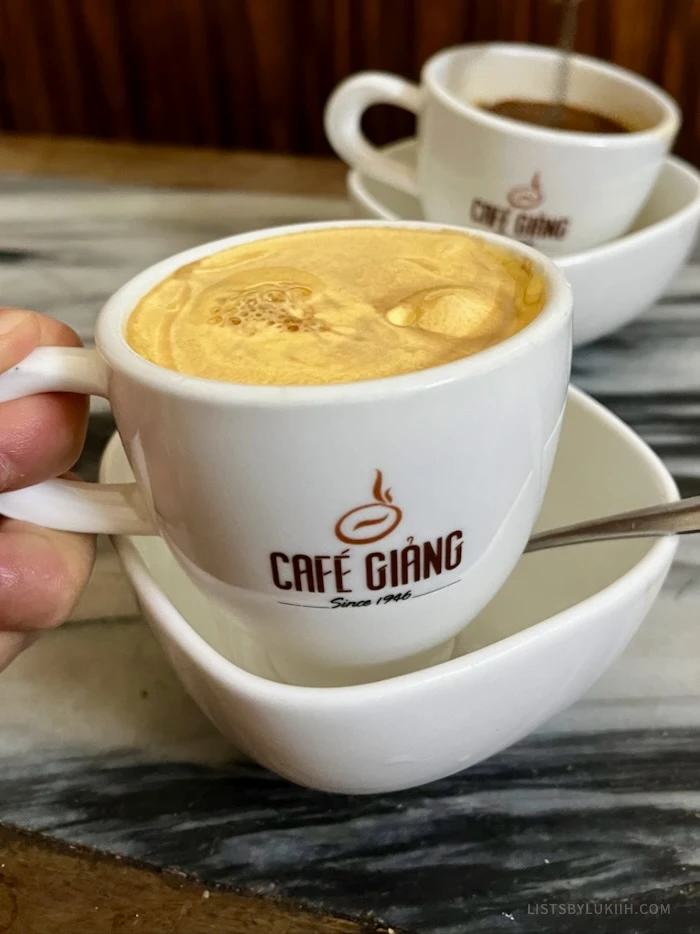 Vietnam Destinations to Visit After Hanoi
Due to Hanoi's central location in Northern Vietnam, it's a great gateway to the rest of Vietnam. Where else can you easily head to after Hanoi? Here are some ideas:
⛰️ Go north: From Hanoi, head six hours north for an epic three-day motorbike road trip on the Ha Giang loop.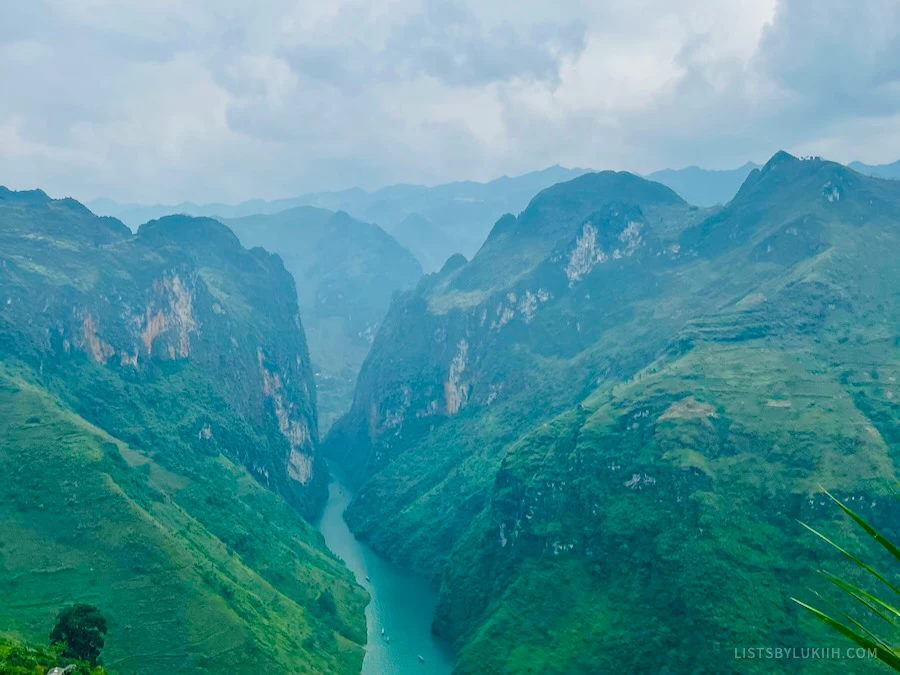 🐉 Go south: From Hanoi, head two hours south to Ninh Bính, the "Ha Long Bay on Land."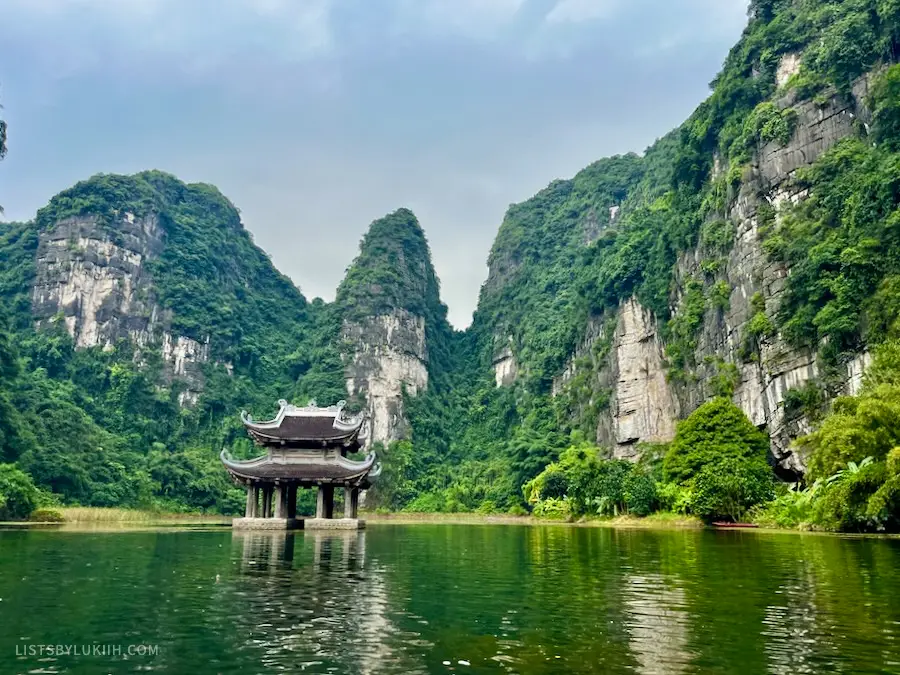 💧 Go east: From Hanoi, head three hours east to the famous Ha Long Bay or go to the quieter, but equally beautiful Lan Ha Bay.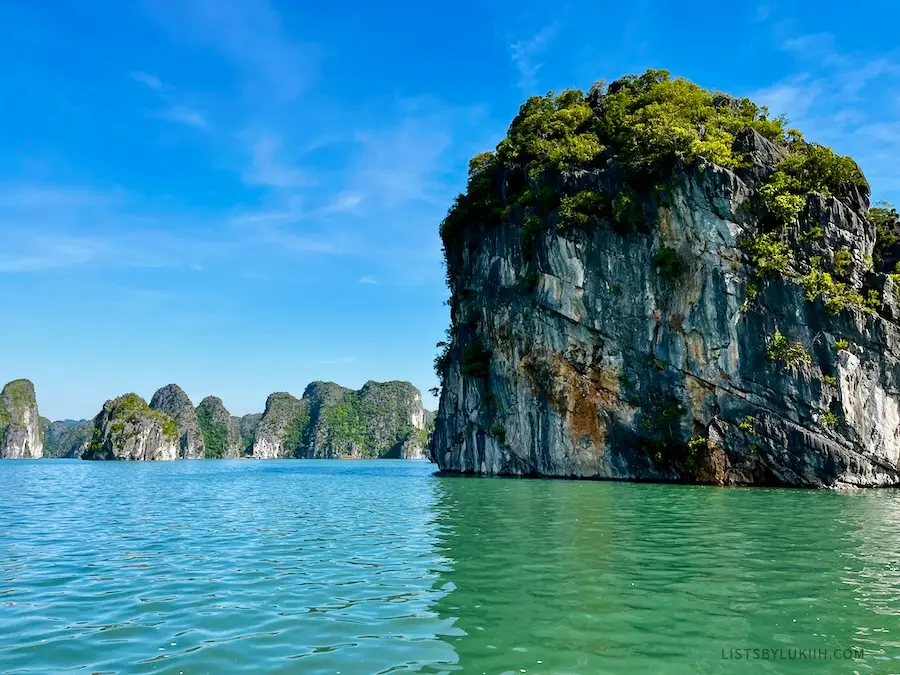 👗 Go central: From Hanoi, take a two-hour flight to Central Vietnam to visit Hoi An, the food capital of Vietnam.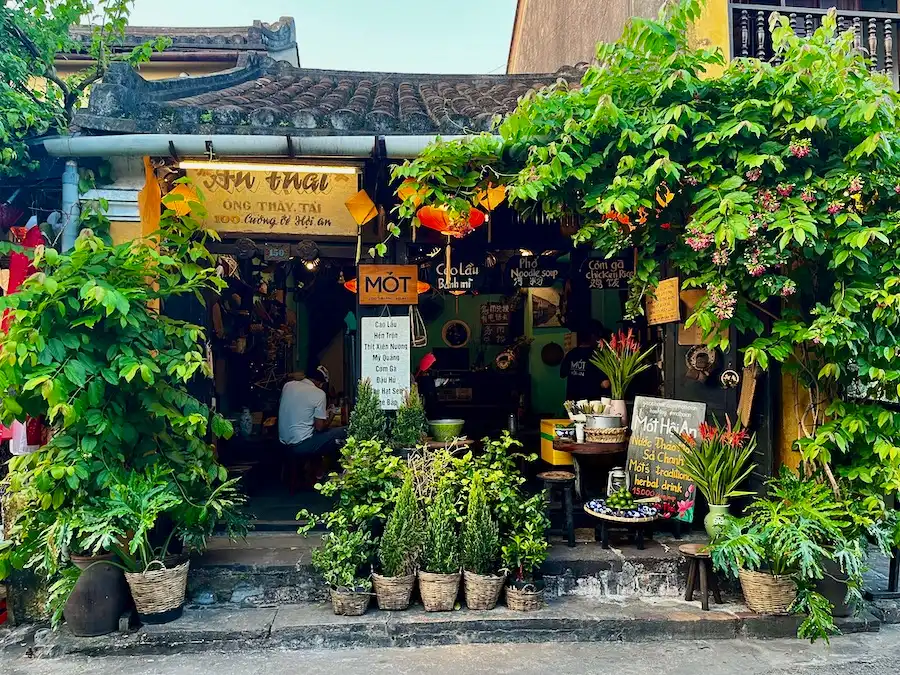 Where I Stayed In Hanoi
Here is where I stayed in Hanoi and my thoughts on the places.
Factors I considered:
Proximity to Old Quarter. I wanted to be within walking distance of Old Quarter. Most of the action and tour pickup spots will be in Old Quarter, so I recommend staying in or near it.
Laundry availability. I traveled to Vietnam as part of a longer trip, so I needed access to laundry while in Hanoi.
Where I stayed:
🏠 Hotel: I stayed at Bi Eco Suites Hanoi and paid ~$19 USD/person/night.
Pros: The entryway was tucked away in a nice alley, away from all the Old Quarter street honking. The rooms were modern, huge and had a decent view. The laundry service was fair and flexible.
Cons: I don't have any complaints about this place, given the price. One nit-picky thing was that I arrived late at night and the concierge wasn't immediately available to open the gates for me (I had to wait for ~10 minutes, worrying if I could even get into the place that night).
🏠 Airbnb: I also stayed at this Airbnb in Old Quarter and paid $21 USD/person/night.
Pros: The place was as pictured (e.g., modern, beautiful, clean) and very spacious. It was also built in such a way that it was very quiet even though it was near the streets.
Cons: The street this accommodation is located on is very busy and full of motorbikes the moment you step outside. This is a common experience in Hanoi Old Quarter.
My Hanoi Trip's Cost Breakdown
My three-day trip to Hanoi cost a total of $202 USD, so I averaged $67 USD per day. Here's my cost breakdown by category:
| | Total Cost | Cost Per Day |
| --- | --- | --- |
| 🏠 Accommodation | $77 | $26 |
| 🍝 Food | $39 | $13 |
| 🚇 Transportation | $21 | $7 |
| ⭐ Entertainment & Misc. | $65 | $21 |
All my Vietnam travel expenses are broken down by category in this Vietnam cost breakdown.
Vietnam Trip Planner
To make your travel planning easier, download the trip planning template below and use it as a starting point. The template has country-specific travel information as well as an itinerary, packing list and map with recommended places pinned.
The template is built on Notion, which is what I use for all my travel planning (I'm not paid to say this; I just like the tool). If you don't have Notion, creating an account is free.
If you have any questions or thoughts, feel free to leave them in the comments below.
🧋 This site is run entirely by me, Lukiih. I spend hours writing each article to ensure its accuracy and conciseness. If you find my site helpful, you can say thanks by buying me bubble tea!