Vietnam is one of the most popular Southeast Asia countries to travel to, receiving millions of tourists every year. Visitors get to motorbike through mountain ranges and see the breathtaking limestone cliffs in emerald-green bays.
I spent two adventurous weeks in Vietnam and in this travel guide, I share practical travel tips that are especially useful for first-time visitors who are planning a trip there.
Disclosure: This post may contain affiliate links. If you make a purchase through them, I may earn a small commission, at no extra cost to you. Thanks for your support!
1. Top Places To Visit in Vietnam
Vietnam is a long, thin country that has eight regions, but from a travel perspective, the country can generally be split into three areas: northern, central and southern.
Below are the best places to visit by travel area and the top things to do in each one.
Best Places in Northern Vietnam
✨ Known For: Northern Vietnam is known for its stunning natural landscapes where visitors get to see lush mountains, iconic emerald bays, terraced rice fields and limestone karsts.
📍 Best Places: Here's an overview of the top places to visit in Northern Vietnam and the things they're known for:
Ha Long Bay is a UNESCO World Heritage Site that is world-famous for its stunning limestone cliffs submerged in emerald waters. Popular activities here include taking a cruise, kayaking and visiting the fishing villages.
Hanoi is a major city in Northern Vietnam and is home to one of the major international airports. The Old Quarter area has narrow and bustling streets filled with motorbikes, delicious food and historical sites.
One of the best things I did in Hanoi was an Old Quarter street food tour. If you do this early in your Vietnam trip, you'll easily learn what authentic Vietnamese food to try for the rest of your trip.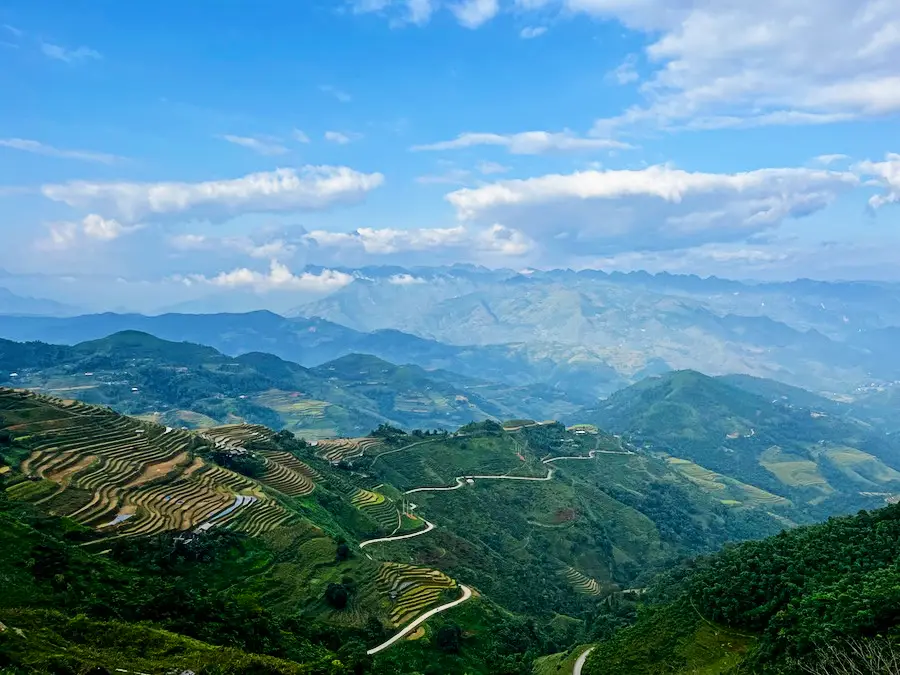 Ninh Binh is another UNESCO World Heritage Site and is called the "Ha Long Bay on Land" for its green rice paddies and limestone cliffs. Top attractions there include the Bai Dinh Pagoda, Trang An boat ride and the Lying Dragon Mountain view.
If you have limited time in Northern Vietnam, Ninh Binh is a good destination to do a day trip from Hanoi. I booked this Ninh Binh day tour that took me to all the top attractions around the area.
Sa Pa is a more remote town, known for rice paddies and mountains. It's a great place for nature lovers who want to experience hiking through the paddies and staying at a homestay.
🍀 My Experience: I visited Hanoi, road-tripped on the Ha Giang Loop, did a day trip to Ninh Binh and rock climbed in Lan Ha Bay, which is part of Ha Long Bay. Here are my honest opinions of each place:
While Ha Long Bay is very stunning, Lan Ha Bay is just as beautiful and much quieter, which made the trip there much more worth it. Rock climbing in that area was breathtaking.
Riding a motorbike on the Ha Giang Loop was epic and one of my most memorable experiences in all of Southeast Asia.
I wish I had done a longer trip to Ninh Binh so I could have seen some of its hidden gems as well.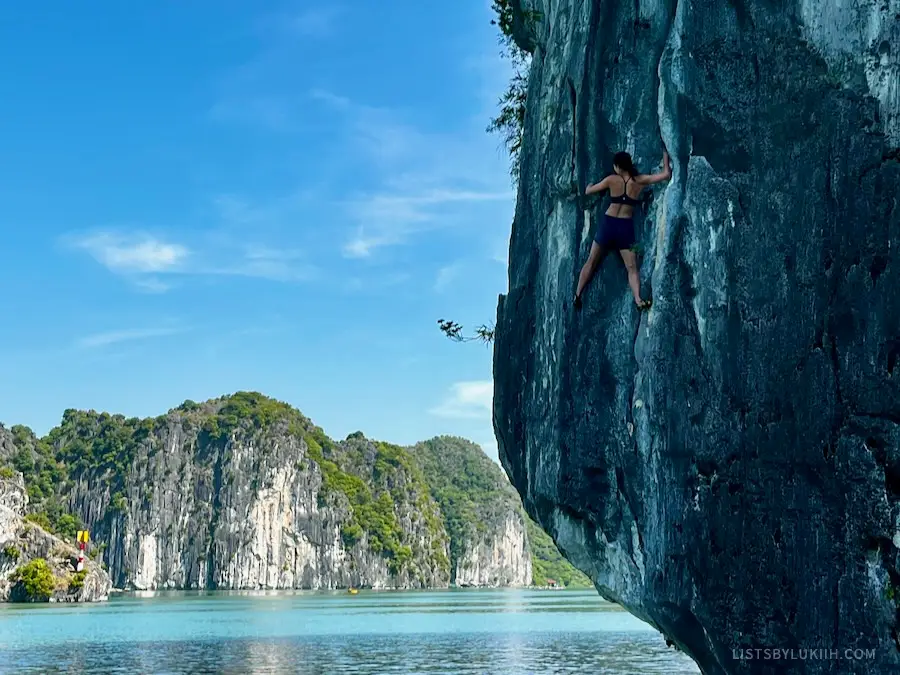 Best Places in Central Vietnam
✨ Known For: Central Vietnam is known for its beautiful beaches and well-preserved historical sites, many of which are UNESCO World Heritage Sites.
📍 Best Places: Here's an overview of the top places to visit in Central Vietnam and the things they're known for:
Hoi An is a well-preserved ancient town that's also known as the tailoring capital of the world. The area is fairly touristy, but small and fun. It's filled with lanterns and cultural heritages, and many visitors come here to get high-quality tailored clothes.
After spending a busy four days in Hoi An, here is my list of ten great things to do there.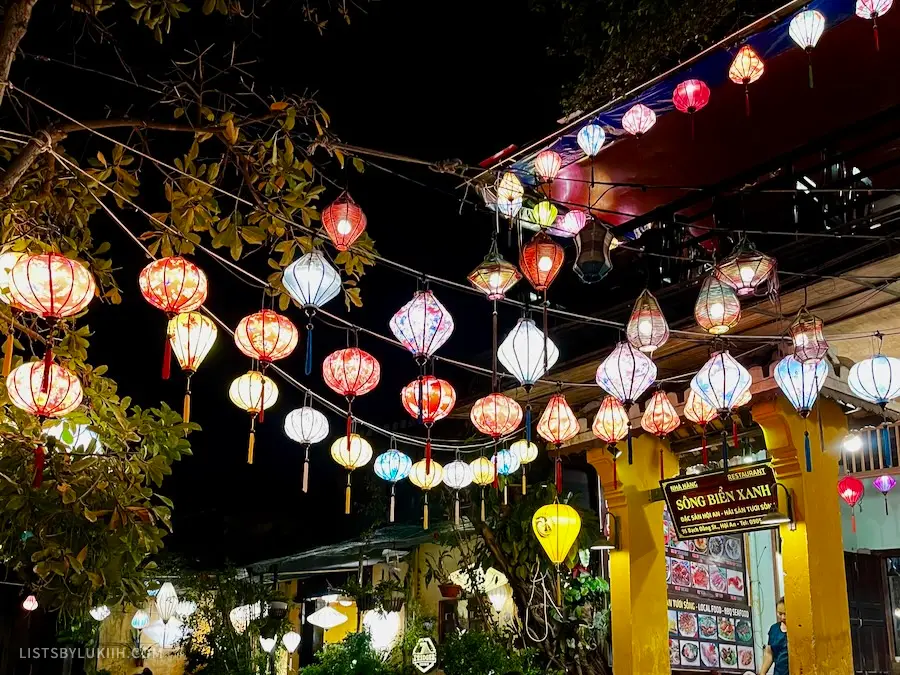 Da Nang is a coastal city that's known for its pristine beaches (My Khe Beach is the most well-known one) and the clusters of marble hills called Marble Mountains.
From Da Nang, many visitors do day trips to Ba Na Hills, which has the iconic Golden Bridge, and My Son Sanctuary, a cluster of Hindu temples with architectural importance.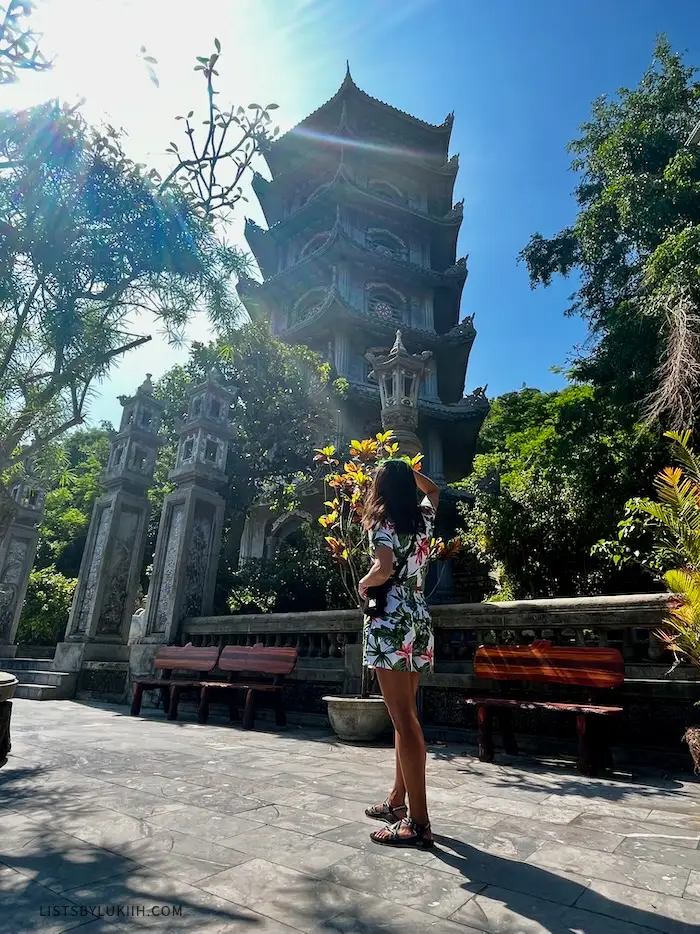 Hue is a town known for its rich history, particularly for the Imperial City, a vast complex of palaces, temples and gates.
Phong Nha is a town that's closer to being in the north-central area of Vietnam. It's renowned for its mesmerizing natural wonders, particularly Son Doong Cave, the largest cave in the world.
🍀 My Experience: I visited Hoi An and the nearby Da Nang. Here are my honest opinions on them:
Da Nang is a more residential area and was a nice day trip. If I had more time in Vietnam, I would have liked to visit its beaches.
Best Places in Southern Vietnam
✨ Known For: Southern Vietnam is known as the economic powerhouse of the country and is also well-known for the Mekong Delta, a vast region with waterways and floating markets.
📍 Best Places: Here's an overview of the top places to visit in Southern Vietnam and the things they're known for:
Ho Chi Minh City, also called Saigon, is Vietnam's most cosmopolitan city with an active nightlife. Its most famous attractions include the War Remnants Museum (which is about the Vietnam War, which they call the American War) and the Cu Chi Tunnels used during the wars.
Nha Trang is a coastal city known for stunning beaches and is popular with water sports enthusiasts, as it has everything from snorkeling to parasailing to banana boat rides.
Phu Quoc is a tropical island also known for its great beaches and the surrounding tropical landscapes.
🍀 My Experience: I had two weeks in Vietnam and traveled the northern and central areas, so I didn't make it out to the Southern portion of Vietnam.
If you have less than two weeks in Vietnam and want to sufficiently explore each region's destinations, you'll likely have to choose between visiting Northern or Southern Vietnam.
2. When To Visit Vietnam
☀️ Best Time To Visit: The best time to visit Vietnam varies by region since each one has its own distinct weather conditions:
Northern Vietnam: The best time to visit is from October to February when the climate is cooler and dryer with average temperatures of 60 °F to 75 °F. The rainy season is from May to October.
Central Vietnam: The best time to visit is from February to April if you plan to mostly stay in the city. If you want to spend most of your time at the beach, then May to August is the best time since the weather is warm, with temperatures varying from 70 °F to 95 °F.
Southern Vietnam: The best time to visit is from November to April when it's the dry season and average temperatures vary from 70 °F to 90 °F. May to October, like in Northern Vietnam, is the rainy season with high humidity.
Monsoon season is from May to September in Northern Vietnam and May to October in Southern Vietnam. These are the times you will likely experience heavy rainfall.
🍀 My Experience: I traveled to Vietnam from late October to early November and experienced mostly warm days with some intermittent rain and cloudy days. Either way, the humidity felt high compared to the United States, so I was most comfortable in loose-fitting clothes.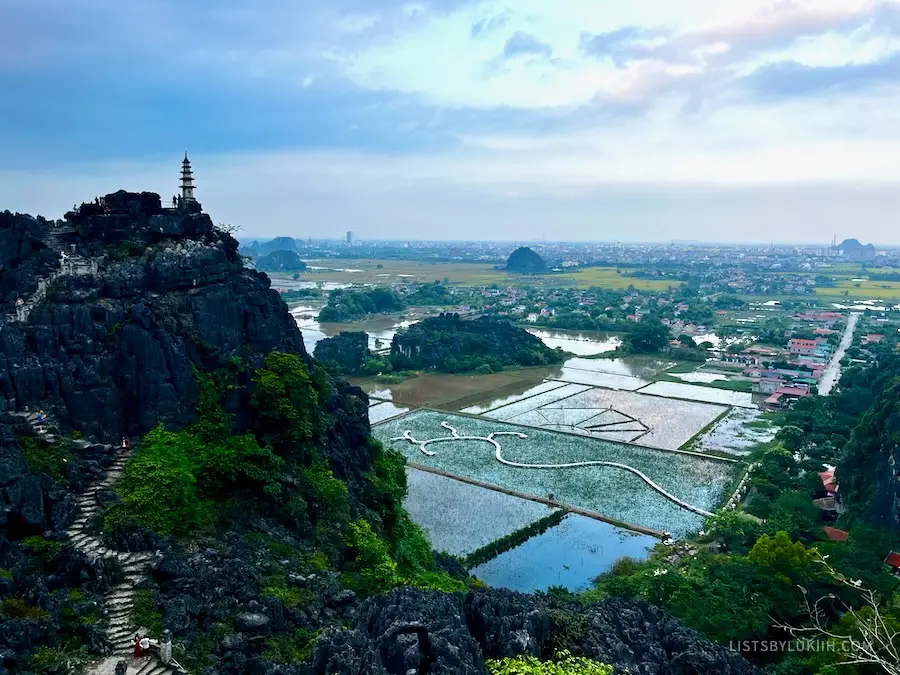 3. How Long To Visit Vietnam
🗓️ Ideal Duration: Vietnam has a wide variety of landscapes and due to its long, thin shape (it's 1,025 miles from north to south), it can take a month to adequately visit the entire country.
With three to five days in Vietnam, you should visit Hanoi or Ho Chi Minh City and enjoy a day trip from there. You won't have much time for anything else.
With one week in Vietnam, you should focus on visiting either Northern or Southern Vietnam. You can likely only visit two to three areas depending on how much you want to move around.
With two weeks in Vietnam, you can explore two regions of the country, which will give you enough time to see the different towns, cities and landscapes.
With three weeks or more in Vietnam, you can slowly travel around the country, starting from either the south or north side. You'll also get to visit more remote areas like the Son Doong Cave.
🍀 My Experience: I spent exactly 12 days in Vietnam and that gave me enough time to visit the northern and central areas. At that point, I felt like it was a good time to leave Vietnam and come back on another trip. Three or more weeks in Vietnam would have been a bit tiring at the rate I was moving around the country.
That said, if I had an extra week in Vietnam, I would have prioritized visiting natural wonders like the ones in Phong Nha over going to the south.
4. Visa Requirements for Vietnam
🛃 Visa: A tourist visa is required for United States citizens visiting Vietnam. The Vietnam visa costs $25 USD and takes three business days to process. You can apply online here.
✈️ Passport: Your passport must be valid for 6 months from your Vietnam trip.
🍀 My Experience: When applying for a visa, follow instructions closely, especially those around the photo requirements. My partner and I both applied and his visa was rejected due to the photo requirements, which set his visa application back by a week.
5. Budgeting and Costs for Vietnam
💰 Cost Ranking: Vietnam is ranked as one of the region's most affordable countries to visit along with Thailand, Laos, Cambodia and Indonesia. Vietnam's prices will often appear unreasonably low, especially if you're coming from a wealthier, western country.
💵 Expected Budget: Budget travelers can expect to spend about $30 per day and mid-range budget travelers, such as myself, can expect to spend approximately $65 per day in Vietnam, excluding flights.
🍀 My Experience: I share all my travel expenses in this Vietnam budget breakdown. Vietnam is one of the cheapest countries I've traveled to and I was constantly surprised by the prices (e.g., getting a full meal with a drink was often less than $2).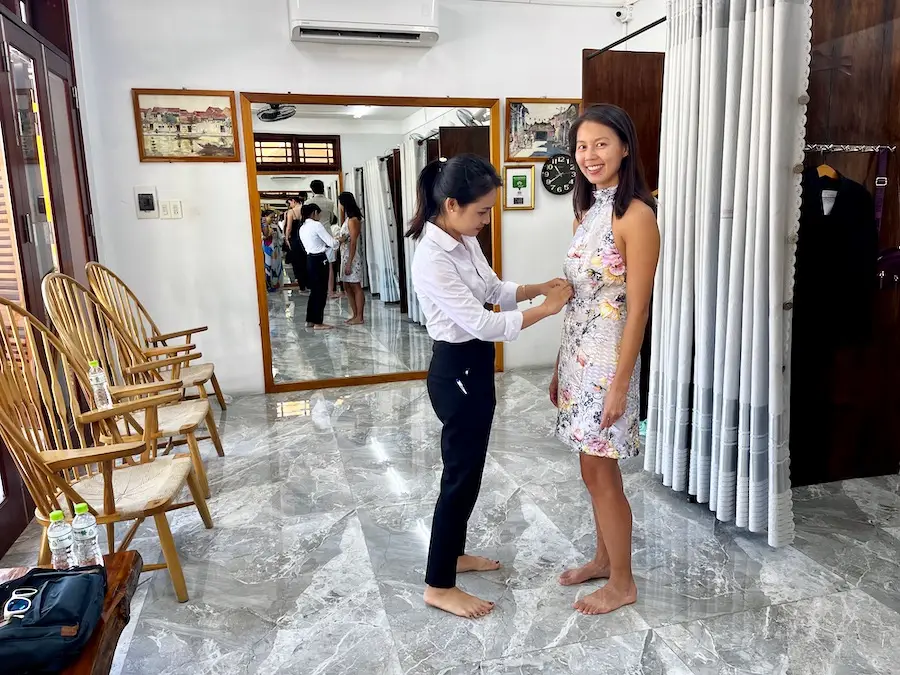 6. Cash and Tipping in Vietnam
💰 Currency: Vietnam's local currency is the Vietnamese Dong (VND). The US dollar is not widely accepted, so make sure to exchange currencies. At the time of writing, the exchange rate was $1 USD = 24,085 VND.
💳 Credit Cards: Credit cards are not widely accepted in Vietnam, as the economy still largely depends on cash transactions even in tourist areas.
💵 Tipping Etiquette: Tipping is not customary in Vietnam, but it's appreciated and not considered rude. Tour guides will gladly accept a 10% to 15% tip from tourists, especially those serving Americans.
🍀 My Experience: I visited mostly tourist areas (e.g., Hanoi, Halong Bay, Hoi An) and I was rarely able to use my credit card, so make sure to carry about $30 worth of cash every day during your Vietnam trip.
7. How To Get Around in Vietnam
There are several ways to get around Vietnam and you can easily travel around the country without having to rent a car.
✈️ Airports: Vietnam has three international airports:
Once you're in Vietnam, you can take domestic flights to get to different regions of Vietnam. These flights are usually fast and convenient.
If you're flying on budget airlines that hop around Asia, be aware of bag weight limits that have extra fees. I flew AirAsia and VietJet Air and both had a combined carry-on and checked-bag limit of 7kg (about 15 lbs).
🚌 Bus: Vietnam has an extensive and affordable bus system to get around the country. You'll likely be able to find a bus that takes you from your location to your desired destination.
Vietnam also has a lot of sleeper buses, a type of bus designed for riders to sleep in, which can double as accommodation for the night.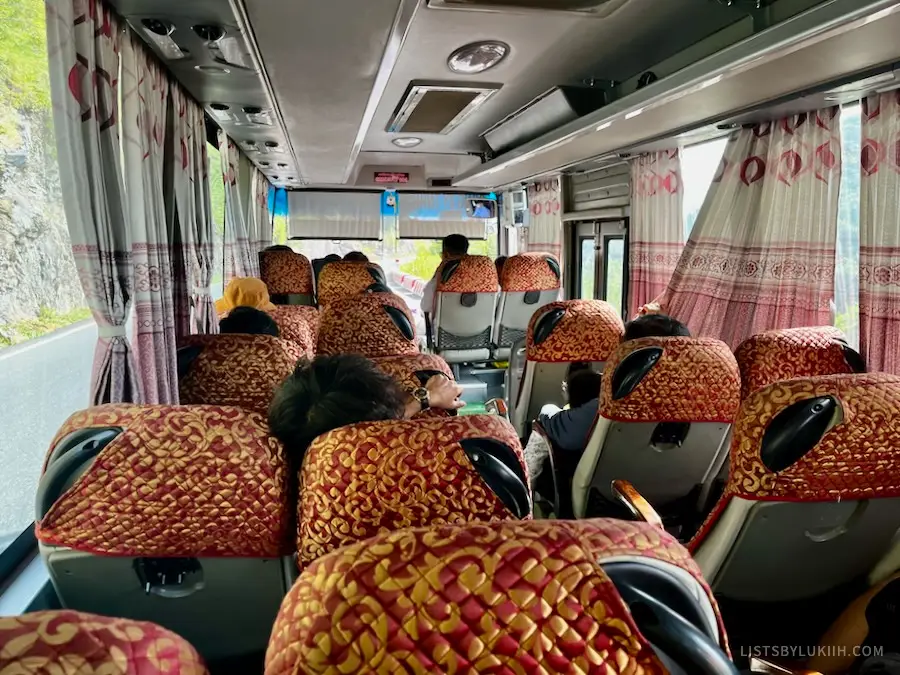 🚊 Train: Vietnam has several trains that connect major cities throughout the country. Heads up that the official Vietnam railway website can be difficult to navigate.
🚙 Ridesharing App or Taxi: For shorter distances within an area, you can flag down a taxi or use Grab. Grab (iOS, Android) is the Uber of Southeast Asia and it's usually more convenient and cheaper than riding a taxi.
The highly-rated airport transfer service, Welcome Pickups, is also a great option if you want to have your ride ready when you land in Hanoi or Ho Chi Minh City. They provide English-speaking local drivers for the same price as a regular taxi.
🚗 Driver For Hire: In many places in Vietnam, you'll find willing drivers who are ready to drive you to places for cheap (e.g., $30 USD for several hours). How you hire these drivers can be very casual (one of my tailors in Hoi An called her brother to drive me around for the rest of the day), but make sure you trust the source who's connecting you.
🏍️ Motorbike Rental: The streets of Vietnam are filled with motorbikes (95% of registered vehicles are motorbikes) and renting one is relatively easy, but you need to ensure you have a proper International Driver's License (IDP).
🍀 My Experience: These were my experiences traveling around Vietnam:
Domestic flights: The domestic flights are very convenient. I booked a one-and-a-half-hour VietJet flight from Hanoi to Hoi An and it cost $24. Traveling by land would have taken over 13 hours.
Sleeper bus: I took a sleeper bus when I traveled from Hanoi to Ha Giang for a stunning three-day motorbike Ha Giang loop tour. The sleeper bus was very affordable, but I found it difficult to fall asleep at the beginning. Make sure to pack earplugs and a sleeping mask if you're a light sleeper.
Grab: Grab is the Uber of Southeast Asia and it's usually more convenient and cheaper than riding a taxi. I used Grab often in both big cities and small towns, and thought it was easy to use.
Driver For Hire: My Hoi An tailor connected me to a local driver to take me to several places in Da Nang for $28 in total. As mentioned above, getting in contact with these drivers can be done in a very casual way.
8. Safety and Scams in Vietnam
⚠️ Safety Rating: Vietnam is considered a safe country and one of the safest countries in Southeast Asia to travel to. Vietnam has a travel advisory level of 1 (safe) per the US Department of State and is ranked #41 out of #163 safest countries by the Global Peace Index (for reference, the United States is ranked #131).
One of the scariest things you may experience in Vietnam is crossing the street in bigger cities like Hanoi and Ho Chi Minh City.
🥷🏻 Common Crimes: The most common crimes against tourists in Vietnam are nonviolent and including petty theft, pickpocketing and bag snatching. These are most common in crowded tourist areas.
💎 Common Scams: These are some common scams to watch out for in Vietnam:
The driver scam involves a driver overcharging you, which is easy in Vietnam because the driver-for-hire economy is so casual there. Make sure to always agree on a price beforehand or use Grab.
The gem scam involves the scammer selling you luxury items, usually jewelry, at discounted, wholesale prices, but the items are fake and worthless.
The motorbike rental scam involves a rental company asking you for your passport to hold as collateral. When you return the rental, they'll claim that you damaged the vehicle and demand payment before giving back your passport.
🍀 My Experience: While traveling in Vietnam, I didn't experience any crime and never felt unsafe. I made sure to never leave my things unattended and carried cash in my crossbody phone pouch.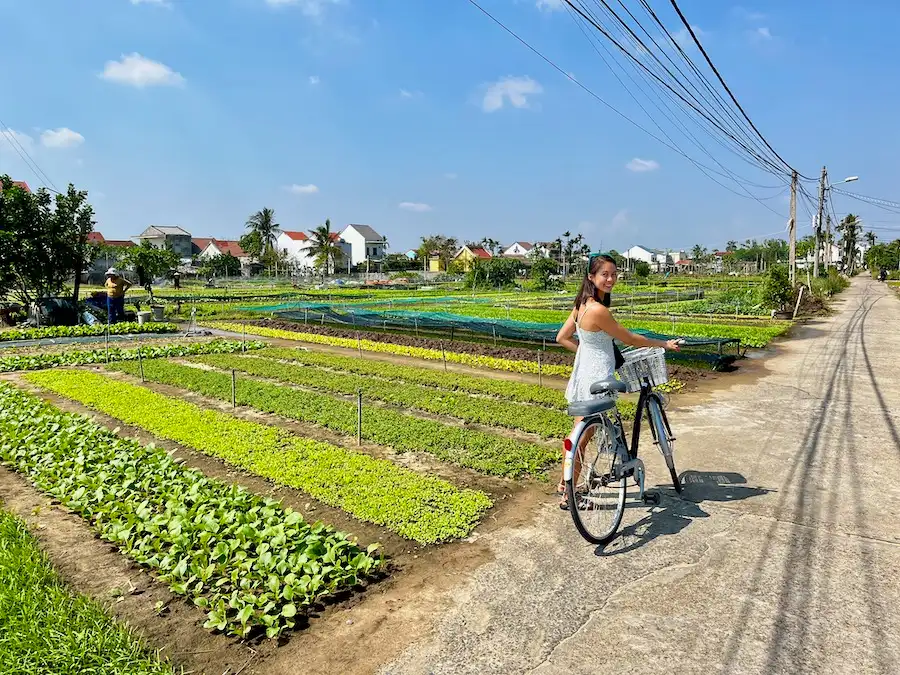 9. Health Concerns in Vietnam
💧 Tap Water: Tap water in Vietnam is not safe to consume. Hotels, restaurants and tour operators will often provide bottled water. Also, avoid getting drinks with ice.
🥗 Foods to Avoid: The general word of wisdom is to avoid eating raw vegetables or seafood in Vietnam to reduce your chances of food poisoning.
🦟 Mosquitoes: Vietnam has a tropical climate and mosquitoes that can carry diseases (dengue fever is common), so visitors should protect themselves, especially during the rainy season.
💉 Vaccines: Here are the vaccines recommended by the CDC when traveling to Vietnam.
🍀 My Experience: I found mosquitoes to be a big problem in Vietnam and I was constantly applying this mosquito repellent lotion almost every time I stepped outside. As far as food is concerned, I was happy to eat street food and local cuisine, but avoided eating raw vegetables unless I was on a verified street food tour.
10. Speaking English in Vietnam
🗣️ Language: The official language is Vietnamese. Vietnamese locals in tourist areas will speak some English and those in remote areas basically speak none.
🇻🇳 Vietnamese Phrases: Some common Vietnamese phrases that you will hear often while visiting Vietnam are:
🍀 My Experience: You won't have issues navigating Vietnam if you mostly stay in tourist areas or are with a local. Most businesses in Hanoi, for example, had no trouble understanding tourists.
However, I went to two extremely local restaurants and I pretty much ate whatever I saw the locals eat because no one spoke English and Google Translate wasn't as helpful in those scenarios.
11. Cultural Differences in Vietnam
💰 Context: Vietnam is a developing country that has been transitioning to a more industrial and wealthier country in the past few decades. It's also a religious country with more than half of the population identifying as Buddhist.
🇻🇳 Cultural Differences: Given the above, Vietnam has a few cultural differences that can be surprising to visitors, especially those coming from Western countries:
Crossing the streets in a big city like Hanoi or Ho Chi Minh City may be one of the biggest shocks you'll experience in Vietnam. Vehicles do not stop to wait for you to cross the street and rarely follow street signs. You'll have to learn to step into the street while keeping an eye on oncoming traffic and walk in a straight, predictable path with a consistent pace so that vehicles can go around you.
Vietnam doesn't have the same cleanliness standards that you may be used to. You won't see toilet paper or soap in many bathrooms (but you may see a bidet), so bring some TP and hand sanitizer. Also, you won't see many bathtubs and will simply see a showerhead in bathrooms.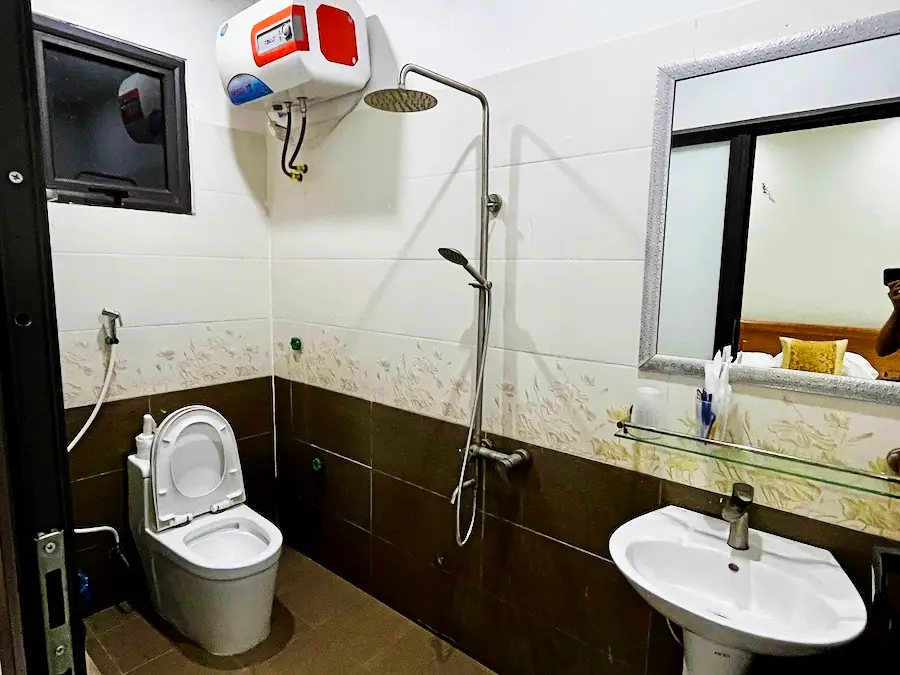 Chopsticks are the main utensils used in Vietnam. Make sure to not stick them up in a rice bowl, as it's similar to incense burning at funerals, which is bad luck.
Vietnam, like some other Asian countries, has the concept of "saving face", which is to behave in a respectful and dignified way. You can "lose face" by acting angry at small inconveniences, which is considered very disrespectful and embarrassing.
🍀 My Experience: Crossing the streets of Hanoi was an experience in itself. Even after having done my research, I had a difficult time stepping into oncoming traffic the first two days and would often wait to cross with a local. Other than that, the other thing I had to remember was to constantly carry some TP in a bag.
12. What To Wear in Vietnam
👕 What To Wear: Regardless of the season, Vietnam is generally a hot and humid country, so pack and wear loose-fitting clothes to stay comfortable. Avoid packing jeans because they will be hard to dry if you get them wet (dryers are not common in Vietnam). Also, make sure to pack a rain jacket, as intermittent rain is frequent.
Overall, Vietnamese people dress in a more conservative way than people from the United States. Most locals won't show much skin, but it's fine to wear tight-fitting clothes in some areas.
🧣 Temple Dress Code: Some temples and religious sites in Vietnam require women to cover their knees and shoulders, so pack long skirts and pants. However, you'll find that Vietnam is not as strict with its dress code as neighboring Thailand and Cambodia.
🩴 Shoes: Some temples in Vietnam will require you to take off your shoes, so pack sandals or shoes that are easy to take off. Again, you won't see this as frequently in Vietnam compared to some neighboring countries.
🍀 My Experience: I bought light, long and loose-fitting clothes in Vietnam to keep myself covered, but also cool. I wore my jean shorts and cotton shirt on a cloudy day, but I regretted it due to the humidity.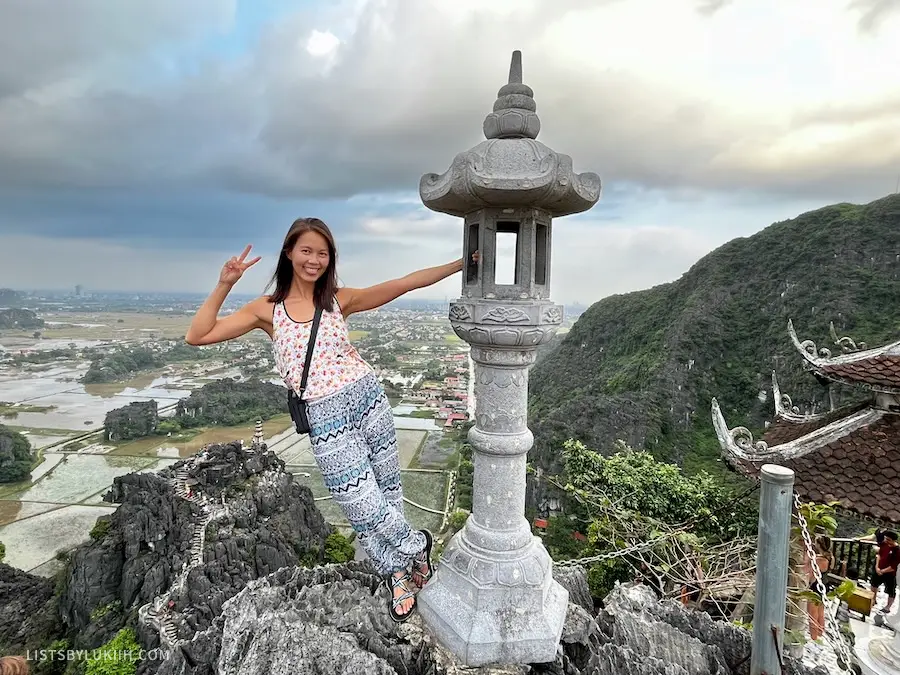 13. Vietnamese Dishes To Eat
🍜 Authentic Food: One of Vietnam's highlights as a visitor is its unique cuisine that you can eat at extremely affordable prices. In fact, Vietnam is renowned for its delicious food.
You'll be able to try many of these dishes at local markets, night markets, food tours and restaurants:
Vietnamese coffee is a strong coffee with condensed milk and you'll find it everywhere in Vietnam. A unique coffee drink to try in Hanoi is egg coffee, which I highly enjoyed, but I thought of it more as a dessert drink. In Central Vietnam, try some salted coffee.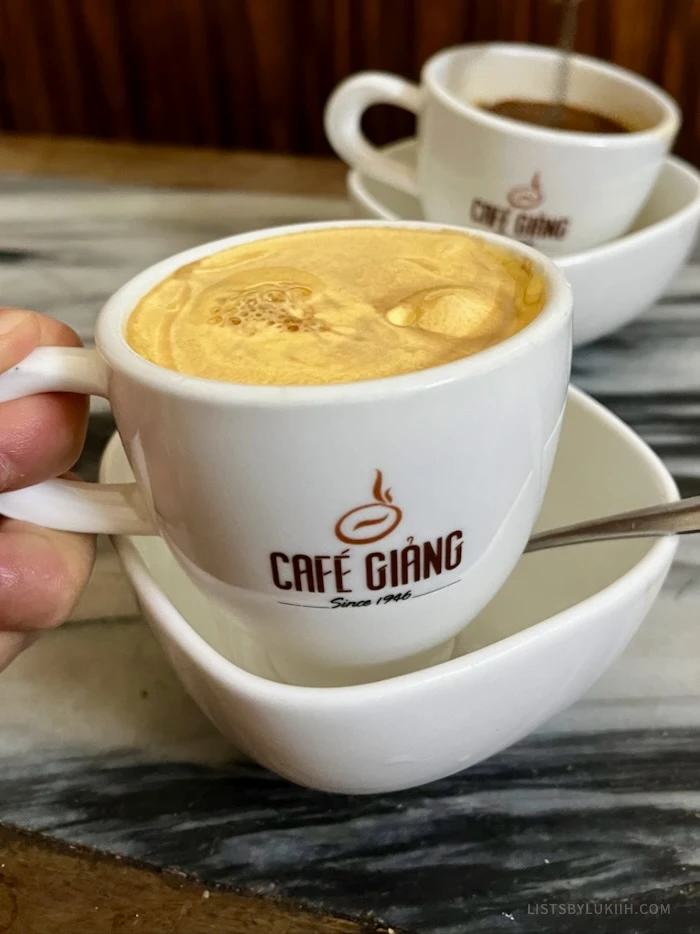 Banh mi is a Vietnamese sandwich comprised of a variety of ingredients served between a French baguette (France once colonized Vietnam, hence the bread influence). It's one of the most recognizable and familiar foods you'll eat, but they make it extra delicious and fresh in Vietnam.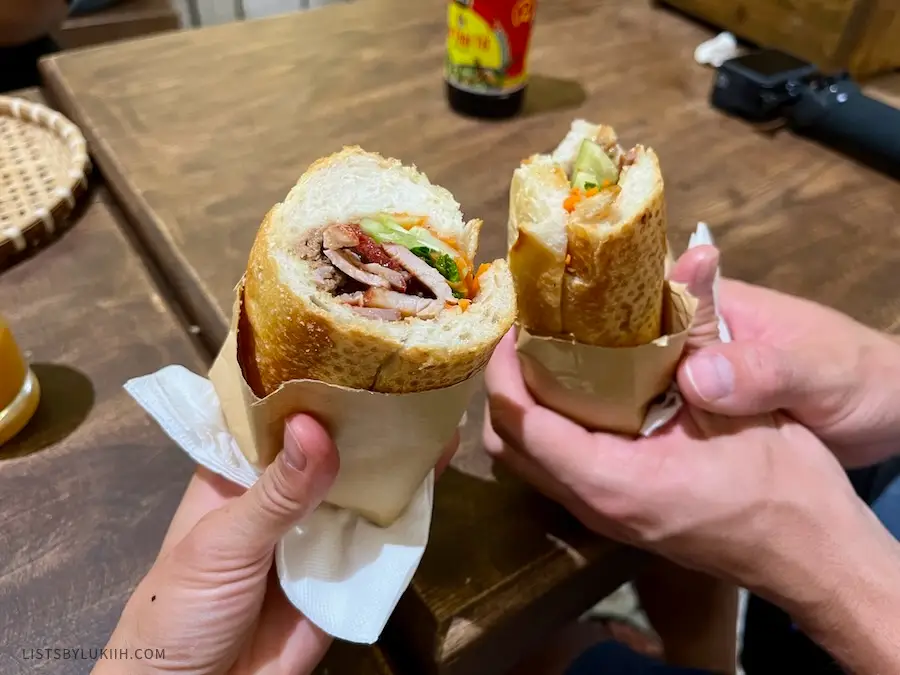 Cao lau is a Hoi An specialty comprised of thick noodles with slices of pork. It's one of my favorite food discoveries in Vietnam.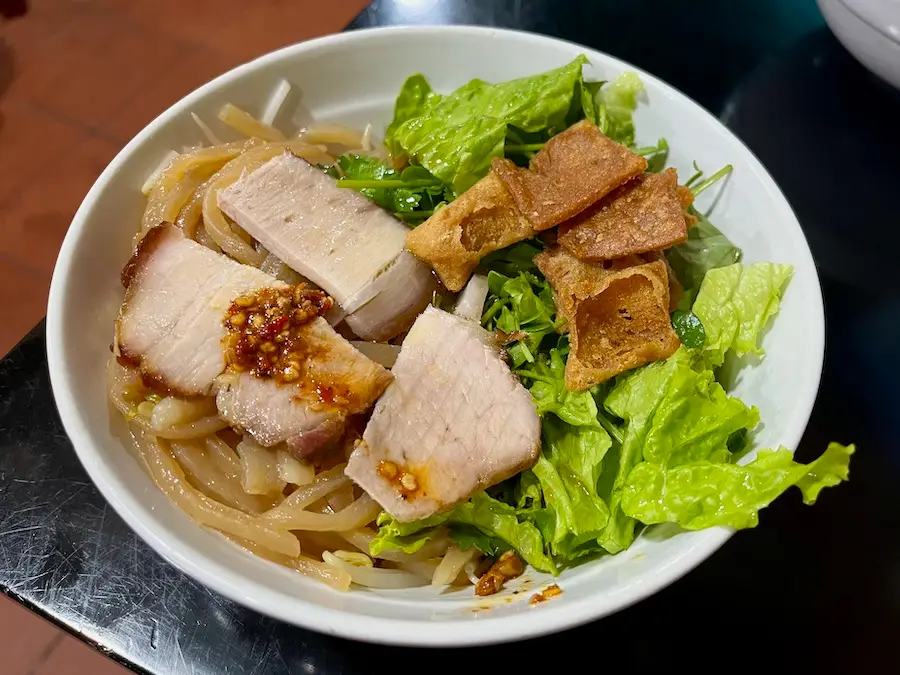 Banh xeo is a savory Vietnamese crepe filled with different ingredients and I highly enjoyed them as a side dish in several places.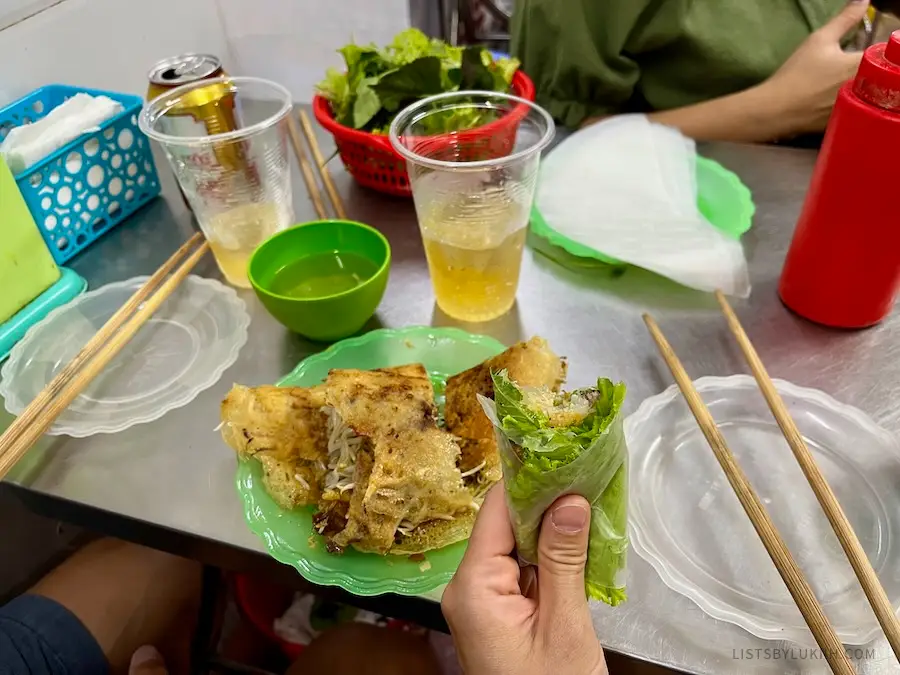 Pho, a noodle dish, is Vietnam's most famous dish. I truthfully didn't have any while in Vietnam because I was too busy trying all the other new noodle dishes I wasn't already familiar with.
One of the best things I did in Vietnam was going on a street food tour early in my trip. It allowed me to quickly learn about authentic Vietnamese food to try to eat for the rest of my trip.
🍀 My Experience: Vietnam is a country where the food is already unbelievably delicious, but made even more delicious because of its affordability. One of my favorite meals was xoi gia (sticky rice with pork) at a local hole-in-the-wall restaurant in Hanoi which cost less than $2 with a drink.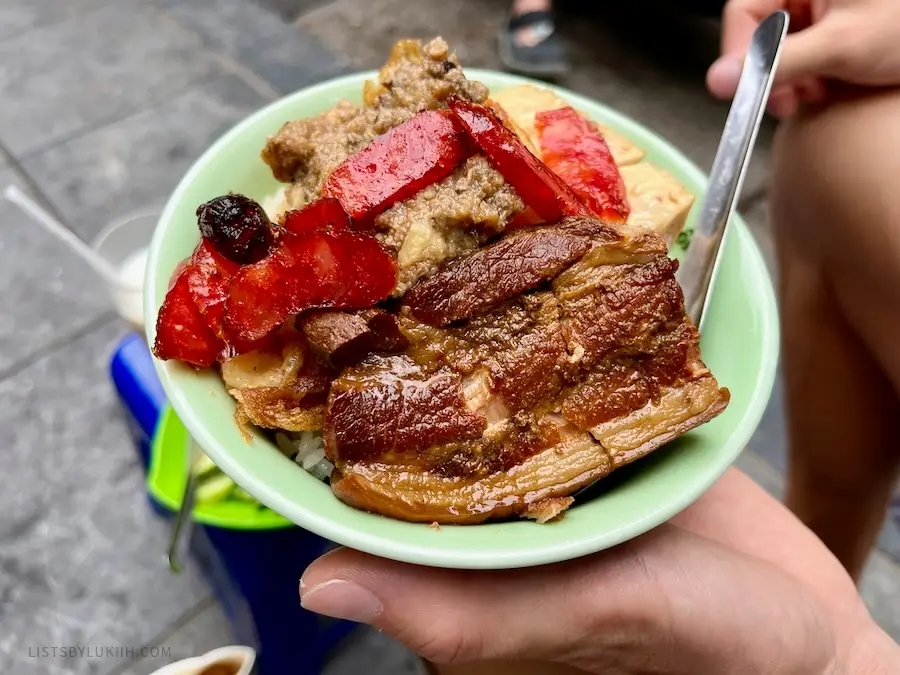 Summary: Vietnam at a Glance
Here's a quick summary of important trip-planning information for Vietnam:
📍 Popular Destinations: Hanoi, Ha Long Bay, Ha Giang, Sa Pa and Ninh Binh in Northern Vietnam; Hoi An, Da Nang, Hue and Phong Nha in Central Vietnam; Ho Chi Minh City, Nha Trang and Phu Quoc in Southern Vietnam
☀️ Best Time To Visit: Varies by the region
🗓️ How Long To Visit: At least two weeks to see different regions
🛃 Visa: Tourist visa required. Make sure to apply in advance.
💰 Currency: Vietnamese Dong. USD is not widely accepted.
💳 Credit Cards: Not widely accepted. Make sure to bring cash.
💵 Tipping Etiquette: Not customary, but appreciated
💬 Language: Vietnamese. English is rarely spoken in non-tourist areas.
🌎 Time Zone: Indochina Time (see current time)
💧 Tap Water: Not safe to drink
🔌 Outlet Type: Same as the United States's, so you might not need a power plug adapter
🌐 Wi-Fi: Not widely available. Get a SIM card or international plan for mobile data.
My Google Fi's international plan worked well during my Vietnam trip. You can get a $20 credit when you use my Google Fi referral code here.
📱 Apps To Download: Grab (iOS, Android), Google Translate (iOS, Android)
🎒 What To Pack: Sunscreen, mosquito repellent, rain jacket, clothes to cover your shoulders and knees
🏠 Booking Resources: Booking.com for lowest accommodation rates, Viator for great tour experiences
Vietnam Trip Planner
To make your travel planning easier, download the trip planning template below and use it as a starting point. The template has country-specific travel information as well as an itinerary, packing list and map with recommended places pinned.
The template is built on Notion, which is what I use for all my travel planning (I'm not paid to say this; I just like the tool). If you don't have Notion, creating an account is free.
If you have any questions or thoughts, feel free to leave them in the comments below.
🧋 This site is run entirely by me, Lukiih. I spend hours writing each article to ensure its accuracy and conciseness. If you find my site helpful, you can say thanks by buying me bubble tea!