With over 500 tailor shops all within walking distance, Hoi An in Central Vietnam is the tailoring capital of the world and has some of the best tailors. Many of the five million people who visit this ancient town annually leave with custom-made clothes.
When my partner and I visited Hoi An, we got three dresses and a three-piece suit custom-made at two tailor shops, with the highly-rated Tuong Tailor being one of them. In this post, I share:
💡 Key practical tips
💰 How much you can expect to pay
👗 High-end vs. budget tailor stores
📏 The tailoring process
Planning a trip to Vietnam? This Vietnam guide covers things to know before getting there, including how to get around, common scams, cultural differences and more.
5 Key Tips for Getting Tailored Clothes in Hoi An
Before getting into the tailoring process in Hoi An, here are five key tips to know upfront. Note that all prices referenced in this post are in US dollars.
🗓️ Tip #1: You need at least two full days to get tailored clothes in Hoi An.
Due to the competitive landscape, tailor shops will do their best to work with your schedule, but two days is the absolute minimum you need to get custom-made clothes in Hoi An. A two-day turnaround is feasible, but it's tight and forces smaller shops to work overtime.
Giving tailors three or more days is not only more ethical, but it also gives you better results by allowing them enough time to do more rounds of fittings and adjust your clothes accordingly. See the full tailoring process below.
💭 Tip #2: Before stepping into a tailor shop, have an idea of what you want.
If you don't know what you want, the tailoring process in Hoi An can be overwhelming. Tuong Tailor, like other big shops, has three floors worth of fabrics and dozens of lookbooks, so it can take hours to look through everything if you don't have an initial idea.
Before visiting a tailor shop, you ideally:
Know the type of clothing item you made (e.g., formal dresses, jumpsuits, three-piece suits, short dresses)
Have a basic design in mind
Have a general color and/or pattern preference
It's helpful to bring one to three visuals to convey what you want. I bookmarked some short dresses I saw online to show my tailors.
💰 Tip #3: Hoi An tailor prices scale with skillsets and customer service.
With over 500 tailor shops clustered primarily around Tran Hung Dao Street, you'll find shops that range from budget to high-end tailors.
Most shops can do casual clothes, but you'll want to reserve formal wear for the higher-end shops.
I got a dress at a smaller shop and two at Tuong Tailor, a bigger and more expensive shop. I compare the two shops below.
⏰ Tip #4: Be flexible with how much time you'll need for the tailoring process.
The time it takes for each tailor visit varies and depends on things like how busy the shop is, how many pieces you want made and how much guidance you'll need.
For example, fitting appointments can be quick or take up to 45 minutes. Fitting depends on how many pieces you need to try on and how many adjustments you want or need, so be flexible when budgeting your time for these visits.
💳 Tip #5: Most shops have a 3% credit card fee.
If you're getting multiple pieces of clothes made or are shopping at a higher-end tailor store, your total cost can easily be over $200 so the 3% credit card fee can add up.
You may want to take out cash (in US dollars or Vietnamese dong) to avoid the credit card fee.
Most shops will also allow you to pay in full or roughly a 50% deposit during your first visit.
How Much Do Tailored Clothes Cost in Hoi An?
You can find tailor shops that charge very different prices in Hoi An — anywhere from $5 to $300 for a custom piece.
If you're visiting from a more affluent country, you'll see that tailor shops charge very low to reasonable prices. Prices are almost always guaranteed to be lower than what you can get for the same quality in the United States or other Western countries.
Hundreds of online reviews on Hoi An tailors suggest that you can get a dress or bespoke suit for 10% to 30% of the cost that you would get in the United States.
💰 Average Prices at Hoi An Tailors
Here's what you can expect to pay at a Hoi An tailor for a custom-made piece:
| | Budget Tailors | High-End Tailors |
| --- | --- | --- |
| Button-down shirt | $10 – $30 | $30 – $50 |
| Short dress | $15 – $40 | $70 – $100 |
| Long dress | $20 – $50 | $90 – $150 |
| Three-piece suit | $90 – $150 | $200 – $400 |
Average prices for Hoi An tailors
Below is a more detailed comparison between a budget and a high-end tailor shop.
👗 What We Got and How Much We Paid
My partner and I got several custom-made pieces at two Hoi An tailor shops: a budget shop with no Google reviews and Tuong Tailor, a highly-rated shop.
Below are the clothing pieces we got tailored and how much we paid for each. The long dress was at the budget shop and everything else was at Tuong Tailor.
| Custom-made Piece | Price |
| --- | --- |
| Short dress #1 | $80 |
| Short dress #2 | $90 |
| Long dress | $35 |
| Suit jacket and trousers | $230 |
| Suit vest | $80 |
| Dress shirt | $40 |
| Tie #1 | $10 |
| Tie #2 | $10 |
We didn't negotiate, so these were the initial prices we were quoted and how much we ended up paying. In total, I paid $205 for three dresses and my partner paid $370 for a three-piece suit.
Vietnam is one of the cheapest countries to visit, so custom clothes easily became one of my biggest expenses. This Vietnam cost breakdown details all my expenses.
💰 How Prices Are Determined at Hoi An Tailors
The price of tailored clothes in Hoi An depends on several factors and you can control several of these things to decrease or increase your price tag:
Type of Tailor Shop
Most tailor shops in Hoi An are low to medium-budget shops while some shops, like Tuong Tailor, BeBe Tailor, A Dong Silk and Yaly Couture, are high-end.
You can get an idea of what kind of shop they are by looking at Google and Tripadvisor reviews, or just by looking at how big or nice the shop is in person.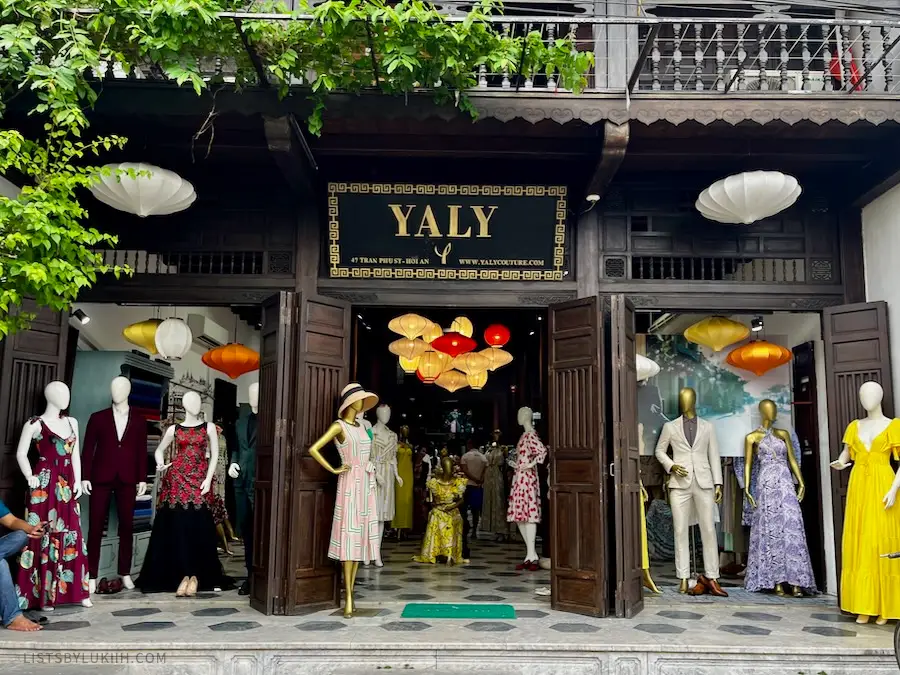 Complexity and Material Needed
The more complex and the more material you need, the pricier your tailored clothes will be.
For example, a small shop quoted $20 for a short dress and $35 for a long dress that uses one fabric. In comparison, the short dress I wanted was $80 while the long dress was over $100 at a bigger shop. I also looked at a short dress that uses two different fabrics and that bumped the cost to more than $95.
Fabric Quality
Some shops will offer different kinds of fabrics and tell you the approximate price difference between them.
At Tuong Tailor, a short dress with the standard fabric started at $70. If I wanted to use a fabric that was of higher quality with no change to the dress's design, the price increased to $100 and $150.
Number of Pieces You Purchase
Many tailor stores in Hoi An will be willing to give you a higher discount the more pieces you purchase from that shop.
If the Hoi An tailor shop doesn't proactively offer a discount, you can try negotiating. Bargaining is expected and part of the norm in Hoi An.
Budget vs. High-End Tailor Shops in Hoi An
Is paying for a high-end tailor shop in Hoi An worth it? The answer to that varies by person, but for some initial guidance, below are some of the differences I experienced between the budget shop that had no Google reviews and Tuong Tailor, the bigger, highly-rated shop.
I am not paid by Tuong Tailor for my review. All opinions expressed here are my own and reflect my personal experience.
💰 Price
The budget shop charged $35 for a long dress and Tuong Tailor charged at least $80 for each of the short dresses I got. The latter also told me that a long dress would have been approximately $100 or more.
A $65 price difference for a long dress is non-trivial, so it may not be worth it to you for more casual clothes, but it may be for formal dresses.
🧠 Skillset and Willingness to Adjust
The budget and high-end tailor shops differed significantly in skillset and the level of guidance they provided.
During my fitting, the budget shop primarily asked me what I wanted to be changed and seemed resistant to some of the changes I wanted, while Tuong Tailor proactively identified adjustments, regardless of the complexity, to get a perfect fit.
The small shop did one fitting while the big shop did two fittings for each piece in the same span of time, and the latter executed the adjustments much more professionally and with better outcomes.
👔 Fabric Options
Since the budget shop was much smaller, they had a smaller selection of fabrics, while Tuong Tailor had three floors worth of fabric and each floor was bigger than the entirety of the smaller shop.
If you find fabric that you like at a small shop, then a wider fabric selection won't matter. But keep in mind that a bigger shop will also more likely have a range of fabric quality (e.g., Tuong Tailor would point out to me the section of fabric that cost more due to the higher quality).
🚰 Facilities
The small shop didn't have a changing facility (i.e., getting fitted meant going to the back room without a door and changing).
Tuong Tailor had a separate section with individual changing rooms and giant mirrors. The facilities don't necessarily impact the quality of your clothes, but it does change your experience if that's something you care about.
✋🏻 Number of workers
The small shop had one person while Tuong Tailor had at least ten employees. Although I mostly worked with one person at Tuong Tailor, there was always someone available to help me during all visits if my primary contact was busy.
In the small shop, I had to sometimes wait for the one person to finish taking care of other customers first.
🍀 My Overall Take
Is paying for a higher-end tailor shop worth it given the drastic price differences?
Based on my experience, I recommend getting casual clothes at the smaller, budget shops and formal wear with more complicated designs at the bigger, high-end shops.
Overall, I was happy with my two dresses from Tuong Tailor and I've since worn them for formal events. In comparison, I wasn't satisfied with the budget shop's finished product because it wasn't quite what I asked for and didn't fit me that well in the end.
Like the bigger shop, the small shop was very professional. It's not that I wouldn't buy from them again; I would just do casual clothes with them next time.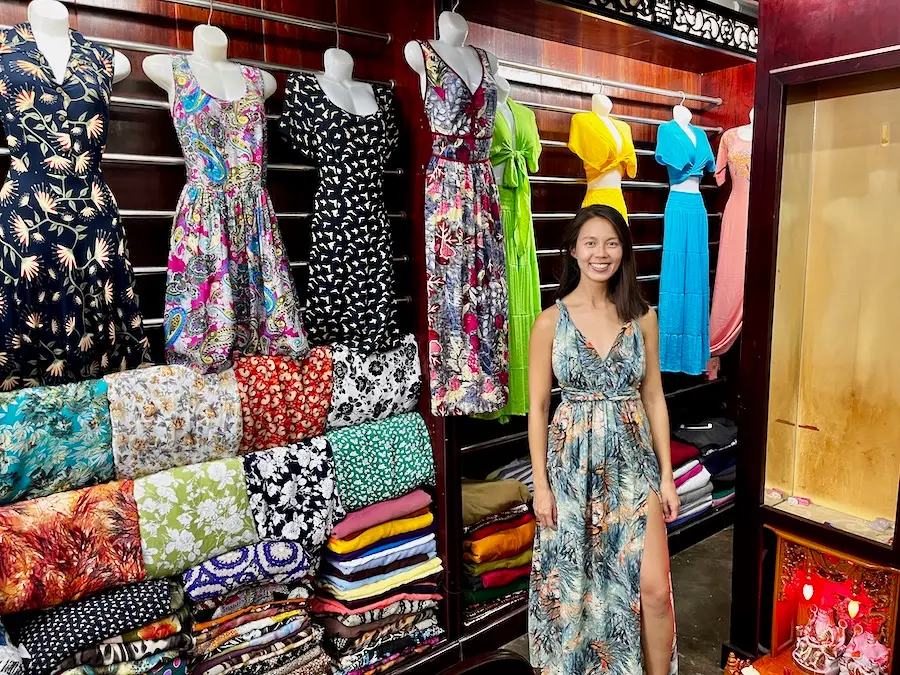 The Tailoring Process in Hoi An
All the Hoi An tailor shops typically follow the same process as outlined below.
I specifically use my experience with Tuong Tailor as the example, but the smaller, budget shop followed a similar process with less guidance and one less round of fitting.
Step 1: Research before entering a tailor shop
What to do: The general wisdom is to get an idea of what you want to be made and to do some research on potential tailor shops in advance.
I did very little of this and now agree that you should at least come in with some visuals and an idea of what you want to be made.
My experience:
Design research: I knew I wanted two short dresses for weddings/date nights and had an idea of general designs (i.e., one asymmetrical, one halter top). I didn't have a color or fabric in mind, which made the process longer.
Tailor shop research: I did light research and saved two tailor shops that seemed well-reviewed on Google (i.e., 4.0+ stars with 100+ reviews). I ended up not using them; I just walked around Hoi Ai and went to stores that caught my eye or seemed to offer what I wanted.
Having an idea of what you want made seems more important than doing advanced research on tailor shops. Unless you know you want a specific high-end tailor store, walking around Hoi An and looking up reviews on the go was more helpful and accurate than doing advanced shop research.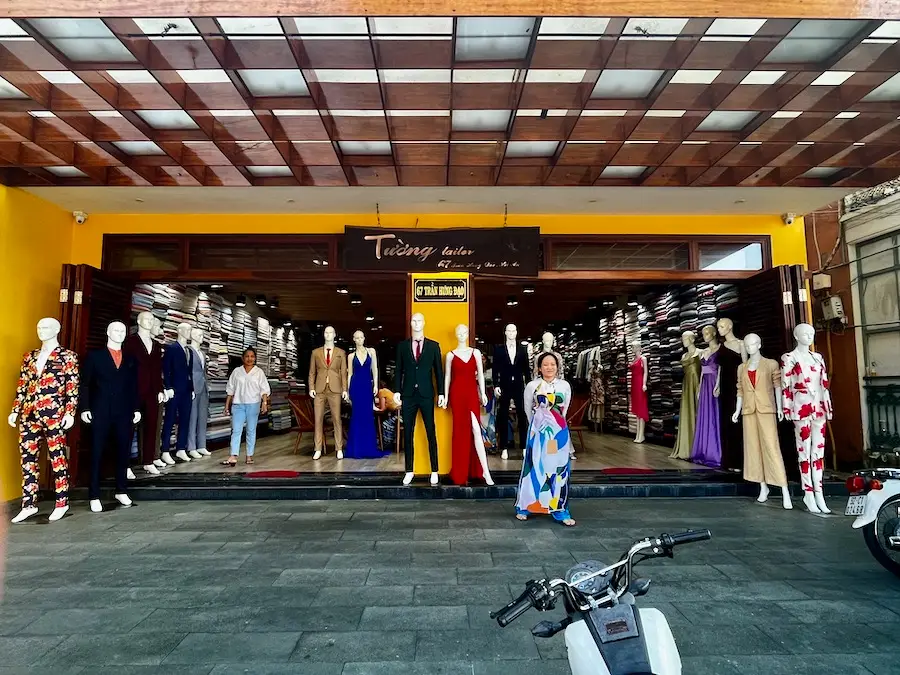 Step 2: Visit a shop and agree on what you want made
What to expect: Select a tailor shop and work with them to describe what you want. This includes selecting a design and then a fabric. You'll also get measured, agree on a price, pay a deposit and set a time to get fitted, which is usually sometime during the following day.
The first visit to a tailor shop is usually the longest (45 to 60 minutes), depending on how set you are on your design (if you're unsure on the design and fabric, it'll take longer to discuss and select one), how complex it is and how many pieces you're getting made.
My experience:
Describing the dress style: I showed my tailor two photos and verbally communicated things I wanted different (e.g., no ruffles on the asymmetrical dress, short hem and no slit on the halter top). She took a photo of my visuals and asked clarifying questions.
If you don't come in prepared with visuals of what you want, they'll give you a somewhat limited "lookbook" for inspiration, asked you to point at dresses you like around the shop, and/or ask you to Google some visuals to show them.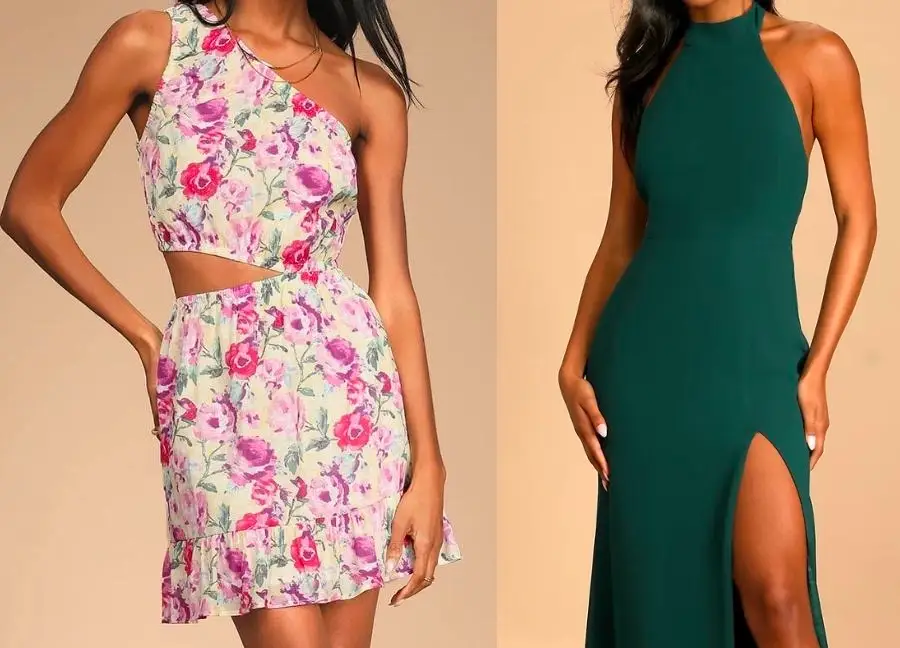 Picking a fabric: This is where I got overwhelmed with the choices because I didn't come in with even a dress color in mind. Tuong Tailor had over three floors worth of fabric. I spent over an hour looking through all the color options and patterns before picking one. Thankfully, the tailor was very patient with me.
Getting measured: This was straightforward and took about a minute.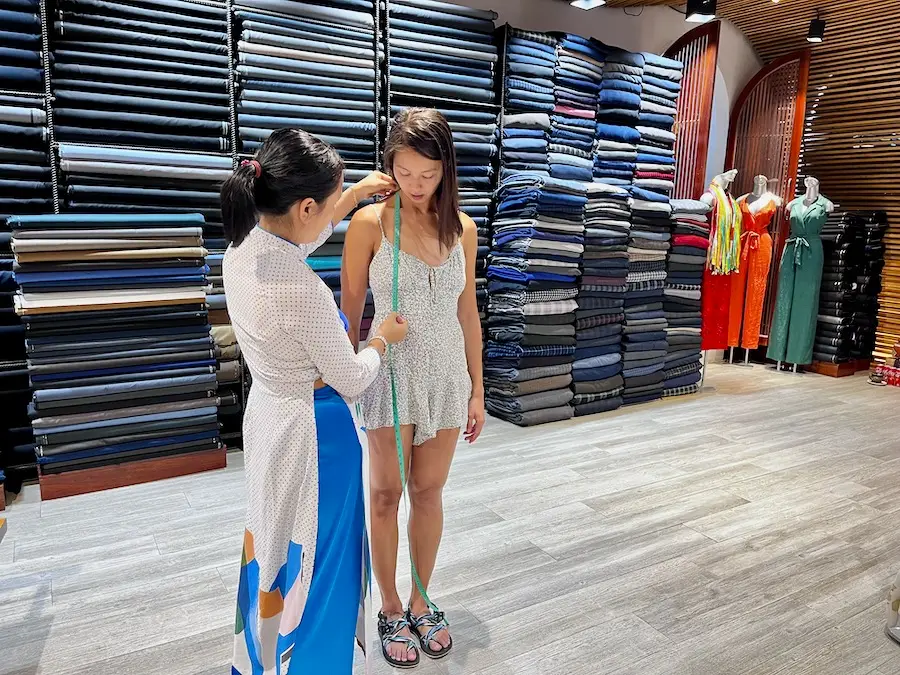 Getting the quote, paying and agreeing on the next appointment time: The tailor gave me a price and I agreed to it without negotiating. I paid half the deposit using a credit card. I confirmed I could come back at 1 pm the next day, about 20 hours later, for my first fitting.
Step 3: Get fitted and make adjustments
What to expect: During your first fitting, your piece will be 80% to 90% done. You'll put it on and discuss any adjustments with your tailor. Then, you'll agree on a time for your next fitting, which is usually less than 24 hours later.
Getting fitted can take 15 to 45 minutes, depending on how many other customers are at the shop, how many adjustments you have to make and how many pieces you're trying on.
My experience:
Getting fitted: After I put on my dress, the tailor would look at it and proactively identify adjustments that needed to be made and would confirm with me that I agreed with the adjustments. They also asked if I wanted to make other modifications.
Two pro tips I learned while getting fitted:

1. Wear the bra that you think you would wear with the dress for the most accurate fit. I didn't do this and now my dress is a tad tighter around the bust area with a different bra.

2. Ask for shoulder hanging straps to be included. Mine didn't come with any and that made them harder to hang when I brought them home.
Adjustments: I had three to four adjustments made per dress, and they included:

Loosening/tightening the bust area
Shortening the hemline
Tightening the waist area
Making the neck collar skinnier (for the halter top)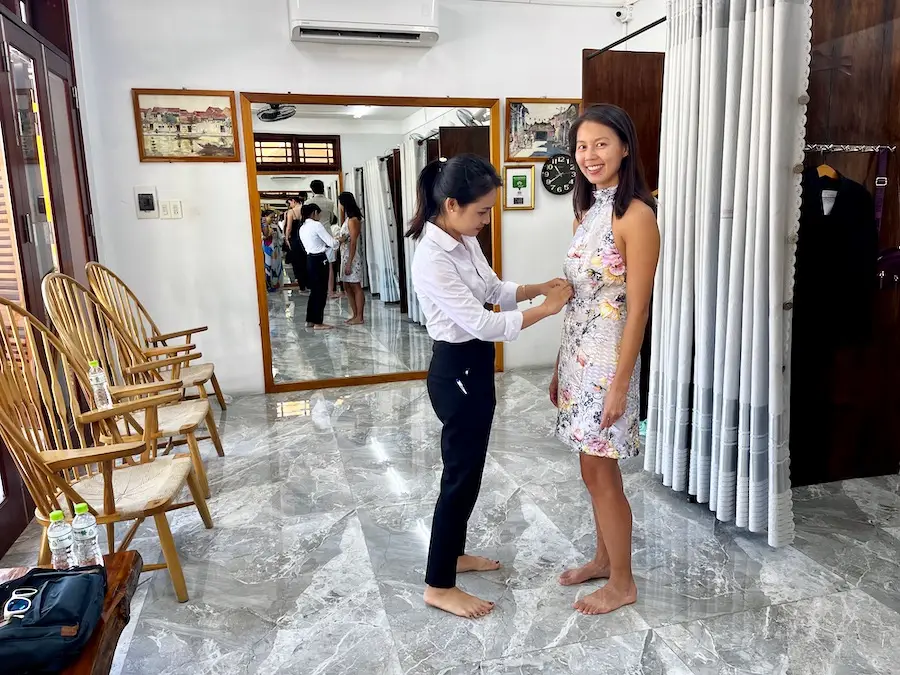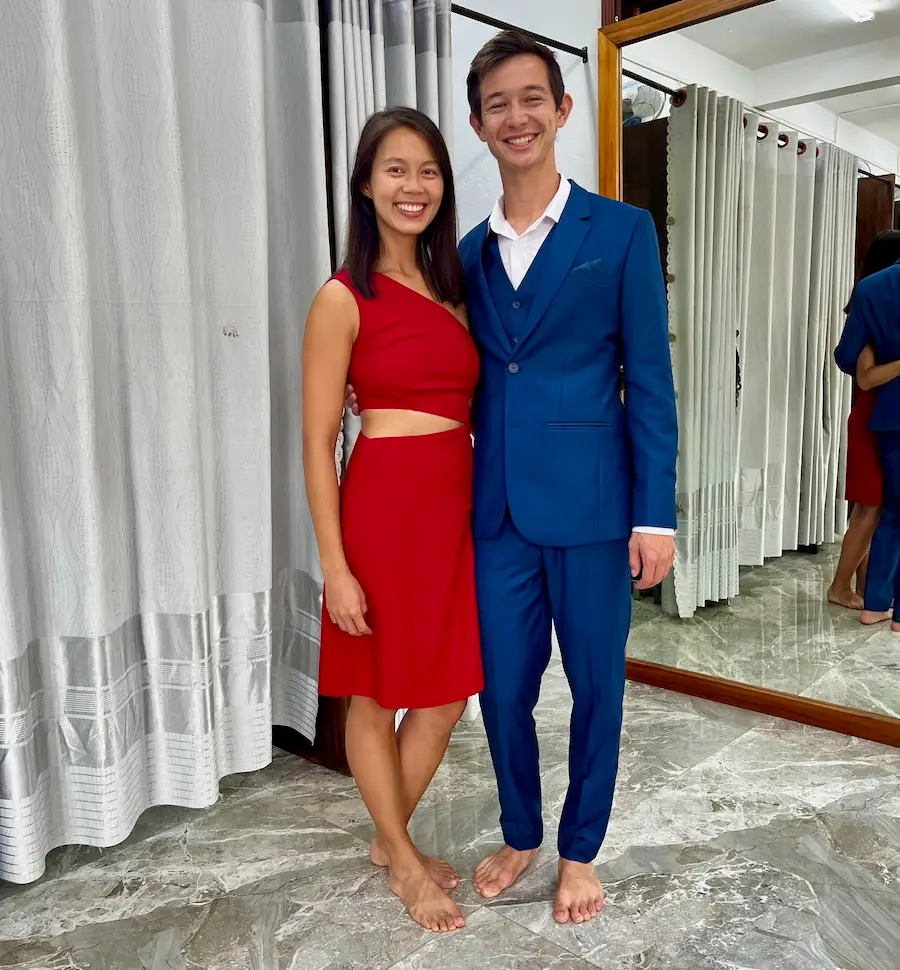 Step 4: Do the final fitting and pick up clothes
What to expect: The last step in the process is to get fitted again and make other adjustments if needed. You then pay the full amount and pick up the final product.
My experience:
Getting fitted: This part was the same as step 3, but with smaller adjustments.
Picking up clothes: Once I was satisfied, I paid and they packaged the clothes in a plastic bag to take home with me.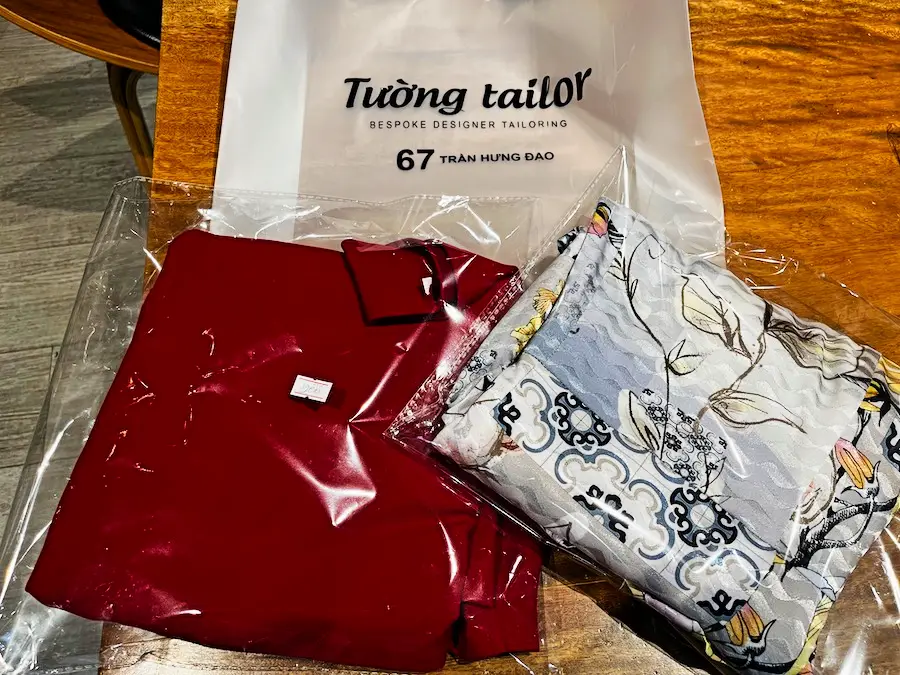 Most custom-made clothes can be done in about three to four days as outlined above. If you want a more complicated piece, like a wedding dress, it can take a long time (e.g., over five days).
Is Getting Tailored Clothes Worth It in Hoi An?
My recommendation is to get a clothing piece designed and tailored specifically for you in Hoi An for any of these reasons:
With due diligence, you'll get a high-quality piece for a very affordable price, especially if you negotiate. It's challenging to find the quality-to-price ratio offered by the professional tailors in Hoi An; there's a reason why it's known as the tailoring capital of the world.
If you get along with your tailor shop, it's a fun and unique experience. Make sure you feel comfortable working with your tailor as they are the ones you will negotiate adjustments with during fitting. I asked to switch my primary point of contact during my first session and had better chemistry with the second person.
Dresses and suits are the most valuable things to get tailored, but even if you don't generally need nicer clothes, getting more casual clothes that require a better fit can be worth it (e.g., jumpsuits, rompers, a matching couples outfit).
If you have no space to carry your clothes back, some shops will offer to ship your clothes. This option is likely worth considering if you're getting multiple nicer pieces.
When Should You Not Get Tailored Clothes in Hoi An?
If you don't have at least two days in Hoi An, consider skipping the tailoring process.
Due to the high competition, a lot of tailor shops will work odd hours to meet customers' schedule demands. Requiring a shop, especially a small one, to turn your clothes around in less than two days can be unethical and you risk getting a worse result.
Getting tailored clothes is one of the top things to do in Hoi An. This Hoi An travel guide highlights other great things to do there.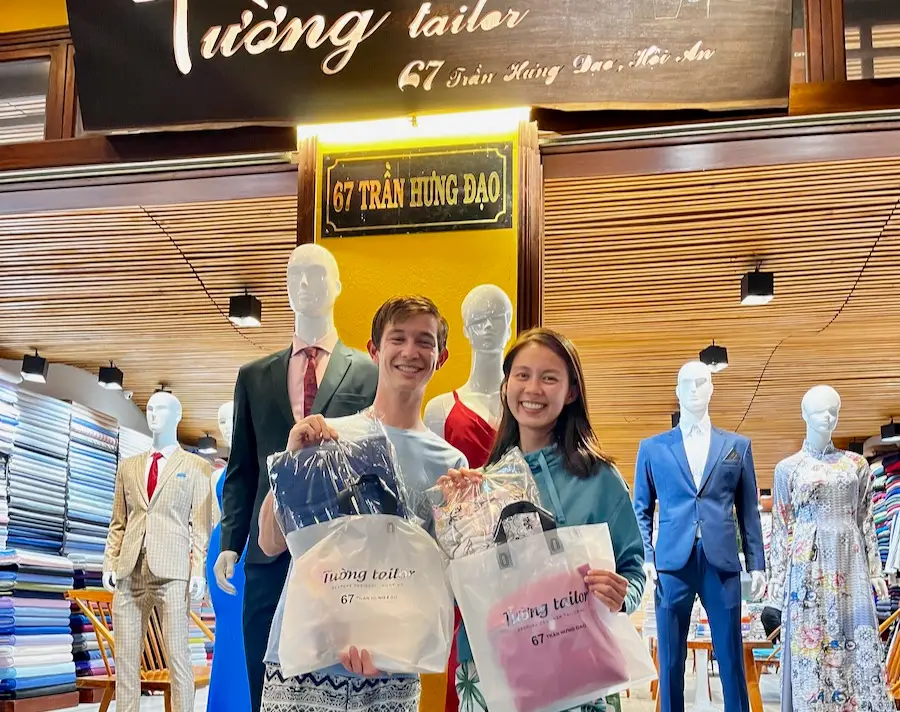 Vietnam Trip Planner
To make your travel planning easier, download the trip planning template below and use it as a starting point. The template has country-specific travel information as well as an itinerary, packing list and map with recommended places pinned.
The template is built on Notion, which is what I use for all my travel planning (I'm not paid to say this; I just like the tool). If you don't have Notion, creating an account is free.
If you have any questions or thoughts, feel free to leave them in the comments below.
🧋 This site is run entirely by me, Lukiih. I spend hours writing each article to ensure its accuracy and conciseness. If you find my site helpful, you can say thanks by buying me bubble tea!