A UNESCO World Heritage Site, Hoi An is an ancient town that's known as the food capital of Vietnam and the tailoring capital of the world. Of all the places I visited in Vietnam, Hoi An was one of my favorite places.
I spent four days in Hoi An and here, I share practical tips on visiting it. This post covers:
⭐️ Top attractions and places to eat
🗓️ Optimized 3-day itinerary
📍 Map with key places pinned
💰 An expense breakdown
🚗 How to get around
Planning a trip to Vietnam? This Vietnam guide covers things to know before getting there, including how to get around, common scams, cultural differences and more.
Disclosure: This post may contain affiliate links. If you make a purchase through them, I may earn a small commission, at no extra cost to you. Thanks for your support!
Hoi An at a Glance
Here's some general information on Hoi An to help you plan your trip.
👗 Known For
Hoi An is known as the ancient town to get custom-made clothes, eat excellent, authentic Vietnamese food, and the place where colorful lanterns light up the river and town at night.
🏮 Vibe
Hoi An has a small, touristy, and relaxed vibe, resembling a beach town without the beach.
📍 Location
Located in Central Vietnam, Hoi An is 500 miles south of Hanoi City and 530 miles north of Ho Chi Minh City.
✈️ How To Visit
You can get to Hoi An by bus, train, car or plane. I flew into Da Nang International Airport and took a 40-minute taxi ride to Hoi An that was arranged by my Airbnb host (more on getting around Hoi An below).
☀️ Best Time To Visit
The best and most popular time to visit Hoi An is during the dry season.
The dry season runs from February to August with average highs of 85°F.
The wet, rainy season runs from September to January with average highs of 80°F. I went in November and didn't personally experience any rain.
🗓️ How Long To Visit
You'll want to spend three to five days in Hoi An to fully enjoy the city. You'll need at least two to three days to get a custom-made clothing piece. I stayed for four days, which gave me enough time to do most of Hoi An's top attractions with some downtime.
This Vietnam travel guide has more general tips and basics on the country.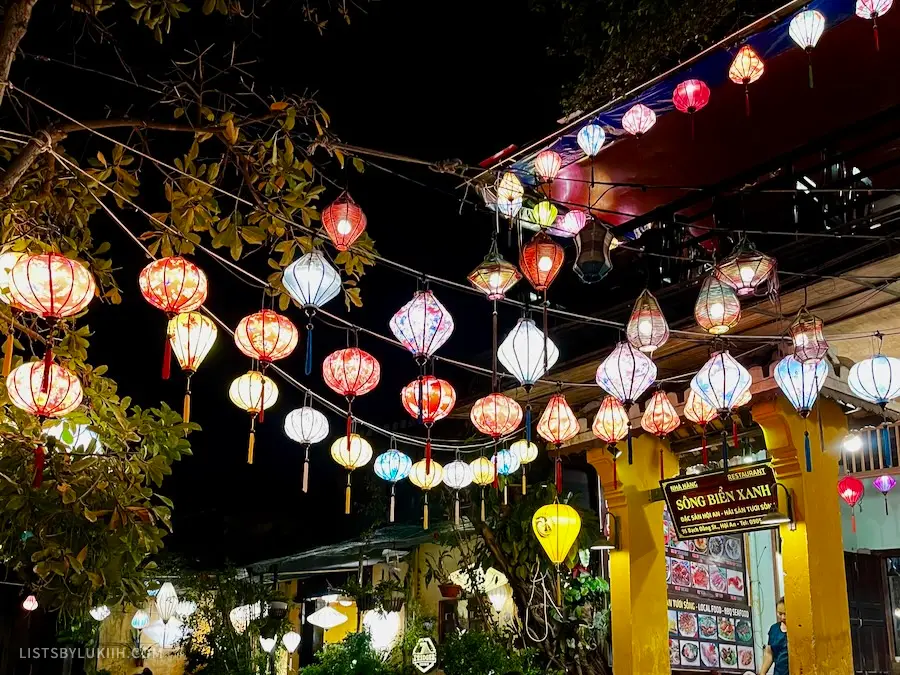 Getting Around Hoi An
Getting to Hoi An from Da Nang Airport
Hoi An is about a 40-minute drive from the closest airport, Da Nang International Airport (DAD), one of Vietnam's three international airports.
From the Da Nang airport, you can call a Grab, the Uber of Southeast Asia, or have a pre-arranged taxi take you to Hoi An. I had my hotel arrange a driver for me and that cost $12 USD one-way.
Getting Around Hoi An
Once you're in Hoi An, you can get around by walking, biking, hiring a driver, calling a Grab or hiring a tuk-tuk.
👟 Walking
Due to its small size, the best way to get around Hoi An is by walking. The city center, called Old Town, is pedestrian-only. You can walk from one end of Old Town to the other end in about 10 minutes.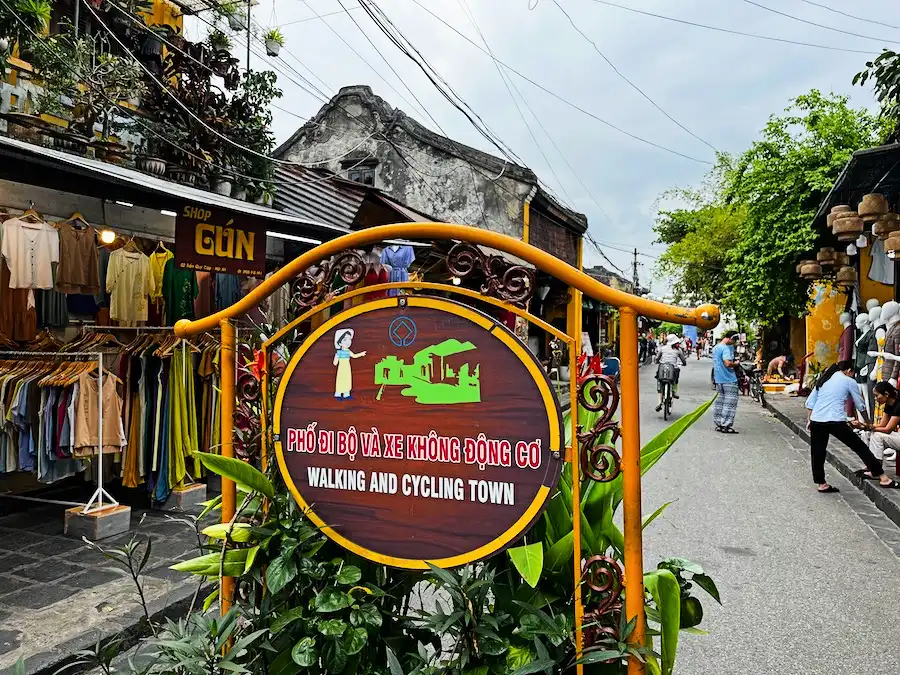 🚲 Rental Bike
In Hoi An, many accommodations (like mine) provide bikes for free. If your accommodation doesn't provide bikes, you can easily rent one around town as there are several rental stores.
Given how pedestrian-friendly Hoi An is, biking primarily makes sense to get to Tra Que Vegetable Village and An Bang Beach, which is about a 15-minute bike ride from Old Town.
🚙 Hire a Driver
Hoi An has an informal market for hiring drivers. Many locals (e.g., your Airbnb host, tour guide, tailor) are happy to arrange a ride for you if you ask. These rides are usually more affordable than calling a Grab.
My Hoi An tailor arranged for a local to drive me around Da Nang for several hours for $28 USD total.
🚗 Grab (Ridesharing App)
Grab (iOS, Android) is the Uber of Southeast Asia and is available in Hoi An.
While I used Grab in other parts of Vietnam, I never used it in Hoi An since the other modes of transportation were more convenient.
🛺 Tuk-Tuk
Similar to other tourist areas in Vietnam, you can hire a tuk-tuk in Hoi An. A handful of them are usually waiting around the town looking for riders.
Grab generally has competitive pricing. Insider tip: use Grab as a baseline for negotiations with tuk-tuks since the latter tend to charge more.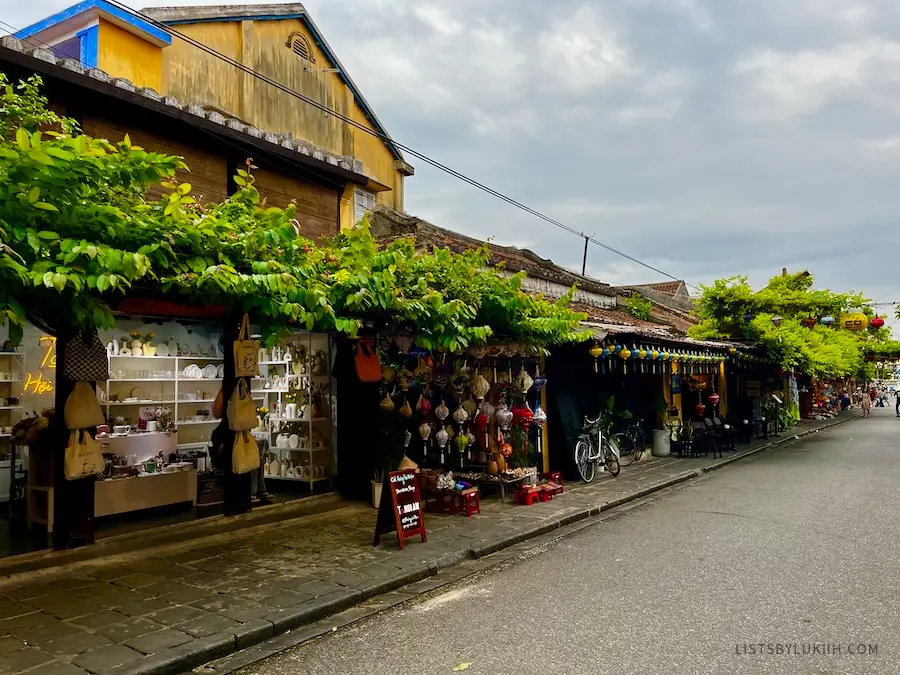 Three-Day Itinerary for Hoi An
Below is a great way to spend three days in Hoi An while incorporating all the best things to do listed below. For more downtime, you can do everything in four days as I did.
This three-day itinerary is the improved version of my four-day trip to Hoi An. I've included some of my actual timestamps to give you an idea of how long you might need for each activity and how to efficiently sequence things.
Hoi An Itinerary
If you have extra time in Hoi An, consider going on one of the three popular day trips.
Here's a northern Vietnam itinerary if you're curious about how to incorporate this Hoi An itinerary into your trip.
Hoi An Map With Recommended Places
This Vietnam map has all the recommended places in Hoi An pinned.
9 Great Things To Do in Hoi An
After spending four active, packed days in Hoi An and doing many of its main attractions, here are the top things I recommend in rough priority order.
1. Get tailor-made clothes
🤔 Why: Known as the tailoring capital of the world, Hoi An is the perfect place to get custom-made clothes. With over 500 tailor shops, you can find a tailor for any type of clothing no matter your budget. It's a popular place for both men to get a nice suit and women to get a nice dress, power suit or jumpsuit.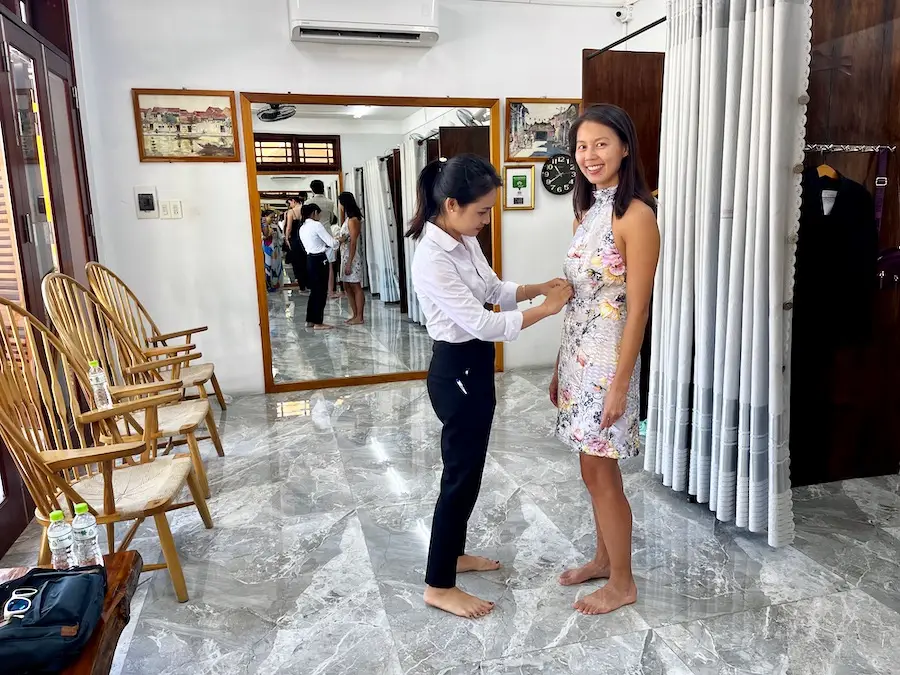 👗 What to do: Walk around, find a tailor shop that meets your style, needs and budget, and work with them to create custom-made pieces.
⏰ Suggested duration: Getting a tailored piece will typically require you to be in Hoi An for two to three full days minimum.
💰 Expected cost: The cost of your tailored clothes will depend on what you want to be made (e.g., casual vs. a suit) and which tailor shop you work with (budget, middle or high-end). In general, high-quality custom-made clothes in Hoi An will be significantly cheaper than ones made in the US.
🍀 My take: It's difficult to find the quality-to-price ratio offered by tailors in Hoi An, so if you have the time, I recommend taking the opportunity to get a piece of clothing specifically designed and fitted for you.
I got three dresses tailored in Hoi An for $35, $80 and $90 USD. This Hoi An tailor guide outlines the process of getting custom clothes and provides tips along the way.
2. Eat Hoi An-specific food at local restaurants
🤔 Why: Known as the food capital of Vietnam, Hoi An offers dishes that are unique to this town. One of the best things to do in Hoi An is to eat at a local restaurant serving Hoi An-specific food.
🥟 What and where to eat: Below are Hoi An local food classics and some of the best places to eat them. I tried all of them and include my honest opinion.
White Rose Restaurant. "White rose" dumplings are a Hoi An specialty and this is the restaurant that created them (the recipe has been kept secret for three generations). They only have two items on the menu.

💰 Cost: A serving of the white rose dumplings cost ~$3 USD here.

🍀 My take: The white rose dumplings were unique and aesthetic, but they were not the most phenomenal dumplings I've ever had. For the cheap price, they're worth trying.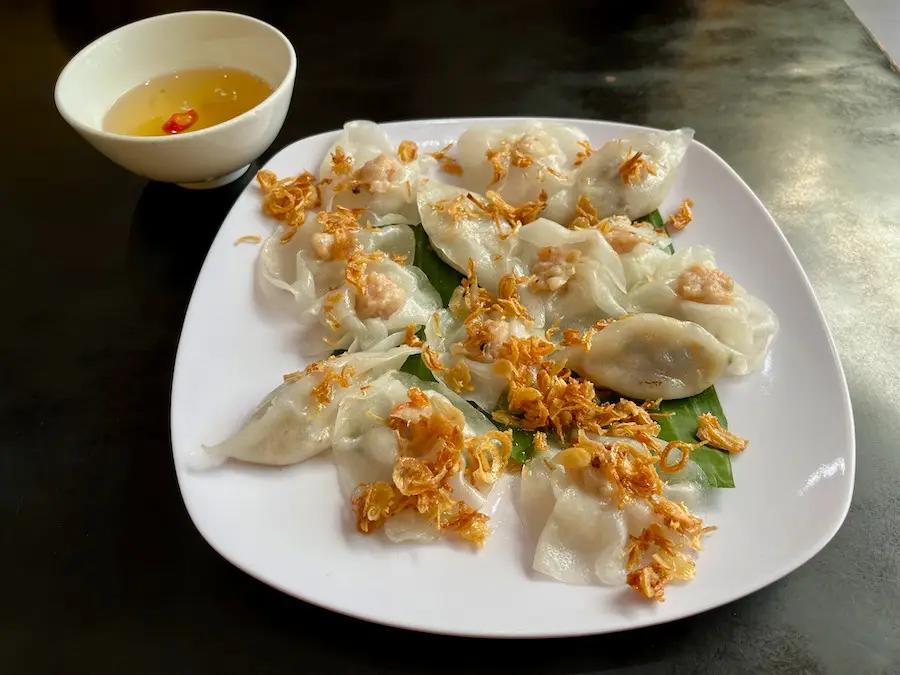 Quán Cao Lầu Thanh. Cao lầu is one of Hoi An's most popular traditional dishes. A Hoi An specialty, the dish is compromised of a chewy noodle topped with pork and vegetables. They say a real cao lau must be made in Hoi An because the noodle is soaked in specific water from the town.

💰 Cost: My one bowl of cao lau and a soy milk drink cost ~$2 USD here.

🍀 My take: I ate cao lau at three different restaurants and Quán Cao Lầu Thanh was by far the best place for this noodle dish. If you don't care too much about food, I would at least try to eat cao lau in Hoi An given its uniqueness.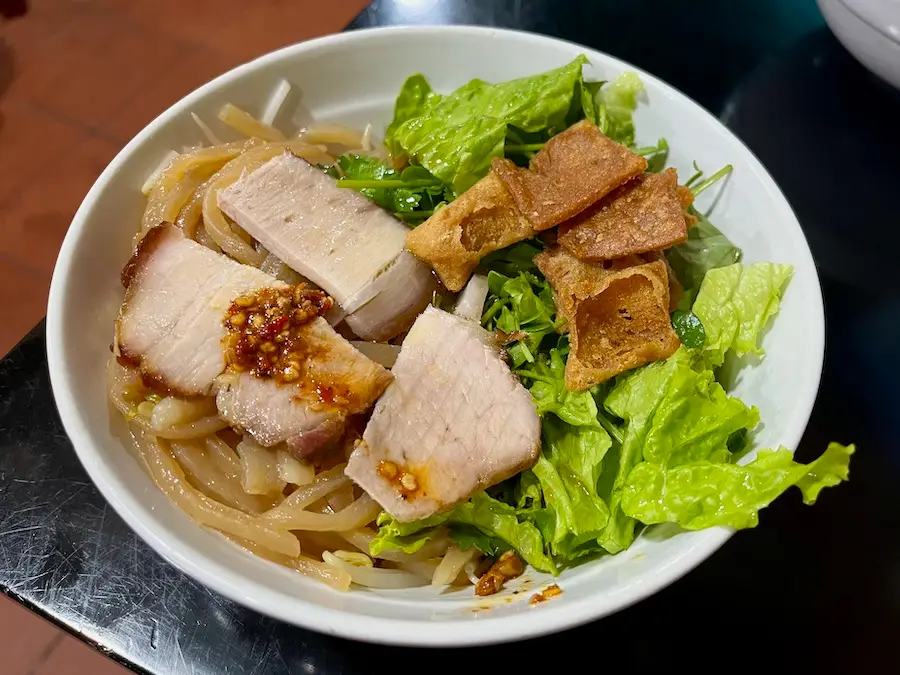 Madam Khanh – The Banh Mi Queen. Bánh mì, a baguette sandwich filled with savory ingredients, is not specific to Hoi An, but this shop is famous for it.

💰 Cost: My bánh mì and watermelon juice cost ~$2 USD here.

🍀 My take: This was the best-tasting bánh mì I've ever had. The restaurant is popular with tourists and locals, and they ran out of the popular pork belly sandwich by 2 pm, so try to get there early.
Another popular place to get bánh mì in Hoi An is at Bánh Mì Phượng, which is about an either-minute walk from Madam Khanh.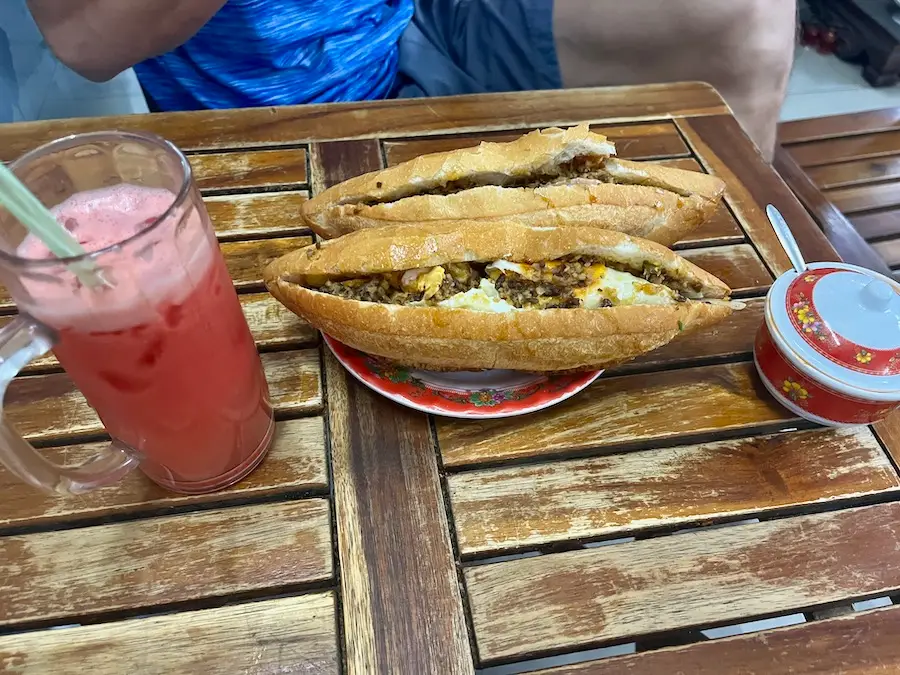 Nhỏ ơi Cafe. Hoi An has several coffee shops, but one unique drink to try is salted coffee. Salted coffee originated from the nearby town, Hue, and Nhỏ ơi Cafe is known for serving one of the best versions of it.

💰 Cost: I was able to get two cups of salted coffee for less than $1 USD total here.

🍀 My take: I generally don't drink that much coffee, but I liked their salted coffee so much that I ended up ordering two cups.
As of July 2023, Nhỏ ơi Cafe is sadly shown as permanently closed on Google. An alternative place to try salted coffee in Hoi An is Thợ Dệt Coffee – Tơ Tằm Đại Sứ.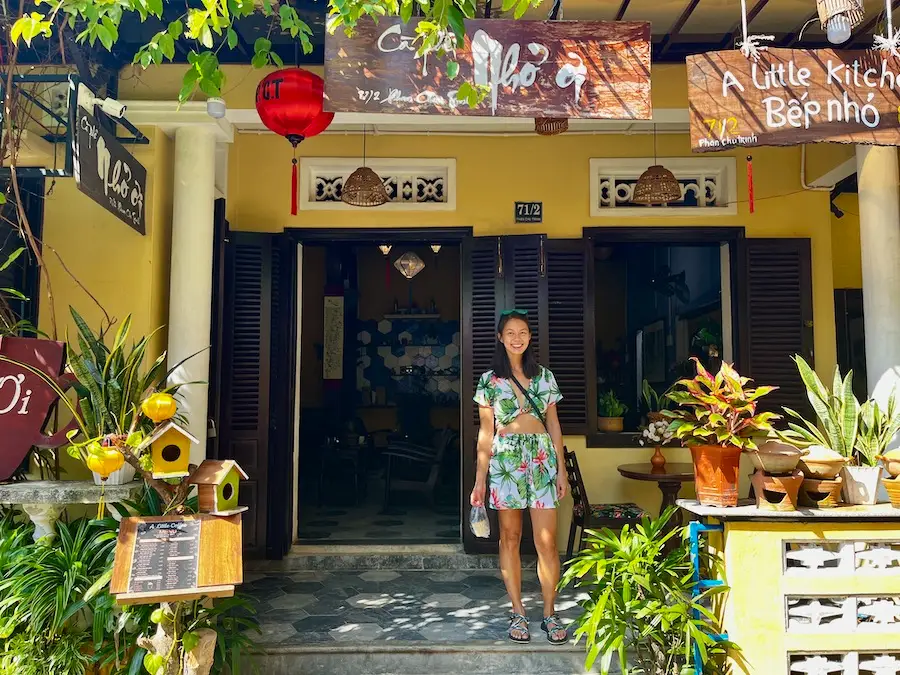 Mót Hội An. This Instagram-friendly place is popular for its herbal tea made of ginger, lemongrass and monk fruit and is considered healthy.

💰 Cost: A Mót tea costs less than $0.70 USD here.

🍀 My take: I didn't find Mót tea to be exceptional, but I came back twice for its silky sweet tofu that cost ~$1 USD.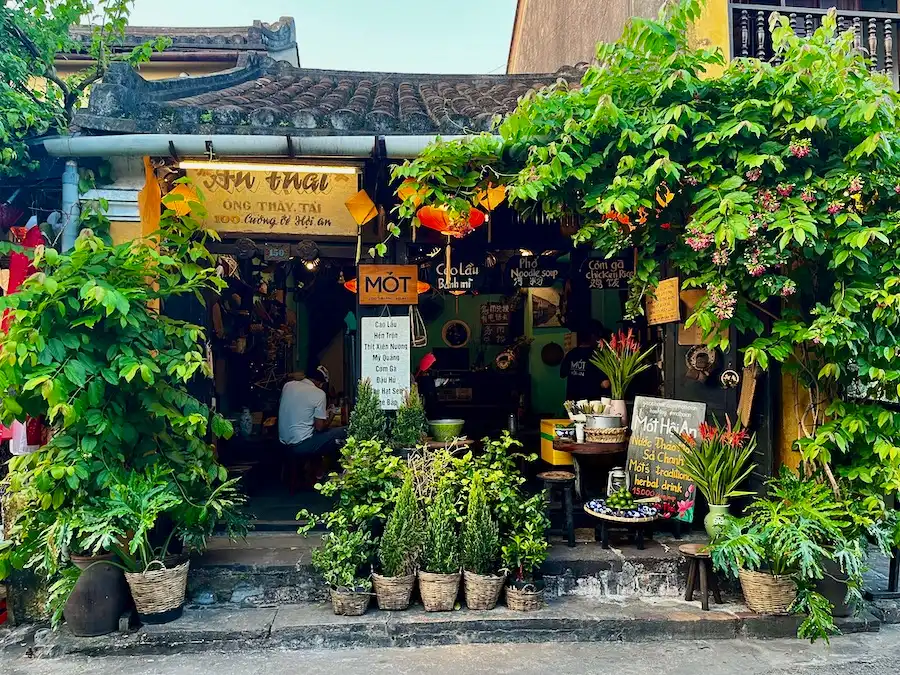 Street food bites. It's fun to walk around Hoi An and try whatever snack catches your eye, regardless of whether it's Hoi An specific or not. I tried banana pancakes (they have a crepe and fried version; the latter is delicious), banana sticky rice (which is exactly what it sounds like: a banana wrapped in sticky rice), ice cream rolls (fun to watch them make and eat) and mango cakes (tasted like mochi with peanut butter, not mango).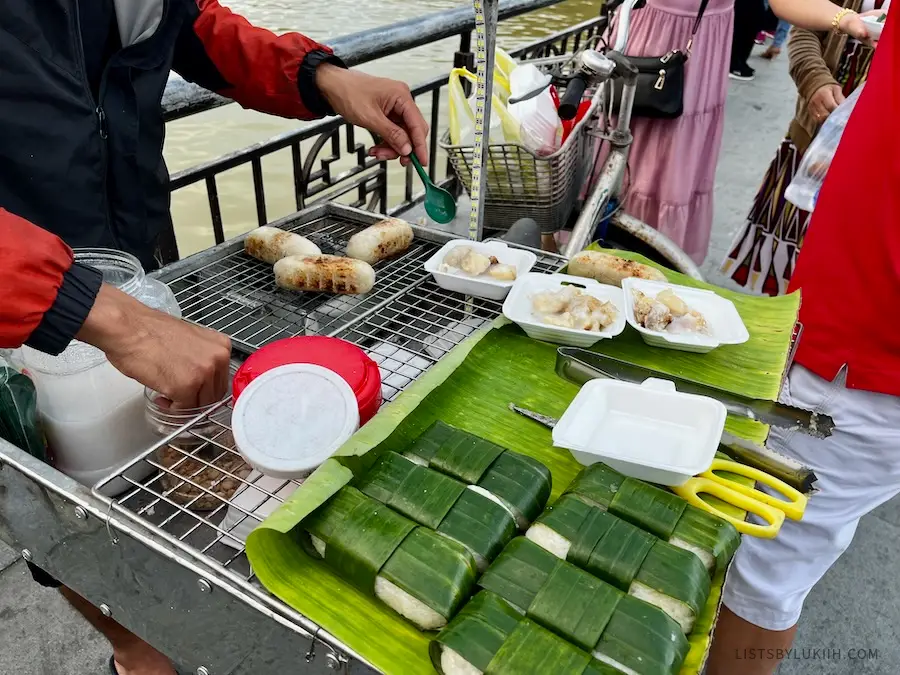 Morning glory. Widely cultivated in Southeast Asia, the vegetable, morning glory, is not specific to Hoi An or Vietnam, but several restaurants (like Nostalife) cook it extremely well. Morning glory can also be found in many of Hoi An's local markets.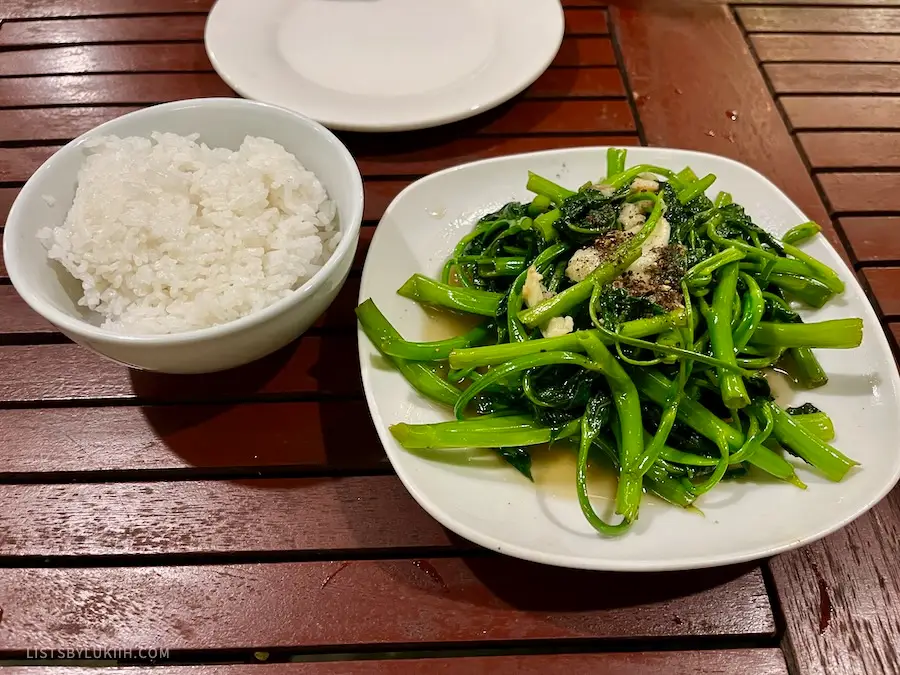 If you want to take the hassle out of planning your Hoi An food and eat more local food, you can also book this highly-rated Hoi An street food tour.
3. Take a day trip to Da Nang
🤔 Why: Da Nang is easily accessible from Hoi An and offers a different, more chill experience than Hoi An. It has some tourist attractions, but keep in mind that Da Nang has more of a local life that and is less touristy than Hoi An.
✨ What to do: Here are two Da Nang places to check out on your day trip:
Hike around Marble Mountains and admire the various statues, temples, caves, pagodas and viewpoints.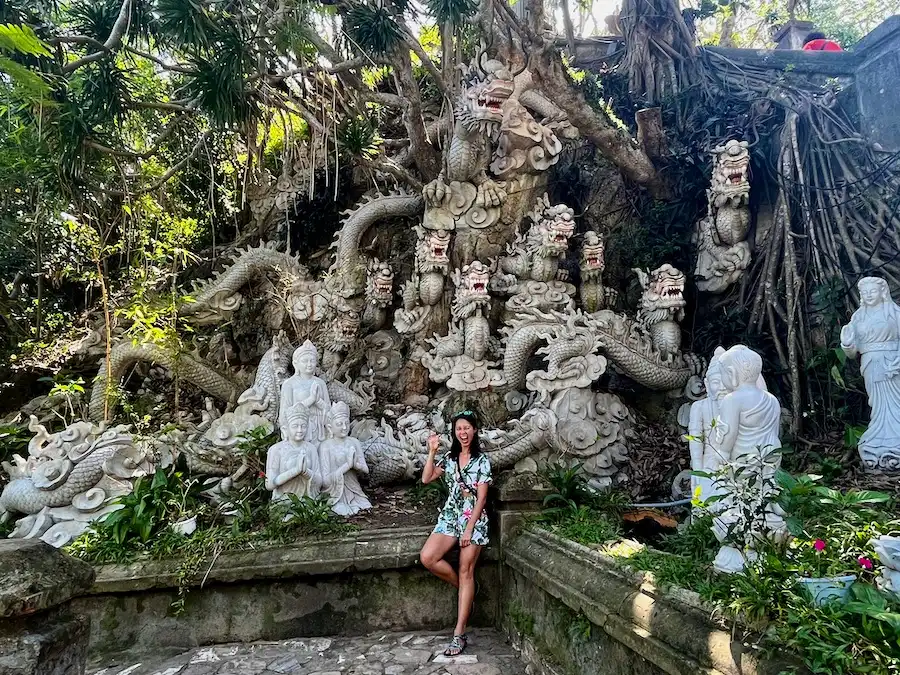 Visit Lady Buddha (also called "Chùa Linh Ứng"), the tallest statue in Vietnam, and enjoy the best view of the town.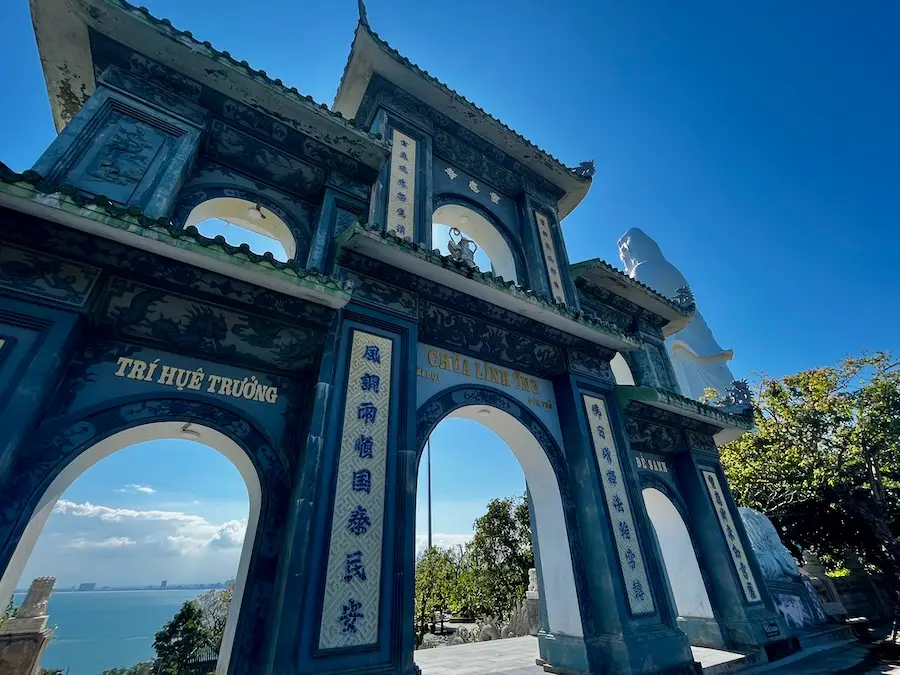 🚗 Getting there: To get to Da Nang from Hanoi, you can call a Grab or arrange a driver through a local, which is more affordable. My tailor shop lady arranged for a local driver to take me to and from Marble Mountains (a ~35-minute drive) and Lady Buddha (an additional ~25-minute drive) for $28 USD total.
If you don't want to deal with planning a Da Nang day trip, you can also hire a guide to show you around, which usually includes transportation to the various locations.
⏰ Suggested duration: Expect at least a half-day trip with the drive time. Marble Mountains takes two to three hours to visit if you want to see all or most of it. The area around Lady Buddha can be walked in 30 minutes to one hour.
💰 Expected cost: Marble Mountains has a ~$1.60 USD entrance fee. Lady Buddha doesn't have an entrance fee.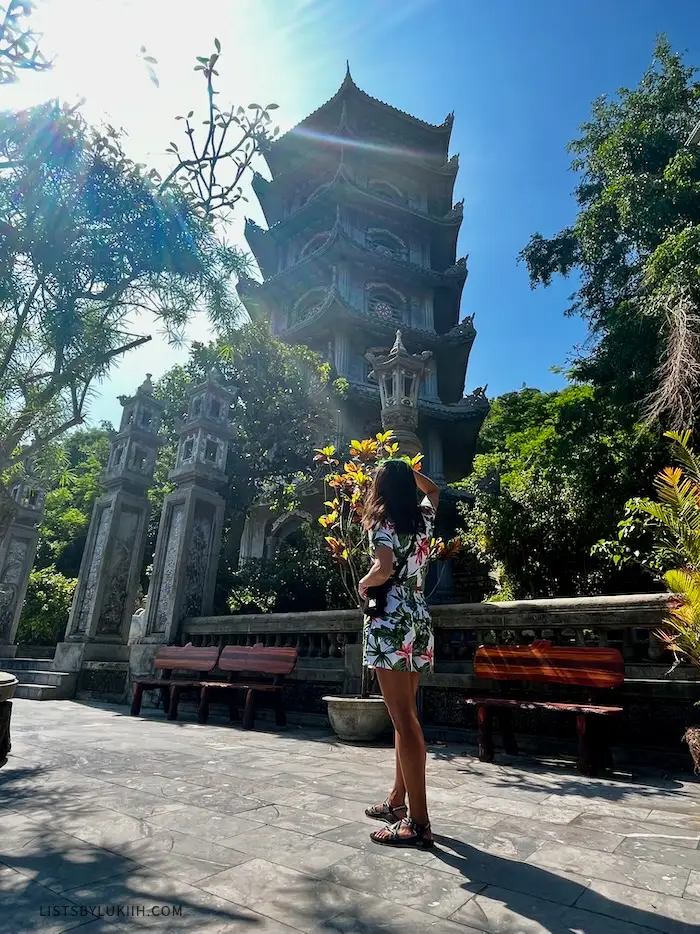 🍀 My take: Marble Mountains is a great place to check out if you're looking for something more active in Central Vietnam that's less than an hour away. Da Nang offered enough different things (e.g. caves, temples, statues) that it didn't get repetitive or boring.
💡 Most Popular Day Trips from Hoi An
Da Nang is the most convenient day trip from Hoi An and given its proximity, I think it's very worth visiting.
If you can travel further, there are three other popular day trip destinations from Hoi An:
Cham Island. Cham Island is a small island near Hoi An that can be reached in 20 minutes by speedboat. It doesn't have many accommodations, but it's a great place to get away, go snorkeling and enjoy white sand and natural beauty.
4. Take a Hoi An cooking class
🤔 Why: Being the food capital of Vietnam, Hoi An offers many cooking classes that are paired with other activities.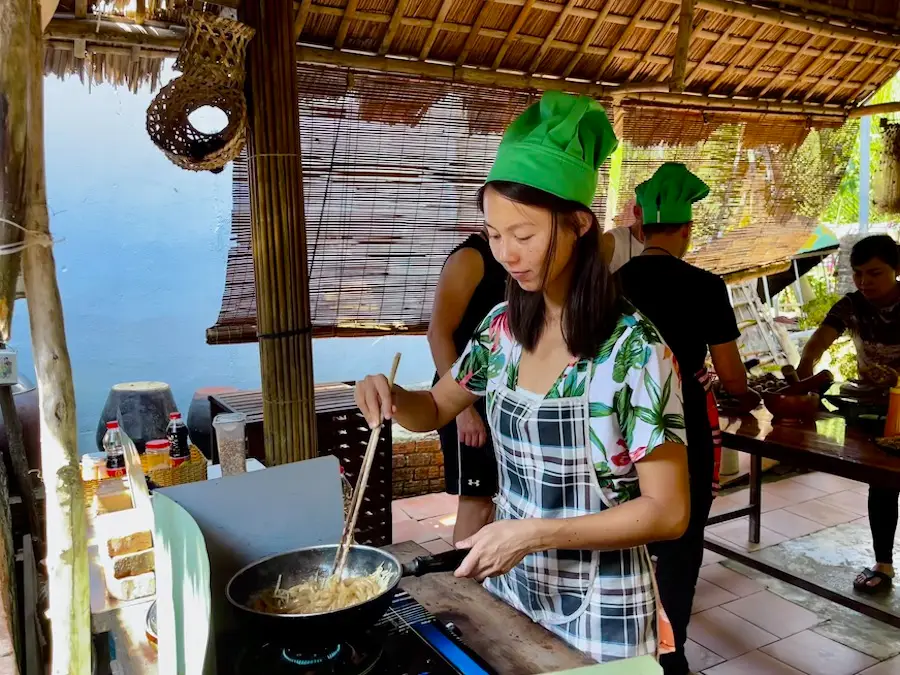 👩‍🍳 What to do: Book a Hoi An cooking class through your preferred tour operator. Here are some things to consider when choosing and booking a class:
Menu. Some classes have a set menu whereas others are more improvised.
Activity. Most classes offer an activity aside from cooking. Common activities offered with the classes include farming, shopping at a local market for fresh produce, riding a boat basket riding and crabbing.
Environment. Some classes are offered indoors at the chef's home while others are in an open area.
⏰ Suggested duration: Most Hoi An cooking classes will last half a day, about four to six hours. Some classes take the entire day.
💰 Expected cost: Hoi An cooking classes will range from $30 to $60 USD. The Hoi An cooking class that I took cost ~$30 USD, and included a local market stop, boat basket ride, crabbing and making more than four dishes.
🍀 My take: A Hoi An cooking class offers a glimpse into how some of your favorite Vietnamese food is made. How much of the cooking class you'll be able to replicate at home depends on you (for me, it's likely very little, so it was more of an experience than an educational class).
5. Visit Hoi An's night market
🤔 Why: Hoi An's traditional lantern crafting has been around for 400+ years and the central market next to the Thu Bồn River lights up with them at night.
🏮What to do: While walking around Hoi An's night market, you can shop for souvenirs, pay a lantern shop $0.50 to take a photo, watch the river light up with lanterns, listen to live music and try a street food snack.
Hoi An's central market does not have a lot of food diversity (i.e., many of the vendors sell the same snacks), but there are plenty of restaurants nearby.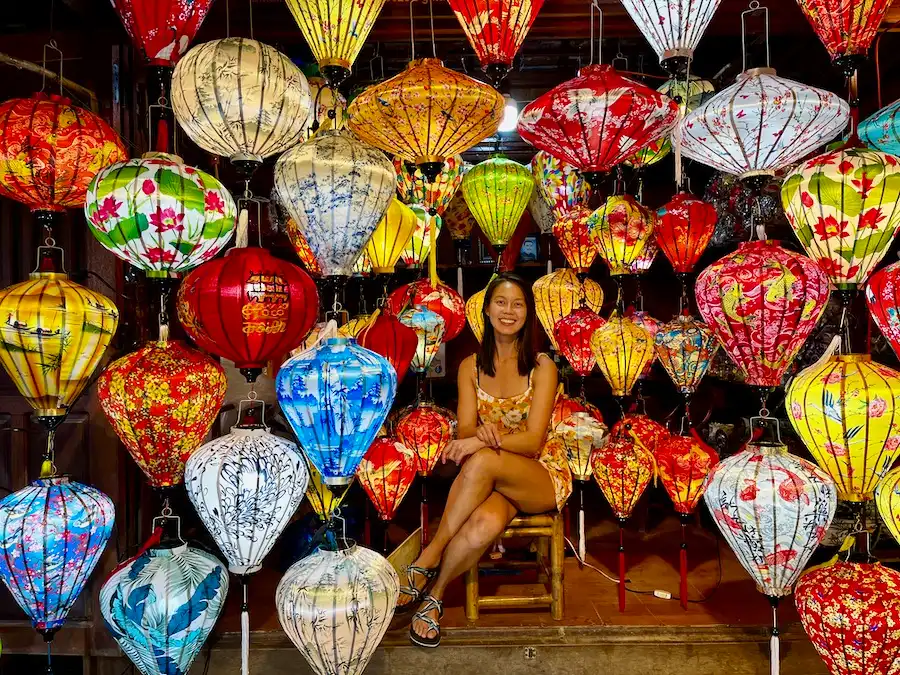 👟 Getting there: Located in the heart of Hoi An near the Thu Bon River, the Hoi An night market is easily reached by foot from most places in town.
⏰ Suggested duration: One to two hours is sufficient to explore the Hoi An central market.
💴 Expected cost: There's no entrance fee for Hoi An's night market.
🍀 My take: Because of the lanterns everywhere, the central market at Hoi An has a particularly aesthetically pleasing vibe compared to other night markets in Asia. Even if you don't buy anything, it's nice to just walk around at night.
6. Ride a lantern boat or basket boat
🤔 Why: Riding a basket or lantern boat is a quintessential Hoi An activity.
With lantern boats, which are wooden boats with lanterns on them, you can release a candled lantern into the river for a wish (but it pollutes the river, so I didn't do this).
Basket boats are iconic in Vietnam. According to a widely accepted origin story, Vietnamese fishermen created the unique, round vessels to successfully circumvent boat taxes imposed by the French.
Lantern Boats
🛶 How to ride: There are dozens of lantern boats waiting for riders along Thu Bồn in Hoi An's Old Town area. Riding a lantern boat is especially popular around sunset.
⏰ Duration: A 15-minute lantern boat ride is likely sufficient, but you can go for longer.
💰 Cost: A 15-minute ride costs ~$2 USD per person. The rate increases for 30 minutes or longer.
Basket Boats
🛶 How to ride: Cam Thanh Coconut Village is where most basket boats are located. It's a ~20-minute car ride from Hoi An. Once you get there, you can negotiate a ride with a basket boat driver. Some tours (e.g., the cooking class I did, fishing classes, bike tours) offer basket boat rides as part of the tour.
⏰ Duration: A basket boat ride is usually about one-hour long.
💰 Cost: Vehicle parking at Coconut Village is ~$0.80 USD; motorcycles and bikes are free. A basket boat ride is typically $4 to $8 USD per person.
🍀 My take: Basket boat riding is neither exciting nor tranquil (there are a lot of tourists and the water isn't clear), but going crabbing in a basket boat is surprisingly entertaining.
7. Bike to Tra Que Vegetable Village and An Bang Beach
🤔 Why: Get outside of Hoi An by taking a short bike ride to Tra Que Vegetable Village and/or An Bang Beach. Tra Que Vegetable Village is a small farm area and An Bang Beach is a nearby relaxing beach.
✨ What to do:
For a peaceful few hours, bike around Tra Que Vegetable Village and look at the farms and farming equipment. You can also take an organized tour if you are more interested in learning about the local crops and farming techniques.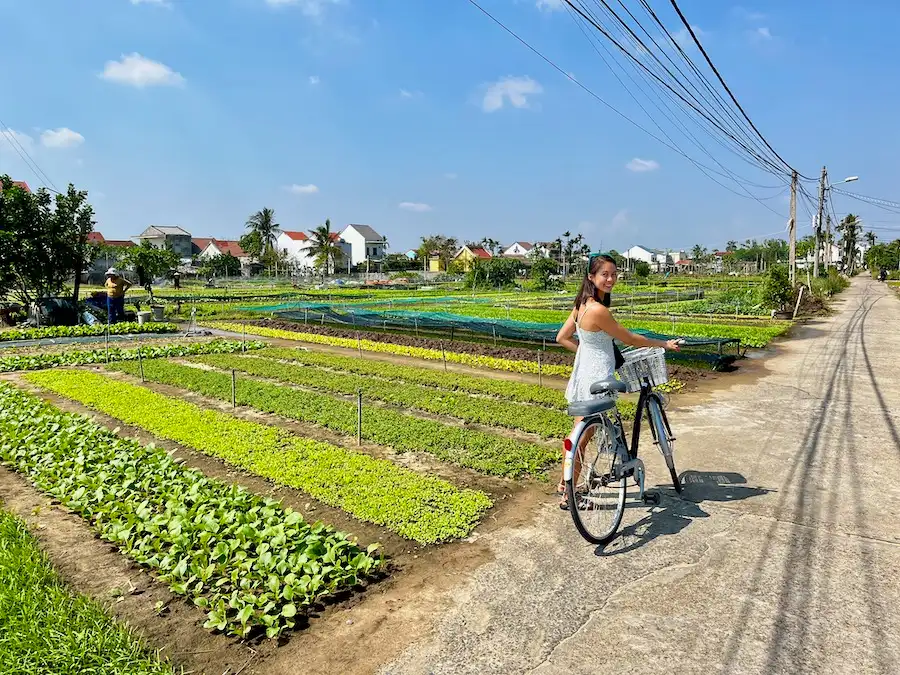 Relax on or walk around An Bang Beach. There are several food, drinks and rental chair vendors available by the beach.
An alternative nearby beach you can visit is Cua Dai Beach, which is about two miles southeast of An Bang Beach. The sand and water are not as nice, but the beach is significantly less crowded.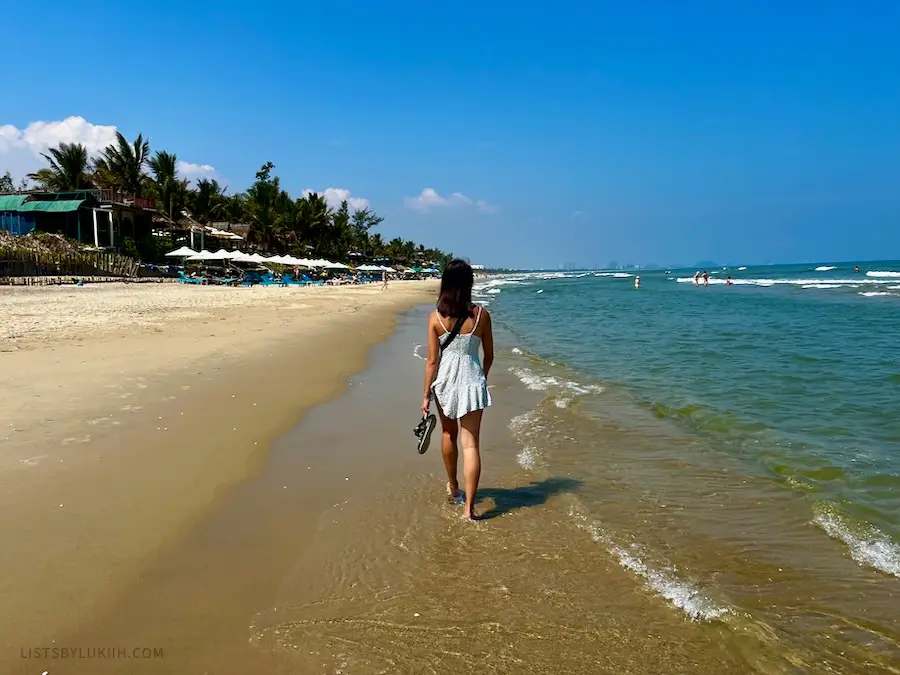 🚲 Getting there: The main road, Hai Bà Trưng, has a bike lane that will take you from Hoi An to Tra Que Vegetable Village and An Bang Beach within 15 minutes.
⏰ Suggested duration: You can spend a half or full day at the vegetable village on a tour or by relaxing on the beach.
💰 Expected cost: There's no biking allowed on An Bang Beach so if you visit by bike, you'll need to pay $0.50 USD for bike parking.
🍀 My take: I spent two to three hours biking and visiting the village and beach. I didn't find either destination particularly compelling on its own, but getting to bike outside of the town and visiting two different areas is a nice option to have.
8. See an acrobatic show at Bamboo Circus
🤔 Why: Bamboo Circus is a show featuring acrobatics, singing and Vietnamese culture. It uses bamboo as props in inventive ways.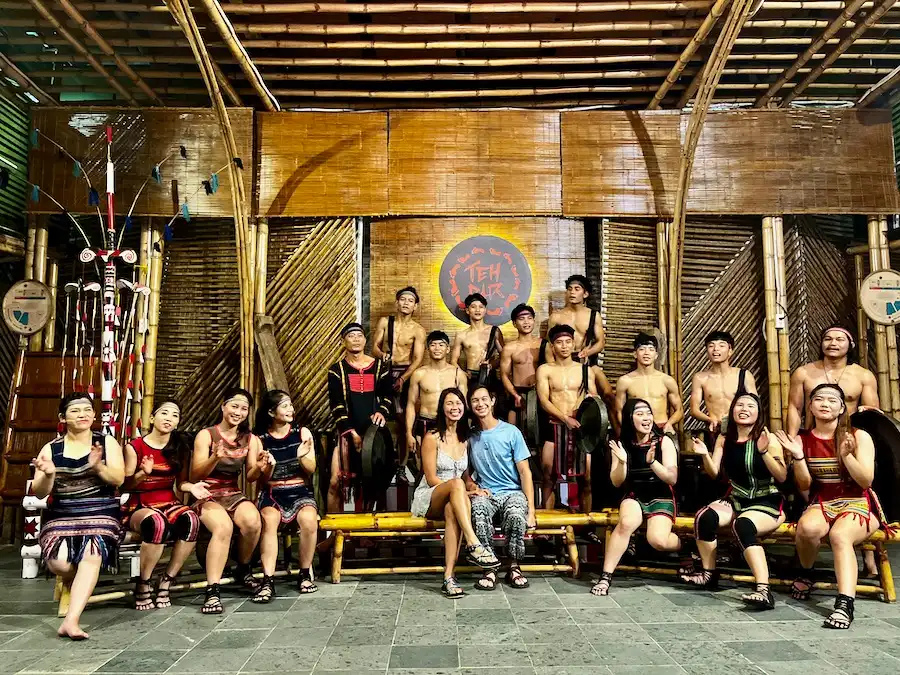 👟 Getting there: Bamboo Circus is performed at the Lune Center for Performing Arts in Hoi An.
⏰ Suggested duration: The acrobatic show lasts exactly one hour.
💰 Expected cost: The Bamboo Circus show costs $25 USD per person and you can purchase tickets in person at the last minute.
🍀 My take: Bamboo Circus is not a must-see show if you've seen other acrobatic shows, but it's an entertaining and impressive show if you're in the mood for one.
9. Visit the "Japanese Covered Bridge"
🤔 Why: Chùa Cầu, also called the "Japanese Covered Bridge", is a footbridge in Hoi An with a temple atop. Built in the 16th century, the bridge is a historical landmark that once linked the Japanese community to the Chinese quarters.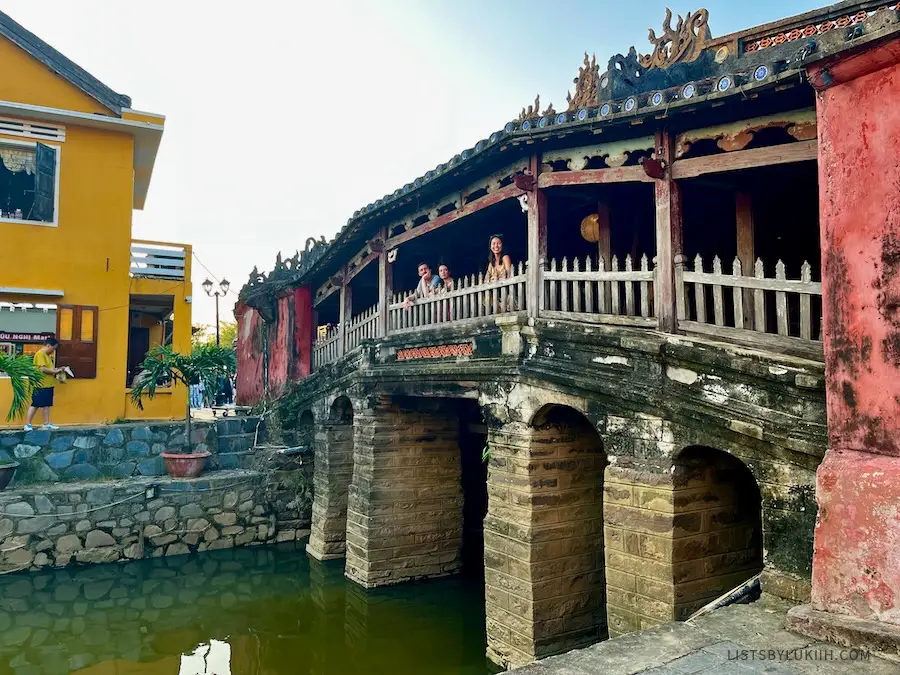 👟 Getting there: The Japanese Covered Bridge is located near the Thu Bon River in Hoi An.
⏰ Suggested duration: You can visit and look at the bridge in less than 10 minutes.
💰 Expected cost: Free; the Japanese Covered Bridge does not have an entrance fee.
🍀 My take: Although an important landmark for Hoi An, I was rather underwhelmed by the Japanese Covered Bridge. When I visited it, it was swarmed by tourists and there weren't any signs that explained the bridge's significance.
After Hoi An, head up to Northern Vietnam for a beautiful mountain motorbike adventure through the Ha Giang loop or to rock climb over the emerald water of Lan Ha Bay. To experience one of Vietnam's more chaotic cities, visit Hanoi.
Accommodation in Hoi An
Here's what to consider when choosing where to stay in Hoi An and where I ended up staying.
🏠 What To Consider
When choosing accommodation in Hoi An, here are some things to consider:
Proximity to Old Town. You'll spend a lot of time walking around and exploring Old Town, so it's nice to be within walking distance of it. At the same time, you might not want to be in the middle of it and want a more quiet, local location, so somewhere on the edge of Old Town is ideal.
Non-flood zone. I considered staying south on the little island connected to Old Town by a bridge, but avoided it since I've heard it can sometimes flood. Flooding is not common, but you might not want to take the risk if there are other equally good options.
Ratings. With so many affordable, great accommodations in Hoi An, it's worth skimming through Airbnb and Google ratings and picking a place that has 4.0 or 4.5+ stars.
Price. Price is usually an important accommodation factor, but given how affordable most accommodations are in Hoi An, consider the first three factors more heavily.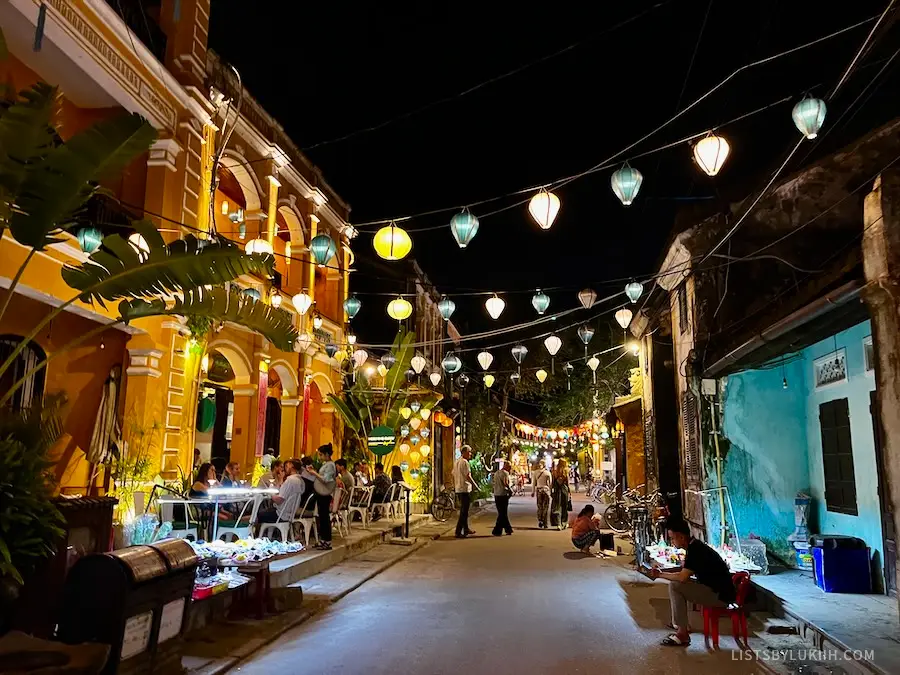 🏠 Where I Stayed
During my trip to Hoi An, I stayed at Vinci Villa just north of Old Town and paid ~$10 USD per night. Here are my honest thoughts on the accommodation:
Pros: The staff is friendly and helpful, the breakfast is amazing (their banana pancake was the best I had after trying over four others), the swimming pool is clean, and it's tucked away in a more residential and quiet area.
Cons: The rooms at Vinci Villa were relatively small. My first room was close to a rooster that woke me up at 5 am (luckily I was able to move to a different room). The owners have a (very cute) dog, but he's not the best trained (e.g., jumps and barks at visitors).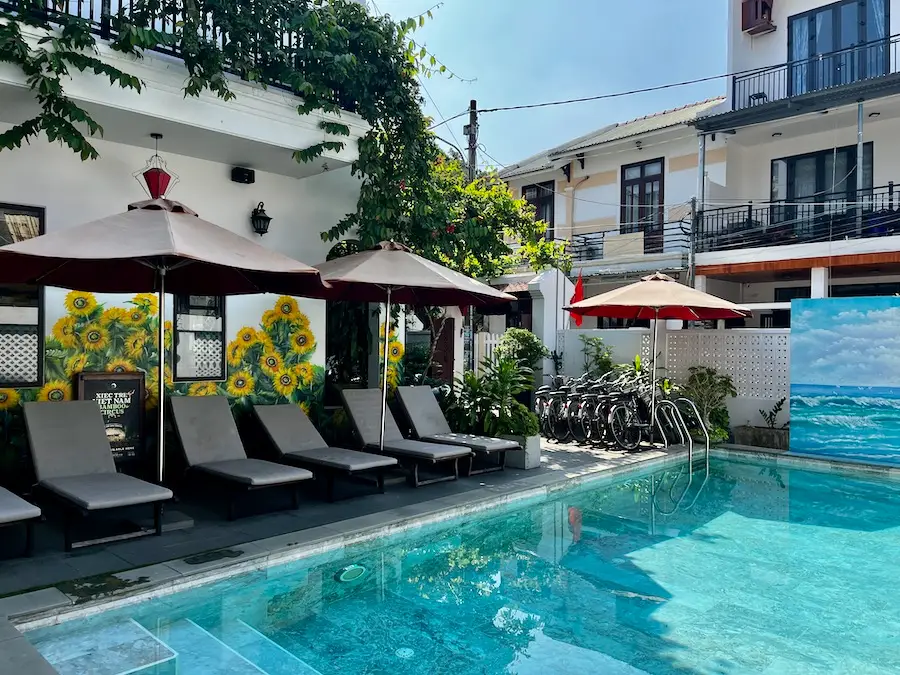 Hoi An Trip Cost
My four-day trip to Hoi An cost a total of $370 USD, so I averaged $123 USD per day.
I stayed at a nice hotel that I was able to split with my partner. My travel expense in Hoi An is exceptionally high for Vietnam because I got tailored clothes there since the town is known as the tailoring capital of the world.
Below are my travel expenses by category for Hoi An. My entire trip's cost breakdown and budget tips are in this Vietnam travel cost guide.
| | Total Cost | Cost Per Day |
| --- | --- | --- |
| 🏠 Accommodation | $52 | $13 |
| 🍝 Food | $24 | $6 |
| 🚇 Transportation | $13 | $3 |
| ⭐ Entertainment & Misc | $281 | $70 |
Vietnam Trip Planning Template
To make your travel planning easier, download the trip planning template below and use it as a starting point. The template has country-specific travel information as well as an itinerary, packing list and map with recommended places pinned.
The template is built on Notion, which is what I use for all my travel planning (I'm not paid to say this; I just like the tool). If you don't have Notion, creating an account is free.
If you have any questions or thoughts, feel free to leave them in the comments below.
🧋 This site is run entirely by me, Lukiih. I spend hours writing each article to ensure its accuracy and conciseness. If you find my site helpful, you can say thanks by buying me bubble tea!