A country with stunning mountain ranges and rice paddies, Vietnam is an affordable country that can be visited with a budget of $40 to $100 per day.
My almost 2-week trip to Vietnam cost a total of $1,228. Here, I share my Vietnam travel expenses, cost per day and budgeting tips. I also outline where and how much cash is needed in Vietnam.
Disclosure: This post contains affiliate links. If you make a purchase through them, I may earn a small commission, at no extra cost to you. Thanks for your support!
Is Vietnam or Thailand More Affordable To Travel To?
Vietnam and Thailand are some of Southeast Asia's most popular and affordable destinations, so even though I think each country offers a very different travel experience, they're often compared.
🇻🇳 Vietnam is on average more affordable than Thailand to travel to. Affordability and cost of living varies by the exact region of each country, but in general, Thailand is a more developed country than Vietnam and Vietnam's cost of living is lower than Thailand's.
💰 Vietnam's cost per day is on average lower than Thailand's for tourists. I visited both countries for 12 days each back-to-back and below is a rough cost-per-day comparison between traveling in Vietnam vs. Thailand for a mid-range budget traveler. The cost varies depending on where exactly in Vietnam or Thailand you're traveling to, but these averages should give you an idea of the cost differences. You can see my actual cost per day in Vietnam below.
| | Vietnam | Thailand |
| --- | --- | --- |
| 🍜 Food | $10 | $12 |
| 🏠 Accommodation | $15 | $18 |
| 🏍️ Transportation | $10 | $10 |
| ⭐ Entertainment | $30 | $50 |
| Total Cost Per Day | $65 | $90 |
Cost per day comparison between Vietnam and Thailand for a mid-range budget traveler.
Based on the chart above, you can expect to spend approximately $420 for a 1-week trip in Vietnam and $630 for a 1-week trip in Thailand.
My total cost in Vietnam is higher because I did relatively expensive activities, including:
About My Vietnam Trip
To give context to the expenses below, here's what you need to know about my trip to Vietnam:
🗓️ 12 days. I spent 12 days in Vietnam. Of those 12 days, I spent 8 days in Northern Vietnam, visiting Hanoi, Ninh Binh, Lan Ha Bay and Ha Giang. I spent the other 5 days in Central Vietnam in Hoi An and Da Nang.
This Hoi An travel guide has a cost breakdown specific for the town known as the tailoring capital of the world.
✌️ 2 travelers. I traveled with one other person, so I was able to split accommodation and transportation costs.
💰 Mid-range budget. I don't aim to travel on a budget, but I'm thoughtful about how and where I spend. I consider myself a mid-range budget traveler and these expenses reflect that.
Vietnam Trip's Total Cost: $1,228
I spent $1,228 in Taiwan during my almost 2-week trip with an itinerary similar to this one in Northern Vietnam and this one in Central Vietnam.
All costs listed here are per person and in USD, converted from Vietnamese Dong ($1 USD equaled 24,867 VND at the time of writing).
Cost Breakdown

for Vietnam

Here are my Vietnam travel expenses by category:
| | Cost | % of Total Cost | Cost per Day |
| --- | --- | --- | --- |
| ✈️ Flights | $217 | 18% | – |
| 🏠 Accommodation | $150 | 12% | $12 |
| 🍜 Food | $71 | 6% | $6 |
| 🏍️ Transportation | $77 | 6% | $6 |
| ⭐ Activities | $463 | 38% | $39 |
| 🛍️ Miscellaneous | $250 | 21% | $21 |
| Total | $1,228 | 100% | $84 |
My Vietnam trip's cost breakdown.
Cost per Day

in Vietnam: $84

If I include my flight costs, my Vietnam trip came out to $102 per day.

A mid-range budget traveler can expect to spend $65 per day in Vietnam.This generally means staying at a $15 per night accommodations, eating a mix of street and restaurant food, and going on several tours.
Flight Cost to Vietnam: $217
Flight from Taiwan to Hanoi's airport in Northern Vietnam: $101
At time of booking, flying into Taiwan was more affordable than flying into Vietnam from the US. Had I flown from the US to Vietnam, I would have paid $1,000+ round-trip.
Flight from Hanoi's airport to Da Nang's airport in Central Vietnam: $33
Flight from Da Nang's airport to Bangkok's airport in Thailand: $82
If you fly on budget airlines that hop around Asia, be aware of bag weight limits. I flew VietJet Air, which has a combined carry-on and checked-bag limit of 7kg (about 15 lbs). If you pass this limit, you'll have to pay extra fee (I paid ~$14).
Accommodation Cost in Vietnam: $150
Average cost of accommodation in Vietnam: $12/day.
This total doesn't include the 3 days of accommodation on the Ha Giang loop as those are included in the tour costs.
Hotel in Hanoi: $77, which came out to $19/person/night
Hotel in Cát Bà Island: $21/person for a night
Hotel in Hoi An: $52, which came out to $13/person/night
Accommodation in Vietnam is extremely affordable. All the accommodations I stayed at were considered middle-tier, but they were nice overall. The accommodations I stayed at would have easily been $100+ in the US.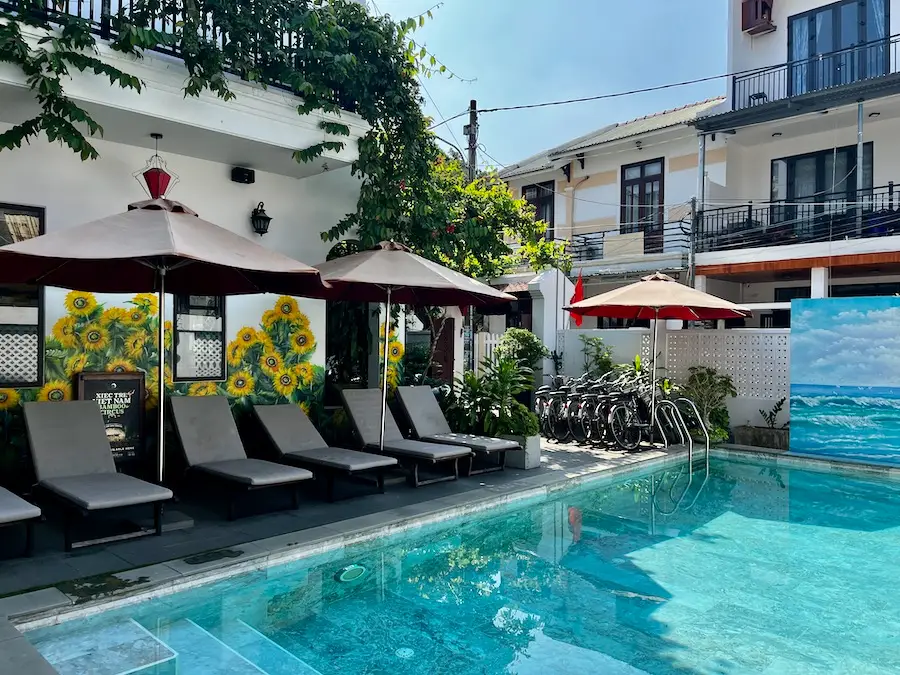 Food Cost in Vietnam: $71
Average cost of food in Vietnam: $6/day.
This total doesn't include any food provided through a tour.
Most expensive meal: $6.5 at Nostalife in Hoi An
Most affordable meal: $1.80 at White Rose Restaurant in Hoi An
Food in Vietnam is also extremely affordable. Many of my meals were $2 or less (including a drink), especially at local places. Restaurants that target tourists will charge the highest.

I recommend going on a food tour early on to discover authentic, local food and restaurants that you can try throughout your trip.
Transportation Cost in Vietnam: $77
Average cost of transportation in Vietnam: $6/day.
This total doesn't include any transportation provided through a tour.
Ride sharing via Grab, the Uber of Southeast Asia: $35 (~$3 per ride, including tip)
Private car hired through Airbnb host or informally: $14
Round-trip bus-ferry-bus ride from Hanoi to Cát Bà Island: $28
Grab, the Uber of Southeast Asia, is almost always more affordable than flagging down a taxi or tuk-tuk. Pro tip: use Grab prices as a baseline for negotiating with taxis or tuk-tuks when they're more conveniently available.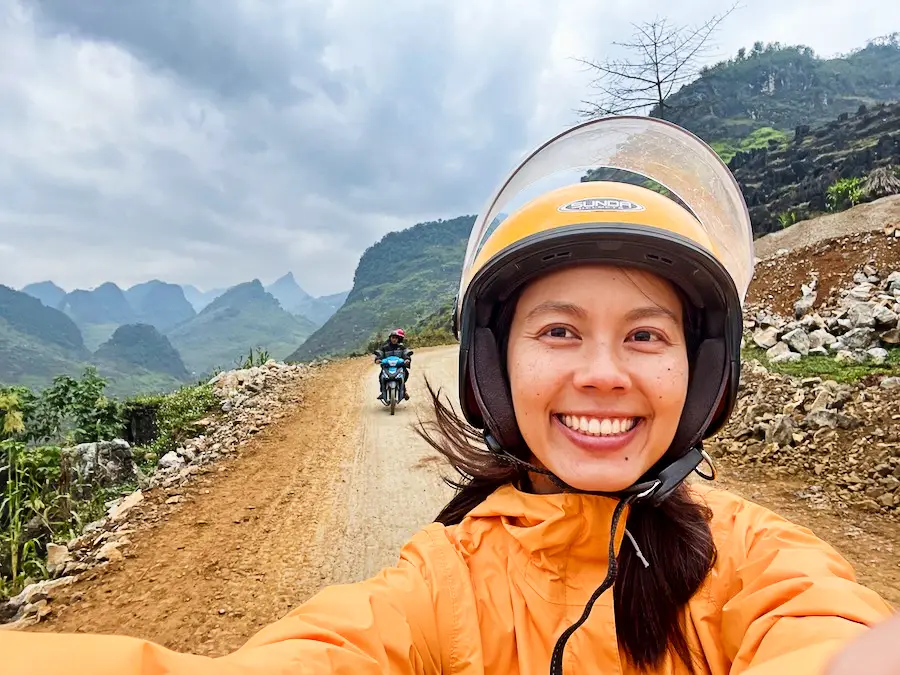 Activities Costs in Vietnam: $463
My average cost of activities in Vietnam was $39 per day. This total includes tips, which was usually around 10%.
For details on the top activities I recommend, see Hoi An activities and Hanoi activities. This Ha Giang loop and this deep water solo guide outlines adventurous activities in Northern Vietnam.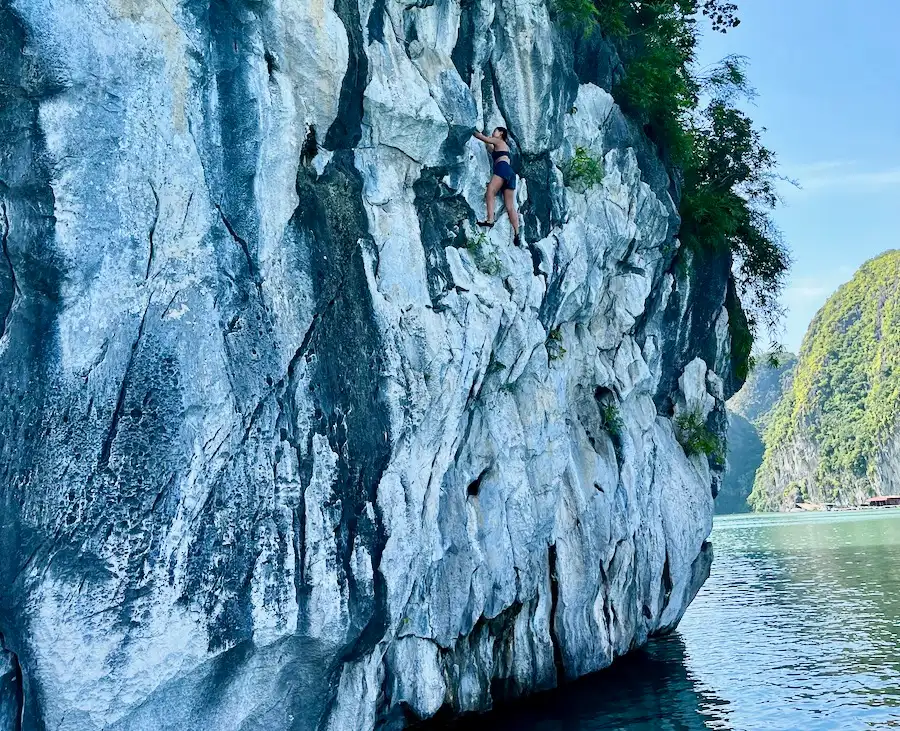 Miscellaneous Cost in Vietnam: $250
| Miscellaneous | Cost |
| --- | --- |
| Tailored Clothes in Hoi An | $205 |
| Shopping | $12 |
| Massages (3x) | $25 |
| Laundry services (2 loads) | $8 |
Hoi An in Central Vietnam is the tailoring capital of the world. This Hoi An tailor guide provides tips for getting custom clothes.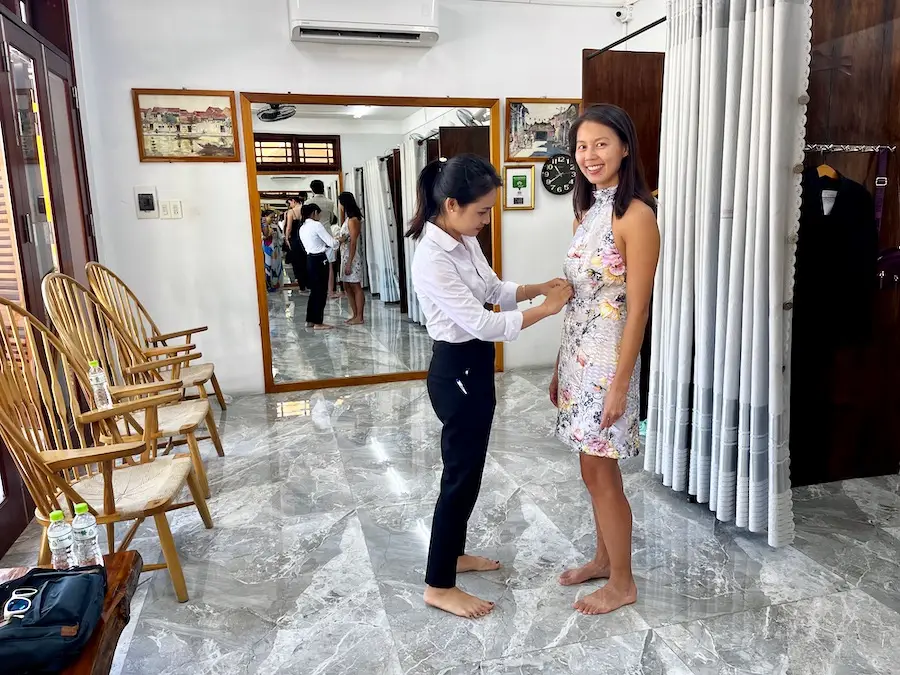 Do You Need Cash in Vietnam?
Vietnam's economy is largely based on cash transactions, even at established businesses. I needed cash for almost everything.
Here are some tips on bringing and using cash in Vietnam:
Tip #1: Make sure to exchange currencies. Vietnam's currency is the Vietnamese dong and shops in Vietnam do not take USD, so make sure to exchange currencies.
Tip #2: Carry at least $100 worth of cash in Vietnam at all times. A mid-range budget traveler in Vietnam will spend approximately $65 per day, so it's good to carry enough cash to last you for a day or two. ATMs are readily available in Vietnam, but if your debit card doesn't reimburse you for ATM fees, you'll want to withdraw a higher amount to save on fees.
Tip #3: Some places take credit cards and some will add a 3% credit card fee. Being able to use a credit card in Vietnam is the exception, but below are some places that accepted credit cards:

High-production shows (e.g. Bamboo Circus)
High-cost tailoring services in Hoi An (they add a 3% credit card fee)
Rides booked through Grab accept card, but they also have the option to pay in cash.
If you have any questions or thoughts, feel free to leave them in the comments below!