Home of the famous Angkor Wat and a survival of a devastating recent history, Cambodia is an affordable Southeast Asia country that can be visited with a budget of $35 to $90 a day.
My 3-day trip to Cambodia cost a total of $602 and it could have easily been closer to $500 had I aimed to budget more. Here, I share my Cambodia travel expenses, cost per day and budgeting tips. I also outline where and how much cash is needed in Cambodia.
Is Cambodia Expensive to Travel To?
💰 Cambodia is one of the most affordable places to visit in Southeast Asia, which is already a budget-friendly destination for most tourists. Between Cambodia's top two places to visit, Siem Reap is more expensive than the capital, Phnom Penh. Siem Reap's primary industry is tourism due to Angkor Wat, the largest temple complex in the world, which drives the cost of living up.
🎒 A budget traveler can expect to spend approximately $35 per day or $245 for one week of travel in Cambodia, not including flights. Cambodia is already extremely cheap, so there aren't many meaningful ways to reduce cost, but to stay on a small budget, you can:
💳 A mid-range budget traveler can expect to spend approximately $90 per day or $630 for one week of travel in Cambodia, not including flights.
I consider myself a mid-range budget traveler, but my cost per day is higher because I decided to splurge on accommodation, which is something I always never do.
About My Cambodia Trip
To give context to the expenses below, here's what you need to know about my Cambodia trip:
📍 Siem Reap. The top two Cambodia destinations are the capital, Phnom Penh, and Siem Reap. I only visited Siem Reap, which is on average slightly more expensive than Phnom Penh.
🗓️ 3 days. Most people visit Siem Reap to see Angkor Wat, so like many others, I didn't spend more than 3 days there.
✌️ 2 travelers. I traveled with one other person at all times in Cambodia, so I was able to split transportation, accommodation and food costs.
💰 Mid-range budget. I don't aim to travel on a budget, but I'm thoughtful about how and where I spend. I consider myself a mid-range budget traveler and some of these expenses reflect that.
☀️ Not peak season. The most popular and crowded times to visit Cambodia are December and January. I visited in November, so I went slightly before the crowds reached peak levels.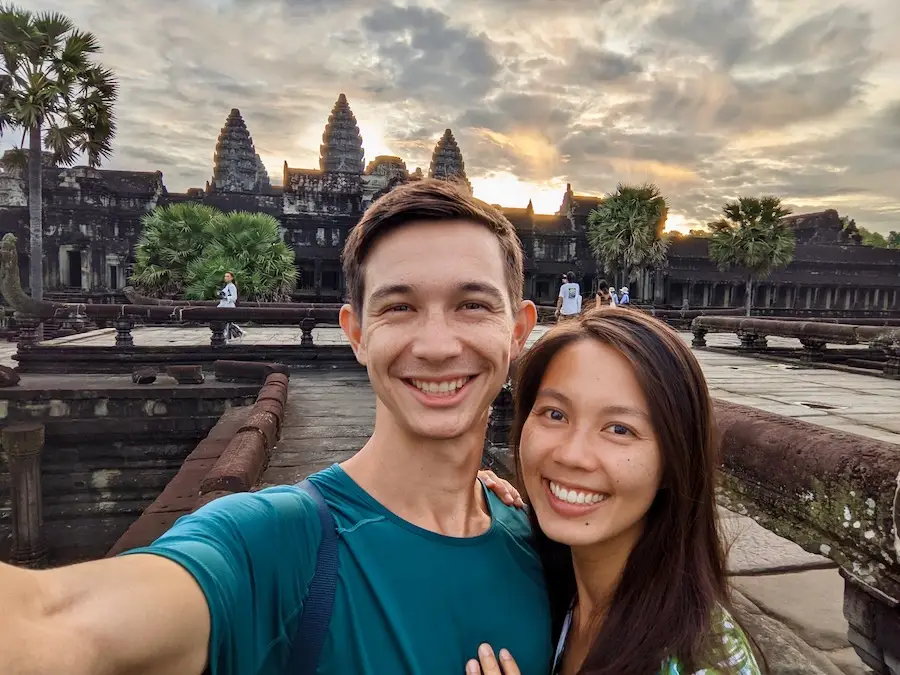 Total Cost for a Cambodia Trip: $602
I spent $602 in Cambodia during my 3-day trip with an itinerary similar to this one.
All costs listed here are per person and in USD, converted from Cambodian Riel ($1 USD equaled 4,116 KHR at the time of writing).
The US dollar and Cambodia Riel are both widely used in Cambodia. Many places, especially tourist areas like Siem Reap, will show their prices in USD.
Cost Breakdown for Cambodia
Here are my Cambodia travel expenses by category:
| | Cost | % of Total Cost | Cost Per Day |
| --- | --- | --- | --- |
| ✈️ Flights | $235 | 39% | – |
| 🛃 Visa | $30 | 5% | $10 |
| 🏠 Accommodation | $163 | 27% | $54 |
| 🍜 Food | $49 | 8% | $16 |
| 🚗 Transportation | $8 | 1% | $3 |
| ⭐ Activities | $119 | 20% | $40 |
| Total | $602 | 100% | $123 |
My Cambodia trip's cost breakdown.
Cost per Day in Cambodia: $123
If I include flight costs, my Cambodia trip came out to $201 per day.
A mid-range budget traveler can expect to spend $90 per day in Cambodia. This generally means staying at a $25 per night accommodation in Cambodia, eating at $ to $$ restaurants, paying for tuk-tuk rides and going on popular tours.
Flight Cost to Cambodia: $235
Flight from Chiang Mai, Thailand to Siem Reap: $136
Flight from Siem Reap to Kuala Lumpur, Malaysia: $99
There are no direct flights from the US (or Europe) to Cambodia, so you will likely have to stop at another country in Asia to get to Cambodia. Cambodia has two international airports: Siem Reap International Airport and Phnom Penh International Airport.
Visa Cost in Cambodia: $30
You need a visa to visit Cambodia from the United States.
A 30-day visiting visa for Cambodia costs $30.
An eVisa that you can apply for in advance costs $36.
You can get a Cambodia visa upon arrival at the airport. Note that it's cash-only. They had one ATM with a fairly long line when I visited, so it's best to have cash on hand.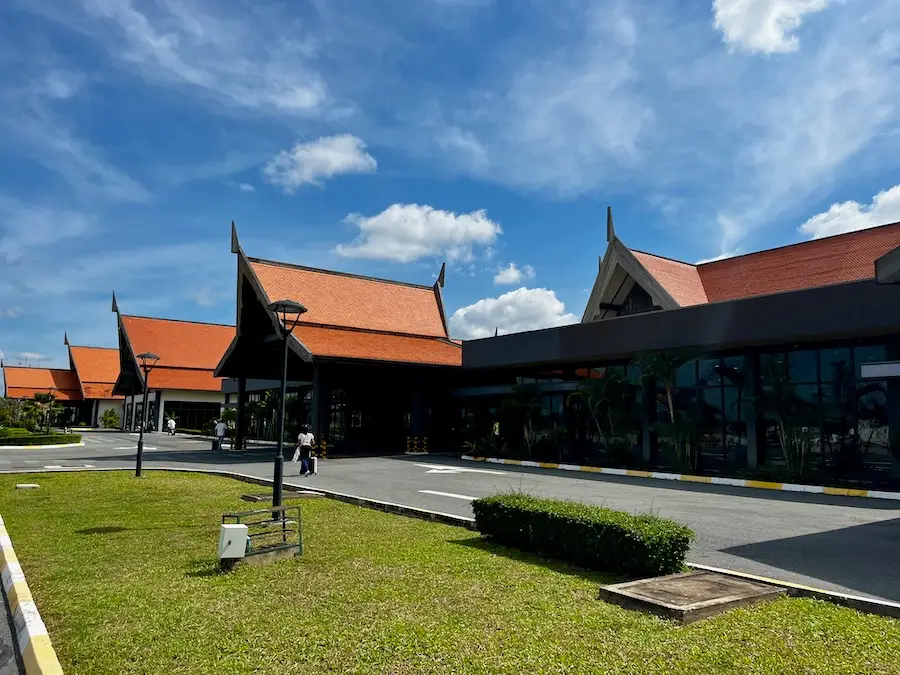 Accommodation in Cambodia: $163
Average cost of accommodation in Cambodia: $54/night
Despite it being a tourist town, accommodations in Siem Reap are extremely cheap. You can find mid-range accommodations in Siem Reap for $25/night and anything higher will be considered luxury.
I usually book basic accommodations, but I booked my own villa while staying in Siem Reap since I visited during my anniversary. My <$100/night villa included:
A private pool in a private backyard
Full kitchen
Modern bathroom with a rain shower head
A private washing machine and dryer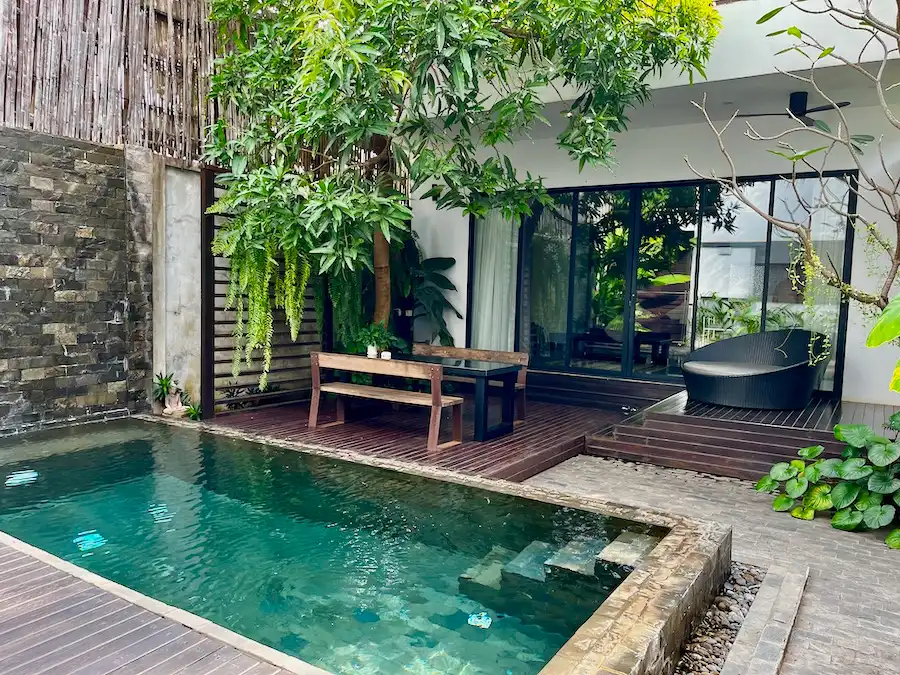 Food Cost in Cambodia: $49
Average cost of food per day in Cambodia: $16
Least expensive meal: $4 dinner at Phare Circus
Most expensive meal: $13 lunch at Pou Restaurant
You can expect to spend anywhere from $3-$10 per meal in Cambodia, depending on what kind of restaurant you eat at.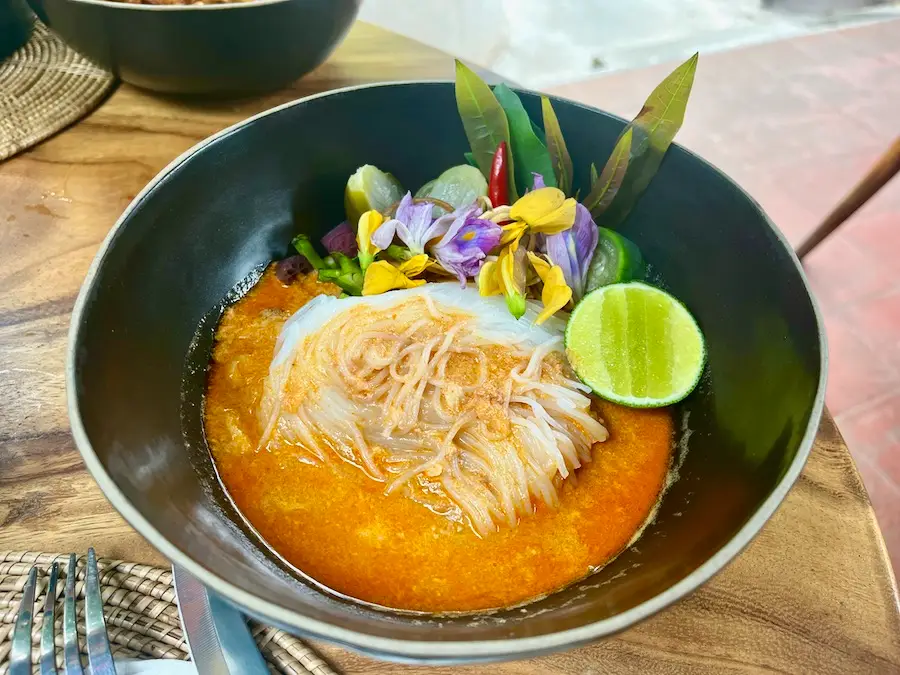 Transportation Cost in Cambodia: $8
Average cost of transportation: $3/day
Average cost of a tuk-tuk ride: $2.60/ride
Cost of a tuk-tuk ride from the airport to an accommodation 5 miles away: $6
Siem Reap is not a big city, so a very convenient and affordable way to get around is by tuk-tuk, which you can call through the Grab app (iOS, Android). There are are several ways to get around Siem Reap.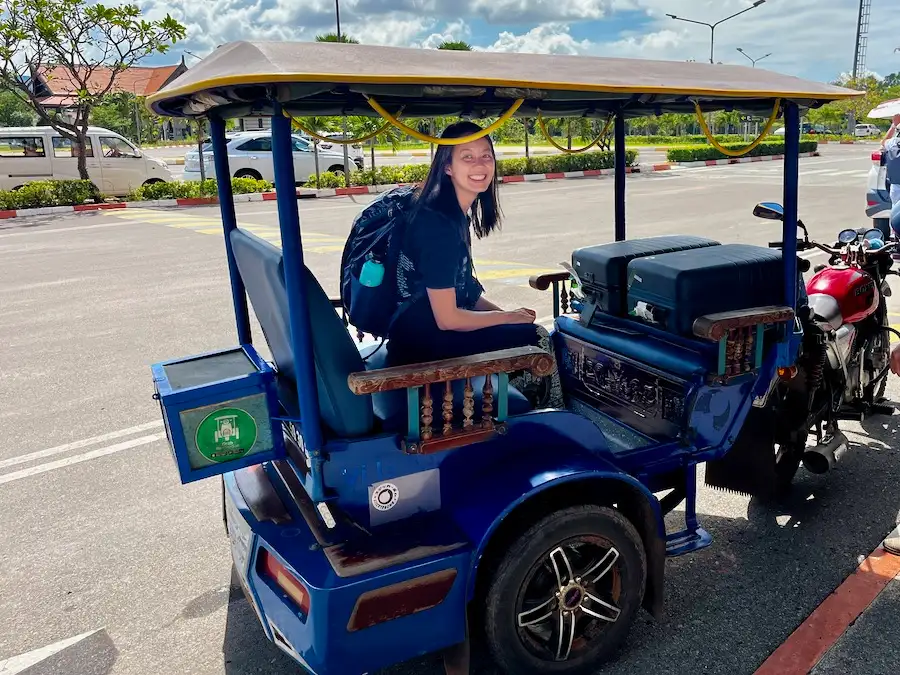 Activities and Tours Cost in Cambodia: $119
Average cost of activities in Cambodia: $40/day
Both of my Siem Reap day tours include a ~10% tip. Tipping is not expected in Cambodia, but it's very appreciated in a country where many service workers earn a low wage.
This Siem Reap travel guide includes 10 great activities you can do in the city.
One of the most unique and underrated things to do in Siem Reap is to bike through the countryside.
Do You Need Cash in Cambodia?
Yes, bring at least $40 worth of cash per day to Cambodia as credit cards are not widely accepted. Places that take credit card in Cambodia include Grab app rides, larger hotels and more touristy restaurants.
Here are some tips on bringing and using cash in Cambodia:
Tip #1: USD is widely accepted in Cambodia. But you can expect to receive change in Cambodian Riel.
Tip #2: Withdraw cash in Cambodian Riel (and not USD) from ATMs. ATMs are widely available in the tourist areas, but they generally have large bills for USD (e.g., $50 or $100 bills), so I recommend withdrawing in Riel instead if you don't want to carry large bills.
Tip #3: You need to pay in cash to get a Cambodia visa unless you pay online. Visitors from the US need a Cambodia visa and the visa is cash-only if you get it at the airport after you land.
If you have any questions or thoughts, feel free to leave them in the comments below!