An island country with delicious night market foods and metro-accessible hiking trails, Taiwan is a semi-affordable country that can be visited with a budget of $40 to $100 a day.
My 1-week trip to Taiwan cost a total of $1,956. Here, I share my Taiwan travel expenses, cost per day and budgeting tips. I also outline where and how much cash is needed in Taiwan.
Is Taiwan Expensive To Travel To?
💰 Taiwan is a semi-affordable country to visit. Given that it's a more developed country, Taiwan is not as budget-friendly as some of the nearby countries like Vietnam, Malaysia or Thailand, but it's more affordable than other popular destinations in Asia like Japan, Singapore or Hong Kong. I've visited all countries mentioned and will write a full cost comparison in 2023.
🎒 A budget traveler can expect to spend approximately $40 per day or $280 for one week of travel in Taiwan, not including flights. To travel on a budget in Taiwan, you can:
Stay at a hostel for $15 a night
Eat a $5 meal at the night markets
Ride Taiwan's excellent public transportation where rides can be less than $1
Take advantage of Taiwan's many free attractions
💳 A mid-range budget traveler can expect to spend approximately $80-$100 per day or $560-$700 for one week of travel in Taiwan, not including flights.
About My Taiwan Trip
To give context to the expenses below, here's what you need to know about my trip to Taiwan:
🗓️ 1 week. I spent 7 days in Taiwan and mainly stayed in Taipei, but also did a day trip to Jiufen and Hualien. Here's what I recommend doing in those places and a 5-7 day itinerary.
✌️ 2 travelers. I traveled with one other person, so I was able to split accommodation, transportation and food costs.
💰 Mid-range budget. I don't aim to travel on a budget, but I'm thoughtful about how and where I spend. I consider myself a mid-range budget traveler and these expenses reflect that.
Total Cost for a Taiwan Trip: $1,956
I spent $1,956 in Taiwan during my 1-week trip with an itinerary similar to this one.
All costs listed here are per person and in USD, converted from New Taiwan Dollar ($1 USD equaled 30 NT at the time of writing).
Cost Breakdown

for Taiwan

Here are my Taiwan travel expenses by category:
| | Cost | % of Total Cost | Cost Per Day |
| --- | --- | --- | --- |
| ✈️ Flights | $1,240 | 63% | – |
| 🏠 Accommodation | $243 | 12% | $35 |
| 🍜 Food | $165 | 8% | $24 |
| 🚇 Transportation | $84 | 4% | $12 |
| ⭐ Activities & Misc | $224 | 12% | $32 |
| Total | $1,956 | 100% | $102 |
My Taiwan trip's cost breakdown.
Cost per Day

in Taiwan: $102

If I include my flight costs, my Taiwan trip came out to $279 per day.

A mid-range budget traveler can expect to spend $80-$100 per day in Taiwan. This generally means not staying in a hostel or luxury hotel, eating at some $$$ restaurants, but also at many $ night markets, and being willing to pay for an Uber, but mostly taking Taiwan's public transportation.
Flight Cost to Taiwan: $1,240
Round-trip flights between Taiwan Taoyuan International Airport (TPE) and the US east coast were $1,240.
The flight took 18 hours total: 5 hours to fly into SFO from the east coast and 13 hours to fly from SFO to TPE.
The most expensive months to fly to Taiwan from the USA are November, December and January and the cheapest month to fly to Taiwan is March, according to Kayak.
I paid $515 for my flights by redeeming $725 worth of points through my travel credit card.
Accommodation Cost in Taiwan: $243
My average cost of accommodation in Taiwan was $35 per night.
Accommodation
Cost Per Night
Dongmen Station hotel
$36
Ximending District hotel
$40
Hualien City airbnb
(to visit Taroko Gorge)
$19
Taiwan's accommodation is relatively affordable. It's worth doing some research on where to stay as I found that for <$50 a night, you can get vastly different experiences (e.g., room service vs. not, tourist vs. residential area). Here's where I stayed in Taipei for more details.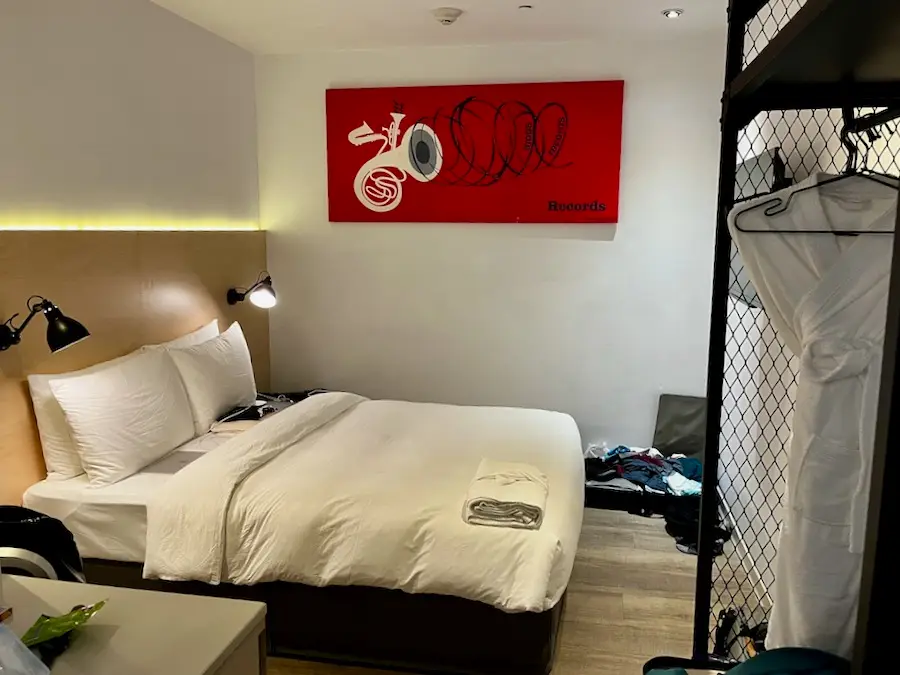 Food Cost in Taiwan: $165
My average cost of food in Taiwan was $24 per day.
Most expensive meal: $40 at Orange, an upscale shabu-shabu restaurant.
Most affordable meal: $3 at Fuhang Soy Milk, one of the most popular breakfast locations.
Taiwan is known for delicious and affordable food. You can easily spend <$10 at a night market or even some local restaurants. When you go to a night market, remember to bring cash. I share some of my favorite restaurants and night markets here.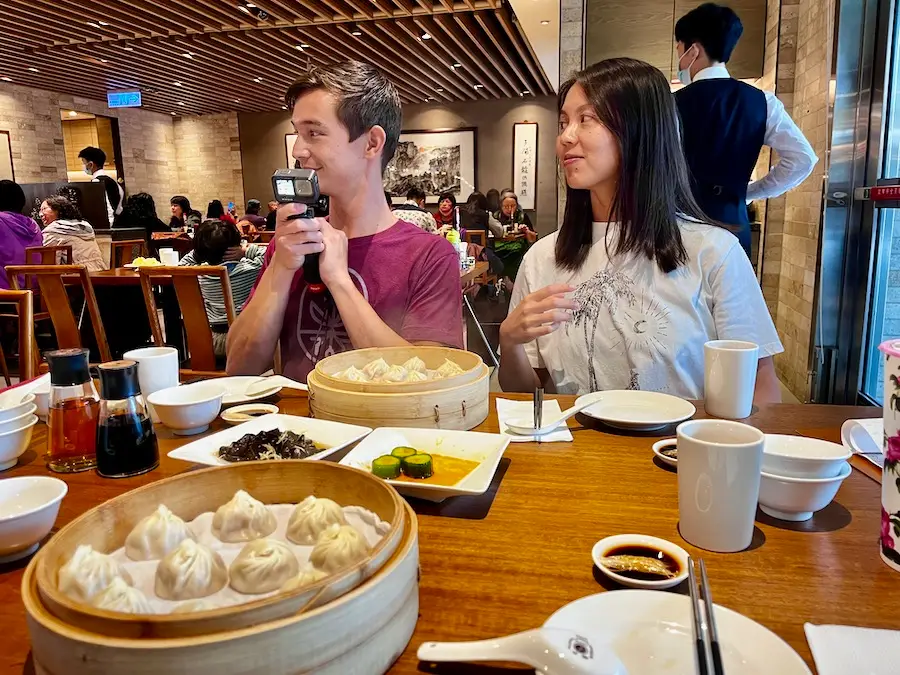 Transportation Cost in Taiwan: $84
My average cost of transportation in Taiwan was $12 per day.
Public transportation (the MRT or bus): $25
Round-trip train to Hualien to visit Taroko Gorge: $28
Uber or taxi: $31
Taipei's public transportation is awesome. If you're going to be frequently riding the MRT like I did, I recommend getting an EasyCard, despite the 100 NT (~$3) non-refundable fee.

Any remaining balance on your EastCard can be refunded at the end of your trip. Here's how to get around in Taiwan.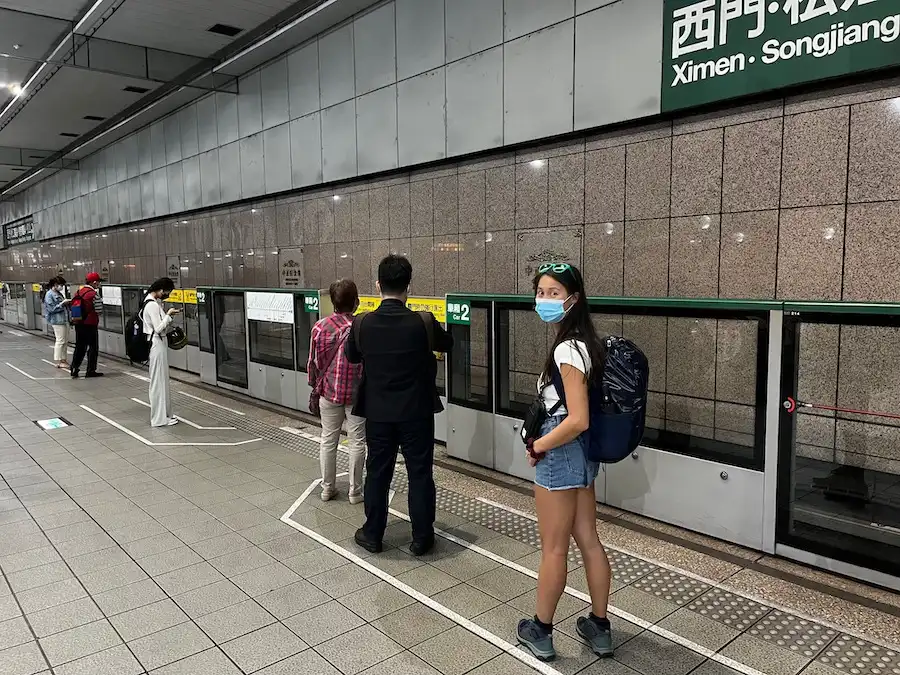 Activities and Miscellaneous Cost in Taiwan: $224
My average cost of entertainment in Taiwan was $32 day. Some of these include a ~10% tip, which is not mandatory in Taiwan.
| Activity or Misc | Cost |
| --- | --- |
| Taipei 101's observatory | $18 |
| Taroko Gorge day tour | $93 |
| Spring City Resort hot spring | $25 |
| Massages (2 sessions) | $46 |
| Haircut | $30 |
| Shopping | $12 |
This Taiwan travel guide has more details on 10 great things to do in Taipei. It also has a Notion trip template created specifically for Taiwan.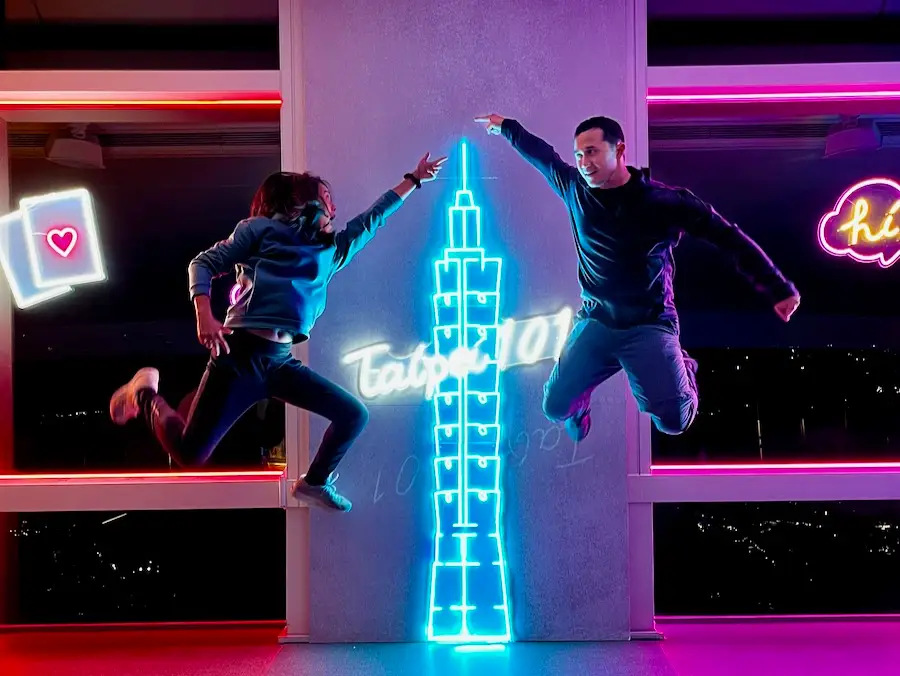 Do You Need Cash in Taiwan?
Taiwan's economy is largely based on cash transactions, even at established businesses, so make sure to bring some cash. However, you can use credit card in plenty of places as well.
Here are some tips on bringing and using cash in Taiwan:
Tip #1: Make sure to exchange currencies. Taiwan's currency is the New Taiwan dollar and shops in Taiwan do not take USD, so make sure to exchange currencies.
Tip #2: Bring at least $10 worth of cash per day to Taiwan. During my 1-week trip in Taiwan, I spent roughly $115 in cash (or $16 per day) at cash-only places. I otherwised used my credit card whenever possible. I spent approximately the following amount in cash:

$25 on public transportation
$35 on food at night markets and cash-only restaurants
$5 for tipping a tour guide
$50 for massages and a haircut, including tip
Tip #3: Know that certain places are cash-only. In Taiwan, the following places were cash-only:

MRT stations' kiosks. MRT kiosks surprisingly don't take credit cards.
Night markets
Some restaurants and dessert places. Most big, established and nicer places took credit card (e.g., Din Tai Fung, Chia Te), but they were otherwise cash-only. In Taroko Gorge, there were some Trukku stalls that were also cash-only.
Tipping tour guides
Some haircut and massage locations. All three haircut and spa places I visited were cash-only.
Tip #4: Tipping in Taiwan it not generally expected, except for a few instances. Some nicer restaurants will add a 10% service charge for dine-in. You can tip tour guides and some service workers (like hair cutters and masseuse), so bring cash for those. Otherwise, tipping is not widely customary in Taiwan.
If you have any questions or thoughts, feel free to leave them in the comments below!