Home to the famous Angkor Wat, a massive temple complex known as the largest religious monument in the world, Siem Reap receives over 2 million visitors ever year, yet remains one of the poorest provinces in Cambodia.
Siem Reap is one of the most compelling cities I visited in Southeast Asia. The region is remarkable and the locals are sincere and hospitable despite the influx of tourists and the country's recent devastating history. Beautiful and heartbreaking, I left Siem Reap wanting to visit it again.
Here, I share practical tips on how to get around in Siem Reap, what to do there and a 3-day itinerary that balances visiting the top attractions with some off-the-beaten path activities.
Disclosure: This post may contain affiliate links. If you make a purchase through them, I may earn a small commission, at no extra cost to you. Thanks for your support!
Quick Travel Facts for Siem Reap
Here is some general information on Siem Reap to save you travel research time:
⭐ Known for: Siem Reap is known for Angkor Wat and other centuries-old temples, many activities for nature-lovers (e.g., hiking, biking, bird-watching) and sincere, polite locals.
🛃 Visa: You need a visa to visit Cambodia. You can get a visa upon arrival at the airport for $30 or you can apply for it in advance for $36.
If you're applying for a Cambodia visa at the airport, note that it's cash-only. They had one ATM with a fairly long line when I visited in November 2022, so I recommend having cash on hand.
📍 Location: Sitting closer to the northeast side of Cambodia, Siem Reap is ~200 miles away from the capital, Phnom Penh. It hosts one of Cambodia's two international airports, Siem Reap International Airport (the other being Phnom Penh International Airport).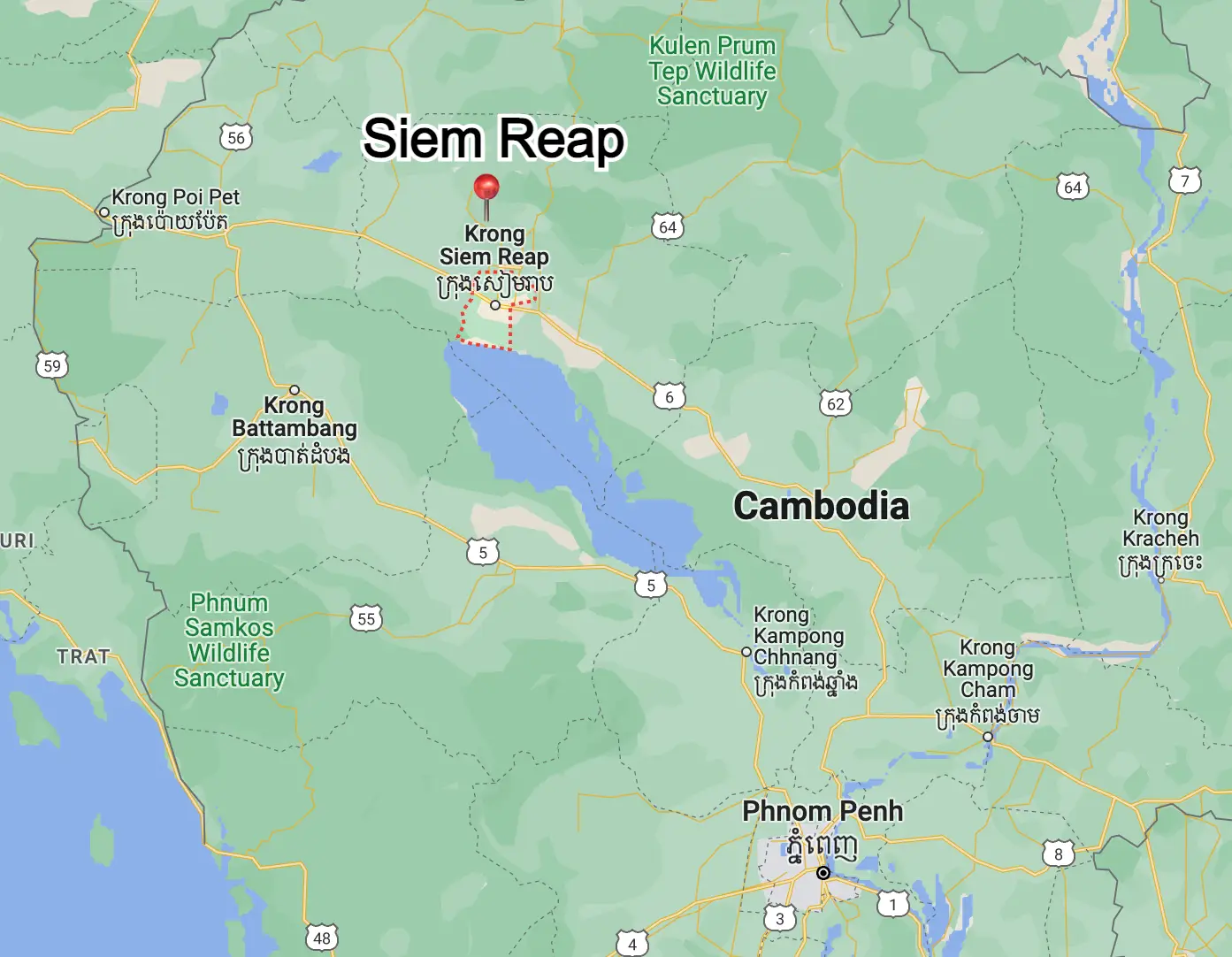 There are no direct flights from the US (or Europe) to Cambodia, so you will likely have to stop at another country in Asia.
💬 Language: The official language in Cambodia is Khmer, but Siem Reap is very English-friendly given that it's a tourist destination.
🌎 Time zone: Cambodia's time zone is the Indochina Time.
💰 Currency: Cambodia's currency is the Cambodian Riel and $1 USD = 4,116 KHR at the time of writing.
The US dollar and Cambodia Riel are both widely used in Siem Reap. Many places, especially tourist areas like Siem Reap, will show their prices in USD.
🔌 Outlet: Cambodia's outlet are the same as the US's and Europe's (i.e., type A with the two flat parallel pins and type C with the two round pins), so an adapter may not be needed.
💧Tap water: Tap water is not safe to drink in Siem Reap. Most accommodations, restaurants and tour operators will provide bottled water.
💳 Credit card: Credit cards are sometimes accepted in Siem Reap, but you should carry cash at all times.
💵 Tipping: Tipping is not expected in Cambodia, but it's very appreciated in a country where many service workers earn a low wage. I generally tipped ~10% at restaurants and tours.
☀️ When to visit: The most popular times to visit Siem Reap are during Cambodia's dry season, which runs from November to mid-April. Siem Reap's most crowded months are in December and January when the temperatures are moderately cool. I visited in November 2022 when it was starting to recover from the pandemic.
If you're visiting during the border months of the dry and wet season (e.g., November and April), make sure to bring a light rain jacket as the rain can be sudden and heavy.
⏳ How long to visit: Most people recommend spending 2-3 days in Siem Reap, which will give you enough time to see many of the top attractions. You can expect to spend almost a full day at Angkor Wat.
6 General Tips for Visiting Siem Reap
Here are six general tips when traveling to Siem Reap:
Tip #1: Resist giving money to begging kids. In Siem Reap, kids are trained to sell goods and ask for money to "go to school". The advice from locals is to not give kids money as this encourages their family to send them to beg instead of sending them to school.
Tip #3: Bring appropriate clothes for temples. Almost every visitor ends up in Angkor Wat or another temple in Siem Reap, so bring appropriate temple clothes or you may be denied entry. This means no revealing clothing, and to cover your shoulders and knees when inside the temples. You don't need to take off your shoes at the temples.
Due to the humid and hot climate, consider wearing sandals. Make sure they're sturdy and comfortable as you'll likely be walking a lot inside massive temple complexes. I wore my Chacos and thought they were great.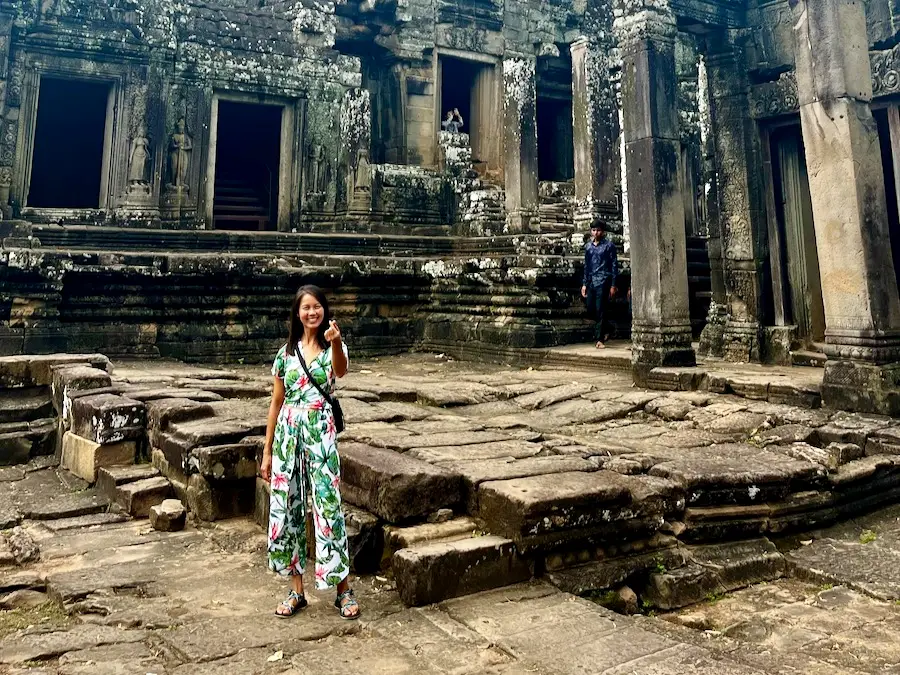 Tip #4: Bring mosquito repellent and sunscreen. With a humid, hot climate, Siem Reap has a lot of mosquitos, some which carry diseases. I tend to get bitten and I find that this insect repellent lotion works better than the spray kind (per the CDC: "DEET offers the best protection against mosquito bites"). If you plan to venture out, some places in Siem Reap don't have a lot of sun coverage, so make sure to pack face sunscreen.
Tip #5: Bring toilet paper for bathrooms. Like in several other Asian countries, toilet paper is not readily available in all bathrooms in Siem Reap. I folded a few sheets of TP and carried them around in a Ziploc in my bag.
Tip #6: Know the downsides of fish pedicures before getting one. Siem Reap offers "fish pedicures" where you dip your feet into a tank of water for fish to eat your dead skin, leaving your feet feeling smooth. However, know that fish pedicures are illegal in some places in the US and Europe due to reasons including risk of infection (many customers share the same tank of used water) and inhumane animal practice (the fish need to be starving to be compelled to eat dead skin).
Siem Reap is an extremely affordable place to visit. This Siem Reap cost breakdown shows all my travel expenses.
Getting Around Siem Reap
The main area of Siem Reap is located 5 miles away from Siem Reap International Airport. Once you land in Siem Reap, there are several ways to get around Siem Reap:
Tuk-tuk. Siem Reap is a small enough town that tuk-tuks will be your main mode of transportation. You can easily call one with the Grab app. Tuk-tuk rides around town will be ~$2. A tuk-tuk from the airport into town was $7 for a 15-minute ride for me.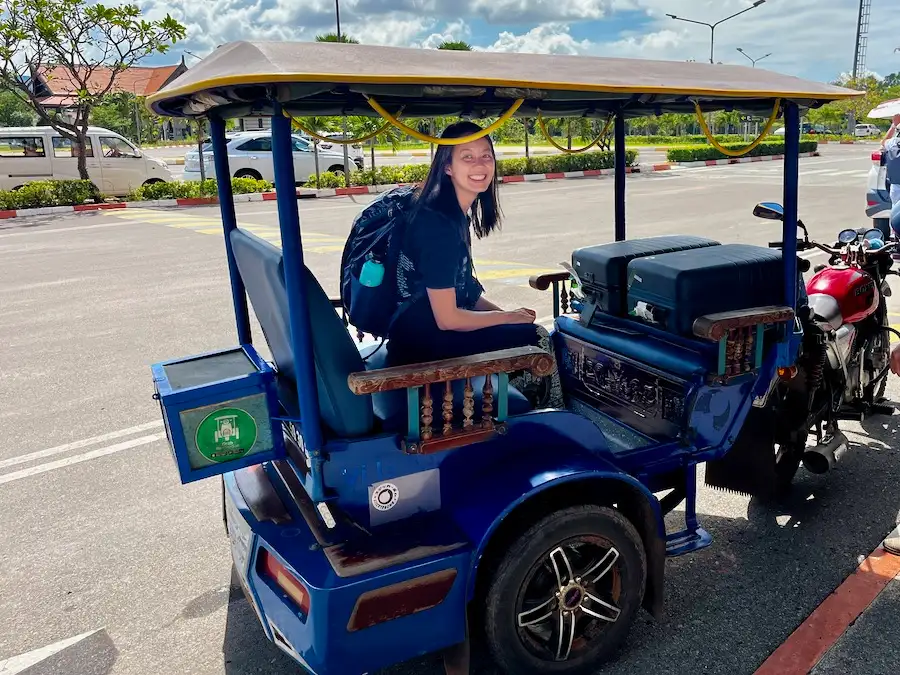 Taxis. Taxis are also available around Siem Reap, but the lack of meters means that they're generally more expensive than a tuk-tuk. Welcome Pickups, a highly-rated airport transfer service, is also a great option for the same price as a regular taxi if you want to have an English-speaking driver ready for you when you land.
Walking. The main area of Siem Reap surrounding Pub Street is fairly walkable. Siem Reap is a developing town so not every street will have side walks. I tried to walk as much as possible, but there are some places (e.g., from Pub Street to Phare Circus) that are very unpleasant to walk on.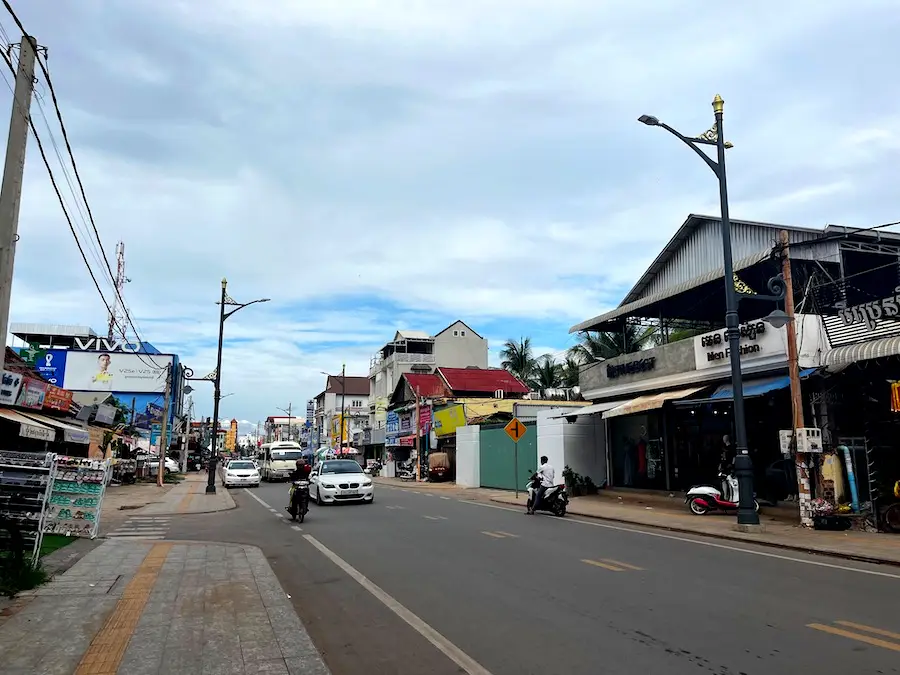 Biking. A lot of Siem Reap is bikable. In fact, some of Siem Reap's dirt roads aren't accessible by tuk-tuk or taxi, but they are on a bike.
I highly recommend doing a bike tour in the backroads of Siem Reap.
Motorbike rental. If you're comfortable driving a scooter or motorbike around Siem Reap (the driving patterns and norms can be confusing to visitors), you can rent a motorbike for ~$20 a day.
Top 3 Thing To Do in Siem Reap
After thorough research and spending some time in Siem Reap, here are the top 3 things I recommend doing in approximate order of priority.
This Google Map has all the Siem Reap places mentioned in this list.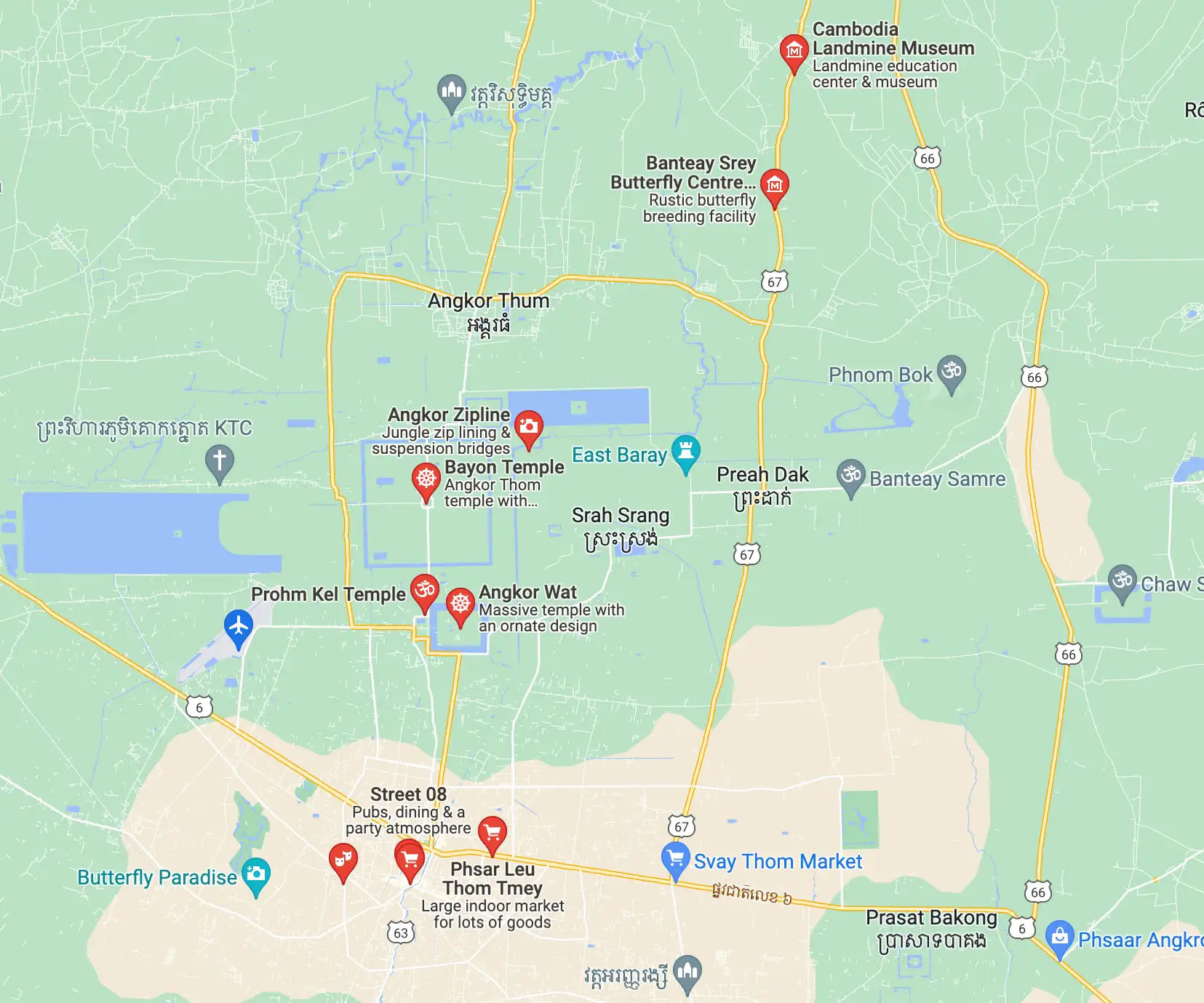 1. Visit Angkor Wat
Why: No Siem Reap "top things to do" list is complete without mentioning Angkor Wat. It's Cambodia's top attraction and the primary reason why people visit Siem Reap.
Angkor Wat is the largest religious monument in the world and is an architecture marvel built in the 12th century. The two other most famous temples are Ta Prohm Temple, famous for the giant trees growing on the temples, and Bayon Temple, famous for the many carved smiling faces. Both temples are 5-10 minutes by car from Angkor Wat.
Getting there: Most people recommend doing a sunrise tour of Angkor Wat (I did this tour with a guide, Mr. Bun, who was excellent) to avoid the heat and the later crowds, and so that you can see the famous Angkor Wat silhouette at the crack of dawn. You can also explore Angkor Wat on your own, either by hiring a tuk-tuk or by biking around the complex.
I don't always recommend getting a guide since they don't always enhance an experience in my opinion, but Angkor Wat is one of the attractions where I highly recommend one. An excellent tour guide will be able to balance the awe-inspiring and heartbreaking history of Cambodia and Angkor Wat to give an educational, fun experience.
Duration: Visiting Angkor Wat and the surrounding temples can easily take a full day, approximately 8 to 10 hours. Sunrise tours generally have a 4am or 4:30am pickup time.
Cost: Angkor Wat has a $37 entrance fee and it's usually not included in tours. Tour prices are competitive and you can expect to pay anywhere from $20 to $50 for one. The tour I took was only $25 and I thought it was excellent.
My take: As with any major tourist attraction, I was initially hesitant about the hype surrounding Angkor Wat, but it surpassed my expectations with its size, fascinating history, architectural achievement and beautiful surroundings.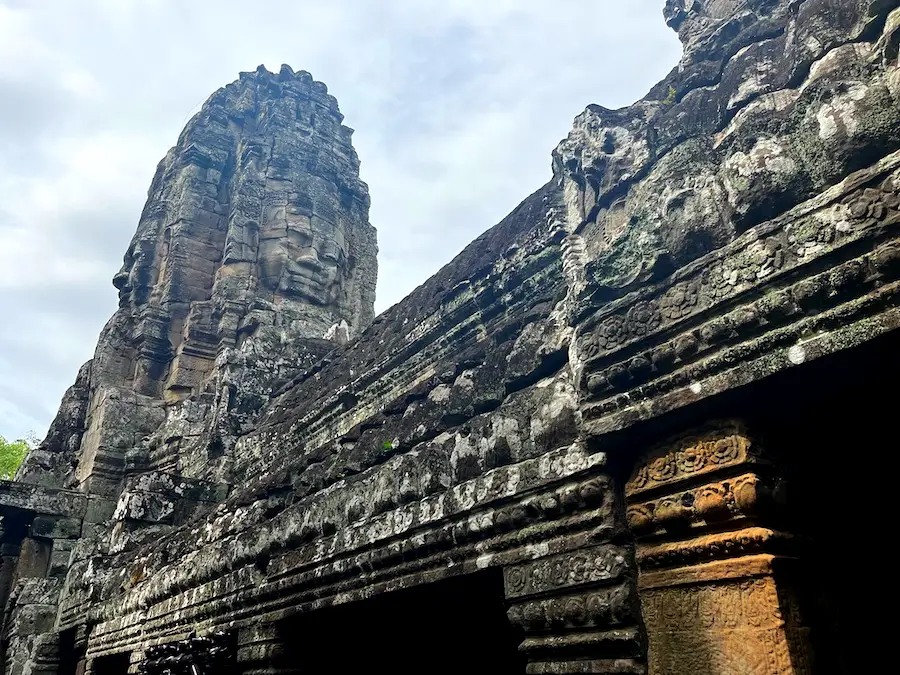 2. Bike through the rural villages of Siem Reap
Why: The center of Siem Reap is very tourist-heavy and one way to escape the crowds and get a better understanding of how locals live is to bike through the countryside. Siem Reap's backroads are also a great biking place since they are free of hills.
Getting there: You can rent a bike and explore on your own, or hire a local to show you around (I did this bike tour with a guide, Samnang, and he was great and generous with his time).
Duration: Biking around the countryside of Siem Reap can be a half-day activity (~4-5 hours) or a full-day activity (~8 hours) if you hire a local guide.
Cost: Siem Reap bike tours will be in the $30-$60 range. My bike tour was $30 and I gave a 25% tip since my guide was very generous with his knowledge, time and hospitality.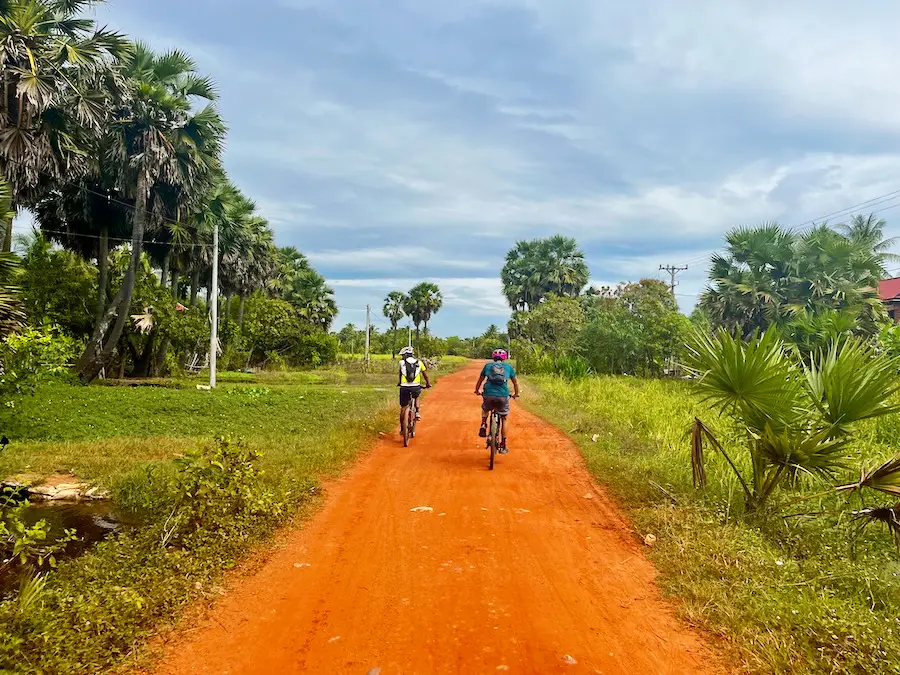 My take: Biking through the rural villages of Siem Reap became one of the most surprisingly enjoyable tours I did in Southeast Asia. My guide even invited us to meet his family at the end of the tour, where I had a humbling and inspiring conversation with his wife.
This Siem Reap bike tour guide gives you bike tour tips and highlights what you can expect from biking through the countryside.
3. Go to Phare, the Cambodian Circus
Why: Phare Circus is an interesting circus not only because the performances are entertaining, but also because it's a successful Cambodian social enterprise. Founded by Cambodian refugees after the fall of the Khmer Rouge, all circus performers come from Phare's school, which offers K-12 education and professional arts training.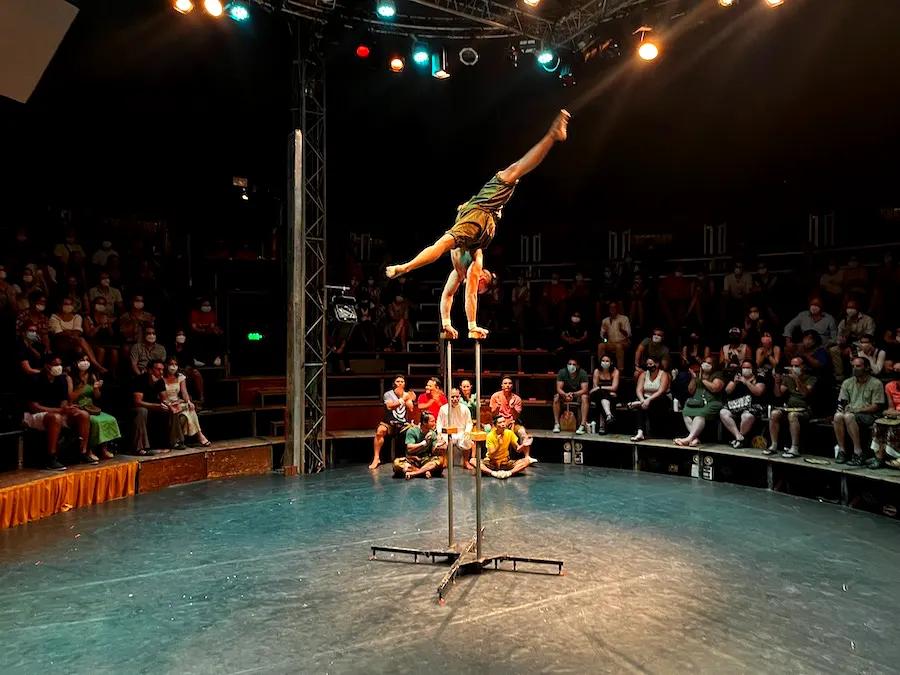 Getting there: The Phare Circus is located ~1 mile east of the center of Siem Reap's town. You can take a tuk-tuk there and there will be several tuk-tuks waiting at the end of the show. I tried walking to Phare Circus and do not recommend it as there are no consistent sidewalks and the roads are extremely dark in some areas.
Prior to the show, there will be several food vendors outside the circus tent if you want to grab dinner and enjoy pre-show entertainment. I thoroughly enjoyed the performers welcoming guests with energetic drumming and juggling.
Duration: The show is one hour long and is offered daily in the evenings, usually starting at 8pm. The circus opens for seating 30 minutes before the show.
Ushers will assign seats to you based on your seating section. I didn't find it advantageous to show up early early since the seat assignments can be fairly random.
Cost: The show's ticket ranges from $18 to $60+ depending on seating section. The basic $18 ticket, which is the one I bought, means that you will be seated on the side and the performers will not be facing you most of the time.
My take: The Phare circus show's plot was simple and nothing to rave about, but the performers were extremely energetic and entertaining. Buying tickets also helps sustain the school, which is a great way to contribute to Siem Reap's local economy.
7 Other Things To Do in Siem Reap
If you're spending more than 2-3 days in Siem Reap, here are other popular activities you can do there in no particular order.
1. Educate yourself at the Cambodia Landmine Museum
Cambodia continues to struggle to be landmine-free, primarily due to all the bombs that the US dropped in the late 1960s and early 1970s. Unexploded landmines, especially in rural areas, continue to disable locals and rob them of being able to make a living. You can learn about how landmines have impacted Cambodia and the efforts to decommission them in this Landmine Museum. The cost of entry is $5.
2. Enjoy the nightlife at Pub Street and visit the nearby Psah Chas market
Pub Street is a road with bars, restaurants and street food vendors that comes alive at night (it's very dead in the mornings and afternoons). You can walk over at night or find local guides that will give you a city tour that ends on Pub Street. Right next to Pub Street is Psah Chas (also known as "Old Market"), a night market where you can find souvenirs in the outer stalls and a wet market inside. For more markets, Phsar Leu is the biggest market in Siem Reap, but is more geared towards locals.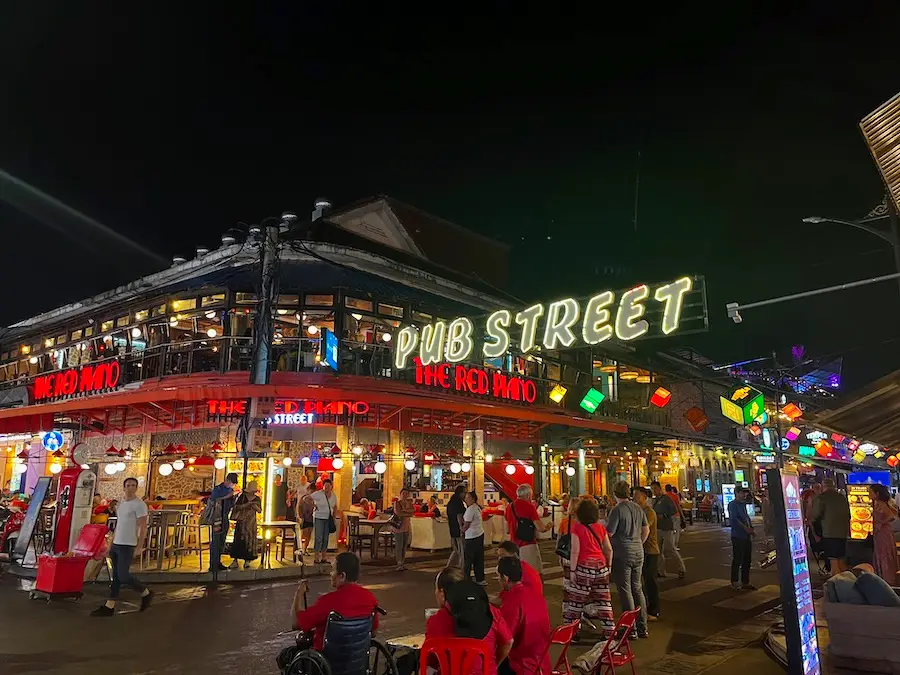 3. Zipline over the Angkor Archaeological Park
If you're craving for more adventure in Siem Reap, you can book a 3-hour zipline tour or do Phare Circus's full-day itinerary where you can zipline and then go to the Phare Circus show. Expect to pay $50+ for a zipline ticket.
4. Take a boat ride in Tonle Sap Lake
Tonle Sap Lake is ~10 miles south of Siem Reap and you can visit it to see the floating villages and take a boat ride in it. Note that this area can be tourist-heavy so you might encounter a lot of kids begging. If you don't want to deal with logistics, you can also take a morning or afternoon tour that takes care of transportation and the boat.
5. Take a Khmer cooking class or food tour
Learn more about Khmer food, which is different from the umbrella Cambodia cuisine. Khmer food refers to the thousand-years culinary tradition of the Khmer people. You can take a street food tour or try your hand at cooking authentic Khmer food.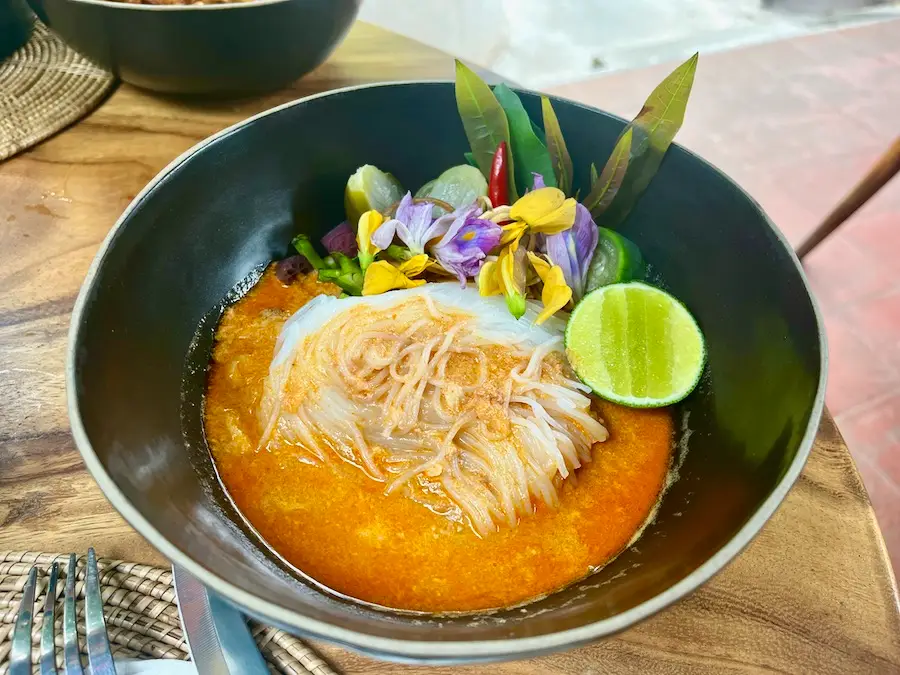 6. Hike Phnom Kulen National Park
Phnom Kulen National Park is an hour drive north of Siem Reap and is a well-maintained park featuring rainforests, waterfalls, jungle temples and some amazing views. You can visit it on your own or with a full-day tour that takes care of transportation. The park entrance fee is $22.
7. See butterflies at the Banteay Srey Butterfly Centre
Take a tour and see the large diversity of butterflies at Banteay Srey Butterfly Centre, which is the biggest butterfly enclosure in Southeast Asia. It's located near the Cambodia Landmine Museum and entrance to the museum and a tour is free.
3-Day Itinerary for Siem Reap
Below is how to spend 3 days in Siem Reap while doing the top recommended activities mentioned above.
This itinerary resembles how I spent my time in Siem Reap while incorporating improvements. I've included some of my actual timestamps to give you an idea of how long you might need for each activity and how to efficiently sequence things.
Where I Stayed in Siem Reap
Here's where I stayed and my thoughts on the accommodation.
Factors to consider:
Walking distance to Pub Street. Most restaurants, souvenirs and markets will located around the Pub Street area, so if you don't want to take a tuk-tuk every single time, it's good to stay within walking distance of Pub Street.
Price and luxury tradeoff. Siem Reap's accommodations are very cheap. You can find a mid-range hotel for $15 and anything above $30 is considered luxurious. I usually book basic and mid-range accommodations, but since Siem Reap is so affordable and I was celebrating an anniversary, I decided to book a luxurious place to stay.
Where I stayed:
Hotel: I stayed at The Studio Villa Siem Reap and paid ~$54/night/person. This was my first time staying at a private villa, which came with a:
Private pool in a private backyard
Full kitchen
Modern bathroom with a rain shower head
Private washing machine and dryer
The host/owner lives right next door and was very polite and professional.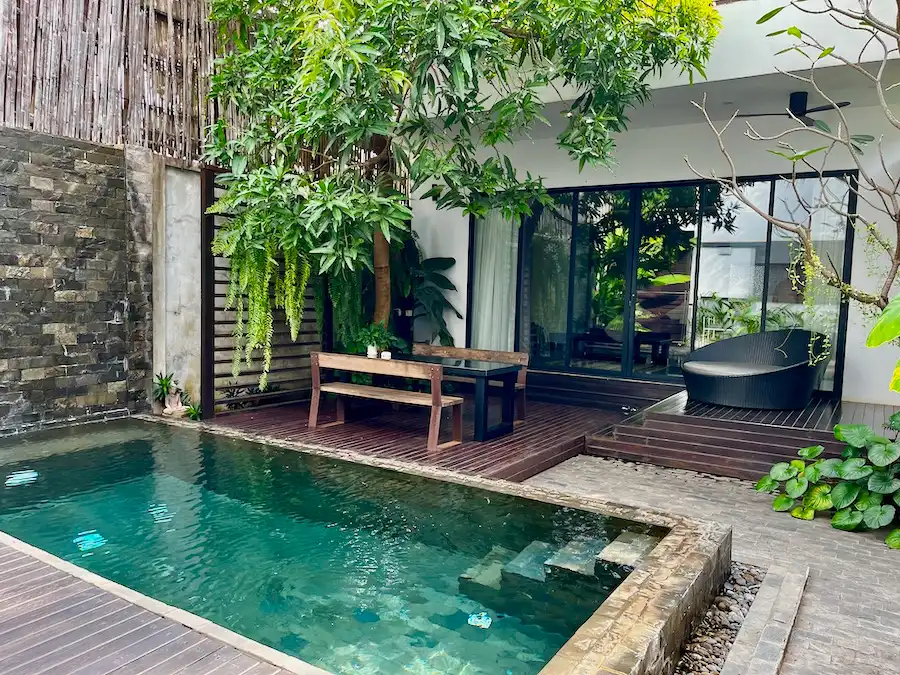 If you have any questions or thoughts, feel free to leave them in the comments below.