Rock climbing above water without ropes, also known as deep water soloing (DWS), is an amazing experience in Vietnam. I went deep water soloing with an experienced Cát Bà climbing tour group and was in awe with the emerald water and limestone cliffs.
Here, I share practical tips on deep water soloing in Vietnam. This post covers:
💡 General DWS tips
✨ DWS tips in Vietnam
📍 Where and how to DWS
👟 What to wear
Planning a trip to Vietnam? This Vietnam guide covers things to know before getting there, including how to get around, common scams, cultural differences and more.
Disclosure: This post may contain affiliate links. If you make a purchase through them, I may earn a small commission, at no extra cost to you. Thanks for your support!
5 Important Tips for Deep Water Soloing
Deep water soloing (DWS) is a form of rock climbing without any ropes where climbers fall into a deep body of water, usually a lake or the ocean (man-made deep water solo pools also exist).
Here are five essential tips on deep water soloing, regardless of location:
Tip #1: Only a little rock climbing experience is needed. You don't need to be a "good" or experienced rock climber to deep water solo. You need to be able to climb up real rocks that have good holds, so some basic rock climbing experience is helpful. My session had V2 to V7 climbers with zero to some deep water solo experience.
Some climbing tours (like the one I did with Cat Ba Climbing) require no rock climbing experience. This is true if you go with experienced people who can teach you and identify beginner-friendly routes, which some tour groups are equipped to do.
Tip #2: You should be comfortable swimming. You will be falling or jumping into the water so you will need to be comfortable swimming back to the boat (more on this later).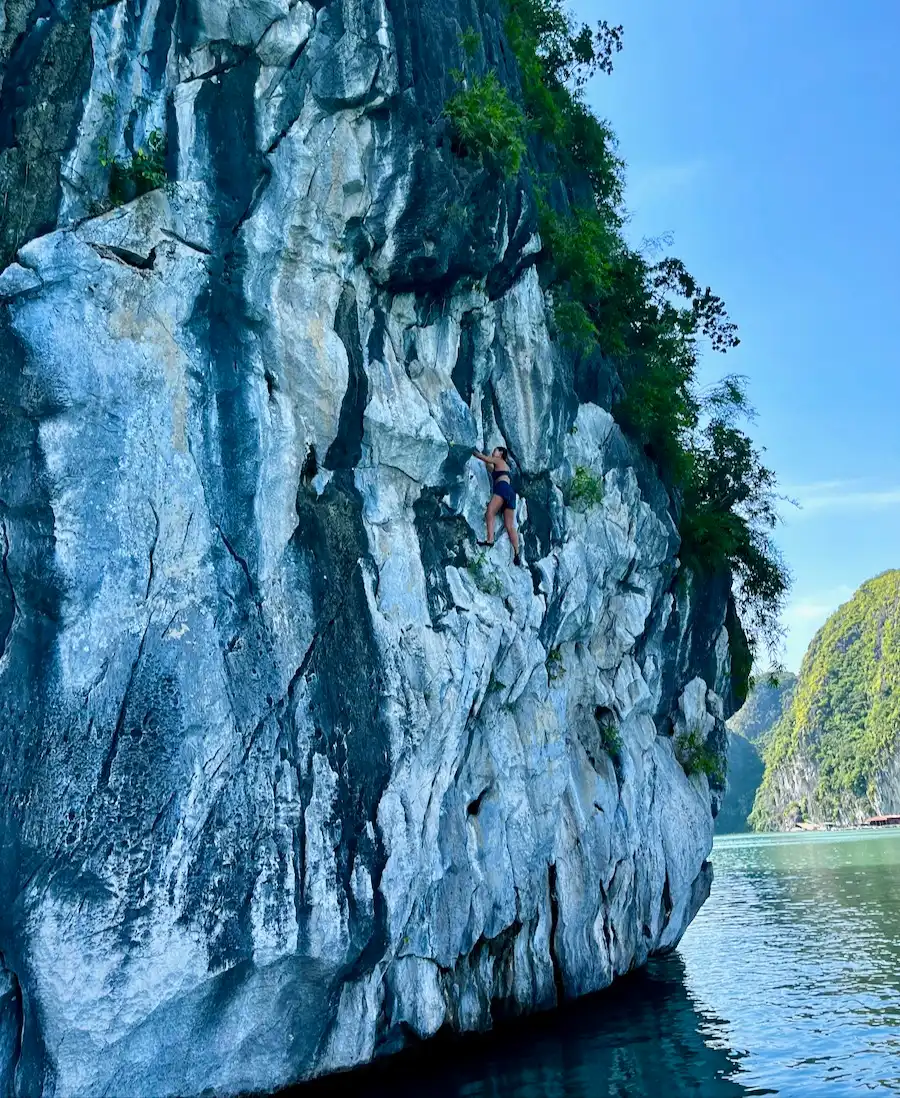 Tip #3: Always know where to jump. Deep water soloing can be done in several countries around the world. No matter where or who you go with, always be aware of where it's safe to jump. Rocks can be hiding under the water, so you can get severely injured if you don't know which areas are safe to fall or jump into.
Tip #4: When jumping, it's important to hit feet first to break the water's surface. You should hit the water like a pencil so you don't hurt your arms or punch yourself in the face when your arms hit the water. Hitting the water can hurt when jumping from 15+ feet. I consistently had a slight bend in my knee when I jumped from 18 feet high, so my butt kept hitting the water and my tailbone was a bit sore for four days.
When you jump during deep water soloing, you should ideally have your feet parallel to the water and hit heels first (not toes pointed down). The idea is to break the water surface with a strong point of your foot.
Tip #5: You can deep water solo with or without a tour group, but always go with experienced people. For all the reasons mentioned above, never deep water solo on your own or with inexperienced people.
Safety is very important. Various factors impact deep water solo safety, including tide level, hidden rocks, route rock stability, proper gear, emergency response accessibility, etc. I recommend going with a tour or organized group if it's your first time deep water soloing or if you're in an unfamiliar area.
Why Deep Water Solo in Vietnam?
Vietnam is not the mecca for deep water soloing (Mallorca in Spain is), but there are several reasons why Vietnam is unique and why people are attracted to climbing there:
The scenery is breathtaking. In Vietnam, you climb up beautiful limestone rocks and stare out to emerald water. It's one of the most beautiful landscapes I've experienced. If you go during the low season, there's also less of a crowd and it's incredibly peaceful and quiet.
The water is warm. You'll be climbing in and out of the water several times, and it can get cold in the shade of the rocks. I went in November and the water was pleasantly warm.
You don't have to travel far to deep water solo. The most popular place to deep water solo in Vietnam is Lan Ha Bay, which is three hours east of Hanoi, home to one of Vietnam's international airports. Lan Ha Bay is an extension of the famous Ha Long Bay and the nearby Cát Bà Island is a popular destination itself. I took a $28 USD round-trip bus-ferry-bus from Hanoi to Cát Bà Island.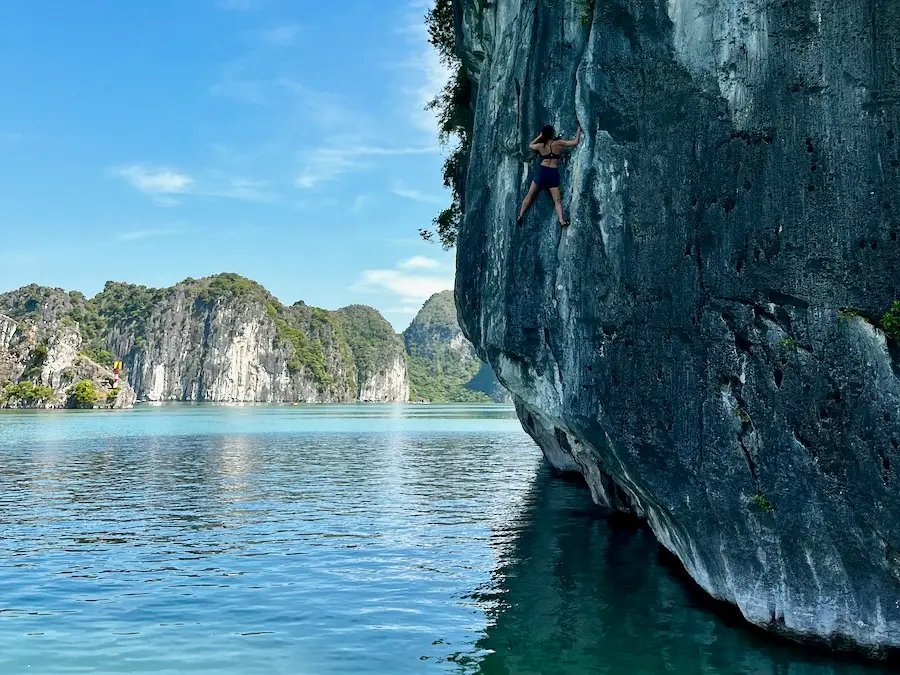 If you want to explore a more rural side of Vietnam and experience an epic three-day motorbiking journey through the mountains, this Ha Giang Loop guide highlights a different kind of adventure in Vietnam.
An Overview of Deep Water Soloing in Vietnam
To help you plan your trip, here is some important information on deep water soloing specifically in Vietnam.
Where can you deep water solo in Vietnam?
📍 Lan Ha Bay, which is right next to Cát Bà Island, is the most popular deep water solo location in Vietnam. The area has over 200 deep water soloing routes and over 50 sports climbing routes. The deep water solo routes range from beginner to advanced.
Lan Ha Bay is part of the Ha Long Bay area, but it sits in a different province and has its own distinguishable features.
The following Vietnam locations are popular for sport climbing, bouldering or top roping, but none of them have deep water soloing:
Northern Vietnam: Ha Long Bay, Hữu Lũng and Mai Châu Quốc Oai are popular for sport climbing.
Central Vietnam: Da Nang has a few top roping routes at the Marble Mountains.
Southern Vietnam: Suoi Dai has 50+ bouldering routes.
I've read online that you can deep water solo in Ha Long Bay (the north area), but all Reddit sources, online guides and reviews that claim this seem to be 5 to 10 years old. I can't find any new sources that state that you can deep water solo in Ha Long Bay today. If you know of a deep water solo place in Ha Long Bay proper, let me know in the comments below!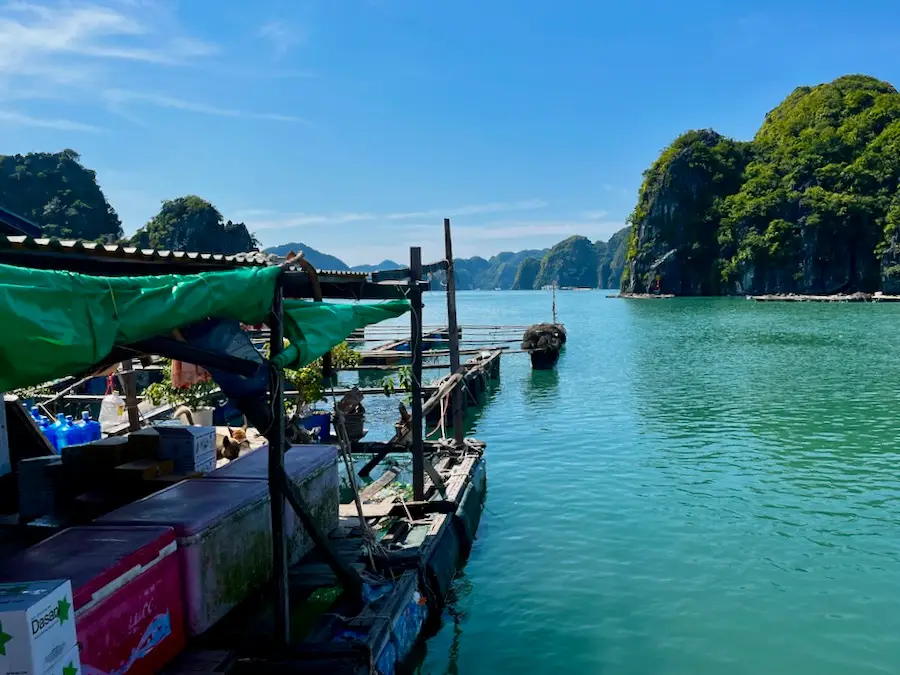 When can you deep water solo in Vietnam?
🗓️ The most popular time to visit Vietnam is during the summer season (June to August), but a great time to visit Vietnam to deep water solo is during the spring (March to April) or fall (September to November).
The tourist crowds are smaller which makes for a beautiful and peaceful experience, and Lan Ha Bay has relatively reliable weather during those months.
Can you deep water solo without a guide in Vietnam?
🦺 Because Ha Long Bay is a UNESCO-protected site and Lan Ha Bay is an extension of it, you are required to have a licensed guide to deep water solo there. You also need to rent a boat and climbing gear, and know where to fall or jump in safely. Because of this, I would recommend climbing with a tour group or guide.
Who are the deep water solo tour operators in Vietnam?
🧠 Cat Ba Climbing and Langur's Adventures are the two tour operators that offer deep water soloing in Vietnam. I did my tour with Cat Ba Climbing and can say I had a great experience. Here are some details about my experience:
Where I stayed: I stayed on Cát Bà Island in ĐẠI THỦY Hotel and the tour group met at the nearby office. We took a boat out to Lan Ha Bay.
Duration: Cat Ba Climbing's deep water solo tour lasted for half a day, from 8am to 1:30pm. Langur's Adventures offer half-day and full-day deep water solo tours while Cat Ba Climbing only offers half-day tours.
Cost: Cat Ba Climbing's half-day tour cost $69 USD per person. I tipped 13%, so I paid $78 USD in total.
Experienced required: Cat Ba Climbing says that no rock climbing experience is required to go on their deep water solo tour. Langur's Adventures says that their tour is "designed for intermediate and experienced climbers 5c/5.10 or above."
Even though the tour is expensive by Vietnam's standards, Cat Ba Climbing is cash-only, so make sure to bring significant cash. There's an ATM about a 5 to 10-minute walk from the Cat Ba Climbing office.
Tour size: The Cat Ba Climbing group started with ~12 people, not including the guides, and then we split into two boats with about six climbers each.
Note: I am not paid by Cat Ba Climbing to write about them. All opinions expressed here are my own and reflect my personal experience.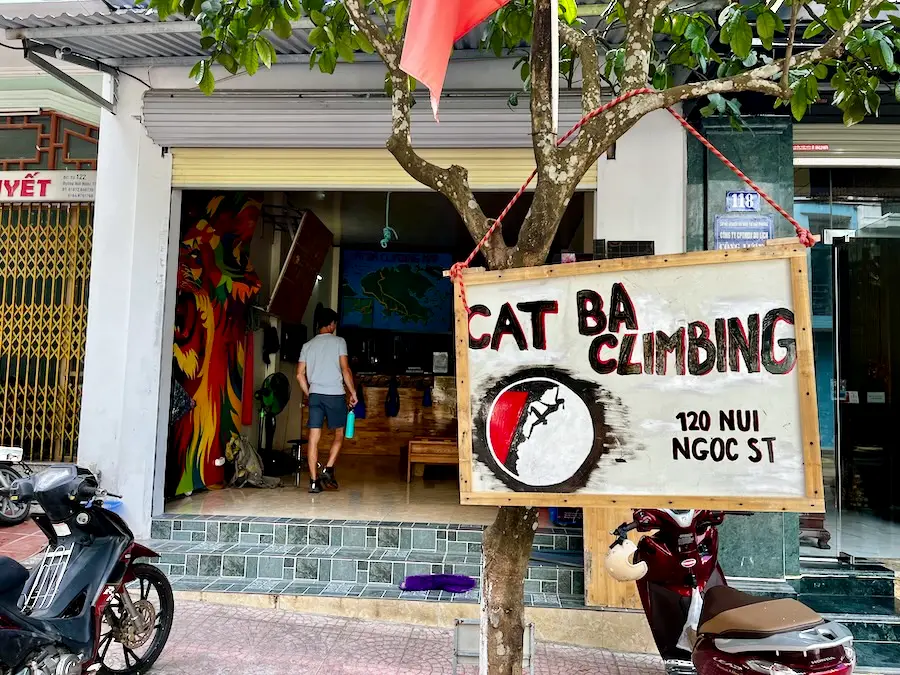 What to Expect When Deep Water Soloing in Vietnam
The following is based on my experience deep water soloing in Lan Ha Bay. Deep water soloing in other countries is similar, but will not be exactly the same.
Half-Day Tour Breakdown
Gear up and introduction (8am-8:30am). You'll arrive at the office and try out different climbing shoes to find the right size. When everyone is ready, you'll get on a short shuttle ride to the harbor.
The tour provides fruits and drinks, but not a meal, so make sure to eat a big enough breakfast that can help you last until 1:30pm.
Boat ride (8:30am-9am). You'll wait at the harbor for ~10 minutes before getting on a small boat that fits a dozen people and cruising through the beautiful Lan Ha Bay for ~20 minutes. Enjoy the scenery and get to know your fellow climbers!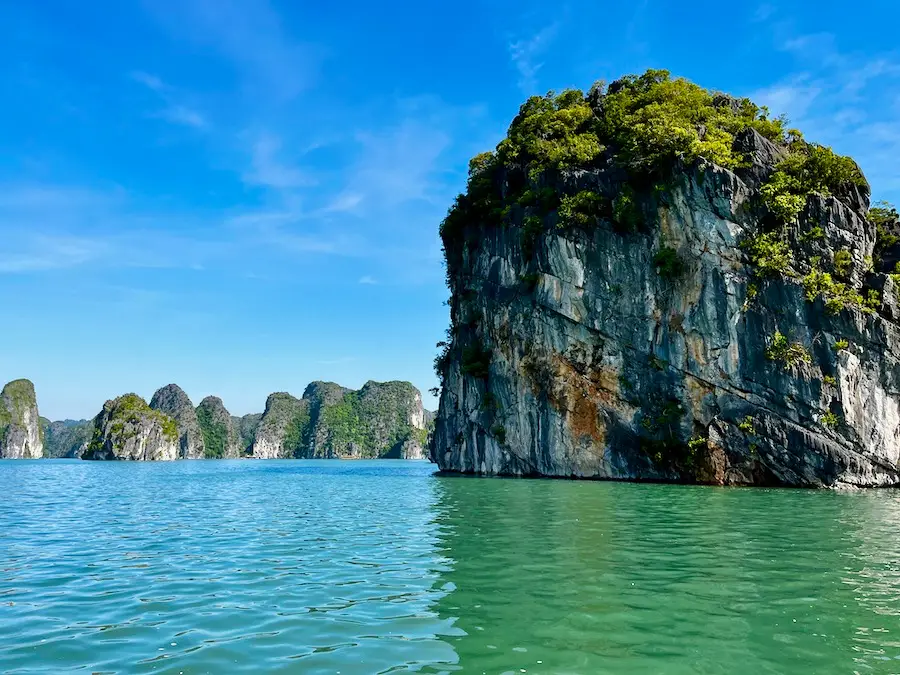 Deep water solo (9am-1pm). You'll spend about four hours rock climbing and jumping into the water. Before your first climb, the guide will walk through safety and techniques. The four hours will fly by.
Return to the office and pay (1pm-1:30pm). At the end of your session, you'll be transported back to the Cát Bà office and pay for the tour in cash.
What To Expect During Rock Climbing
The first practice climb and jump is not super high. Once you get to a rock, the guide will have you do a baby climb and practice the pencil technique for jumping. This first jump is ~10 feet high.
If everyone on the boat is experienced at deep water soloing, the first jump can be higher, up to the guide's discretion.
There are different routes for different level climbers. The guides know several rocks to climb and each rock has several routes. The guide will match climbing routes to your experience level (e.g., my boat had V2 to V7 climbers and even though we all went to the same rock, we didn't climb the same routes).
Only one to two climbers climb at a time per boat. To climb up a rock, the boat will get close to the rock, you will get on it and the guide will ensure you're secure before the boat pulls away. Once the boat starts pulling away, you can start climbing. In general, there were only one to two climbers on the rock at any given time. Once you fall or jump into the water, you'll swim back to the boat and climb back up on a small ladder.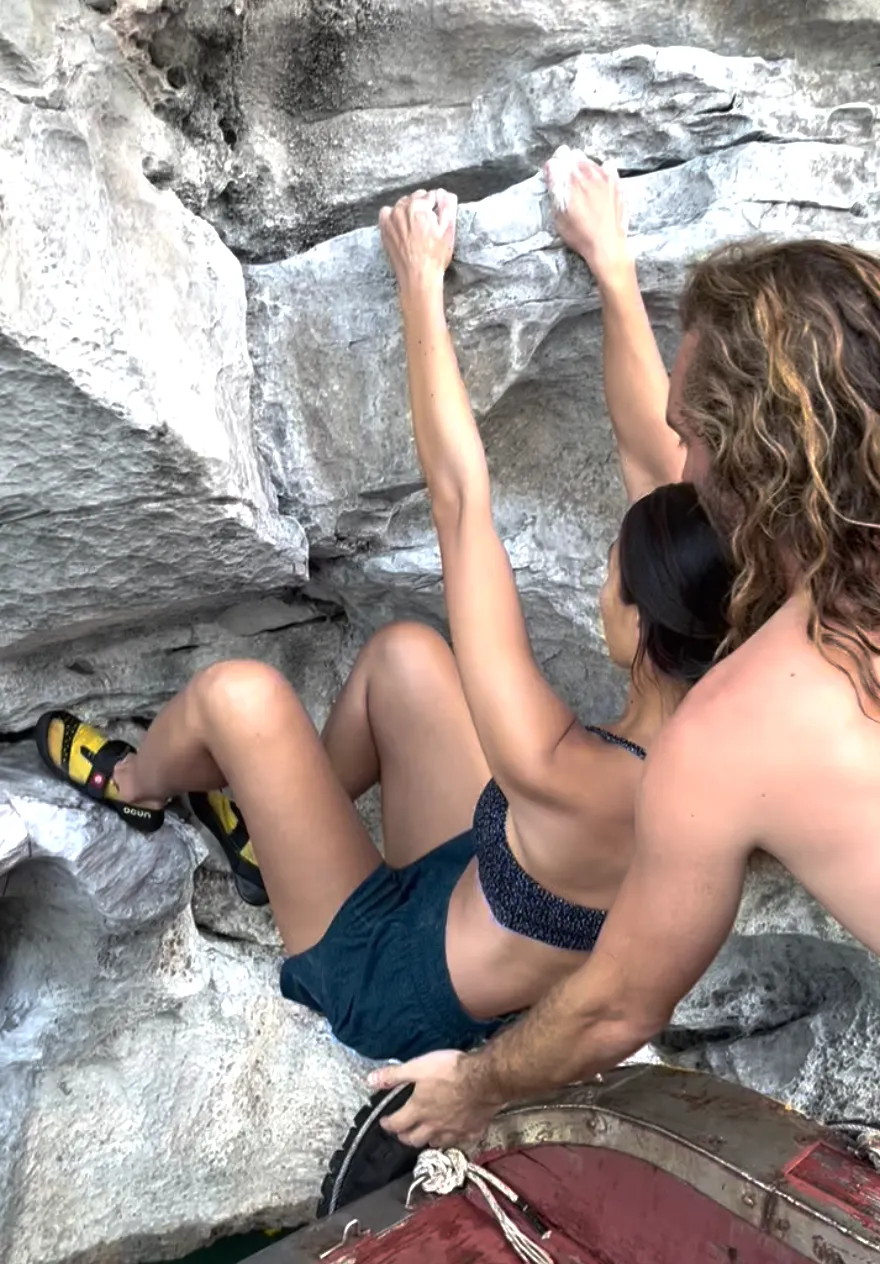 In the four-hour time span, each person climbed six to eight times. It might not sound like much (especially compared to indoor climbing), but the time will go by fast between learning how to climb limestone, jumping, swimming and interacting with other climbers.
It's ok if you get stuck or if you fall. If you're on a route and are unsure of what to do next, the guide has a laser point and can tell you what to do next to move along the route. The guide will also tell you at the beginning the best way to fall if you can't finish the route.
The height of the jump can vary and it can be scary. Our group jumped from 10 to 25 feet high. If you've never jumped from 15+ feet high and you're not an adrenaline junkie, it can be scary.
I struggled with jumping the most in my group and my #1 tip is: the longer you think about it, the harder it becomes to jump, so jump as soon as you can. Despite the fear, it was one of the most amazing experiences I had in Vietnam.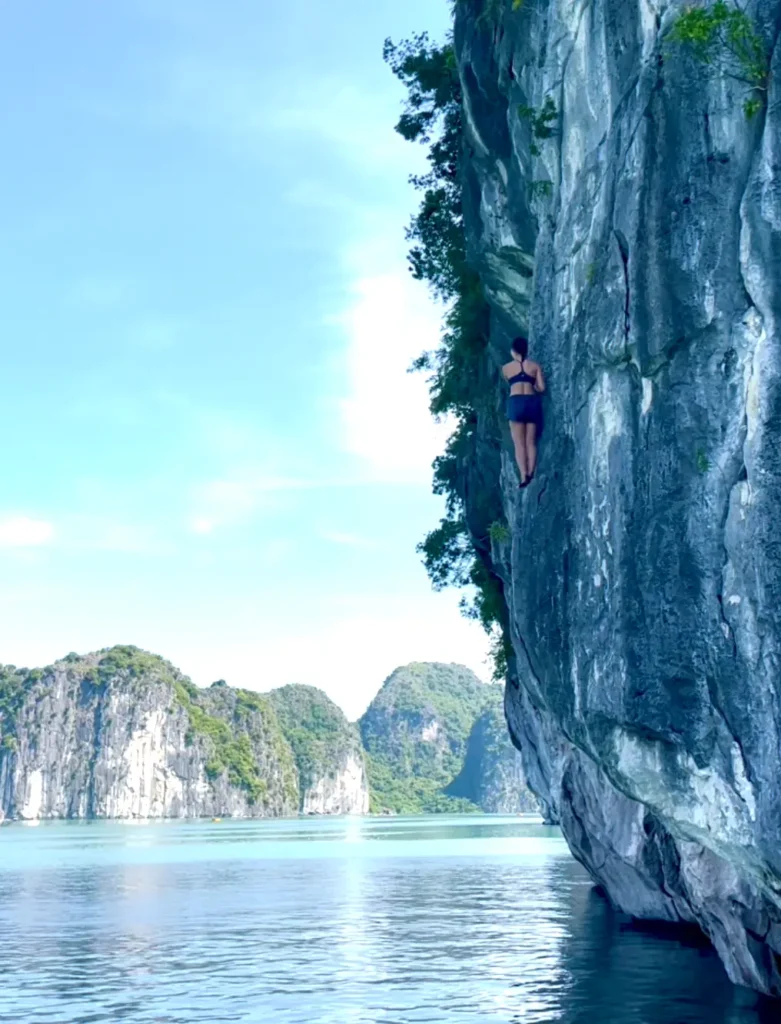 For a less adventurous experience in Vietnam, consider visiting Hoi An in Central Vietnam, where you can get high-quality tailor-made clothes at prices you won't see in the US.
What to Pack and Wear to Deep Water Solo
The tour group will provide transportation, climbing gear and some light snacks. Here's what you should bring and wear to deep water solo:
Bathing suit or sports bra and shorts. You'll want to wear a bathing suit that stays on you when you hit the water at 15+ feet high. I chose to wear a sports bra and shorts, and my top still didn't stay on securely all the time, so make sure to wear something tight.
Quick dry towel. You'll need something to dry yourself between every climb and at the end of the tour. I brought my regular-sized quick-dry towel, which worked great.
Clothes you can easily put on and take off. Depending on when you go and whether you're in the shade, you might get a bit cold in between climbs. I recommend bringing a layer that you can easily put on and take off in between climbs.
Sandals. You'll be barefooted or in climbing shoes most of the time, but make sure you bring sandals for after the tour. I brought my Chacos and also wore them when taking snack breaks inside the boat.
Sunscreen. Depending on the season and whether you're in the shade, you might want to bring sports sunscreen. I highly recommend this sports water-resistant sunscreen that stays on well even when you get wet.
Extra snacks and water. The tour provided beers, non-alcohol drinks and fresh fruits, but bring extra snacks and water if you think you'll need more sustenance. I brought my Hydro Flask water bottle that kept my water cool the entire time.
Should You Bring Climbing Shoes to Deep Water Solo?
Here are some tips on bringing your climbing shoes to deep water solo:
You usually don't need to bring climbing shoes to deep water solo if you're going with a tour group. Tour groups usually provide climbing shoes, but it's good to double check. You also might not want to bring your own climbing shoes because real rocks can wear and tear them quicker. This is especially true in Vietnam where you'll be climbing limestone, which is particularly sharp.
If you bring your climbing shoes, rinse them to avoid shoe damage. If you jump into salt water, the salt left on your shoes can damage and erode the rubber over time, so make sure to rinse your climbing shoes afterwards.
It's not that weird to climb with wet rental climbing shoes. No one loves wearing rental shoes or wet shoes, but deep water soloing should be thrilling enough that climbing in wet rental shoes won't be your primary concern. I didn't notice my wet, rental shoes at all while deep water soloing.
Vietnam Trip Planner
To make your travel planning easier, download the trip planning template below and use it as a starting point. The template has country-specific travel information as well as an itinerary, packing list and map with recommended places pinned.
The template is built on Notion, which is what I use for all my travel planning (I'm not paid to say this; I just like the tool). If you don't have Notion, creating an account is free.
If you have any questions or thoughts, feel free to leave them in the comments below.
🧋 This site is run entirely by me, Lukiih. I spend hours writing each article to ensure its accuracy and conciseness. If you find my site helpful, you can say thanks by buying me bubble tea!