I traveled to four amazing areas in Northern Vietnam in 2022: the busy, chaotic city of Hanoi; the beautiful karst terrain town of Ninh Binh; the limestone cliffs and serene emerald water of Lan Ha Bay; and the remote and scenic Ha Giang Loop.
Visiting these 4 destinations allows for a trip that combines city and rural sceneries, epic mountains and emerald water, and relaxing massages and motorbike adventures.
Here, I share practical tips on visiting these 4 destinations in Northern Vietnam based on hours of research and actual experience. I also share an 8-day itinerary showing how to squeeze everything in.
Disclosure: This post contains affiliate links. If you make a purchase through them, I may earn a small commission, at no extra cost to you. Thanks for your support!
Quick Travel Facts for Vietnam
Here is some general information on Vietnam to save you travel research time:
⭐ Known for: Vietnam is known for stunning mountain ranges and rice terraces, limestone cliffs in green bays, and busy streets filled with motorbikes (95% of registered vehicles are motorbikes).
🛃 Visa: A vis is required for US nationals traveling to Vietnam. It costs $25 and takes 3 business days to process. You can apply here.
When applying for a visa, follow instructions closely, especially around the photo requirements. My friend and I both applied and his visa was rejected due to the photo requirements, which set his application back by a week.
💬 Language: The officially language is Vietnamese. Vietnamese locals in tourist areas will speak some English and those in remote areas basically speak none.
🌎 Time zone: Vietnam's time zone is Indochina Time.
💰 Currency: Vietnam's currency is the Vietnamese Dong and $1 USD = 24,867 VND at the time of writing.
🔌 Outlet: Vietnam's outlets are the same as the US and Europe's (i.e., type A, which are the two flat parallel pins and type C, which are the two round pins), so an adapter may not be needed. During my 2 weeks in Vietnam, I never used my adapter.
💧 Tap water: Tap water in Vietnam is generally not safe to consume. Hotels, restaurants and tour operators will often provide bottled water.
💳 Credit card: Make sure to carry cash at all times as Vietnam's economy is largely based on cash transactions. Some stores in tourist areas will accept card.
💵 Tipping: Tipping is not mandatory or customary, but appreciated in Vietnam.
☀️ When to visit: The most popular time to visit Northern Vietnam is during the dry season, which is from November to May. June to October is the wet season. Northern Vietnam has a tropical climate, but it does have four seasons:
December to February is the winter season (in the 50s°F to 70s°F) and the weather is usually colder up in the mountains, which is something to consider if you're doing the Ha Giang loop.
March to May is the spring season (in the 70s°F) and it's also considered the dry season.
May to September is the summer season (in the 80s°F) and humidity is very high.
September to November is the fall season (in the 70s°F) and this is also part of the wet season. I visited in late October and early November.
⏳ How long to visit: How long you spend in Northern Vietnam depends on how many areas you want to cover. 3-5 days will allow you to visit 1-2 areas (likely Hanoi and one other popular place). I visited 4 areas in 8 days.
5 General Tips for Visiting Vietnam
Here are some general tips when visiting Vietnam:
Tip #1: Fly into Hanoi. Centrally located in Northern Vietnam and with the only international airport in the region, Hanoi is the ideal entry point to other popular areas:

Ninh Bình is 2 hours south
Ha Giang Loop is 6 hours north
Ha Long Bay is 3 hours east
A lot areas in Vietnam will also have tuk-tuks and other negotiation-based methods of transportation. Grab generally has competitive pricing; a pro tip is to use Grab as a baseline for negotiations when tuk-tuks and other transportations are more convenient.
Tip #3: Bring toilet paper for bathrooms. Many public bathrooms don't have toilet paper and a lot of them are squat toilets.
Tip #4: Learn to cross the streets with confidence. Vehicles, especially in Hanoi, don't stop for pedestrians. Step into the street while keeping an eye on traffic and walk straight in a predictable path with a consistent pace so that vehicles can go around you.
Tip #5: Bring mosquito repellent. The humid climate of Vietnam makes it a haven for mosquitos. To decrease the spread of mosquito-borne illness, bring and put on mosquito repellent. I tend to get bitten and I find that this lotion insect repellent works better than the spray kind (per the CDC: "DEET offer the best protection against mosquito bites.")
Vietnam is known as one of the world's most affordable places to visit. This Vietnam cost breakdown details how much I spent on food, housing, etc. during my 2-week trip.
Northern vs. Southern Vietnam: Which One Should You Visit?
Visiting the entire country of Vietnam can take 3-4 weeks, a time luxury most people can't afford, so if you're like me, you might wonder whether to focus your trip on the North or South.
Here are some factors to consider if you're deciding between spending more time in Northern or Southern Vietnam:
Time of the year. Northern and Southern Vietnam have different climates throughout the year. The ideal time to visit the north is during the dry season, between November to May, with November and December being the most ideal times (not too humid or cold). Southern Vietnam has a consistent tropical climate, but has the rainy season between May to November.
Major cities. Northern Vietnam has Hanoi and Southern Vietnam has Hoi Chi Minh (aka Saigon), the capital. Both cities can feel hectic to visitors with motorbikes zooming around, but Ho Chi Minh is known to be slightly more dazzling and frantic. Both cities offer great options for authentic food (the food capital of Vietnam is Hoi An in the center of the country), shopping, nightlife and culture. Ho Chi Minh will feel more metropolitan and modern, and Hanoi will feel more traditional and laidback.
Attractions. If you head to Northern Vietnam, you'll be near the famous emerald waters and limestone cliffs of Ha Long Bay, get to explore the mountains of Sapa and the Ha Giang loop, and see Ninh Bình which is known as "Ha Long Bay on land." If you head to Southern Vietnam, you'll get to visit the floating markets of Cần Thơ, the white sand beaches of Phú Quốc Island and the countryside charm of Da Lat.
Based on my personal interests and recommendations from friends, I ended up deciding to spend my 2 weeks in Vietnam traveling the north and central part of the country.
4 Great Places to Visit in Northern Vietnam
This Google Map has all the Vietnam places mentioned in this list.
1. Ninh Bình
A UNESCO World Heritage Site, Ninh Bình is called "Ha Long Bay on Land" for its green rice paddies and limestone cliffs.
Known for: Rivers, green rice paddies, mossy pagodas and limestone karsts.
Vibe: More rural and much less chaotic than bustling Hanoi, but still somewhat touristy.
Top activities: Visit the big complex surrounding the Bai Dinh Pagoda; go to the Mua Caves and climb to the Lying Dragon Mountain; take a boat on Trang An or Tam Coc river.
Location: Ninh Bình is 2 hours (58 miles) south of Hanoi.
Getting there: You can get to Ninh Bình by bus or train. If you're short on time like me, you can do a day trip from Hanoi by bus. I've looked at dozens of Ninh Bình day tours (I booked this one) and they generally visit 3 popular areas for ~$50/person:
Hao Lu:

An ancient capital with history in the feudal system. Tours tend to focus on either the citadel or

Bai Dinh Pagoda

, the second largest pagoda in Vietna

m.
Trang An or Tam Coc: Two scenic areas known for boat caves.
Mua Caves:

A 500-step climb will take you to the top of

Lying Dragon Mountain

, which will give you panoramic views of Tam C

om.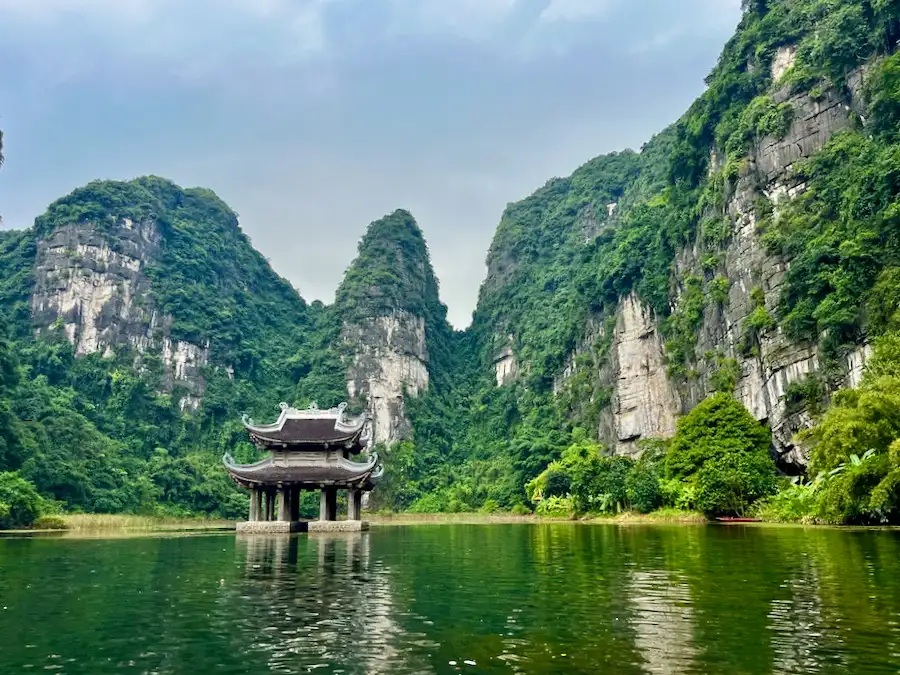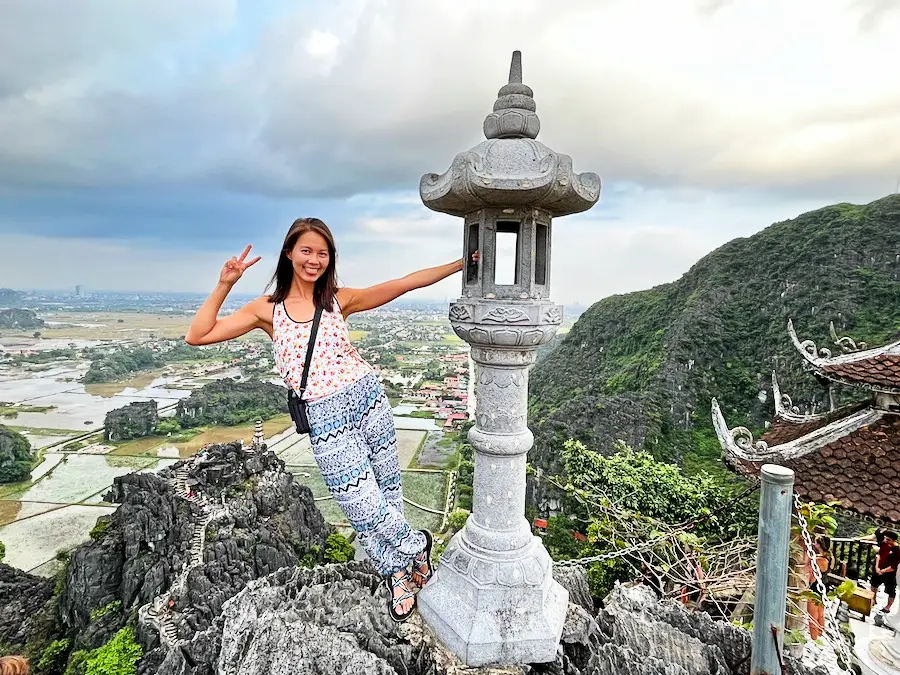 All the tour companies seem to provide more or less the same things (e.g., transportation, buffet lunch, tour of popular sites). I would choose tours based on which areas you want to visit. I booked this Ninh Bình day tour because I wanted to visit the pagoda and Trang An.
How long to visit: One day in Ninh Bình is adequate, but others stay 2-3 days.
My take: Ninh Bình is beautiful and a nice day trip to get away from chaotic Hanoi. It's fairly touristy, especially if you visit as part of a tour. Visitors generally amass in the same popular places at around the same times (e.g. there were dozens of boats in the water in Trang An and the view from Lying Dragon Mountain had a line).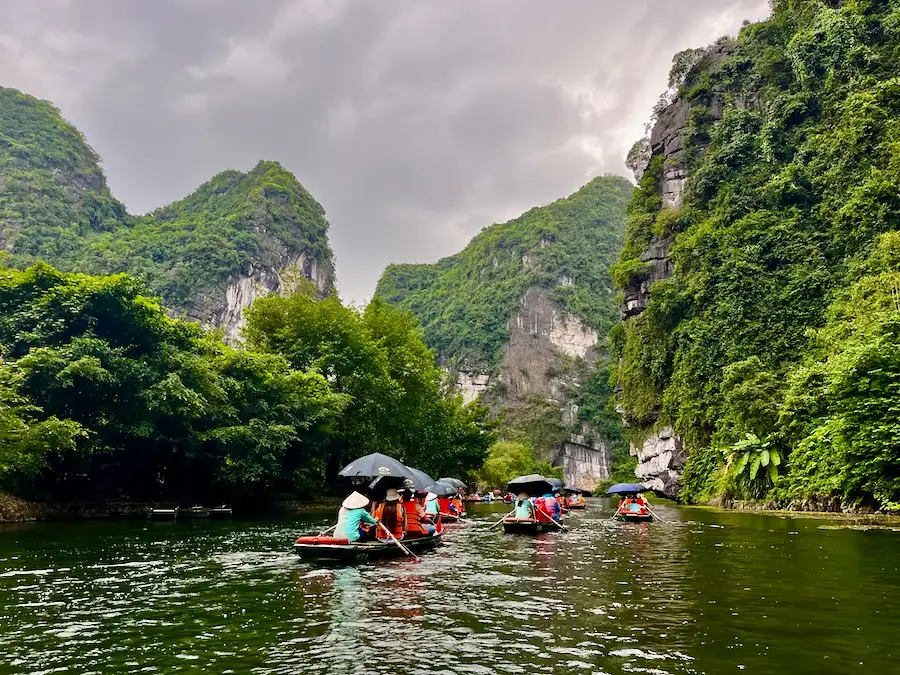 2. Ha Giang Loop
Great for adventurous travelers who want to explore Vietnam's mountains, the Ha Giang loop is a 3-4 day road trip by motorbike.
Known for: Motorbike adventure; winding roads in canyons and beautiful mountain passes; diverse ethnic villagers living in the mountains.
Vibe: Being surrounded by Vietnam's most epic natural landscapes.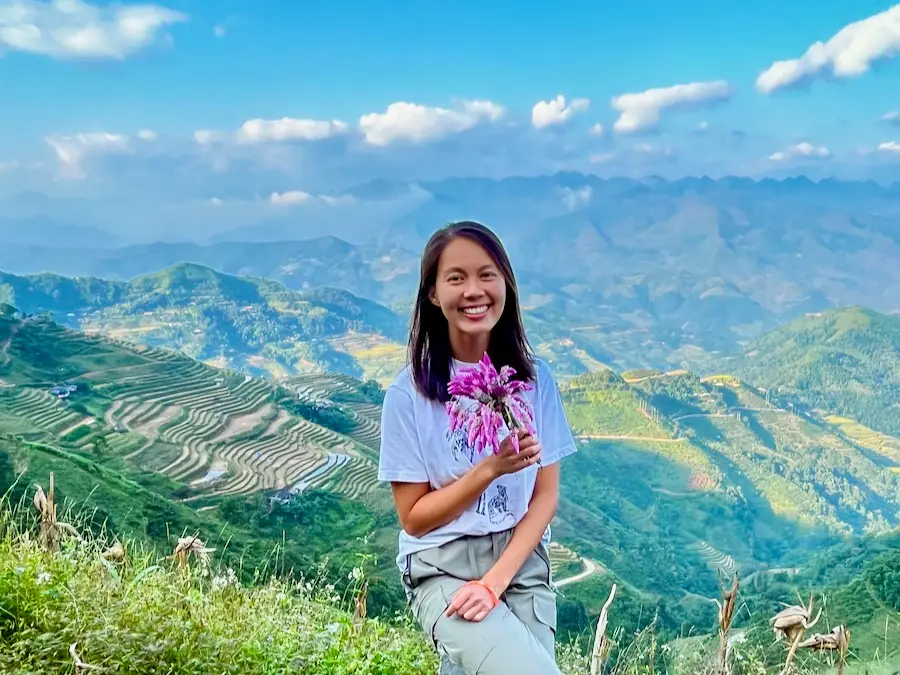 Location: The loop starts in Ha Giang city, which is 6 hours (170 miles) north of Hanoi.
Getting there: You can do the Ha Giang loop on you own or through a 3-4 day tour. There are online guides on how to do it on your own; you have to get to Ha Giang city, rent a motorbike and plan the loop. I chose to do a 3-day tour with Cheers Hostel because I'm not comfortable driving a motorbike.
It's strongly recommended that you have motorbike experience if you want to do the Ha Giang loop on your own as the road conditions are not for beginners.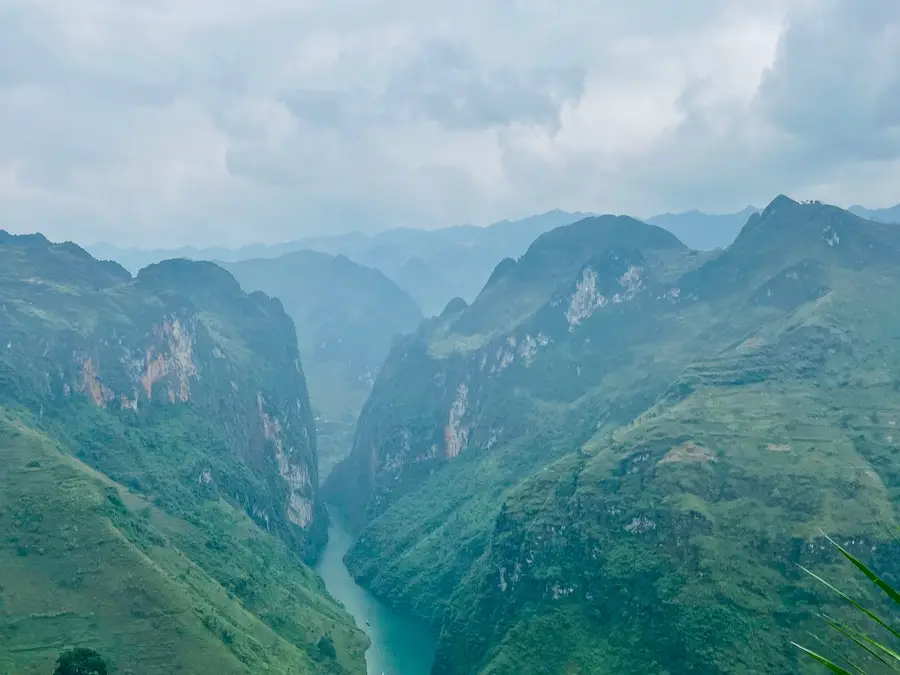 How long to visit: Most people doing the loop on their own recommend 3-4 days, depending on how you want to split the time between driving vs. relaxing in rural Vietnam. Various tours are available for 3-4 days.
My take: Ha Giang loop is a fantastic addition to any itinerary, and doing it with a tour group makes it easy for those without motorbike experience. The mountains and views are stunning, and going with a group means meeting new people, not having to worry about safety and being able to focus on the scenery while riding.
This Ha Giang loop guide outlines how to prepare and pack for the Ha Giang loop.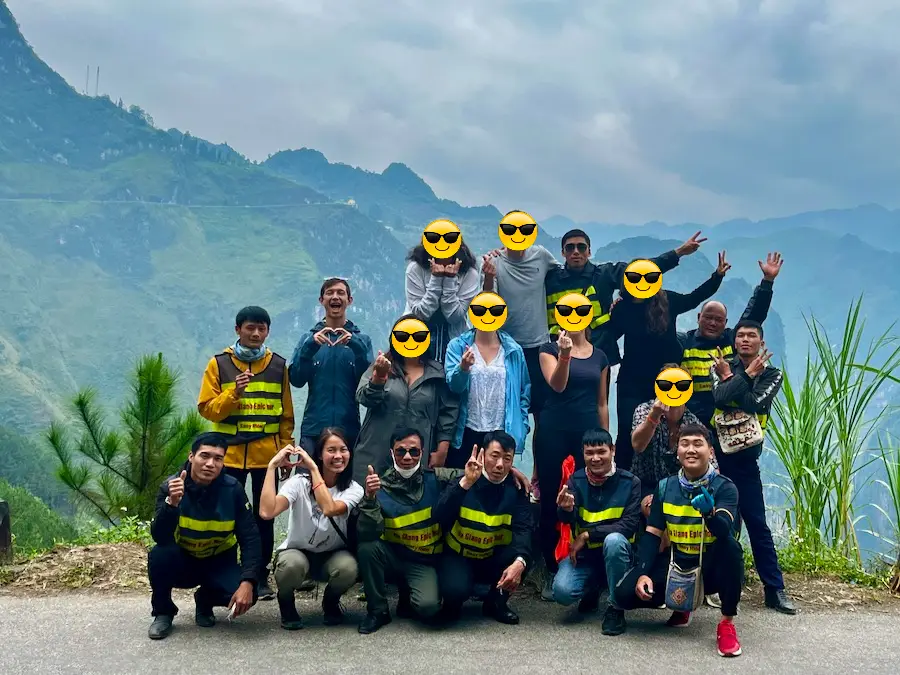 3. Lan Ha Bay
Lan Ha Bay is similar to the world-famous Ha Long Bay. It has beautiful limestone cliffs and emerald waters, but it's a lot less popular and therefore more serene and less polluted. It also offers more in the way of activities.
Known for: Emerald waters that can be visited via boat and kayak; towering limestone islands; hiking, rock climbing and scuba diving.
Vibe: Serene and quiet, with less crowds and junk boats compared to Ha Long Bay.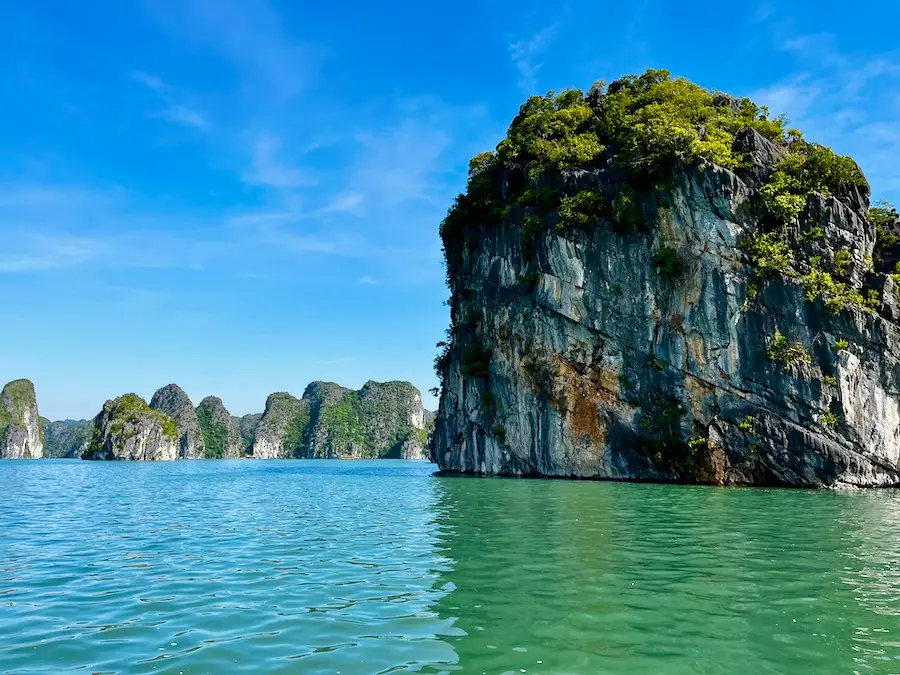 Top activities: Kayak or rock climb in Lan Ha Bay (I recommend booking through Cat Ba Climbing; they welcome both experienced and inexperienced climbers); visit the beaches (Cat Co 1, Cat Co 2, Cat Co 3) and catch the sunset at Cát Bà Island.
Location: When traveling to Lan Ha Bay, visitors tend to stay in Cát Bà Island, which is ~3 hours (90 miles) east of Hanoi.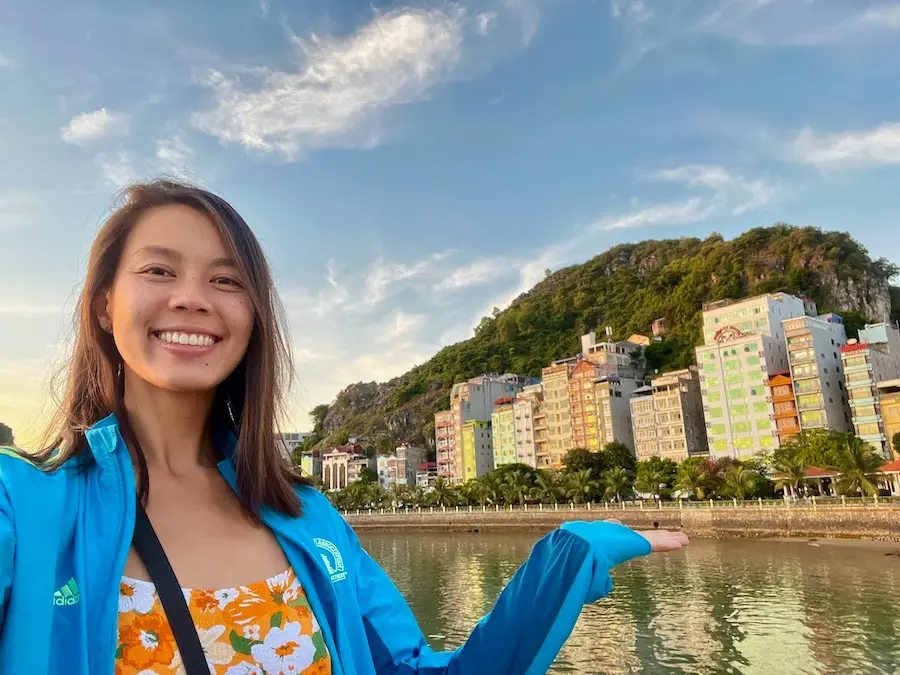 Getting there: You can get to Cát Bà Island by bus or charter seaplane. I took Cat Ba Express bus from Hanoi to Cát Bà, which cost $28 round-trip and took ~3 hours. The trip was actually a 1 hour 45 minute bus ride, then a short ferry ride followed by a 30-minute bus ride.
How long to visit: You can visit Lan Ha Bay and Cát Bà Island in 2-3 days. I stayed for 1 day and wish I had stayed longer.
My take: If you like being more active, I recommend Lan Ha Bay. Rock climbing above water, known as "deep water soloing," in Lan Ha Bay is one of my trip's highlights. If you're not into climbing or aren't comfortable swimming, I recommend kayaking in the peaceful, gorgeous bay.
This Vietnam deep water solo guide highlights where and how to rock climb above water in the beautiful Lan Ha Bay. No rock climbing experience is required.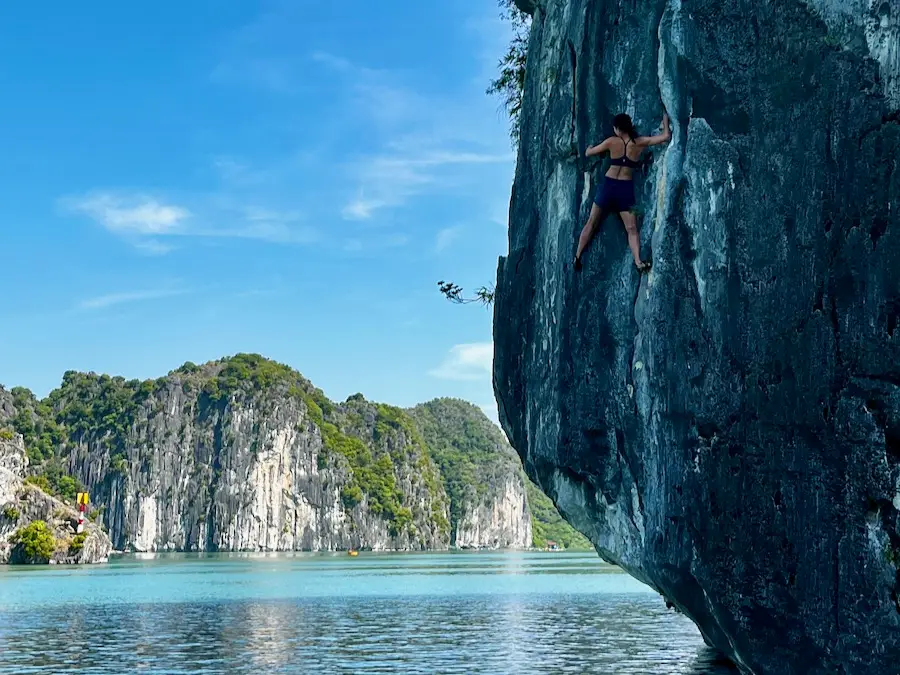 4. Hanoi
The capital of Vietnam, Hanoi is one of Vietnam's most visited destinations.
Known for: A busy city with historical and cultural significance.
Vibe: Can seem chaotic to visitors with motorbikes honking and zooming along the streets; lots of open businesses with a vibrant community.
Top activities: Visit the preserved body of the revolutionary Ho Chi Minh; watch a traditional water puppet show; walk around Hoan Kiem Lake and visit the Ngoc Son Temple; explore the Old Quarter and eat delicious Vietnamese food.
Hanoi is a bustling city. This Hanoi travel guide details what to eat and do there.
Location: Hanoi is at the center of Northern Vietnam.
Getting around: Visitors usually fly into Hanoi's airport, Noi Bai International Airport. Once you're in Hanoi, expect to mostly walk in the Old Quarter area. You can use the Grab app to call a car or motorbike.
How long to visit: 2-4 days. I stayed for 2 full days which gave me enough time to see some of the popular sites.
My take: Hanoi is a bustling city with poor air quality, so if you're hoping to spend most of your trip in more beautiful places in Vietnam, I would minimize your time in Hanoi.
8-Day Itinerary for Northern Vietnam
Here's how I visited Hanoi, Ninh Bình and Lan Ha Bay, and did the Ha Giang loop in 8 days. I've included some of my actual timestamps to give you an idea of how long you might need for each activity and how to efficiently sequence things.
Day 1
✈️ Arrive in Hanoi airport
🚶🏻‍♀️ Explore Hanoi: Ho Chi Minh Mausoleum, Old Quarter, Hoan Kiem Lake, street food tour (all day)
Day 2
🚐 Bus from Hanoi → Ninh Bình (8:30am-10:30am), provided by tour
🐉 Ninh Bình day tour (10:30am-5pm), via Viator
🚐 Bus from Ninh Bình → Hanoi (5pm-7pm), provided by tour
🍜 Dinner in Hanoi (7:30pm-8:30pm)
Day 3
🚶🏻‍♀️ Explore Hanoi: Temple of Literature, Water Puppet Show, massage (9am-6:30pm)
🚐 Sleeper bus from Hanoi → Ha Giang City (7pm-3am), provided by tour
Days
4-6
🏍️ Ha Giang 3-Day loop tour (all day), via Cheers hostel
🚐 Bus from Ha Giang City → Hanoi on Day 6 (4:30pm-11pm), provided by tour
Day 7
🚐 Bus from Hanoi → Cát Bà Island (10:30am-2pm), via Cat Ba Express
🌅 Explore Cát Bà Island: sunset, dinner, massage (2pm-9pm)
Day 8
🛶 Lan Ha Bay deep water soloing tour (9am-2pm), via Cat Ba Climbing
🚐 Bus from Cát Bà Island → Hanoi (3:30pm-7pm), via Cat Ba Express
🍜 Dinner in Hanoi (7:30pm-8:30pm)
After visiting Northern Vietnam, a good next stop is Hoi An in Central Vietnam, which is a 1 hour and 15 minute flight from Hanoi. Hoi An is known as the tailor capital of the world and the food capital of Vietnam.
If you have any questions or thoughts, feel free to leave them in the comments below!