Great for adventurers who want to explore Vietnam's mountains, the Ha Giang loop is a 3-4 day stunning road trip by motorbike through the rural mountains of Northern Vietnam. I did the 3-day loop with Cheers Hostel, an experienced tour group, and was in awe with the scenery.
Here, I share practical tips on what to pack and expect regarding safety, road conditions, transportation and accommodations on the Ha Giang loop.
Disclosure: This post contains affiliate links. If you make a purchase through them, I may earn a small commission, at no extra cost to you. Thanks for your support!
Is the Ha Giang Loop Worth It?
Doing the Ha Giang loop wasn't originally on my Vietnam itinerary. It was highly recommended by some friends so I decided to book a tour about two weeks in advance and it became one of my favorite memories in Vietnam.
To help you decide whether doing the Ha Giang loop is worth it, here are some of the loop's highlights and lowlights.
Highlights of the Ha Giang Loop
Breathtaking scenery. Driving through scenic and epic mountain views, rivers and rice fields every day is breathtaking.
Unique thrill. Riding a motorbike while looping through mountain roads is not your everyday adventure unless you're a serious motorbike driver.
Meeting new people. Since the Ha Giang loop is a multi-day road trip, it presents opportunities for bonding that aren't available during day tours.
Seeing a different way of life. Passing by the Hmong villages and seeing how a different group of people live can be eye-opening.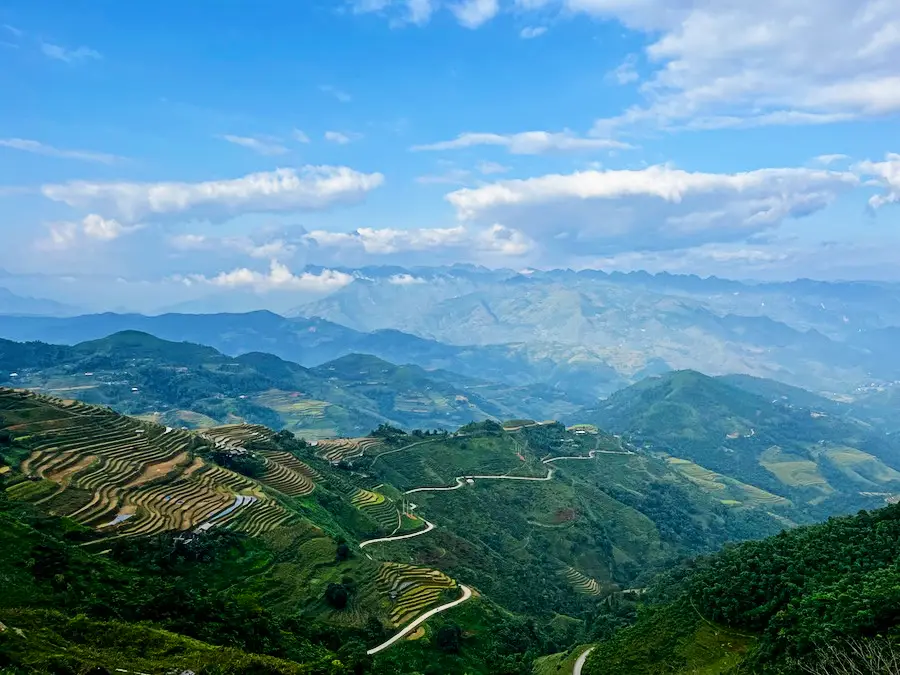 Lowlights of the Ha Giang

Loop
Uncomfortable knees. Sitting on a motorbike for multiple hours for days will likely make your butt and knees very sore even if you're in good shape.
Long transportation times. Transportation to and from Ha Giang City and Hanoi takes 6 hours on a bus or van one way, so you need to budget that time into your Vietnam itinerary.
Unpredictable weather. The weather up in the mountains is unpredictable, so you might get rain, be cold or get fog blocking the views.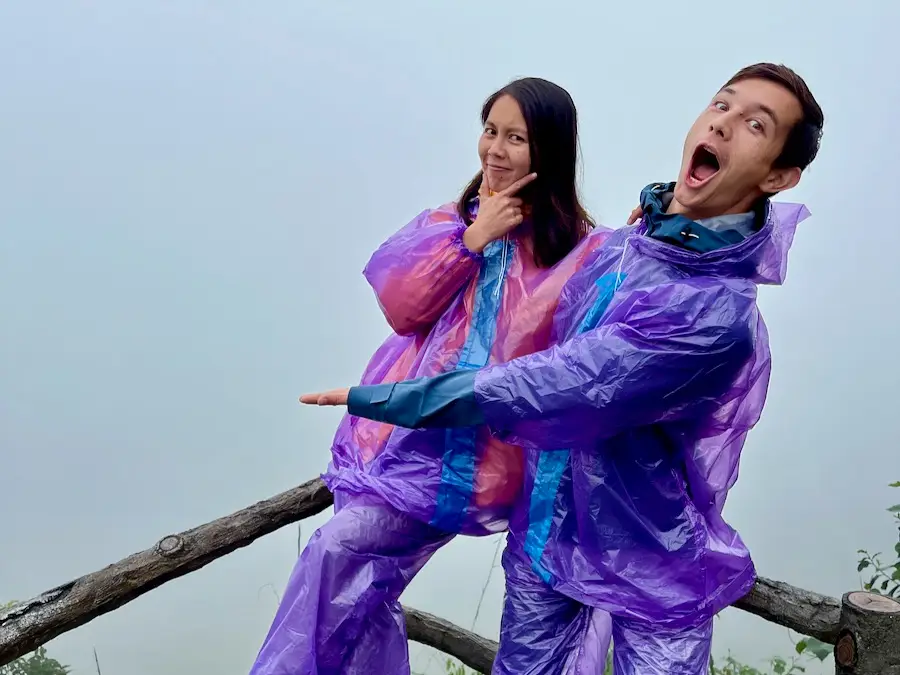 Ha Giang Loop at a Glance
Here is some general information on the Ha Giang Loop:
⛰️ Known for: The Ha Giang loop is a 260-mile circular route where visitors can explore a more remote part of Northern Vietnam by motorbike. You will experience winding roads through beautiful mountain passes and see ethnic diversity as you pass by the Hmong villages near the loop.
⌛ Duration: The Ha Giang loop typically takes 3 to 4 days to complete and you can find tour groups that offer either. Some people will take their time and do it in 5 days.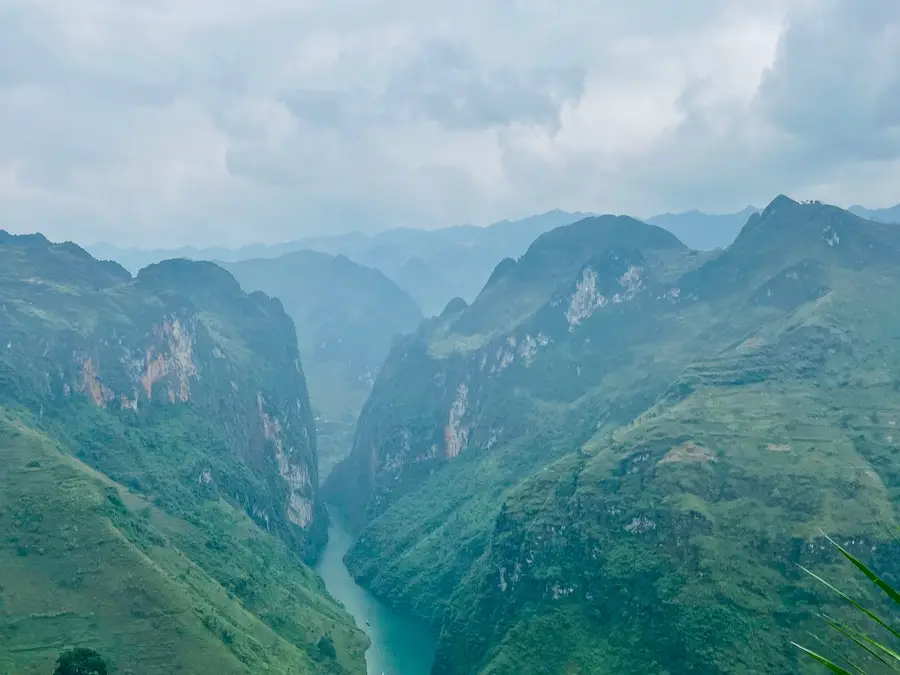 📍 Location: The Ha Giang loop starts in Ha Giang City, which is 6 hours (170 miles) north of Hanoi, the city with the closest international airport.
🗓️ Best time to do the Ha Giang loop: The weather on the Ha Giang loop constantly changes (you can see from my experience below that I wore a layered, full-body poncho as well as shorts and tanks within the span of 3 days), so it's hard to say when the best time to visit is. Generally, Northern Vietnam has a tropical climate, but it does have four seasons:
December to February is the winter, dry season (in the 50s°F to 70s°F) and the weather is usually colder up in the mountains.
March to May is the spring, dry season (in the 70s°F).
May to September is the summer season (in the 80s°F) and humidity is very high.
September to November is the fall, wet season (in the 70s°F). I did the Ha Giang loop in late October to early November and experienced both rainy and sunny days.
How to Visit the Ha Giang Loop
You can travel the Ha Giang loop in three ways: by riding on your own, booking a motorbike tour (which is what I did) or booking a car ride tour.
Motorbiking on your own
To do the Ha Giang loop on your own, you have to get to Ha Giang city (the starting point), rent a motorbike and plan the loop, including stops, lodging and food. There are several online guides on how to drive the Ha Giang loop on your own.
You should motorbike on your own only if you're experienced with a motorbike (more on this below).
Booking a motorbike tour
The most quintessential way to do the Ha Giang loop is by motorbike and you can do this safely with a tour. I chose to do a 3-day tour with a driver through Cheers Hostel because I'm not an experienced motorbike driver. I wanted to focus on the views and not have to worry about my safety.
Here are some of the tour details:
Tour cost: The Cheers Hostel's Ha Giang loop tour cost $230 in total or $76/day. If you decide not to book a driver and want to drive on your own, it will be $40 less in total. I paid $205 for the tour and gave a $25 tip, making it the most expensive tour I took in Vietnam, but still incredibly affordable all things considered.
Tour group size: My Ha Giang loop tour group had 9 visitors and 9 drivers. I usually prefer smaller group sizes, but I got lucky with who was in the group and enjoyed getting to know everyone.
What to expect on the tour: During the Ha Giang loop tour, you can expect 5+ hours of sitting on a motorbike while traveling on mountain roads, with stops and breaks baked in every 30 to 60 minutes. Expect to cover 70+ miles per day. You can also expect several stops along the way including breathtaking mountain views, a swim at a waterfall, a visit to a hemp fabric store and coffee or snacks at both touristy and local places.
I am not paid by Cheers Hostel to write this post. All opinions expressed here are my own and reflect my personal experience.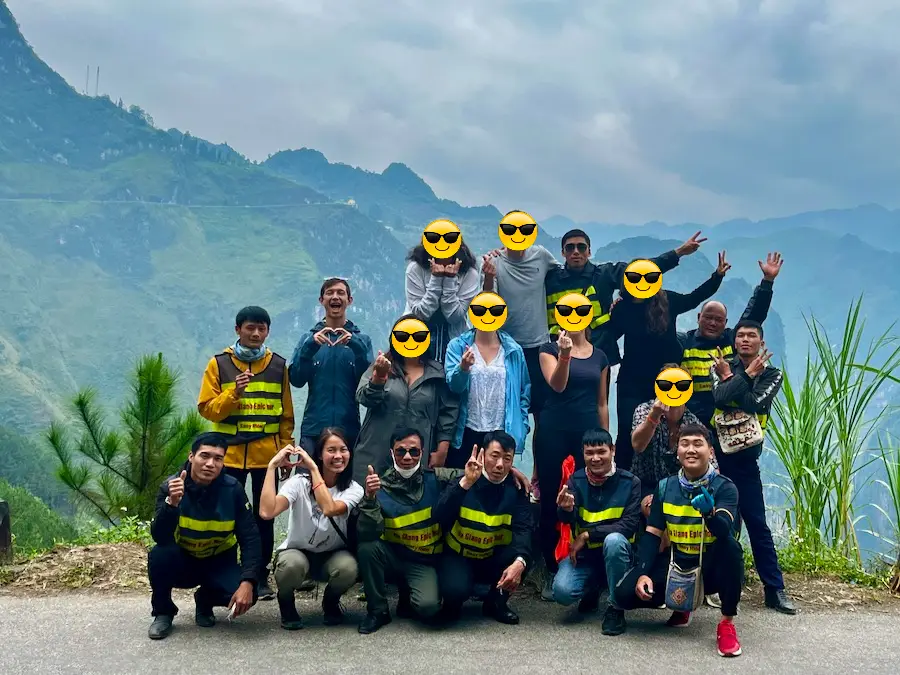 Booking a car ride tour
You can also visit the Ha Giang Loop by booking a car ride tour if sitting on a motorbike doesn't sound appealing to you.
There is some overlap doing the loop on your own vs. doing it through a tour. This post will be focused on visiting the Ha Giang loop with a tour group, which provides a guide and a driver, food, lodging and a motorbike.
Should You Drive Yourself on the Ha Giang Loop?
You can do the Ha Giang loop by driving a motorbike on your own or by riding on the back of an experienced driver. Some tour operators, like mine, will provide both options. Sharing a motorbike with a driver will cost a small, additional fee (mine was an additional $40 for all 3 days) and provide a working opportunity for a local.
It's strongly recommended that you have motorbike experience if you want to drive the Ha Giang loop on your own. Accidents are not uncommon for visitors who drive on their own. My tour group saw one where the visitor had to be taken to a hospital 4 hours away due to a broken jaw and hip. I'm extremely glad I didn't drive the Ha Giang loop on my own.
What Are Ha Giang Loop's Road Conditions Like?
Below are some of the road conditions on the Ha Giang loop. If you want to drive your own motorbike, make sure you're comfortable with the following for multiple hours a day:
Winding and looping roads, some which are very narrow and some which have blind turns
Bumpy roads where you're basically driving on a pile of rocks or construction materials
Giving way to aggressive passing vehicles that will honk at you until you let them pass
Driving on winding roads that have little or no guardrails
Sleek roads and low visibility if it rains and gets foggy
After experiencing the Ha Giang loop, I would not recommend that motorbike beginners drive it on their own.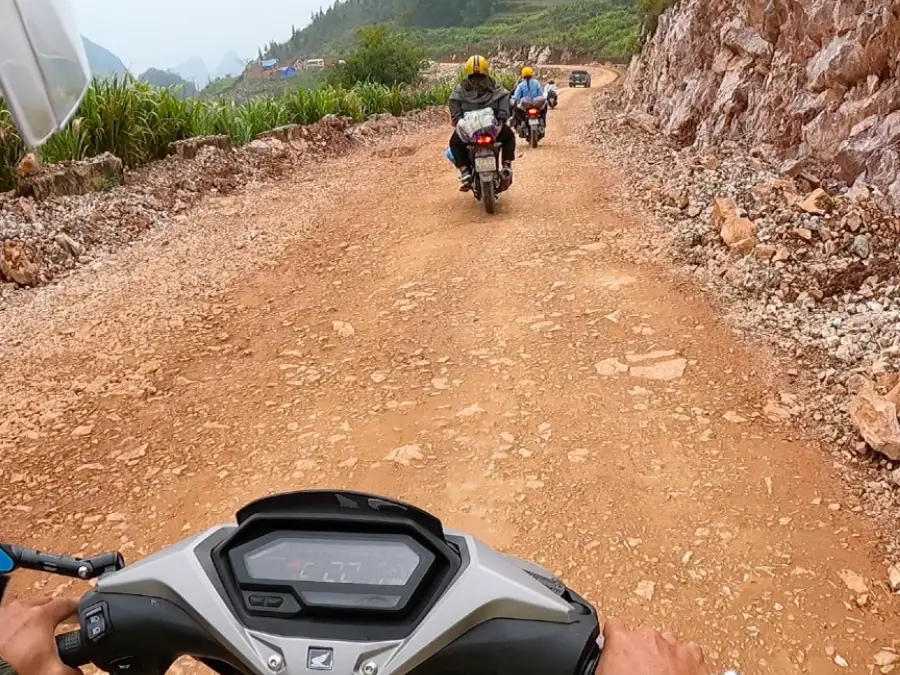 For a different kind of adventure in Vietnam, check out deep water solo rock climbing in Lan Ha Bay located near the famous Ha Long Bay.
Accommodations on the Ha Giang Loop
Below are some of the accommodation types you can expect on the Ha Giang loop: homestays, motels and hostels.
All three accommodations on the Ha Giang loop tour provided:
Wifi
Outlet plugs
Food, which was amazing at all locations, whether it was a home-cooked meal or at a restaurant. Coffee and vegetarian options were readily available at all locations.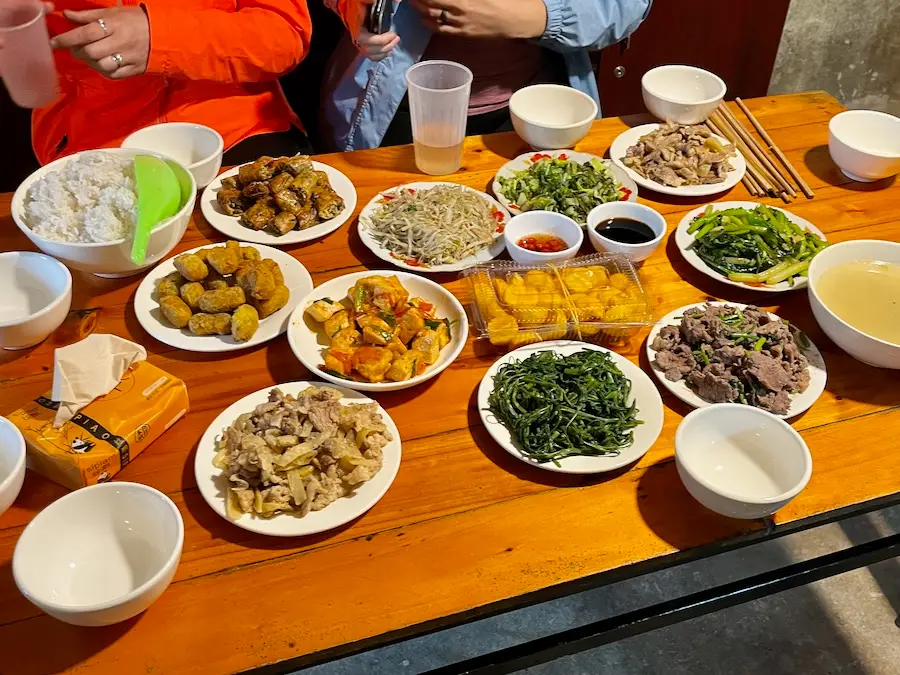 Hot showers. Heads-up that most showers in Vietnam are not in a tub or separate stall; they're just a shower head in the bathroom.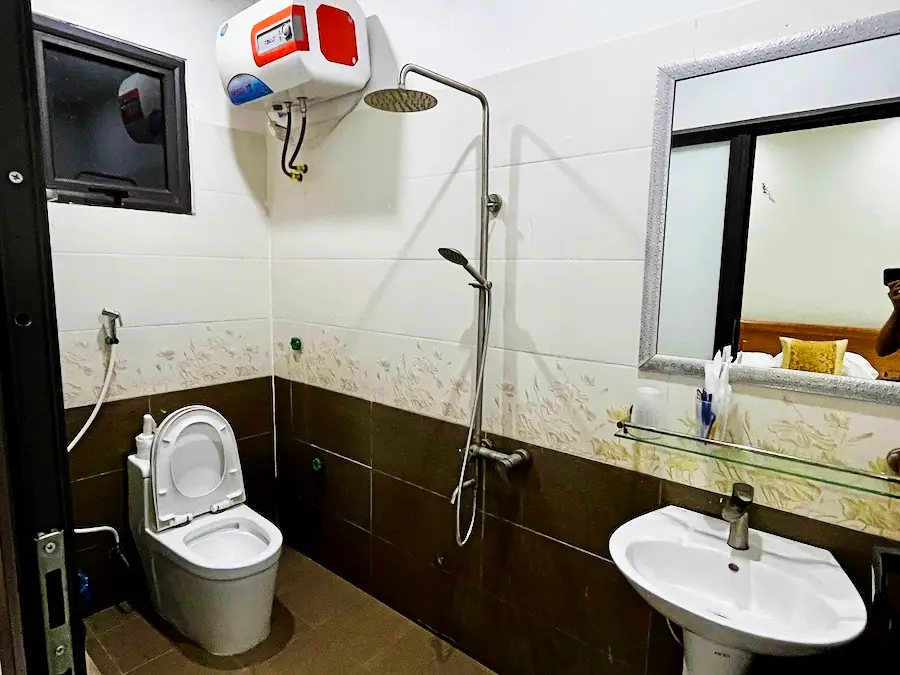 The three types of accommodations I stayed at on the Ha Giang loop were:
Homestay. The most unique accommodation is a homestay, which is typically a big, open, 2-story cabin-like home that belongs to a local family.
The 1st floor is an open area with no walls, and this is where the dining table and bathrooms are located. Everyone left their shoes at the base of the staircase to the 2nd floor.
The 2nd floor has a handful of small, very simple rooms that have an open ceiling (i.e., there's a roof, but the walls don't extend all the way up to the ceiling).
The rooms are extremely simple: a bed with a mosquito net on the floor, a window to the outside, a door with a key lock, lights and outlets.
Hostel. The hostel was a standard dorm-style room where 8 people sleep on bunked beds and share a bathroom. Not everyone in the room was from the tour, so keep your belongings close.
Motel. The motel was a standard motel room with 2 queen-sized beds and a bathroom.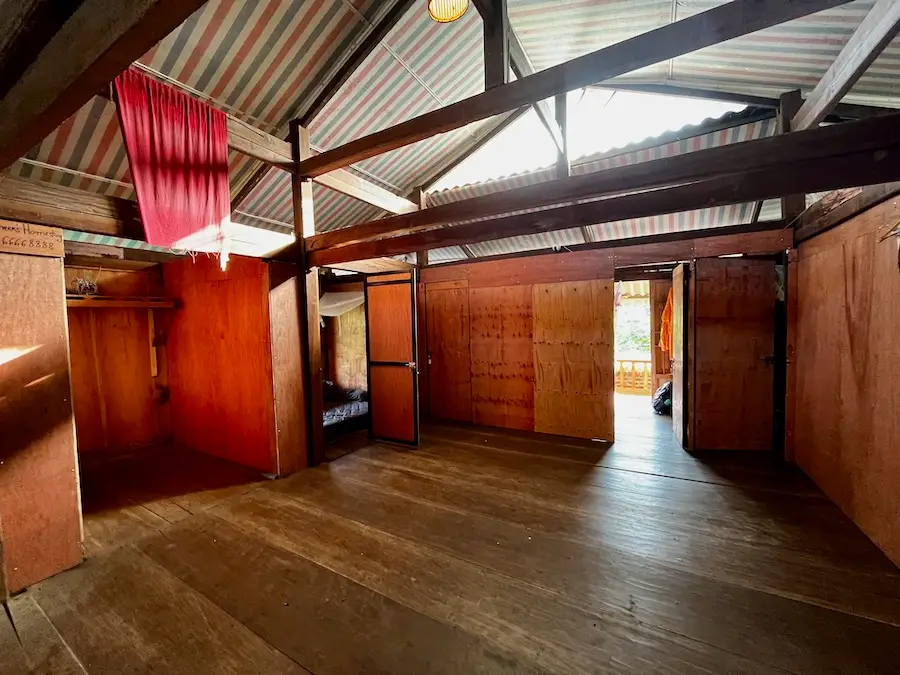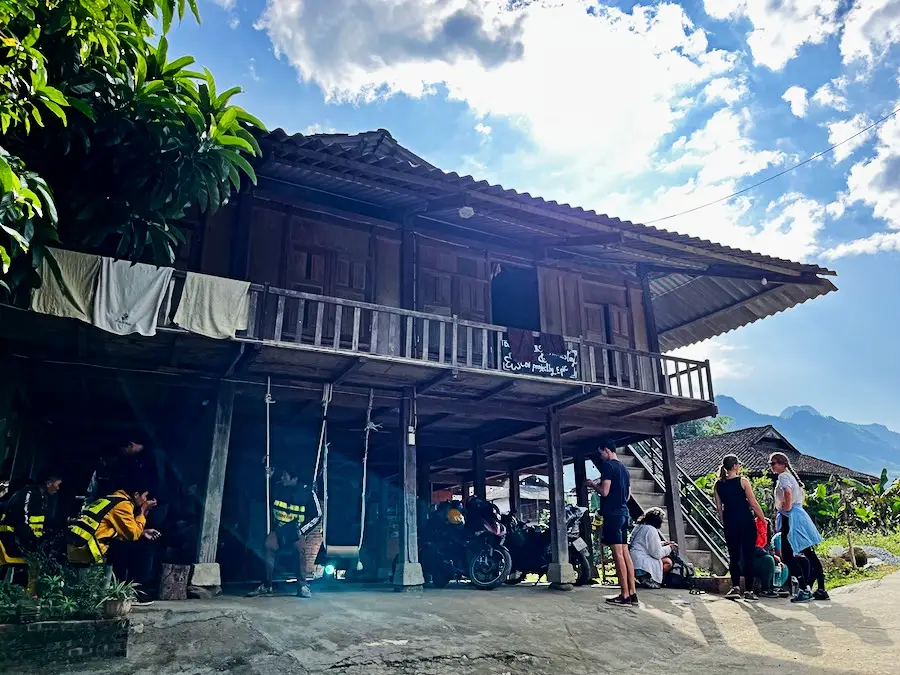 Transportation to and From Ha Giang City
The transportation to Ha Giang city from Hanoi may differ from the transportation back to Hanoi. My tour operator, Cheers Hostel, provided these transportations:
A sleeper bus from Hanoi to Ha Giang (9pm-3am, 6 hours). A sleeper bus is a big bus with very reclined chairs. Two things to note about my experience that you may also have to be prepared for:
Hanoi is extremely loud with all the honking. Most non-locals had trouble falling asleep for the first 1-2 hours of the sleeper bus. After the honking was over, I found it relatively easy to fall asleep.
There are no bathrooms or outlets on the sleeper bus.
If you're a light sleeper, consider bringing ear plugs and a sleeping mask.
A small van from Ha Giang to Hanoi (4:30-11pm, 6.5 hours). The van we took after our 3-day tour fit 8 people. We stopped for dinner around 7pm and the food was not great.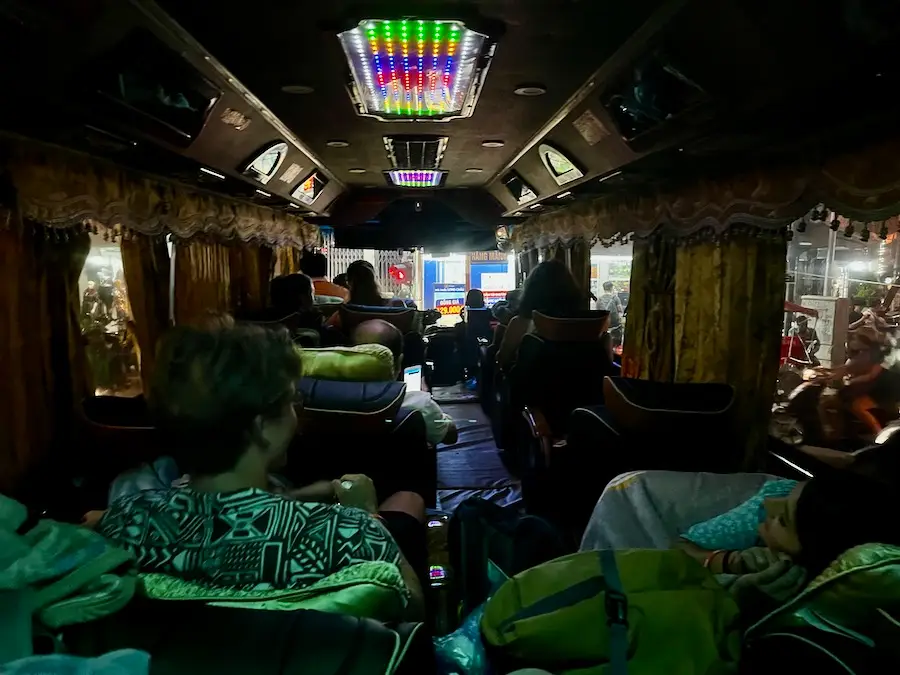 What To Pack for the Ha Giang Loop
While on the Ha Giang loop, your belongings will be carried on a motorbike the entire time, so you're limited to a backpack and should only pack what you absolutely need. Below is what you should pack and bring on the Ha Giang loop.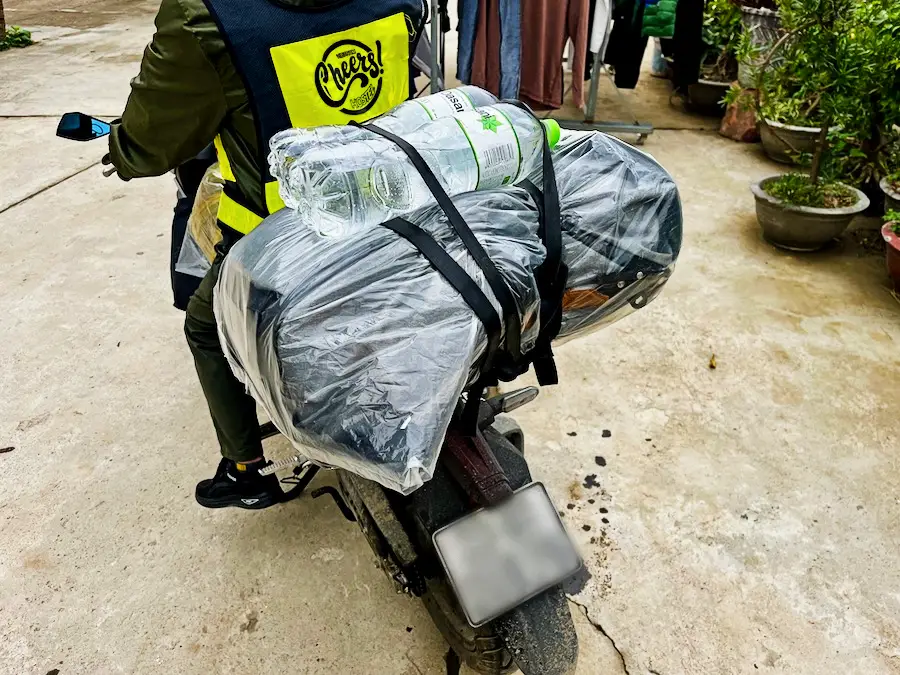 Shoes
Hiking shoes or sneakers. You'll need shoes you're comfortable wearing while on a motorbike for hours. Some roads are muddy/dusty so be prepared to get them dirty. I brought my Solomon hiking boots and thought they were great.
The weather is unpredictable, so bringing waterproof shoes is a plus.
Sandals (optional). You'll potentially want sandals for the bathrooms and for swimming in a waterfall, if you stop at one. I brought my Chacos, which were fine, but I would recommend something that dries out easier.
Clothes
Rain jacket. A rain jacket will not only protect you from rain, but also from wind and the cold. Even if you're blessed with sunny weather, it can get windy and cold up in the mountains. I brought my Columbia rain jacket, which was a great addition.
My Ha Giang loop tour operator provided full-body ponchos when it rained and they still recommended wearing a rain jacket underneath because of how wet and windy it can get.
Top (1-2 pieces). Wear something comfortable as you'll be sitting in it for hours. I brought an athletic tank and a cotton shirt.
Pants/Shorts (1-2 pieces). Bring shorts/pants that you'll be comfortable sitting in for hours on a motorcycle. I brought my water-wicking, light hiking pants that were perfect for the changing weather.
Bathing suit. You'll need a bathing suit if you plan to swim in a waterfall.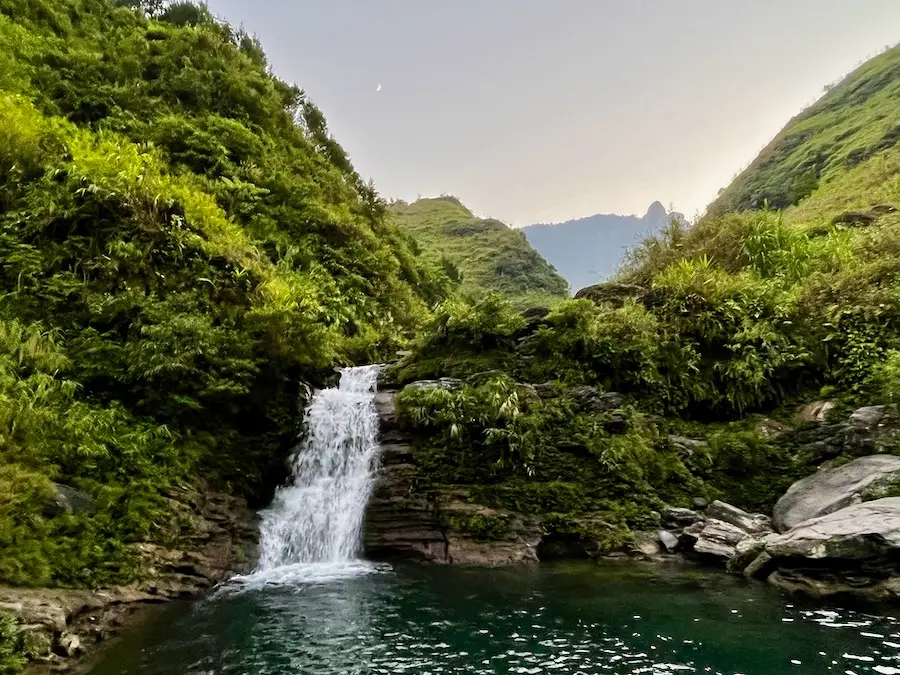 Bags
Backpack. Bring a bag that can hold everything and fit on the back of a motorbike. I brought my Patagonia 25L backpack and that was a great size for me.
Small bag. Your backpack will be inaccessible during the drive, so you'll want a pouch, shoulder bag or fanny pack to carry your phone, cash, sunglasses, etc. I bought this crossbody water-resistant phone pouch specifically for this trip and liked it so much, I carried it around my entire 6-week Southeast Asia trip.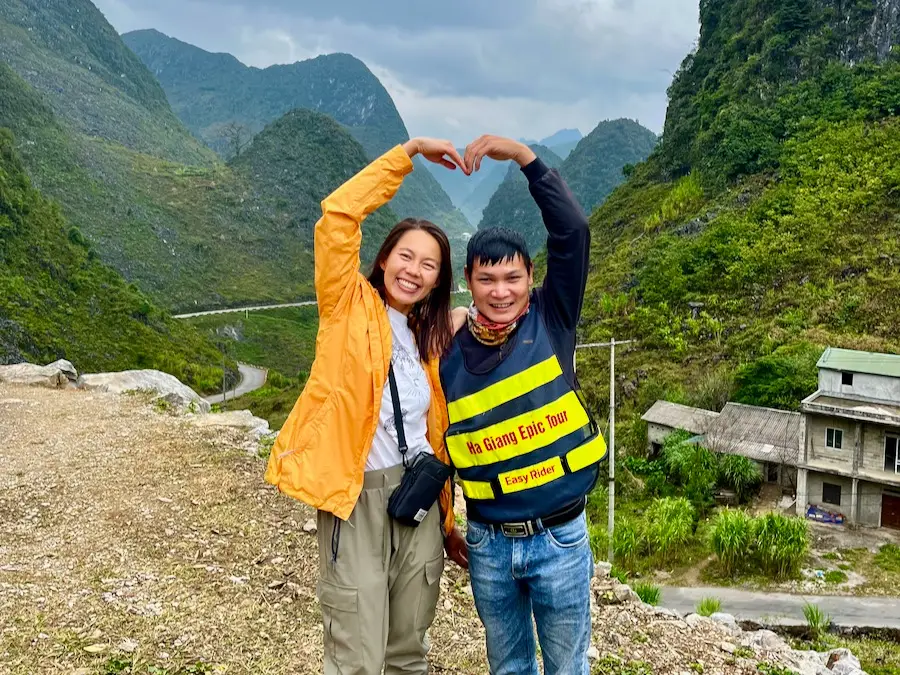 Personal Care
Sunscreen. You'll be outside for many hours and exposed to the sun. This sunscreen I discovered in Asia is particularly nice to apply due to its lotion-like consistency.
Toiletries, including body wash. A lot of accommodations run on the simpler side and won't have soap or shampoo available.
Bug repellent. The Ha Giang Loop is home to plenty of disease-carrying mosquitos. I get bitten a lot, so I bought and used this insect repellent lotion every day since it covered me better than the spray alternatives.
Sunglasses. I didn't use my sunglasses, but many in my group did and highly recommend sunglasses as eye protection. This is especially necessary if your helmet is missing a face screen.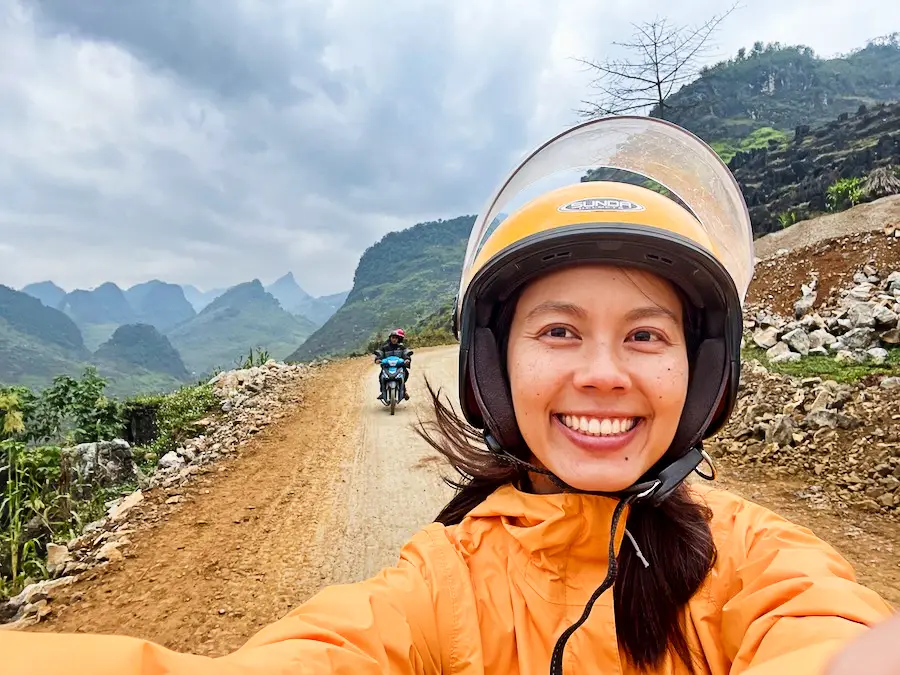 Miscellaneous
Cash (small bills). Almost all snack stops along the way will only take cash. Some bathrooms will also require coins. You'll also want cash for tipping.
Tipping may not be common in your culture, but keep in mind that most motorbike tour guides and drivers are farm workers from remote villages around the Ha Giang area. A tip can go a long way for them to feed their families.

For my tour operator, it was only $40 more to add a driver, which comes out to ~$13 for an entire day of work. Vietnam is one of the cheapest countries to visit; here's my cost breakdown.
Power bank. All my accommodations had an outlet, but if you use your phone a lot for videos/photos, you'll likely run out of juice during the day, and the buses to and from Ha Giang may not have outlets.
Quick dry towel. You'll need a quick dry towel if you plan to swim in a waterfall or if you stay at a hostel that doesn't provide towels. I brought these quick dry towels and have used them on multiple trips.
Cold Weather
If you're seeing very cold weather during your Ha Giang loop ride, you might also want to bring the following. I packed all of them and ended up using none of them since the weather held up in terms of temperature.
A light packable puff or sweater
A hat or headband that you can wear underneath the helmet
Gloves to protect you from wind and rain
If you have any questions or thoughts, feel free to leave them in the comments below.
After the Ha Giang Loop, you can visit other areas in Northern Vietnam. This Northern Vietnam travel guide highlights three other areas nearby.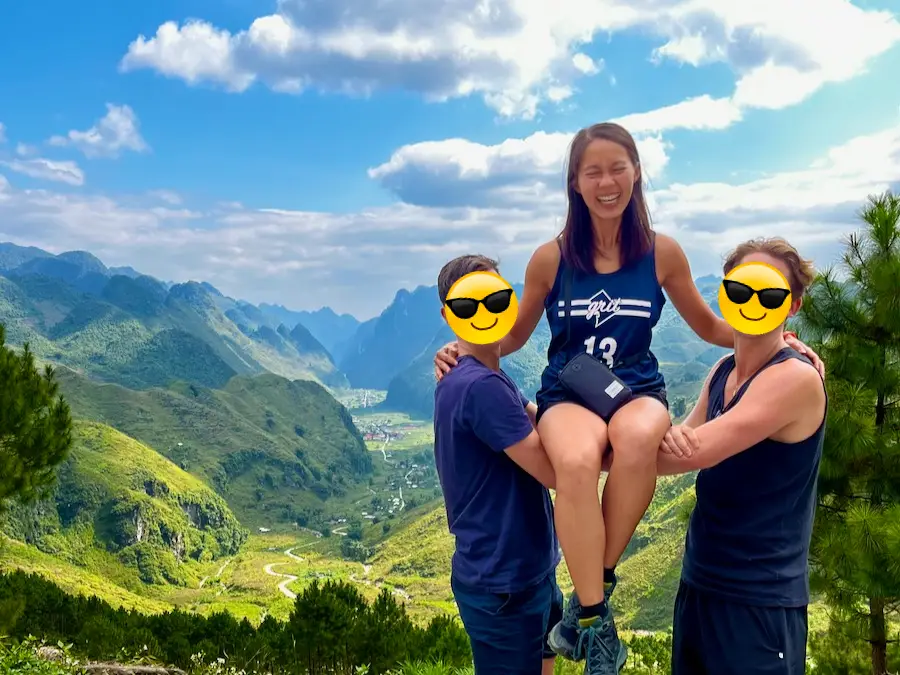 If you have any questions or thoughts, feel free to leave them in the comments below.