One of the most popular Hawaii islands, Maui has experiences ranging from snorkeling to volcano hiking to whale watching.
This post shares a comprehensive packing list for a trip to Maui that accounts for the island's top attractions and activities. I also share relevant travel tips and Maui rules along the way to help you determine what you need to bring.
Disclosure: This post may contain affiliate links. If you make a purchase through them, I may earn a small commission, at no extra cost to you. Thanks for your support!
Tips for Packing for Maui
Here are three tips when packing for Maui.
☀️ Tip #1: Consider the time of year.
Maui's warm weather is pleasant year-round, with the winter months rarely dipping below 50°F and the summer months averaging in the 70s°F and 80s°F.
Maui has two distinct seasons that may influence your activities and packing list:
Maui's summer season, which runs from May to September, is dry, humid and warmer. This is a popular time to frequently be in the water, so you may want to pack more than one or two bathing suits. Due to the drier climate, it's also a great time to take a road trip or hike.
Maui's winter season, which runs from October to April, is cooler and more wet. Due to the rain, this is a great time to surf as the waves are bigger. It's also the season where packing layers and rain protection is more vital.
Maui does not technically have a rainy season, but the wettest months are usually from November to March. Note that Maui also has microclimates so you'll find that some areas (e.g., the west side, which includes Lahaina and Ka'anapali) are rainier than others.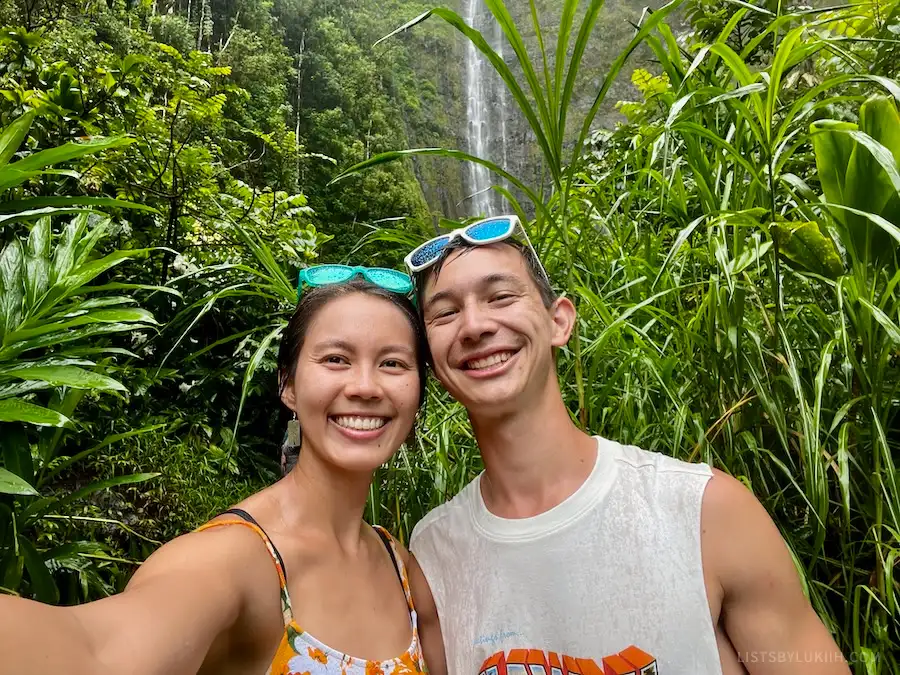 🤿 Tip #2: What you need to pack for Maui's top activities might not be obvious.
Maui offers a plethora of activities and depending on your itinerary (here's my recommended 5-day itinerary), you may have to pack activity-specific items.
It might be obvious to pack a bathing suit for all the beautiful beaches in Maui, but you might be surprised what else you need to bring. For example:
Watching the Haleakalā sunrise is a Hawaii bucket list activity in Maui, but the volcano's summit is cold due to the higher elevation. It can be 30°F colder at the top of Haleakalā compared to temperatures at sea level, so you may have to pack gloves or a hat, which are included as optional items in this packing list.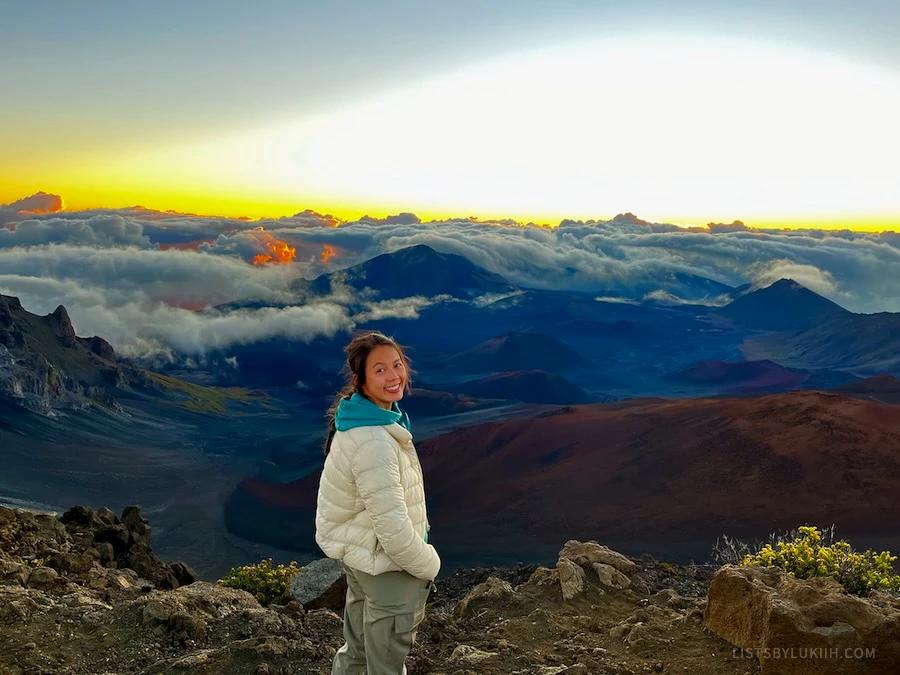 The Road to Hana is another one of Maui's most popular activities. During this road trip, you can go hiking, snorkeling, picnicking and more, all while experiencing varying weather within a day. It's a good idea to bring things like a daypack, water bottle, Ziploc bags and rain ponchos.
💰 Tip #3: Maui is expensive, so pack the essentials.
Hawaii is the most expensive state in the United States to travel to and Maui is the most expensive island in Hawaii.
While you can easily buy reef-safe sunscreen, sunglasses and other essential items in Maui, consider packing them instead.
Maui also has a ban on plastic bags, so if you plan to grocery shop, you might also want to pack a reusable bag. There are other packing tips included in the list below.
I break down all my Maui travel expenses in this Hawaii cost breakdown.
About this Maui Packing List
Here are two things to know about this Maui packing list:
This packing list accounts for the items you will need for the island's common and popular activities, such as:

Maui's easy and challenging hikes
Snorkeling, surfing, scuba diving and other water sports
Relaxing on Maui's best beaches
Dressing for a luau or Maui wedding
Horseback riding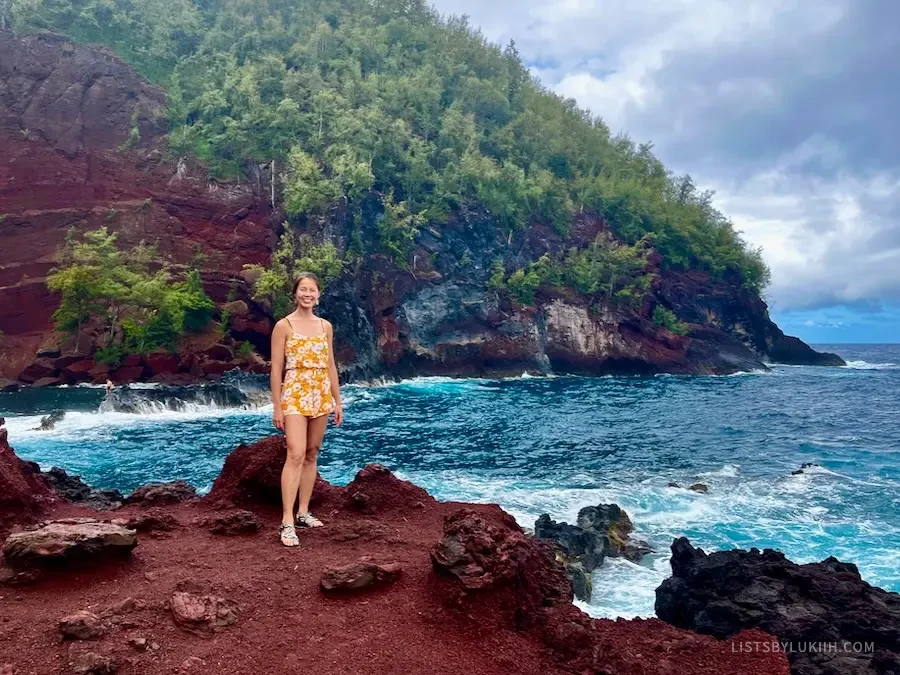 Items that are activity-dependent will be marked as optional, so you can determine whether bringing something is needed.
Assuming that you're traveling to Maui for a week or less, it's possible to pack light and fit everything in a carry-on bag. I spent eight days in Maui doing most of the activities mentioned above and was able to travel with a carry-on.
You can download this Maui packing list as part of the Maui trip planning template below.
Essential Maui Packing List
Below are all the essential items you'll want to pack and bring for your Maui vacation. I've also included items that might be easy to overlook (e.g., Costco card).
I include relevant tips, laws to keep in mind and indicate when an item is activity-specific or optional so you can determine whether you need to pack it.
🩴 Shoes
Sandals. You'll need a pair of sandals for all the beach and water activities in Maui. I packed my Chacos because I knew I was going to do several waterfall hikes, but flip-flops are more convenient for the beach.
Closed-toe shoes. If you plan to do the Haleakalā sunrise, closed-toe shoes are required for the colder weather. You might want these to be hiking shoes if you plan to go on a more challenging hiking trail in the Haleakalā National Park.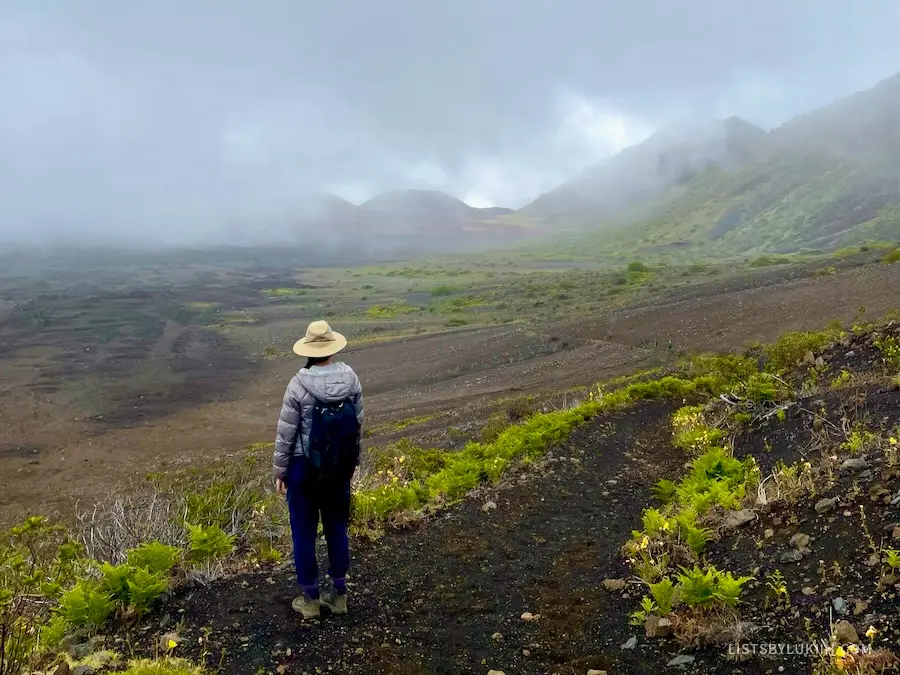 Water shoes (optional). Water shoes are not a must in Maui, but if you want to help protect the coral reefs or your feet when entering a rocky snorkeling site, they're a good idea to pack. I wished I had packed my pair of water shoes.
Honolua Bay is one of Maui's most beautiful snorkeling sites, but the entry point is extremely rocky.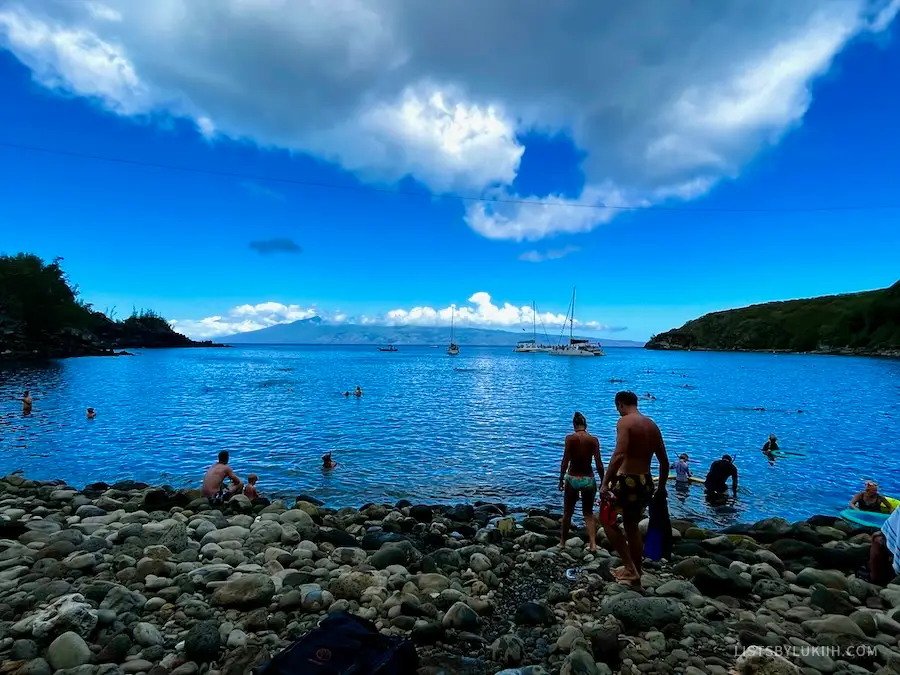 Dress shoes or nicer sandals (optional). If you're attending a luau, a wedding or a fine-dining restaurant, pack a nicer pair of shoes or sandals.
Unless otherwise stated, it's appropriate to wear nice, flat sandals for a Maui wedding. I attended a Maui wedding and wore flat sandals as shown in the photo below.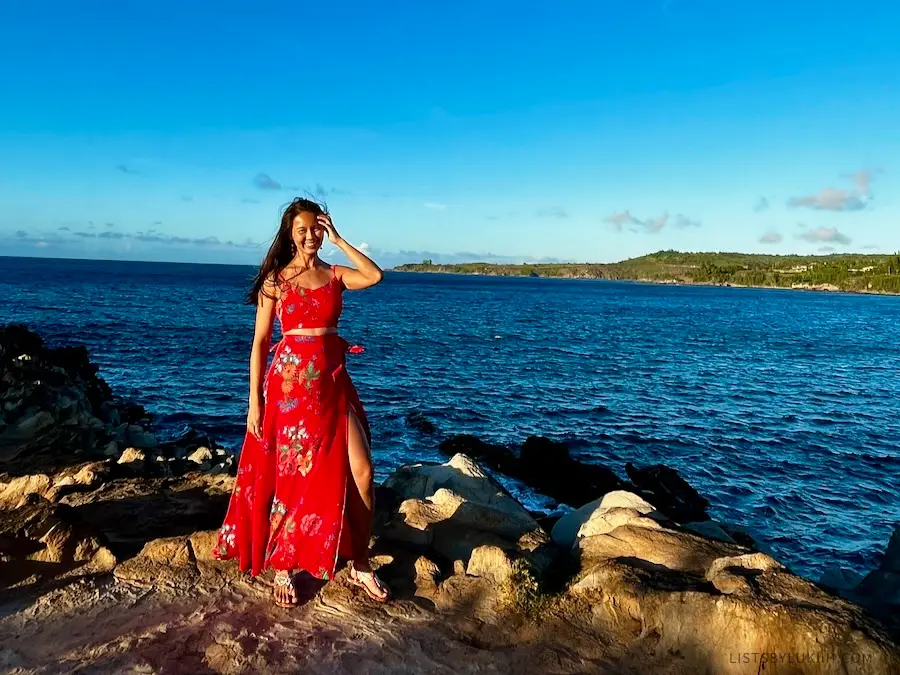 🩱 Clothing
Bathing suit. Consider how often you'll be at the beach, in the ocean or at a swimming pool to determine how many bathing suits you need to bring. You might also want to wear your bathing suit under your hiking attire during any Maui hikes toward waterfalls or swimming holes.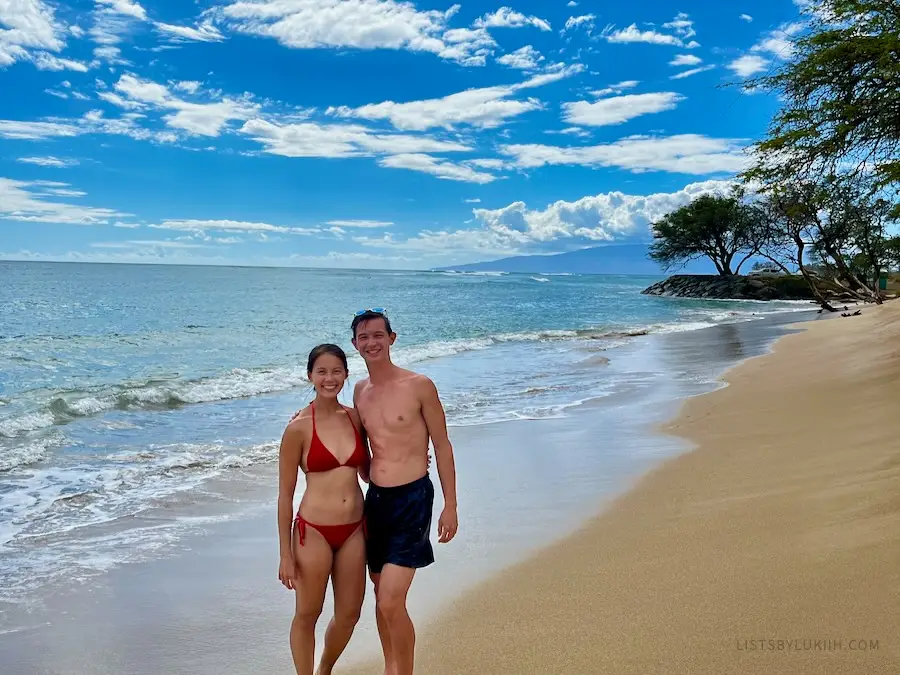 Rain jacket. Maui is a tropical island and the rainy period lasts 10 months in a given year. It's a good idea to pack a rain jacket whenever you're going hiking, whale watching or spending an extended period of time without shelter. I brought my light rain jacket.
Tops (especially tank tops). Make sure to pack a few pieces of comfortable clothing that will help you stay cool in Maui's tropical weather. I packed a few loose-fitting, thin tank tops.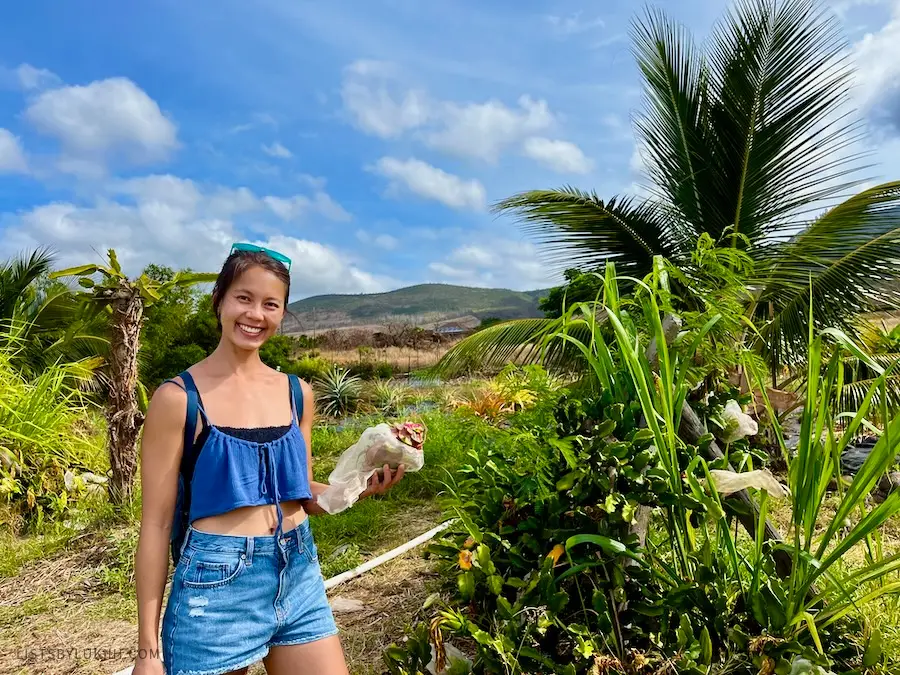 Shorts. Pack some shorts for the same reason as above.
Long pants. For some of Maui's cooler nights, you might want to bring pants. You'll also want to wear leggings or long pants if you plan to go on a horseback riding tour.
Beach cover-up. Most Maui restaurants will not enforce a dress code. But a few of them will encourage you to wear something over your bathing suit. I brought a romper I could easily throw on.
Warm outer layer (optional). If you plan to do the Haleakalā sunrise, you'll need a warm outer layer for the summit. I wore a packable puff jacket.
Warm pants (optional). Same reasoning as above; you'll need a pair of warm pants for the sunrise.
🕶️ Accessories
Quick-dry towel. Some hotels provide swimming pools and beach towels, but if you're snorkeling or visiting a lot of waterfalls, you'll want a quick-dry towel. I found my quick-dry towel especially useful during the Road to Hana.
Sunglasses. Sunglasses are essential sun protection items in Maui, especially if you're driving toward the sun at certain points. I brought my athletic sunglasses and wore them a lot at the beach.
Sun hat. One of the best things to bring to any Hawaii vacation is a sun hat for protection. You can pack a big sun hat or a simple baseball cap if you plan to hike.
Gloves (optional). If you plan to do the Haleakalā sunrise, you might need gloves at the summit if you're traveling during the colder season.
Headband or hat (optional). Same reasoning as above; you'll need some head protection if it's particularly cold at the summit. I brought my headband, but ended up not needing it as I lucked out on the weather.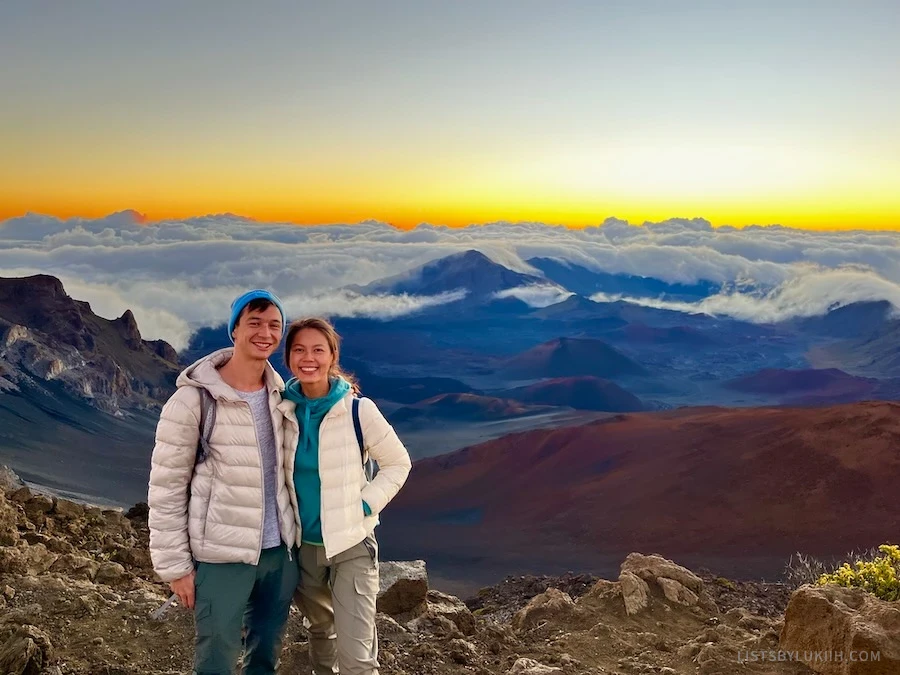 Rash guard (optional). If you plan to snorkel or surf a lot, consider bringing a rash guard to Maui.
The winter season in Maui, which runs from December to March, is great for surfing due to the bigger waves.
Snorkel gear (optional). Many accommodations in Maui that are near the beach will provide snorkel gear for free or for rent, but if you have a particularly nice one (like this full-faced snorkel mask that seems popular in Hawaii), don't forget to bring it.
☀️ Personal Care
Reef-safe sunscreen. Help protect Maui's coral reefs by using reef-safe sunscreen during your snorkeling and beach days. I like to use this mineral sunscreen that I find easier to spread than other brands.
Hawaii banned the distribution of non-reef-safe sunscreen (e.g., sunscreen containing coral-harming chemicals, oxybenzone and octinoxate) in 2021.
Insect repellent. Maui has mosquitoes thanks to its tropical climate. You will see them on the Road to Hana (the Twin Falls trail even has a sign about them). I'm a mosquito magnet, so I use insect-repellent lotion, which I find more effective than the spray kind.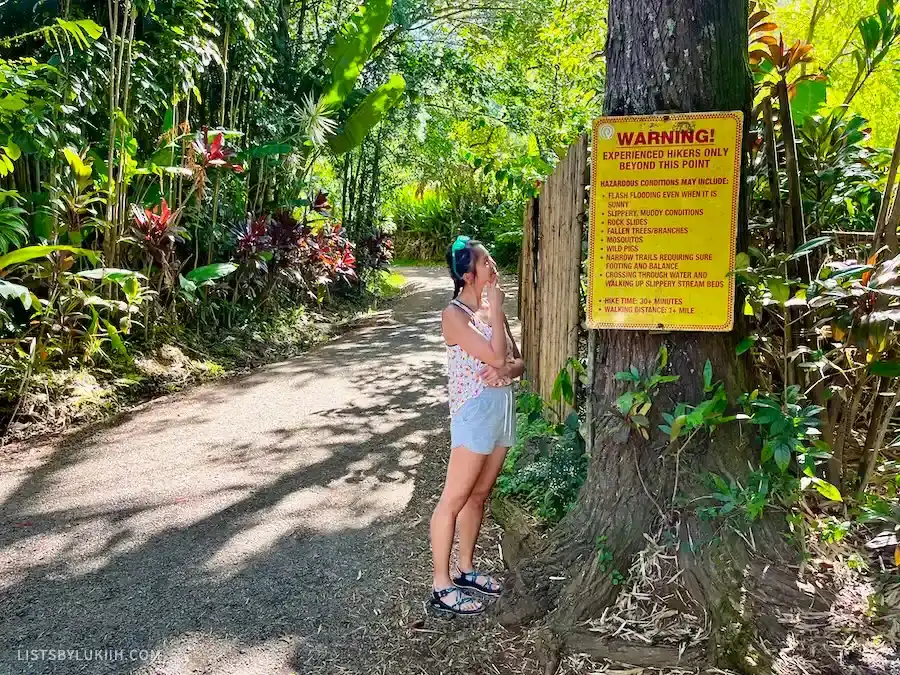 Hand sanitizer. You won't find a bathroom on several of Maui's hiking trails, snorkeling sites and beaches, so bring hand sanitizer.
Lip balm. Make sure to bring lip balm with SPF as you'll likely be doing outdoor activities in the sun a lot.
Motion-sickness medication (optional). If you get easily motion sick like me, consider bringing some motion-sickness medication for boat rides, the winding road up Haleakalā National Park and the Road to Hana.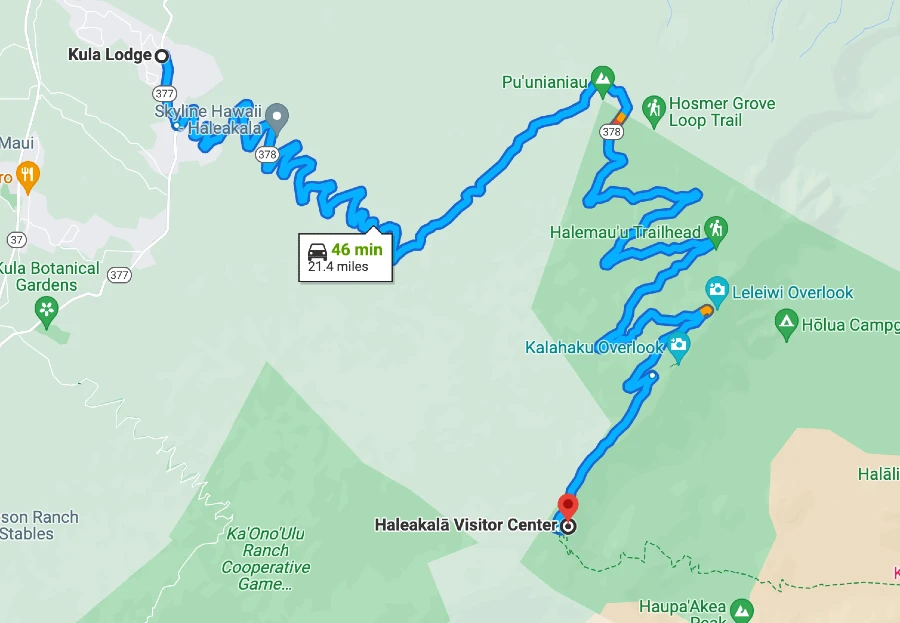 🔋 Miscellaneous Items
Credit cards. Hawaii, like the rest of the United States, has a good credit card infrastructure. However, you might need to use cash at some places.
Waterproof phone case. If you like to take photos while in the ocean or plan to take a boat ride, don't forget to bring a waterproof phone case. I brought a floating waterproof phone case that I always bring to island destinations.
Portable phone charger. If you're planning to do long activities outdoors, such as the Road to Hana or multi-hour tours and hikes, make sure to bring a portable phone charger. I always carry my portable phone charger.
National Parks Service Park Pass (NPS Park Pass) (optional). If you have an annual NPS pass, don't forget to bring it to Maui to save money on the Halekalā National Park entrance fee.
Costco card (optional). Maui has a Costco about a 7-minute drive from Maui's airport, so you can stop by and load up on groceries if you want to save some money while traveling on this expensive island.
Reusable bag (optional). Maui banned plastic bags from retail stores in 2011, so if you plan to shop at a grocery store, make sure to pack a reusable bag.
Foodland is a supermarket chain in Maui that serves affordable, fresh poke if you don't feel like eating out every day.
Day pack (optional). If you plan to take advantage of Maui's many hiking trails, you'll need a day pack to carry your snacks, water bottle, rain jacket and other items. If you're traveling during the wetter months (e.g., November to March), consider bringing a dry bag to protect some of your belongings.
Two of Maui's top natural attractions, Haleakala National Park and Iao Valley State Park, feature several hiking trails ranging from easy to challenging.
Reusable water bottle. Bring a reusable water bottle to carry to the beach and your hikes. I brought my Hydro Flask, which kept my water cold for hours.
Maui's tap water meets EPA standards and is safe to drink.
Downloadable Maui Packing List
To make your travel planning easier, download the trip planning template below and use it as a starting point. The template has country-specific travel information as well as an itinerary, packing list and map with recommended places pinned.
The template is built on Notion, which is what I use for all my travel planning (I'm not paid to say this; I just like the tool). If you don't have Notion, creating an account is free.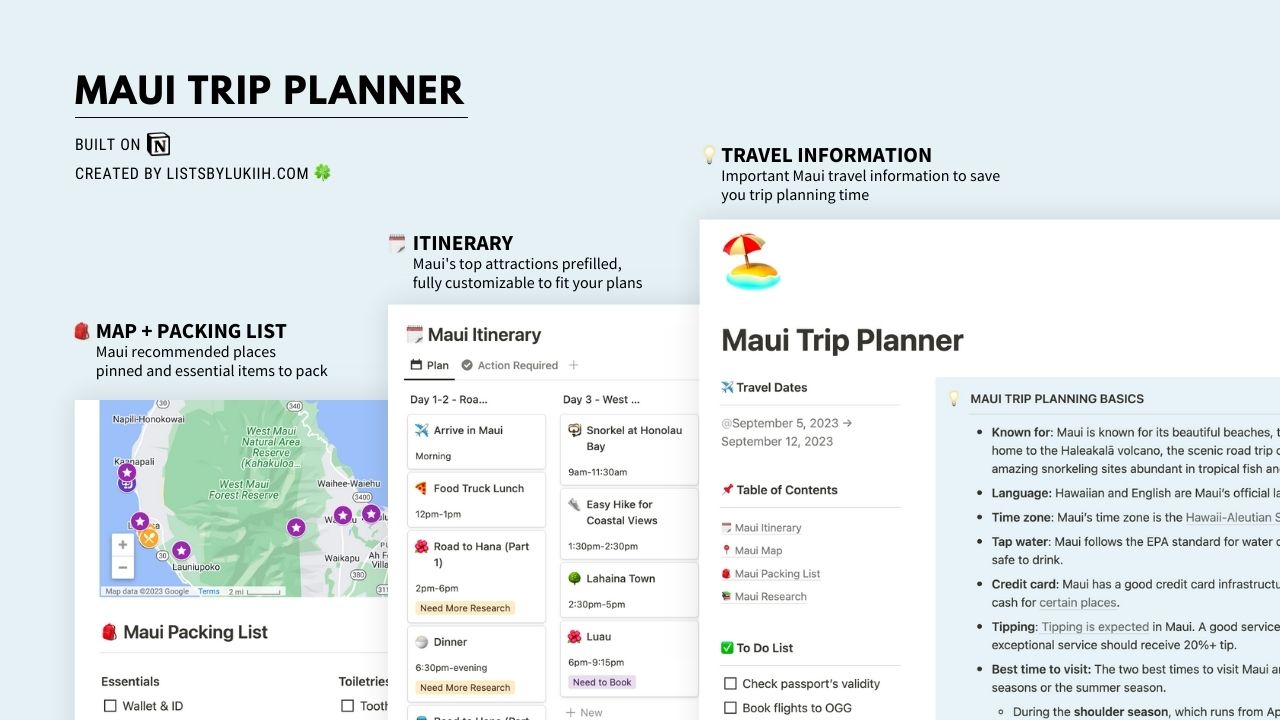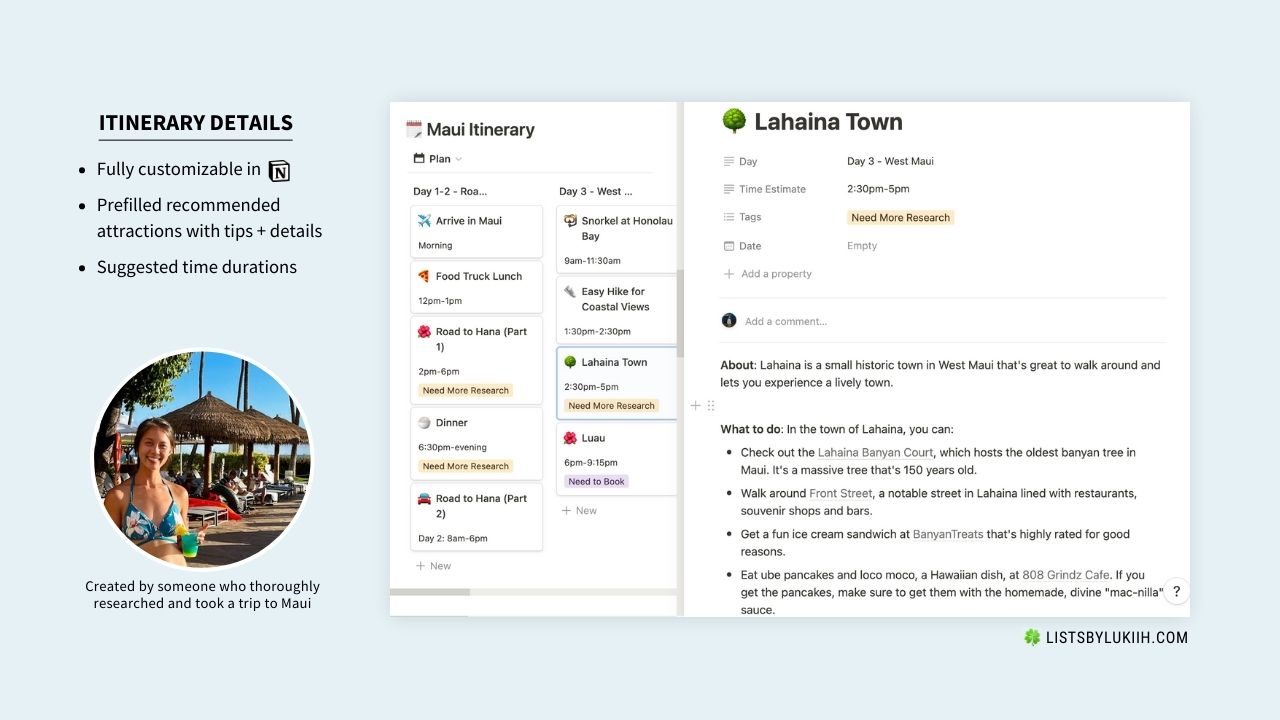 If you have any questions or thoughts, feel free to leave them in the comments below.
🧋 This site is run entirely by me, Lukiih. I spend hours writing each article to ensure its accuracy and conciseness. If you find my site helpful, you can say thanks by buying me bubble tea!