Watching the sunrise at the summit of Haleakalā volcano is Maui's most famous activity. Although not as iconic, watching the sunset is gaining popularity in recent years. At 10,000 feet above sea level, the summit reaches above the clouds and the experience feels unreal.
Despite the early wake up time, catching the sunrise at Haleakalā's was easily the highlight of my 2-week trip in Hawaii.
This post shares practical tips on planning and visiting Haleakalā for sunrise or sunset, recommends the best location to watch it, and lists what to pack and wear.
Disclosure: This post contains affiliate links. If you make a purchase through them, I may earn a small commission, at no extra cost to you. Thanks for your support!
Haleakalā Summit Trip at a Glance
Here is some general information on watching the sunrise or sunset at Haleakalā:
🌋 What is Haleakalā: Haleakalā, which translates to "house of the sun" in Hawaiian, is a dormant shield volcano.
📍 Location: Haleakalā is located on the southern side of Maui, Hawaii. Regardless of where you stay in Maui, it'll be at least a one or two hour drive to the summit.
🚗 Getting there: There are three ways to get to Haleakalā's summit:
💰 Costs: Both the sunrise and sunset trips require you to enter Haleakalā National Park, which has an entrance fee of $30 per vehicle that you pay at the Summit Entrance. Due its popularity, the Haleakalā sunrise trip also requires an advanced $1 reservation.
Note that a National Parks Pass will cover the entrance fee to Haleakalā. I had the annual $80 park pass, so my car didn't have to pay the entrance fee. All my travel expenses are shared in this Hawaii cost breakdown.
🎟️ Booking reservations: Haleakalā sunrise (but not the sunset) requires advanced reservation. The only way to book the reservation is online at recreation.gov. See more details on booking below.
⏳ Trip duration: The duration of your Haleakalā trip depends on how far you are from the national park and whether you're going for the sunset or sunrise (the latter is more crowded and will have a longer line at the entrance). On average, expect to spend at least 5 hours on your Haleakalā trip, roughly splitting your time as follows:
2+ hours to get to Haleakalā's summit for sunrise (closer to 1.5 hours for sunset)
1 hour enjoying the summit
1.5 hours to get back down Haleakalā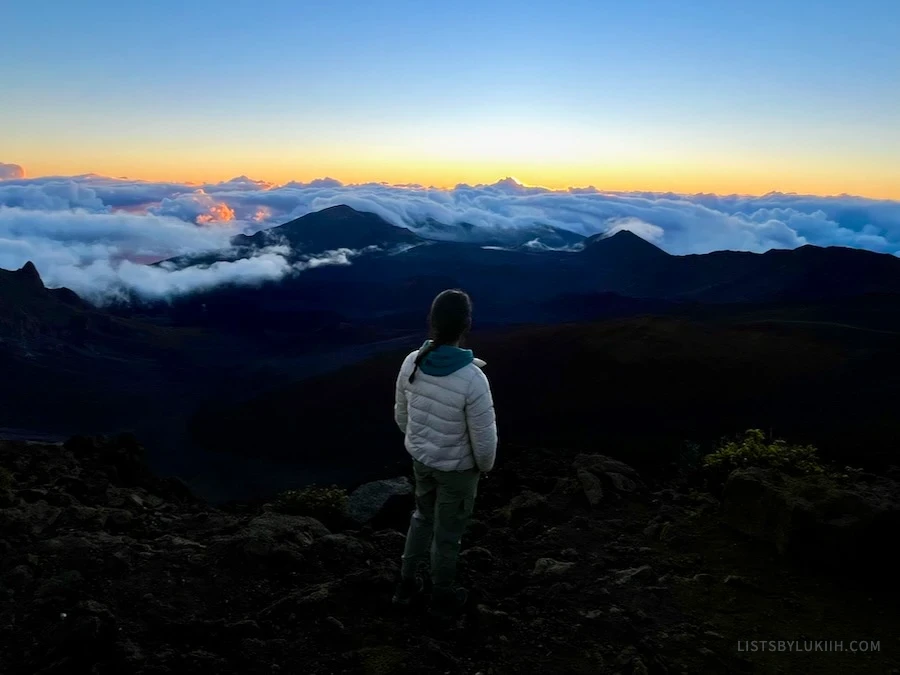 Planning Your Haleakalā Sunrise or Sunset Trip
When planning your Haleakalā summit trip, the first two things to do are:
Haleakalā Sunrise vs. Sunset
Sunrises and sunsets are both stunning at Haleakalā's summit. You'll likely enjoy your experience regardless of which one you choose, but here are a few pros and cons for each.
Haleakalā Sunrise
Haleakalā Sunset
Pros
• Slightly more vivid sky colors
• Maui's "bucket list" activity
• Much less crowded
• Wake up whenever you want
• Better idea of the weather
• No reservation required
Cons
• Reservations required
• More popular and crowded
• Wake up is before 4am
• Weather is unpredictable
• The drive down will be in the dark
• Not the "bucket list" activity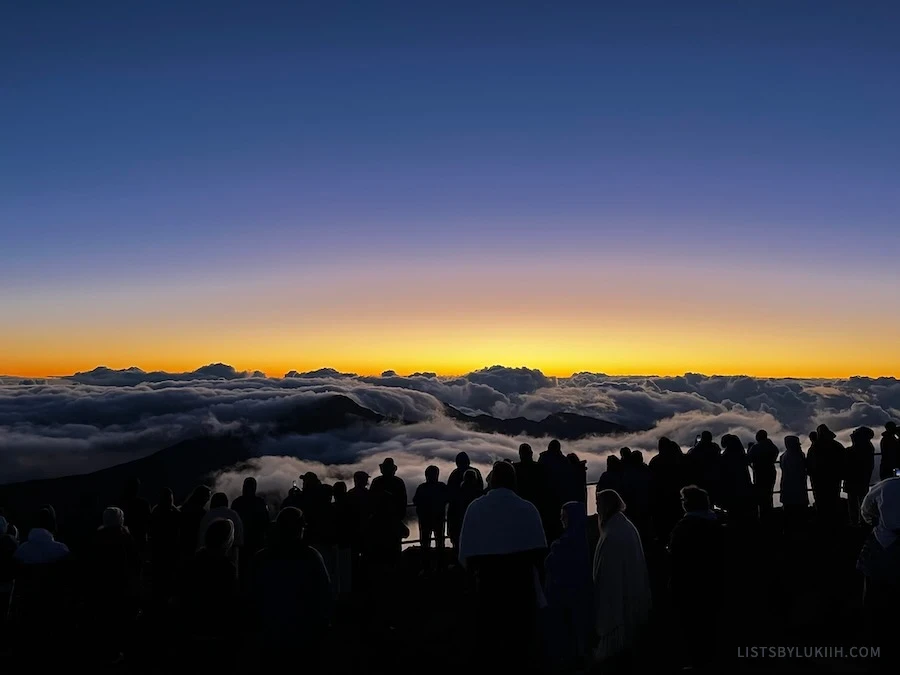 Another one of Maui's most popular activities is the Road to Hana, which has over 40 stops, including hikes, waterfalls, beaches, swimming holes and more.
Getting Reservations to Haleakalā Sunrise
If you want to catch the Haleakalā sunrise, here's how to make the required reservation.
It's Important to Book Ahead
The #1 thing to know about Haleakalā sunrise reservations is that only 150 tickets are available each day, so they need to be booked in advanced online at recreation.gov. You won't be able to get a reservation by calling, visiting in person or at any third-party sites.
You have two timeline options when booking Haleakalā sunrise reservations:
The Early Planner: You can book reservations 60 days in advance. Tickets are released at 7am HST. You must select the day of your trip and the reservation is only good for that day (i.e., reservation days are not interchangeable).
The Last-Minute Planner: A small amount of tickets are also made available 2 days in advance for each given day; these are also released at 7am HST. This is what I had to do since I didn't plan my Hawaii trip 60 days ahead.
Unlike the 60-day ahead reservation, getting last-minute Haleakalā sunrise reservations is competitive. Tickets tend to run out in less than a minute after they're released. Getting reservations 60 days in advance will relieve stress.
I wasn't able to get a reservation the first day I tried, but I was able to score a reservation on the second day right at 7am HST. Some of my friends traveling at other times were not able to get them.
What to Know About Your Haleakalā Sunrise Reservation
Other important things to know about your Haleakalā sunrise reservations are:
Reservations cost $1 and are per vehicle, so you only need one reservation per car.
Hawaii has many natural attractions that you can visit for free. This Hawaii cost breakdown calls out a few of them.
Reservations are only needed if you plan to enter Haleakalā for the sunrise, which is defined as any time between 3am to 7am. Otherwise, you don't need a reservation.
Each reservation is only good for the specific day you choose. They are not interchangeable and can't be refunded or exchanged.
The name on the reservation must match an ID the day of your Haleakalā trip.
For more reservation information, you can visit the National Park's official website on Haleakalā.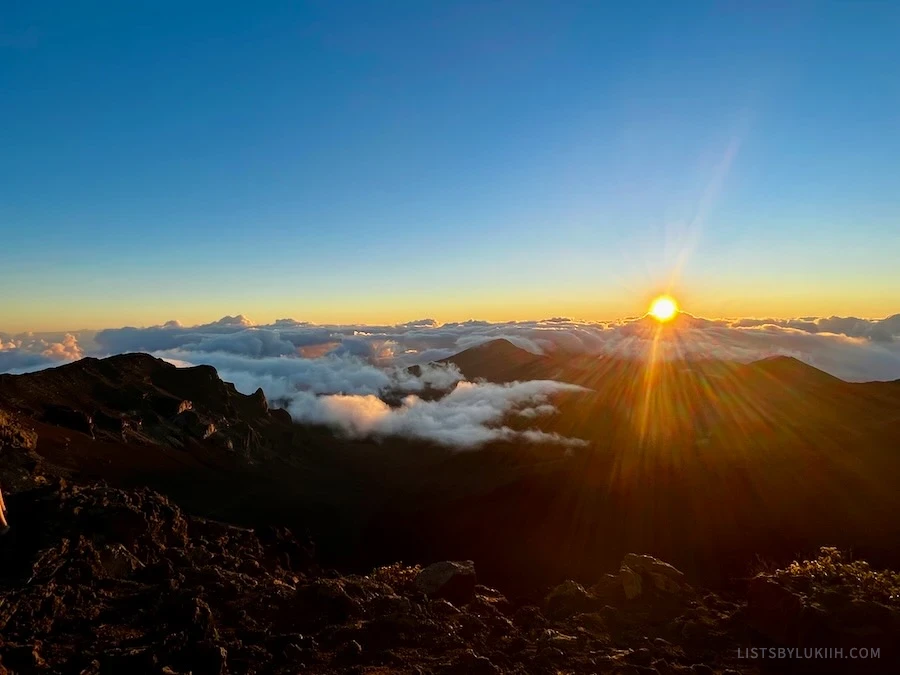 What to To Wear and Pack for Haleakalā Sunrise or Sunset
The weather at the summit of Haleakalā can change rapidly and be 30°F colder than the temperature at sea level. The temperature at Haleakalā's summit averages around:
40°F to 50°F in the summer
20°F to 30°F in the winter
Unfortunately, it's near impossible to predict how cold, cloudy or wet your Haleakalā sunrise will be. You might have a better idea of what the weather will be like for sunset, but that's also not a guarantee.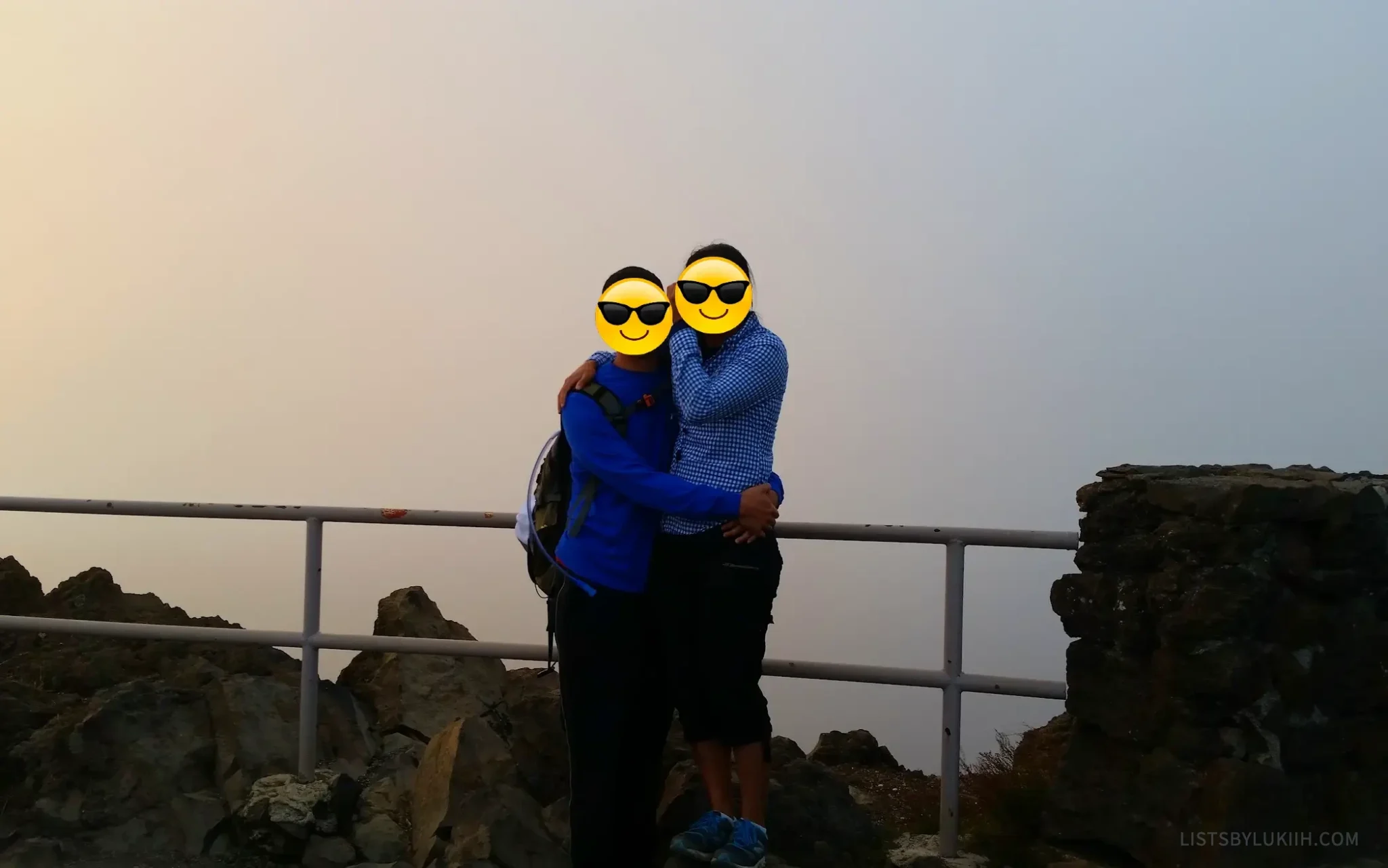 Since the weather can change rapidly, the best thing to do is to pack for the worst weather and leave unnecessary items in your vehicle once you get to Haleakalā's summit.
Here's what to wear and pack for Haleakalā's summit:
Puff or warm outer layer. Both my partner and I wore puffs and we saw people wearing all sorts of warm outer layers.
A warm inner layer. If it's cold at ground level, bring a warm thermal base. Otherwise, a long sleeve or hoodie should be sufficient.
Outer rain gear. Weather can change rapidly, so bring something in case it gets wet. I brought my rain jacket, but luckily I was able to leave it in the car. To save space and carry something lighter, these rain ponchos I've brought to other countries work well.
Warm gloves. Bring gloves in case it's windy and cold and you want to take photos.
Long pants, ideally on the warmer side. You might be able to get away with shorts if it's really warm, but long pants is the safer bet. I wore my light hiking pants with a thin thermal base underneath.
Sunscreen. If you're spending more than an hour around the summit after sunrise or before sunset, it's a good idea to wear some face sunblock.
Closed-toe shoes. If you plan to hike after the sunrise, bring hiking shoes. Otherwise, athletic closed-toe shoes will suffice.
Snacks and/or breakfast. You'll spend at least 4-5 hours getting to and driving back from the summit, so bring some food to sustain yourself.
There are no vendors or stalls selling beverages, snacks, souvenirs, etc. at the summit, so pack accordingly. The summit will have bathroom facilities.
A blanket if it's extra cold. If it's the winter time, it's a good idea to bring extra layers like a blanket to wrap around yourself.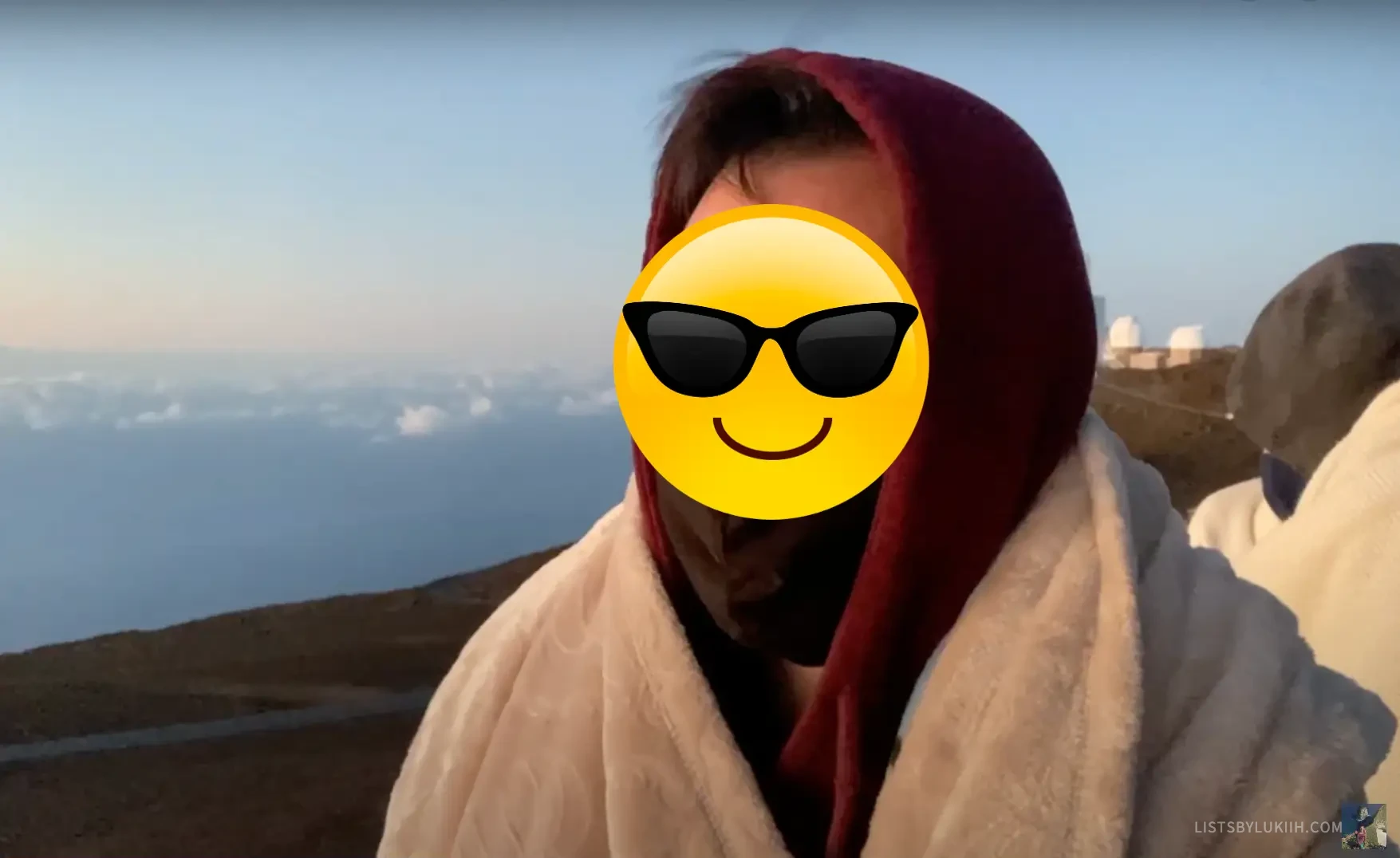 Getting to and Arriving at Haleakalā Summit
If you're going to Haleakalā for the sunset, getting to the summit will be a lot less of a scramble since you won't have to account for the crowds at the entrance and summit.
If you're driving up Haleakalā for the sunrise, make sure to:
Timing Your Departure for the Haleakalā Sunrise
In general, you'll want to start heading out 2-3 hours before the sunrise time to get to the summit.
If you want a more precise calculation, here's how to calculate when to leave for your Haleakalā sunrise trip:
Look up your sunrise time (or just click here). You'll want to be at the summit 45 to 60 minutes before the sunrise time. It will start getting bright then and you'll want to be there as the sky turns different shades of colors, a key part of this unique experience.

In our example, let's say our Haleakalā sunrise is at 6am, so you'll want to be at the summit by 5am.

Determine how long it will take you to get to the summit. Google how long will it take to drive from your accommodation to the Haleakalā Summit Parking (it's usually about an hour or more). Then, add an extra 30 minute to your drive time because that's how long you could be waiting at the Summit Entrance where they check everyone's reservations and take payments.

In our example, let's say that Google says it will take us 1.5 hours to get to the summit parking. Adding the extra 30 minutes, our total drive time is 2 hours.

Subtract your total drive time from the time you want to be at the summit by. This is the time you want to be out the door and in your car by.

In our example, we need to be out the door by 3am based on our target 5am summit arrival time.

Of course, you know how long it will take you to get ready in the morning and whether you'll need a snack, so make sure to account for that as well.
At certain Haleakalā outlooks (see more on where to stand below), space in the "front row" is limited and will be taken up by early arrivals. If you want to be in the front row, you should arrive even earlier.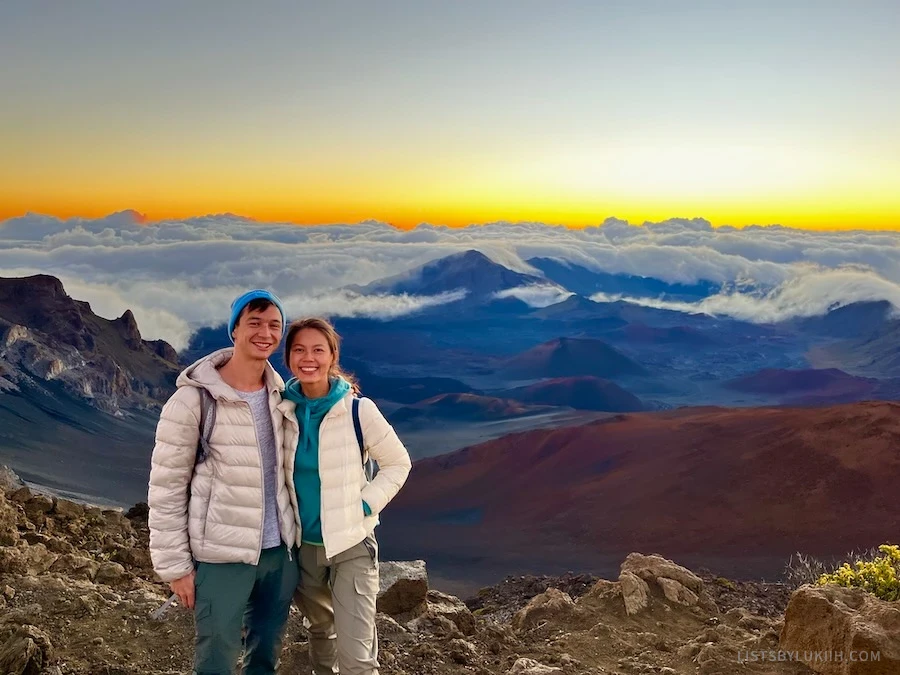 Tips for Driving Up to Haleakalā's Summit
When driving to Haleakalā's summit:
Remember to bring (you won't be allowed entrance to Haleakalā without any of these):

Some way to pay or waive the entrance fee (e.g., cash, credit card, a National Parks Pass)
Your reservation
Your ID matching the name on the reservation
Know that the roads leading up to Haleakalā are well-paved and have plenty of reflective signs and lane markers to help with visibility in the dark. However, the roads are very winding. You can get a sense of the winding roads by looking at the map below.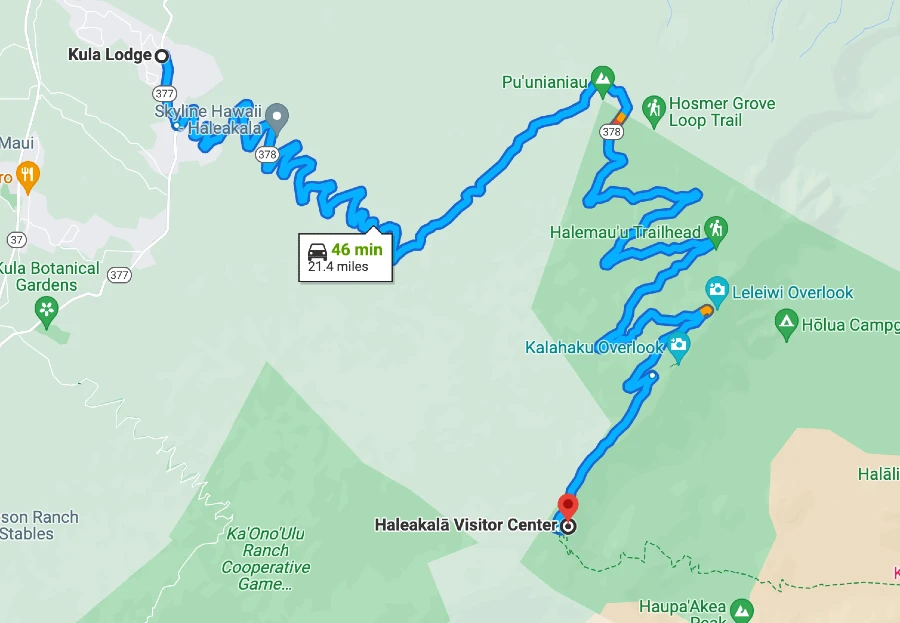 If you're prone to motion sickness by vehicle, make sure to bring medication. I slept while my partner drove up, but since I'm prone to motion sickness and didn't prepare accordingly, I almost threw up on the drive down.
Where To Stand for the Haleakalā Sunrise
Most people don't realize this, but there are four viewing locations on Haleakalā and each of them have their own parking lot. All viewing locations will give you a good view of the sun rising or setting over the Haleakalā crater.
Here's a Google map with all four viewing locations pinned.
Parking for each viewing location is on a first-come first-served basis and each parking lot will be closed when it's full, which is another reason why you don't want to get to the summit too late.
The most popular and crowded viewing location is the Haleakalā Visitor Center. If you get there early enough to park there, you'll see a huge crowd lined up against the rails in the "front row".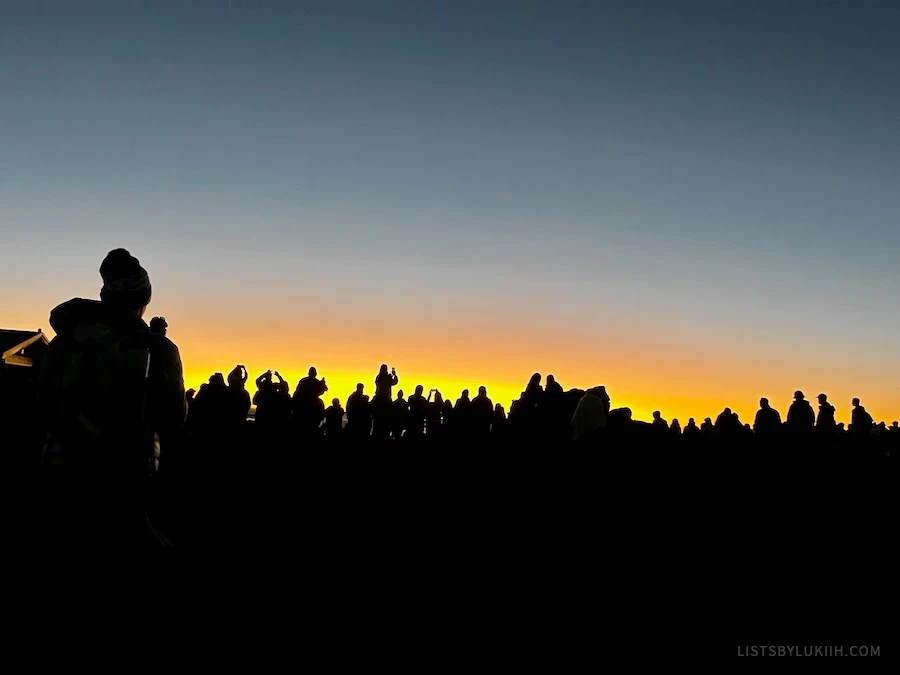 My biggest pro tip for doing the Haleakā sunrise is that if you're at the Haleakalā Visitor Center viewing location, you should hike the Pa Ka'oao (aka White Hill) Trail, a short 0.2 mile trail, to get the best view. You'll see significantly less crowds and there will be no rails in your photos.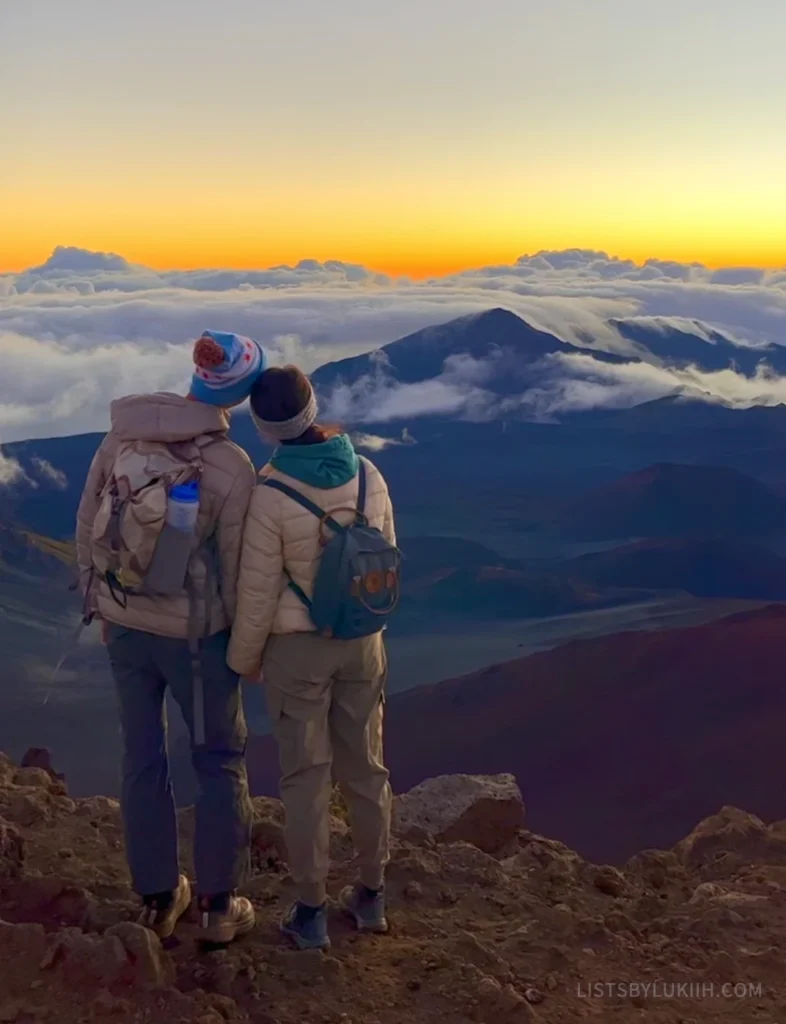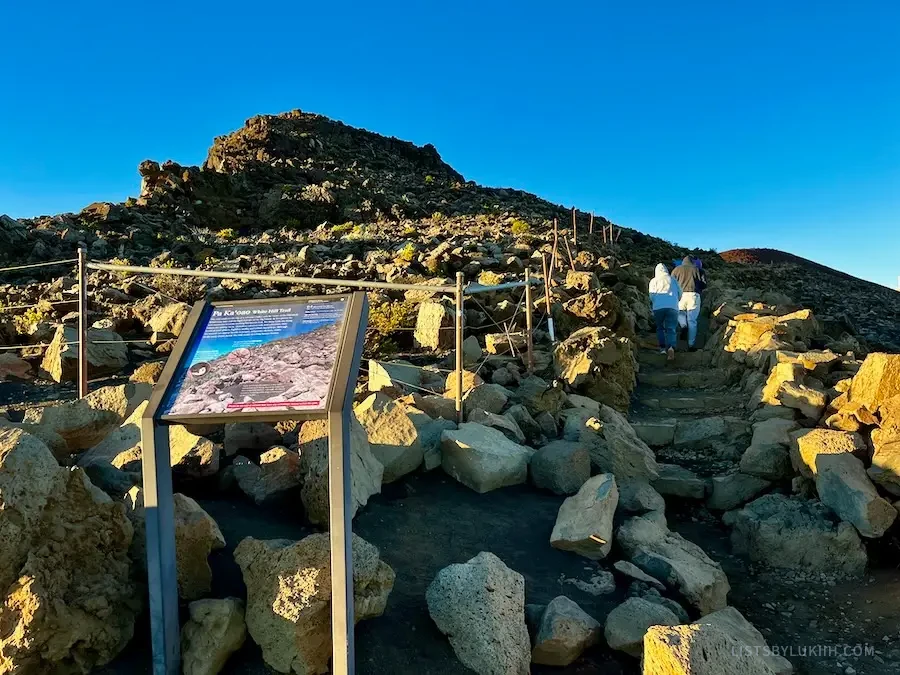 For a moderately challenging hike that leads to one of Hawaii's best snorkeling sites, consider hiking the Captain Cook trail in the Big Island.
Departing Haleakalā Summit
After the sunrise, you can leave right away or stay at Haleakalā to do some hikes or check out the different viewing locations.
If you're departing Haleakalā right away, leave late enough that you can enjoy the summit, but early enough that you can beat all the departing tour buses. The road down the mountain only has one lane and you don't want to be stuck behind rows of buses.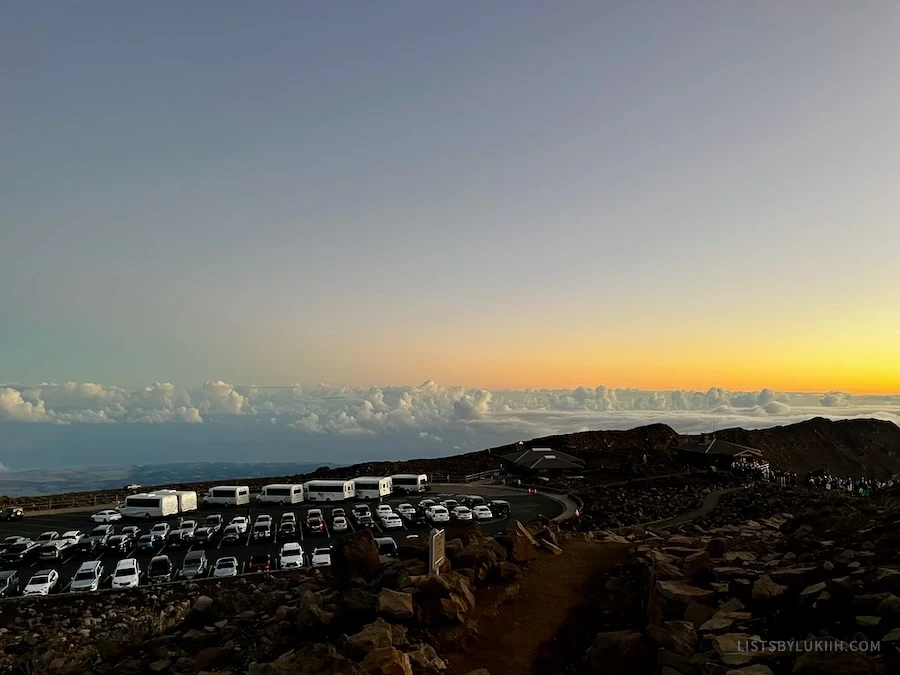 Enjoy your Haleakalā summit trip and I hope you're lucky enough to have great weather like me.
If you have any questions or thoughts, feel free to leave them in the comments below.