Venice is one of Italy's most beautiful and recognizable cities with its intricate canal network, narrow streets and historic architecture.
I spent two days in Venice and here, I share practical travel tips on taking a trip there. This post covers:
⭐️ Venice overview
🗓️ Full-day optimized itinerary
📍 Map with key attractions pinned
🚇 How to get around
🏠 Tips on where to stay
Planning a trip to Italy? This Italy guide covers things to know before getting there, including tipping etiquette, common scams, cultural differences and navigating with just English.
Disclosure: This post may contain affiliate links. If you make a purchase through them, I may earn a small commission, at no extra cost to you. Thanks for your support!
Venice at a Glance
Below is some general information on Venice to help you plan your trip.
🎨 Known For
Also called "The Floating City", Venice is one of Italy's most visited cities and is known for:
Canals and bridges. Venice has an intricate network of canals (with the Grand Canal being the most famous) and 417 bridges that connect the island.
Historic architecture. Buildings like St. Mark's Basilica are some of the city's main attractions, known for their Venetian Gothic style.
Gondola rides. One of Venice's most iconic activities is riding a gondola through its canals.
The one-day itinerary below incorporates the best things that Venice is known for.
🗺️ Location
Venice is located in the northeastern part of Italy in the Veneto region. It's about a three-hour train ride east of Milan and a two-hour train ride northeast of Florence.
📍Venice's Six Districts
Venice is comprised of six districts:
San Marco is the tourist district and its main square has many of the city's major attractions.
San Polo is a vibrant district primarily known for the iconic Rialto Bridge and Rialto Market.
Castello is a quieter and more residential area that has an open, green area.
Cannaregio is a more authentic district, known as the Jewish Ghetto due to its historical importance to the Jewish community.
Dorsoduro is known as the artistic district with several prestigious cultural institutions and charming, narrow streets.
Santa Croce is the district least visited by tourists, but it's home to a few notable churches.
☀️ Best Time To Visit
The best time to visit Venice is during the spring or fall season.
The spring season (March to May) has cooler temperatures ranging from 40°F to 70°F and fewer crowds. It's a great time to be outside and enjoy Venice's beauty with fewer tourists. I visited Venice in May and still found the streets to be crowded, so I can't imagine what it must be like to travel there during peak season.
The summer season (June to August) is the high season with temperatures ranging from 62°F to 83°F. During this time, expect long lines, higher prices and big crowds.
The fall season (September to October) is similar to the spring and has temperatures ranging from 40°F to 75°F.
The winter season (November to February) is the low season with temperatures of 32°F to 48°F. You'll experience much fewer crowds and get to see Venice decorated with holiday lights.
When visiting Venice, consider visiting on a weekday instead of a weekend to minimize crowds. Venice is one of Italy's most popular destinations and almost all its top attractions are crowded all day.
🗓️ How Long To Visit
Venice is a popular destination, but it's a relatively small city, so most visitors can enjoy it in two days.
It's a popular place to do day trips from other bigger cities such as Florence and Milan. Three days in Venice will allow you to explore its streets more slowly, but you'll start running out of things to see and do as a tourist by the fourth day.
This Northern Italy itinerary shows how to visit five destinations, including Venice, in ten days.
💰 Is Venice Expensive To Visit?
Being one of the major tourist cities of Italy, Venice is one of the most expensive areas to visit.
A mid-range budget traveler can expect to spend $160 a day in Venice.
A budget traveler can expect to spend $80 a day in Venice.
You can see my Venice cost breakdown here where I detail all my Italy travel expenses.
Venice Transportation
Getting to Venice
The best way to get to Venice is by taking the train to the Santa Lucia train station located in the Cannaregio district.
Alternatively, Venice also has a small airport, Venice Marco Polo Airport (VCE), that you can fly into. After landing, you'll have to take a 30-minute bus ride to get to Venice.
Getting Around Venice
Getting around Venice is unique because the city has an intricate network of canals, bridges and pedestrian-friendly streets, all with zero cars.
👟 Walking
Because of the city's compact size, one of the primary ways to get around Venice is on foot. This is how I primarily got around.
Most of the major tourist attractions are concentrated in the San Marco district and walking to the other districts is very doable.
💧 Water Bus
Due to Venice's many canals, another popular way to get around is by water bus, also called a vaporetto. This is considered Venice's primary public transport.
There are 19 lines of vaporetto and different ticket types are valid for a certain period of time. For example, a single ticket that is valid for 75 minutes costs €9.50 (~$10 USD).
🚕 Water Taxis
Another way to travel through Venice is by water taxi. Compared to the water bus, water taxis are private and therefore provide a more direct way of traveling to your destination.
You can book a water taxi online at the Consorzio Motoscafi's official website or by calling in.
Gondola rides are extremely popular in Venice, but they're primarily a tourist activity and not a means of transportation. A more affordable option is a traghetti, which is a large gondola that takes visitors across the Grand Canal.
Venice Map With Recommended Places
This Venice map has all the recommended places in this post pinned.
1-Day Itinerary for Venice
Below is a great way to spend a full day in Venice while doing many of the great things the city is known for.
About This Itinerary
This one-day itinerary efficiently sequences attractions and activities based on my experience exploring Venice.
It's also a very busy itinerary with a lot of walking. See below for how to modify the itinerary if you want more downtime or less walking.
Venice Itinerary
Slower 1-Day Venice Itinerary
If you have less time in Venice (e.g., you arrive in the morning) or want to walk less, my recommendations are to:
Skip walking to the garden in the Castello district
Minimize your time in St. Mark's Square unless you thoroughly enjoy learning about historic buildings
Prioritize wandering the streets and enjoying the atmosphere of Venice instead
A great and slower one-day Venice itinerary can look like this:
With More Time
If you have more time or an extra day in Venice, consider adding these things to the above itinerary:
Spend some time in other parts of San Marco that are not in St. Mark's Square. Other notable attractions in San Marco include Palazzo Contarini del Bovolo, a gem with a unique facade, and Teatro La Fenice, a renowned opera house that sits 1,000.
Take a day trip to Murano Island. Murano is a small island that's a 20-minute boat ride away from Venice. The island is known for its glassmaking heritage and offers glass factories, studios, museums and shopping. You can take a small-group guided tour that provides transportation.
Venice Itinerary Details
This one-day Venice itinerary was thoughtfully put together to take full advantage of your time in Venice.
Stop #1: St. Mark's Square & Attractions
Start your Venice day trip by visiting the city's major attractions in St. Mark's Square.
🤔 Why: St. Mark's Square, or "Piazza San Marco", is the central square of Venice that's surrounded by historic buildings. It's a popular place for both tourists and locals.
⛪️ Attractions: St. Mark's Square has six of Venice's top sights:
St. Mark's Basilica, or "Basilica di San Marco", is Venice's most iconic and significant landmark. The basilica showcases a blend of different architectural styles, serves as the city's cathedral, and has survived fires, floods and political upheavals.
The basilica is extremely popular and is almost always crowded, so expect long lines. It also has a dress code, so you need to cover your knees and shoulders to enter.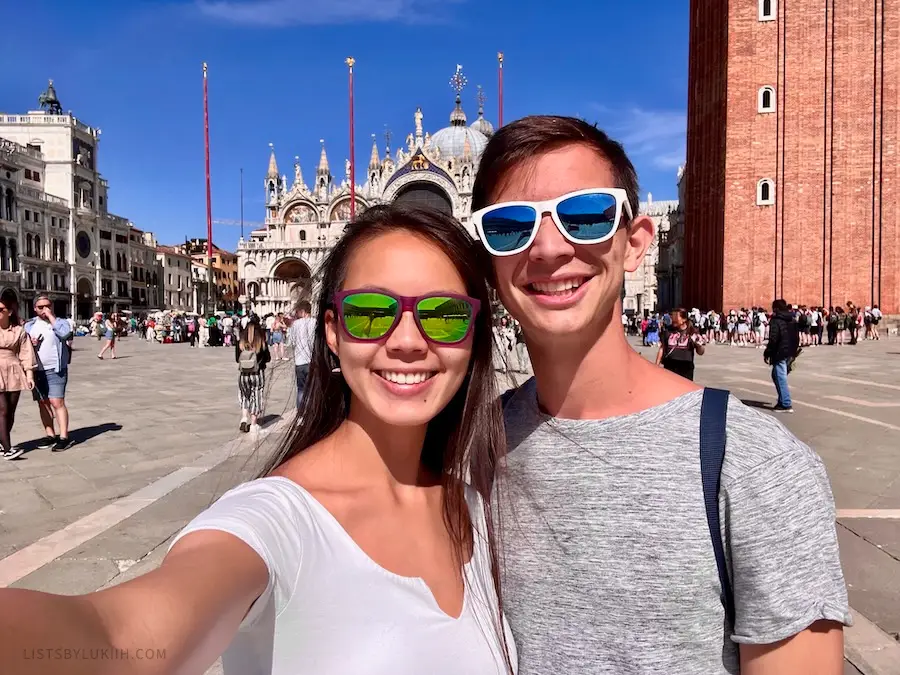 Doge's Palace, or "Palazzo Ducale", is another one of Venice's most remarkable landmarks primarily due to its history.
Doge's Palace's significance is primarily historical and cultural, so a visit to it is significantly enhanced with a guided tour. Here's a highly-rated guided tour that covers St. Mark's Basilica and Doge's Palace while also including skip-the-line tickets.
The famous Bridge of Sighs, or "Ponte dei Sospiri", is connected to Doge's Palace and is named so because prisoners would sigh as they crossed the bridge, taking their last look of Venice. You can view this bridge from the nearby Ponte della Paglia.
St. Mark's Bell Tower, or the "Campanile di San Marco", was built to spot fires from high above and is now the tallest structure in the square. Visitors can climb its spiral staircase to get the best view of Venice.
Venice's Clock Tower, or "Torre dell'Orologio", is another of the square's iconic landmarks known for the intricate clock design on its facade.
Correr Museum, or "Museo Correr", is the square's museum featuring Venetian art.
💰 Expected cost: All the attractions in St. Mark's Square require entrance tickets:
⏰ Suggested duration: Taking a guided tour of some of St. Mark's attractions will take two to three hours. Without a tour, walking around the square and looking at the attractions from the outside will take roughly 30 to 45 minutes.
🍀 My take: If you don't plan to do any guided tours of the St. Mark's attractions and are staying in Venice for a night, I recommend visiting the square at nighttime. It's a much more charming place at night when there are fewer crowds and potential live music.
Stop #2: Venetian Lunch
After exploring St. Mark's Square in the morning, grab lunch and maybe try a popular Venetian dish:
Cicchetti (which is what I recommend for dinner) is a small snack often served by local wine bars. They're basically bruschetta with all sorts of toppings and are one of my favorite things to eat in Venice.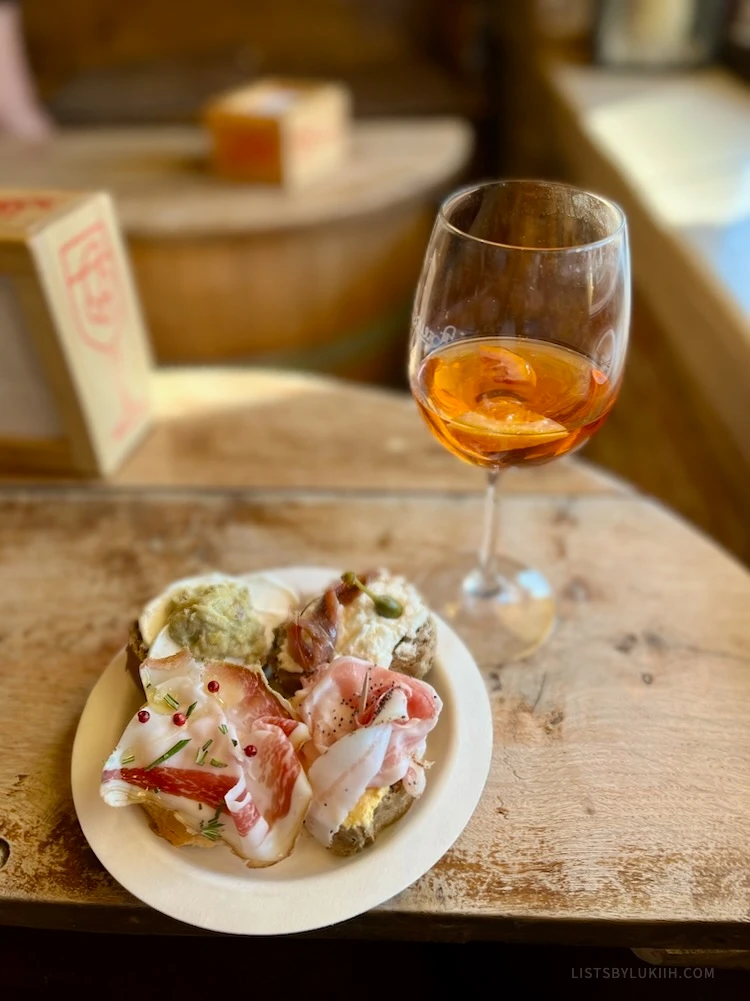 Sarde in saor is a sweet-sour dish consisting of fried sardine fillets.
Risotto al nero di seppia is a squid-ink risotto that looks like jet-black rice.
Baccalà mantecato is an appetizer made with dried cod.
You'll also see many locals and tourists enjoying a glass of Venetian spritz, a wine-based cocktail with a distinct red-orange hue. It has a sweet initial taste with a bitter finish.
If you want to prioritize food during your Venice trip, you can book this highly-rated street food tour.
Stop #3: Rialto Bridge and Market
After lunch, walk over to Venice's most famous bridge.
🤔 Why: Rialto Bridge, or "Ponte di Rialto", is Venice's oldest bridge that gives you the best view of the Grand Canal, Venice's main waterway. Two minutes from the bridge is the Rialto Market which sells fresh produce every day except Sundays.
The Rialto Bridge is one of the most crowded areas in Venice, so don't expect to have it for yourself except late at night and early in the morning.
💰 Expected cost: Both the bridge and market are free to visit.
⏰ Suggested duration: You can spend 10 to 15 minutes crossing and looking out on the Rialto Bridge. The Rialto Market can be visited briefly or you can spend over an hour shopping there if you like.
🍀 My take: The Rialto Bridge provides a beautiful view of the Grand Canal, but I found it to be overly crowded throughout the day. I enjoyed visiting it later at night, which might not be feasible if you only have one day in Venice. At around 10 pm, the bridge was not empty, but you could take a photo of the canal without other people in it.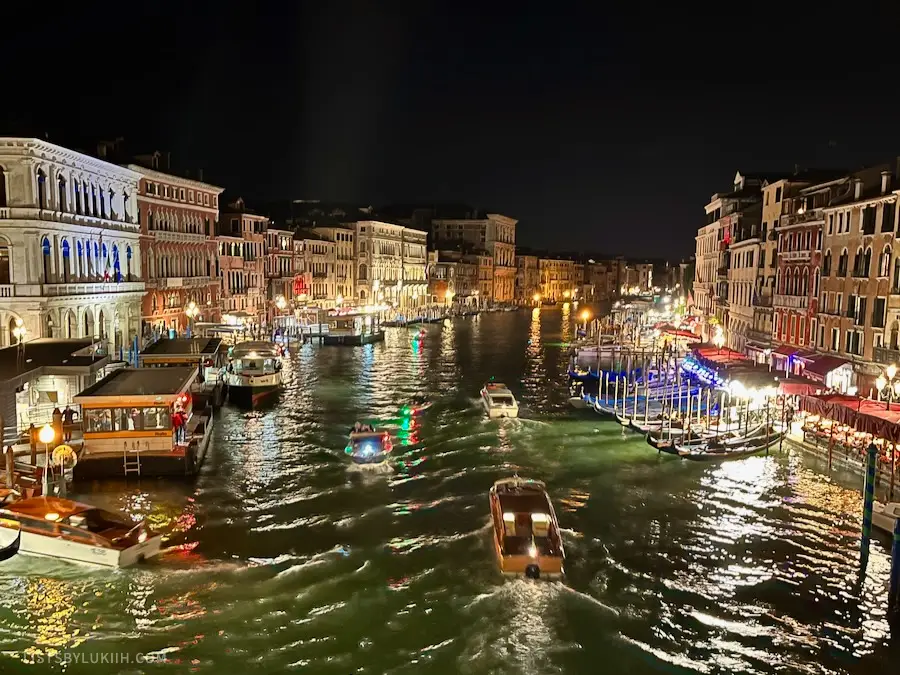 Stop #4: Castello District
After visiting the iconic bridge, start walking around Castello, one of Venice's oldest districts.
🤔 Why: Castello's narrow streets have a distinct historic charm that you won't get in the more popular San Marco district.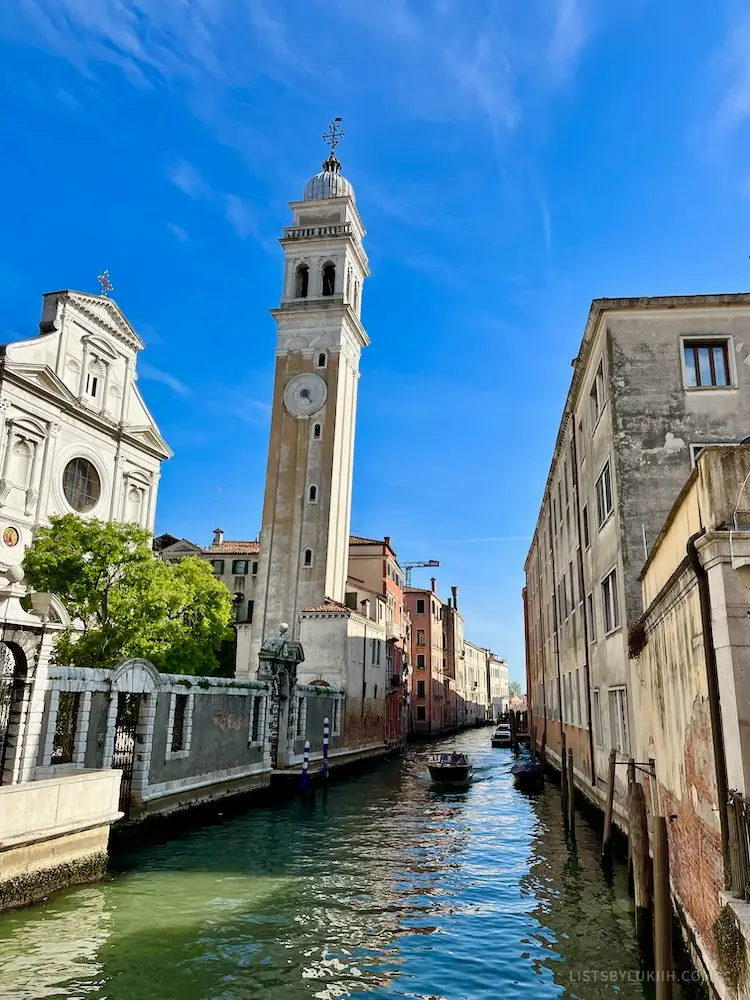 ✨ Attraction: Castello has several notable attractions:
Calle Varisco is the narrowest street in Venice at roughly 20 inches wide. It's technically located in the Cannaregio district, but it's only a 10-minute walk from Rialto Bridge.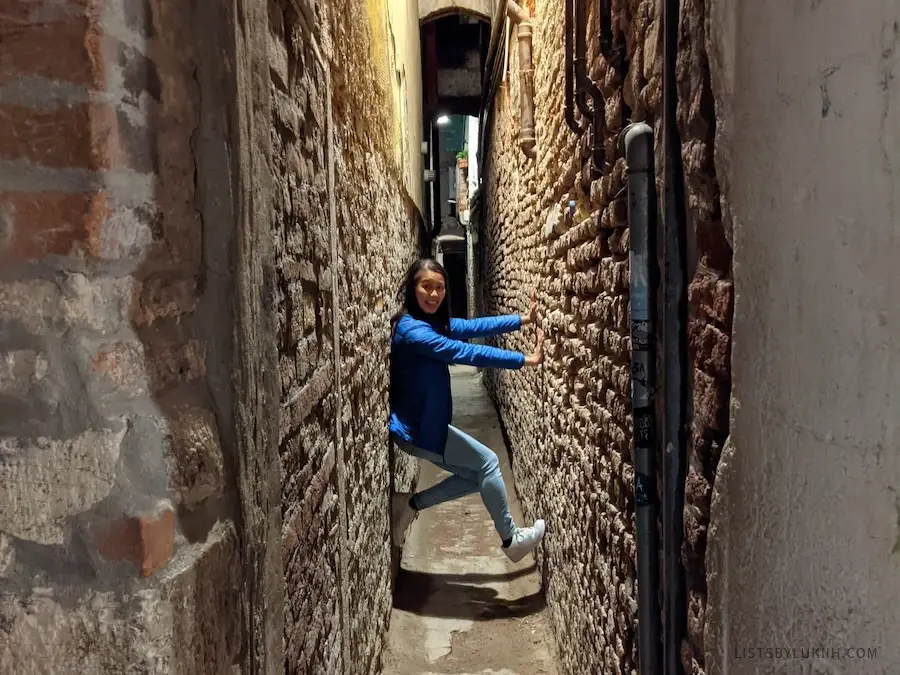 Libreria Acqua Alta is a unique bookstore that's become famous because of the creative ways it displays its books. Books are stored in bathtubs and waterproof bins to protect them from the city's frequent flooding.
If you want to walk to the eastern end of Castello, you can head over to the green area surrounding Giardini della Biennale where there's a nice promenade.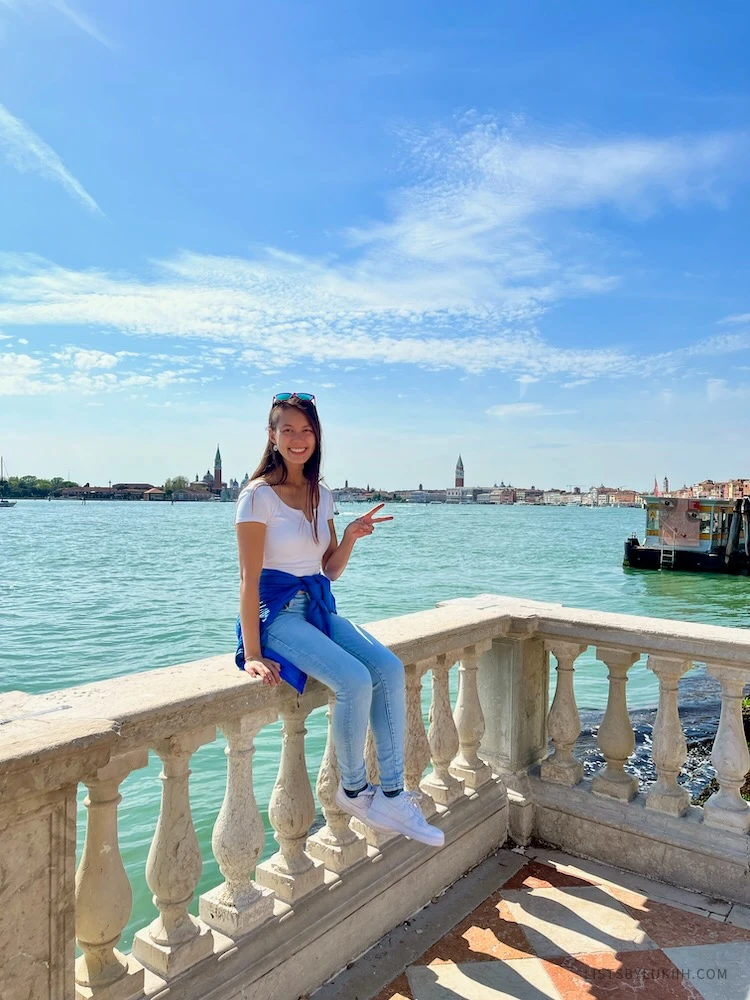 💰 Expected cost: The narrow street, library and green area around the garden are all free to visit.
⏰ Suggested duration: It takes approximately 30 minutes to walk from Calle Varisco to the garden area, so budget around an hour or more to make your way through the district.
🍀 My take: One of the best ways to explore Venice's streets is to wander in a general direction without a clear destination. If you walk towards Giardini della Biennale, you'll arrive at a green area with wide open spaces, giving you a nice break from all the narrow streets.
Stop #5: Ponte dell'Accademia
Once you're done exploring Castello, go on a long walk to another famous bridge.
🤔 Why: Accademia Bridge, or "Ponte dell'Accademia", is one of the four bridges in Venice that crosses the Grand Canal and is an important link to the Dosoduro district for locals.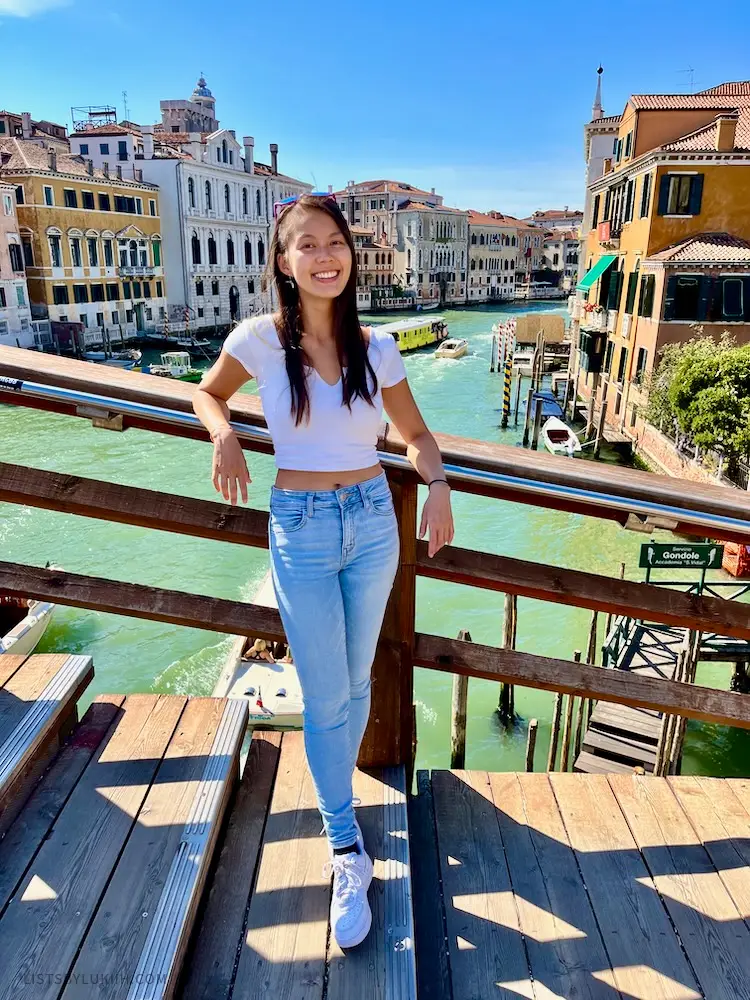 💰 Expected cost: The bridge is free to visit.
⏰ Suggested duration: You can spend a brief 10-15 minutes crossing and looking out at the canal from the bridge.
🍀 My take: Ponte dell'Accademia is crowded (but not as crowded as the Rialto Bridge) and provides a more local view of the Grand Canal.
Stop #6: Dorsoduro District
Once you cross the Accademia Bridge, you'll be in the Dorsoduro district where you can wander around until sunset.
🤔 Why: Dorsdoduro is a quieter and charming district worthy of exploration. It has very scenic waterfront views and picturesque canals.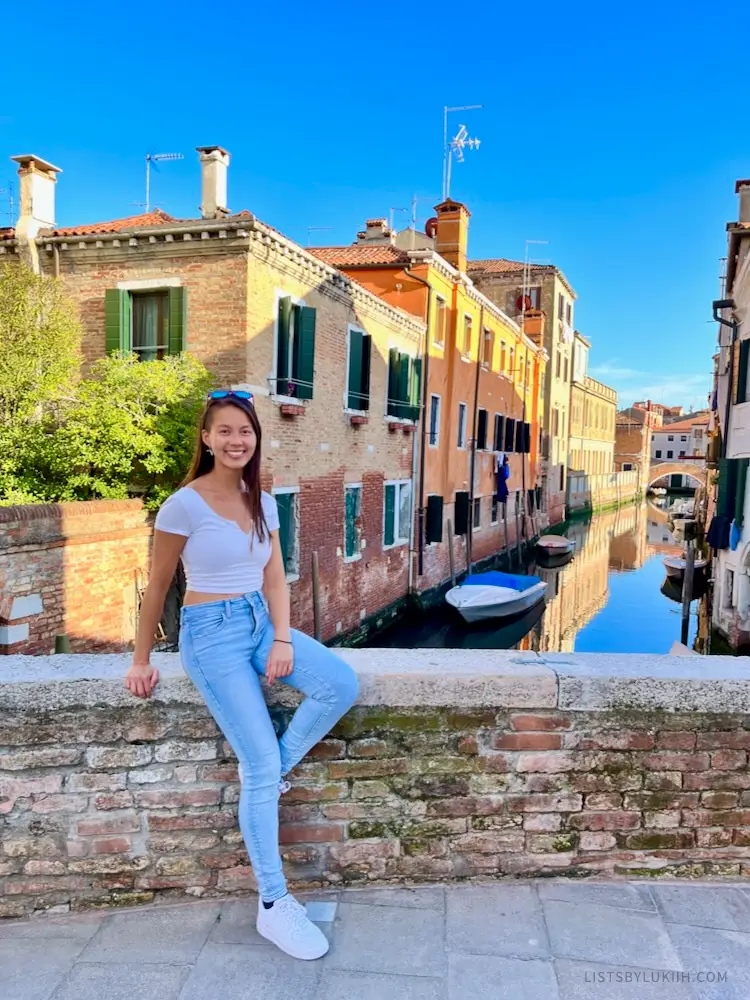 ✨ Attractions: Dorsoduro has several attractions you can walk towards, but if you only have a day in Venice, you likely won't have enough time to explore all of them.
Punta della Dogana is the easternmost tip of the district and has a contemporary art museum.
If you'd rather prioritize exploring the less well-known areas and attractions of Venice, consider booking this walking tour with a local guide.
⏰ Suggested duration: You can spend an hour or more wandering around the district. I spent two hours walking there and enjoying the atmosphere.
🍀 My take: Walking around the Dorsoduro district without a clear direction is some of the best memories I have of Venice. I particularly enjoyed stumbling onto quiet, local streets for a more peaceful vibe.
Stop #7: Gondola Ride
While you're in the Dorsoduro district, catch a gondola ride before 7 pm.
🤔 Why: Riding a gondola in Venice's canals is one of the best and most iconic ways to see the beautiful city.
This complete gondola ride guide shares the best places and times to catch a ride.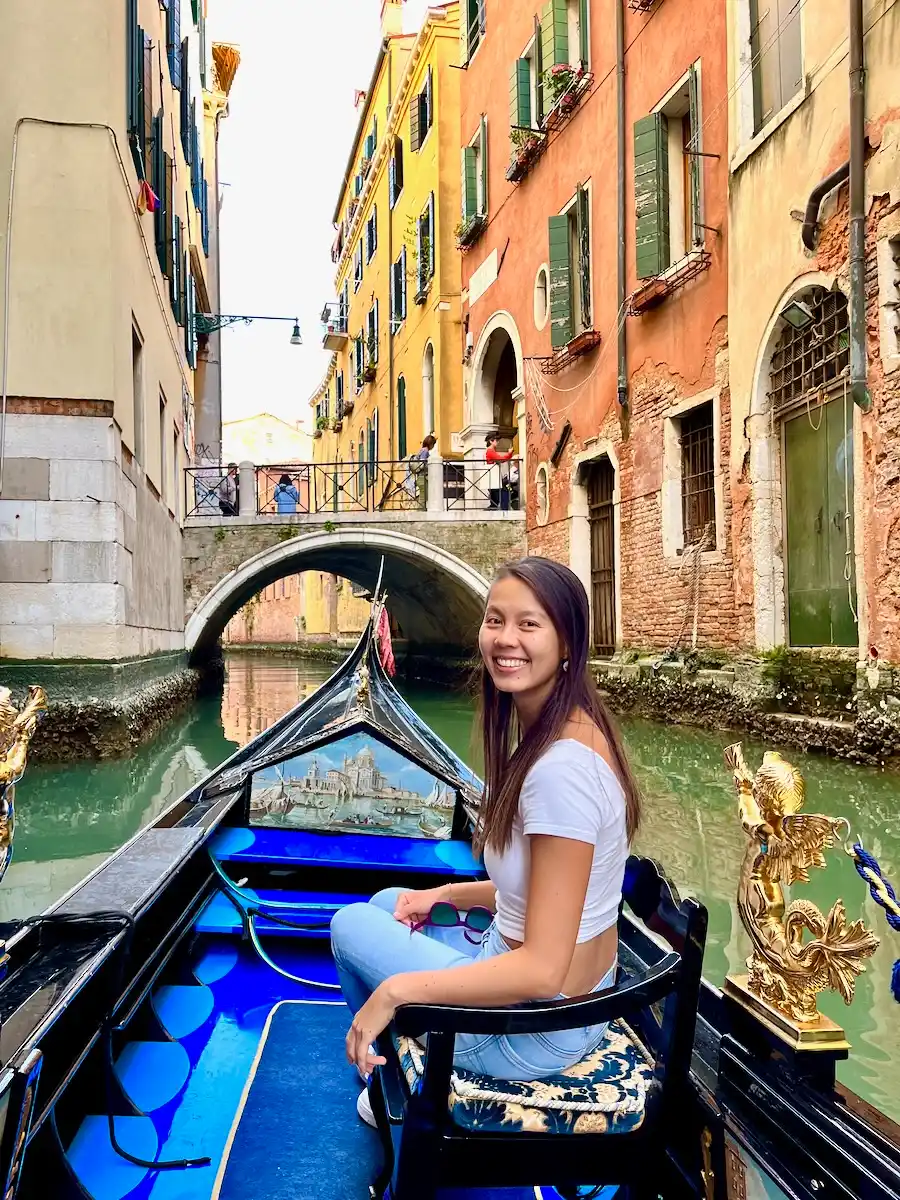 💰 Expected cost: The price of a standard gondola ride is about $87 USD and it's non-negotiable.
Gondola ride prices increase to $100 USD after 7 pm since sunset is a very popular time to catch them, so it's a good idea to ride one beforehand.
⏰ Duration: A standard gondola ride lasts 30 minutes. You can pay extra for a longer ride.
🍀 My take: Riding a gondola in Venice was not something I had initially planned to do due to the high price, but it turned out to be an extremely enjoyable and unique experience. I highly recommend catching a ride in Dosoduro instead of one in San Marco because you'll be able to experience the authentic, small canals. I share other tips for riding a gondola here.
Stop #8: Catch the Sunset
After your gondola ride, catch the sunset at one of Venice's best places to do so. Here's the sunset time for Venice.
🤔 Why: Venice is a picturesque city surrounded by water and short buildings, making it an ideal place to watch the sun sink. There are several great places to catch the sunset:
Zattere Promenade runs along the Giudecca Canal and it's a great spot for locals and tourists to watch the sunset.
Ponte dell'Accademia and Rialto Bridge are both iconic places to catch the sunset, but they will probably be very crowded.
💰 Expected cost: None of these places have an entrance fee to watch the sunset.
🍀 My take: I caught the sunset at the promenade and it was a great spot because of how much space there was, whereas it would have been very crowded at the basilica or one of the bridges.
Stop #9: Cicchetti Dinner
Finish your Venice trip with a cichetti dinner.
🤔 Why: Cichetti is one of the best things you can eat in Venice and pairs well with a glass of wine while sitting by a quiet canal. There are several great places you can eat it at. Osteria Al Squero and Vino Vero were my two favorite places among the ones I tried.
💰 Expected cost: Expect to pay $2 to $4 per cichetti. A full meal for me was usually five to six pieces.
🍀 My take: Cicchetti was my favorite thing to eat in Venice. I loved picking and choosing different cicchetti to try at different wine bars while sitting by the canal.
Accommodations in Venice
Being a major tourist area, Venice accommodations are more expensive compared to other areas in Italy, on average.
If you only have one day in Venice, consider staying at:
Cannaregio, so you can be close to the train station and minimize having to drag your luggage around Venice's cobblestone streets. This is the district where I stayed.
San Marco or San Polo, so you can be close to the major attractions.
If you have any questions or thoughts, feel free to leave them in the comments below.
🧋 This site is run entirely by me, Lukiih. I spend hours writing each article to ensure its accuracy and conciseness. If you find my site helpful, you can say thanks by buying me bubble tea!