Florence is one of Italy's most beautiful cities and is known as the birthplace of the Renaissance. It's home to artistic masterpieces and architecture as well as charming piazzas next to narrow streets.
I spent five days in Florence and here, I share practical travel tips on taking a trip there. This post covers:
🖼️ Florence overview
🗓️ 3-day optimized itinerary
📍 Map with key attractions pinned
🚇 How to get around
🏠 Tips on where to stay
Planning a trip to Italy? This Italy guide covers things to know before getting there, including tipping etiquette, common scams, cultural differences and navigating with just English.
Disclosure: This post may contain affiliate links. If you make a purchase through them, I may earn a small commission, at no extra cost to you. Thanks for your support!
Florence at a Glance
Below is some general information on Florence to help you plan your trip.
🎨 Known For
Florence, or "Firenze" in Italian, is one of Italy's most visited cities and is known for:
Artistic masterpieces. It has some of the world's most famous paintings, sculptures and architectural wonders from artists like Leonardo da Vinci and Michelangelo. In fact, Florence is sometimes called an "open-air museum".
Historic centers. Florence's historic center is a UNESCO World Heritage Site and has a charming main square surrounded by narrow streets.
Culinary prowess. Florence is in the Tuscany region, known for high-quality wine and local dishes like Florentine steak.
The three-day itinerary below incorporates all the great things that Florence is known for.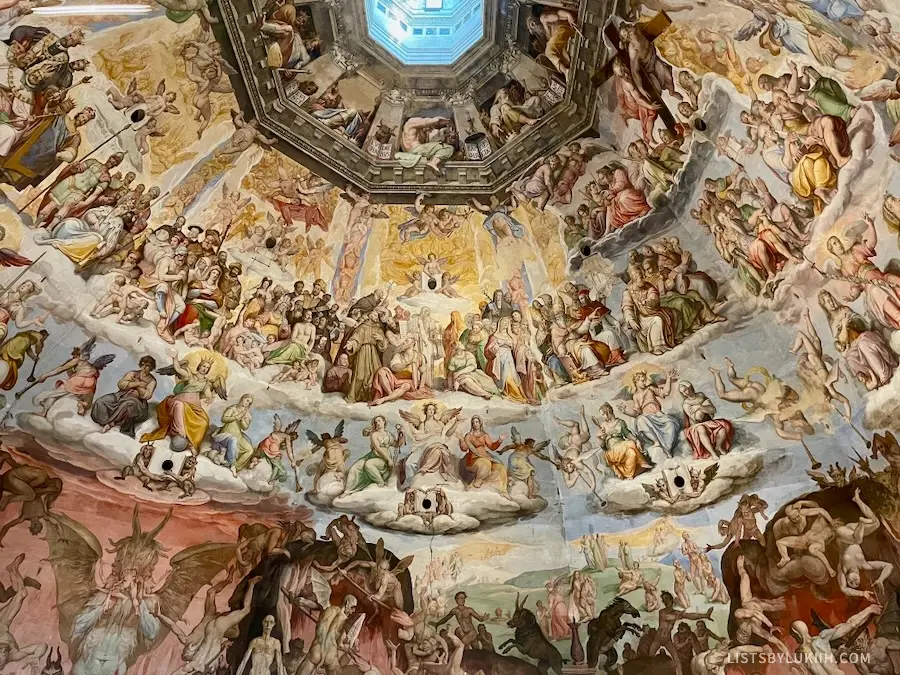 📍Location
Florence is the capital city of the Tuscany region in Central Italy. It's an hour-and-a-half train ride north of Rome and a little over an hour east of the famous Leaning Tower of Pisa.
☀️ Best Time To Visit
The best time to visit Florence is during the spring or fall season.
The spring season (March to April) has cooler temperatures ranging from 45°F to 75°F and fewer crowds. It's a great time to visit the gardens and outdoor piazzas. I visited Florence in May and enjoyed the warm, but not hot, weather.
The summer season (June to August) is the peak season with temperatures ranging from 60°F to 90°F. During this time, expect long lines and big crowds for Florence's top attractions.
The fall season (September to October) has temperatures ranging from 50°F to 80°F, making it a great time to enjoy wine in the Tuscan countryside.
The winter season (November to February) is the low season with temperatures of 35°F to 55°F. You'll experience fewer crowds and it's a good time to be indoors in all the art galleries and restaurants.
🗓️ How Long To Visit
You should spend two to three days in Florence. This will give you enough time to see some of the city's main attractions while also allowing you to take a day trip to the Tuscan countryside.
I was in Florence for five days, which I thought was a bit too long given my personal preferences. I started getting a bit tired of Florence's historic landscape and was happy to go to Rome next for a more urban landscape.
This Northern Italy itinerary shows how to visit five destinations, including Florence, in ten days.
💰 Is Florence Expensive To Visit?
Being one of the major tourist cities of Italy, Florence is moderately expensive to visit.
A mid-range budget traveler can expect to spend $160 a day in Florence.
A budget traveler can expect to spend $100 a day in Florence.
You can see my Florence cost breakdown here where I detail all my Italy travel expenses.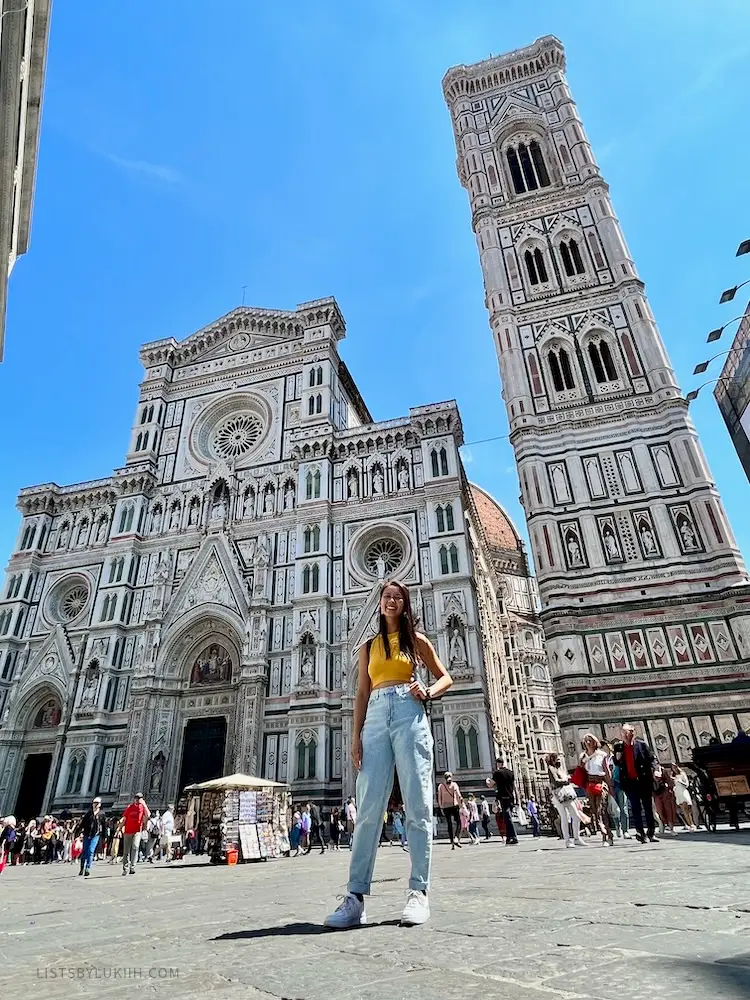 Florence Transportation
Getting to Florence
The best way to get to Florence is by flying into Rome's international airport, Leonardo da Vinci–Fiumicino Airport (FCO), and taking the high-speed train an hour-and-a-half hour north to Florence's main train station, Santa Maria Novella.
If you're coming from Northern Italy, Florence is an hour south of Bologna, a little over an hour east of Pisa and two hours south of Milan by train.
Getting Around Florence
Florence is not a small city, but it's compact and well-connected, so the best ways to get around are by walking, taking public transport, biking and calling a taxi.
You can also rent a car in Florence, but it's not recommended unless you plan to explore the Tuscan countryside for most of your trip. Florence has winding, narrow streets and many driving areas that are off-limits to tourists.
👟 Walking
Florence is a pedestrian-friendly city and you can get to many of its major attractions on foot.
Walking is how I primarily got around the city. It takes about 30 minutes to walk across the historic center.
🚌 Bus and Tram
Florence doesn't have a metro system, but it does have a bus and tram system. Its bus system is called ATAF and it's efficient and budget-friendly. Each bus ride costs less than $2 USD.
🚕 Taxis and Uber
Florence has white-and-black taxis, but they're fairly expensive and you'll need to find a taxi-designated area to ride in one (hailing a taxi in Florence is illegal).
Florence technically has Uber, but it's more like private drivers for hire and very expensive compared to taxis.
Florence Map With Recommended Places
This Florence map has all the recommended places in this post, organized by itinerary date.
3-Day Itinerary for Florence
Below is a great way to spend three days in Florence while doing all of the best things the city has to offer.
This three-day itinerary minimizes transportation time and efficiently sequences attractions and activities. I've included some of my actual timestamps to give you an idea of how long you might need for each activity.
With Less Time
If you have less than three full days in Florence or want more downtime, you can modify the three-day itinerary in these ways:
Skip Boboli Gardens and Pitti Palace on day 3. I found this to be the most underwhelming major attraction in Florence and enjoyed the less well-known and free Rose Garden more.
Skip the pasta-making class on day 3. A pasta-making class is a great option if you want more activities in Florence, but if you want to maximize seeing historical attractions, skip it.
Only visit one of the famous art galleries: Uffizi or Accademia Gallery. Florence is known for its art, but if you're not a history or art lover, you can skip visiting the famous Uffizi Gallery or Michelangelo's David at the Accademia Gallery.
With More Time
If you have an extra day or time in Florence, consider adding these things to the above itinerary:
Take a day trip. The famous Tower of Pisa is only a little bit over an hour east of Florence and Siena, a medieval city, is an hour-and-a-half south of Florence.
This highly-rated day trip tour from Florence visits both Pisa and Siena and provides vehicle transportation, which will get you to both locations faster than the train.
Walk a bit further east of the historic center. There, you'll be able to visit the Basilica di Santa Croce, a significant church in Florence; AquaFlor, an ornate perfume store; and Vivoli, a highly-rated gelato shop.
Explore the west area of the historic center. There, you can visit the Santa Maria Novella Church, a basilica in a main square with a small garden, and Officina Profumo, an extremely fancy perfume shop that's fun to browse.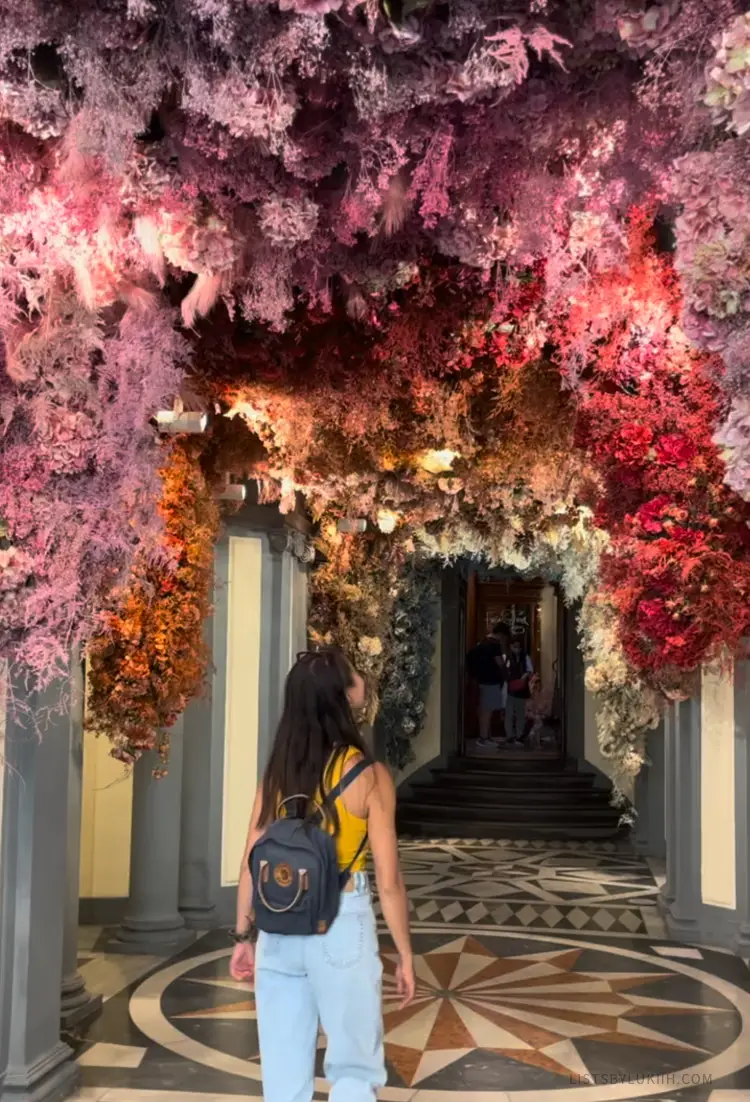 Florence Itinerary Details
This 3-day Florence itinerary was thoughtfully put together to take full advantage of your time in Florence.
It's comprised of three full days of visiting the city's top sights and taking a day trip outside of it to enjoy the Tuscan wine country.
Day 1: David and the Duomo
Start your first day in Florence by visiting its world-famous works of art and buildings.
Stop #1: Central Market
After arriving in Florence in the morning, grab lunch at the Central Market (or "Mercato Centrale") as your first stop.
🤔 Why: Mercato Centrale is a lively, bustling market offering local specialties and Italian delicacies (e.g., cheese, cured meats, truffles). The food court will give you the option to satisfy any Italian food craving you have on your first day there.
Central Market is half of the San Lorenzo Market. The other half of the market is the outdoor market, which sells a wide variety of Italian leather goods (e.g., bags, shoes), jewelry and souvenirs.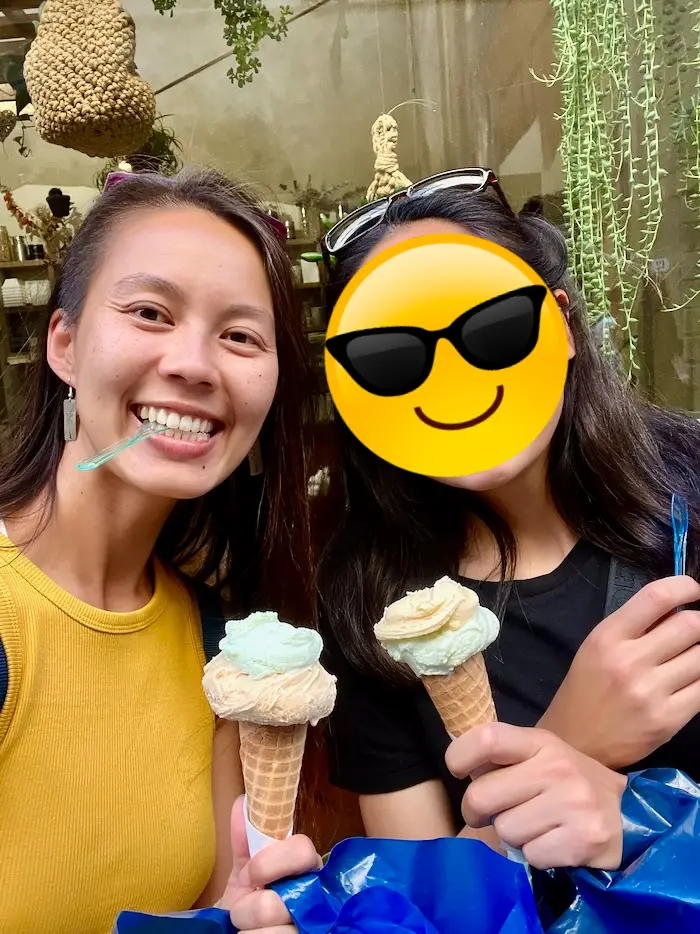 👟 Getting there: Central Market is located on the northern corner of Florence's city center, a short walk away from the next itinerary stop, Accademia Gallery.
Mercato Centrale gets crowded during peak lunch (12:30–2 pm) and dinner hours (8–10 pm), so eat earlier or later if you want to avoid the rush.
💰 Expected cost: Mercato Centrale's prices are similar to that of a typical Italian restaurant (e.g., $12 to $20 for a plate of pasta).
⏰ Suggested duration: Expect to spend an hour or more at the market. Budget more time if you're visiting during peak lunch and dinner hours.
🍀 My take: You can get more cost-efficient meals elsewhere, but it's nice to have a wide variety of authentic Italian food to choose from upon arrival, which is why Mercato Centrale is a great place to kick off your Florence trip.
Stop #2: Accademia Gallery
After lunch, take a short walk to see a famous sculpture.
🤔 Why: Accademia Gallery, or "Galleria dell'Accademia" in Italian, hosts some of the world's most famous works of art, with Michelangelo's David being the most well-known.
👟 Getting there: Accademia Gallery is less than a 10-minute walk from Central Market.
While walking from Central Market to Accademia Gallery, you can make a quick stop at the Basilica di San Lorenzo, one of the oldest churches in Florence, dating back to Roman times.
💰 Expected cost: A regular ticket at the gallery costs €13 (~$14 USD) with a €4 pre-booking fee if you don't buy it in person.
Expect long lines (anywhere from 20 minutes to over 45 minutes depending on the season) to see Michelangelo's David. You can skip the line by booking a highly-rated Accademia Gallery guided tour with a timed entry.
⏰ Suggested duration: If you want a quick visit, you can be in and out of Accademia Gallery in less than an hour. Most guided tours take about an hour-and-a-half.
🍀 My take: I skipped seeing David as I chose to spend more time at the Ufizzi gallery and other places, but history buffs and art lovers should not miss it.
Stop #3: Piazza del Duomo
After the Accademia Gallery, walk over to Florence's Duomo complex.
🤔 Why: Piazza del Duomo is home to Florence's iconic Duomo, the Cathedral of Santa Maria del Fiore. The main square is also a bustling center lined with cafes, restaurants and artists.
✨ What to do: Piazza del Duomo has a few key attractions:
Florence's Cathedral (Duomo di Firenze) is the most famous attraction and one of Italy's largest churches. You can also walk 463 steps up Brunelleschi's Dome to get one of the best views of Florence.
The Brunelleschi's Dome has limited space, so you need to get tickets through the official website or a guided tour prior to visiting.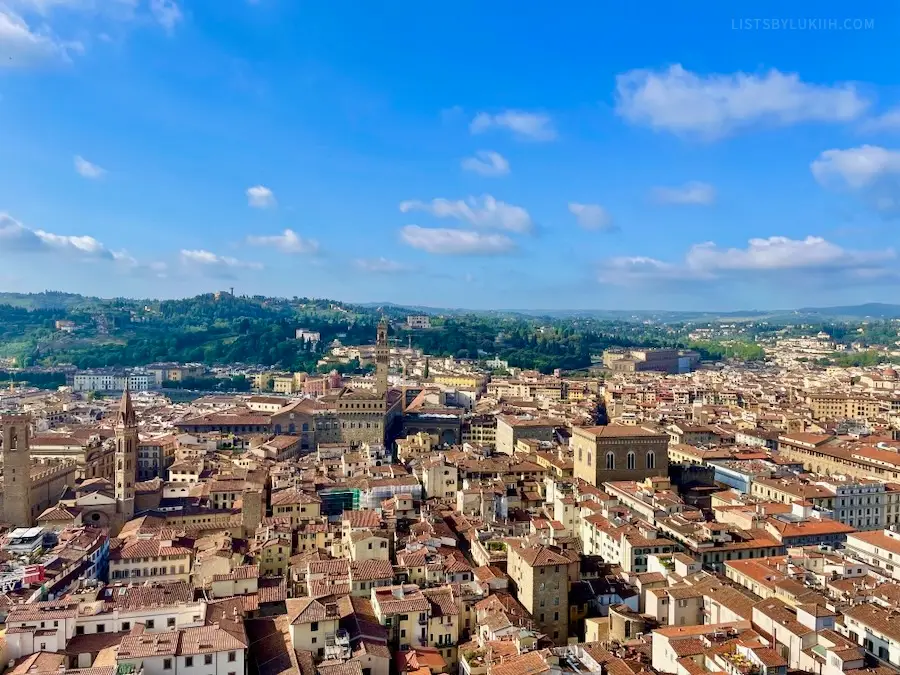 Baptistery of St. John is a separate building connected to the Duomo that has a unique and intricate exterior. Its most famous feature is the "Gates of Paradise" doors by Lorenzo Ghiberti, an Early Renaissance artist.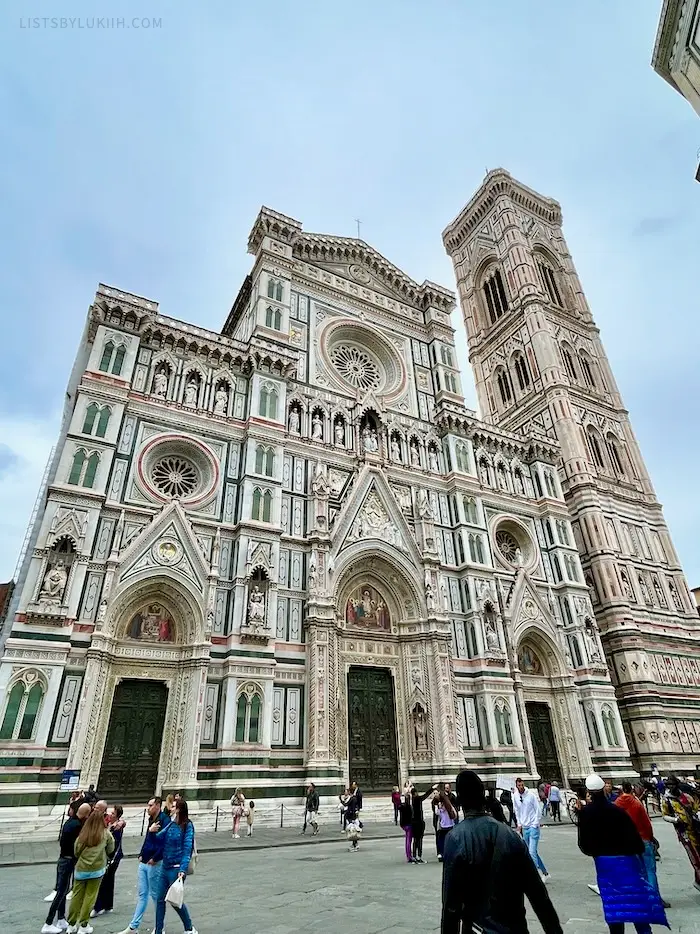 Giotto's Bell Tower, also called Giotto's Campanile, is a freestanding bell tower renowned for its Italian Gothic design. When walking up the dome, you'll be able to see the bell tower from above.
👟 Getting there: Piazza del Duomo is located in the historic center of Florence, a six-minute walk southwest of the previous stop, Accademia Gallery.
💰 Expected cost: The Brunelleschis Pass, which is the required pass for the dome climb is €30 (~$33 USD). A well-rated guided tour of the Florence cathedral that includes the dome climb is approximately $100.
⏰ Suggested duration: Expect to spend at least an hour inside the Duomo if you're doing the dome climb. If you don't go inside the cathedral, you can spend about an hour or less walking around the Piazza del Duomo.
🍀 My take: Approaching Florence's giant Duomo from a narrow street is one of the most surreal things I've seen and you'll know what I mean once you've experienced it. The dome climb is relatively easy if you're in decent physical shape and the panoramic views at the top are stunning (and different from the view you get at Piazzale Michelangelo later in the itinerary).
Day 2: Uffizi and Tuscan Wine-Tasting Tour
On your second day in Florence, visit a world-famous art gallery and head out to the countryside for wine and a change of scenery.
Stop #1: Piazza della Signoria
First, walk through a main square to get to one of the world's most famous art galleries.
🤔 Why: Piazza della Signoria is another well-known historic square in Florence that features notable attractions, including:
Palazzo Vecchio, which translates to "Old Palace", a historic building built for the government of the Republic of Florence. It was also used as a residence for the Medici family, a ruling family that was extremely influential in Florence (e.g., they commissioned David).
Loggia dei Lanzi, a historical landmark that's an open-air sculpture gallery. Its most famous sculptures are Perseus with the Head of Medusa and The Rape of the Sabine Women.
Five minutes northwest is a smaller piazza called Piazza della Repubblica, a square surrounded by historic cafes and hotels. Three minutes west of the piazza is Fontana del Porcellino, a pig sculpture where it's believed that rubbing its nose brings good luck.
👟 Getting there: Piazza della Signoria is located in the heart of Florence's historic city, a one-minute walk away from the next itinerary stop, the Uffizi Gallery.
💰 Expected cost: The piazza has no entrance fee, so it's free.
⏰ Suggested duration: You can spend as short as 15 minutes or as long as 45 minutes walking through the square and looking at its free attractions.
🍀 My take: The attraction I enjoyed most in Piazza della Signoria was the open-air sculpture gallery. It was cool seeing some of the famous sculptures I've learned about in art history class in real life (they were much bigger than I expected). I also tried to rub the pig sculpture's nose, but there was a long line when I got there so I skipped it.
Stop #2: Uffizi Gallery
Next, visit one of Florence's top attractions.
🤔 Why: The Uffizi Gallery, or "Galleria degli Uffizi" in Italian, is one of the most renowned art museums in the world, featuring artwork from Leonardo da Vinci, Michelangelo, Botticelli Caravaggio and Rembrandt.
Botticelli's The Birth of Venus, one of the most recognizable works of Renaissance art, is on the second floor of the Uffizi Gallery.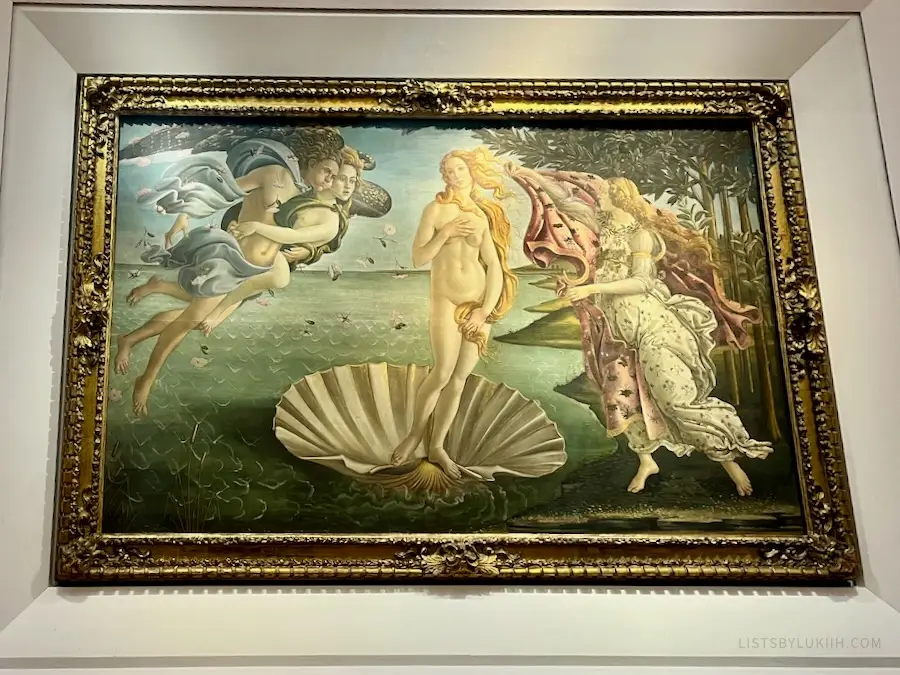 👟 Getting there: The Uffizi Gallery is near the Arno River that runs through Florence.
💰 Expected cost: The art gallery has a €26 (~$28 USD) entrance fee.
This well-reviewed guided tour includes the fast-track entrance fee ticket and gives you the opportunity to learn about the art more intimately.
⏰ Suggested duration: You can spend two to three hours walking through the Uffizi Gallery's three floors.
🍀 My take: It was remarkable seeing some of art history's most famous pieces in the Uffizi Gallery in person. The area outside of the gallery is also great to walk through as several street artists sell their work there as souvenirs.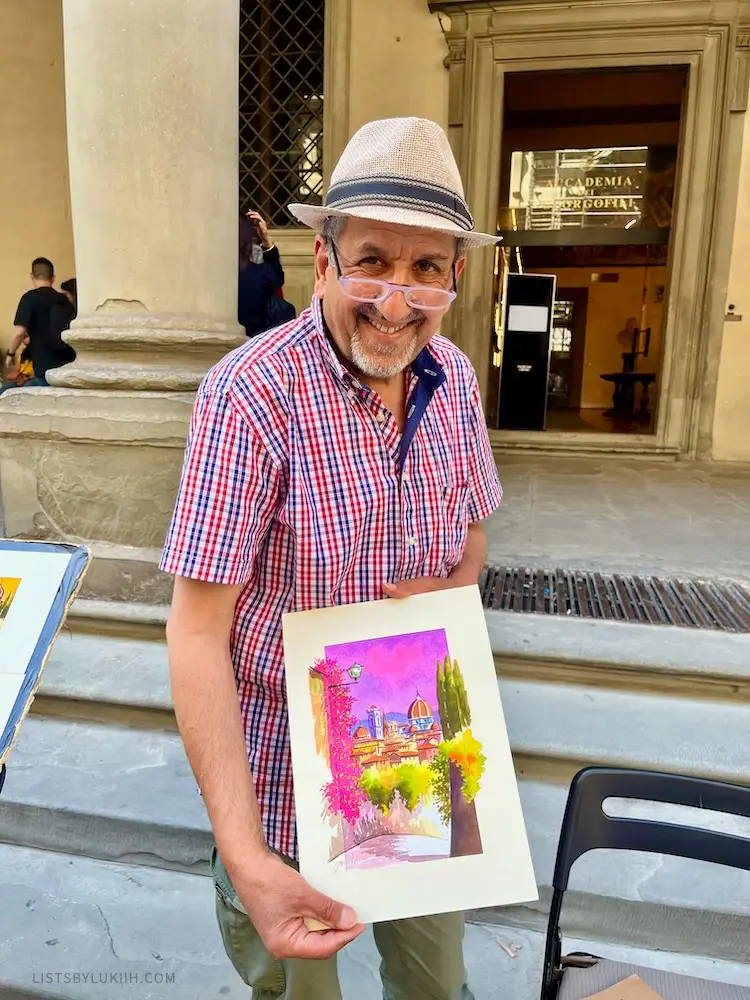 Stop #3: All'Atico Vinaio
After the Uffizi Gallery, walk two minutes to a salami sandwich shop for lunch.
🤔 Why: One of my tastiest discoveries in Florence was All'Antico Vinaio, an extremely popular sandwich shop with no indoor seating. People buy sandwiches and sit down near the pedestrian-only sidewalks to eat them.
The All'Antico Vinaio line is extremely long, but it moves fairly fast.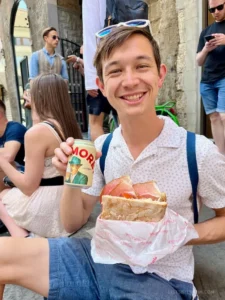 💰 Expected cost: A sandwich here runs €7 to €11 (about $8 to $12 USD).
🍀 My take: I highly recommend making a stop at All'Antico Vinaio for lunch before heading on to a wine-tasting tour. The sandwich was one of my favorite things I ate in Italy with its fresh salami and cheese.
Stop #4: Tuscan Wine-Tasting Tour
After lunch, take a wine-tasting tour in the Tuscan region.
🤔 Why: Tuscany is famous for its wine-making excellence. Florence's proximity to it makes it the perfect place to access the countryside. Many wine-tasting tours will also include Tuscan food like bruschetta and fresh cheese.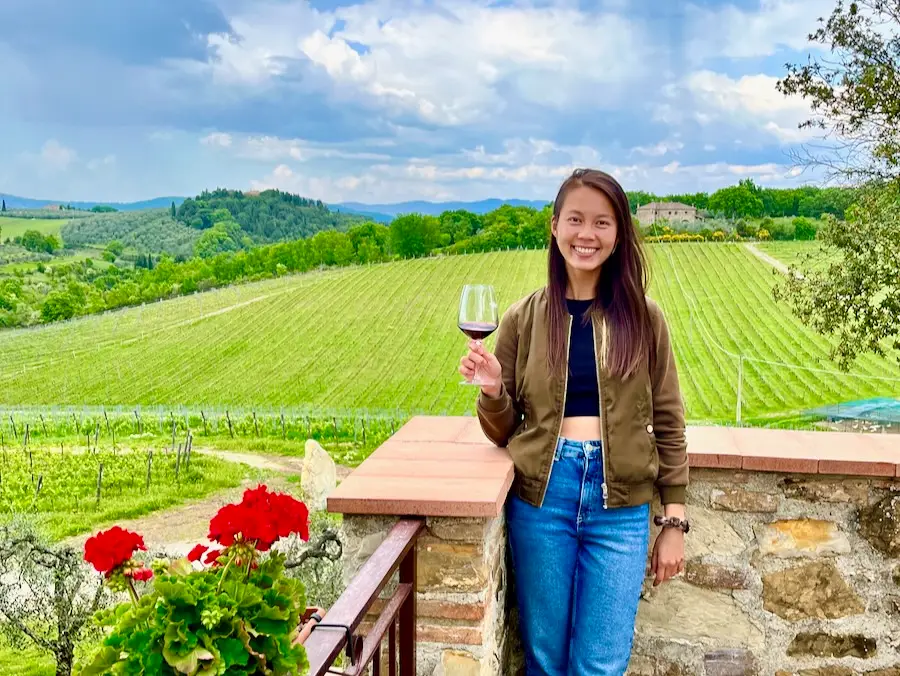 🚌 Getting there: I went on this small-group wine-tasting tour that was well-run, tasty and informative. You can access the Tuscan countryside through other tours or by renting a car (which is only worthwhile if you plan to stay multiple days in Tuscany).
An alternative tour is to bike through the Tuscan wine country. If I was to take a second winery tour in Florence, biking through Tuscany would be my preferred activity.
💰 Expected cost: A wine-tasting tour in Florence will cost between $30 to $200 USD, depending on the length of the tour and whether they provide transportation to the Tuscany countryside.
⏰ Duration: A typical wine-tasting tour that leaves Florence is at least two hours long. My tour was five hours long, including transportation time.
🍀 My take: My Florence wine-tasting tour at two Tuscany wineries significantly upgraded my wine knowledge and made me appreciate Chianti Classico wine.
Stop #5: Florentine Steak
For dinner, eat traditional Florentine food.
🤔 Why: One of Florence's most famous food is the Florentine steak, also called "Bistecca alla Fiorentina". This is a renowned, traditional Tuscan high-quality and thick-cut steak seasoned with salt and served rare or medium-rare.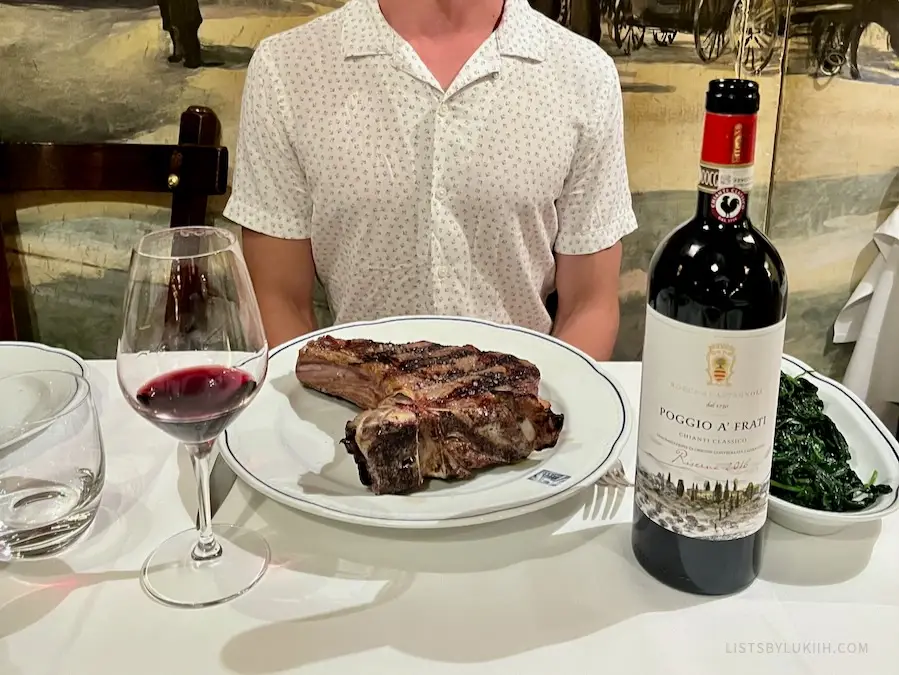 Most restaurants serving Florentine steak are fancier and will require advanced reservations.
🍀 My take: I tried the Florentine steak at Buca Lapi and recommend the experience to meat lovers. If you're a vegetarian, you can try other Florentine foods such as ribollita (a rustic vegetable soup), pappa al pomodoro (another flavorful vegetable soup) or tagliatelle al Tartufo (a pasta served with a truffle sauce).
Day 3: Oltrarno
On your third day in Florence, cross over to Oltrarno, the south side of the Arno River.
Stop #1: Ponte Vecchio
Start your last day by crossing an iconic landmark.
🤔 Why: Ponte Vecchio, which translates to "Old Bridge", is an iconic bridge over the Arno River. The bridge not only has historic significance, but it's also a busy commercial hub lined with shops selling jewelry, luxury goods and souvenirs.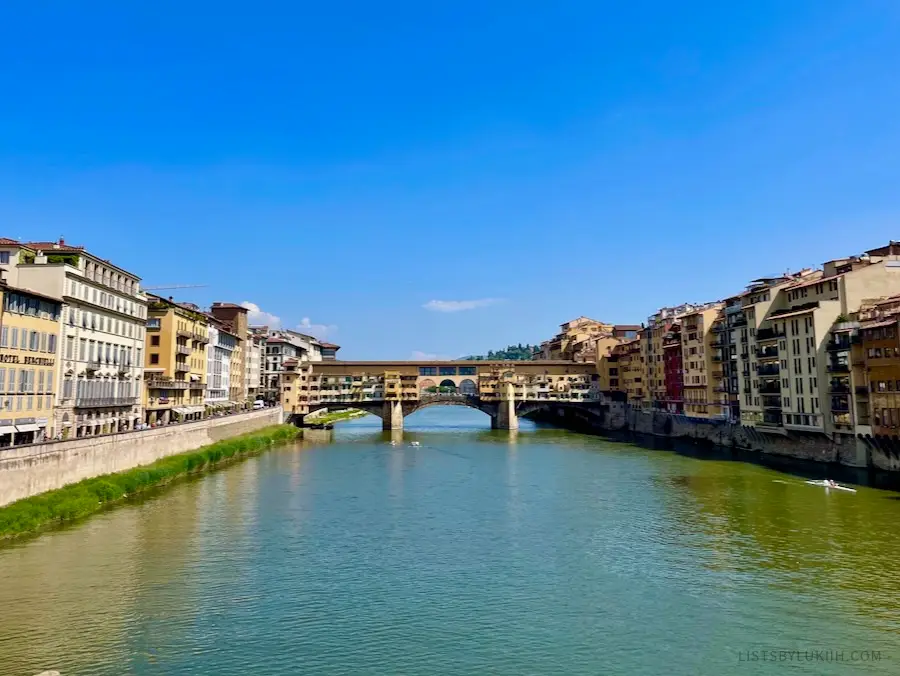 👟 Getting there: Ponte Vecchio is a two-minute walk from the Uffizi Gallery.
💰 Expected cost: The bridge does not have an entrance fee, so it's free, but expect the shops on it to have medium to high price tags.
⏰ Suggested duration: You can quickly walk through Ponte Vecchio in less than five minutes if you don't plan to window shop or buy anything. Otherwise, it's easy to spend over 30 minutes shopping or browsing.
🍀 My take: I found Ponte Vecchio to be a bit touristy and too crowded for my preference at the time I visited, but it was memorable to press my way through all the businesses and shops. Ponte alle Grazie is a much more quiet, local bridge to walk to the other side of the river.
Stop #2: Pasta-Making Class
Next, go to a pasta-making class somewhere in Florence.
🤔 Why: Florence is one of the best places in Italy to take a pasta-making class. While it's not the food capital of Italy (Bologna is), you can learn to make Tuscan pasta specialties such as pappardelle and ravioli.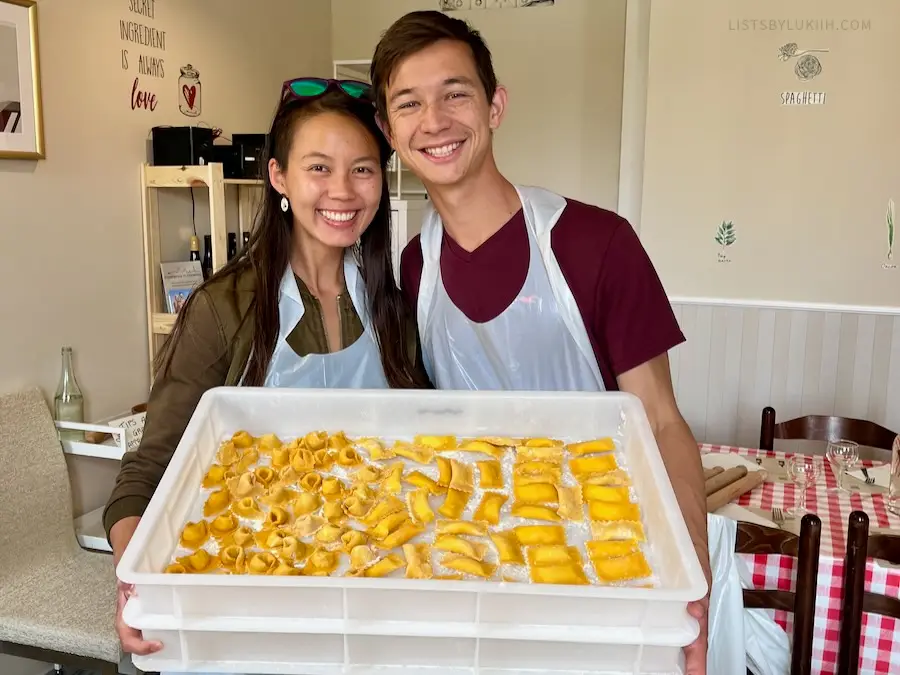 🥾 Getting there: I took this extremely well-rated pasta-making class that I highly recommend.
💰 Expected cost: Most pasta-making classes in Florence start at $50 USD.
⏰ Duration: A typical pasta-making class in Florence lasts three to four hours and that usually includes eating a meal.
🍀 My take: My Florence pasta-making class is one of the most informative cooking classes I've ever taken. Many cooking classes around the world are more experience-based where it's difficult to replicate the meal (due to an ingredient or complexity constraint), but this class taught some solid basics around pasta-making.
Stop #3: The Boboli Gardens and Pitti Palace
After eating the pasta you make, take a stroll through some gardens.
🤔 Why: The Boboli Garden is a masterpiece of landscape architecture and represents an early example of the Italian formal garden style. The entrance to the gardens is the Pitti Palace, or "Palazzo Pitti", where you can see the highly-decorated royal apartments.
🥾 Getting there: The Boboli Gardens and Pitti Palace are located on the south side of the Arno River.
💰 Expected cost: The entrance fee to the garden costs €11 (~$12 USD) and a combined palace and garden ticket is €23 (~$25 USD).
⏰ Suggested duration: You can spend one to three hours walking through the garden and palace, depending on your interest.
🍀 My take: Truthfully, the Boboli Gardens was the most underwhelming attraction I saw in Florence, partially because I didn't understand what early Italian formal garden style meant. Expect to see a lot of sculptures and well-kept hedges, but not many flowers.
Since I was underwhelmed by the Boboli Gardens, I left early and instead enjoyed a nice glass of wine and a plate of prosciutto at a nearby wine bar, Enoteca Pitti Gola e Cantina, which was a great experience.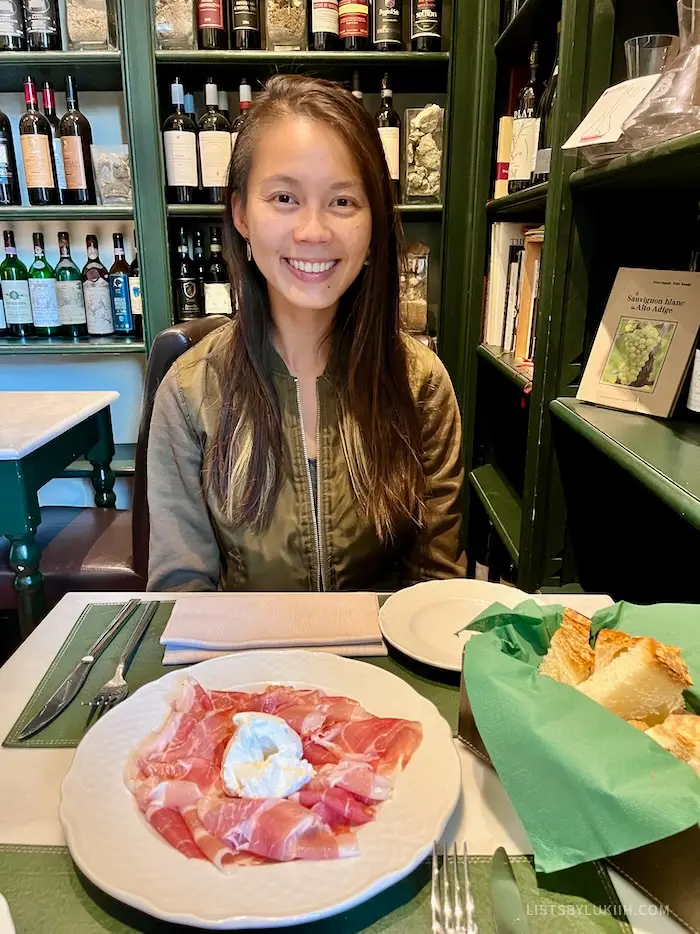 Stop #4: Giardino delle Rose
If you'd rather see flowers, skip the Boboli Gardens and go to the lesser well-known Rose Garden.
🤔 Why: The Giardino delle Rose is a beautiful garden filled with roses of different colors. Parts of the garden are on a hill, giving you a nice view of Florence.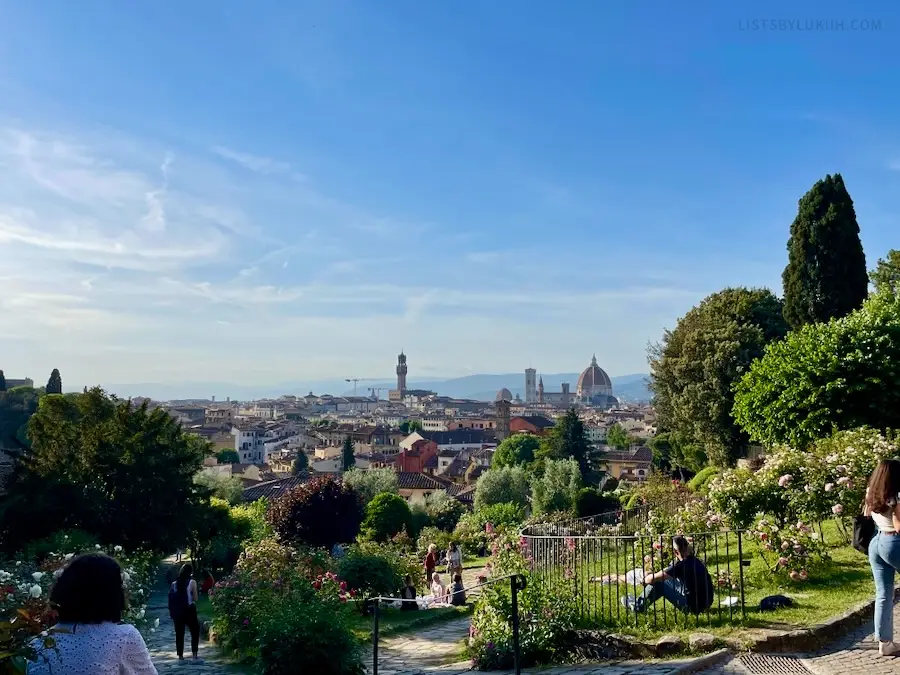 🥾 Getting there: The Rose Garden is a five-minute walk from the next itinerary stop, Piazzale Michelangelo.
💰 Expected cost: The rose garden has no entrance fee, so it's free.
⏰ Duration: You can spend 30 to 45 minutes walking through the garden.
🍀 My take: I personally enjoyed the rose garden much more than the famous Boboli Gardens. Prioritize the Boboli Gardens if you like more history and looking at well-manicured hedges, and the Rose Garden if you prefer to see flowers.
Stop #5: Piazzale Michelangelo
On your last day, catch the sunset from one of the best places to see it in Florence.
🤔 Why: Piazzale Michelangelo is a large square on a hill that gives you spectacular views of the city of Florence. Unlike the view from Brunelleschi's Dome, you can see the Duomo as part of the skyline from here.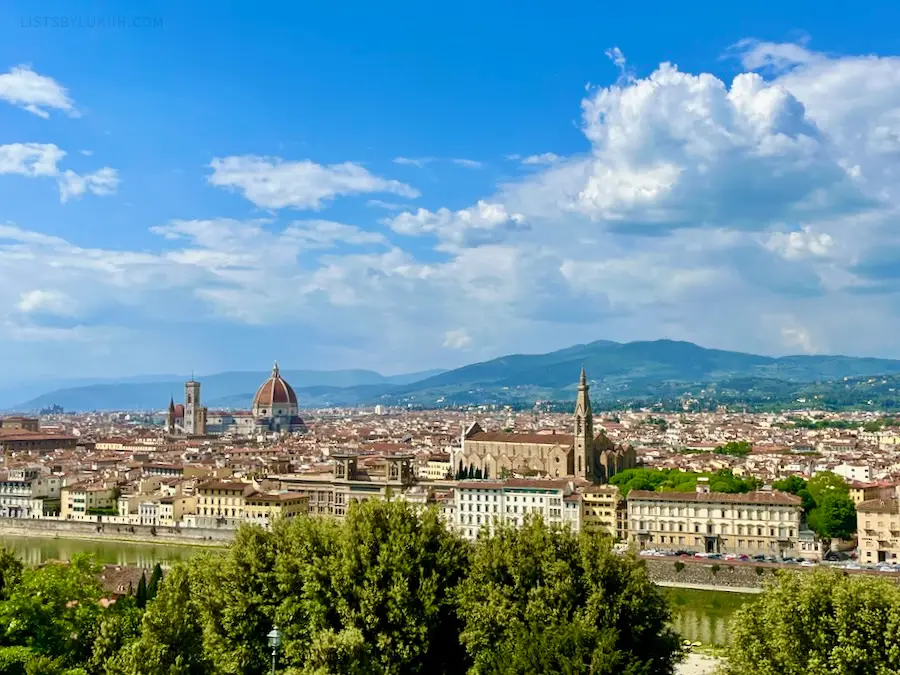 🥾 Getting there: Piazzale Michelangelo is located on a hill with somewhat of a steep climb.
The viewpoint and stairs of Piazzale Michelangelo are popular sunset spots so you need to get there 30 to 45 minutes before the sunset to grab a great spot.
💰 Expected cost: Piazzale Michelangelo has no entrance fee, so it's free.
⏰ Duration: You can spend anywhere from 20 minutes to an hour admiring the views from this plaza.
🍀 My take: I visited Piazzale Michelangelo twice at two different points of the day and agree that it gives you the best view of Florence because it includes the iconic Duomo.
Accommodations in Florence
Florence has several neighborhoods you can stay in. Here are some of the most popular areas to find accommodations:
Historic Center
📍 Location: The historic center of Florence is where the Duomo is located and it's a lively area.
⭐️ Pros/Cons: You'll have access to a lot of great shops and restaurants, but it will be busy from early morning to late at night. It's also a very touristy area.
💰 Accommodation cost: Hotels in the historic center will typically be more expensive. It'll be challenging to find anything under $130 a night during the peak season. Hotel De Lanzi has a great view of the Duomo and it's one of the cheaper hotels in the area.
Santa Maria Novella
📍 Location: Conveniently located near Florence's main train station, the Santa Maria Novella area is walking distance from the historic center.
⭐️ Pros/Cons: Santa Maria Novella is the area I stayed at. I stayed at Hotel Montreal, which is a no-frills hotel. It's a great value for its location and it's good for visitors like me who don't plan to stay inside for most of their trip.
💰 Accommodation cost: I paid $65 per person per night at Hotel Montreal when I visited in the spring season.
A nearby, non-Italian restaurant I ate at several times was SIG.RISO, which serves solid Chinese food at very affordable prices. I went there each time I got tired of Italian food after traveling in the country for over two weeks.
Oltrarno
📍 Location: Oltrarno is the area across the Arno River where the Boboli Gardens is located.
⭐️ Pros/Cons: Oltrarno is a quieter, more residential option to stay at, but you'll be further away from a few of Florence's major attractions, like the Duomo.
💰 Accommodation cost: Oltrarno's prices are quite high, with most hotels near the Arno River being higher than $200 per night.
San Lorenzo
📍 Located: San Lorenzo is near the Central Market on the north side of the historic center
⭐️ Pros/Cons: San Lorenzo has more street markets and an authentic, local atmosphere. It's still within walking distance of the Duomo complex, but will be a hike to any major attractions near or across the Arno River (e.g., Uffizi Gallery, Piazzale Michelangelo).
💰 Accommodation cost: The San Lorenzo area is generally more budget-friendly. You can find several hotels for less than $200 a night here.
If you have any questions or thoughts, feel free to leave them in the comments below.
🧋 This site is run entirely by me, Lukiih. I spend hours writing each article to ensure its accuracy and conciseness. If you find my site helpful, you can say thanks by buying me bubble tea!