Italy is consistently one of the most visited tourist destinations worldwide. Visitors can see artistic masterpieces and historic landmarks, eat the globally celebrated Italian cuisine and see the country's beautiful coastal villages and canals.
I spent two busy weeks in Italy and in this travel guide, I share practical travel tips that are especially useful for first-time visitors who are planning a trip there.
Disclosure: This post may contain affiliate links. If you make a purchase through them, I may earn a small commission, at no extra cost to you. Thanks for your support!
1. Top Places To Visit in Italy
Below are the best places to visit in Italy and the top things to see and do in each one.
Best Italian Cities
✨ Known For: Italian cities are known to have world-famous historical and architectural attractions as well as bustling city centers lined with shops, cafes and restaurants.
📍 Best Places: Italy's most famous cities are Milan and Venice in Northern Italy, and Florence and Rome in Central Italy.
🖼️ Top Cities and Attractions: Here's a quick overview of the best cities in Italy:
Milan is one of Italy's big cities and is known as the premier fashion capital of the world. It's home to one of the world's most famous artworks, Leonardo da Vinci's The Last Supper, and the iconic Milan Cathedral (Duomo di Milano). You can visit both attractions and increase your knowledge of them with a highly-rated guided tour.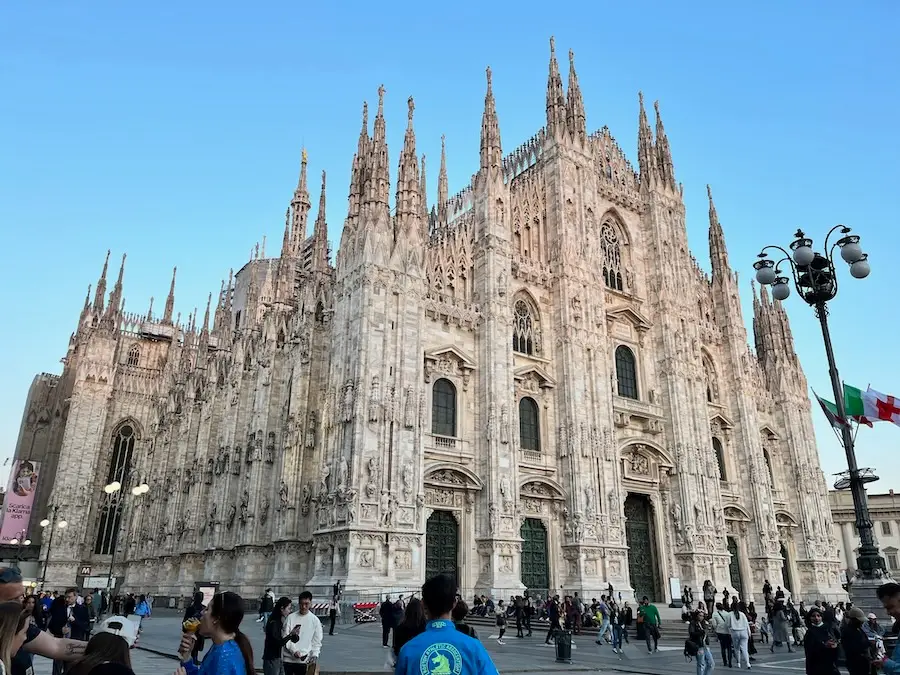 Venice is a city composed of over 100 small islands and is famous for its intricate network of canals, with the Grand Canal being the most famous. Its main attractions include the architectural masterpiece, St. Mark's Basilica, the historically significant Doge's Palace and the iconic Rialto Bridge. Riding a Venetian gondola is also one of Italy's most iconic activities here.
Florence is a beautiful city known as the birthplace of the Renaissance. Its major attractions are the world-famous Uffizi Gallery, the architecture marvel, Duomo di Firenze, and the Accademia Gallery which hosts Michelangelo's David. You can learn about these famous art pieces with an expert.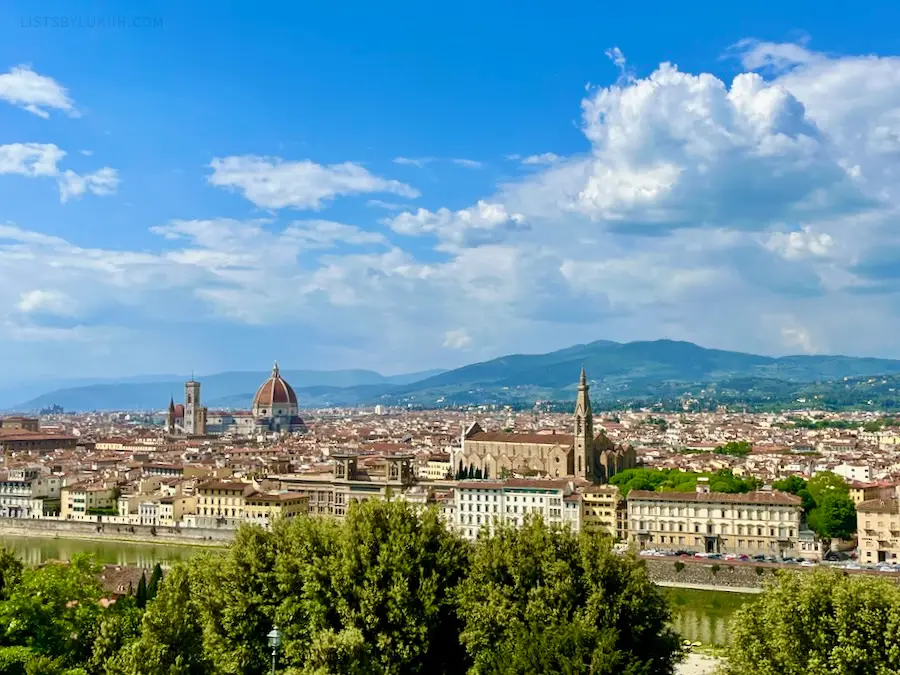 Florence is located in the region of Tuscany, which is known for its beautiful landscapes and wine production excellence. Going wine tasting is one of the best things to do there (I went on this excellent experience.)
Rome is Italy's largest city and also has major historical and cultural significance. Rome's top tourist attractions are the iconic Colosseum, the famous Trevi Fountain and the Spanish Steps. You need special access to see the Colosseum's arena where the gladiators fought.
Rome surrounds the smallest country in the world, Vatican City, which has the famous Sistine Chapel and over 50 Vatican museums. I found that visiting the Sistine Chapel was significantly enhanced with a knowledgeable guide.
You don't need your passport to enter Vatican City as it has an open-border policy with Italy.
🍀 My Experience: I visited all four major cities and found each to be a unique experience. I recommend Milan to shopping enthusiasts, but I otherwise wouldn't stay very long there. Venice, with its many canals, was the most unique one and I enjoyed the gondola ride more than I expected. Florence is a great place that can be visited in two or three days and Rome has the most things to do.
One of the most spectacular things about Italian cities is their historical significance, so many of their attractions are particularly enhanced with guided tours. They also tend to have long lines, so skip-the-line tickets are sometimes worth it.
Best Places With Nature
✨ Known For: Italy boasts a lot of places with stunning nature and these areas are known for their stunning coastlines, spectacular lakes and breathtaking mountains.
📍 Best Places: Italy's most famous natural areas are the Italian Alps, the lakeshores of Lake Como and the picturesque coastal areas of Cinque Terre and the Amalfi Coast.
🌊 Top Areas and Attractions: Here's a quick overview of the best places with nature in Italy:
The Italian Alps in Northern Italy are known for their breathtaking mountain peaks and outdoor activities, particularly skiing, hiking, snowboarding and rock climbing. The Dolomites, a stunning mountain range, is one of the most popular areas to visit.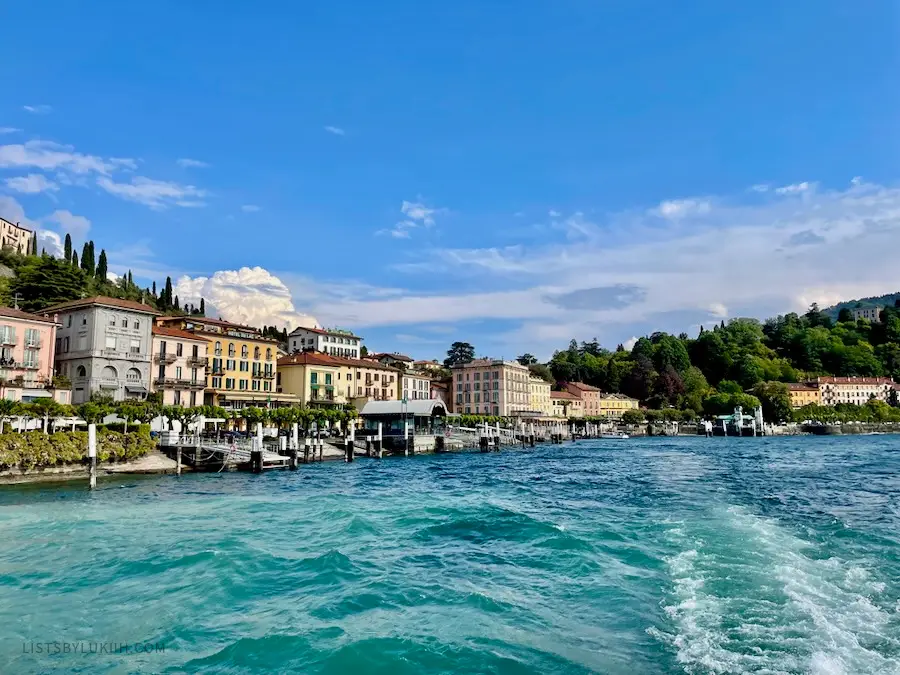 Further east, Lake Garda is the country's second most popular lakeshore and Italy's largest lake. It's a great option for visitors who enjoy water activities (e.g., windsurfing, kayaking, sailing) and outdoor activities (e.g., hiking, biking).
Cinque Terre is a UNESCO World Heritage Site comprised of five picturesque villages perched on dramatic mountain cliffs. One of the best ways to visit it is by hiking through the villages and briefly visiting each one.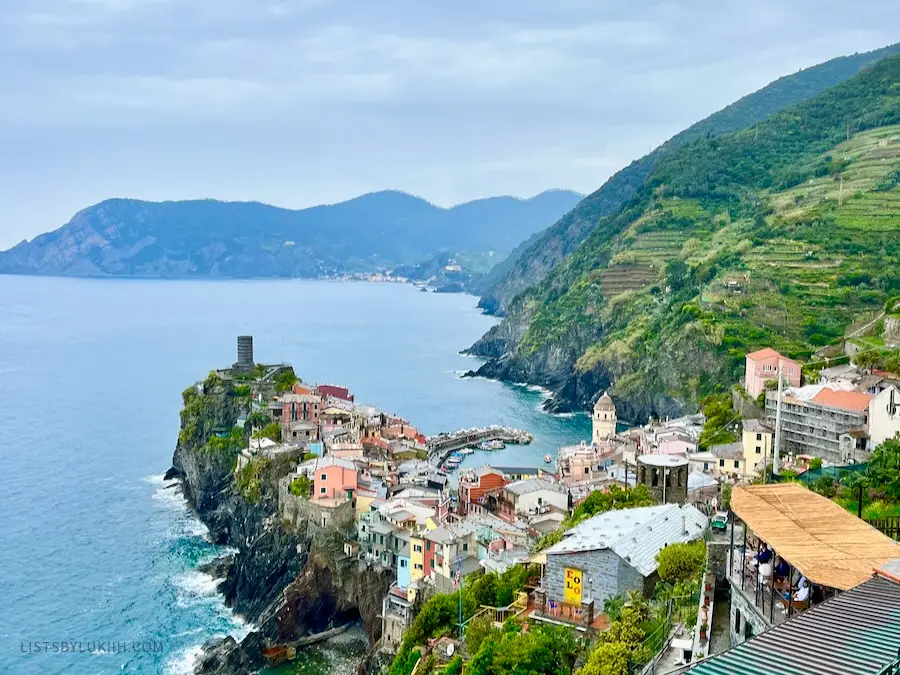 When taking the train from Cinque Terre to Florence, you can get off at Pisa S. Rossore train station for a quick stop to see the famous Leaning Tower of Pisa.
Amalfi Coast is world-famous for its spectacular coastal landscapes that offer some of the most beautiful views in the world. The picturesque small towns, particularly Amalfi Town, Positano and Ravello, are the top attractions in this area.
🍀 My Experience: I visited Lake Como and Cinque Terre during my Italy trip and enjoyed them more than the Italian cities because of the stunning views. Hiking through Cinque Terre was the best experience of my trip due to the breathtaking views and natural landscape. It's simply a beautiful place.
2. When To Visit Italy
☀️ Best Time To Visit: The best time to visit Italy is during the spring and fall seasons (i.e., the shoulder seasons).
However, the weather can vary by region and there are good reasons to visit Italy during the winter or summer peak season.
🍃 Seasons: Here's a quick overview of Italy's four seasons:
During the spring season (March to June), you'll experience pleasant, cool temperatures ranging from 46°F to 79°F. There will be fewer crowds and Italy's picturesque, natural areas will be lush.
The summer season (July to August) is the high season where you'll experience warmer temperatures (63°F to 90°F) and peak crowds. Coastal areas, lakeshores and beach destinations are extremely popular during this time.
During the fall season (September to October), you'll experience pleasant, cool temperatures (45°F to 80°F) and fewer crowds. There's an increase in rainfall in the later months, but you'll still get sunny days in between.
The winter season (November to February) is Italy's low season with temperatures of 32°F to 45°F. This is a good time to get the best deals and experience Italy with a more authentic atmosphere as there are significantly fewer tourists. Parts of Northern Italy might experience some snow during the winter months.
🍀 My Experience: I traveled to Italy in May during the spring season and experienced a mix of cool, sunny weather with a few intermittent rain showers that didn't alter my plans. During my two-week trip, I wore everything from a puff jacket to t-shirts.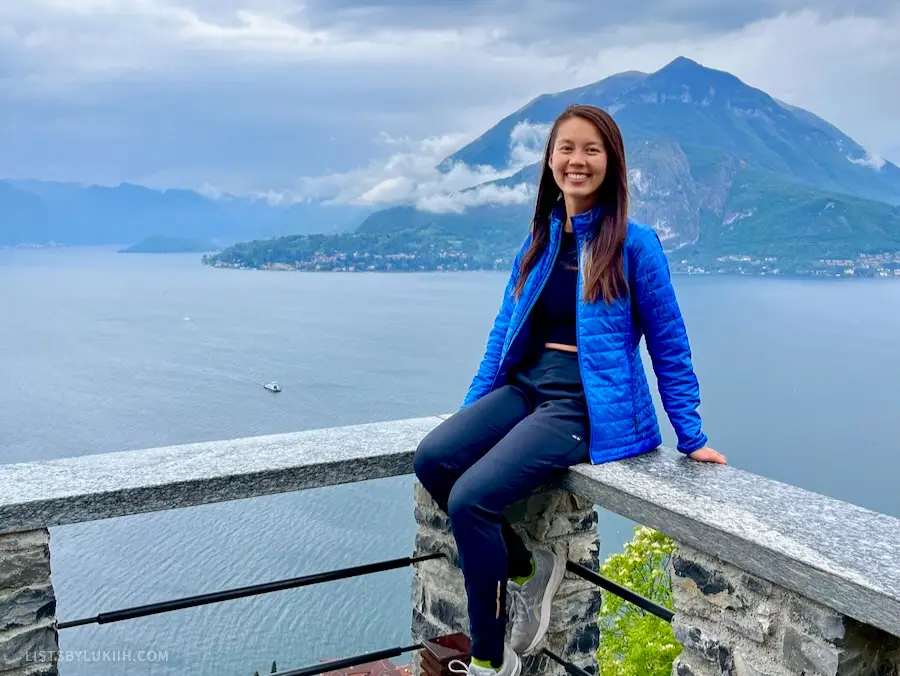 3. How Long To Visit Italy
🗓️ Ideal Duration: A well-rounded Italy trip can take anywhere from two to three weeks depending on how many areas you want to visit.
With one week in Italy, you'll mainly be able to visit some cities and their city center highlights. Rome, Florence and Venice are typically good cities to see on your first trip.
Italy has very diverse landscapes (e.g., modern cities like Milan, historic cities like Florence, lakeshores like Lake Como, and coastal areas like Almafi Coast). You'll need closer to two weeks to see each type of landscape for a minimum of two days each.
With three weeks or more, you'll have enough time to thoroughly explore each region of the country without running out of things to see and do.
🍀 My Experience: I spent two weeks in Italy visiting eight areas in the northern and central regions doing an Italy itinerary similar to this one. Having now done the trip, I think I could have visited at least one area in Southern Italy during that timeframe. However, with more time, I was able to check out some less touristy places like this rose garden in Florence: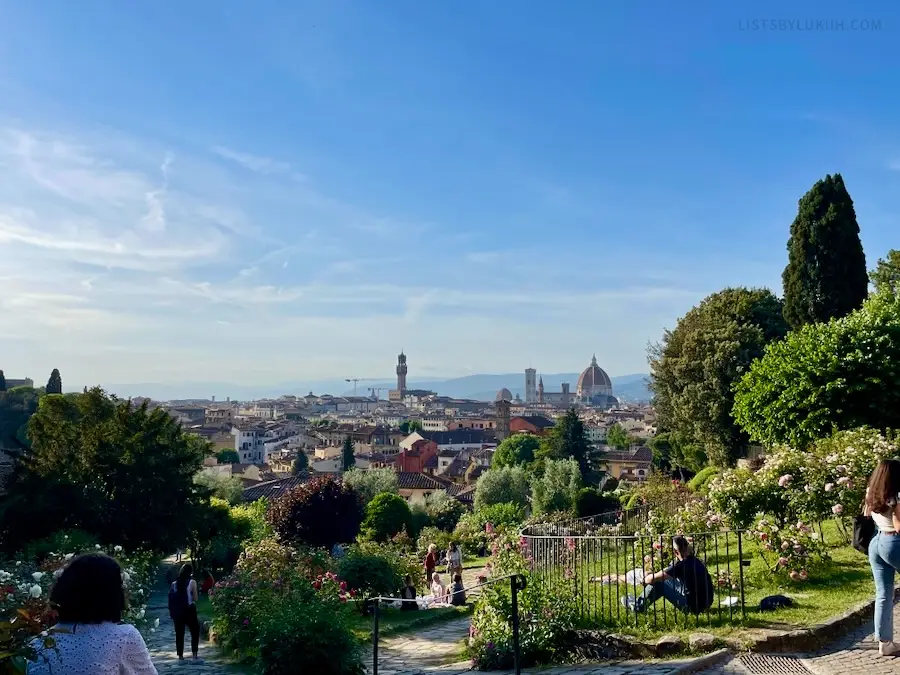 4. Visa Requirements for Italy
🛃 Visa: A tourist visa is not required for United States citizens visiting Italy for up to 90 days.
Starting in 2024, United States travelers will need to meet a new travel authorization requirement called ETIAS to enter Italy.
✈️ Passport: The US government also recommends that your passport be valid for 6 months from the start of your Italy trip so that you don't have any issues getting in.
🍀 My Experience: I flew into Milan, Italy from the United States and had no issues with paperwork as an American citizen with a valid passport.
5. Budgeting and Costs for Italy
💰 Cost Ranking: Italy is a semi-expensive country to visit in Europe. Several other European countries are slightly more affordable (e.g., Portugal, Spain, Netherlands). However, Italy is not as expensive as Switzerland, Iceland or the United Kingdom.
💵 Expected Budget: Budget travelers can expect to spend about $70 per day and mid-range budget travelers, such as myself, can expect to spend approximately $150 per day in Italy, excluding flights.
🍀 My Experience: I share all my travel expenses in this Italy budget breakdown. As an American, I was sometimes surprised by how cheap some things were (e.g., cappuccinos were often under $2, and high-speed trains were sometimes only $15 per ride).
6. Cash and Tipping in Italy
💰 Currency: Italy's local currency is the euro (EUR). The US dollar is not widely accepted, so make sure to exchange currencies. The exchange rate was $1 USD = €0.92 at the time of writing.
💳 Credit Cards: Italy has a good credit card infrastructure and major credit cards are widely accepted. However, there will be a few instances where you'll need cash for smaller towns and businesses.
American Express is not as widely accepted as Mastercard or Visa in Italy, so make sure it isn't the only credit card you bring. An estimated 40% of retailers and restaurants won't accept American Express in Italy.
💵 Tipping Etiquette: Tipping is not mandatory nor expected in Italy, but it's appreciated. Tour guides will gladly accept a 5% to 10% tip and some free walking tours operate on a tip basis.
Many restaurants have a cover charge (usually €2 to €4) called a coperto when you dine in.
🍀 My Experience: I was able to use my Visa credit card in most places in Italy with a few exceptions, such as small cafes. Some Italian places (e.g., Cinque Terre, Venice) have Airbnb city taxes which you'll have to pay in cash. My most expensive cash purchase was my gondola ride in Venice.
7. How To Get Around in Italy
There are several ways to get around Italy and you can easily travel around the country without having to rent a car.
✈️ Airports: Italy has several major airports and nine international ones. Its main ones are Milan Malpensa Airport (MXP) and Rome Fiumicino "Leonardo da Vinci" Airport (FCO).
You can take domestic flights around Italy, but the best way to get around is by train as the country has a very well-run train system.
🚆 Trains: Italy has a well-maintained train system primarily operated by Trenitalia that will conveniently get you to many places around the country.
High-speed trains serve major cities throughout Italy and run on their own set of train tracks.
Regional trains are much slower trains, but will reach almost any part of the country.
You can buy train tickets in person or online. I found buying train tickets on Trenitalia's website easy and convenient. Some visitors also seem to have issues validating their physical tickets when bought in person, so I recommend buying train tickets online.
🚌 Bus: Italy doesn't have a national bus system that covers the entire country, but it has multiple regional buses that will take you to smaller areas not easily accessible by train. Many of these buses will be difficult to research online as their websites are often not in English.
🚇 Public Transportation: Major cities like Milan and Rome have extensive metro systems to get around. For updated metro timetables and fares, here are Milan's and Rome's official websites.
🚕 Taxis: To get around a city or town, taxis and ridesharing apps like Uber are available in major destinations in Italy.
The highly-rated airport transfer service, Welcome Pickups, is also a great option if you want to have your ride ready when you land in Milan or Rome. They provide English-speaking local drivers for the same price as a regular taxi.
🚙 Rental Cars: You can rent a car in Italy if you want to take an off-the-beaten-path road trip. You need an International Driver's License in Italy to drive. Keep in mind that driving in cities can be hectic and parking can be difficult. In some places, like Cinque Terre, driving is not recommended.
👟 Walking: Like many European cities, walking is a great way to get around cities and towns in Italy as there are many pedestrian-friendly streets. Wear comfortable shoes as you'll likely be on your feet for hours.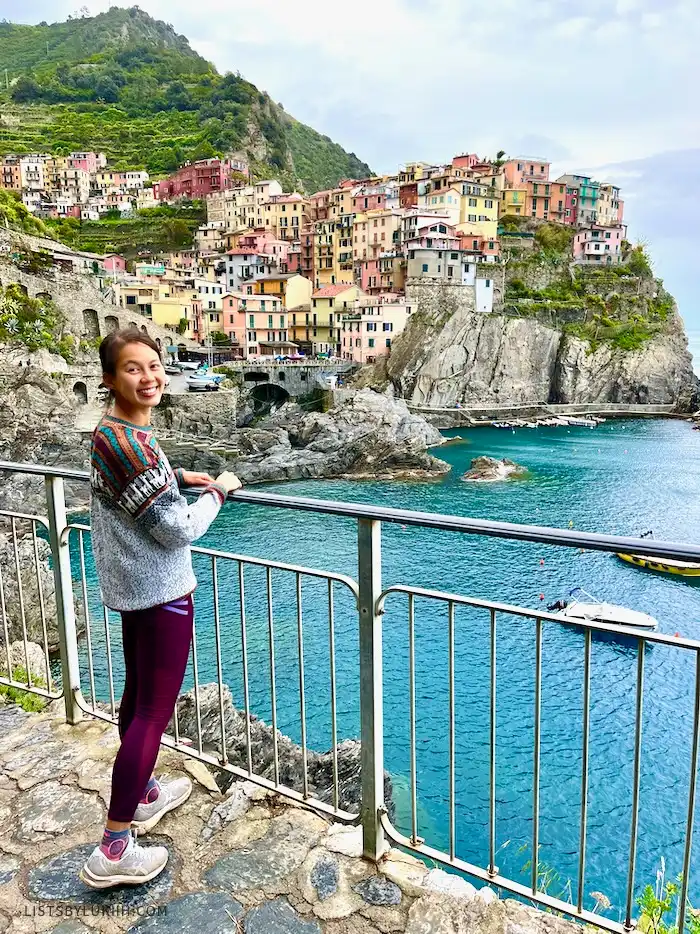 🍀 My Experience: I relied on Trenitalia's trains to travel around Italy and found their high-speed trains convenient and easy to navigate. The train rides were often smooth and scenic. The only other transportation I took was a ferry in Lake Como, and a bus and metro in Rome and Milan.
I recommend downloading WhatsApp to make it easier to get around Italy. Many places (e.g., restaurants for reservations, hotel concierges, tour guides) use it to communicate.
8. Safety and Scams in Italy
⚠️ Safety Rating: Italy is considered a safe country to travel to. It has a travel advisory level of 2 per the US Department of State and is ranked #34 out of #163 safest countries by the Global Peace Index (for reference, the United States is ranked #131).
🥷🏻 Common Crimes: The most common crimes against tourists in Italy are nonviolent and include petty theft, bag snatching, pickpocketing and ATM fraud.
💎 Common Scams: These are some common scams to watch out for in Italy, especially in tourist cities:
The rose scam involves the scammer handing your travel companion (usually a woman) a flower or rose and then demanding payment for it.
The bracelet scam involves the scammer tying a "lucky" bracelet around your wrist and then demanding payment for it.
The fake policeman scam involves scammers posing as police officers asking to see your ID.
Many popular tourist areas will also sell overpriced goods (e.g., jewelry, artwork) that are not authentic.
The ruined painting scam involves the scammer putting printed paintings on the sidewalks and then demanding payment if you step and "ruin" them.
🍀 My Experience: Italy is where I experienced the highest number of scammers, so it's a good idea to be alert and skeptical of people approaching you.
In Milan, while leaving my hotel unit, a man said he was locked out of his unit and asked for money to help him get a locksmith. Another scammer managed to put a bracelet on me and when I refused to pay, he became irritated and walked away.
In Rome, several scammers tried to hand my travel companion and me a rose. We also saw many scammers pretending to sell genuine paintings that were just printed copies.
In Venice, many locals were walking around the popular St. Mark's Square trying to sell unofficial tour guides and it's unclear whether they're legitimate.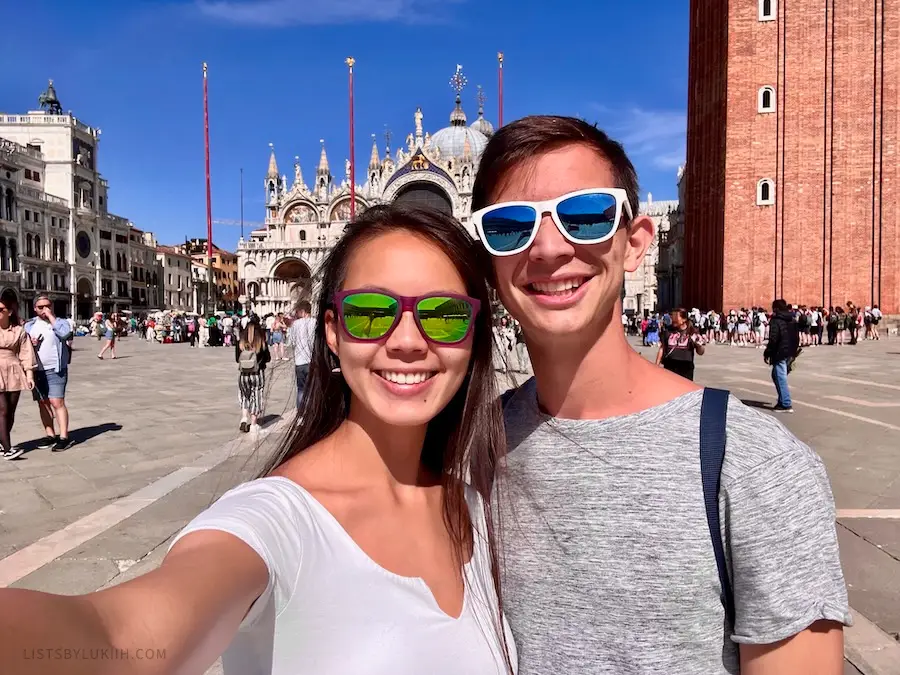 9. Health Concerns in Italy
💧 Tap Water: Italy's tap water is safe to drink and you'll see that cities have many public fountains available everywhere.
Decorative fountains and fountains with the sign "acqua non potabile" have water that is not safe to drink.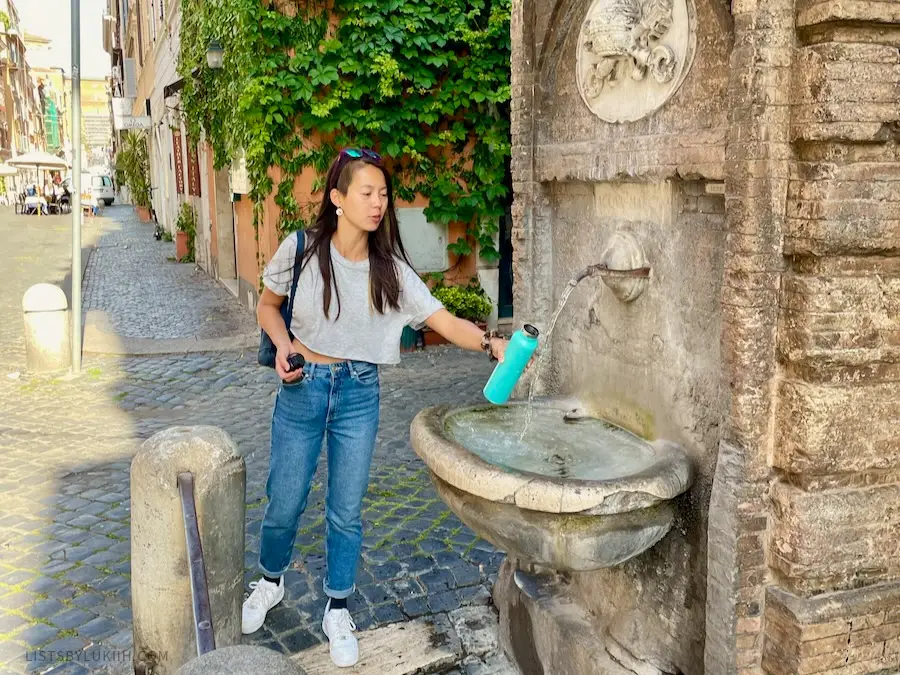 🦟 Mosquitos: Italy has some disease-carrying mosquitoes, especially during the summer months, so visitors should protect themselves.
🍀 My Experience: I found that Italy's tap water, including water from public fountains, is refreshing and often cold, so I carried around my insulated, reusable water bottle. I sometimes couldn't tell if a fountain was a drinking fountain, so as a general rule of thumb, I tried to observe if any locals were using it and then followed suit.
10. Speaking English in Italy
🗣️ Language: Italy's official language is Italian. About 30% of Italy's population speaks English, which is probably lower than you would expect for such a popular destination. Most locals living in non-tourist areas do not speak any English.
🇮🇹 Italian Phrases: It's considered polite to use basic Italian greetings in Italy. Some Italian phrases to learn are:
🍀 My Experience: It was harder to navigate Italy than I expected with just knowing English. Smaller cities, like Modena and Parma, had several restaurants where the staff didn't speak any English, so I used Google Translate and images to get by, but ended up ordering the wrong item sometimes.
11. Cultural Differences in Italy
🍝 Cultural Differences: Be aware of some Italian cultural differences that may impact your trip:
Italians eat at much later times compared to Americans. Lunch is considered the main meal of the day and usually starts at 1 pm. Dinner tends to start at 9 pm and you'll find that many restaurants don't open for dinner until as late as 7 pm.
One of my biggest lessons learned in Italy is that there's always a long wait for good restaurants in bigger cities (e.g., Milan, Florence). Make sure to make restaurant reservations. Otherwise, you might get stuck waiting for hours or eating at more touristy restaurants, which are usually less authentic and more expensive.
Italians feel more comfortable standing closer together than Americans do. When talking or walking by a local, don't be surprised if they're closer than you expect.
Bargaining is not as common as you would expect from a tourist country like Italy. When you go shopping, even at markets, prices are generally fixed.
Lines are less orderly compared to lines found in America and especially in Asia. Don't be surprised if you need to jostle a bit to keep your place in line.
🍀 My Experience: I experienced most of the cultural differences mentioned above while in Italy:
I had to adjust my eating schedule to a later time and found myself snacking a lot between lunch and dinner. This was not a terrible thing because of all the available gelato and prosciutto shops, which were delicious.
When hiking in Cinque Terre and walking around the major crowded city areas, I noticed that locals weren't afraid to press past me.
While waiting to board transportation, there was rarely a clear line and many people would just squeeze themselves to the front.
12. Italian Food To Eat
🍝 Amazing Food: Italian food is globally known and loved. Visitors joke that you should expect to gain a few pounds when visiting Italy. Here are Italian dishes you shouldn't miss:
No Italy trip is complete without eating a few cones of gelato. Look up highly-rated gelato shops at any destination and you'll be able to find a few excellent ones. Some shops serve unique flavors.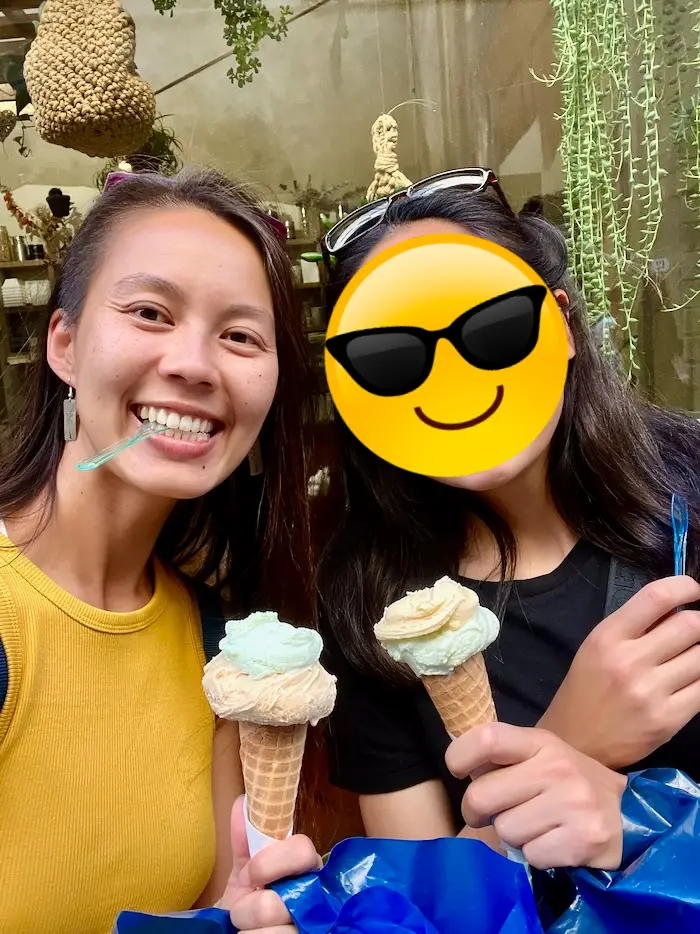 Pasta is, of course, a must-eat in Italy. Different places specialize in different dishes: Rome is known for "Cacio e Pepe", Florence is known for "Pappardelle al Cinghiale" and Amalfi Coast is known for "Scialataielli ai Frutti di Mare".
You can also take a pasta-making class in Italy, as I did in Florence, where chefs teach you the basics of making traditional pasta that you can replicate at home.
It's an Italian tradition to wake up to cappuccino in the morning and have a strong expresso after meals. Coffee in Italy is very affordable compared to a cup in the United States.
Prosciutto and mozzarella originated in Italy and you can eat them as snacks, in sandwiches or other dishes.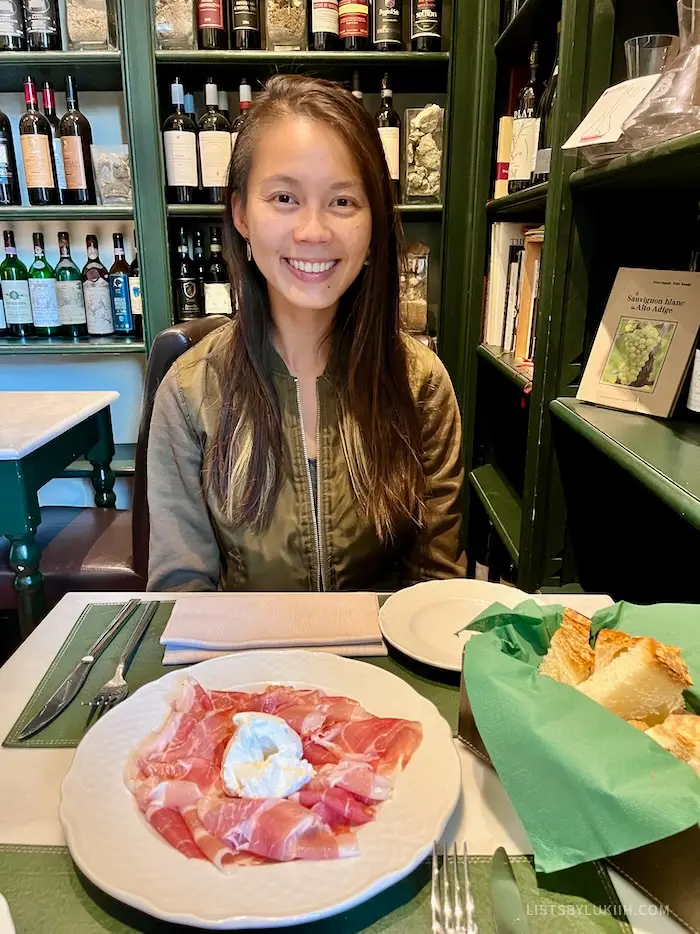 Pizza originated from Naples in Southern Italy and Italian pizza focuses on quality, fresh ingredients with fewer toppings.
The Emilia-Romagna region in Northern Italy is known for its culinary prowess and has some of the best restaurants in the world. I visited Parma and Modena primarily to eat there.
🍀 My Experience: Eating food in Italy is a treat, as many others will tell you. I had my fair share of gelato, pasta and pizza (and ended up having some Chinese food after eating too much pasta). I particularly enjoyed having cicchetti in Venice and prosciutto and Lambrusco in Parma.
13. Guided Tours vs. DIY Trip in Italy
Given that Italy is one of the most visited destinations in the world, almost everything in Italy can be done with a tour.
Here is my advice on independently planning your own trip to Italy vs. traveling with a tour company:
🗓️ Entire Trip: Italy's major destinations are incredibly easy to get to thanks to the country's train system, so I recommend planning a high-level itinerary and booking your own train tickets to travel around the country. Booking your entire trip with a company is a lot more limiting and expensive.
I spent two weeks traveling in Northern and Central Italy doing an itinerary similar to this one.
☀️ Day Trips: Once you're in a city or town, if you want to see the countryside or be on the water that requires vehicle transportation, consider booking a day trip with a tour company as transportation can be more challenging on your own.
For example, you'll need transportation to the Tuscan countryside if you're staying in Florence. I booked this excellent wine-tasting tour that provided bus transportation to get out of the city for a day.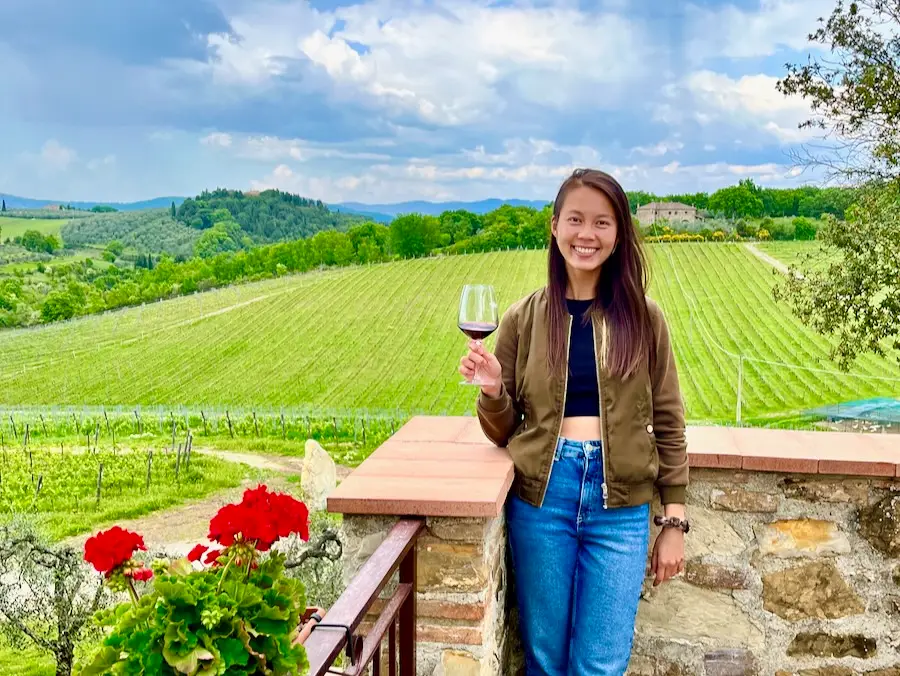 ⛪️ Attractions: Almost every top attraction in Italy has guided tours and the major attractions will have skip-the-line tickets. A lot of what makes Italy's attractions interesting is their historical and cultural background, so I recommend guides for attractions that aren't nature-based.
For example, I wouldn't recommend doing a hiking tour of Cinque Terre (you can easily do it on your own), but I would recommend doing a tour of the Sistine Chapel in Rome, St. Mark's Basilica in Venice and Accademia Gallery in Florence.
Summary: Italy at a Glance
Here's a quick summary of important trip-planning information for Italy:
📍 Popular Destinations: Milan, Venice, Rome, Florence, Cinque Terre, Dolomites, Amalfi Coast
☀️ Best Time To Visit: Spring season (March to June) or fall season (September to October)
🗓️ How Long To Visit: 2-3 weeks to visit several regions
🛃 Visa: Not required for United States citizens visiting for less than 90 days
💰 Currency: The euro. USD is not widely accepted.
💳 Credit Cards: Widely accepted except for Amerian Express; bring a bit of cash
💵 Tipping Etiquette: Not mandatory, but appreciated
💬 Language: Italian; only 30% of locals speak English
🌎 Time Zone: Central European Summer Time (see the current time)
💧 Tap Water: Safe to drink, including at public fountains
🔌 Outlet Type: You'll need a power plug adapter if you're visiting from the United States
🌐 Wi-Fi: Available at most tourist places, but not for social media or video calls
My Google Fi's international plan worked well during my Italy trip. You can get a $20 credit when you use my Google Fi referral code here.
🎒 What To Pack: Sunscreen, mosquito repellent, reusable water bottle, layers
📱 Apps To Download: Google Translate (iOS, Android), WhatsApp (iOS, Android), Trenitalia (iOS + Android)
🏠 Booking Resources: Booking.com for lowest accommodation rates, Viator for great tour experiences
If you have any questions or thoughts, feel free to leave them in the comments below.
🧋 This site is run entirely by me, Lukiih. I spend hours writing each article to ensure its accuracy and conciseness. If you find my site helpful, you can say thanks by buying me bubble tea!