Riding a gondola is one of Venice's most iconic activities. In the 11th century, the Italian city had approximately 10,000 gondolas that were used as transportation through the canals, and today it has about 400 that are exclusively used by tourists.
Knowing its price point, I can't say riding a gondola is a must-do, but I will say I enjoyed it more than I anticipated and would recommend it to most people.
This post shares practical tips on choosing a gondola ride in Venice, provides a map of the best places to catch a ride and considers the different factors that make the experience worth it or not.
Disclosure: This post contains affiliate links. If you make a purchase through them, I may earn a small commission, at no extra cost to you. Thanks for your support!
Venetian Gondola Rides at a Glance
Here is some general information on riding gondolas in Venice:
🛶 What are gondolas: Gondolas are ancient row boats that are now Venice's most famous boats. The Venetian gondola has a unique asymmetrical design that allows it to be maneuvered by one person, the gondolier, with a single oar. They're all painted black by law, but the passenger seats can have custom decoration.
🌟 What's a gondola ride: One of the most popular attractions in Venice is to ride a gondola through the narrow canals and/or the Grand Canal. While on a gondola, visitors can admire the colorful surrounding buildings, enjoy the serene vibe, listen to interesting facts about Venice and be serenaded (but not all gondoliers provide this service).
💰 How much is a gondola ride: A gondola ride starts at 80 euros (roughly $87 at the time of writing). You can split a ride with others to make it more cost-efficient. More details on the cost of a gondola ride are below.
Unless you book a gondola tour online (which I don't think is necessary), you'll need to pay your gondolier in cash, so be sure to bring enough euros. This Italy trip cost breakdown has tips on using cash.
⏳ How long is a gondola ride: A standard gondola ride is 30 minutes, but for an additional fee, you can extend it. Most people don't ride a gondola for longer than an hour.
📍 Where can you ride a gondola: You can catch a gondola ride in any of Venice's six districts, but the majority of them will be near the San Marco district, where the tourists are. See below for a map and tips on where to catch a gondola ride.
🕝 When can you ride a gondola: Gondola rides are available daily from morning to night, typically from 9am to 9pm, with some gondoliers available earlier or later. Tips on timing your gondola ride are below.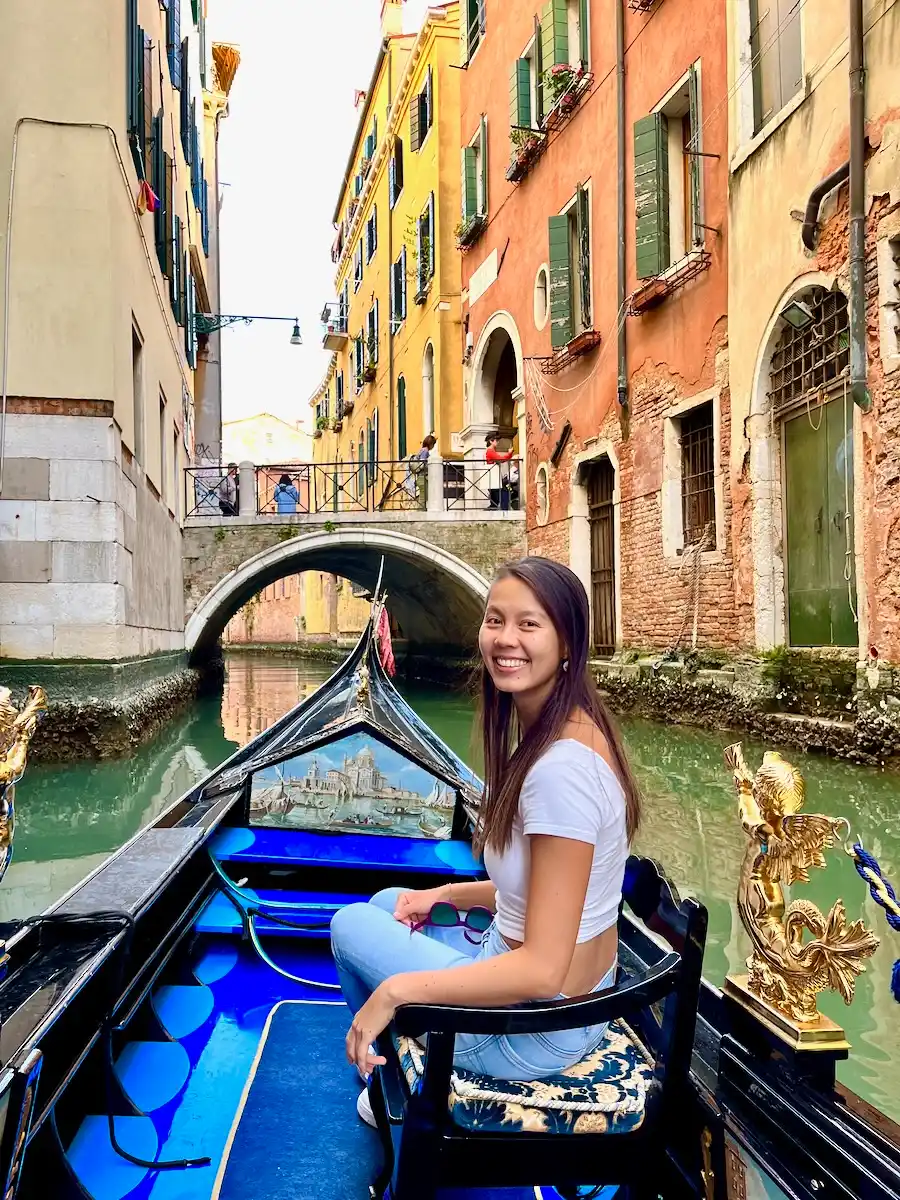 Cost of a Gondola Ride in Venice
The first two practical things to know about riding a gondola in Venice are:
Gondola rides are expensive
The price is non-negotiable
How much is a gondola ride in Venice?
☀️ Before 7pm, a standard 30-minute gondola ride is 80 euros (~$87). You can extend it by 20 minutes for an additional €40 (~$44).
🌙 After 7pm (around sunset), a 30-minute gondola ride increases to 100 euros (~$109). You can extend it by 20 minutes for an additional €50 (~$54).
🎵 If you want a gondolier to sing, it's an additional $20 to $30. Not all gondoliers sing, so if you're hoping for a song, ask beforehand if that's something they do.
A gondola can hold up to 5 passengers and the gondolier. You can find others to split a ride with which will make the per person price cheaper since the flat-rate cost of a ride doesn't change. For example, a gondola ride for two people would be €40 per person for 30 minutes.
| # of Gondola Passengers | Price per Person |
| --- | --- |
| 1 | €80 (~$84) |
| 2 | €40 (~$44) |
| 3 | €26.66 (~$29) |
| 4 | €20 (~$22) |
| 5 | €16 (~$18) |
Price per person for a gondola ride before sunset.
Is it hard to find other riders to split a gondola ride with?
I didn't want to pay for a private gondola ride, so my partner and I waited for 30 minutes and proactively asked passerbys if they wanted to split a ride with us. We ended up not being able to find another person or group and took a private ride instead.
I've since learned that whether it's easy or hard to find other riders to split a gondola with primarily depends on three factors:
Whether it's the low or high season in Venice. Finding fellow riders is easier in the high season when there are more tourists around. Venice's high season runs from April to September.
Your ride's starting location. It's easier to find other riders if you're in a popular tourist area for starting gondola rides (e.g., St. Mark's Square, Rialto Bridge). In fact, in those areas, visitors sometimes have to wait in line for a gondola.

I was in a small, fairly random canal in San Polo (see the green circle in the map below) where most visitors weren't necessarily looking for a gondola ride. I purposely chose a small canal, but it made finding other people to ride with more difficult.
Time of the day. Most people seem to ride a gondola in the late morning, early afternoon or around sunset (for a romantic ride). I was looking for other riders at 6pm, which was not peak riding time and right before sunset where couples were likely waiting for a private sunset tour.
Why is the price of a gondola ride non-negotiable?
Gondola ride prices are fixed at a standard rate by the City of Venice, so they're non-negotiable. You'll see signs that show the standard rate near gondola docking stations.
However, I've heard that you can haggle a bit if you want a ride that's longer than the standard 30 to 50-minute ride.
Why are gondola rides so expensive?
At €80 euros for a 30-minute ride, a gondola ride can feel like a tourist rip-off. Understanding why a gondola ride is so expensive can help you mentally justify the cost (or not):
Gondola boats are hand-made. Each gondola boat is hand-made, takes at least 2 months to make and costs over $43,000. Gondoliers own and maintain their own boats.
There's a limited number of gondoliers. Gondoliers are part of a guild that controls the number of gondolier licenses (there are ~400 in total and a handful are issued every year). At the same time, demand for a gondola ride is high in Venice where visitors have to wait in line in popular places. The laws of economics drive the cost up.
Gondoliers have to go through rigorous training. Becoming a gondolier has its benefits (e.g., earning a ~$150,000 salary), but to become one, you have to go through 400 hours of training over 6 months and pass a major exam that some fail.
Should you tip a gondolier?
Tipping in Italy is not mandatory, but tipping for tour guides is common and gondoliers arguably fall in that category of workers.
If you enjoyed your ride, a 10% tip is standard for a gondolier. If you had an almost full boat, consider at least adding a 5-10% tip similar to a service charge in a restaurant.
I gave my gondolier a 10% tip because I found him knowledgeable, highly entertaining and energetic. Not all gondoliers were like him though. Some seemed tired and jaded with their work, which is why it's worth spending some effort in choosing a good one (more on that below).
All my travel expenses are shared in this Italy trip cost breakdown.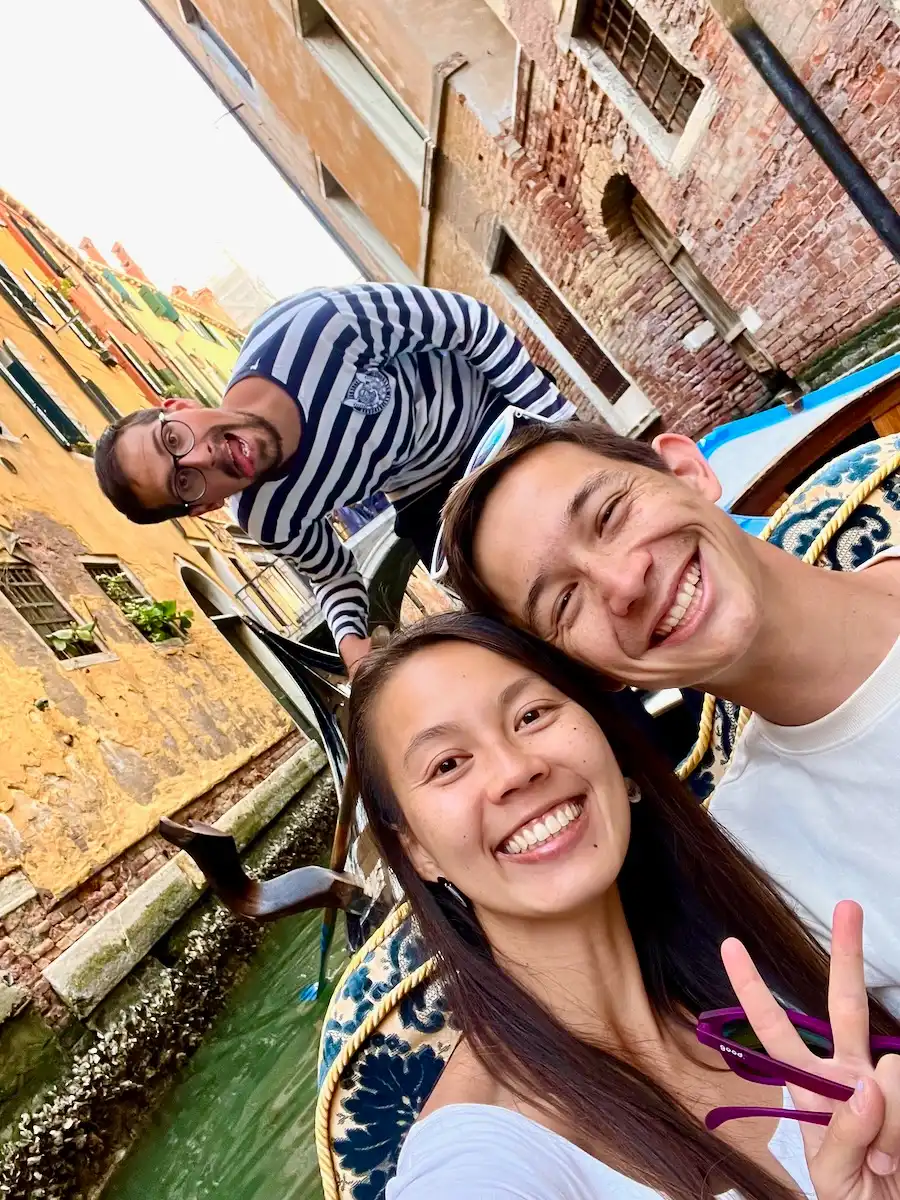 What To Consider When Choosing Your Gondola Ride
Not all gondola ride experiences will be the same. Since the price is fixed and costly, it's worth putting some effort in choosing the right gondola ride for yourself.
The three factors that largely determine whether your experience riding a gondola is great vs. mediocre are:
The Gondolier
Gondoliers vary in knowledge, experience, energy and enthusiasm.
My gondolier was entertaining and energetic, but based on my observation, not all gondoliers were like him. Some looked like they spent more time checking their phones than interacting with their passengers.
Before you decide to get on a gondola, talk to the gondolier for a bit if they're available (they won't be during busy times). Exchanging a few sentences will give you an idea if they're energetic or entertaining.
Fun fact: Due to traditional norms (e.g., the gondolier role is historically handed down from father to son), all but one gondolier today is a woman. Giorgia Boscolo became the first and only female gondolier in 2010.
Types of Canals
Generally, there are two types of Venice canals you can go through on a gondola:
The Grand Canal, which is wide, touristy and scenic
Small canals, which are usually more local, quiet and authentic
Depending on your preference, you may like the vibe of one canal type more than the other, or prefer to visit both. See below on where to catch a gondola ride based on your canal type preference.
Time of Day
Gondolas are generally available all day. Depending on when you take the gondola, you may experience silence, crowds, the sunset, etc. See below on when to catch a gondola ride depending on your preference.
Best Places to Catch a Gondola Ride
Gondoliers have a few set routes they can take depending on the starting location of their gondolas. This means that where you catch your gondola ride also determines your ride's route and experience. I split the routes roughly into three categories:
The Tourist Route
The majority of gondola rides will be where the tourists are concentrated, which is around St. Mark's Square or Rialto Bridge near Venice's San Marco district (see the red circles on the map below).
Pros: Going to these places will guarantee that there is a gondola ride available at any time of the day. You'll also get to see some iconic Grand Canal views.
Cons: As you can imagine, the tourist areas are crowded and there might be a wait for a gondola depending on the time you visit. Your route will also be mostly or entirely along the Grand Canal, which is very touristy, so you won't experience any of the local, authentic, small canals.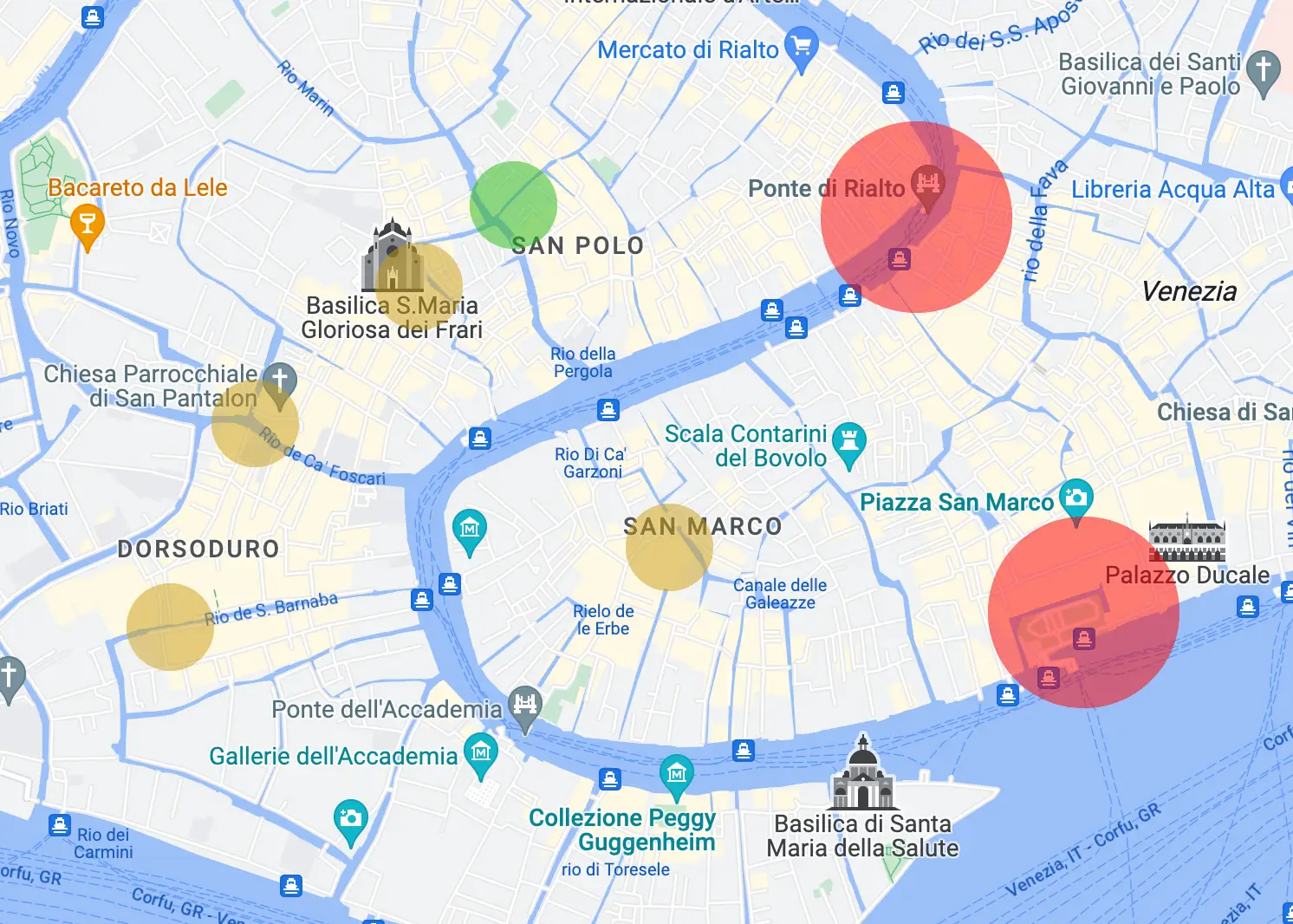 The Serene Route
If you don't care to experience the Grand Canal at all and want to float along the quiet, local, small canals the entire time, you can grab a gondola ride away from the Grand Canal.
It'll be harder to find a gondolier in these quieter canals as there will be fewer of them, but if you walk around long enough, you will find one.
The Combo Route (What I Recommend)
I recommend catching a gondola ride from a location where you can experience the quiet, authentic, small canals of Venice for ~20 minutes and then experience the expansive Grand Canal for ~10 minutes.
The yellow circles on the map above are some potential places where you can get a route that combines both. The green circle on the map is where I caught my gondola ride.
Based on what I saw during my Venice trip, there's a good chance I wouldn't have thought my gondola ride was "worth it" had I been on the Grand Canal the entire time due to the crowds.
Before boarding a gondola in a small canal, ask the gondolier which route they plan to take. Some of the nicer gondoliers will give you a few options depending on the weather and how busy it is. My gondolier gave me a few routes to choose from.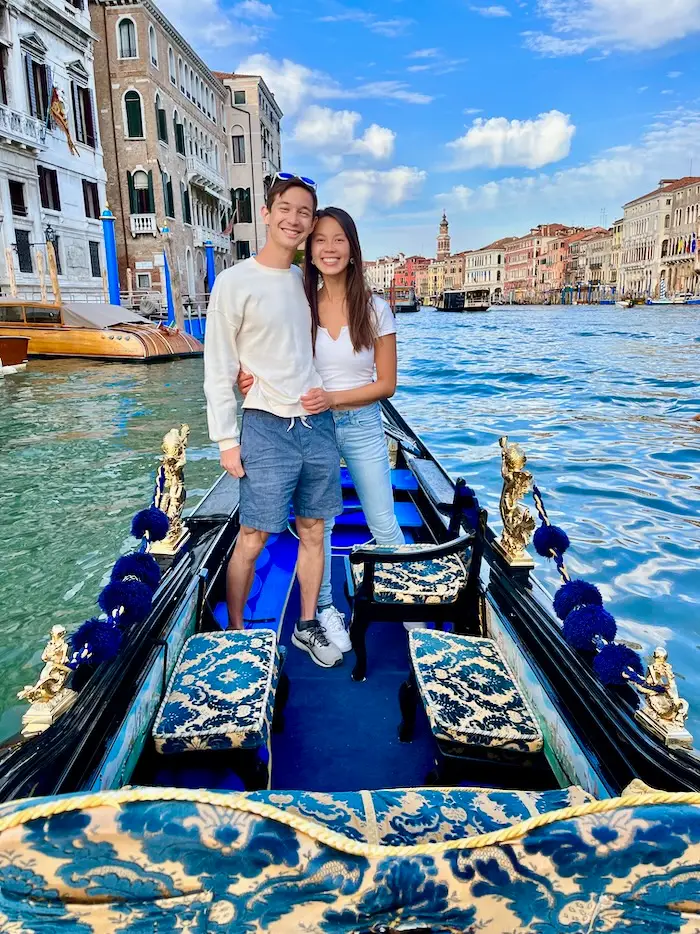 Best Time to Ride a Gondola in Venice
You can ride a gondola at almost any time in Venice. Gondolas typically run from 9am to 9pm daily, and some gondoliers will be available earlier or later.
Here are two great times to ride a gondola:
Early morning (before 9am) and night time (after 8pm) are the best times for a gondola ride if you want to avoid the tourist crowds. The Venice canals will largely be empty and quiet, so you'll have a serene boat ride.
Sunset (6:30pm-7pm) is the best time for a gondola ride if you want a more romantic vibe with beautiful lighting for stunning photos. I took my ride a bit before this timeframe around 6pm because I wanted to avoid the increase in price at 7pm.
Late morning and early afternoon (11am-3pm) are usually the most crowded, so those will be the most hectic times to ride a gondola.

If you're in Venice during the summer, those are also the sunniest times in the day so make sure to bring some sunblock or shade.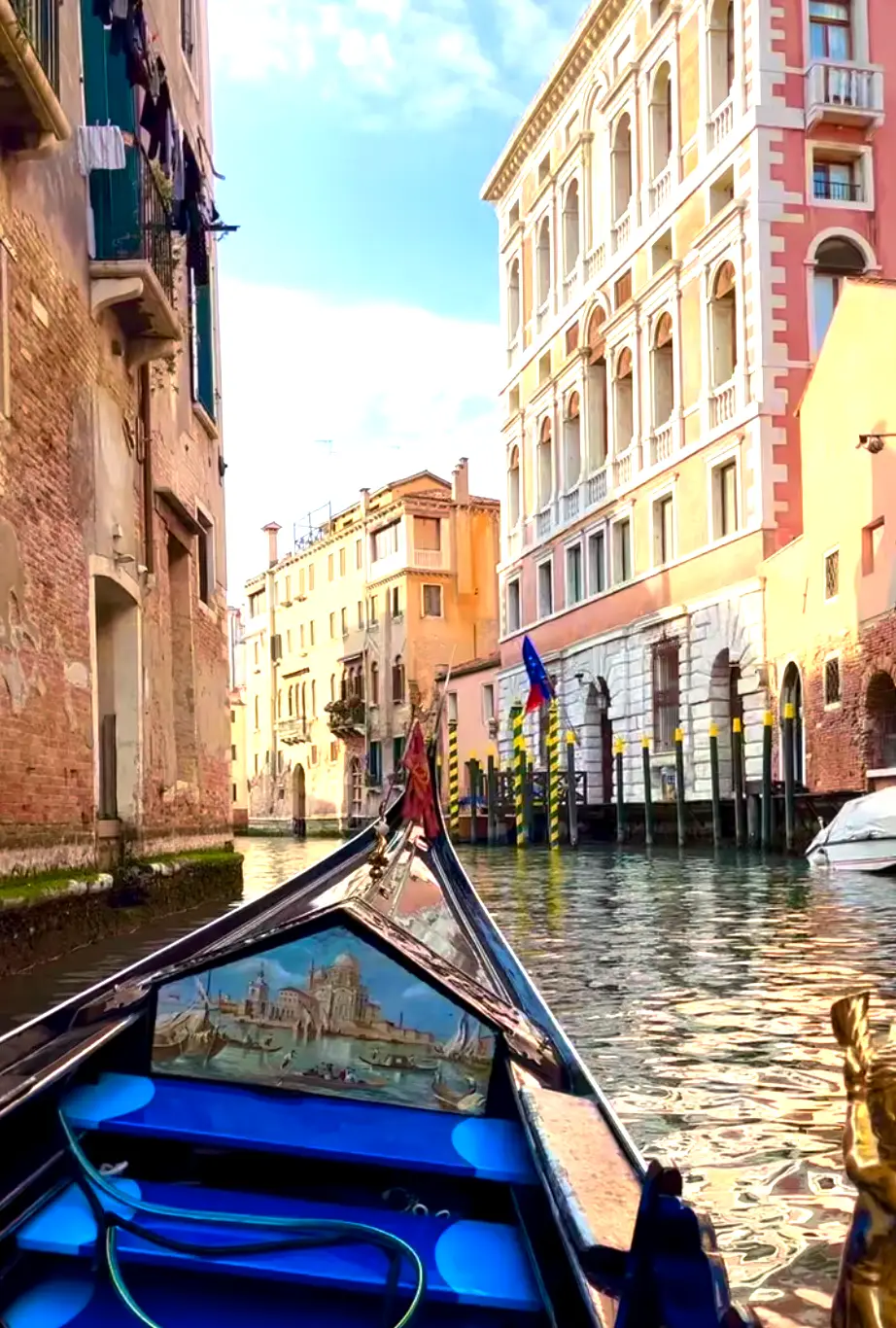 Is Riding a Gondola in Venice Worth It?
Now that you know how gondolas work and how much they cost, should you ride a gondola in Venice?
Because of the high cost, I hadn't initially planned to go on a gondola ride when I arrived in Venice. I ended up on one because the "mood was right" and I found an enthusiastic gondolier. I had a great time and don't regret it, but still agree that the cost is a bit much for what it is.
Whether riding a gondola is worth it to you is a personal decision, but to help you decide, here are some of the highlights and lowlights of riding one.
Highlights of Riding a Gondola
It's a unique experience. There's no other place in the world quite like the Venice canals. Knowing the history of the canals and watching colorful buildings slowly float by in a mostly serene atmosphere feels special and is hard to describe, even after having done it. You get to experience Venice how it was experienced a thousand years ago.
Your gondolier can be very entertaining and knowledgable. My gondolier was hands-down one of the best parts of the gondola ride. He shared random and interesting tidbits about the canals while entertaining some of my random questions about Venice and the gondolier profession, all with a friendly attitude.
It's fun to wave at people. This one may sound a bit odd, but people on canal bridges tend to like to wave at gondola passengers. I had a good time casually waving at a bunch of random individuals. It was also an interest way to people-watch.
Lowlights of Riding a Gondola
The canals can smell. Parts of the canals can smell bad, especially if the tide is low and trash is being exposed. It is a city after all.
Who you split the gondola ride with may not be ideal. If you want to save money and split a ride, you may not get neighbors you particularly like (maybe they have loud kids, want to hog all the most picturesque moments, talk too much, etc.).
Your gondolier may not put in a lot of effort. As mentioned above, your gondolier can make or break your experience, so try to find a good one.
It's expensive and there are other alternatives to being in the Venice canals. If you don't care too much about being on an actual gondola, Venice offers other boat alternatives, like a traghetti, which crosses the Grand Canal at a much cheaper rate (e.g., $3 for ~5 minutes).
If you have any questions or thoughts, feel free to leave them in the comments below.