Iceland is a stunning country filled with untouched nature. Visitors can chase waterfalls, hike to volcanoes, warm up in natural hot springs and be in awe of the landscape.
I spent a packed week in Iceland and in this travel guide, I share practical travel tips that are especially useful for first-time visitors who are planning a trip there.
Disclosure: This post may contain affiliate links. If you make a purchase through them, I may earn a small commission, at no extra cost to you. Thanks for your support!
1. Top Places To Visit in Iceland
Below are the best places to visit in Iceland and the top things to see and do in each one.
🏔️ Known For: Iceland is known as a beautiful place with stunning natural wonders, hot springs and wild animals (e.g., puffins, Icelandic horses, sheep).
📍 Best Places and Top Attractions: Here's a quick overview of the most popular areas to visit in Iceland:
Rejkjavík and Blue Lagoon are usually visitors' first or last stops due to their proximity to the Keflavik Airport. Reykjavík is Iceland's biggest city and has a cozy, cosmopolitan atmosphere (here are a few places worth checking out there). Blue Lagoon is an iconic spot and one of the 25 wonders of the world due to its unique milky-blue water.
Given the Blue Lagoon's popularity, make sure to reserve timed tickets in advance, especially during peak season. Here are other Blue Lagoon tips.
The Golden Circle is a 190-mile tourist route featuring three of Iceland's main attractions:

Gullfoss, one of Iceland's most celebrated waterfalls known for its power
Geysir, a rare, steaming vent that erupts every 5-10 minutes
Thingvellir National Park, a UNESCO World Heritage Site known for its volcanic landscape
Around the Golden Circle area, you can also snorkel between two tectonic plates in Silfra. The water is extremely clear as it originates from glacier meltwater.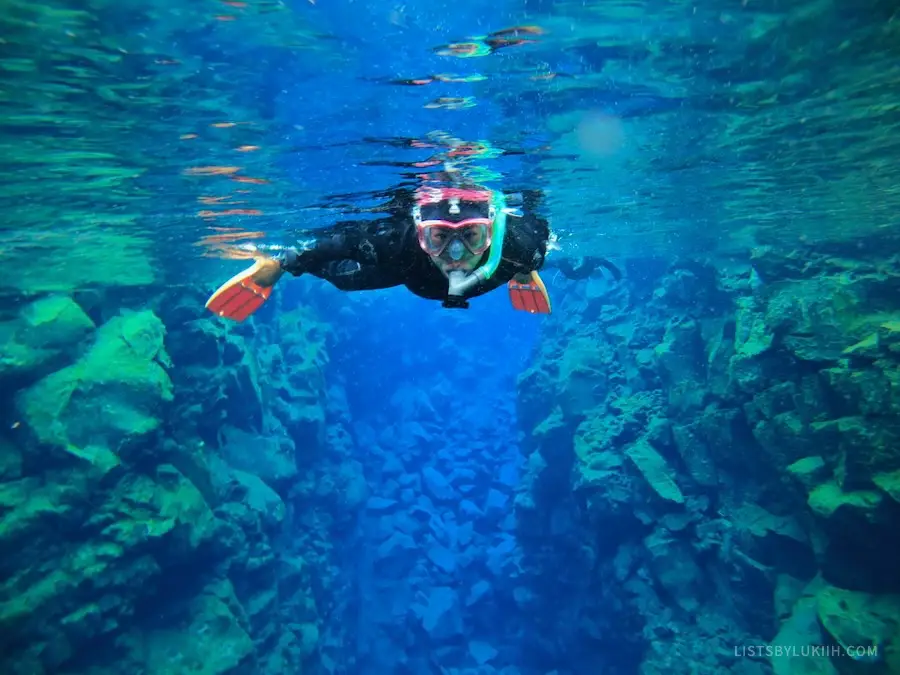 The South Coast is a stretch of land on the southern border of Iceland and is known for its iconic waterfalls, black sand beaches, glacier lagoons and ice caves. Famous attractions include the powerful Skógafoss, the stunning Jökulsárlón Glacier Lagoon and the unique Diamond Beach.
This seven-day Iceland itinerary takes you on an epic road trip through Iceland's South Coast.
North Iceland is known for its diverse geological features and remote atmosphere. The town Akureyri is the second largest city and is popular for whale watching.
Iceland is the whale-watching capital of Europe. Since whales don't appear on command, the best way to increase your chances of seeing one is by going on a whale-watching tour.
The Westfjords is not typically part of a visitor's first trip to Iceland due to its location, but it's a great remote site for anyone who loves rugged landscapes.
The Highlands is the area in the middle of Iceland that's largely uninhabited and composed of volcanic deserts. It's a popular destination for hikers, adventure lovers and campers.
The Highlands require a 4×4 rental car. If you want to do a day trip instead, here's a breathtaking hiking loop in Landmannalaugar, a unique part of the Highlands.
🍀 My Experience: I spent a week in Iceland thoroughly exploring the South Coast. During my road trip, I did three epic hikes and visited several iconic waterfalls, glacier lagoons, black sand beaches and natural hot springs. Iceland is breathtaking and one of my all-time favorite trips.
2. How Long To Visit Iceland
🗓️ Ideal Duration: Iceland is a place where you can easily spend two to three weeks exploring the entire country. Realistically, most visitors spend one to two weeks in Iceland to see its main attractions.
If you only have three to five days, you'll have enough time to visit Reykjavík and the tourist-friendly Golden Circle.
You'll need at least one week to travel through Iceland's popular South Coast.
Road-tripping the full Ring Road, the main road that wraps around the country, is a popular Iceland itinerary and you'll need at least 10 days to not feel rushed.
🍀 My Experience: I spent seven days in Iceland, but wished I had stayed longer so I could have extra time to see more of the country. However, spending one week on the South Coast gave me more time to explore smaller attractions that aren't as popular.
3. Weather and When To Visit Iceland
☀️ Best Time To Visit: Iceland is primarily a cold-weather country with short daylight times during the winter months, so the best time to visit is during the summer season.
The summer season is unsurprisingly Iceland's high season where every attraction will be crowded. This Iceland summer guide shares how to prepare for the peak season and what to pack.
❄️ Seasons: Here's a quick overview of Iceland's different seasons:
During the spring season (March to May), you'll experience cool temperatures ranging from 30°F to 50°F and get 12 to 16 hours of daylight time. During these months, you can expect snow and ice on the ground.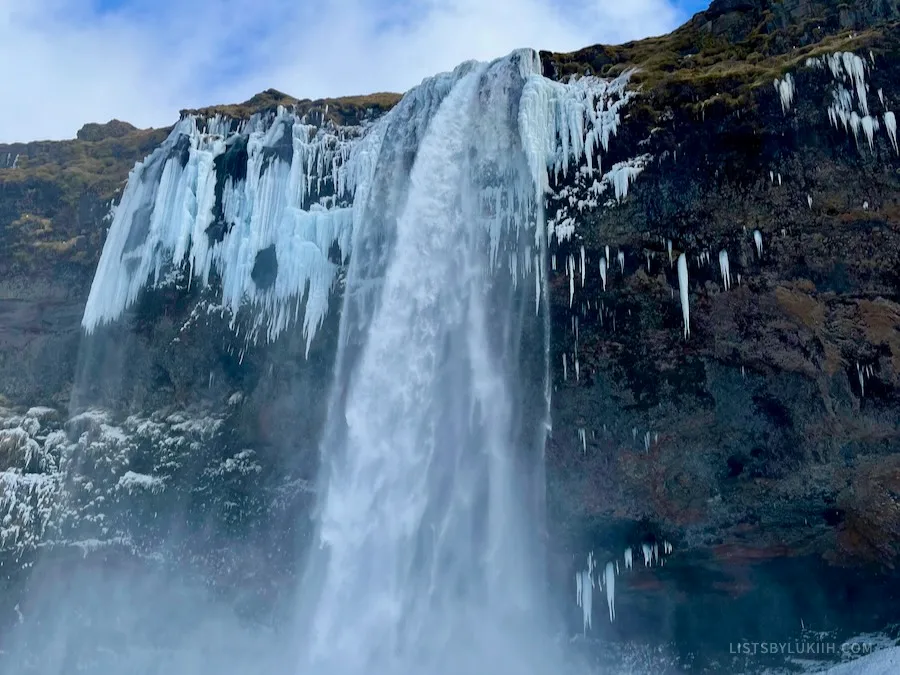 During the summer season (June to August), you'll experience Iceland's warmer temperatures ranging from 45°F to 57°F. You'll also enjoy long days with 15 to 22 hours of daylight time, making these some of the best months to visit.
Iceland experiences a phenomenon known as the midnight sun, where you can see light for 24 hours a day. The midnight sun happens in June and is a cool thing to witness, but visitors also report having difficulty sleeping.
The fall season (September to November) is similar to the spring season in terms of average temperature and daylight time. However, you'll likely experience a few more days of rain.
Iceland's northern lights (aka aurora borealis) are typically seen between October and April when there's less light.
The winter season (December to February) is Iceland's low season with average temperatures of 30°F to 37°F. During the winter months, days are short as you'll only get 4 to 7 hours of daylight time. However, you'll see fewer tourists and get attractions to yourself, which rarely happens during the summer season.
🍀 My Experience: I traveled to Iceland in August and was fortunate enough to experience great weather (sunny days with a little rain) six out of the seven days I was there.
Iceland's weather conditions are volatile year-round and a popular saying is that you can experience all four seasons in one day there. You'll likely avoid snow in the summer months, but you can still expect rain, hail and high winds.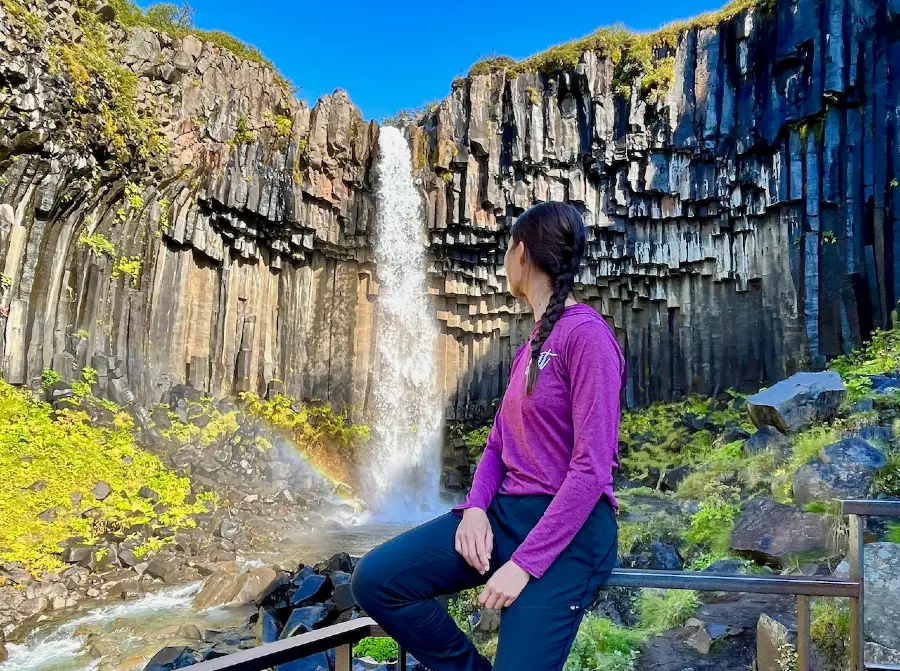 4. How To Get Around in Iceland
🚗 The Main Road: Iceland is a relatively small European island country that has a main road, called the Ring Road, running around the entire country. This is the primary road you'll be traveling on to go from one natural attraction to the next.
Unless you're solely relying on tour transportation, be prepared to spend a lot of time driving in Iceland. I clocked in more than 20 hours of driving during my one-week Iceland vacation.
✈️ Airport: Iceland has one international airport, Keflavík International Airport (KEF), located near the capital city, Reykjavík. From the airport, you can get around Iceland by driving or taking tour buses.
🚙 Car Rental: You can drive a rental car around Iceland's Ring Road and book accommodations along the way. Your Iceland itinerary will determine what type of car to rent (e.g., sedan, SUV, 4x4s). You'll also want to consider the type of insurance to get, as Iceland's weather is notoriously volatile and it's not uncommon for car doors to fly off in strong wind.
The Ring Road's road conditions are well maintained (e.g., well-paved, no potholes, clear signage, not too narrow). However, once you are off it, you'll sometimes have to drive through gravel roads. If you drive through Iceland's Highlands, the sparsely-populated middle part of the country, you'll need a 4×4.
🚐 Camper Van Rental: With its well-maintained campsites, breathtaking scenery and good road conditions, Iceland is a great place to visit in a campervan.
Having done it myself, I think exploring Iceland by campervan is the best way to travel around the country. This thorough Iceland campervan guide explains how to do it.
🚌 Bus: Iceland doesn't have public transportation that takes you around the entire island, but with some planning, you can travel around the Ring Road by bus.
🗺️ Tour Transportations: Iceland runs several bus tours from main tourist areas like Reykjavík. This reduces how much you need to plan, but significantly increases transportation time (e.g., it takes four hours to get to the biggest glacier hike from Reykjavík).
🚲 Bike: If you're adventurous and so inclined, you can bike the Ring Road and stay at campsites or other accommodations. Very few people do this, but I saw several cyclists during the summer months.
🍀 My Experience: Iceland is a perfect place to explore and drive yourself by campervan, which is what I did. This Iceland campervan guide shares tips on renting one, researching campsites, preparing meals, packing and more.
Make sure to know Iceland's unique driving rules. The most common offense that tourists inherit in Iceland is traffic violations which can have expensive fines.
5. Visa Requirements for Iceland
🛃 Visa: A tourist visa is not required for United States citizens visiting Iceland for up to 90 days.
Starting in 2024, United States travelers will need to meet a new travel authorization requirement called ETIAS to enter Iceland.
✈️ Passport: Your passport must be valid for three months from the departure date of your Iceland trip so that you don't have any issues getting in.
🍀 My Experience: I flew into Iceland from the United States and had no issues with paperwork as an American citizen with a valid passport.
6. Budgeting and Costs for Iceland
💰 Cost Ranking: Iceland is one of the most expensive countries to visit in Europe. The country relies on imported goods and has a high cost of living since locals earn a high wage.
💵 Expected Budget: Budget travelers can expect to spend about $80 per day and mid-range budget travelers, such as myself, can expect to spend approximately $200 per day in Iceland, excluding flights.
🍀 My Experience: I share all my travel expenses in this Iceland budget breakdown. Iceland is the most expensive country I've traveled to. The glacier hike I did was over $200 for a half-day tour, making it the most expensive tour per hour I've ever done.
7. Cash and Tipping in Iceland
💰 Currency: Iceland's local currency is the Icelandic Krona (ISK). The US dollar is not widely accepted, so make sure to exchange currencies. The exchange rate was $1 USD = 130 ISK at the time of writing.
💳 Credit Cards: Credit cards are widely accepted and Iceland has great credit card infrastructure, but make sure to bring a little bit of cash.
American Express is not as widely accepted as Mastercard or Visa in Iceland, so make sure it isn't the only credit card you bring.
Gas station pumps in Iceland may not accept debit cards or credit cards. If this happens, go inside the gas station store and pay at the counter.
💵 Tipping Etiquette: Tipping is not customary, but it's appreciated in Iceland.
🍀 My Experience: I was able to use my Visa credit card in most places in Iceland. The only place where I needed cash was at the Hrunalaug hot spring, but they now accept card payments through a QR code.
8. Safety and Scams in Iceland
⚠️ Safety Rating: Iceland is considered an extremely safe country to travel to. It not only has a travel advisory level of 1 per the US Department of State, but it is also ranked #1 out of #163 safest countries by the Global Peace Index (for reference, the United States is ranked #131).
🥷🏻 Common Crimes: Violence and even petty thefts against tourists are extremely rare in Iceland.
💎 Common Scams: Tourists are rarely "scammed" in Iceland, but there are a few tourist traps to watch out for:
Iceland has one of the freshest and cleanest waters in the world. While places sell bottled water to tourists, don't pay for something you can easily get for free.
Getting some car insurance is a good idea in Iceland, but Theft Protection (TP) insurance is silly to get as it rarely happens in this low-crime country.
Lopapeysa is an Icelandic woolen sweater, but not all sweaters are authentic and truly from Iceland. Shop at The Handknitting Association for authentic ones.
10-11 shops are the most expensive and touristy grocery stores in Iceland. Instead, shop at Kronan, Netto and Bonus.
🍀 My Experience: Iceland did feel like one of the safest countries in the world. I saw very young kids walking around by themselves in a way I don't see them doing in the United States, even in New York City where kids are known to be street-smart at an early age.
9. Health Concerns in Iceland
💧 Tap Water: Iceland has one of the cleanest waters in the world, as it's filtered by layers of lava and rocks for decades.
🦟 Mosquitoes: Iceland is the only other country, besides Antarctica, that has no mosquitoes.
🍀 My Experience: I found Iceland's tap water to be some of the freshest-tasting water I've ever drank. I even tried some glacier melt during my glacier hike. Also, while Iceland doesn't have any mosquitoes, it does have other flying bugs that are a nuisance, but at least they don't bite.
10. Speaking English in Iceland
🗣️ Language: Iceland's official language is Icelandic, but 98% of the population speaks English.
🇮🇸 Icelandic Phrases: Despite the high rate of English speakers in Iceland, it's nice to know a few basic Icelandic phrases:
🍀 My Experience: I had no trouble navigating Iceland as a native English speaker. I also found that most locals keep to themselves and are generally very polite.
11. What To Pack for Iceland
🎒 Packing List: No matter where you go in Iceland or whichever season, here are the essential items to pack and bring with you:
Layers. Since Iceland is a cold-temperature country where you can experience winter and summer weather within a day, it's important to pack several layers of clothing.
Rain jacket. Due to the volatile weather and the many powerful waterfalls, being waterproof is key in Iceland. I bought this rain jacket specifically for my Iceland trip and wore it every day. I also brought this rain poncho, which I wore on top of my rain jacket during strong rain.
Waterproof shoes or hiking shoes. For the same reason as above, make sure to wear waterproof shoes.
Reusable water bottle. There's no need to buy bottled water in Iceland as it has one of the cleanest waters in the world. I brought my insulated, reusable water bottle everywhere.
Bathing suits. Don't forget to bring a bathing suit for the natural hot springs (Iceland has over 40 of them).
Waterproof phone case. You'll want a phone case for the rain and hot springs. I brought this waterproof phone case to all the hot springs I visited.
🍀 My Experience: I traveled Iceland by campervan and my full packing list is in this campervan guide.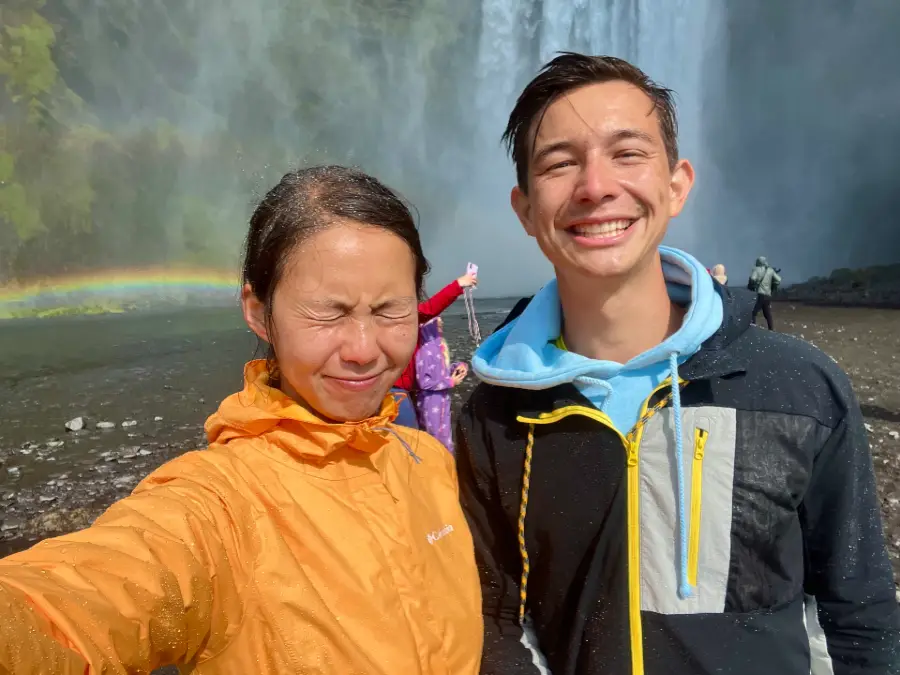 12. Icelandic Food
🌭 Food Tips: Iceland food can be expensive and unique. Here are some tips on eating in Iceland:
Eating at an Iceland gas station is nice and affordable. Unlike the gas stations in the United States, gas stations in Iceland are decent and clean places to have a meal.
Shop at grocery stores in Iceland if you want to save some money. Look for grocery shops like Bonus (budget), Kronar (wider selections) and Netto (fewer selections). Avoid 10-11 as they're more expensive and target tourists.
Bakeries and cafes in Iceland are affordable options. Many small towns in Iceland have a bakery or cafe with fresh pastries and coffee.
Some areas don't have many restaurant options. Iceland receives a high number of tourists for how many locals they have, so popular restaurants get filled up during the peak season. Make sure to book reservations at these restaurants.
🍀 My Experience: I found gas station hot dogs to be yummy and affordable and ate them a few times. I also enjoyed the amazing cinnamon buns at Braud & Co in Reykjavík. I tried the Icelandic delicacy, hákarl (fermented shark), and didn't find it as gross as others seem to.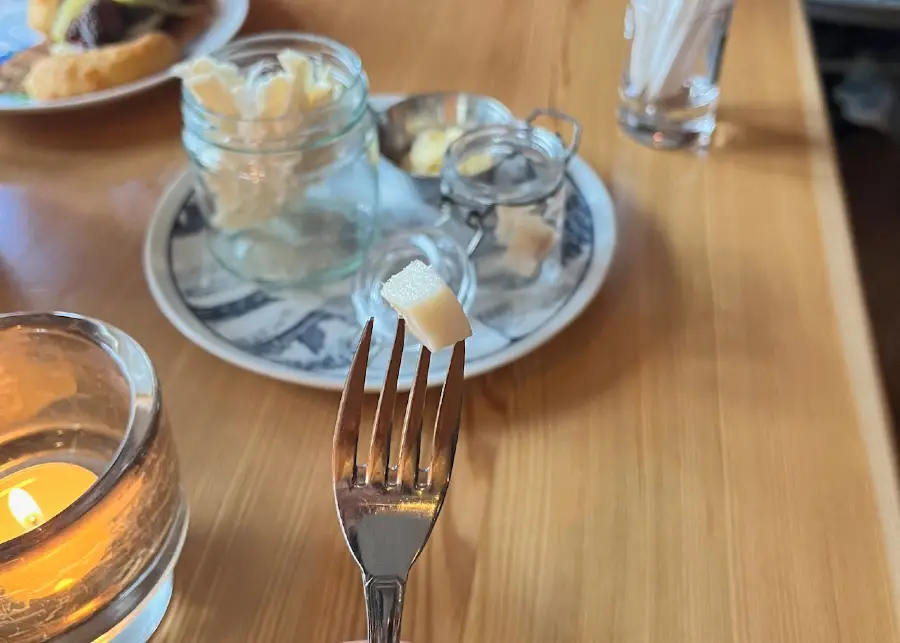 13. Accommodations in Iceland
💡 Pro Tip: When you're traveling to Iceland during the peak season, make sure to book accommodations three to four months in advance, or you may not be left with many or any options.
🏠 Types of Accommodations: Here's a quick overview of the types of accommodations you'll find in Iceland:
Hotels and Airbnbs are available in Iceland, but smaller towns will have limited options. I generally like to use Booking.com for the lowest accommodation rates, especially in a country as expensive as Iceland.
Guest houses are family-run establishments in Iceland that offer a more cozy experience.
Hostels are also available for budget travelers. Hostels in Iceland tend to be clean and well-maintained.
Farm stays provide a unique opportunity to experience rural life in Iceland and can vary in terms of what's provided (e.g., private rooms vs. public rooms).
Campsites are well-maintained in Iceland. They are the legal places to sleep in Iceland if you're traveling by campervan (it's illegal to park and sleep just anywhere). Note that campsites' facilities vary and not all of them are open during the winter months.
Summary: Iceland at a Glance
Here's a quick summary of important trip-planning information for Iceland:
☀️ Best Time To Visit: Summer season (June to August)
🗓️ How Long To Visit: 1-2 weeks to visit more than just the Golden Circle
🛃 Visa: Not required for United States citizens visiting for less than 90 days
💰 Currency: Icelandic Krona. USD is not widely accepted.
💳 Credit Cards: Widely accepted except for Amerian Express; bring a little bit of cash
💵 Tipping Etiquette: Not customary, but appreciated
💬 Language: Icelandic; 98% of locals speak English
🌎 Time Zone: Greenwich Mean Time (see the country's current time)
💧 Tap Water: Safe to drink; some of the best water in the world
🔌 Outlet Type: You'll need a power plug adapter if you're visiting from the United States
🌐 Wi-Fi: Readily available at restaurants, accommodations and shops
My Google Fi's international plan worked well during my Iceland trip. You can get a $20 credit when you use my Google Fi referral code here.
🎒 What To Pack: Layers, rain jacket, waterproof shoes, reusable water bottle, bathing suits, waterproof phone case
🏠 Booking Resources: Booking.com for lowest accommodation rates, Viator for great tour experiences
Iceland Trip Planner
To make your travel planning easier, download the trip planning template below and use it as a starting point. The template has country-specific travel information as well as an itinerary, packing list and map with recommended places pinned.
The template is built on Notion, which is what I use for all my travel planning (I'm not paid to say this; I just like the tool). If you don't have Notion, creating an account is free.
If you have any questions or thoughts, feel free to leave them in the comments below.
🧋 This site is run entirely by me, Lukiih. I spend hours writing each article to ensure its accuracy and conciseness. If you find my site helpful, you can say thanks by buying me bubble tea!