With over 45 natural hot springs, Iceland is known for its phenomenal hot spring experiences. Hrunalaug Hot Spring is a popular, small natural hot spring located in the Golden Circle. Nested entirely in nature, Hrunalaug is unique and delightful, but has its challenges due to its size and location.
Here, I share practical tips on how to visit and what to expect from Hrunalaug Hot Spring. I also compare it to two other hot springs I visited: the famous, touristy Blue Lagoon and the historical Secret Lagoon.
Disclosure: This post contains affiliate links. If you make a purchase through them, I may earn a small commission, at no extra cost to you. Thanks for your support!
Hrunalaug Hot Spring at a Glance
💧 Description: Hrunalaug Hot Spring is unique because it's a small, secluded natural spring inside a shallow valley. If you can avoid the crowd, it feels like you're surrounded in blissful nature by yourself.
Locating the hot spring can be tricky; see below on how to visit it.
📍 Location: Located in Flúdir, Hrunalaug Hot Spring is 67 miles east (approximately a 1.5 hour drive) of Reykjavík and inside the Golden Circle, a 190-mile route featuring three of Iceland's most popular stops: Thingvellir, Gullfoss and Geyser.
Hrunalaug Hot Spring is about 20 miles south (approximately a 30-minute drive) from Gullfoss and Geyser, making it a great stop after visiting the Golden Circle's attractions.
💰 Price: Hrunalaug Hot Spring costs 1000 ISK (about $7) per person for adults. The fee decreases for kids. You pay at the entrance and how you pay varies.
☀️ Hours of operation: There's no physical barrier blocking you from entering Hrunalaug Hot Spring at all times, but the listed hours of operation is 9:30am to 10pm daily.
👩‍👩‍👧‍👧 Capacity: Hrunalaug Hot Spring can comfortably fit 10 people. The maximum capacity is around 20 people, but that will be crowded. Hrunalaug Hot Spring has three pools: two of the pools fit 4-6 people and the third, tiny pool fits 1-2 people.
⏰ Time limit: Due to its small size, the owner asks that visitors limit their visit to Hrunalaug Hot Spring to 1.5 hours maximum, which is plenty of time. This is not strictly enforced, but should be respected.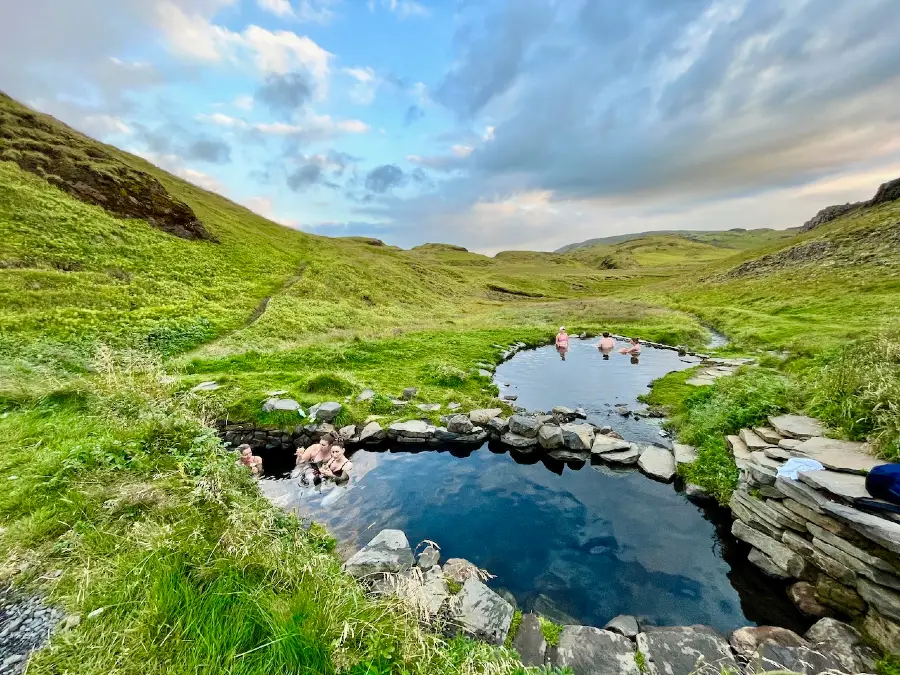 How To Visit Hrunalaug Hot Spring
Hrunalaug Hot Spring is inside a small valley and maintained by a local, so there are no big signs pointing to it and it can be a bit tricky to find. Here's how to locate and get to Hrunalaug Hot Spring.
Step 1: Drive to the Hrunalaug parking lot by passing through some unpaved roads.
The Hrunalaug parking lot is located here. From the nicely-paved Hrunavegur/344 road, you'll turn into Kaldbaksvegur and then take a right on Sólheimar.
Kaldbaksvegur and Sólheimar roads are not paved and surrounded by empty land, so you might think there's nothing there, but keep driving until you see a small parking lot.
Step 2: Park at the small parking lot and pay.
The Hrunalaug parking lot is small and fits approximately 10 cars and campervans. After paying the entrance fee, head down the only walking trail that has a small sign on it.
Hrunalaug Hot Spring is located on private land and is maintained by the landowner so the entrance fee helps maintain the hot spring.
Step 3: Walk down a trail for about 2 minutes.
You'll walk down a dirt trail for about 2 minutes before seeing Hrunalaug Hot Spring. During the walk, you'll cross a small bridge and see a sign about the hot spring on your left. Once you see a small hut, you've arrived.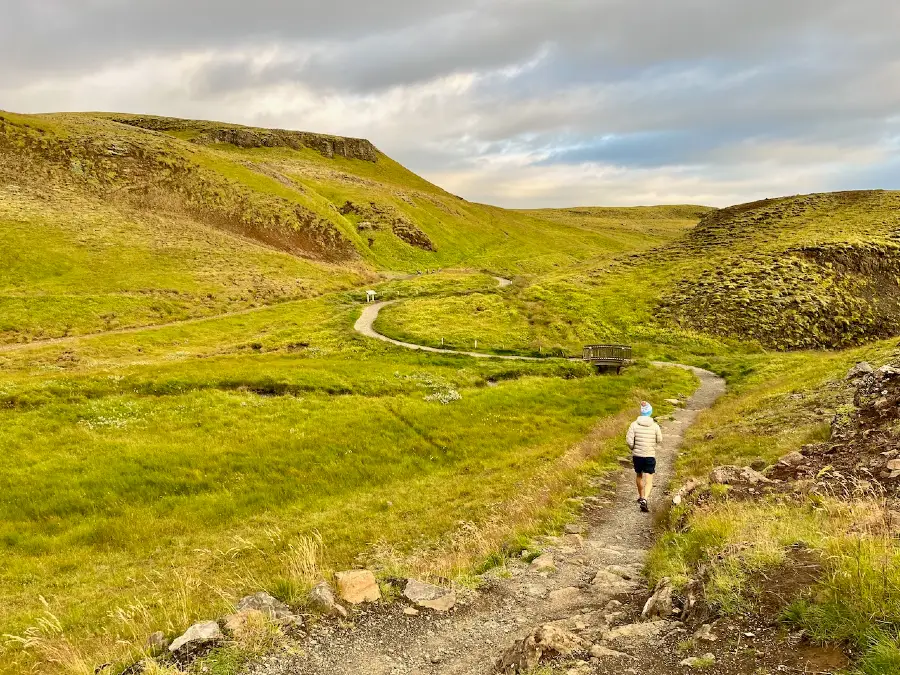 5 Tips for Visiting Hrunalaug Hot Spring
Here are some key tips for ensuring a smooth and enjoyable visit to Hrunalaug Hot Spring.
Tip #1: Bring cash.
The only place I visited in Iceland that was cash-only was Hrunalaug Hot Spring, so make sure to bring cash. The entrance fee is 1000 ISK (approximately $7).
During the high season (when I visited), the local who maintains the spring will likely be sitting in a car collecting payment. During the low season, there will likely be no person and instead, there will a box where you pay by the honor system, so don't expect change.
Tip #2: There are no facilities, so bring a towel.
There are no facilities at Hrunalaug Hot Spring, so don't expect to shower, wash your hands, have privacy when changing or have towel service. It does have a small, open shelter that has a roof and people sometimes use it to put their clothes inside, but it has no doors or real floors. I brought a quick dry towel for easy dry-off afterwards.
If you're traveling by campervan in Iceland and are looking for a shower facility, keep in mind that Hrunalaug Hot Spring doesn't have one.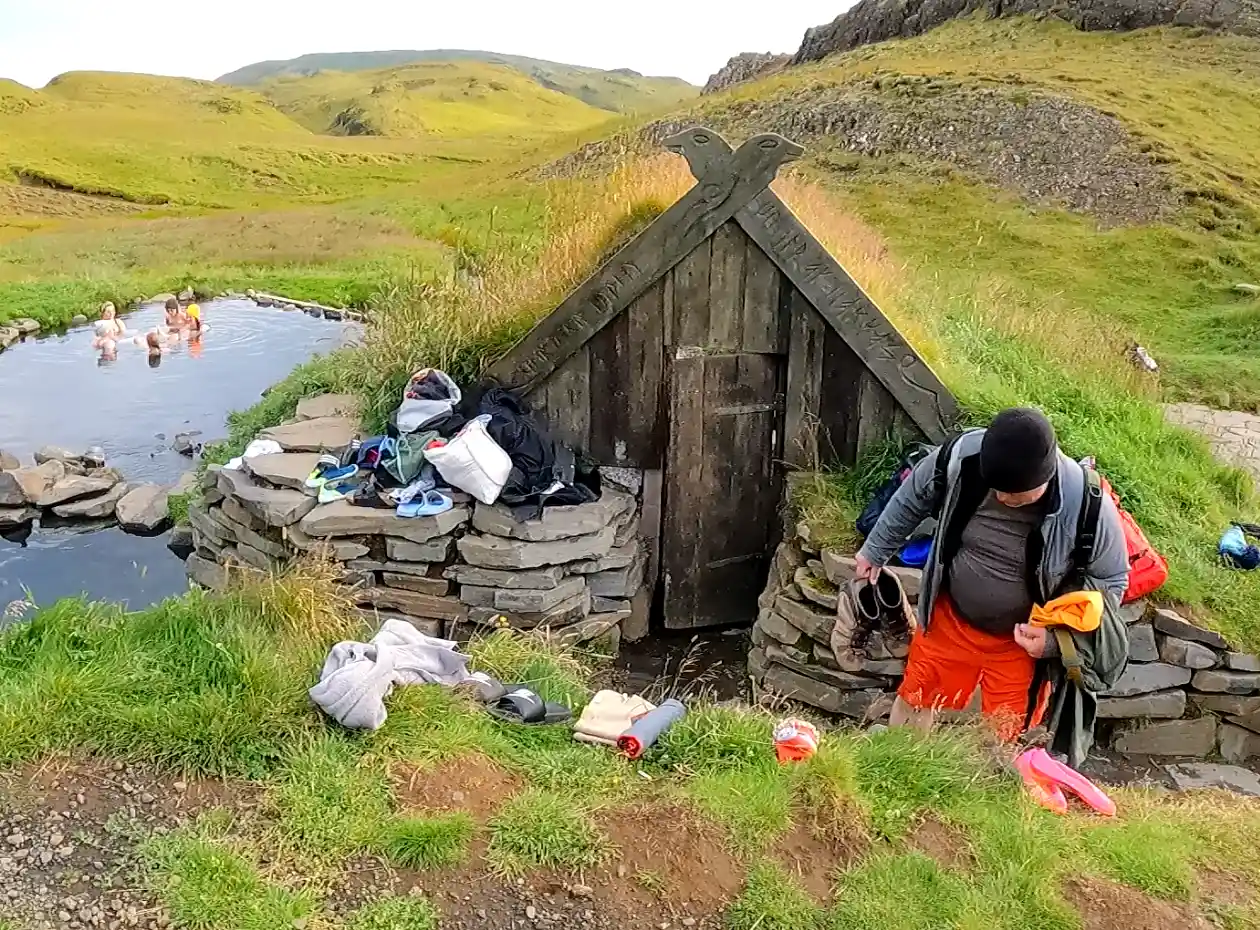 Tip #3: Go in the morning to avoid the crowds.
Hrunalaug Hot Spring used to be a hidden gem, but now it's relatively well-known. Due to its small capacity (~10 people), it's easily crowded. The best time to avoid the crowds is during the mornings, before all the visitors arrive after ending their Golden Circle trip here.
Tip #4: Be prepared to change in your car and walk in the cold.
Since there are no facilities (see tip #2) or a private shelter at Hrunalaug Hot Spring, most people change into their bathing suits inside their car or campervan. Once you change, remember that there will be a short, exposed walk to the hot spring, so wear warm clothes for that walk.
Tip #5: You may want to skip it in the winter.
Compared to Blue Lagoon and Secret Lagoon, Hrunalaug Hot Spring wasn't as hot, temperature-wise. Given that it's in nature with no facility and completely exposed, it may not be warm enough to visit during the wintertime if you don't want to brave the cold. One of my friends visited it in March and had to turn back around due to the weather.
Hrunalaug Hot Spring vs. Blue Lagoon vs. Secret Lagoon
Here's how Hrunalaug Hot Spring compares to Blue Lagoon and Secret Lagoon, two other popular hot springs I visited in Iceland.
Blue Lagoon at a Glance
Blue Lagoon is an iconic Iceland spot and one of the 25 wonders of the world, known for its unique milky-blue water.
Experience: Blue Lagoon runs like the well-established destination site it is. It's large and you feel like you're on another planet with the milky-blue water and foggy steam. Some visitors complain that the Blue Lagoon feels too man-made and touristy (which it is).
Given its popularity, it's best to book the Blue Lagoon in advance, especially during the summer season. Blue Lagoon has timed slots, with afternoon slots being very popular.
Duration: Visitors usually spend 2-3 hours at Blue Lagoon, giving them enough time to get a complimentary mud mask and drink, explore all corners of the big pool and visit the sauna and steam room.
Location: Blue Lagoon is located in Grindavík, about a 20-minute drive away from Keflavík International Airport. This makes it an ideal stopping point at the beginning or end of your Iceland trip.
There are shuttles that run from Keflavík International Airport to Reykjavík that make a stop at Blue Lagoon. You can also book a package that includes the entrance fee and transportation.
Facilities: Blue Lagoon offers modern facilities, which include individual hot showers, bathrooms, private dressing rooms, lotion, etc. For an extra cost, you can also go to its restaurant, cafe or spa.
At Blue Lagoon, you're required to shower without a swimsuit before entering the pool. It's recommended that you leave conditioner in your hair since the high levels of silica can make make it stiff and difficult to manage.
Secret Lagoon at a Glance
Secret Lagoon, also known as Gamla Laugin, is Iceland's oldest swimming pool (made in 1891). It's fed by naturally occurring hot springs and a popular spot for both locals and tourists.
Experience: Secret Lagoon is not known for its surroundings (it can feel like you're in a rich person's large backyard pool), but the water can get very warm and it's a great pool for its value.
Price: Secret Lagoon costs 3,000 ISK ($21) for the entrance fee. Towels and swimsuits are an extra 900 ISK (approximately $6.50 each), so be sure to bring your own if possible.
The Secret Lagoon can sometimes get busy, but not always so. For an additional $3, you can purchase tickets ahead and skip the line if you're concerned.
Duration: Visitors usually spend ~2 hours at Secret Lagoon. They offer pool noodles you can float around in and you can walk around the pool to see the nearby boiling hot spring that powers the pool.
Location: Secret Lagoon is located in Flúdir where Hrunalaug Hot Spring is located, about 1.5 hours away from Reykjavík.
There's a delicious fish and chips stall right outside Secret Lagoon.
Facilities: Secret Lagoon has decent facilities with a communal hot shower, private lockers, etc. They also have an attached small cafe where you can buy some snacks and beverages.
At Secret Lagoon, you're required to shower nude in a communal shower beforehand for hygienic reasons. It's considered rude to not do so.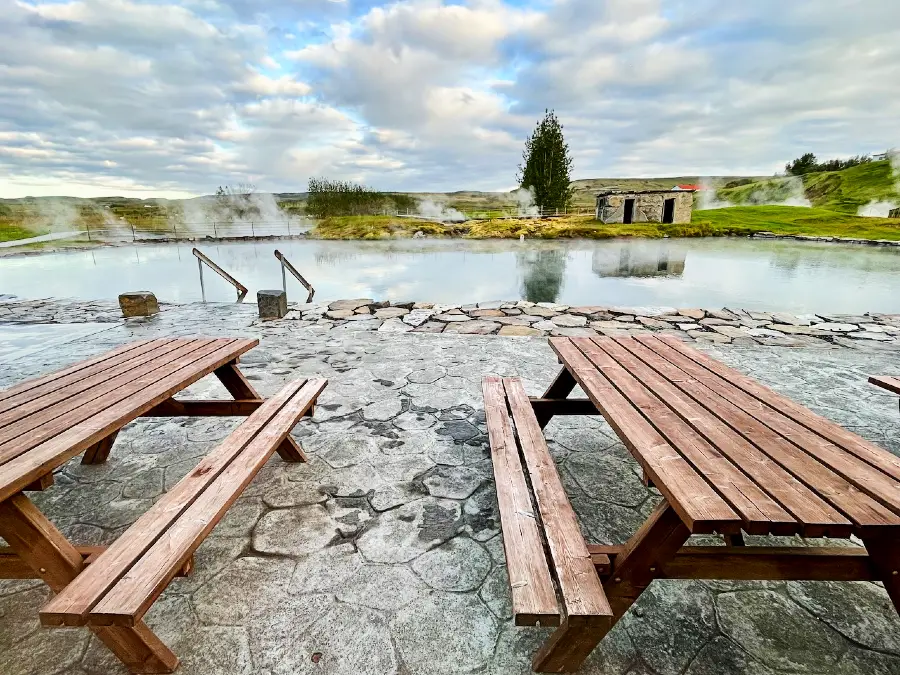 My Recommendation on Iceland Hot Springs
Overall, if you have time, I would recommend going to all three hot springs since they are each a unique and different experience. (This 1-week Iceland itinerary shows how to space them out and sequence them efficiently). Otherwise, my recommendation is to visit:
Blue Lagoon if you want to experience something otherworldly and have 3+ hours to spare.
Hrunalaug Hot Spring if you want to be secluded in nature and have only ~1 hour. This is also a good place to go if you don't mind being out in the cold or if it's a warmer day.
Secret Lagoon if you want an affordable, relaxing and warm dip in a hot spring, or need a place to shower during your campervan trip.
If you have any questions or thoughts, feel free to leave them in the comments below!