With its safe environment, well-maintained campsites and straightforward main road, Iceland is a great place to travel by campervan. I was hesitant about traveling in one, but the one week I spent in an Iceland campervan remains one of my favorite experiences.
I share practical tips on visiting Iceland in a campervan here. This post covers:
💡 Campervan renting tips
🧠 How to prepare for a campervan trip
🎒 What to pack for a campervan
🚙 Unique driving rules and norms
Disclosure: This post may contain affiliate links. If you make a purchase through them, I may earn a small commission, at no extra cost to you. Thanks for your support!
Why Travel Iceland in a Campervan?
If it's your first time traveling anywhere in a campervan and you're hesitant about it like I was, here are a few reasons to consider doing it in Iceland:
Iceland campsites are well-maintained and accessible to first-timers. Traveling in a campervan is not "roughing it" like it can be with camping. In Iceland, you can stay in campsites that have kitchen facilities and hot showers (see below for more on campsites). You can cook in nature if you want, but you can also cook at a campsite facility or drive to a restaurant if you prefer.
Iceland is one of the most expensive countries to visit in the world. Traveling in a campervan can be more economical, especially if booked far in advance. This Iceland cost breakdown outlines my trip's travel expenses.
Iceland has a big main road, called the Ring Road, that runs around the country. To travel in Iceland, you need to travel by vehicle (bus, car or campervan) around the Ring Road, so it's not a big leap to have to drive a campervan vs. a car. Everyone on the road is used to seeing campervans.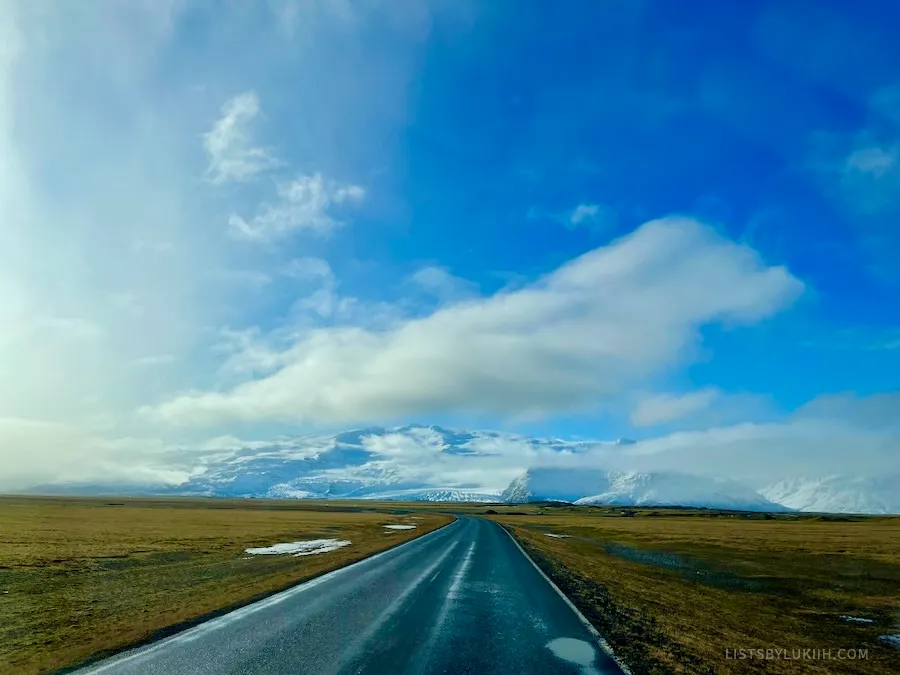 Iceland is one of the safest countries in the world. Staying in a campervan doesn't pose any significant risks and a lot of people visit by campervan, so you won't be alone.
It's breathtaking to peer outside of your campervan. The moment you open your campervan doors, you're surrounded by beautiful mountains and landscapes, which is a remarkable experience. You can see the northern lights right outside your campervan if you travel during the wintertime.
Traveling Iceland in a campervan is especially beautiful during the summer season. Here's a guide on visiting Iceland in the summer.
About This Iceland Campervan Guide
To give context to this guide, here's what you need to know about my Iceland trip:
☀️ Summer season. I traveled in August, which is the high season in Iceland. The weather is volatile in all seasons, but it's warmer (45°F to 55°F) and much more crowded.
During the summer months in Iceland, the sun rises early (between 3 am to 6 am) and sets late (between 9 pm and 12 am). This phenomenon is known as the midnight sun and the long daylight hours give you more time to explore. Here are tips on visiting Iceland in the summer.
That said, a friend used this Iceland campervan guide to plan her winter trip so it works for either season: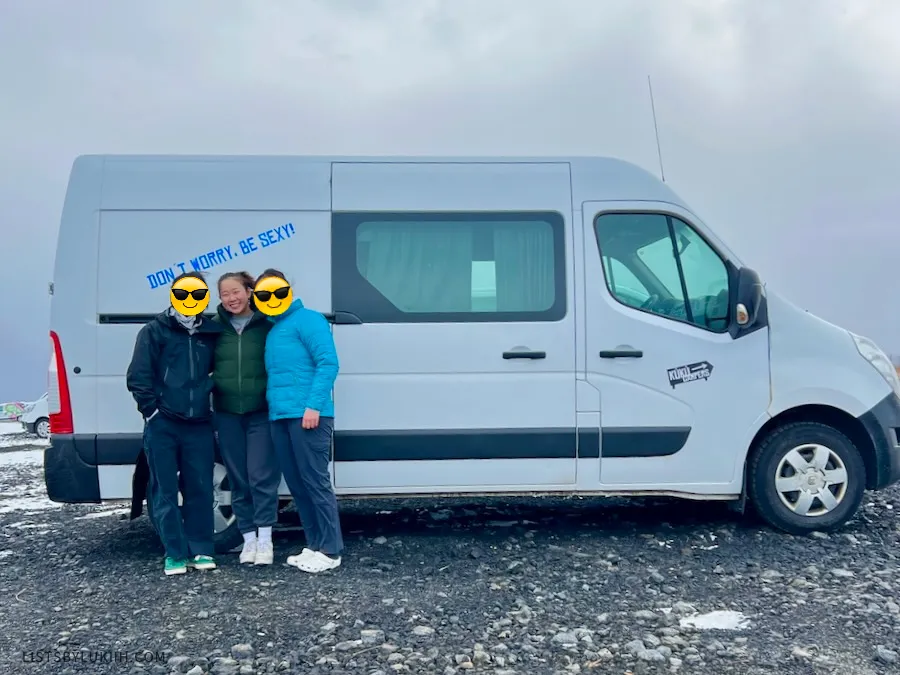 ✌️ Two travelers. I traveled with one other person, so I didn't have to account for kids or a larger group. I was in a standard two-person campervan that seats four and sleeps two people.
⌛ One week. I thoroughly explored Iceland's South Coast, including the Blue Lagoon, Golden Circle and Jökulsárlón Glacier Lagoon. With only a week at my disposal, I decided not to do the full Ring Road because I would have felt rushed.
⛺ Campsites. I list and comment on the campsites I stayed at in this one-week Iceland itinerary.
For general Iceland trips, this guide covers things to know before your trip, including the best places to visit, weather conditions, budgeting and more.
Tips on Renting an Iceland Campervan
Once you've decided you want to travel Iceland by campervan, you should:
🗓️ When to Book Your Iceland Campervan
If you only know how to drive automatics and are traveling in the summer, you need to book your Iceland campervan four or more months in advance or your options will quickly become limited.
I searched for a campervan a month in advance during peak season and almost all 20 camper rental sites I checked were completely booked out. This included popular rental companies like:
For the full list of all 20 Iceland campervan rental sites, download the Iceland trip planner below. I ended up deciding to change my travel dates to match campervan availability since my options were very limited.
A friend also went to Iceland during peak season and rented a similar two-person campervan and here's a comparison of our experiences:
Friend's Experience
My Experience
Campervan
Booking Time
6 months ahead
1 month ahead
Campervan
Cost
$1,100 USD
$2,400 USD
Campervan
Cost Per Day
$220/day
$300/day
Campervan
Company
Top Rental Company
Rental Company with Inconsistent Reviews
🚐 How To Choose an Iceland Campervan
When choosing a campervan, consider these important campervan features:
Automatic vs. Manual Transmission: Which type of car can you drive? If you can only drive an automatic transmission, then you will have fewer options when renting a campervan.
Campervan Size: How many people are in your group? And what campervan size are you comfortable driving? I was traveling with just my partner, so we only needed a campervan that sleeps two and seats two. Since we booked last minute, we got one that seats four and sleeps two. If you have a larger group, you may be able to make do with a similar campervan if some people don't mind sleeping in a tent.
Automatic and smaller campervans are in higher demand in Iceland. Booking in advance is even more important for these.
Four-Wheel Drive (4WD) vs. Not: Will you be driving on Iceland's F-roads (i.e., gravel roads, mountain routes), which require 4WD? If you want to explore Iceland's Highlands, the sparsely-populated middle part of the country, you'll be driving on F-roads. If you plan to stick to the Ring Road, you won't need 4WD.
Many campervans will provide the same equipment (e.g., a sleeping bag, window covers, cooking equipment, cooler), but the quality of the equipment will vary by the rental company.
⛈️ What To Know About Iceland Campervan Insurance
Campervan rental companies offer an overwhelming number of different types of insurance. Get familiar with Iceland's insurance types so you only pay for what you need.
Many travel credit cards provide some coverage (e.g., Chase Sapphire Reserve, Venture X, American Express Platinum). Call your card company to see if campervans are covered and under what requirements (e.g., do you need to deny insurance?). You may not need to purchase additional campervan insurance.
What campervan insurance you need and should get depends on your risk tolerance and what the weather looks like during your trip.
Types of Iceland Campervan Insurance
CDW (Collision Damage Waiver) is mandatory in Iceland and should be automatically included by your campervan company. CDW means that there's a limit to your liability.
SAAP (Sand and Ash Protection) is recommended since Iceland is windy and the volcanic ash/rocks can damage the campervan.
GP (Gravel protection) is recommended if you plan on driving on F-roads or deviating outside of the Ring Road.
TP (Theft Protection) is silly to get and most people do not recommend it since theft rarely happens in this low-crime country.
Some Iceland rental companies, like the one I used, offer an all-or-nothing insurance package (i.e., CDW-only or everything together). My "premium" package cost $277 USD.

I would have preferred a la carte insurance, but the upside of paying for the "premium" package is that they barely inspected the campervan when I returned it. I didn't have to worry about post-return charges that others have complained about.
Preparing for Your Iceland Campervan Trip
After booking your campervan, you can start preparing for your Iceland trip by:
Making sure you have everything you need (see the Iceland campervan packing list below)
🏕️ What To Know About Iceland Campsites
It's a good idea to have an idea of which campsites you want to visit, but know that having a campervan means you have the flexibility to change your mind.
Happy Campers built this useful map of all the campsites in Iceland. Searching "Iceland campsite" on Google Maps will not list many of these.
What To Expect Out of Iceland Campsites
Here are three things you'll see at Iceland campgrounds:
A place to park your campervan. Be aware that Iceland campsites are just large patches of grass, so don't expect a parking lot. Most don't have any parking lines or separations that are clearly marked, so park wherever there is space and try to leave room for others.
A bathroom facility. Even the most remote Iceland campgrounds provide a sink and toilet, but hot showers are rare (see tip #2 below). Some remote campsites will not have hot water.
A kitchen facility. Most campsite facilities, except the more remote ones, will have a kitchen facility that has at least a stove, sink and dining table.
5 Tips on Iceland Campsites
Here are five tips on Iceland campsites to consider:
Tip #1: Most campsites don't require reservations, so you can just show up. The overwhelming majority of campsites don't have a booking system and very few campsites require reservations (like Reykjavík Campsite).
Tip #2: Google reviews will tell you valuable campsite information not readily advertised. They will tell you things like:

Whether a campsite has hot showers (some campsites claim they do when they don't).
Whether the campsite is crowded that week; make sure to sort by "recent reviews".
If you want to shower without having to rely on a campsite, visit a hot spring with a shower facility. I enjoyed my showers at Blue Lagoon and Secret Lagoon the most.
Tip #3: Iceland campsites are not free, so budget accordingly. Iceland's law requires all campervan drivers to park at a campsite or on private property (but you need the landowner's permission). Average campsite costs are ~$15 USD per person per night. Some have extra shower fees (e.g., $2 to $3 USD per three to five minutes).
Depending on how many nights you are spending in Iceland, you can potentially save money on campsites by buying the Iceland Camping Card. This card gives a family access to specific campsites for a fixed cost.
Tip #4: Campsites will have signs on how to pay. Different campsites have different payment methods, including paying at the reception when you arrive, paying the campsite manager when they arrive in the morning/night, and leaving money in a box.
Tip #5: Not all campsites are open year-round, so double-check their availability. This is especially true in the winter season. I went in the summer, so this wasn't an issue for me, but my friend who went in the winter time said many of them were not open.
Overall, I found the Iceland campsites clean and well-kept, even when they were crowded. My Iceland itinerary has all the campsites I stayed at.
🌭 Food Tips When Traveling in an Iceland Campervan
When traveling Iceland in a campervan, you can eat your meals by:
Going to a restaurant
Cooking at a campsite kitchen facility
Cooking with your campervan's equipment
Restaurants and grocery stores are not readily available everywhere in Iceland, so you need to plan your meals a day or two ahead.
3 Tips on Planning Your Meals
Here are some tips when planning your meals while traveling Iceland in a campervan:
Tip #1: The popular Iceland grocery store options are:

Bonus, which is the budget option
Kronan, which has a wider selection of options
Netto, which has a smaller selection of options
10/11, which tends to target tourists and be overpriced
Tip #2: Eating at an Iceland gas station is nice and affordable. Unlike the gas stations in the US, the gas stations in Iceland are a decent place to have a meal. Gas station hot dogs in Iceland are particularly yummy and affordable. For example, the popular Skaftafell area has limited dinner options and many people ate at the nearby Orkan gas station.
Iceland food is expensive. Iceland in general is expensive because it's hard to farm anything in their climate and they need to import a lot of farm equipment and food.
Tip #3: Check your campervan's supply list for missing cooking ingredients. Some items that you may need to buy include salt and pepper, napkins, sponges and dish soap.
Some Iceland campsites are very popular and/or have small kitchen facilities so you may need to wait a bit to use a stove or table. Out of the five nights I ate at a campsite kitchen facility, I couldn't get a table three times, so I ate while standing.
Arriving in Iceland
Once you've arrived in Iceland and are ready to start your campervan trip, you should:
🛑 Iceland Driving Rules
Driving in Iceland is different from driving in other European countries. Here's an overview of Iceland road rules you may not be familiar with:
One-lane bridges: In Iceland, the car closest to the bridge has the right of way. Some bridges will have light signals; most will not. These are relatively common.
Headlights: Headlights must be on at all times in Iceland, including during the daytime.
Roundabouts: The main thing to know about Iceland's roundabouts is that the inner lane has the right of way to exit. If you're in the outer lane, you must stop for a car exiting from the inner lane. Multi-lane roundabouts were only common near Reykjavík.
Speed limits: The speed limit in Iceland is relatively low (90 kph/56 mph on highways). Iceland has speed cameras with expensive fines ($300+ USD), but I didn't run into many of them outside of Reykjavík.
Camping rules: Despite the wide open spaces, you can't park and sleep anywhere you want in Iceland. It's illegal and you will be heavily fined if caught. Make sure to stay on a campsite or private property if you have the landowner's permission to do so.
💨 Iceland Driving Norms
After spending 20+ hours on Iceland roads, here are some of the Iceland driving norms I've noticed that you should be aware of:
Hold the door during strong winds. Doors flying off is a common issue in Iceland and it's not covered by insurance. This is especially through during the wintertime.
Passing is common. The Ring Road mostly has a single lane in each direction. It's common for there to be a slow car enjoying the views, so expect to pass and be passed. Always be careful when passing.
Watch out for animals. Sheep and other animals may be on the road. Fun fact: Iceland has ~800k sheep and ~300k people.
Download the Iceland map via Google's offline feature. Iceland's Wi-Fi infrastructure is great, but I had an unstable signal east of Vik.
Gas station pumps may not accept your debit/credit card. Some gas station pumps will error for some reason. If your card doesn't work, just go inside and pay at the counter.
Budget gas for your Iceland trip. Gas is expensive in Iceland and you can easily spend $400+ USD for a drive around the country.
Check road conditions. It's worth repeating that Iceland's weather is very volatile. Check the daily up-to-date road conditions (watch out when roads turn red) and wind conditions.
✅ Iceland Campervan Walkthrough
When you pick up your campervan, the rental company will do a quick walkthrough. I've been advised to take the extra time to double-check everything; I now fully agree with this advice.
Consider doing the following during your initial campervan walkthrough:
Take a video or photos of the campervan to avoid charges later. Some people have complained about being charged for existing damages.
Open and check equipment. My walkthrough guide said, "The curtains are in those bags". I didn't open the bag until later and realized some were missing magnets, meaning I didn't have full privacy for the entire trip.
Double-check how unfamiliar equipment works. During the walkthrough, I was shown that the cooler needed to be plugged in. I later couldn't get the cooler to work and didn't realize I was using the wrong plug (the one for the car battery instead of the external battery). This sounds like a silly mistake, but it's easy to make mistakes with unfamiliar equipment.
What To Pack for an Iceland Campervan Trip
When traveling in a campervan, you'll have to pack differently than when you're staying in a hotel, hostel or tent. Below is a detailed packing list for an Iceland campervan trip.
I usually travel with a carry-on, but I highly recommend packing in a duffel bag if you're doing an Iceland campervan trip. A duffel bag makes it easier to access belongings and is easier to handle and store in a limited space.
I was able to fit my entire Iceland campervan packing list into a 25L backpack and a 55L duffel bag, with some room to spare.
🥾 Shoes
Waterproof hiking shoes. Iceland's weather is unpredictable, even in the summer. Waterproofing is key. I wore my Salomon hiking boots every day and was comfortable throughout the week, despite being worried about spending so much time in hiking boots.
If you plan to do a glacier hike in Iceland, you'll need hard, ankle-protected boots, which my boots were not.
Flip flops or sandals. You'll want to pack sandals for showers and hot springs.
Some Iceland campsites don't allow outdoor shoes inside the kitchen facility, so you'll want something easy to slip on and off. I wore my Chacos which worked, but wished I had invested in Crocs for easier slip-on and off.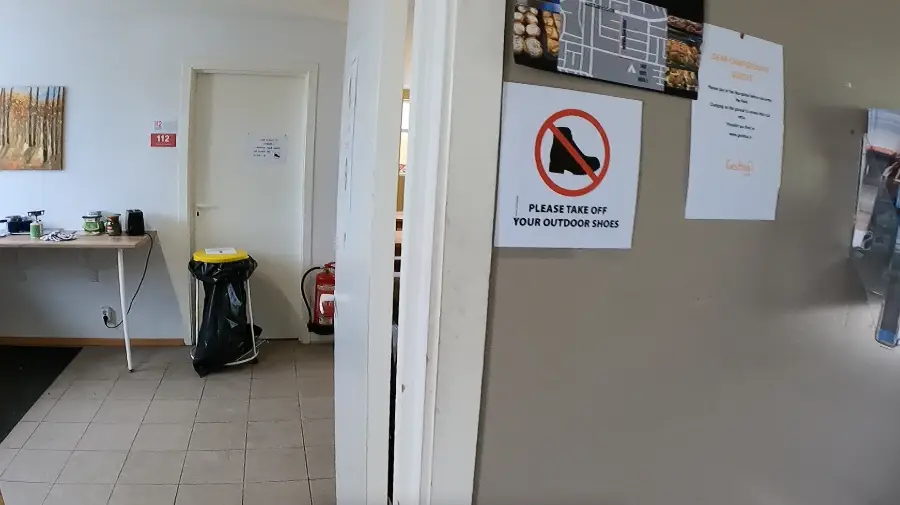 🧦
Clothes
Hiking pants (2+ and at least 1 waterproof). My biggest regret was not packing a pair of waterproof pants. I got soaked and cold while hiking in the rain and visiting powerful waterfalls. I bought these quick-dry hiking pants specifically for this trip and they were amazing (very quick to dry) for the days I didn't get too wet.
Rain jacket and/or rain poncho. Again, being waterproof in Iceland is key. I bought this rain jacket specifically for my Iceland trip, wore it every day and was happy with it. I also brought this rain poncho, which I wore on top of my rain jacket during my very wet hike to Glymur Waterfall.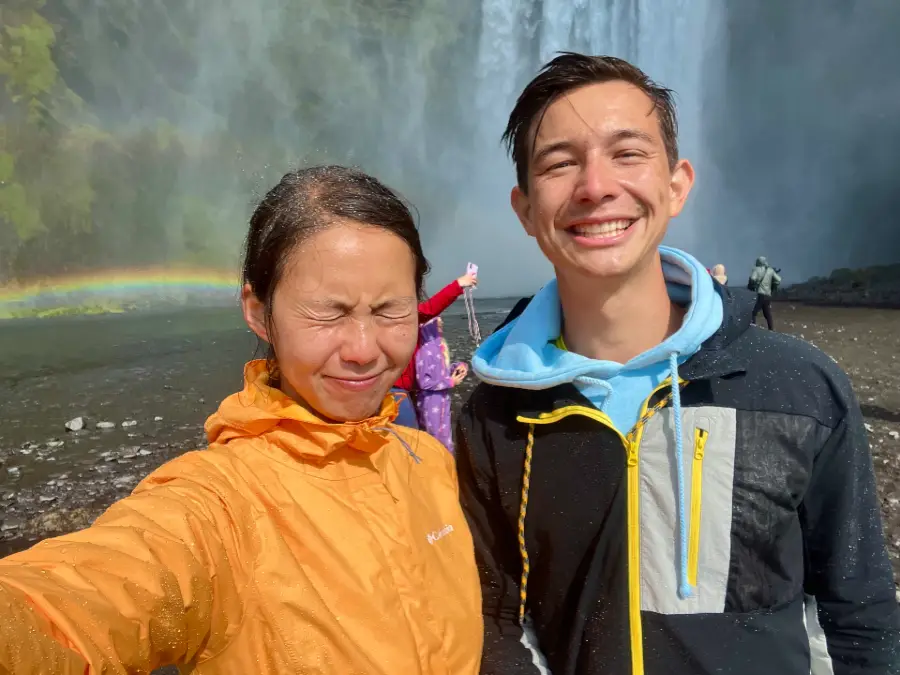 Warm pajamas. You'll want warm PJs in case the campervan heating system shuts off or you need to step outside into the cold at night for a bathroom break. I bought these fleece leggings that worked well.
Sun hoodie (2+). Some recommend bringing short sleeves or tanks, but I thought sun hoodies worked better for the warmer moments due to the sun and wind.
Warm hiking socks (7+). Bring extra socks. It's hard to dry clothes and it's easy to get wet in Iceland due to waterfalls, sudden rain or accidentally missing a step in a river crossing. I brought three light hiking socks, four heavy hiking socks and two regular socks.
Packable down jacket (outer layer). Bring a down jacket that's easy to pack away since you can be switching layers often. I didn't need mine to be waterproof since I could layer my rain jacket on top of it.
Sweater or hoodie (middle layer). Bring a warm layer that you can wear between your outer and inner layers. Fleece or wool are great options.
Airplane clothes. I missed this and wished I had brought a clean set of clothes for my flight home.
🧤
Accessories
Headband and/or hat. You'll need head protection in Iceland. I brought both a hat and headband and was glad I did when my North Face headband got soaked and I wasn't able to conveniently dry it.
Waterproof gloves. You'll especially want a pair of gloves if you do a glacier hike.
Sleeping mask. You'll want sleeping masks if your campervan doesn't completely block out the sun. I bought this sleeping mask specifically for Iceland. They worked well for me, but if you're sensitive to light, you might need a heavier pair.
Iceland's sun sets late and rises early, especially in the summer months. Here's a guide on traveling to Iceland in the summer.
Sunglasses. The sun in Iceland is strong, making sunglasses helpful for driving and hiking. I brought my Goodr sunglasses everywhere.
Earplugs. In some popular (crowded) campsites, your neighbor's campervan might park closer than you like, and their inhabitants might sleep later or wake up earlier than you. I bought a pack of earplugs and used them most nights.
☀️ Personal Care
Toiletry bag with a hook. One of my biggest mistakes was bringing a toiletry bag without a hook, which made it difficult/impossible to put my bag down in the campsite bathrooms. All the campsites I stayed at offered hooks to hang your toiletry bag.
Toiletries. Campsites don't offer toiletries, so make sure to bring some.
Scrunchies (for long hair). You may not want to dip your hair in the hot springs.
Minerals in hot springs can cause hair dryness. Due to high levels of silica, the Blue Lagoon specifically will make your hair stiff and difficult to manage.
Iceland is further up in the Arctic Circle and closer to the sun. People have gotten sunburnt in Iceland.
🔋 Electronics
Waterproof phone case. You'll want a case for the rain and hot springs (especially the famous Blue Lagoon). I brought a waterproof phone case to all the hot springs I visited.
Plug adapter. Iceland uses the standard Europlug (two prongs with round pins). I bought this universal adapter for this trip and was able to charge my electronics at some stops.
Phone charger (USB). Most campervans offer USB charging so you'll want to bring a charger while you're driving during your Iceland road trip. Check your campervan's description to make sure it has USB charging.
Portable battery pack. Charging can sometimes be slow in a campervan. I found it helpful to have a battery pack in case I needed an extra boost when I couldn't charge fast enough.
🚰 Miscellaneous Items
Quick dry towel (1-2). You'll need towels for showers and the hot springs. I brought my quick dry towel and wished I had brought two separate ones for hot springs and showers for cleanliness.
Some hot springs will offer towels (e.g., Blue Lagoon as part of your entry fee, Secret Lagoon for an additional fee), but not all will (e.g., Hrunalaug hot spring).
Small towels. You'll need a towel to wipe up messes, but also to wipe down windshield condensation in the mornings. I didn't bring one of these and had to use dirty clothes.
Day pack. You'll likely do at least one hike and you'll need something that can carry your water and the many layers you'll need. Make sure you have a way to waterproof your bag.
Reusable water bottle. There's no need to buy bottled water in Iceland. I brought my Hydro Flask everywhere.
Iceland's water is one of the cleanest in the world and 90%+ of the water comes from natural springs.
Reusable plastic bag. You'll want one for grocery shopping as Iceland has banned stores from providing plastic bags to shoppers for environmental reasons.
Ziploc bags. Iceland doesn't seem to commonly carry Ziplog bags and you might want one to pack a sandwich for a day hike or to waterproof items. You can also bring a reusable sandwich bag.
Trash bag. You'll need to create a temporary trash bag inside your camper sometimes.
Headlamp (optional). You'll need headlamps to navigate inside your campervan when it's dark on cloudy nights. If you want to save space, your phone's flashlight will be sufficient
Iceland's sun sets really late. It remained bright outside late into the night (even at 3 am). I only needed the headlamp during cloudy nights or when visiting dark bathroom stalls.
Iceland Campervan Trip Planner
To make your travel planning easier, download the trip planning template below and use it as a starting point. The template has country-specific travel information as well as an itinerary, packing list and map with recommended places pinned.
The template is built on Notion, which is what I use for all my travel planning (I'm not paid to say this; I just like the tool). If you don't have Notion, creating an account is free.
If you have any questions or thoughts, feel free to leave them in the comments below.
🧋 This site is run entirely by me, Lukiih. I spend hours writing each article to ensure its accuracy and conciseness. If you find my site helpful, you can say thanks by buying me bubble tea!