Receiving over 30 million tourists annually, Thailand is one of the most popular Southeast Asia countries to travel to. Visitors can walk through stunning Buddhist temples, visit floating markets, go to elephant sanctuaries and eat flavorful, spicy Thai street food.
I spent two memorable weeks in Thailand and in this travel guide, I share practical travel tips that are especially useful for first-time visitors who are planning a trip there.
Disclosure: This post may contain affiliate links. If you make a purchase through them, I may earn a small commission, at no extra cost to you. Thanks for your support!
1. Top Places To Visit in Thailand
Thailand has four main regions: North, Northeast, Central and South. The Northeast is the least popular for tourists as it's a region predominantly known for agriculture.
Below are the best places to visit by region and the top things to do in each one.
Northern Thailand's Best Places: Chiang Mai and Chiang Rai
✨ Known For: Northern Thailand is known for its mountain landscapes, lush forests and local villages.
📍 Best Places: The two most popular places to visit in Northern Thailand are Chiang Mai and Chiang Rai. The Mae Hong Son region, known for its natural landscape, is also popular, but most visitors just take a day trip there from Chiang Mai.
🐘 Top Attractions: Here's the a quick overview of top attractions in Chiang Mai and Chiang Rai:
Chiang Mai's top attractions are:
Many Thailand elephant camps have rebranded themselves as "elephant sanctuaries" without truly being ethical. This elephant sanctuary guide lists the most ethical places around Chiang Mai.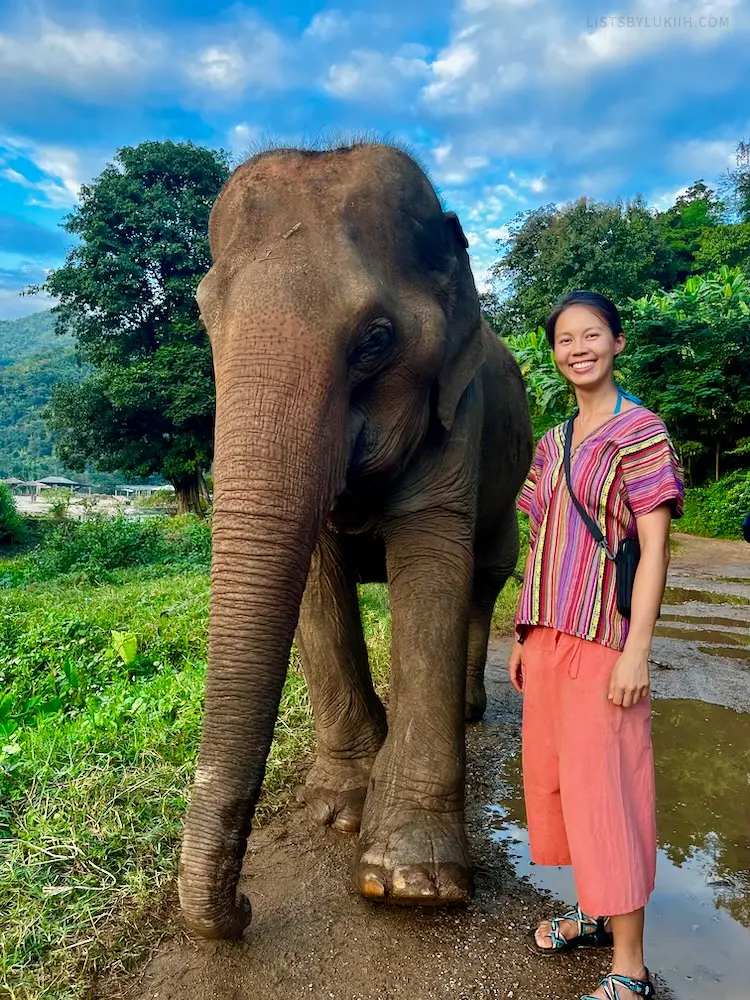 Chiang Rai is four hours from Chiang Mai so it's best to visit it as a separate destination. If you don't have much time, here's an extremely well-rated Chiang Rai day tour from Chiang Mai.
🍀 My Experience: I spent four days in Chiang Mai and the highlights of my trip were visiting an elephant sanctuary, trying unique Northern Thailand dishes during a food tour and learning about monks in a casual conversation. I visited several temples (and even hiked to Doi Suthep), which were all beautiful, but I got a bit "templed out" by the third day.
Central Thailand's Most Popular Place: Bangkok
✨ Known For: Central Thailand is best known for being the home of the capital city, Bangkok. Bangkok is an urban area that most visitors fly into through the Suvarnabhumi International Airport (BKK).
🙏🏻 Top Attractions: Bangkok is a bustling, modern Southeast Asia city with shopping malls, temples, markets and many things to see and do:
Wat Pho, also known as the Temple of the Reclining Buddha, and The Grand Palace, home of the Emerald Buddha, are Bangkok's top two tourist attractions.
Wat Arun, also known as the Temple of Dawn, is another iconic temple where visitors can climb up steep steps to see panoramic views of the nearby Chao Phraya River.
Bangkok is also known for its floating markets with Damnoen Saduak being the most famous one. Located an hour and a half west of Bangkok, the floating market is more convenient to visit with a well-organized tour.
Khao San Road is an iconic street known for its vibrant atmosphere and streets lined with food stalls, shops and street performers. You can get there by tuk-tuk.
🍀 My Experience: I spent two days in Bangkok and while I was fascinated by the city's combination of modern and traditional landscapes, I enjoyed it less than my trip to Northern and Southern Thailand because it wasn't as unique. My Bangkok highlight was this authentic multi-course food tour.
Southern Thailand's Best Places: Thai Islands
✨ Known For: Southern Thailand is renowned for its beautiful beaches with crystal-clear blue waters and dramatic limestone cliffs. This region is one of the most popular destinations in Thailand.
🏖️ Best Islands: Southern Thailand has over 1,000 islands, or "koh" in Thai, and many of them are popular for different reasons.
Phi Phi Islands, which include Koh Phi Phi Don and Koh Phi Phi Leh, are known for their breathtaking natural beauty, but are also very popular and crowded.
Phuket is the largest island off the West Coast and offers stunning beaches with a vibrant nightlife and party scene. You can take a speedboat from Phuket to visit and snorkel in the Phi Phi Islands as a day trip.
Koh Samui is a more relaxed island, but it's still well-known for its nightlife and party scene. It's often used as a hub for other nearby islands, Koh Tao and Koh Phangan.
Koh Chang is a larger island that's a perfect place for nature lovers as it has rainforests, waterfalls and wildlife.
Koh Lanta is a great place for travelers looking for a more laid-back and peaceful atmosphere.
Krabi is not an island, but boasts popular, picturesque beaches like Ao Nang, Railay Beach and Tonsai Beach. Krabi is also a short boat ride away from the Phi Phi Islands.
Southern Thailand also has the natural gem, Khao Sok National Park, which is one of the oldest rainforests in the world, featuring lush and diverse ecosystems with giant trees. The country has over 100 national parks and they're largely under-visited.
🍀 My Experience: I went to Krabi so I could explore its various beaches, check out the nearby Phi Phi Islands and rock climb at Railay Beach. I loved Krabi's relaxed, but still busy atmosphere, and enjoyed eating at its affordable night market every night.
2. When To Visit Thailand
☀️ Best Time To Visit: Thailand is a tropical country, so the best time to visit it is during its cool season when the weather is dry and not too hot.
However, the weather can vary by region and there are good reasons to visit Thailand during the rainy or peak season.
🌧️ Seasons: Here's a quick overview of Thailand's three seasons:
The cool season (November to February), which is also the dry season, has more pleasant weather with temperatures ranging from 74°F to 93°F. This also coincides with the country's high season where you'll see more crowds, especially in popular areas like Chiang Mai.
During the hot season (March to May), temperatures range from 80°F to 96°F and the heat can feel intense with the humidity. Thailand's beach destinations are popular during this time.
During the wet season (June to October), temperatures range from 77°F to 93°F and you'll see the most rain during the beginning and end of the monsoon season (June and October).

The rainy season is the low season, but if you visit during this time, the country will be lush and you'll get better deals. Also, rain showers don't typically last the entire day in Thailand.
🍀 My Experience: I traveled to Thailand in November during the cool season and experienced intermittent rain in Southern Thailand, but the weather was mostly warm and sunny. It wasn't the hot season, but the heat was intense, so wearing loose-fitting clothes was essential.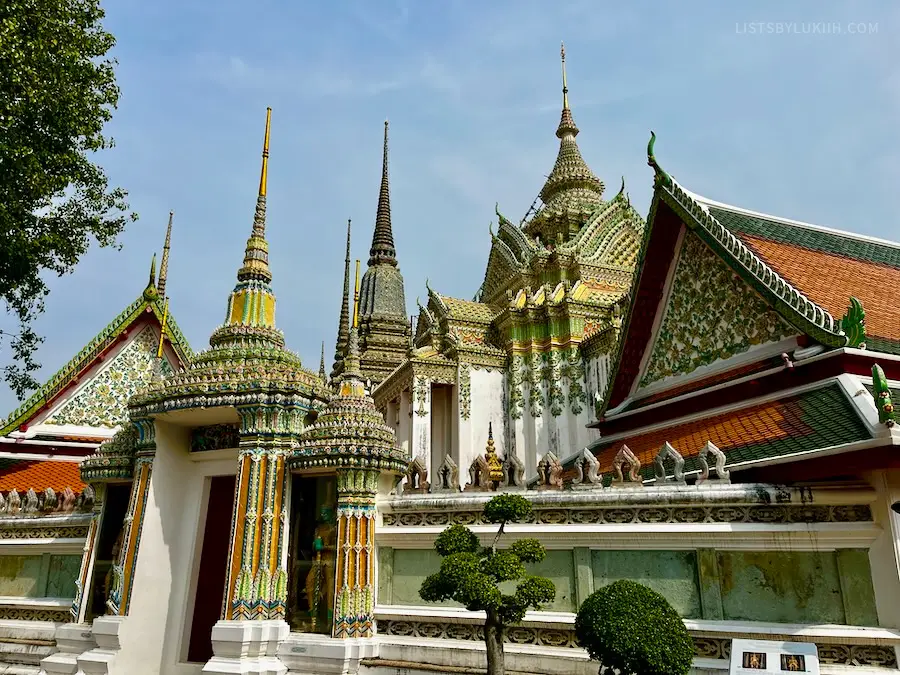 3. How Long To Visit Thailand
🗓️ Ideal Duration: Thailand has a wide variety of landscapes, destinations and activities, so it's a country where you can easily spend more than a week traveling through it.
With one week in Thailand, you'll likely only be able to explore one to two regions if you don't want to feel rushed.
With two weeks or more in Thailand, you can explore three to five areas around the country.
Transportation times between the different regions can take several hours, especially if you're not traveling by plane, so it's not worth visiting several regions if you have less than a week in Thailand.
🍀 My Experience: I spent 12 days in Thailand and that gave me enough time to visit three different regions. Having now done the trip, I don't think I could have fit more areas into my Thailand itinerary without it feeling rushed.
4. Visa Requirements for Thailand
🛃 Visa: A tourist visa is not required for United States citizens visiting Thailand for up to 30 days.
✈️ Passport: The US government also recommends that your passport be valid for 6 months from your Thailand trip so that you don't have any issues getting in.
🍀 My Experience: I flew into Thailand from Vietnam and had no issues with paperwork as an American citizen with a valid passport.
5. Budgeting and Costs for Thailand
💰 Cost Ranking: Thailand is extremely affordable to visit by United States standards, but it's not considered to be cheaper than other Southeast Asia countries like Vietnam, Laos, Cambodia and Indonesia.
💵 Expected Budget: Budget travelers can expect to spend about $30 per day and mid-range budget travelers, such as myself, can expect to spend approximately $75 per day in Thailand, excluding flights.
🍀 My Experience: I share all my travel expenses in this Thailand budget breakdown. Thailand is one of the cheapest countries I've traveled to and as an American, I was constantly surprised by the prices (e.g., some of my best meals were under $5 there).
6. Cash and Tipping in Thailand
💰 Currency: The local currency is the Thai Baht (THB) and the US dollar is not widely accepted, so make sure to exchange currencies. The exchange rate was $1 USD = ฿ 34 at the time of writing.
💳 Credit Cards: Credit cards are not widely accepted in Thailand, as the economy still largely depends on cash transactions even in tourist areas.
💵 Tipping Etiquette: Tipping is not customary in Thailand, but it's appreciated and not considered rude. Tour guides will gladly accept a 10% to 15% tip from tourists, especially those serving Americans.
🍀 My Experience: I stayed in tourist areas (e.g., Bangkok, Chiang Mai and Krabi) and found that very few places took credit cards, so make sure to carry about $40 worth of cash every day during your Thailand trip.
7. How To Get Around in Thailand
There are several ways to get around Thailand and you can easily travel around the country without having to rent a car.
✈️ Flights: Thailand has ten international airports, but its main one is Suvarnabhumi Airport (BKK) in Bangkok. From there, the best way to get to the other regions of Thailand is by domestic flights. Tourist areas like Chiang Mai, Phuket and Krabi all have airports.
The highly-rated airport transfer service, Welcome Pickups, is also a great option if you want to have your ride ready when you land in Bangkok, Chiang Mai or Phuket. They provide English-speaking local drivers for the same price as a regular taxi.
If you're flying on budget airlines that hop around Asia, be aware of bag weight limits that have extra fees. I flew AirAsia and VietJet Air and both had a combined carry-on and checked-bag limit of 7kg (about 15 lbs).
🚌 Bus: The most budget-friendly way to get around Thailand is by bus, which can cost less than $1 per trip. Songthaews, which are red passenger trucks, are also a common local transportation that costs about $2 per ride.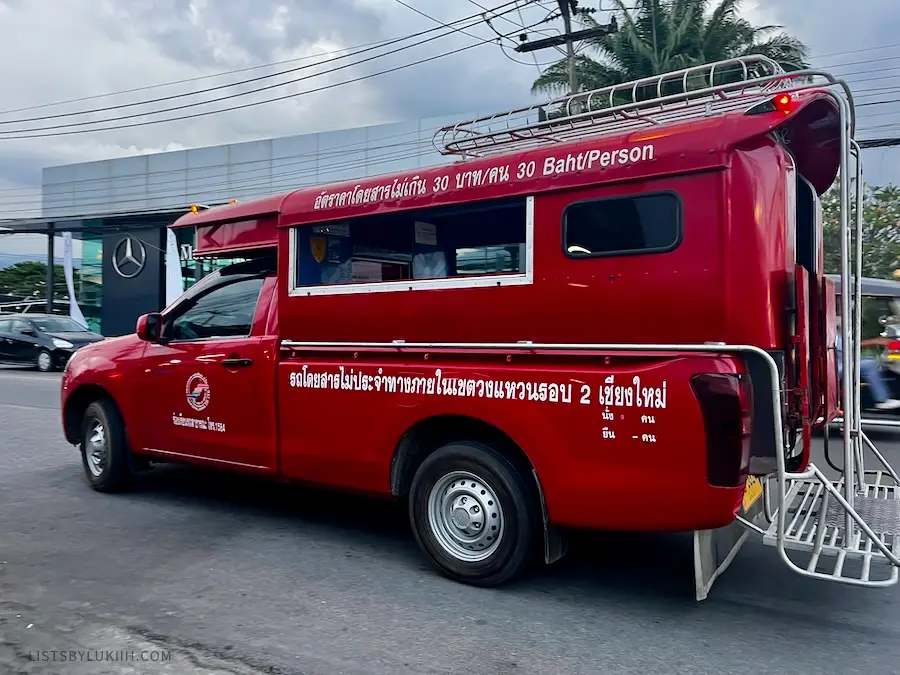 🏍️ Tuk-Tuks: Tuk-tuks are a common form of transportation for covering short distances within a city and they can cost less than $5 per trip.
When negotiating with tuk-tuks, you can download the Grab app, which is the Uber of Southeast Asia, to check prices to establish a baseline.
🚇 Public Transport: Public transport is not common in Thailand except in Bangkok, which has the affordable MRT and BTS Skytrain. It's a good idea to take advantage of them when traveling to and from the airport.
🍀 My Experience: I took cheap domestic flights to travel around the different regions of Thailand, and used several methods of transportation within the cities (e.g., tuk-tuks, motorbikes, the metro, boat rides, taxis, etc.). I highly recommend downloading the Grab app (iOS, Android) to conveniently get around cities and tourist areas.
8. Safety and Scams in Thailand
⚠️ Safety Rating: Thailand is considered a safe country and one of the safest countries in Southeast Asia to travel to. Thailand has a travel advisory level of 1 (safe) per the US Department of State and is ranked #92 out of #163 safest countries by the Global Peace Index (for reference, the United States is ranked #131).
🥷🏻 Common Crimes: The most common crimes against tourists in Thailand are nonviolent and include petty theft, purse snatching and pickpocketing. This is more common in crowded tourist areas like Bangkok, Chiang Mai and Phuket.
💎 Common Scams: These are some common scams to watch out for in Thailand:
The closed attraction scam involves the scammer telling you that an attraction is closed and they will then offer to take you to another location where they usually earn a commission.
The gem scam involves the scammer selling you luxury items, usually jewelry, at discounted, wholesale prices, but the items are fake and worthless.
The scooter or jet ski scam, which is most common in Thai islands, involves a scooter or jet ski scammer asking you for your passport to hold as collateral. When you return the rental, they'll claim that you damaged the vehicle and demand a fee before giving back your passport.
🍀 My Experience: While traveling in Thailand, I made sure to never leave my things unattended and carried cash in my crossbody phone pouch. I didn't experience any crime or safety-related issues.
I was approached by a potential scammer in Bangkok who told me that the Muay Thai match I wanted to see was canceled. I simply stopped engaging with him and he abruptly walked away.
9. Health Concerns in Thailand
💧 Tap Water: Thailand's tap water is not safe to drink, so make sure to purchase bottled water from convenience stores and restaurants.
🦟 Mosquitoes: Thailand has a tropical climate and mosquitoes that can carry diseases (e.g., dengue fever), so visitors should protect themselves, especially during the rainy season.
💉 Vaccines: Here are the vaccines recommended by the CDC when traveling to Thailand.
🍀 My Experience: I tend to get bitten and I find that this mosquito repellent lotion works better than the spray alternative (per the CDC: "DEET offers the best protection against mosquito bites"), so I used it a lot during my Thailand vacation.
10. Speaking English in Thailand
🗣️ Language: Thai is the official language in Thailand. About 45% of the Thai population speaks some English, but that's more common in tourist areas.
🇹🇭 Thai Phrases: Some common Thai phrases to know while visiting Thailand are:
To be extra polite, you can add "ka" if you're female and "krub" if you're male at the end of the phrases (e.g., "sa-wa-dee-ka" for myself).
🍀 My Experience: I traveled in tourist areas and did a lot of tours, so I didn't have any issues navigating Thailand without speaking Thai. Some local restaurants won't have any English speakers, so you'll have to rely on Google Translate and point at menu items in those situations.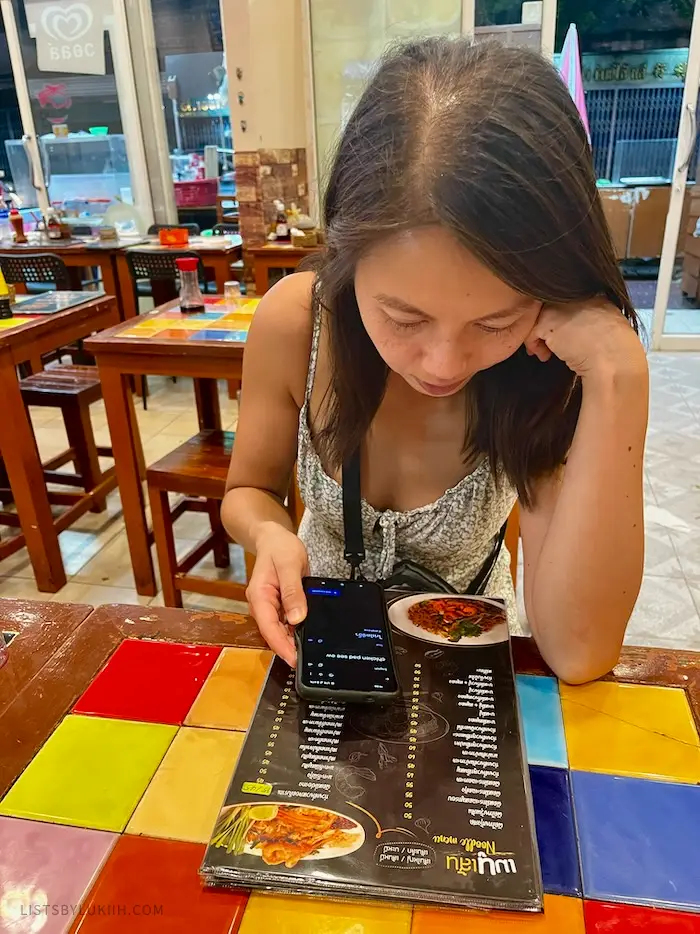 11. Cultural Differences in Thailand
🤲 Context: Thailand is a country where 95% of the population is Buddhist.
🇹🇭 Cultural Differences: Given the importance of religion, here are some cultural differences to be aware of when visiting Thailand:
Different parts of the body have different significance. The head is the most spiritual part of the body, so you shouldn't touch anyone's head. The feet are the most impure parts of the body, so don't put your feet on any furniture or use them to point at things.
Monks are highly respected, so you should not disrespect one. Don't touch or sit next to a monk if you're a woman.
The royal family is important in Thailand and Thai law requires you to respect the king and his family, so don't make fun of or disrespect the monarchy. If you want to play it safe, don't talk about them in general.
Thai temples have a dress code that you need to follow.
🍀 My Experience: I went to a monk chat and visited several temples, and those are the two instances when I was most conscious of Thai culture and norms. Tour guides often talk about the importance of the royal family, so it's a good thing to know to not say anything inappropriate.
12. Dress Code and What To Wear in Thailand
👕 What To Wear: Regardless of the season, Thailand is generally a hot and humid country, so pack and wear loose-fitting clothes to stay comfortable. Avoid packing jeans as those will also be hard to dry if you get them wet (dryers are not common in Thailand).
Overall, Thai people dress in a more conservative way than people from the United States. You won't see locals wearing tight-fitting clothes, short shorts or tank tops despite the heat.
🧣 Temple Dress Code: All temples in Thailand require women to cover their knees and shoulders, so pack long skirts and pants. One of the best things to pack or buy is a light scarf that you can throw onto your shoulders or wrap around your legs if you need to cover up.
🩴 Shoes: Several temples in Thailand will also require you to take off your shoes, so pack sandals or shoes that are easy to take off.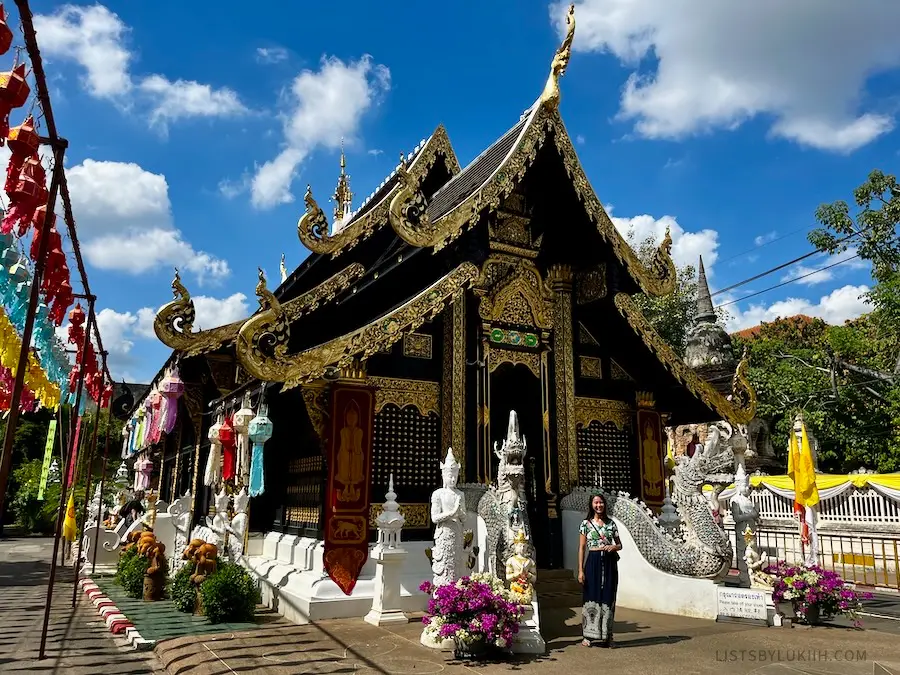 🍀 My Experience: I bought long and loose-fitting pants in Thailand to keep myself covered. When I was walking around a temple area in Chiang Mai, I was told to cover my shoulder by a temple employee even when I wasn't inside the temple.
13. Thai Dishes To Eat
🥗 Authentic Food: One of the greatest things about visiting Thailand is the flavorful, mouthwatering food that's very affordable.
You'll be able to try many of these dishes at local markets, night markets, food tours and local restaurants:
Green papaya salad (som tam) is a refreshing, spicy salad made of shredded papaya.
Pad thai is a flavorful rice noodle dish with eggs, tofu, fish sauce and shrimp.
Khao soi is a Northern Thailand dish made of egg noodles served in a coconut milk curry.
While visitors are sometimes familiar with typical Thai dishes, keep in mind that each region, especially in Northern Thailand, has its own unique cuisine.
Gaeng keow wan (green curry) is the spiciest curry dish to try in Thailand.
One thing to keep in mind is that Thai food is very spicy. "Mild spicy" or "no spicy" by Thai standards can be close to very spicy by American standards.
Pandan-based desserts are also very common in Thailand. Pandan is a tropical plant that's fragrant and has a unique taste.
Kao niew ma muang is mango with sticky rice, a popular dessert that's even popular outside of Thailand.
Nam ngiaw is a noodle soup and a specialty from Northern Thailand. This was one of the more unique noodle dishes I tried.
🍀 My Experience: Thailand is home to one of my all-time favorite cuisines and I highly recommend going to night markets and food tours to try dishes you wouldn't otherwise get. I did this authentic food tour in Bangkok and this delicious one in Chiang Mai.
Summary: Thailand at a Glance
Here's a quick summary of important trip-planning information for Thailand:
📍 Popular Destinations: Chiang Mai, Chiang Rai, Bangkok, Phi Phi Islands, Phuket, Krabi
☀️ Best Time To Visit: Cool season (November to February)
🗓️ How Long To Visit: 1-3 weeks to visit several regions
🛃 Visa: Not required for United States citizens visiting for less than 30 days
💰 Currency: Thai Baht. USD is not widely accepted.
💳 Credit Cards: Not widely accepted; bring cash
💵 Tipping Etiquette: Not customary, but welcome
💬 Language: Thai; only 45% of locals speak English
🌎 Time Zone: Indochina Time (see current time)
💧 Tap Water: Not safe to drink
🔌 Outlet Type: You'll need a power plug adapter if you're visiting from the United States
🌐 Wi-Fi: Not widely available; make sure to get a SIM card for mobile data
My Google Fi's international plan worked well during my Thailand trip. You can get a $20 credit when you use my Google Fi referral code here.
📱 Apps To Download: Grab (iOS, Android), Google Translate (iOS, Android)
🎒 What To Pack: Sunscreen, mosquito repellent, clothes to cover your shoulders and knees
🏠 Booking Resources: Booking.com for lowest accommodation rates, Viator for great tour experiences
If you have any questions or thoughts, feel free to leave them in the comments below.
🧋 This site is run entirely by me, Lukiih. I spend hours writing each article to ensure its accuracy and conciseness. If you find my site helpful, you can say thanks by buying me bubble tea!