Called the "California of Europe", Portugal is known for its consistently pleasant weather, historic cities with several UNESCO World Heritage sites, beautiful beaches and pastéis de nata (custard tarts).
My sister and I separately took a trip to Portugal in the fall and spring and here, I share practical tips on taking a trip there. This post covers:
🇵🇹 Portugal travel information to save you trip planning time
🗓️ 7-day itinerary covering three destinations in Portugal
💡 Practical tips and how to get around in Portugal
✏️ Portugal trip planning template
Disclosure: This post may contain affiliate links. If you make a purchase through them, I may earn a small commission, at no extra cost to you. Thanks for your support!
Trip Planning Information for Portugal
Here is some important travel information on Portugal to save you trip planning time:
⭐ Known For
Portugal is known for:
Beaches, sunny and pleasant weather
Food (e.g., pastéis de nata, port wine, francesinha, grilled sardines)
Historic, picturesque cities with several UNESCO World Heritage sites
📍 Location
Portugal is a small country located in southern Europe next to the Atlantic Ocean and on the west coast of Spain.
💬 Language
Portugal's official language is Portuguese, the fifth most popular language in the world. English is also widely spoken in Portugal, especially in big cities like Lisbon and Porto.
Some basic Portuguese phrases to learn when visiting Portugal include "olá," which means "hello," and "obrigado/a," which means "thank you".
🛃 Visa
A visa is not required for United States nationals visiting Portugal for up to 90 days.
Starting in 2024, United States travelers will need to meet a new travel authorization requirement called ETIAS to enter Portugal.
🌎 Time Zone
Portugal has two different time zones. Lisbon and Porto, like most of Portugal, use the Western European Summer Time. Portugal's autonomous archipelago, the Azores, uses the Azores Summer Time.
💰 Currency
Like many countries in the European Nation, Portugal's official currency is the euro. At the time of writing, the exchange rate was $1 USD = €0.92.
💳 Credit Card
Portugal has a well-established credit card infrastructure. Although infrequent, some places still rely on cash transactions, so make sure to bring some cash.
💵 Tipping Etiquette
Tipping is not expected in Portugal and is generally only done for exceptional service.
🔌 Outlet
Portugal uses the standard European plugs, which have two prongs with round pins, so United States travelers will need to bring an adapter. I bought and used this well-rated plug adapter.
💧Tap Water
Portugal's tap water is safe to drink and meets EU safety standards, but many locals drink bottled water due to its taste. I brought my reusable water bottle and refilled it often.
☀️ Best Time To Visit
To avoid the crowds and still enjoy the country's great weather, the best time to visit Portugal is during the spring (March to May) and the fall (September to October). I visited in May and my sister visited in September.
Portugal's peak season is from June to Early September, with the weather averaging 72°F to 77°F during this timeframe.
🗓️ How Long To Visit
You'll need a minimum of seven days to explore Portugal if you want to see one to three cities. You can easily spend two weeks in Portugal and see very different regions without the experience feeling repetitive.
The Portugal trip planning template below has all the information above in a downloadable Notion.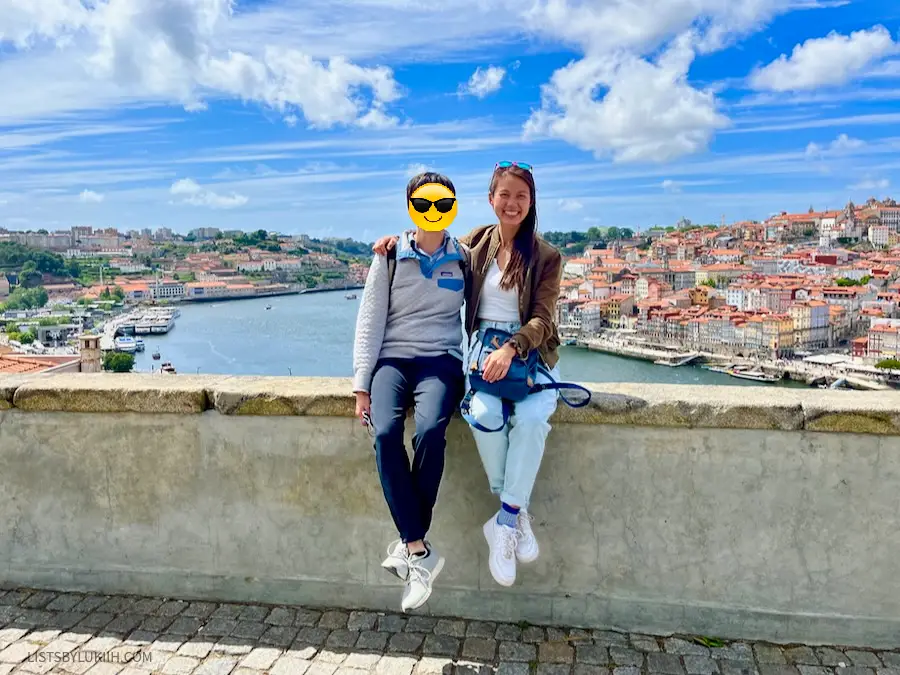 6 Essential Tips for Visiting Portugal
Here are six practical travel tips when visiting Portugal:
👟 Tip #1: Wear comfortable shoes as Portugal is very hilly.
One of the primary ways to explore Portugal is on foot and the cities are incredibly hilly, sometimes with cobblestone steps and narrow sidewalks.
I was comfortable in my running shoes and sneakers throughout my entire Portugal trip. My sister wore Converse and she ended up getting foot pain from all the walking.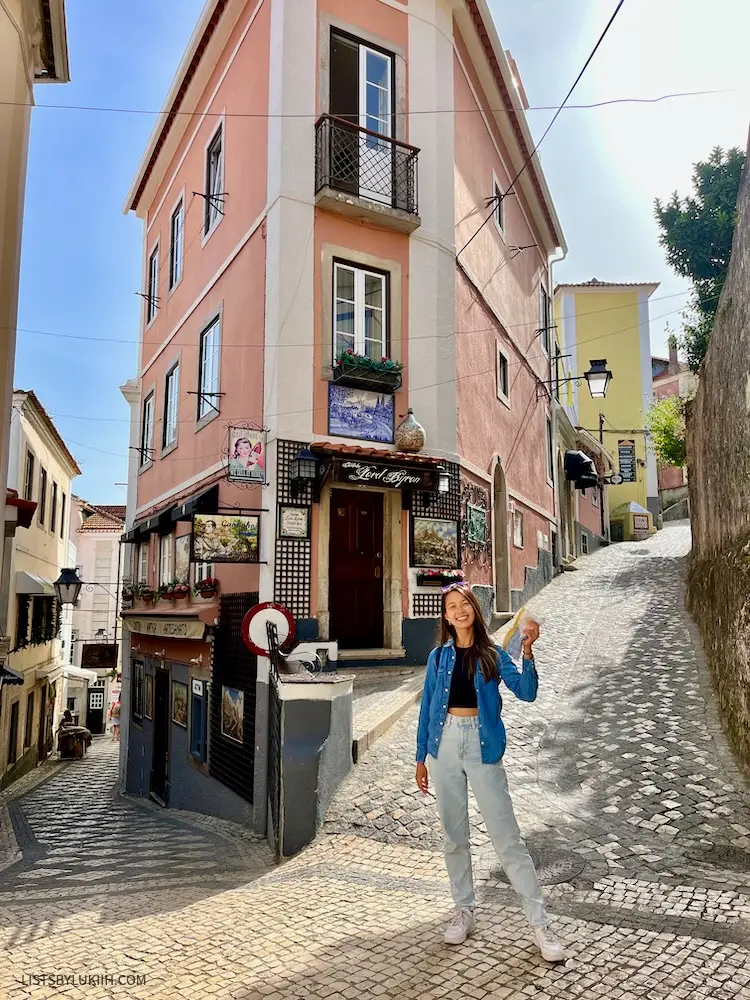 🥘 Tip #2: Make lunch and dinner reservations, especially for outdoor dining.
In Portugal, it's difficult to find good restaurants with open seats during meal times. It's especially challenging to get outdoor seating thanks to the nice weather, so making reservations will save you some hassle.
In both Porto and Lisbon, I spent more than an hour looking for outdoor dining options on multiple days when I didn't have reservations.
🎟️ Tip #3: Determine whether the tourist cards are worth it.
Portugal's top two destinations, Lisbon and Porto, offer a visitor card. The Lisboa Card gives you free access to public transportation, 39 museums and other tourist attractions. The Porto Card offers similar discounts and benefits.
Many online resources recommend getting the cards, but I didn't get them because it wasn't worth the price for my planned itinerary. All my trip expenses are detailed in this Portugal travel cost breakdown.
🚇 Tip #4: Take advantage of Portugal's public transportation system.
Lisbon and Porto have well-maintained metros and you can take a three-hour train between the two. Riding the cities' vintage trams are also on many visitors' lists of the best things to do. See below for more on getting around Portugal.
🧳 Tip #5: It's worth paying to temporarily store your luggage if needed.
If your accommodation check-in or check-out time doesn't match your arrival or departure time, know that Portugal has several luggage storage locations. It's worth paying for them because it's a pain to drag your luggage around the hills and cobblestone sidewalks, no matter your fitness level.
In Lisbon, I used Luggage @ City Center and found them to have reasonable prices and good customer service.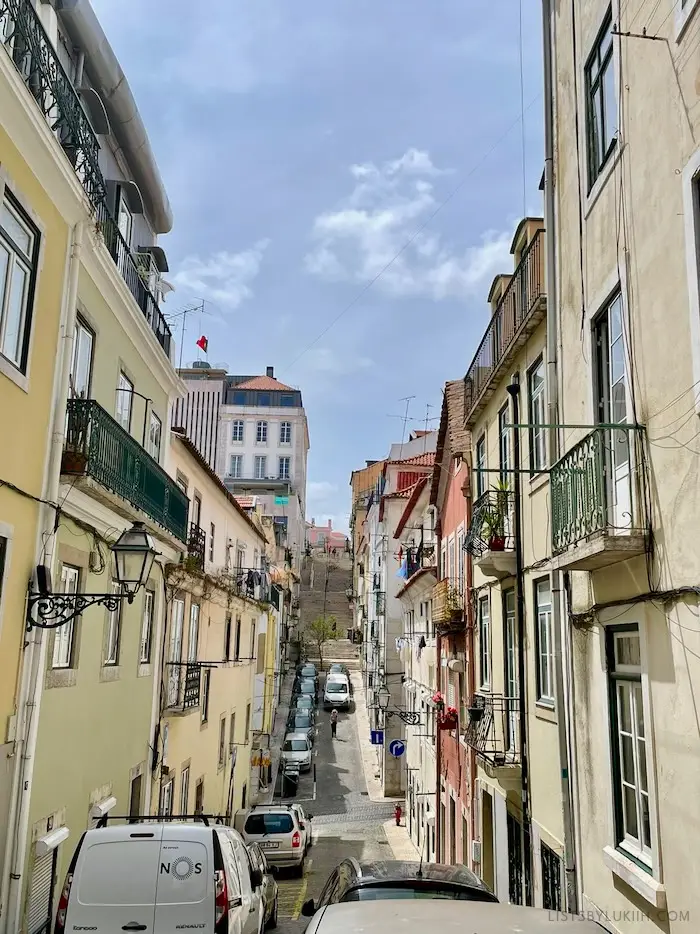 🧤Tip #6: Pack layers as Portugal's daily weather can fluctuate by 20°F.
Portugal has consistently sunny, mild weather almost year-round, but the temperature can fluctuate throughout the day.
During the peak month of August, it can be as warm as 85°F when the sun is out and drop to 65°F by night time. I always carried my packable Patagonia down jacket (here's the budget version).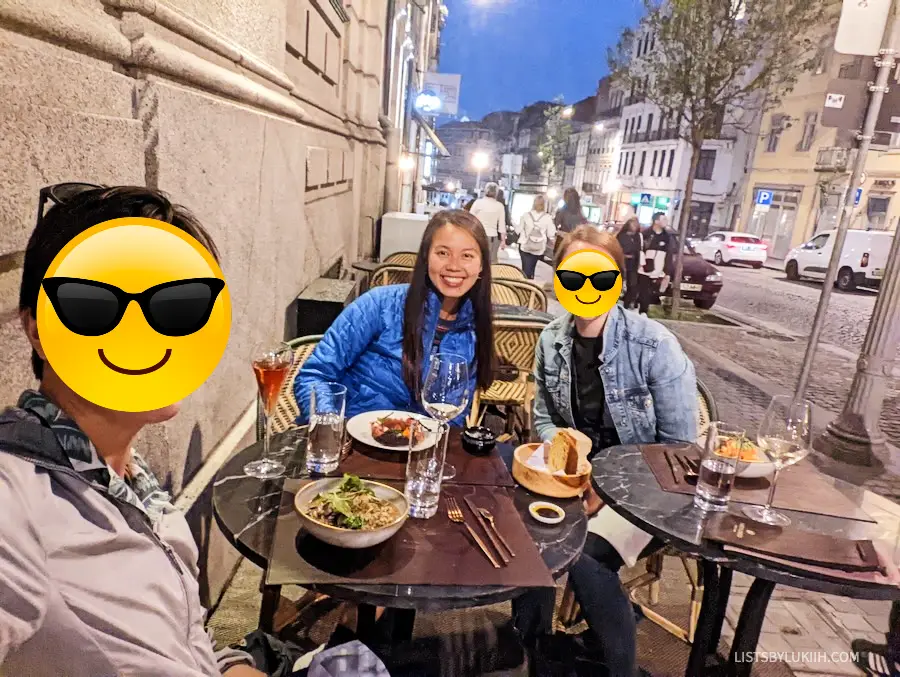 Getting Around Portugal
Portugal has three international airports with Lisbon's airport, Humberto Delgado Airport (LIS), being the primary one.
Once you land in Portugal, you can get around Portugal in four different ways: by taking public transportation, calling a taxi or Uber, walking or renting a car.
🚇 Public Transportation
Portugal's public transportation includes the metro, train, bus, funicular and tram. Like many other European countries, Portugal's public transportation is clean and easy to navigate.
To ride Lisbon's public transportation, you need to buy a Viva Viagem Card, which is available at the Lisbon airport and any metro station. You can charge it as you go (also called "zapping").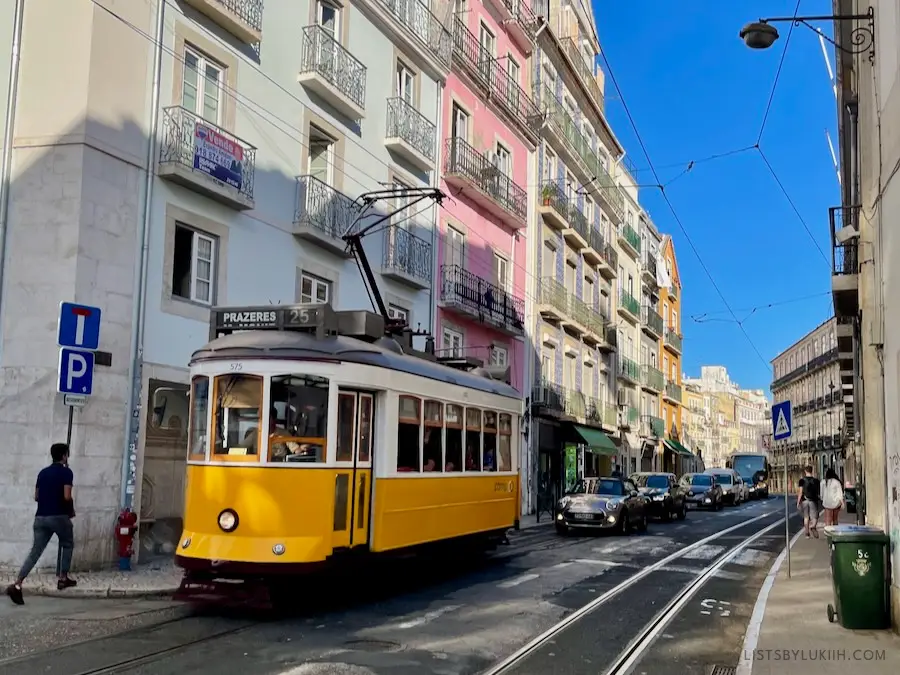 🚕 Ridesharing Apps or Taxi
Portugal has reliable taxis that have similar prices to calling an Uber (the latter is just more convenient). I used Uber three times during my one-week trip when walking or public transportation was not a good option (e.g., took too long or was too far away).
👟 Walking
Portugal has very walkable cities, but just remember tip #1 above to wear comfortable shoes as it is incredibly hilly.
🚗 Rental Car
Given Portugal's great public transportation and narrow streets, renting a car makes sense only if you're doing a more off-the-beaten-path itinerary.
To rent a car in Portugal, you need a valid driver's license and basic third-party liability insurance. Some rental insurances will have a 21 to 23 age requirement despite the legal driving age being 18.
You will see tuk-tuks with mostly tourists in them in Portugal. Unlike in some other countries, tuk-tuks in Portugal are used primarily as vehicles for giving tours, not as transportation to get from points A to B. This is why tuk-tuks are fairly expensive, costing around $30 USD an hour.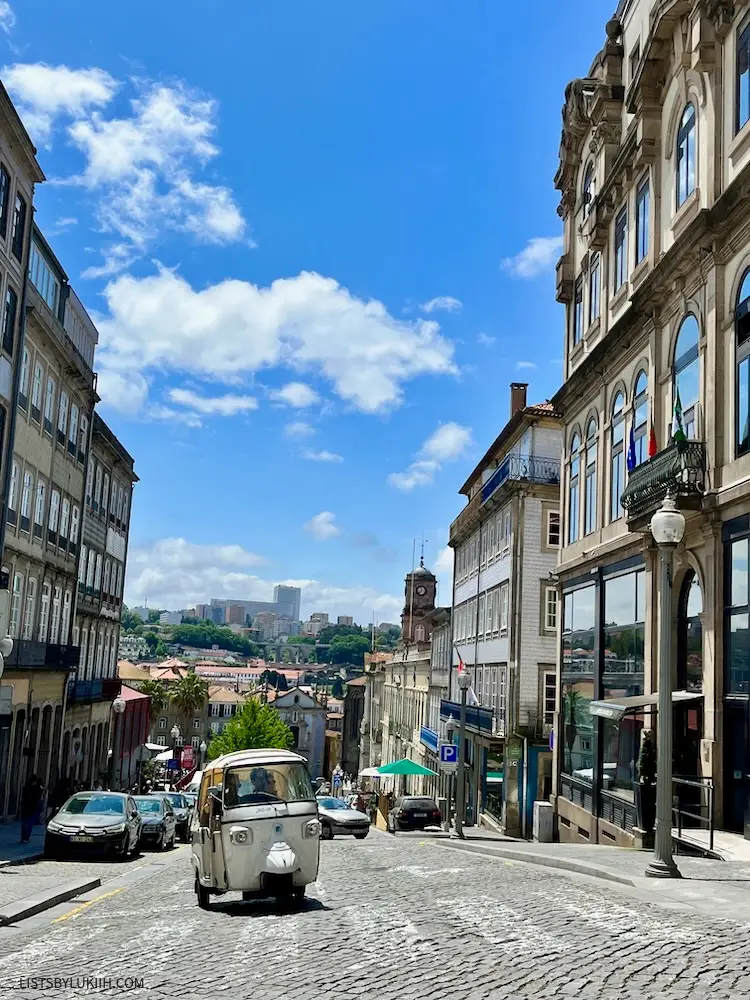 7-Day Itinerary for Portugal
Below is a great way to spend a week in Portugal while visiting the country's top destinations and doing some of the best things it's known for.
About This Itinerary
This one-week itinerary is the improved and combined version of my and my sister's Portugal itineraries (we went to Portugal at separate times for one week each).
I've included some of our actual timestamps to give you an idea of how long you might need for each activity and how to efficiently sequence things.
Map of Itinerary
Portugal Itinerary
The Portugal trip planning template below has this itinerary prefilled.
Lisbon (3 days)
Day 1
✈️ Arrive in Lisbon and take the metro to the city center (morning)
🚶🏻‍♀️ Explore Baixa-Chiado's top attractions (1–5 pm)
☀️ Go to a miradouro for sunset (6–7 pm)
Day 2
🦞 Eat at Time Out Market Lisboa (noon)
🚂 Take the tram to Belém or to sightsee
⛪️ Explore Belém (2:30–6:30 pm)
☀️ Visit another miradouro for sunset (6–7 pm)
(See a more detailed Lisbon itinerary)
Sintra Day Trip
Day 3
🏰 Take a day trip to Sintra from Lisbon (all day)
(See a more detailed Sintra itinerary)
Porto (4 days)
Day 4
🛍️ Visit LX Factory (morning + lunch)
🚊 Take the train from Lisbon to Porto (11:30 am–3 pm)
📚 Visit Livraria Lello and Clérigos Tower (3:30–5:30 pm)
💧 Explore the Ribeira waterfront (6–7 pm)
Day 5
🚶🏻‍♀️ Explore Porto's city center (all day)
Day 6
🍷 Take a wine tasting tour in Douro Valley (all day)
Day 7
🦚 Visit Crystal Palace Garden (10 am–12 pm)
🍷 Cross the Luís I Bridge to Gaia (12:30–4:30 pm)
🌅 End your day at Parques da Virtudes (5–6:30 pm)
(See a more detailed Porto itinerary)
Portugal Map With Recommended Places
This Portugal map has all the recommended places pinned in Lisbon, Porto and Sintra.
Portugal's Top Destinations
Portugal's top destinations are Lisbon, Porto, Sintra, Coimbra, Braga and Aveiro, with the first two major cities being the most visited destinations in the country.
1. Lisbon
☀️ Known for: Lisbon, the capital city of Portugal, is a vibrant cosmopolitan city and is known for its historical sites, sunset viewpoints (called "miradouros"), charming districts and persistent sunny days.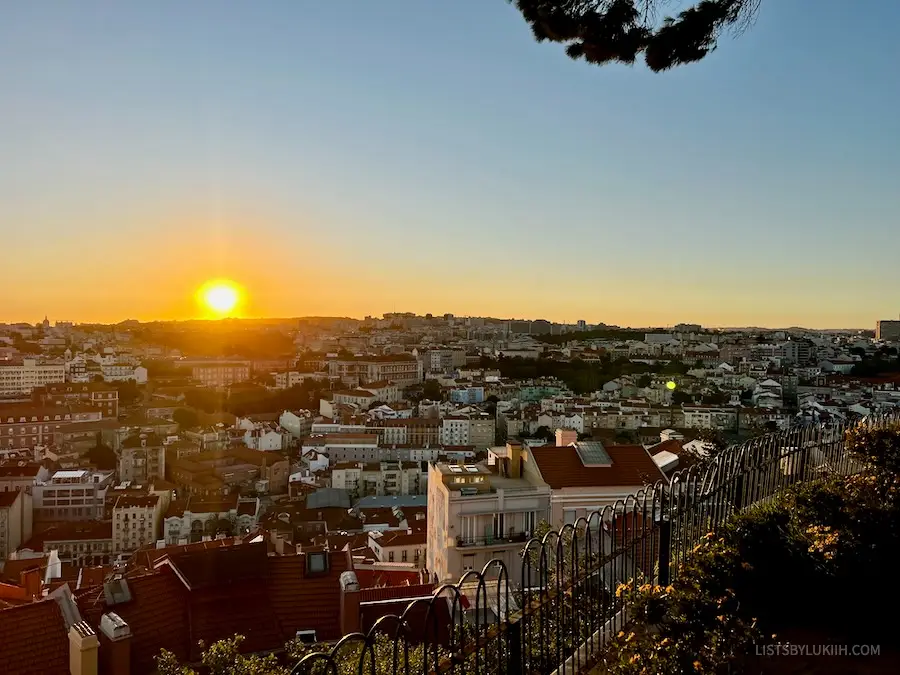 😊 Vibe: Lisbon is a big city with distinct districts, each with its own characteristics. Lisbon's city center has a walkable, small-town atmosphere. It's by far the most popular place to visit for tourists so expect some areas to be crowded.
🌟 Top attractions: Lisbon has a lot of sightseeing areas and several iconic attractions:
Baixa-Chiado, the city center, and Bairro Alto, the nearby historic town, are both lively and nice to walk around.
The village-like district of Alfama has the Sao Jorge Castle, one of the best places to catch the sunset.
The Belém district, located next to the Tagus River, has the famous Jerónimos Monastery.
It also has trendy shopping and dining areas like LX factory and Time Out Market.
The city is known to have several miradouros, or viewpoints, so it has some of the best spots to catch the sunset.
Lisbon is a perfect place to enjoy some of Portugal's well-known foods, including pastéis de nata (custard tarts), bifanas (pork sandwiches) and grilled sardines.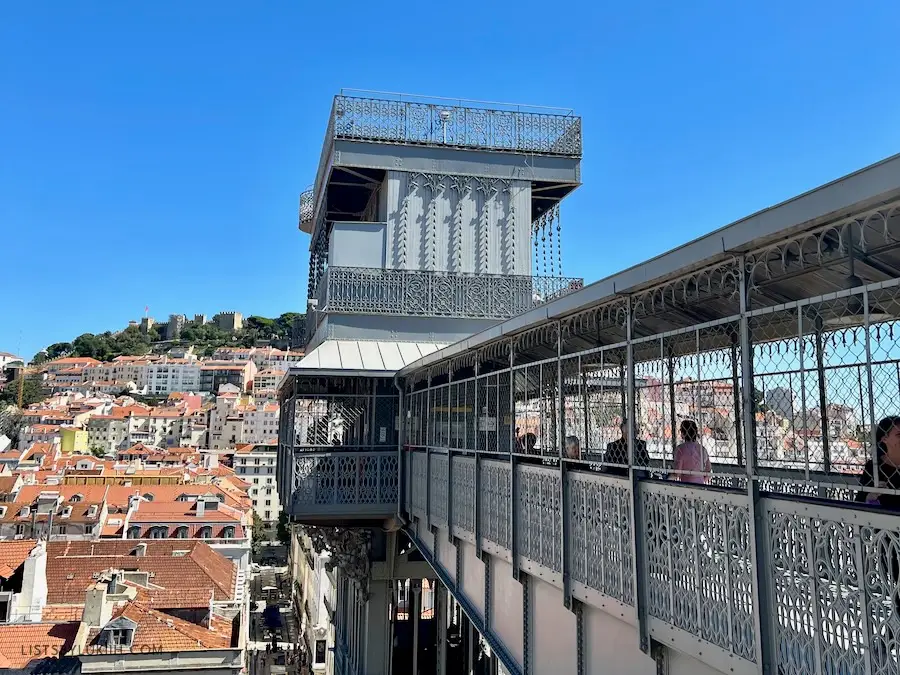 📍 Location: Lisbon is located on the western peninsula in the middle part of Portugal.
✈️ Getting there: Lisbon's city center is a 22-minute metro ride from Portugal's main international airport, Humberto Delgado Airport, making it a popular first stop for visitors.
You can also take a 20-minute taxi or Uber ride from the airport into the city, but that will cost significantly more (at least $30 USD).
🗓️ How long to visit: Lisbon has several distinct areas to explore, so you'll want to spend at least three days there, not including any day trips (e.g., Sintra). You might get tired of the capital and want to go elsewhere around the five-day mark.
🍀 My take: Lisbon is a great place to start your Portugal trip because it has so much to offer, allowing you to explore, see and eat different things each day. It's also a great place to start embracing walking as a way to see the country.
This Lisbon travel guide and itinerary has more details on the capital of Portugal.
2. Porto
🍷 Known for: Porto, the second largest city in Portugal, is known for its port wine, historic center and buildings decorated with blue ceramic tiles known as "azulejos".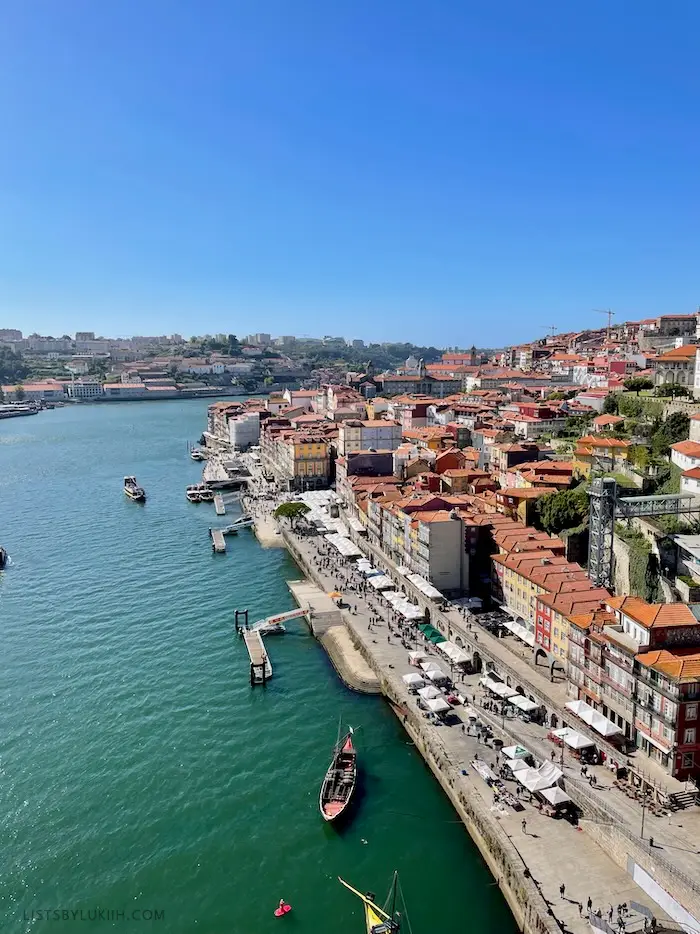 👟 Vibe: Porto's city center has a small-town, traditional atmosphere that's pedestrian friendly. Around dinner time, the charm of this area comes alive as many people dine outside and live music fills the air.
🌟 Top attractions: Porto has several attractions and sightseeing areas: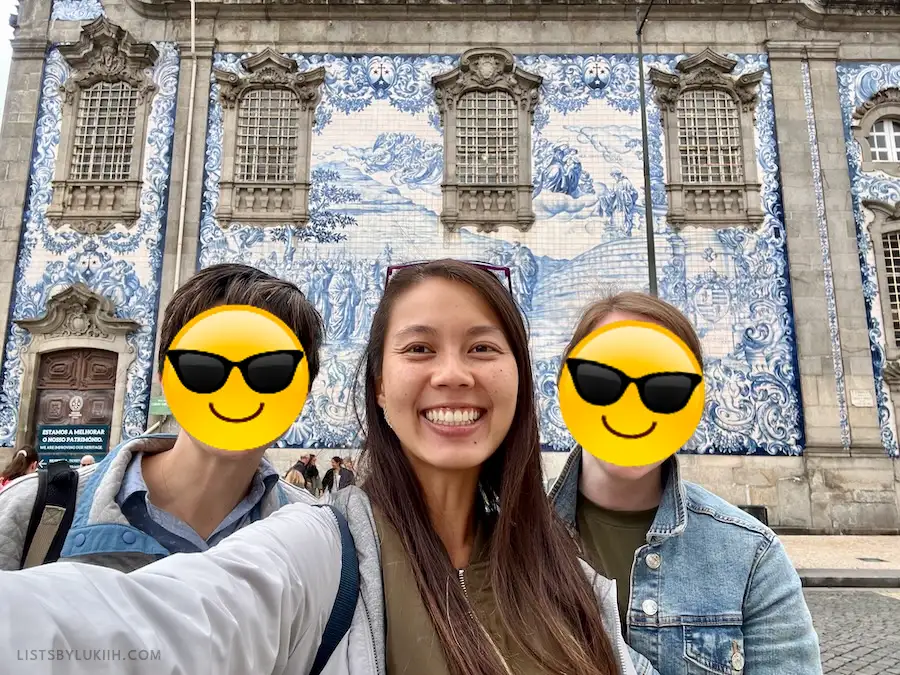 📍 Location: Located in Northern Portugal, Porto is a west coastal town.
🚗 Getting there: Porto has its own international airport, Francisco Sá Carneiro Airport, that you can fly into, even from the United States. From the airport, you can take a 25-minute bus or an hour metro ride into the city center.
Porto is a three-hour train ride away from Lisbon, which has the main international airport, making Porto a popular next stop after Lisbon.
🗓️ How long to visit: Porto can be visited in two days, with some suggesting spending up to four days there.
🍀 My take: I enjoyed Porto's contained and small-town atmosphere. I especially liked the city center at night when everyone was dining out in the streets to live music. Given Porto's smaller size compared to Lisbon's, it did feel like it had fewer attractions and activities.
This Porto travel guide outlines the city's top attractions and includes an itinerary.
3. Sintra
🏰 Known for: A UNESCO World Heritage Site, Sintra is a small town known for its colorful palaces, picturesque historic center and a castle with breathtaking views. It's the most popular day trip spot from Lisbon.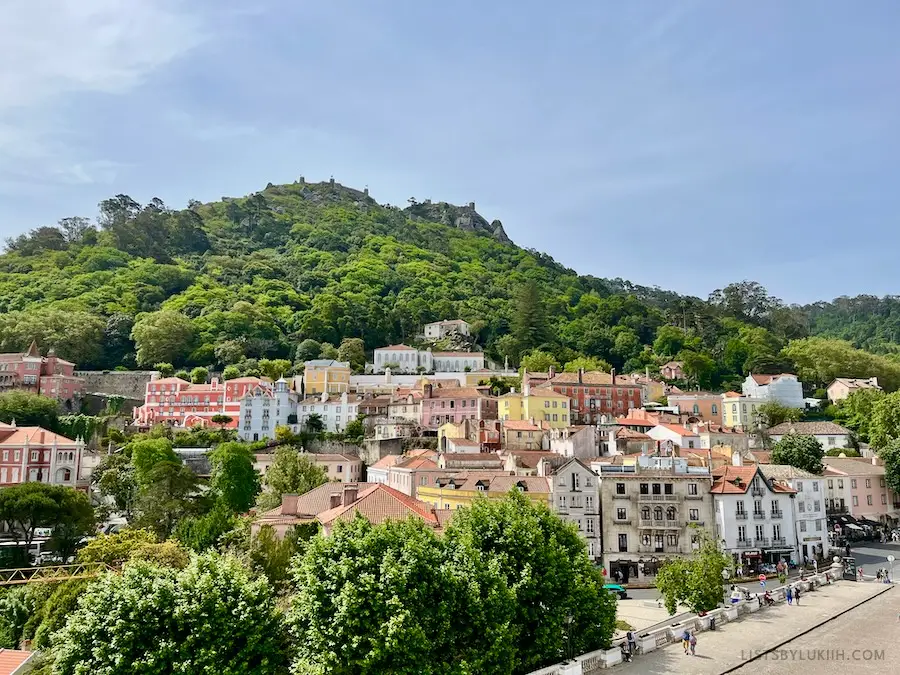 🧚‍♀️ Vibe: Sintra has a royal, almost fairytale-like atmosphere with its colorful buildings, bright palaces and ornate castles nestled in gardens.
🌟 Top attractions: Sintra has many attractions, with the bright yellow and purple Pena Palace being the main attraction. Other popular attractions include the castles, Castelo dos Mouros and Quinta da Regaleira, as well as the stunning ocean views at Cabo da Roca.
This Sintra trip guide includes two itineraries and outlines the city's top attractions.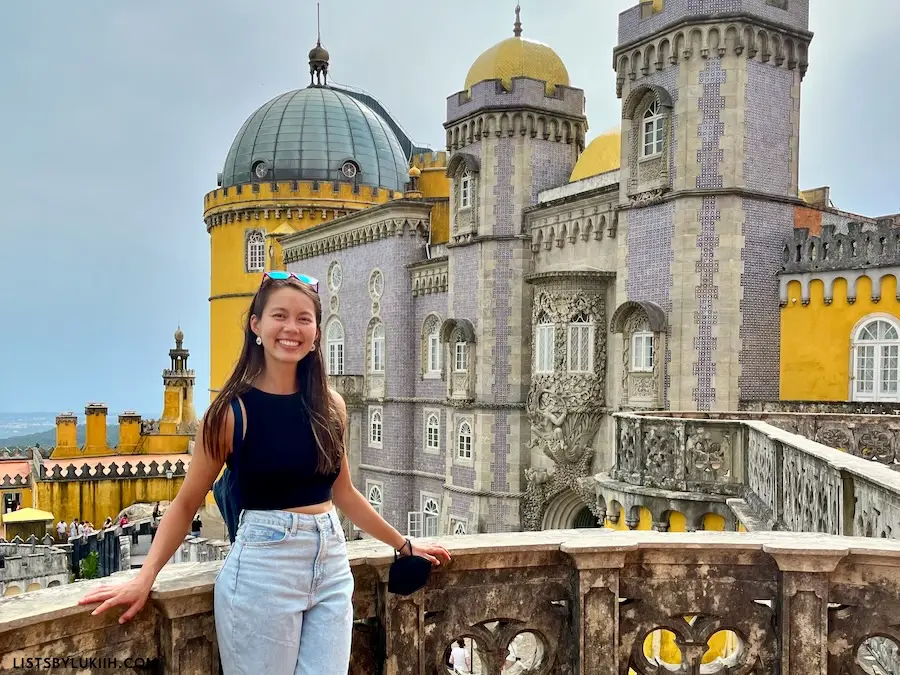 📍 Location: Sintra is located 21 miles west of Lisbon in the western peninsula of Portugal.
🚗 Getting there: You can visit Sintra with a guided tour or on your own by taking public transportation or calling an Uber from Lisbon.
A Sintra guided tour, which includes transportation, starts at $60 USD and is usually closer to $90 USD. Taking an Uber or taxi from Lisbon to Sintra can cost $100 USD or more, so getting to Sintra by car is only worth it if you can split it with a group (which is what my sister did).
🗓️ How long to visit: Sintra is most often visited as a full-day trip from Lisbon, but you can easily spend two days there. If you only have one day, you'll be able to visit approximately 3 to 5 of Sintra's top attractions, but you won't be able to adequately see all of them.
🍀 My take: Sintra is the best way to spend a full day outside of Lisbon for a change of scenery. It was one of my Portugal trip's highlights and I wished I had spent more time there. If you enjoy taking photos or want to see a European city that's more unique, you'll also likely enjoy Sintra.
Portugal Trip Planning Template
To make your travel planning easier, download the trip planning template below and use it as a starting point. The template has country-specific travel information as well as an itinerary, packing list and map with recommended places pinned.
The template is built on Notion, which is what I use for all my travel planning (I'm not paid to say this; I just like the tool). If you don't have Notion, creating an account is free.
If you have any questions or thoughts, feel free to leave them in the comments below.
🧋 This site is run entirely by me, Lukiih. I spend hours writing each article to ensure its accuracy and conciseness. If you find my site helpful, you can say thanks by buying me bubble tea!