Lisbon, the most visited city in Portugal, is known for its historic architecture, panoramic viewpoints called "miradouros", pleasant weather and charming districts.
My sister and I separately took a four-day trip to Lisbon and here, I share our combined practical travel tips on visiting the capital of Portugal. This post covers:
⭐️ Top attractions in Lisbon and our honest reviews of them
🗓️ Four-day itinerary for Lisbon
📍 Lisbon map with key places pinned
💰 An expense breakdown of my Lisbon trip
🚗 How to get around Lisbon
🏠 Lisbon accommodations I stayed at and my review of them
✏️ Portugal trip planning template
Disclosure: This post may contain affiliate links. If you make a purchase through them, I may earn a small commission, at no extra cost to you. Thanks for your support!
Trip Planning Information for Lisbon
Here's some general information on Lisbon to help you plan your trip:
🌤️ Vibe: Lisbon is a big city with distinct districts, each with its own characteristics. In general, Lisbon will feel historic with its architecture and laid-back with its welcoming locals.
📍 Location: Lisbon is located on the western peninsula in the middle part of Portugal, flanked by the Tagus River and the Atlantic Ocean.
☀️ Best time to visit: To avoid the crowds and still enjoy the country's great weather, the best time to visit Lisbon is during the spring (March to May) and the fall (September to October). I visited in May and my sister visited in September.
Lisbon's peak season is from June to August, with the weather averaging 63°F to 81°F during this timeframe. This is when Lisbon is most crowded and prices are highest.
⏳ How long to visit: Lisbon has several distinct areas to explore, so you'll want to spend at least three days there. You can add additional days for any day trips you plan to take (e.g., Sintra day trip). You might get tired of the capital and want to go elsewhere around the five-day mark.
This Portugal travel guide has more country travel information and trip planning tips.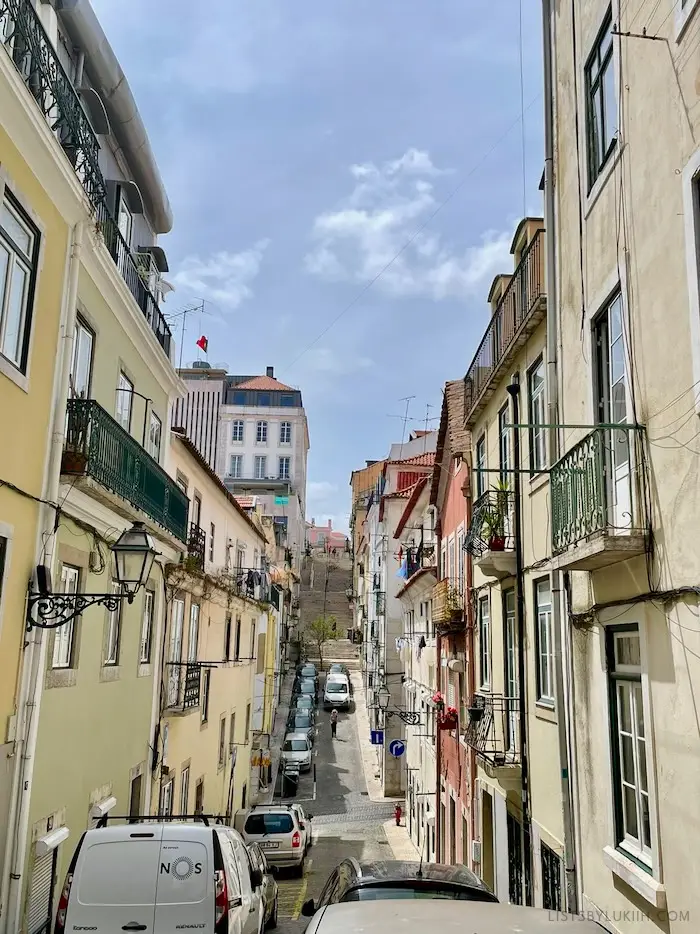 Getting Around Lisbon
Lisbon has Portugal's primary international airport, Humberto Delgado Airport (LIS), which is where most visitors fly into when traveling to the country.
Once you're in Lisbon, you can get around in four different ways: by taking public transportation, calling a taxi/Uber, walking or renting a car.
🚇 Public transportation. Lisbon's public transportation includes the metro, train, bus and tram. From the Lisbon airport, you can easily take the metro into the city's center for less than $2 USD and it'll take approximately 22 minutes.
To ride Lisbon's public transportation, you need to buy a Viva Viagem Card, which is available at the Lisbon airport and any metro station. You can charge it as you go (also called "zapping").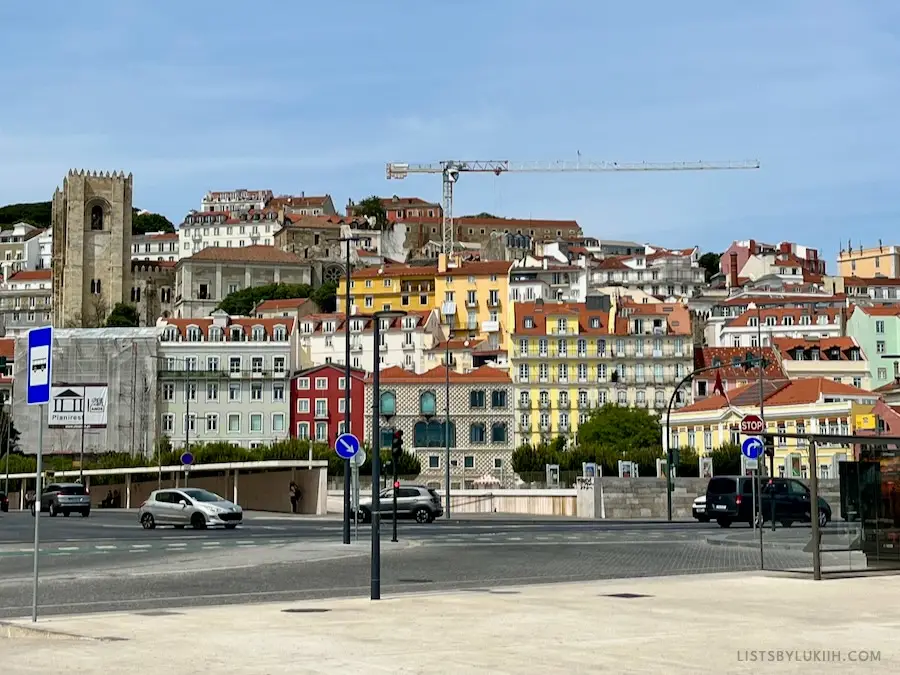 Like many other European cities, Lisbon's public transportation is clean and easy to navigate.
🚕 Taxis or ridesharing apps. Lisbon has reliable taxis that have similar prices to calling an Uber (the latter is just more convenient). I used Uber three times in Lisbon to get to different districts. Welcome Pickups, a highly-rated airport transfer service, is also a great option for the same price as a regular taxi if you want to have an English-speaking driver ready for you when you land.
👟 Walking. Lisbon is a pedestrian-friendly city that's easy to explore on foot, especially once you arrive at each distinct district.
Lisbon, like many other cities in Portugal, is incredibly hilly, so make sure to wear comfortable shoes. I was happy in my running shoes and sneakers while my sister wore Converse and ended up having foot pain from all the walking. This Portugal travel guide has other practical tips on visiting the country.
🚗 Car rental. Given Lisbon's great public transportation, renting a car makes sense only if you're doing a more off-the-beaten-path itinerary. To rent a car in Portugal, you need a valid driver's license and basic third-party liability insurance. Some rental insurances will have a 21 to 23 age requirement despite the legal driving age being 18.
Unlike in some other countries, tuk-tuks in Portugal are used primarily as vehicles for giving tours, not as transportation to get from point A to B. This is why tuk-tuks in Portugal are expensive, costing around $30 USD an hour.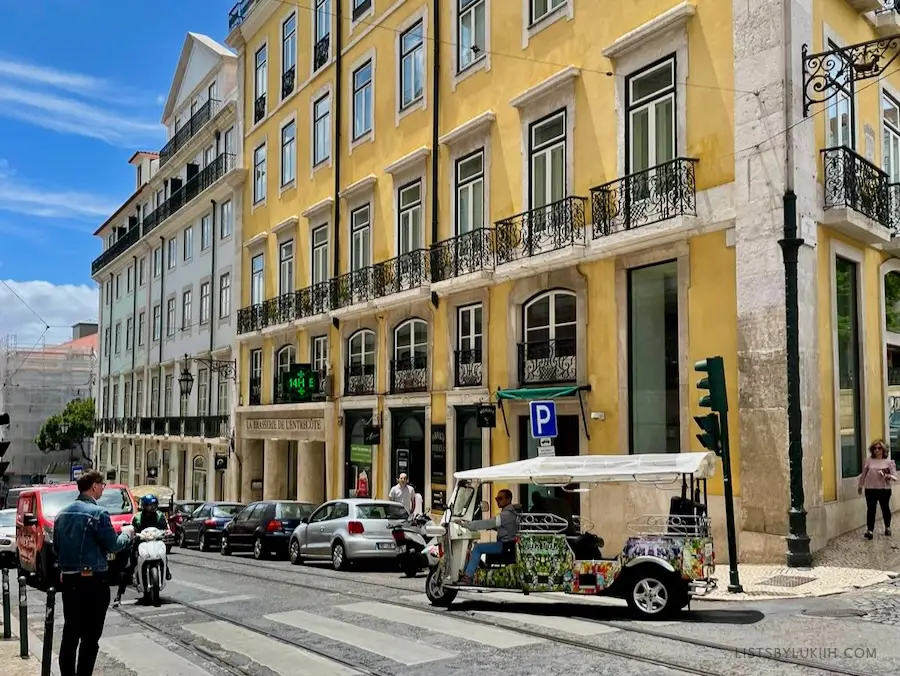 Lisbon Map With Recommended Places
This Portugal map has all the Lisbon recommended places mentioned below.
It also has recommended places for Porto and Sintra.
8 Great Things To Do in Lisbon
After collectively spending more than a week in Lisbon and visiting many of its top attractions, here are my and my sister's combined recommendations on eight great things to do in Lisbon, in rough priority order.
1. Take a full-day trip to Sintra
🤔 Why: A town located about 30 to 45 minutes west of Lisbon, Sintra is the #1 most popular day trip from the capital city. Sintra has a picturesque, walkable town center and some of Portugal's most beautiful attractions.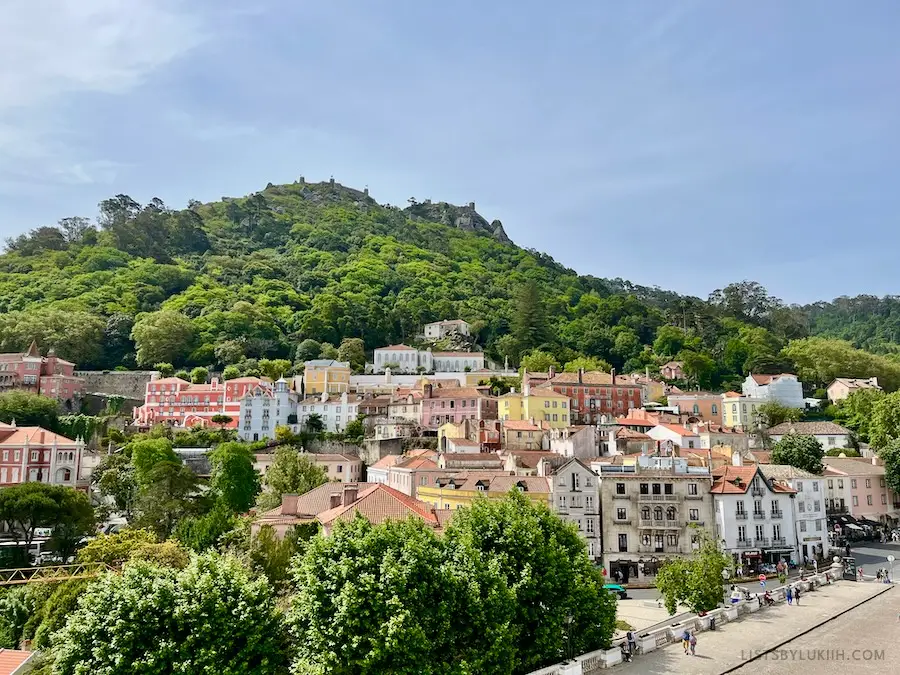 🌟 What to visit: Sintra has over 15 attractions, including castles, palaces, parks, towers and museums. Its top attractions are:
Pena Palace. One of the Seven Wonders of Portugal, Pena Palace is Sintra's #1 attraction. The palace's interior is average in my opinion, but the yellow and red exterior, which is what it's famous for, is fun to explore and look at.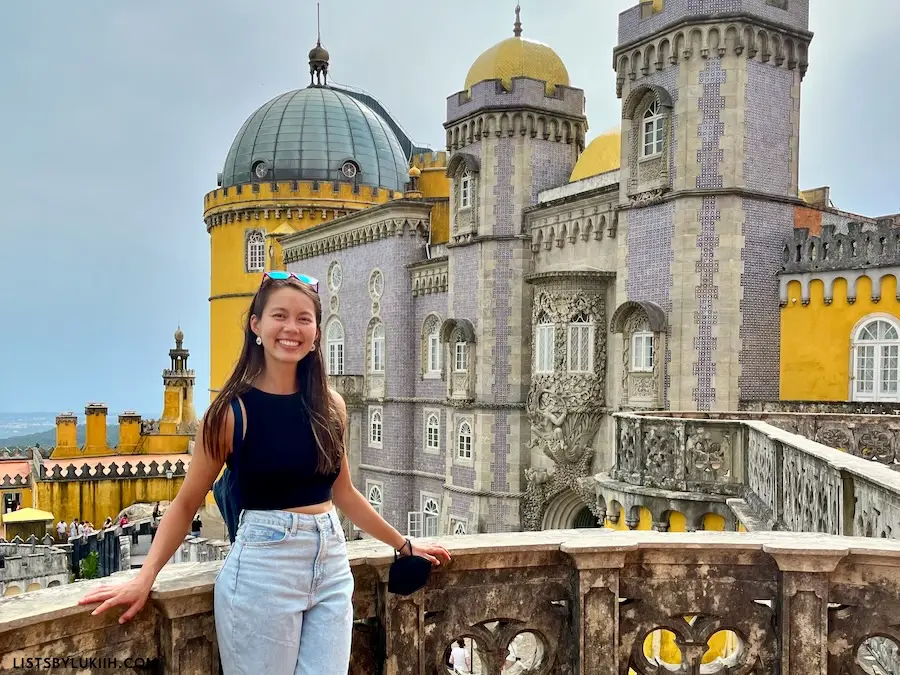 Castelo dos Mouros. Also known as Moorish Castle, Castelos dos Mouros has panoramic views, and visitors enjoy exploring its walls and climbing its stone steps.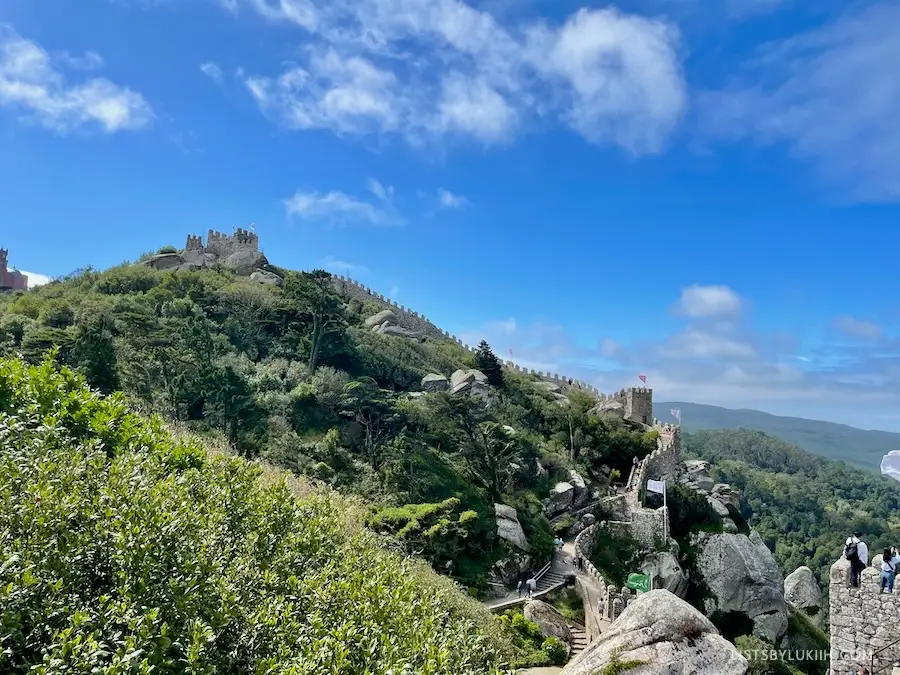 Quinta da Regaleira. A Renaissance-style villa, Quinta da Regaleira is surrounded by a park-like garden that's great to walk through. The famous Initiation Well is also located here.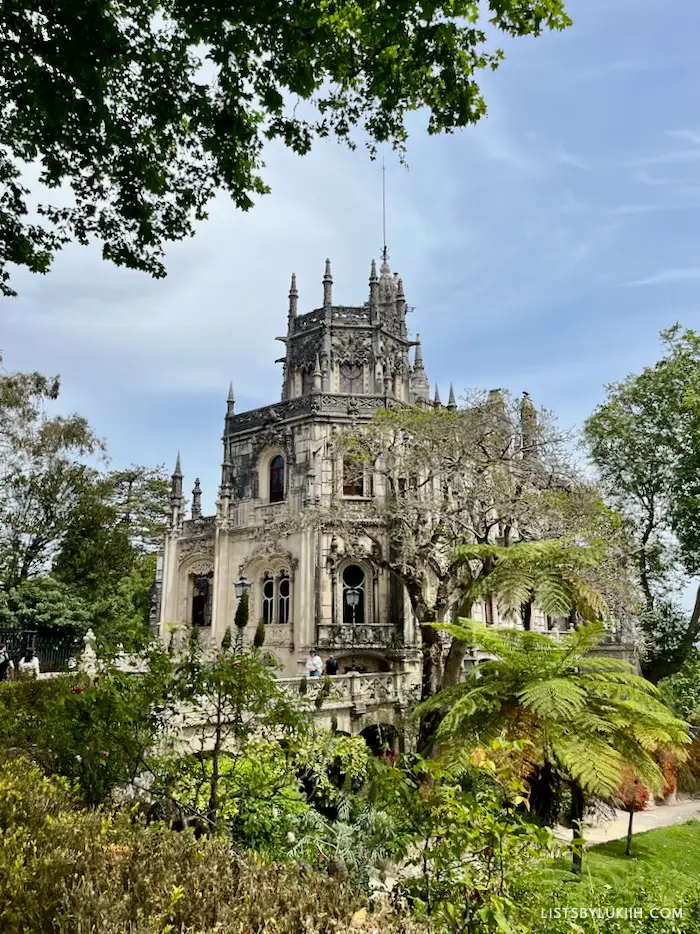 🚗 Getting there: You can visit Sintra on a day tour or on your own by taking public transportation or an Uber from Lisbon. Taking public transportation will be cheaper, but can be time-consuming as you'll have to rely on the train to get to Sintra and then take the bus to get around.
A Sintra full-day tour, which includes transportation, starts at $60 USD and is usually closer to $90 USD. Taking an Uber or taxi from Lisbon to Sintra can cost over $100 USD round-trip so getting to Sintra by car is only worth it if you can split it with a group (which is what my sister did).
⏰ Suggested duration: Sintra is most often visited as a full-day trip from Lisbon, but you can easily spend two days there. If you only have one day, you'll be able to visit approximately three to five of Sintra's top attractions, but you won't be able to adequately see all of them.
It's especially difficult to see many of Sintra's top attractions during peak season (June to August) as there will be longer queues and wait times at each attraction.
💰 Expected cost: The cost of doing a day trip to Sintra depends on your transportation (i.e., are you taking a tour, Uber or public transportation?) and the number of attractions you plan to visit (almost all of Sintra's top attractions have an $8 USD or more entrance fee). A typical Sintra tour costs will be around $80 USD.
🍀 My take: Sintra was one of my Portugal trip's highlights and I wished I had spent more time there. You'll feel similarly if you enjoy taking photos (Sintra has many beautiful views and architecture) and have visited a good number of European cities (Sintra feels more unique than your typical historic city).
This Sintra trip guide contains two itineraries and outlines the city's top attractions in detail.
2. Spend half a day in Belém
🤔 Why: The district of Belém in Lisbon hosts some of Portugal's most notable monuments and buildings.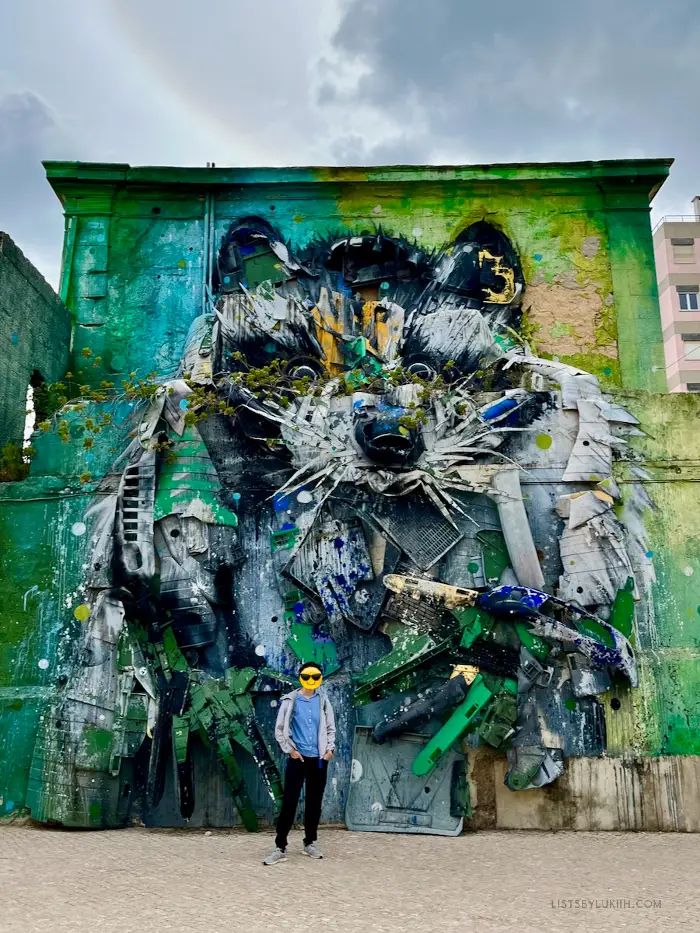 🌟 What to visit: Belém has beautiful street art, a few big parks/gardens and some colorful neighborhoods to explore for a whole afternoon. If you're short on time, Belém's top attractions are:
Torre de Belém. A UNESCO World Heritage Site, Belém Tower is one of Portugal's most famous landmarks. I found it interesting that the tower used to be on its own island, but an earthquake moved it and merged it with the land.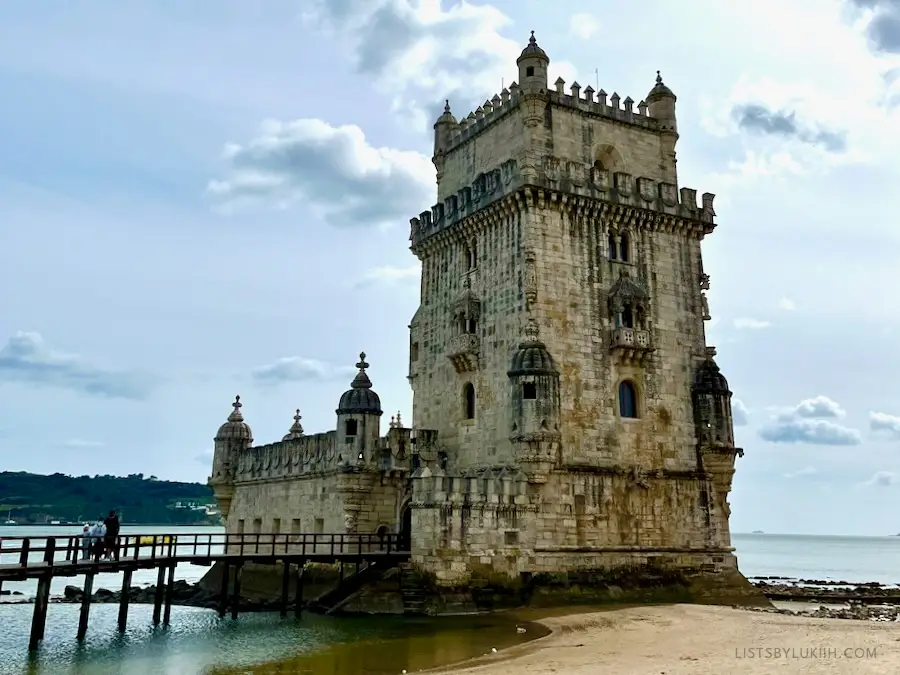 Mostereiro dos Jerónimos. An architectural feat that took 100 years to complete, Jerónimos Monastery can be admired from both the outside and inside. Access to the interior has a ~$10 USD entrance fee. Pastéis the nata, Portugal's famous custard tarts, were invented by monks who lived in the monastery.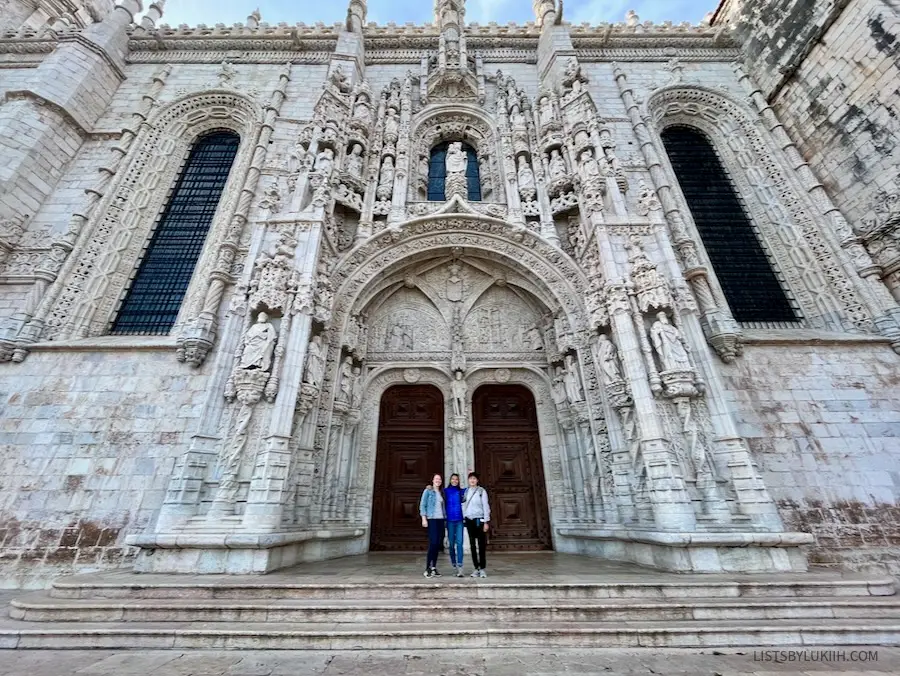 Padrão dos Descobrimentos. A large sculpture by the Tagus River, Monument to the Discoveries features some of Portugal's historical explorers, artists and inventors. There's no entrance fee to see this monument.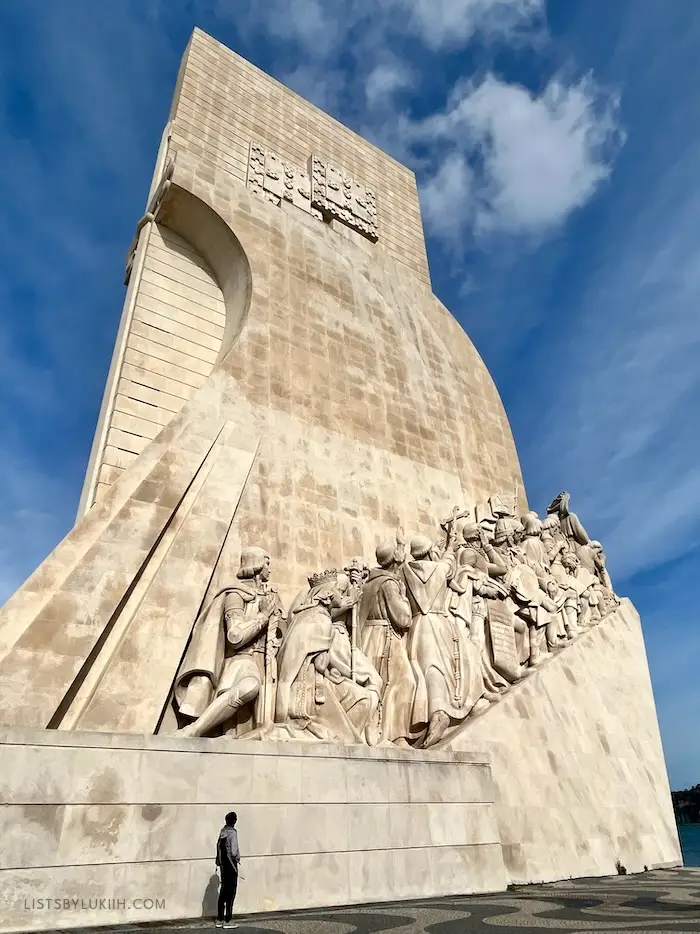 Belém is also famous for Pastéis de Belém, my sister's favorite and my second favorite pastéis de nata shop.
🚗 Getting there: You can get to Belém by tram, train, bus, Uber or bike. You can also take a Belém tour to understand more of the district's deep historical context.
If you Uber to Belém, you can get dropped off at Belém Tower and walk east along the Tagus River to see the several attractions. This is what my sister did because she was able to split the cost of a ride between several people.
If you want to take the tram to Belém, take Tram 15E and get off at the Mosteiro Jerónimos stop. This is what I did and I found it relatively easy.
⏰ Suggested duration: You can spend anywhere from three hours to half a day in Belém, depending on how many attractions you plan to visit and how much you want to walk around vs. just look at top attractions. Both my sister and I separately spent approximately 3 hours in Belém.
💰 Expected cost: The cost of visiting Belém largely depends on your transportation method and whether you plan to enter Belém Tower (which has a ~$6.50 USD entrance fee) and Jerónimos Monastery (which has an ~$11 USD entrance fee).
🍀 My take: Belém is a relatively flat area in Lisbon, so it's a great area to explore on foot after walking on a lot of hills near the center of the city. With its wide open spaces, parks and gardens next to the Tagus River, Belém is also a nice break from the narrow alleys of Lisbon's city center.
3. Catch the sunset at a miradouro
🤔 Why: Miradouros are viewpoints in Lisbon that are typically located on the highest hills in the surrounding area, giving you a panoramic view of the city.
🌟 Where to go: Miradouros often have resting places that allow visitors to settle down and enjoy the view. Lisbon has over 30 miradouros, but some of the most scenic and popular ones are:
Miradouro da Senhora do Monte. This miradouro is known to have one of the best panoramic views in Lisbon. My sister took a special trip to visit this viewpoint and it was her favorite one because you can see the buildings, water and Moorish castle at the same time.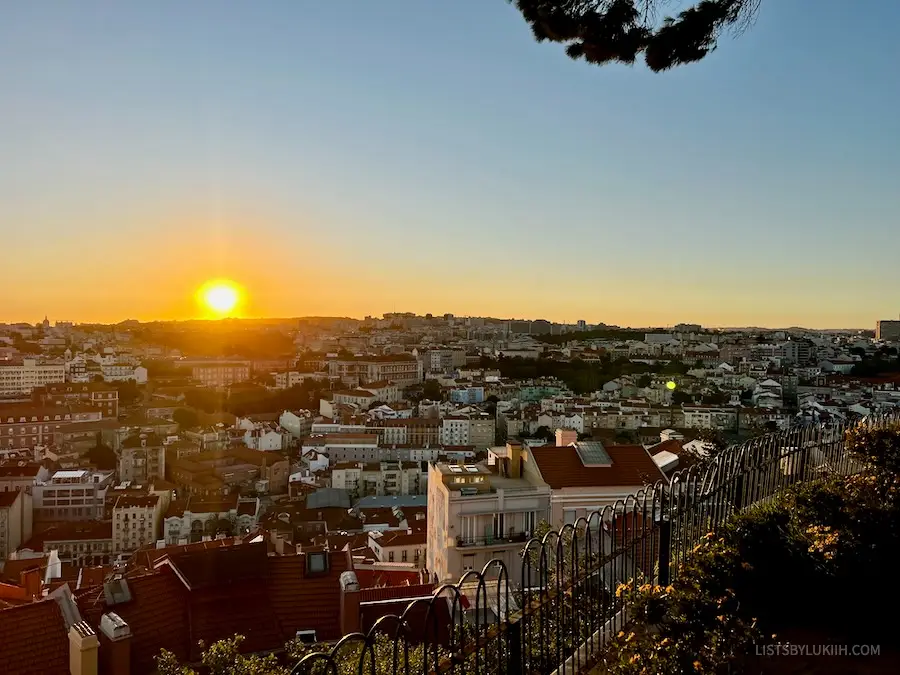 Miradouro de São Pedro de Alcântara. This miradouro has a beautiful view and is located in a nice garden. This is a great option if you want to venture into a less touristy part of Lisbon. My sister thought it was nice, but preferred Senhora do Monte.
Miradouro Castelo de São Jorge. This miradouro is the highest Lisbon viewpoint next to São Jorge castle. This is a good option if you plan to visit the Moorish castle, but note that it closes at 7pm daily, so you can only be there for a short time after sunset.
Miradouro das Portas do Sol. This miradouro is known to be one of the most popular viewpoints. It has a wide open terrace for several groups to enjoy the view at the same time.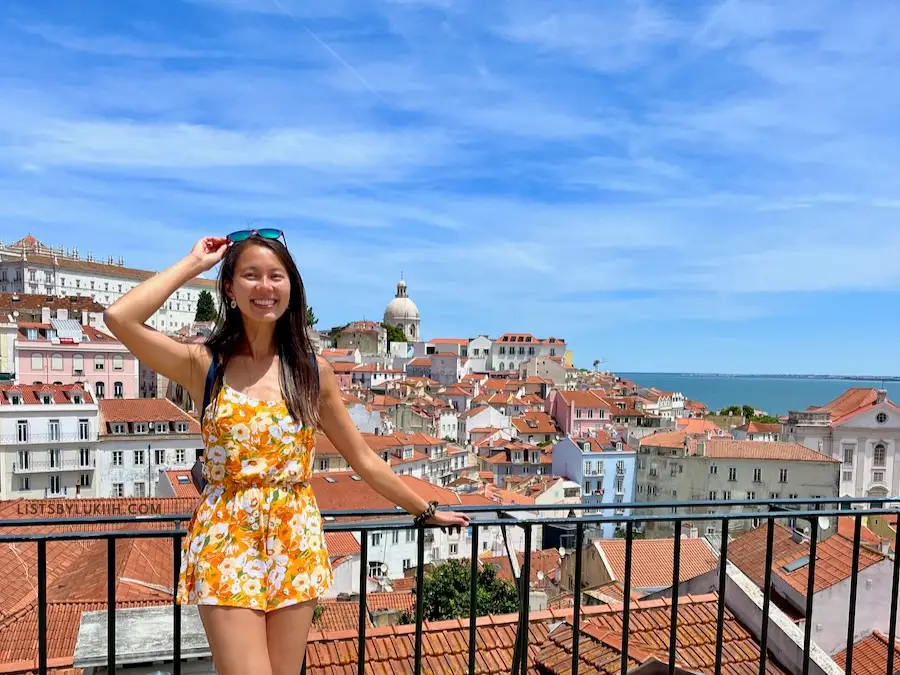 Miradouro de Santa Luzia. This miradouro is within walking distance of Miradouro das Portas do Sol. It has limited views with large crowds, but the terrace is beautifully adorned with plants and blue ceramic tiles.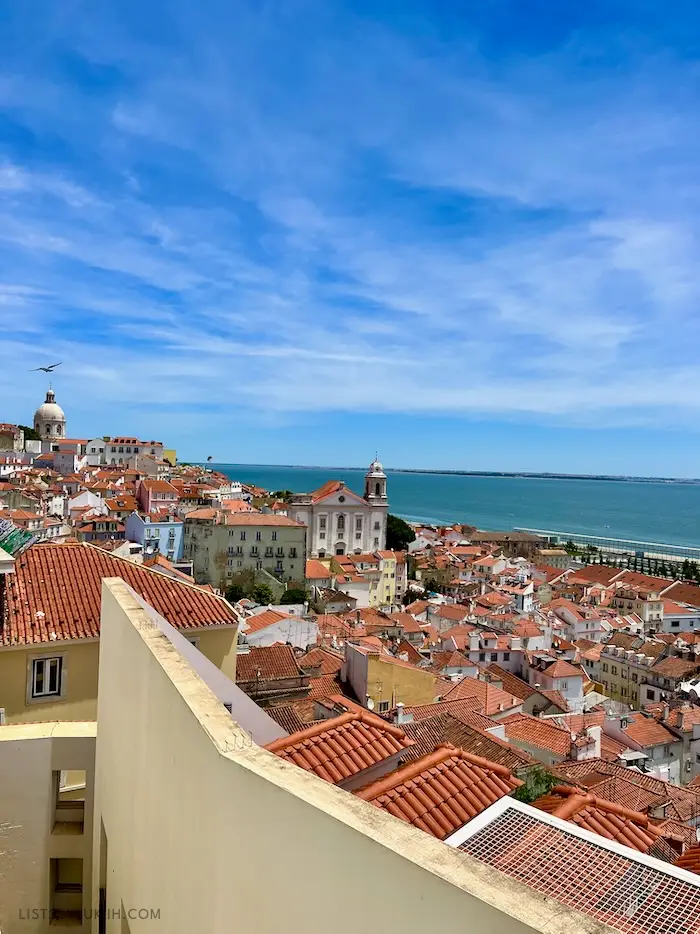 👟 Getting there: The best way to get to each miradouro will vary by location, but for all of them, prepare to climb some steps or hills to reach them.
⏰ Suggested duration: Miradouros are typically most popular around sunset time. You can spend anywhere from 15 minutes to an hour admiring the views.
💰 Expected cost: Almost all miradouros in Lisbon are free and open to the public with Miradouro Castelo de São Jorge being the exception as you need to pay the castle's ~$16 USD entrance fee.
🍀 My take: Relaxing while looking out at the endless sea of orange clay rooftops is a very Lisbon thing to do. Given that it's usually free and easy to find one, there's no reason not to visit a miradouro in Lisbon.
4. Explore the city center, Baixa-Chiado
🤔 Why: Baixa-Chiado is Lisbon's downtown area, known as the central shopping and commercial district with notable visitor attractions. It's the place to visit if you want to see what makes Lisbon the most visited city in Portugal.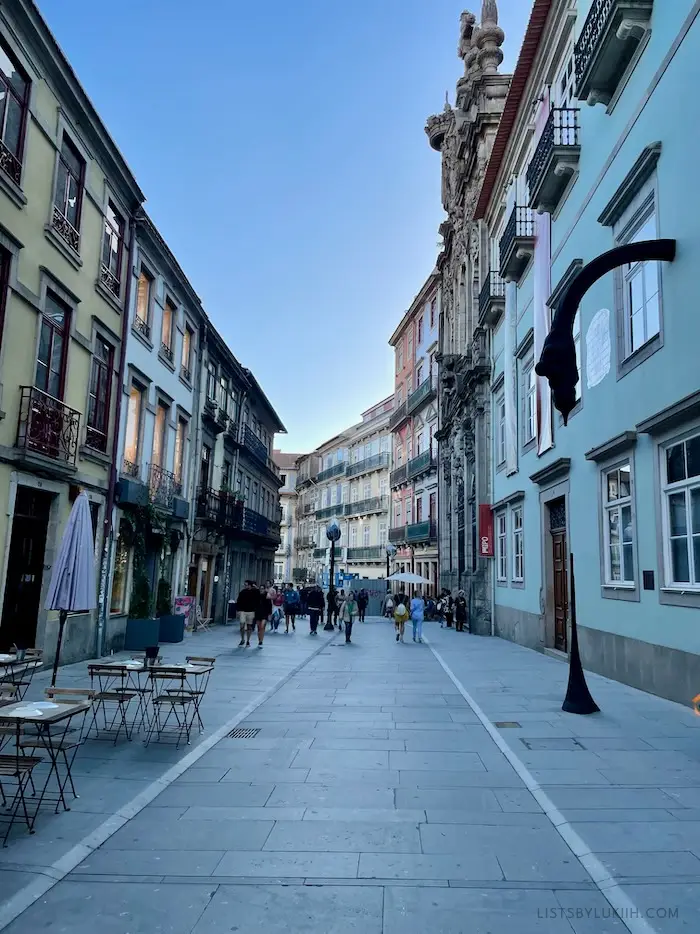 🌟 What to visit: Baixa-Chiado has a lot to offer, but here are some of the top attractions to add to your itinerary:
Arco da Rua Augusta. A historic arch known as the gateway to Lisbon, Arco da Rua Augusta was originally built in 1755 to commemorate Lisbon's reconstruction after an earthquake that destroyed most of the city.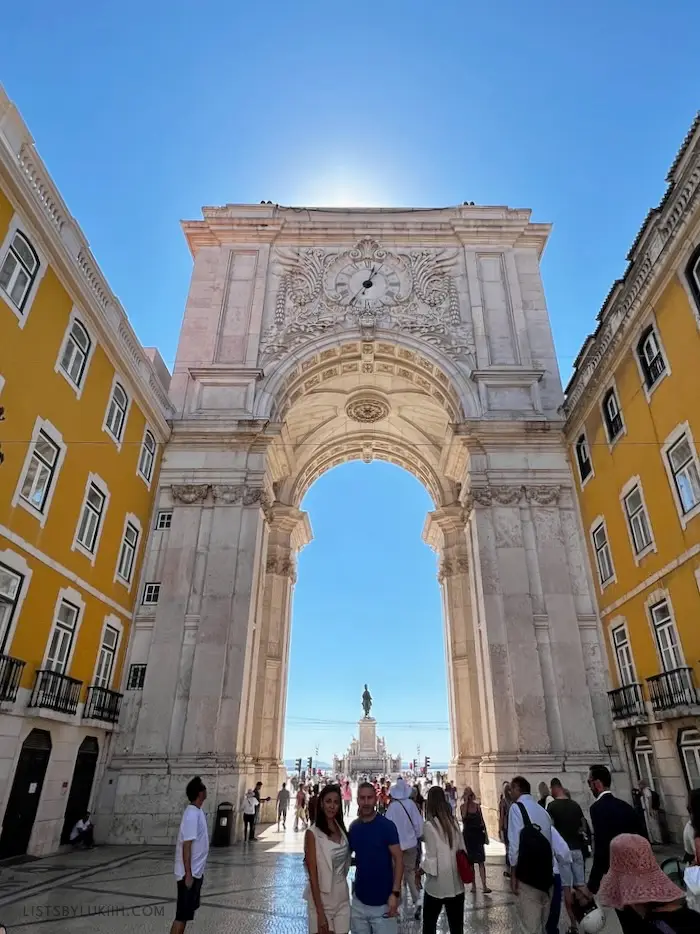 Praça do Comércio. Praça do Comércio is one of Europe's biggest squares and a place to walk through while casually looking at art and sculptures. It's located next to Arco da Rua Augusta.
Carmo Convent. One of Lisbon's most famous buildings, Carmo Convent is sometimes referred to as the church without a roof.
Santa Justa Lift. One of Lisbon's most popular and crowded attractions, Santa Justa Lift is a beautiful elevator that's unique from all the surrounding buildings. Keep in mind that the lift is one of Lisbon's most crowded attractions and it has an entrance fee.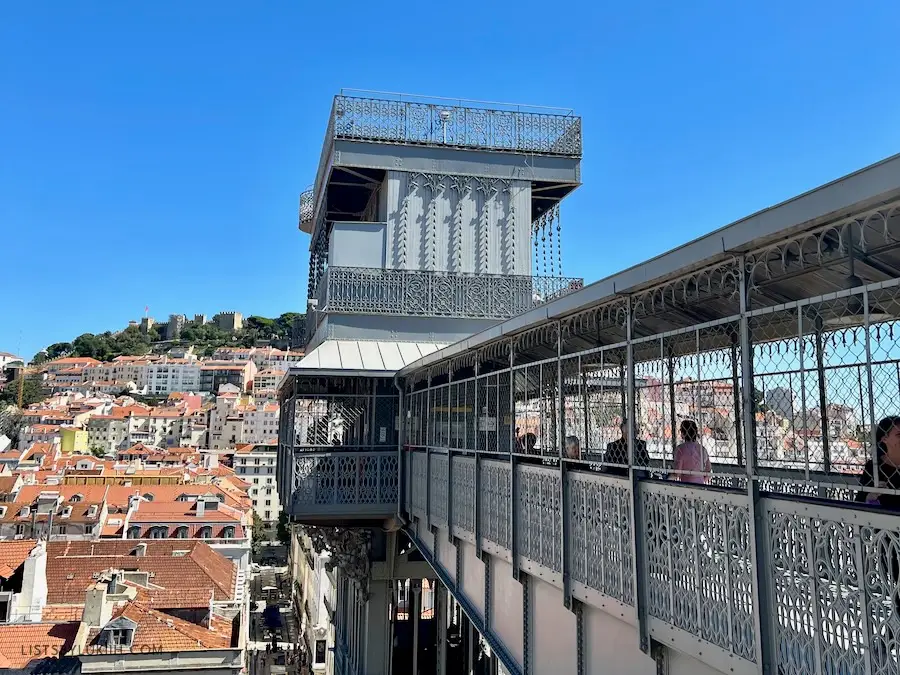 Lisbon is a great place to try some of the food that Portugal is known for. A Ginjinha is a good place to try some Portuguese cherry liqueur and As Bifanas do Afonso has great Portuguese pork sandwiches. Santini Gelados Artesanais sells standout gelato.
⏰ Suggested duration: You can spend a half day to a full day walking around Baixa-Chiado.
💰 Expected cost: All the attractions mentioned above are free, except for the Santa Justa Lift which has an elevator ride cost of €5.30 (~$5.70 USD).
🍀 My take: Baixa-Chiado is a great, but hectic way to kick off your trip to Portugal because it offers so much. If you need more downtime at the beginning of your trip, consider breaking up your Baixa-Chiado visit or leaving it for the second day after some rest.
5. Find your favorite pastéis de nata
🤔 Why: Pastéis de nata (custard tarts) are one of Portugal's most well-known foods and they were invented in Lisbon. It would be odd not to try at least one while you're in Lisbon, which has several different well-known stores.
🌟 Where to go: Lisbon has over a dozen different famous pastéis de nata stores, including:
Fábrica da Nata (they have two locations). They serve my favorite pastéis de nata. I found the custard, crust texture and sweetness level to be perfect.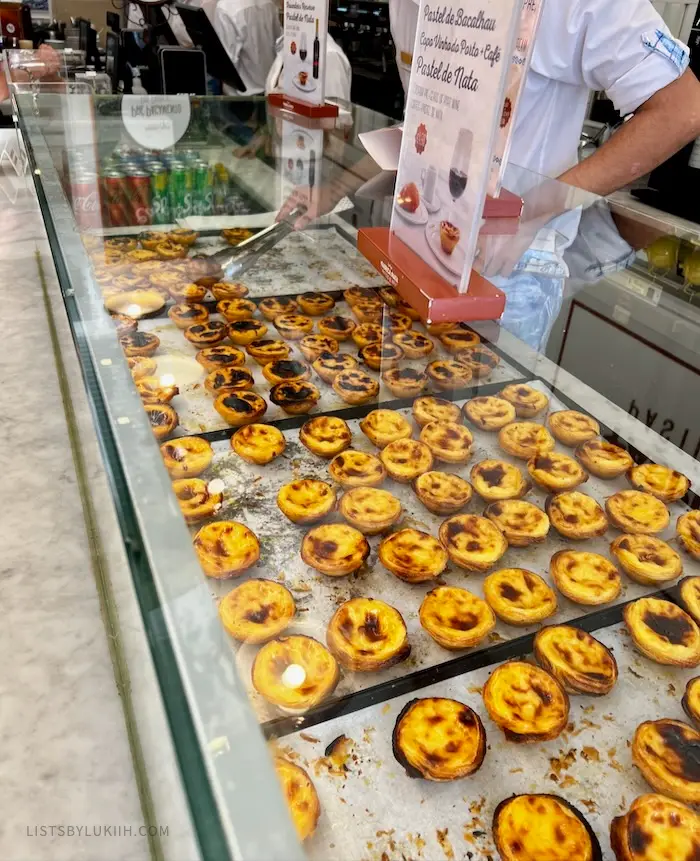 Pastéis de Belém. They sell my sister's favorite pastéis de nata. They were delicious, but I liked the custard's texture at Fábrica da Nata more.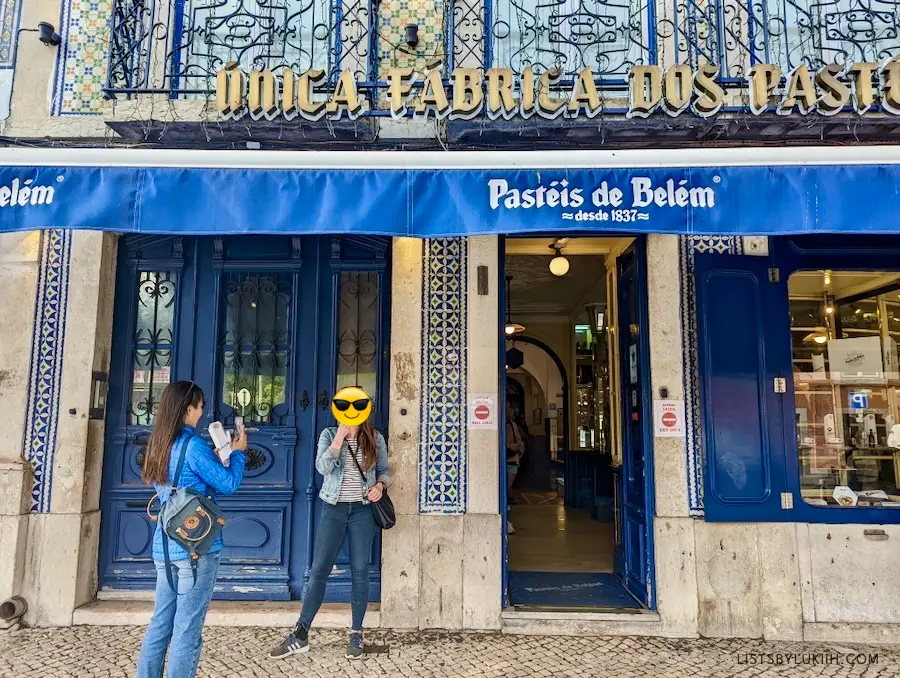 Manteigaria (they have several locations). They serve some of the local's favorite pastéis de nata. I found their tart crust's texture to be crispier and the custard to be more jello-like.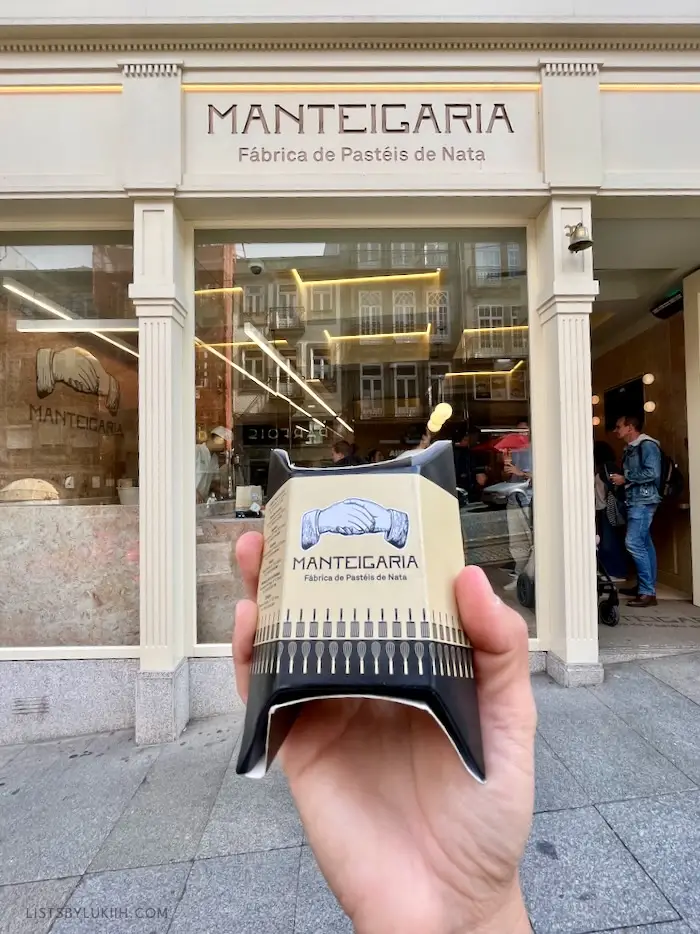 Santo António. They sell award-winning pastéis de nata. Their tarts were delicious, but not my favorite.
⏰ Suggested duration: You can spend as little as 10 minutes getting and eating a pastel de nata. For some of the more popular stores during meal times, you may have to wait in line for a bit.
💰 Expected cost: The average cost of a pastel de nata in Lisbon is approximately $1 USD.
🍀 My take: As someone who has eaten Portuguese custard tarts in several different countries, the pastéis de nata in Lisbon are distinctly delicious. I ate about two pastéis de nata per day and enjoyed comparing the sweetness and texture of the tarts sold by the different stores.
6. Eat and shop at LX Factory
🤔 Why: LX Factory is a trendy complex with shops, restaurants, cafes and art. It can be very touristy, but it also gives you the chance to see a more modern side of Lisbon.
🌟 What to do: Shop, eat and drink your way through LX Factory. The official LX Factory site has a directory of all the stores and you can see that there's a store that specializes in corks, one specializing in sardines and another one in ginjinha (Portuguese liqueur made from cherries), which are all things that Portugal is known for.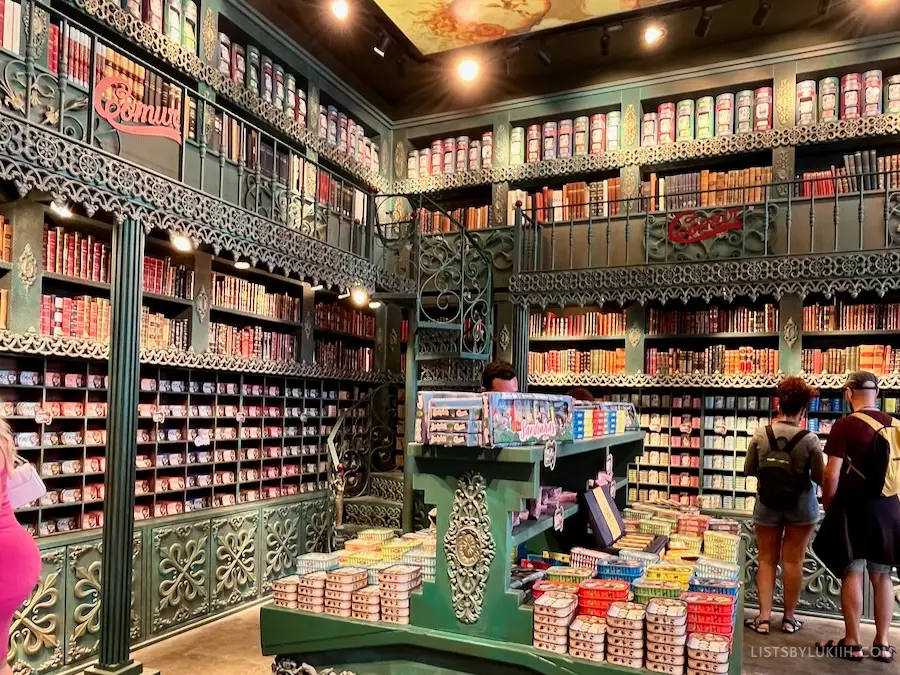 🚗 Getting there: LX Factory is open from 9am to 10:30pm daily. You can get to LX Factory by train, tram, bus or Uber. It's about a 25 to 30-minute ride on public transport from the city center and about a 20-minute ride in an Uber.
⏰ Suggested duration: You can spend about two to four hours at LX Factory, with one hour usually being spent eating there. It's a fairly small area that can be completely explored on foot, so you'll likely run out of things to see after the four-hour mark.
💰 Expected cost: LX Factory doesn't have an entrance fee, but prepare to spend some money on souvenirs, gifts or food there. Prices at LX Factory tend to be on the higher end since it's a trendy location and a popular tourist attraction.
🍀 My take: LX Factory is a great place to window shop, experience a trendy vibe in Lisbon and visit if you want to take a break from all the city's historic districts.
7. Eat at Time Out Market Lisboa
🤔 Why: With over 50 restaurants, bars and shops, Time Out Market is a huge food court in Lisbon where you can find many different kinds of high-quality food.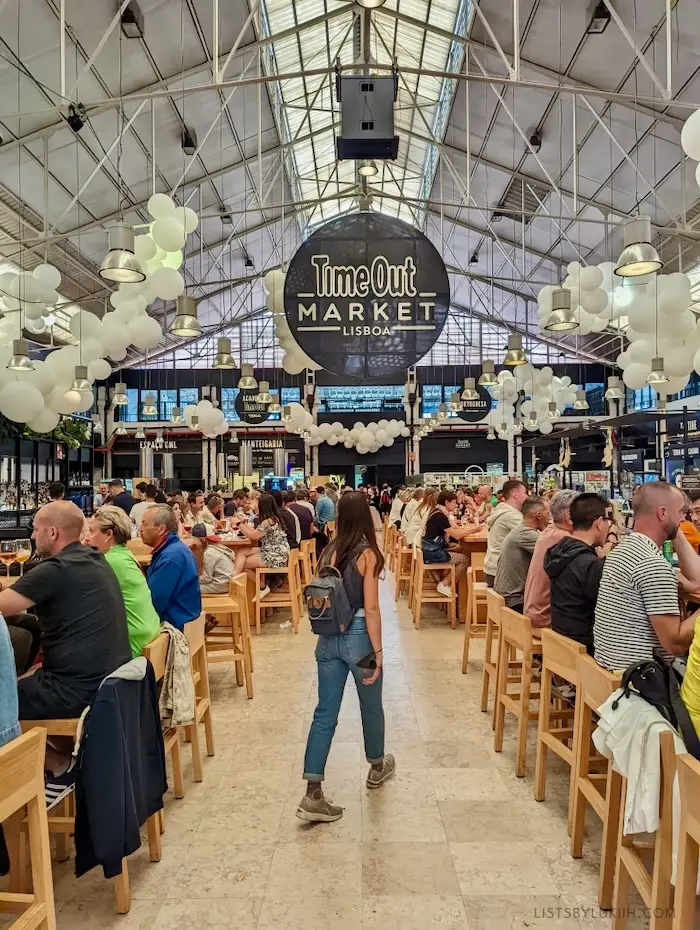 🌟 What to do: Walk around Time Out Market and see what food, dessert or drink piques your interest.
Time Out Market is almost always crowded, so seating can be hard to find. If you're traveling in a group, it's best to send someone to grab seats early while everyone else orders. Otherwise, you will almost definitely have to wait for seats.
🚗 Getting there: Time Out Market Lisboa is near the city center and can be accessed by Uber, tram, bus or metro. If you take the metro, get on the green line and take the exit at Cais do Sodré, which is a 3-minute walk from the market.
⏰ Suggested duration: Time Out Market Lisboa is mainly a food court, but a crowded one, so expect to spend one to two hours there.
💰 Expected cost: You will not find the cheapest restaurants in Time Out Market Lisboa, so be prepared to spend more than $20 USD on a meal there.
🍀 My take: Time Out Market Lisboa doesn't necessarily feel like an authentic experience in Lisbon, but it's a cool place to check out if you want to see an overwhelming number of food options all being offered in one location.
8. Ride a vintage tram
🤔 Why: A quaint and local way to explore Lisbon is by riding one of its trams. Tram #28 is the most famous tourist tram because it's vintage and crosses many of Lisbon's landmarks.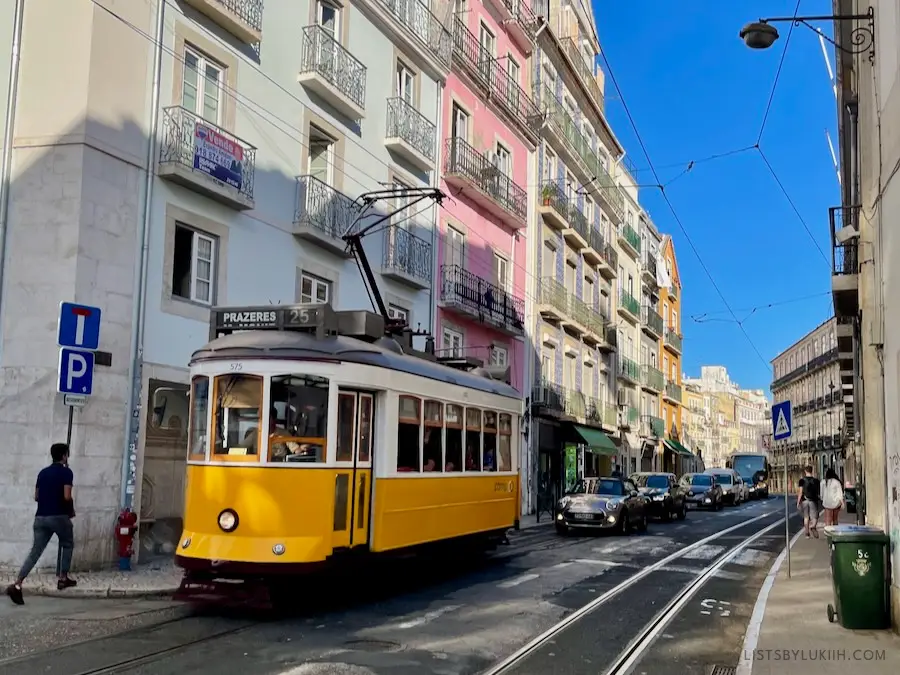 🚋 How to ride a tram: You can use your Viva Viagem card to pay or buy a ticket while getting on the tram. Make sure you board from the front and exit from the back of the tram.
If you're buying a ticket on the tram, make sure you have exact change in cash as some trams (e.g. Tram #15) do not give change.
⏰ Suggested duration: Whether you're on the tram to use as public transportation or to sightsee, you can expect to spend about 15 to 30 minutes riding one.
💰 Expected cost: A single tram ride in Lisbon costs €3 (~$3.20 USD).
🍀 My take: Tram #28 gets extremely crowded, especially during the peak season when you might have to wait for an hour to get on board. I rode tram #15 and that was good enough for me.
Is Pink Street Worth It?
A really popular tourist attraction is Pink Street. While Pink Street might be worth it at night for the nightlife, I thought it was underwhelming during the daytime. If you have 5 to 10 minutes to spare, you can check it out for a quick photo, but it was otherwise forgettable in my opinion.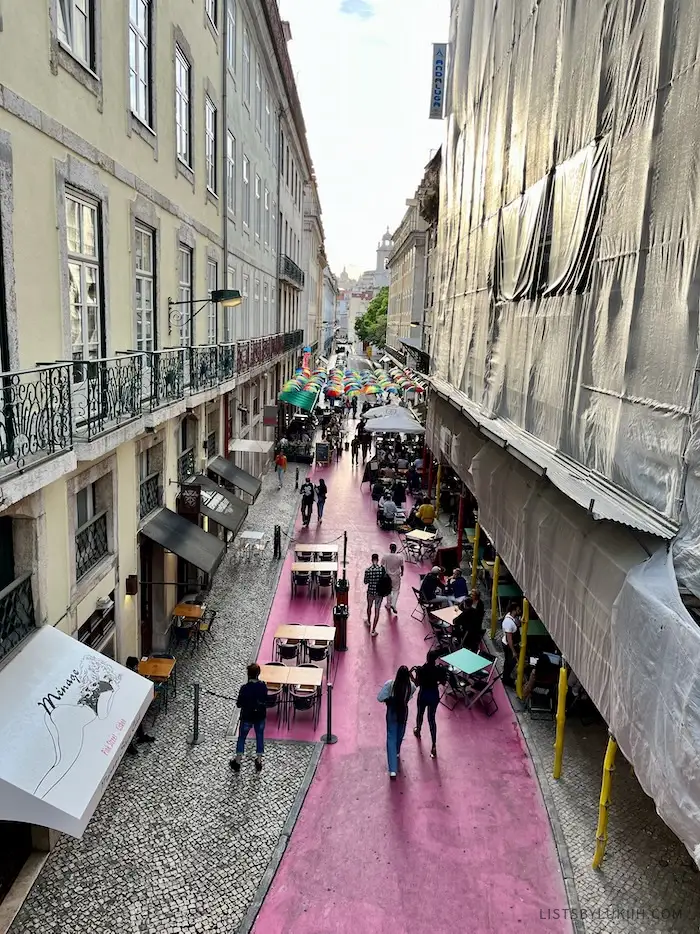 4-Day Itinerary for Lisbon
Below is a great way to spend four days in Lisbon while incorporating a day trip to Sintra.
This four-day itinerary is the improved and combined version of my and my sister's Lisbon itineraries (we went to Portugal at separate times for one week each). I've included some of our actual timestamps to give you an idea of how long you might need for each activity and how to efficiently sequence things.
The Portugal trip planning template below has this itinerary prefilled.
This Portugal travel guide has a one-week itinerary that includes visits to Lisbon, Sintra and Porto.
Where I Stayed in Lisbon
I stayed at two accommodations in Lisbon and here are my thoughts on them.
Factors to consider:
The neighborhood's vibe. As mentioned above, Lisbon has distinct districts each with their own vibe. Baixa-Chiado, the downtown area, will feel more commercial and lively while Alfama will feel more charming and historical.
Your appetite for hills. Lisbon is very hilly and you will not be able to avoid them, but some areas are more hilly other others. If you don't want to walk up a giant hill to your accommodation every day, this is something worth considering.
Where I stayed:
🏠 Accommodation #1: I stayed at this Airbnb in Alfama and paid ~$205 USD/night/person.
Pros: The Airbnb is tucked away in a corner of Alfama, past a few charming cafes and is nice to walk to. It's also within walking distance from the Santa Apolónia train station, which is convenient if you plan to go to Porto.
Cons: Alfama is located on a steep hill, so be prepared to walk uphill a lot.
🏠 Accommodation #2: I also stayed at Casas na Portuguesa, an apartment rental located near Baixa-Chiado, and paid ~$50 USD/night/person.
Pros: The apartment has a balcony with a great view of Lisbon and the Tagus River.
Cons: A mild inconvenience is that the apartment is located up a set of cobblestone stairs.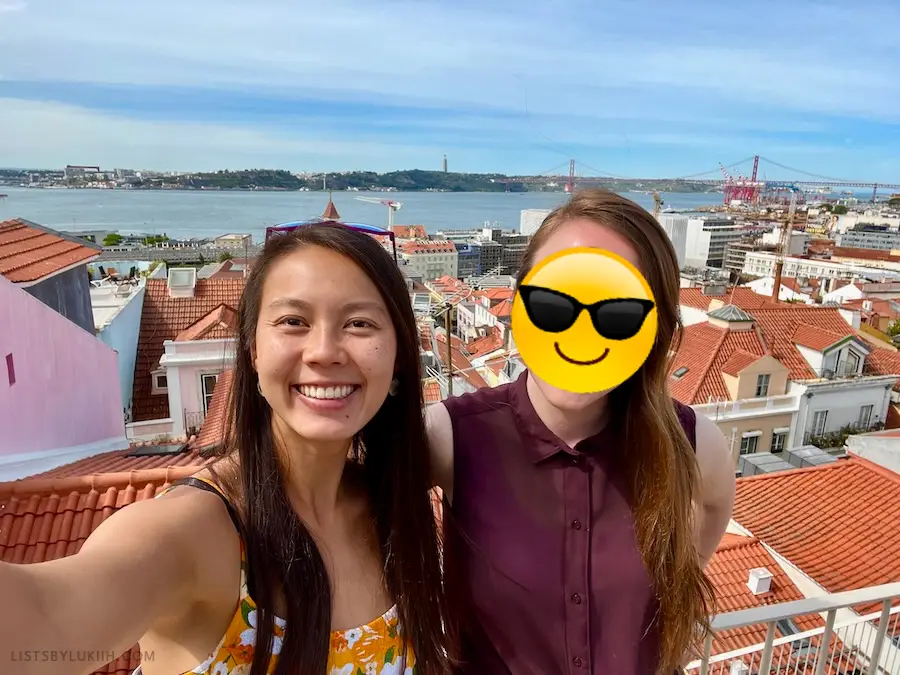 Lisbon Cost Breakdown
I spent a total of $538 USD for five days in Lisbon, so my average cost was $108 per day. I stayed at two mid-range accommodations and was able to split the costs with friends. I also paid for an amazing Sintra day tour (one of my trip's highlights) which significantly increased my costs.
Lisbon is the most visited city in Portugal. The influx of expats into Lisbon in recent years has driven its cost up, so Porto, the second most visited city in Portugal, is now more affordable to visit. However, Lisbon is still more affordable than cities like Barcelona, on average.
| | Total Cost | Cost Per Day |
| --- | --- | --- |
| 🏠 Accommodation | $258 | $52 |
| 🍝 Food | $111 | $22 |
| 🚇 Transportation | $66 | $13 |
| ⭐ Entertainment | $100 | $21 |
All my travel expenses are broken down by category in this Portugal trip cost breakdown.
Portugal Trip Planning Template
To make your travel planning easier, download the trip planning template below and use it as a starting point. The template has country-specific travel information as well as an itinerary, packing list and map with recommended places pinned.
The template is built on Notion, which is what I use for all my travel planning (I'm not paid to say this; I just like the tool). If you don't have Notion, creating an account is free.
If you have any questions or thoughts, feel free to leave them in the comments below.
🧋 This site is run entirely by me, Lukiih. I spend hours writing each article to ensure its accuracy and conciseness. If you find my site helpful, you can say thanks by buying me bubble tea!