Porto, one of Portugal's top destinations, is known for its picturesque areas next to the Douro River, Port wine cellars and buildings adorned with ceramic tiles called "azulejos". My trip to Porto was more memorable than my trip to Lisbon, even though I enjoyed both.
My sister and I separately visited Porto and here, I share our combined practical travel tips on visiting the city. This post shares:
⭐️ Top attractions in Porto and our honest reviews of them
🗓️ Three-day itinerary for Porto
📍 Porto map with key places pinned
💰 An expense breakdown of my Porto trip
🚗 How to get around Porto
🏠 Porto accommodation and my honest opinion on it
✏️ Portugal trip planning template
Disclosure: This post may contain affiliate links. If you make a purchase through them, I may earn a small commission, at no extra cost to you. Thanks for your support!
Trip Planning Information for Porto
Here's some general information on Porto to help you plan your trip:
🌤️ Vibe: While Lisbon can feel very cosmopolitan, Porto feels a lot more authentic with its narrow streets, azulejos-covered buildings, traditional food and vibrant riverfront. Porto also feels a lot more compact than Lisbon's sprawling atmosphere with multiple, distinct districts.
📍 Location: The second largest city in Portugal, Porto is located on the northwestern coast of Portugal. It's approximately 200 miles (or a ~3.5-hour train ride) north of Lisbon. This Lisbon travel guide has more information on the city.
☀️ Best time to visit: Porto's peak season is from June to August, with the weather averaging 61°F to 77°F during this timeframe. To avoid the crowds and still enjoy the country's pleasant weather, the best time to visit Lisbon is during the spring (March to May) and the fall (September to October). I visited in May and my sister visited in September.
⏳ How long to visit: Spending two to three days in Porto will allow you to cover the city's highlights and top attractions.
This Portugal travel guide has more country travel information and trip planning tips.
Getting Around Porto
Most visitors fly into Portugal's primary international airport in Lisbon, Humberto Delgado Airport (LIS), and then take the state-owned CP train for ~3.5 hours to arrive in Porto. Porto also has its own international airport, Francisco Sá Carneiro Airport (OPO), that you can fly into.
Welcome Pickups, a highly-rated airport transfer service, is also a great option for the same price as a regular taxi if you want to have an English-speaking driver ready for you when you land.
Once you're in Porto, you can get around in four different ways: by taking public transportation, calling a taxi/Uber, walking or renting a car.
🚇 Public transportation. Porto's public transportation includes the metro, train, bus and tram. I found Porto's metro to be efficient and easy to navigate. A single metro ride costs less than $2 and the Porto Card gives you more tourist benefits.
Porto is a relatively compact city, so you can get to a lot of the attractions by public transportation or on foot.
👟 Walking. Porto's city center is a pedestrian-friendly area that's easy to explore on foot. You can walk through most of the city center in under an hour if you don't make any stops.
Like Lisbon, Porto is incredibly hilly, so make sure to wear comfortable shoes. I was happy in my running shoes while my sister wore Converse and ended up having foot pain from all the walking. This Portugal travel guide has other practical tips on visiting the country.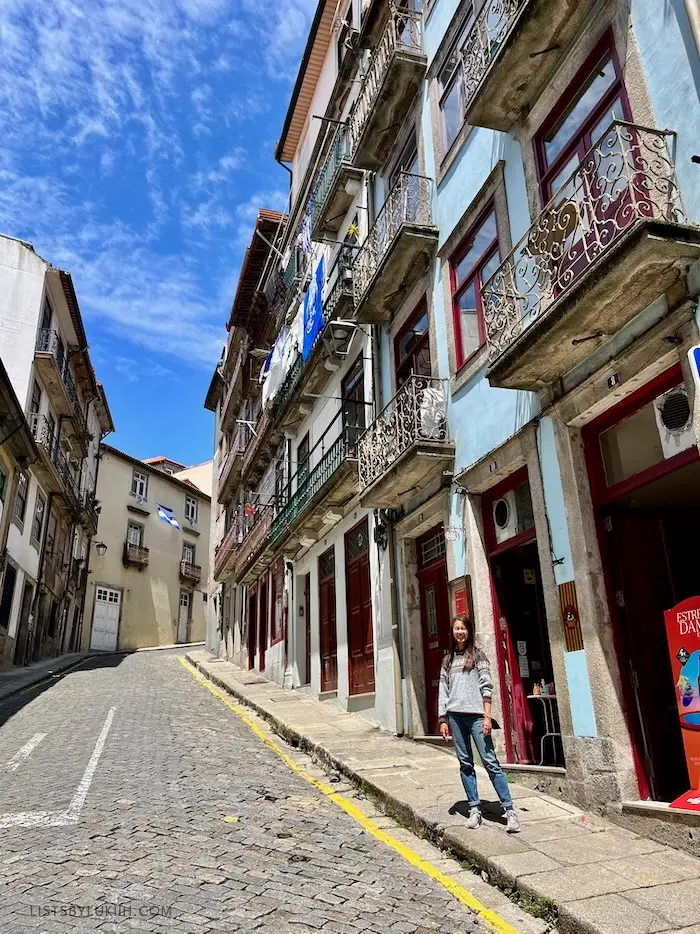 🚕 Ridesharing apps or taxis. Uber and taxis are widely available in Porto and both will be significantly more expensive than public transportation.
🚗 Car rental. Given Porto's great public transportation and compact streets, renting a car only makes sense if you're doing a more off-the-beaten-path itinerary.
Unlike in some other countries, tuk-tuks in Portugal are used primarily as vehicles for giving tours, not as transportation to get from point A to B. This is why Porto tuk-tuks are fairly expensive, costing around $30 an hour.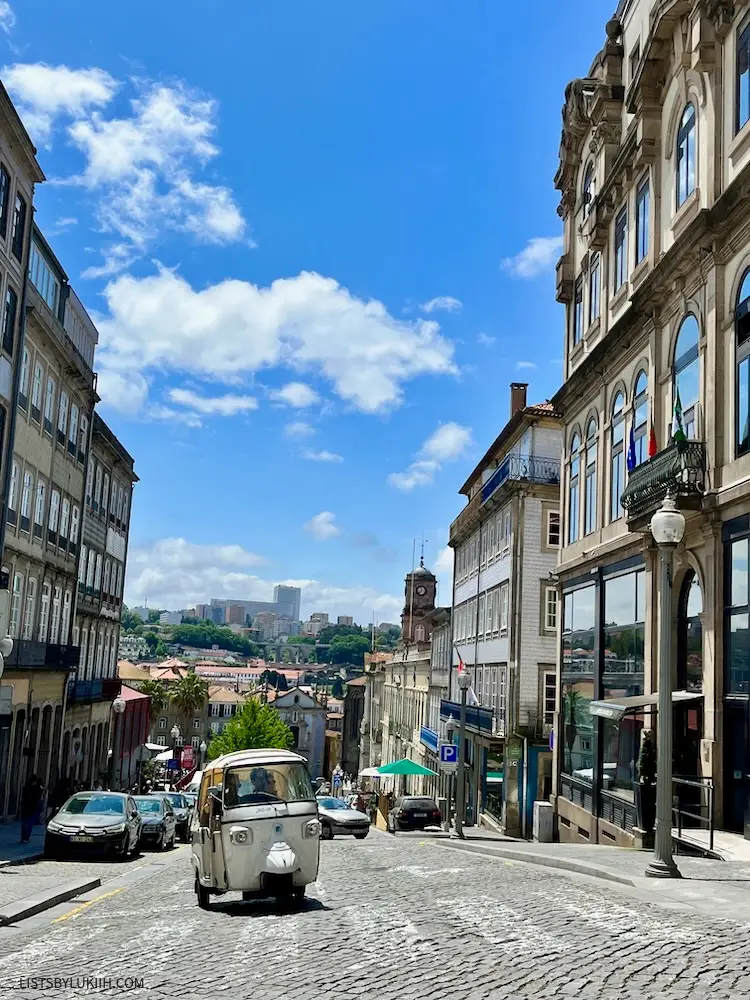 Porto Map With Recommended Places
This Portugal map has all the Porto recommended places mentioned below.
The map also includes recommended places for Lisbon and Sintra.
6 Great Things To Do in Porto
After collectively spending almost a week in Porto and visiting many of its top attractions, here are my and my sister's combined recommendations on six great things to do in Porto, in rough priority order.
1. Visit the top attractions in Porto's city center
🤔 Why: Porto's city center has many of the city's top historical attractions. It's also compact enough that you can reach everything by walking.
🌟 What to visit: The top attractions in Porto's city center are:
Livraria Lello. Lavishly decorated, Livraria Lello is considered one of the world's most beautiful bookstores. Due to its popularity, the Livraria Lello has an entrance fee of €5 (~$5.35 USD), but the lines are still very long (it was a one-hour wait when I visited).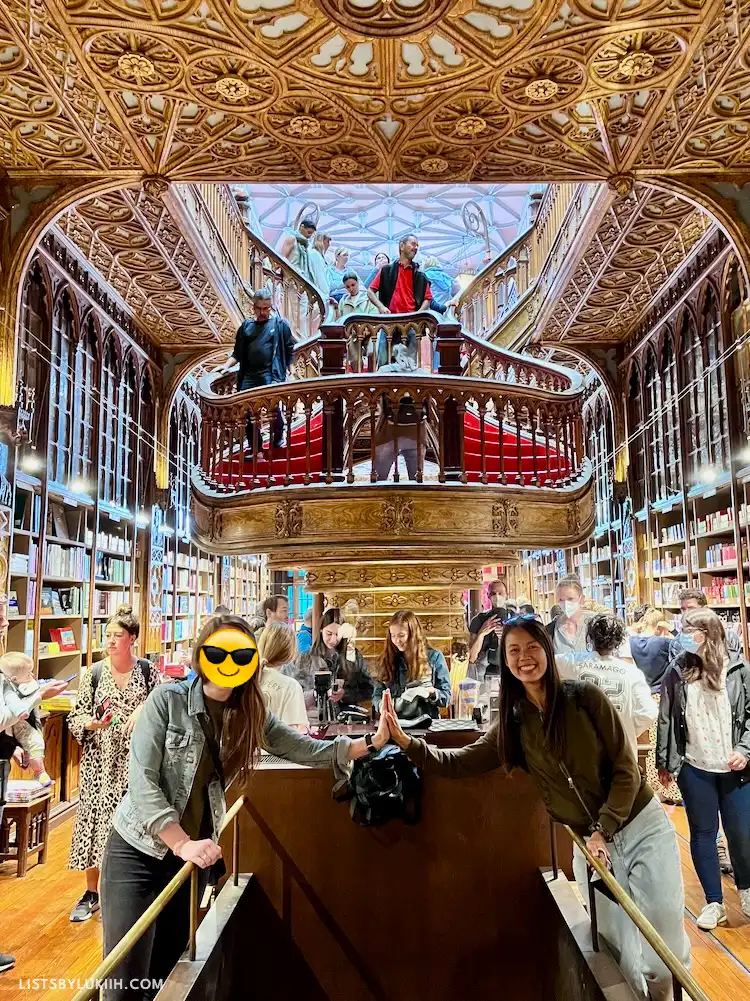 You can also purchase a Livraria Lello priority ticket for €15.90 (~$17) which will let you skip the lines. I purchased the €5 ticket online and for some unknown reason, I was allowed to skip the line, so maybe you'll get lucky too.
Clérigos Tower. Torre dos Clérigos is an iconic tower in Porto that gives you a panoramic view of the city and the Douro River as long as you're willing to climb its 225 steps and pay its €8 entrance fee (~$8.56 USD).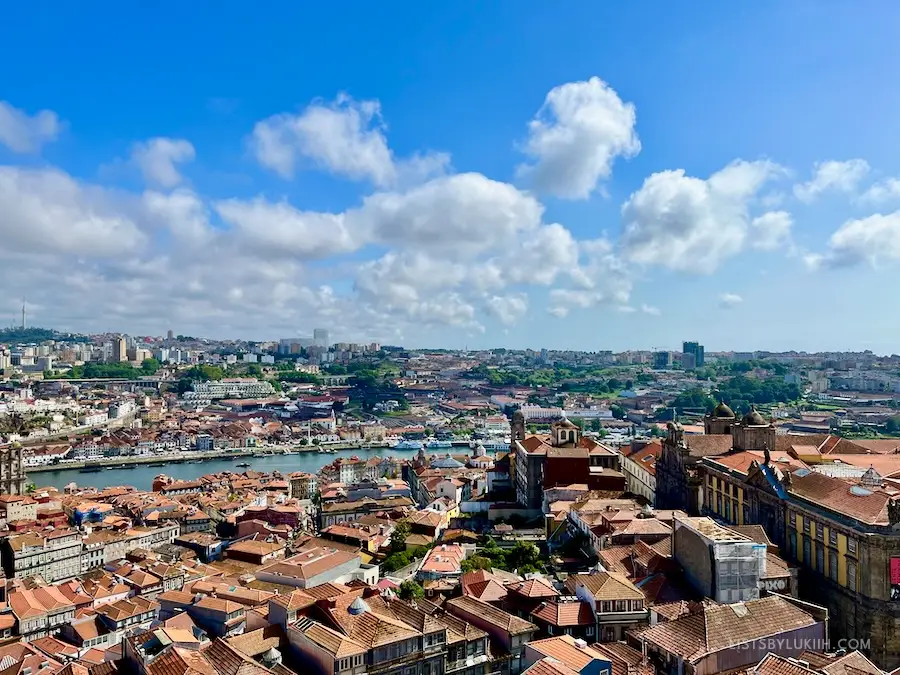 The Clérigos Tower entrance tickets are timed. If you plan to visit the tower during sunset time when it's most popular, make sure to buy them in advance online or at the ticket office.
São Bento Train Station. The historic São Bento train station is famous because it's covered with over 20,000 blue ceramic tiles known as "azulejos", which Portugal is known for. The station doesn't have an entrance fee, but it does get crowded.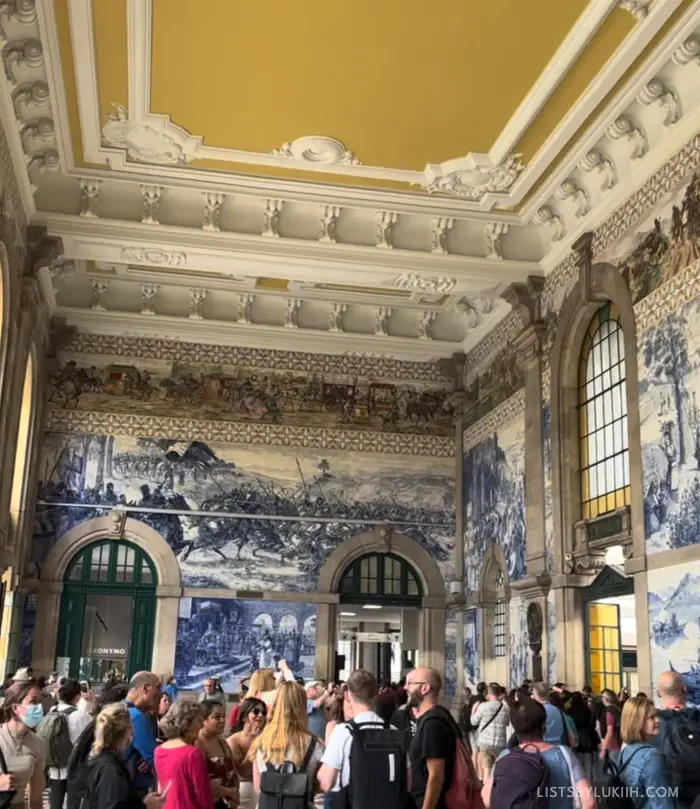 São Bento is the train station for taking a train to or from Lisbon, so you can easily take a look at it upon arrival or before departure.
Igreja do Carmo. The Church of Igreja is another well-known building because it also has a facade covered in azulejos.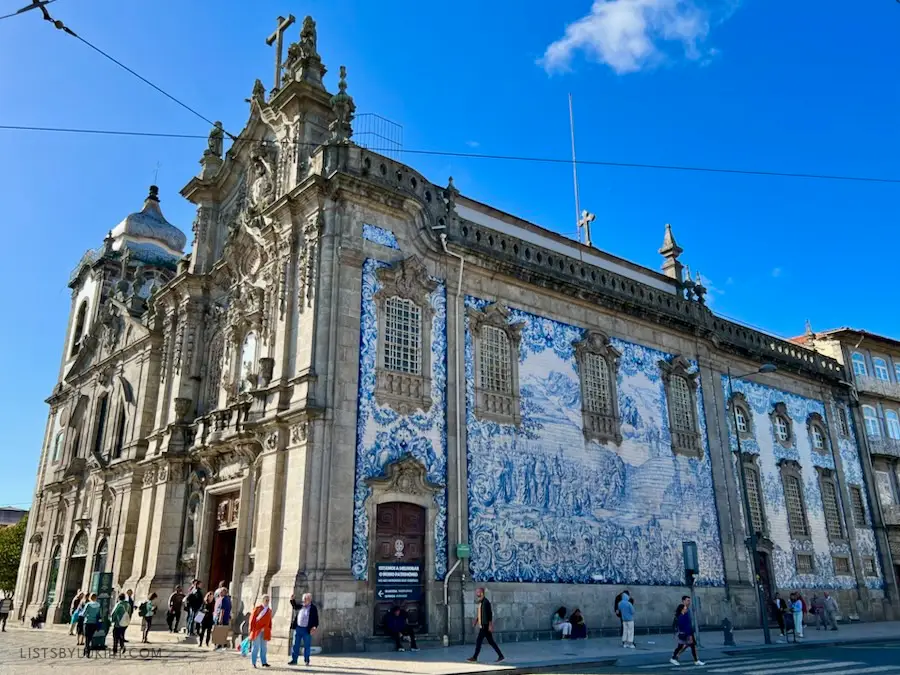 ⏰ Suggested duration: You can expect to spend half a day walking around Porto's historic center. It took my sister about five hours to see all attractions back-to-back and stop for a few snacks.
💰 Expected cost: You can expect to spend at least $14 USD around Porto's city center while visiting its attractions. Livraria Lello costs at least $5 USD and Clérigos Tower has a ~$9 USD entrance fee.
🍀 My take: Despite the high number of visitors, I thoroughly enjoyed walking around Porto's city center, which gave me a more authentic vibe than walking around Lisbon's city center.
2. Explore and drink Port wine in Gaia
🤔 Why: Port wine, which is a sweet, red wine, comes from northern Portugal. The city of Gaia, or Vila Nova de Gaia, is a 5-minute walk from Porto's city center and is known for its Port wine cellars.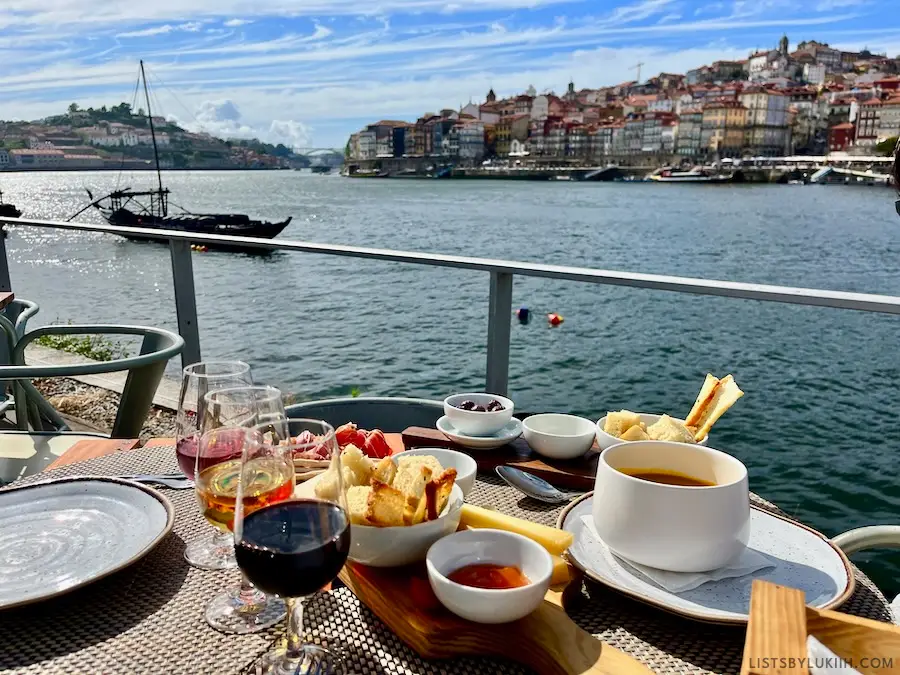 🌟 What to do there: In Vila Nova de Gaia, you can:
Walk through the entire stretch of Gaia's riverside; it only takes 15 minutes from one end to another.
Enjoy a snack by the riverside and look across the water towards the Ribeira district. I had a cured ham and Port wine sampler at Uva by Cálem (~$5 USD per glass) because I prioritized sitting near the river.
Walk uphill to Jardim do Morro to get a stunning view of the Duoro River and both riverfront sides.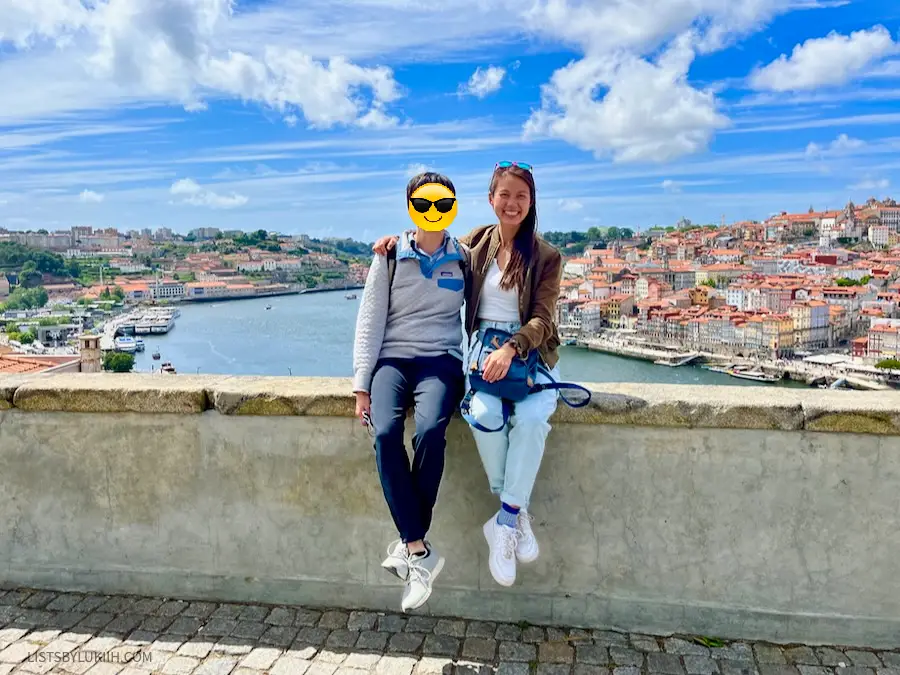 Choose one of the many Port wine restaurants or cellars along the riverfront and sample some wine.
Ride the Gaia cable car to get a beautiful view of the river and Gaia from above.
🚗 Getting there: From Porto, you can walk across the Luís I Bridge to get to Gaia. It's a short, scenic walk that only takes about five minutes.
⏰ Suggested duration: You can spend anywhere from two hours to half a day in Gaia. I did all the activities mentioned above and it took me roughly four hours.
💰 Expected cost: Expect to spend $20 USD or more riding the cable car and tasting Port wine in Gaia.
🍀 My take: Exploring Gaia was one of my favorite parts of Porto. I especially enjoyed climbing up the hill to Jardim do Morro and finding a riverfront restaurant that served Port wine.
3. Take a Douro Valley wine tour
🤔 Why: A UNESCO World Heritage Site, Douro Valley is the exclusive producer of Port wine. A Port wine tour in the Douro Valley also allows you to briefly escape the city.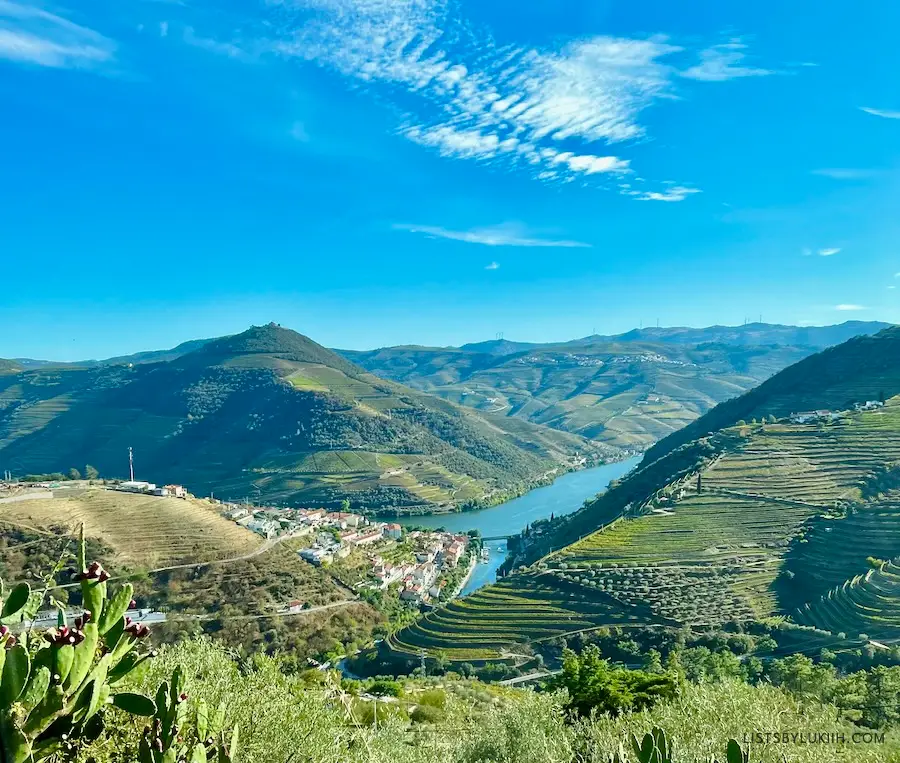 🌟 What to do there: Enjoy Port wine-tasting sessions while learning about the Port wine-making process and enjoying the Douro Valley scenery. This highly-rated Douro Valley wine tour includes a visit to two vineyards and a cruise ride down the Douro River.
🚗 Getting there: The Douro Valley runs along the Douro River, beginning near Porto and extending towards Spain. You can get there by driving for a bit over an hour or taking public transportation for two hours. For most visitors, a Douro Valley wine tour is likely the most convenient way to visit the valley.
⏰ Suggested duration: A Douro Valley tour is typically a full-day trip outside of Porto.
💰 Expected cost: A standard Douro Valley wine tour starts at around $100 USD and a private tour will cost a bit over $300 USD.
🍀 My take: If you enjoy sweet wine like I do, a Douro Valley wine tour is a great way to spend a day and immerse yourself in Port wine tasting. It's an upgraded experience from sampling Port wine in Vila Nova de Gaia.
4. Relax and eat at the Ribeira riverfront
🤔 Why: The Ribeira riverfront is a charming and photogenic area of Porto that's lined with shops and restaurants. It's also a very lively area, especially at night.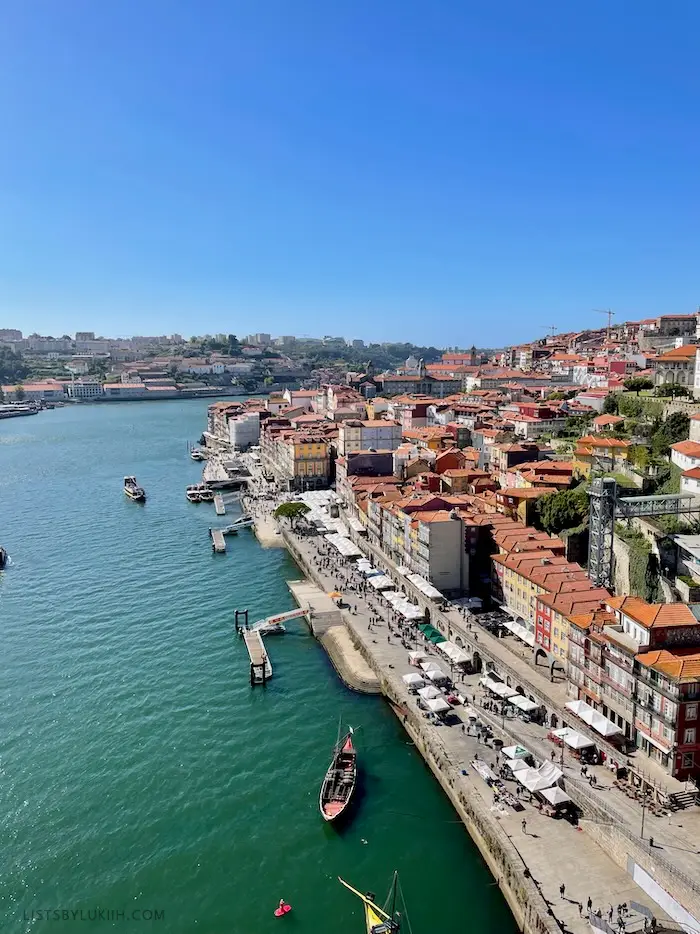 🌟 What to do there: You can walk by the riverfront and look across the Douro River at Gaia. You can also look around and see if there are any shops or restaurants that pique your interest.
For Port wine tasting, take a five-minute walk across the Luís I Bridge to get to the city of Gaia, which is known for its wine cellars.
🚗 Getting there: To get to the Ribeira riverfront or district, simply walk south or east of Porto's city center. Here's a good spot to start your riverfront walk towards the Luís I Bridge.
⏰ Suggested duration: You can spend anywhere from 30 minutes to a little over an hour exploring the Ribeira riverfront.
💰 Expected cost: There's no entrance fee to the Ribeira riverfront. You might spend a couple of euros eating or shopping there.
🍀 My take: Given how accessible it is from Porto's city center, there's no reason not to stop by the Ribeira riverfront for a quick view. I went both in the daytime and nighttime and enjoyed it more in the nighttime when it felt more romantic.
5. Walk with peacocks at Crystal Palace Gardens
🤔 Why: Get away from the city center for a bit and enjoy a more tranquil atmosphere with garden views and many peacocks running around at Jardins do Palácio de Cristal.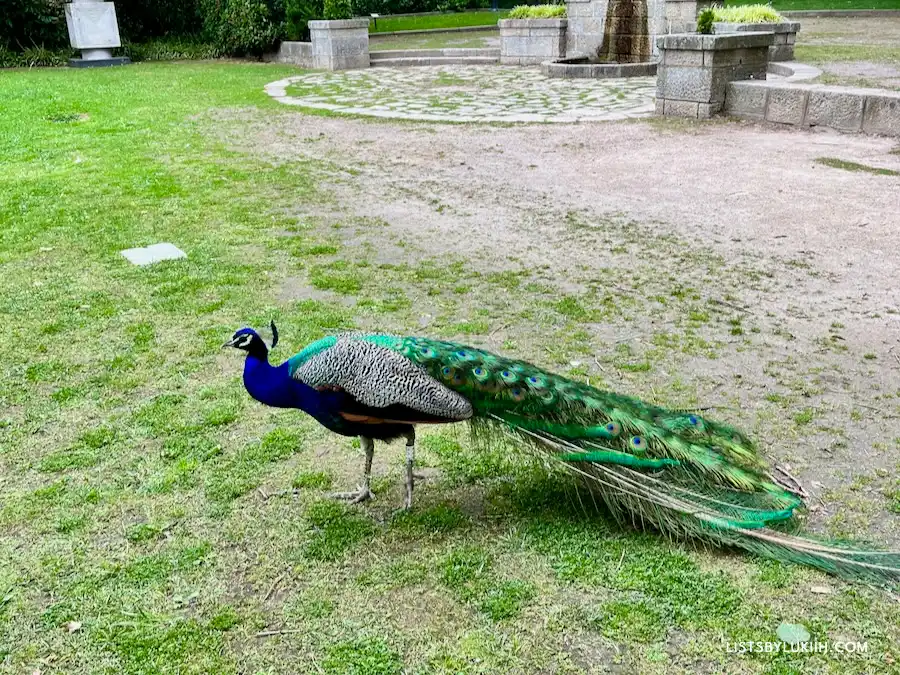 🌟 What to do there: Walk around the lush, green spaces, leisurely people watch, look for river views and admire the nearby peacocks that roam freely.
🚗 Getting there: Jardins do Palácio de Cristal is a 20-minute walk, 15-minute bus ride or 10-minute Uber ride from Porto's city center.
If you take an Uber, make sure to type in "Crystal Palace Garden" as your destination. Do not make the same mistake as I did and type in "Crystal Palace". That will take you to a bakery.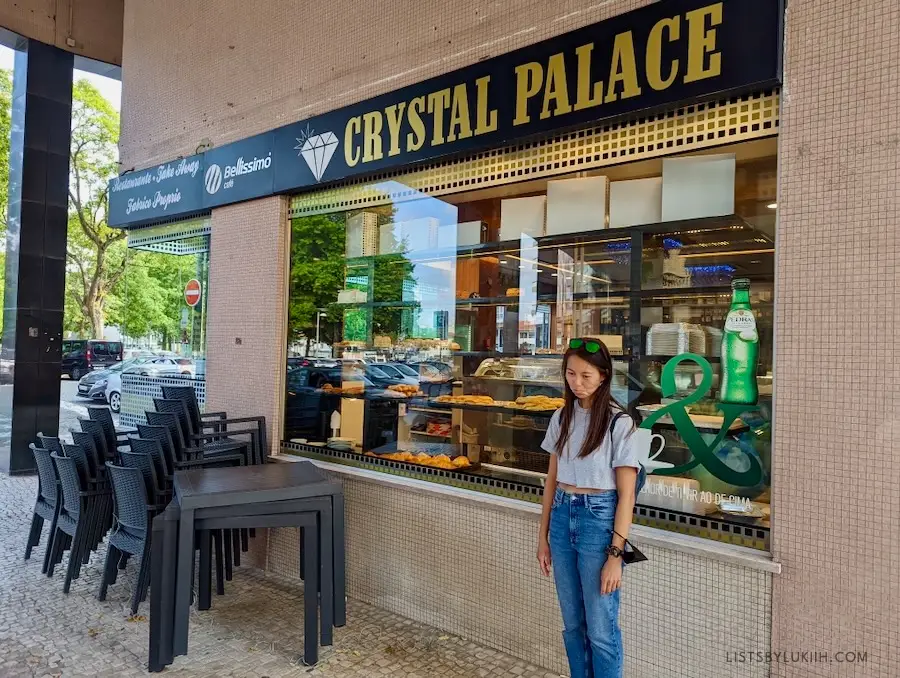 ⏰ Suggested duration: You can spend anywhere from one to two hours at the Crystal Palace Gardens.
💰 Expected cost: Jardins do Palácio de Cristal does not have an entrance fee, so it's free. There are a few expensive vendors near the entrance of the garden.
🍀 My take: I mostly went to the Crystal Palace Gardens to see peacocks running around freely and I was not disappointed. It's not a sight I get to see every day in the US and I saw about 20 peacocks.
6. Enjoy a more local vibe at Parques da Virtudes
🤔 Why: Almost all activities and attractions mentioned in this list will have at least a hint of tourism, but the Parques da Virtudes area will give you a much more local atmosphere. It's also a great place to catch the sunset.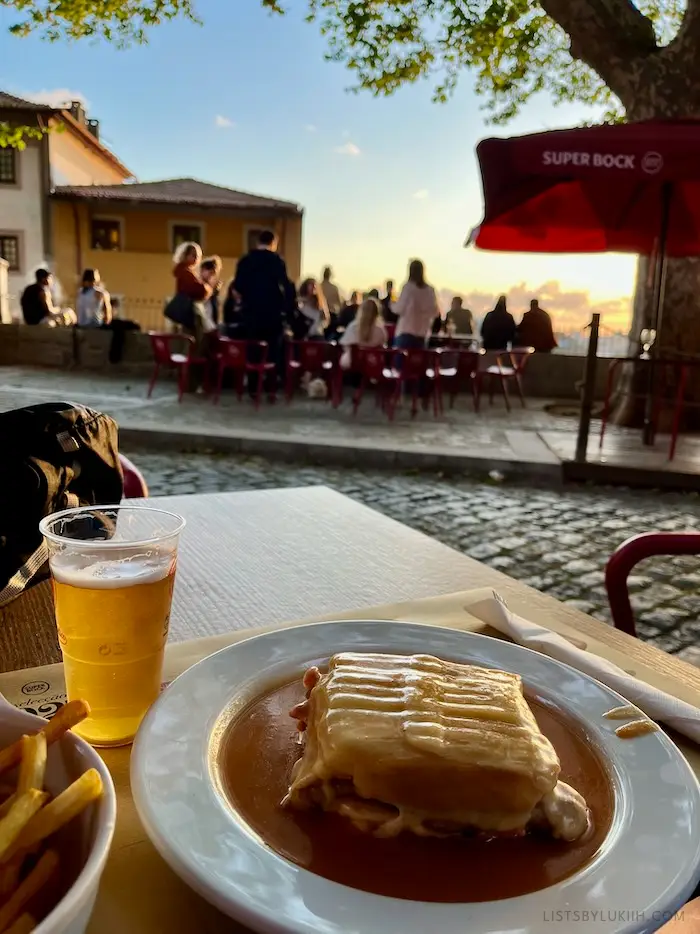 🌟 What to do there: Visit Parques da Virtudes for the sunset view here or grab a francesinha (Portuguese sandwich).
Passeio das Virtudes has several bars, cafes and restaurants catering to locals. They're local enough that they don't show up on Google Maps. I got a francesinha from one of these places and it was an interesting sandwich to try, but not my favorite Portuguese food.
🚗 Getting there: Walk up a hill to Passeio das Virtudes here to enjoy the sunset view and grab a bite.
⏰ Suggested duration: You can spend anywhere from 30 minutes to an hour in this area.
💰 Expected cost: The sunset view is free, but expect to spend ~$5 USD for a francesinha.
🍀 My take: A visit to Parques da Virtudes is a nice, relaxing way to close your Porto trip after doing a lot of sightseeing and tourist activities.
3-Day Itinerary for Porto
Below is a great way to spend three days in Porto while incorporating a day trip to the Douro Valley.
This three-day itinerary is the improved and combined version of my and my sister's Porto itineraries (we visited Porto separately in the spring and fall). I've included some of our actual timestamps to give you an idea of how long you might need for each activity and how to efficiently sequence things.
The Portugal trip planning template below has this itinerary prefilled.
This Portugal travel guide has a one-week itinerary that includes visits to Lisbon, Sintra and Porto.
Where I Stayed in Porto
🏠 I stayed at an apartment rental in Rua das Taipas 70 for $162 USD/night/person.
Pros: The apartment was spacious, clean and modern. It was also located within walking distance of Porto's city center without having to be in the city where it can get loud at night.
Cons: The apartment was located up a hill, which can get tiring depending on your itinerary.
Porto Cost Breakdown
I spent a total of $272 USD for two days in Porto, so my average cost was $136 per day. I traveled with two other friends and was able to split accommodation, transportation and food costs.
I took the cable car ride in Gaia, visited Livraria Lello and went up Clérigos Tower, which all had an entrance fee.
| | Total Cost | Cost Per Day |
| --- | --- | --- |
| 🏠 Accommodation | $162 | $81 |
| 🍝 Food | $59 | $29 |
| 🚇 Transportation | $39 | $20 |
| ⭐ Entertainment | $12 | $6 |
All my travel expenses are broken down by category in this Portugal trip cost breakdown.
Portugal Trip Planning Template
To make your travel planning easier, download the trip planning template below and use it as a starting point. The template has country-specific travel information as well as an itinerary, packing list and map with recommended places pinned.
The template is built on Notion, which is what I use for all my travel planning (I'm not paid to say this; I just like the tool). If you don't have Notion, creating an account is free.
If you have any questions or thoughts, feel free to leave them in the comments below.
🧋 This site is run entirely by me, Lukiih. I spend hours writing each article to ensure its accuracy and conciseness. If you find my site helpful, you can say thanks by buying me bubble tea!