Home to one of the seven wonders of the world, Peru has stunning mountains, Inca ruins and UNESCO World Heritage sites. Between hiking the Inca Trail and sandboarding in a desert oasis, my 10 days in Peru were some of my most adventurous and thrilling moments in South America.
My childhood friend, who has lived in Peru for the past 12 years, made my trip planning easier. In this post, I share practical tips on getting around and visiting Peru with the help of a local.
I also share a 10-day itinerary to three great Peru places to visit as a first-timer: Lima, the capital city; Cusco, the town near Machu Picchu; and Huacachina, the only natural desert oasis in South America. At the end, I've included a Peru-specific planning template.
Disclosure: This post contains affiliate links. If you make a purchase through them, I may earn a small commission, at no extra cost to you. Thanks for your support!
Quick Travel Facts for Peru
Here is some general travel information on Peru to save you research time:
⭐ Known for: Peru is known for its beautiful nature and archeological sites (e.g., Machu Picchu, Huacachina, Rainbow Mountain, Colca Canyon).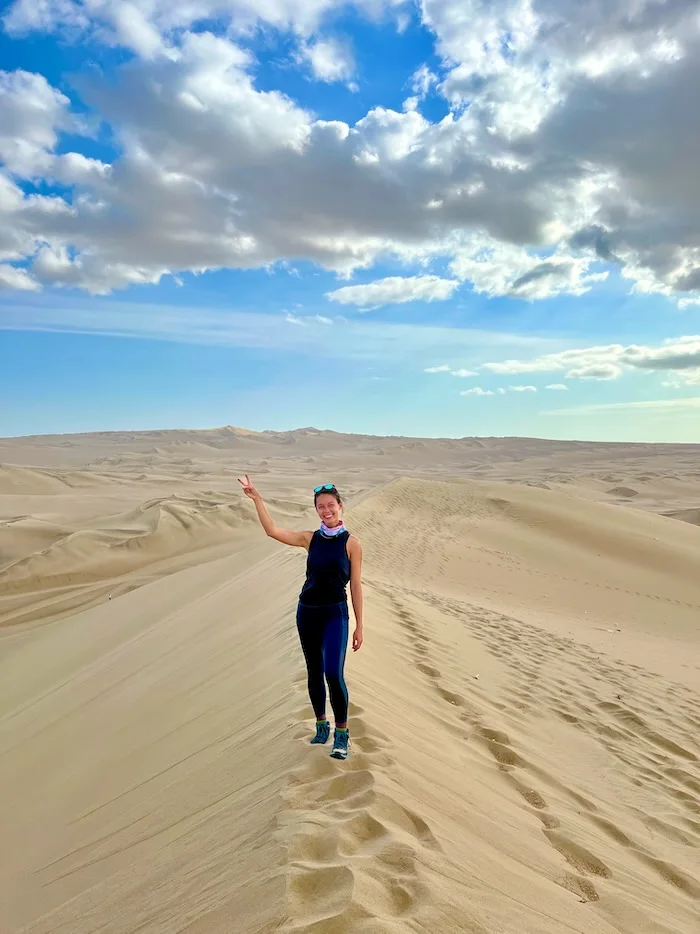 🛃 Visa: A visa is not required for US nationals visiting Peru.
📍 Location: Peru is located in South America and its capital and largest city, Lima, is located on the west coastal side of the country, halfway between the northern and southern borders.
💬 Language: Spanish is Peru's official language. About 8% of Peru's population speaks English; you can expect a higher percentage of English-speakers in Lima, but English is otherwise not commonly spoken.
🌎 Time zone: Peru's time zone is the Peru Standard Time.
💰 Currency: Peru uses the Peruvian Soles and 1 USD equals S/ 3.79 at the time of writing. USD is widely accepted in Peru, but you may not get a favorable exchange rate.
This Peru trip cost breakdown outlines other cash-related tips.
🔌 Outlet: Peru uses three types of outlets: the two-prong type like the US, a three-prong type that US plugs can use and a circular two-prong type. US visitors should bring an adapter just in case they need to use the third outlet type (I bought and used this well-rated plug adapter).
💧Tap water: Tap water is not safe to drink in Peru, but you can drink boiled or filtered water there. Consider bringing a reusable water bottle that keeps water cold.
💳 Credit card: Peru's economy is largely based on cash transactions, so credit cards are not widely accepted. Carry cash when traveling to Peru.
💵 Tipping: Tipping is expected and customary in Peru, so make sure to carry a few small bills. If you're hiking the Inca Trail, here's a thorough tipping guide for the trek.
☀️ When to visit: The most popular time to visit Peru is during the dry season, which runs from April to November. I visited in April since I knew I was going to do the Inca Trail hike which is best during the dry season, but less crowded towards the beginning of it.
⏳ How long to visit: Most people recommend spending at least 7 days in Peru to see some of the highlights. Aim to spend 10 to 14 days in Peru to give yourself the opportunity to explore different locations. I stayed in Peru for 10 days, which allowed me to visit Lima, Cusco for the hike to Machu Picchu and Huacachina.
The Peru trip planning template below has all the information above in a downloadable format.
Getting Around Peru
When getting around Peru:
Renting a Car and Driving
Renting a car is generally not advised in Peru for a variety of reasons:
Driving is not necessarily cost-effective due to the long distances you have to travel to get from one area to another (e.g., driving between Lima and Cusco takes over 20 hours).
In cities like Lima, traffic is bad and Peruvian drivers are known to be aggressive.
Outside of cities, Peru road conditions can be poor with unclear road signs, unpaved roads and potholes being common.
Cell and GPS signal can be weak or nonexistent in certain areas, even on roads between two popular areas.
Unless you understand and accept the risks and inconveniences outlined above, you should instead consider taking buses, flights, taxis and rideshares in Peru.
Getting Around Different Areas
Navigating around Peru can be challenging. The two safest and most convenient ways to travel to different areas of Peru are:
Booking a bus company. This is not the same as getting on a local bus, which can be challenging to navigate as a tourist. Several bus companies offer stops between different areas in Peru, with Peru Hop being one of the most well-known ones (I used them to book my tour to Huacachina.)
Make sure to research your Peru bus company before using them as the reliability and quality varies by company and location.
Flying. Peru has 5 international airports in Lima, Cusco, Arequipa, Iquitos and Piura, and 18 domestic airports. Flying is a lot more expensive than taking a bus, but it's sometimes the best option (e.g., the bus journey between Lima and Cusco can be long and daunting).
Getting Around a Town or City
Once you're in a city or town in Peru, you can rely on taxis and ridesharing apps, like Uber and Lyfts. Ridesharing apps are only available in tourist, non-remote areas like Lima and Cusco.
Uber and Lyft are ridiculously cheap in Peru, so consider taking them over taxis and make sure to tip.
After landing in Lima's airport, Jorge Chávez International Airport, I was followed by three taxi drivers before reaching my Uber.
When you arrive at a Peru airport, ignore the aggressive taxi drivers following you and telling you that Uber/Lyft is illegal. Walk with purpose towards your Uber.
A Local's Travel Tips for Peru
Below are tips for visiting Peru, broken down into three categories:
All of these tips were provided by Isabela, a Peru local of 12 years and my childhood friend, or friends who have spent nontrivial time in Peru.
6 General Tips for Visiting Peru
Here are general tips for traveling to Peru that are not location-specific.
Tip #1: Research the political situation before booking your trip.
Unfortunately, political unrest and protests or strikes are not uncommon in Peru. I visited Peru during two temporary strikes that significantly impacted my 4-day Inca Trail trek to Machu Picchu.
While you can't predict protests, you can reduce your chances of being impacted by avoiding traveling during Peru holidays. Strikes are often planned during a busy travel time to give the group on strike more negotiation leverage.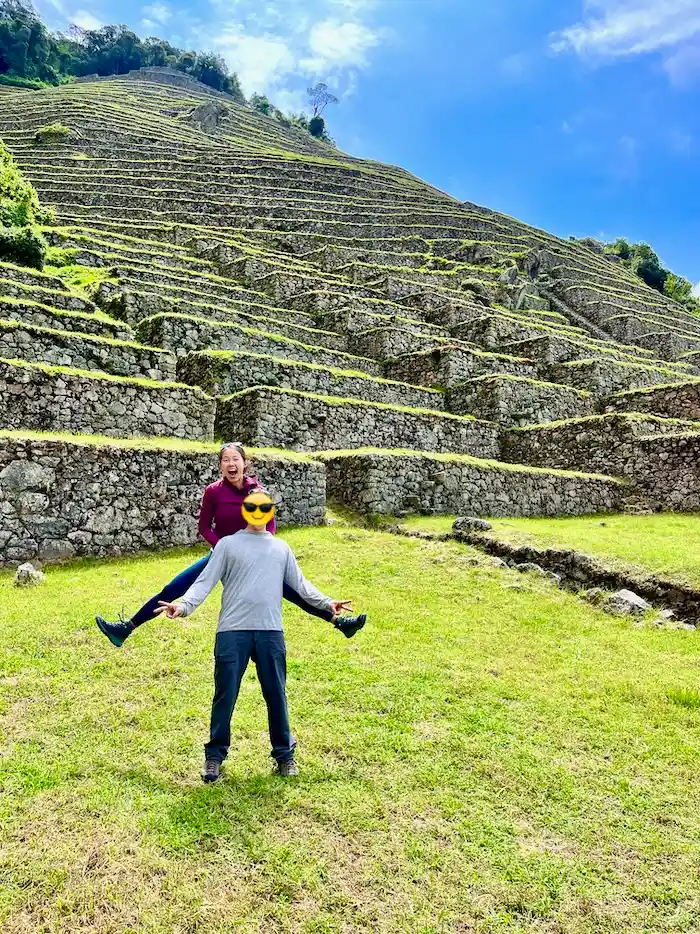 Tip #2: Withdraw soles and expect to tip.
Peru's economy is still largely based on cash transactions, so make sure to bring at least $50 worth of cash per day in Peru. Note that in some areas, like Cusco, ATMs are not always well-stocked with cash.
USD and Peruvian soles are both widely accepted, but you may not get a favorable exchange rate if you use the former.
Tipping is customary and expected in Peru. This is a good reason to withdraw soles and carry small bills. If you're hiking the Inca Trail, here's a thorough tipping guide for the trek.
For more tips related to costs and cash in Peru, see this Peru trip cost breakdown.
Tip #3: Be careful when crossing the streets.
Unlike the US, pedestrians do not have the right of way and there are no cultural norms to stop for them in Peru.
As my local friend said, "This is not New York City. Peruvians will run you over, so please don't think that drivers will stop for you." I learned from personal experience that many stop signs, especially in Lima, are mere suggestions.
Tip #4: Download WhatsApp.
Like other countries in South America, the majority of people and businesses in Peru use WhatsApp to communicate.
Download WhatsApp (iOS, Android) prior to traveling to Peru so you can communicate with small businesses, tour companies, restaurants and others.
Tip #5: Haggling is expected, but don't do it excessively.
Peruvians, like many people from South America, are generally kind people who will try to help you if you need it.
But keep in mind that Peru is also one of the poorest countries in South America, so they will upcharge or rob tourists in poorer areas if the opportunity presents itself.
Haggling is expected, especially in tourist places like Cusco, but don't overdo it. Since you're traveling to Peru, your earning potential is likely much higher than the average Peruvian seller.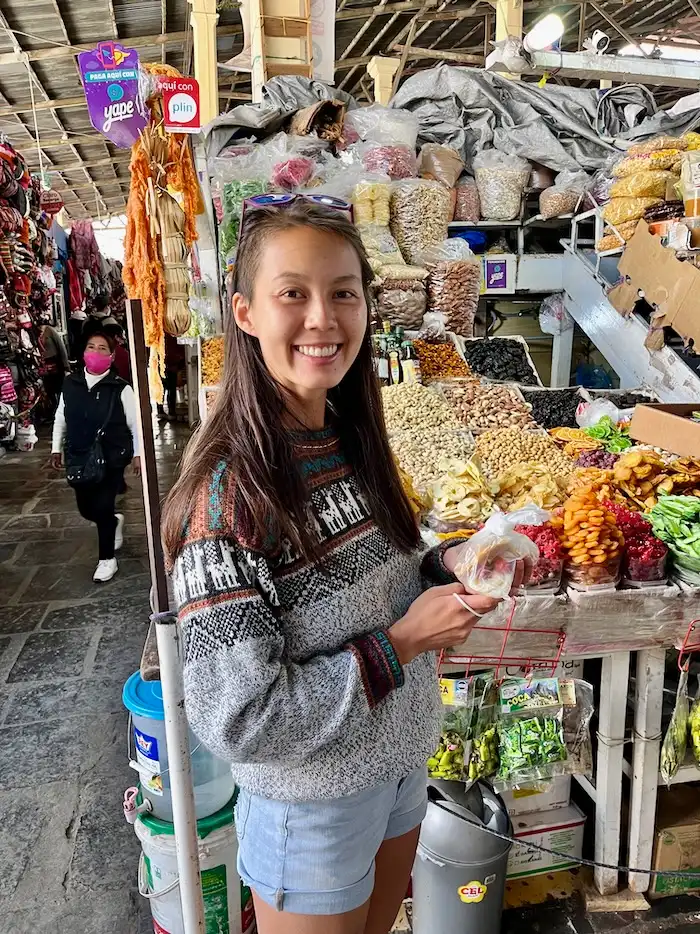 Tip #6: Prepare for an upset stomach.
In Peru, don't drink tap water or eat raw vegetables, and avoid street foods if you have a sensitive stomach.
Peru's food tends to be very well-seasoned and can use ingredients foreign to your body. It's not rare to get an upset stomach or food poisoning in Peru (in fact, one of my companion travelers did get sick). If you're prone to an upset stomach due to food, consider bringing Pepto Bismol tablets.
3 Tips for Visiting Lima, Peru
Here are three Peru tips that are Lima-specific, provided by my local friend who lives in Lima:
Tip #1: Spend at most 1 to 2 days in Lima.
While Lima is a large city with many things to do, the general consensus is that it's not differentiated enough from other modern cities in Latin America to warrant spending meaningful time there.
I spent 2 days in Lima, but did a day trip to Huacachina, which I highly recommend.
If you only have one or two days in Lima, my local friend recommends:
Walking around Miraflores and Barranco. Miraflores is a beachfront district with parks, shops and gardens, and Barranco is an artistic, upscale district that's pretty at night and offers paragliding. I primarily walked around Miraflores and recommend it for both the day and night time.
Going to Museo Larco or Centro Histórico. Museo Larco is a beautiful art museum, complete with a cafe and garden, that's expensive for Peru, but cheap by US standards. Centro Histórico is a crowded, city square surrounded by museums, food and architecture.
Museo Larco and Centro Histórico are both popular to visit, but far enough apart that you likely can't do both if you're in Lima for less than 2 days (see tip #3 regarding Lima's traffic).
Maybe visiting Lima's Chinatown (or maybe not). Lima's Chinatown, unlike many US Chinatowns, doesn't have Chinese residents so it can be an interesting experience walking around it. My local friend warns that it's a very poor area, so watch out for pickpockets.
Tip #2: Eat your way through Lima.
Lima is known for its food scene. You can not only find delicious, local food, but also get upscale dining experiences that are worth the price.
Local Food in Lima
Traditional Peruvian food that my local friend recommends include:
Lomo saltado, which is a stir-fry with sirloin steak. You can get these in many traditional Lima restaurants, including the affordable restaurant chain, Tanta, which is founded by a famous Peruvian chef.
Anticuchos, which are beef heart skewers. This is a must-try and you can find many good places that serve them in Lima.
Ceviches, which are usually made of raw fish and shrimp. Seafood is common in Peruvian cuisine and many restaurants in Lima, particularly ones in Miraflores, serve them well.
Upscale Food in Lima
Lima does upscale dining, often mixed with other cuisines, really well:
Chifa is a Chinese Peruvian style that has Cantonese elements.
For upscale, traditional Peruvian food, Central is one of the more popular restaurants in Barranco that's difficult to get reservations at.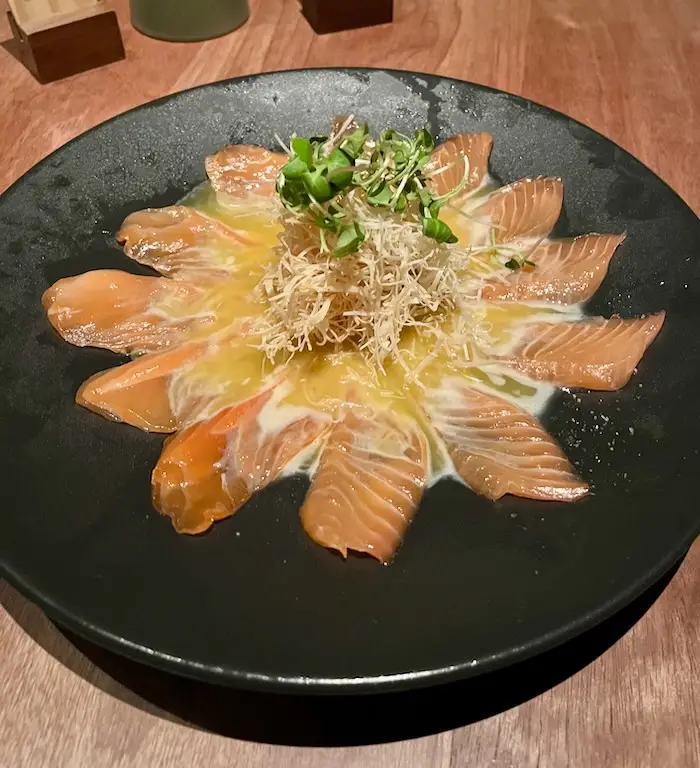 Tip #3: Lima's traffic is notoriously bad, so budget commute time.
Lima's traffic is bad enough that even if you see districts located right next to each other on the map, it might take you longer to travel than you think.
For example, Lima's airport and Miraflores district are 12 miles apart, but can take anywhere from 35 to 60 minutes to commute.
Considering Lima's traffic:

1. Don't plan to travel too far between each district when planning your Lima itinerary

2. Stay in the district you're most interested in walking around. Many visitors choose to stay in Miraflores or Barranco.
5 Tips for Visiting Cusco, Peru
Cusco is one of the most visited towns in Peru because you have to get there to visit Machu Picchu either by train or the Inca Trail trek.
Cusco itself is worth at least an overnight stay. Here are five tips when traveling to Cusco.
Tip #1: Give yourself 1-2 days to acclimate to Cusco's altitude.
Cusco is located on the Peruvian Andes, a mountain range that cuts across seven countries. The town is over 11,000 feet above sea level. Roughly 50% of people who don't live at high elevations will experience some altitude sickness symptoms starting at 10,000 feet.
Give yourself 1-2 days to acclimate to Cusco's altitude in case you experience some symptoms (e.g., headache, nausea, shortness of breath).
Things that may alleviate altitude sickness symptoms include:
Hydrate a lot
Drink coca tea
Bring or buy altitude sickness medication which is available in Peru pharmacies
Avoid sugar (it leads to headaches for some people), alcohol and eat light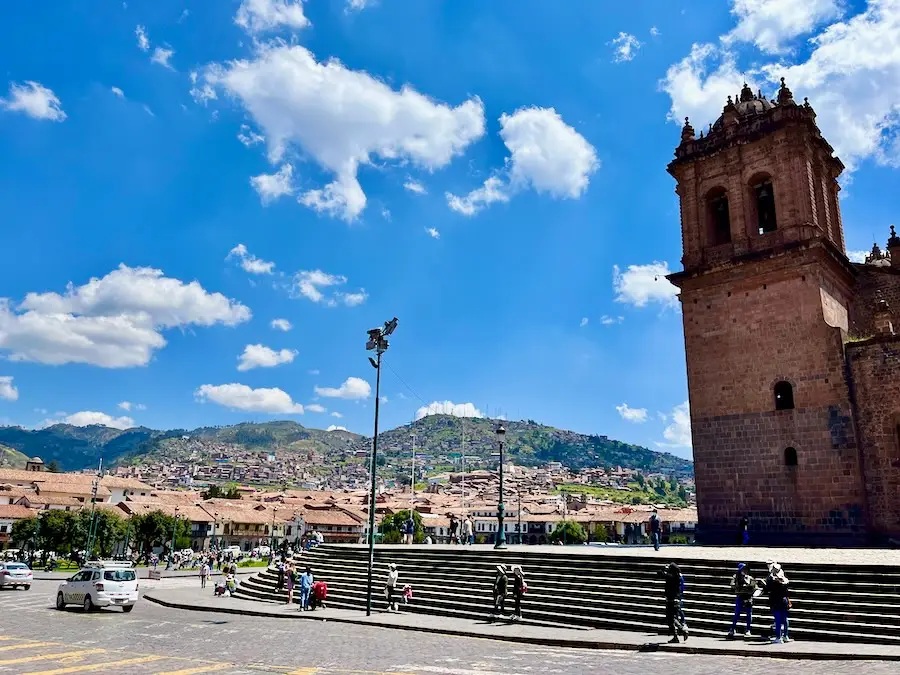 Tip #2: Spend at least a day walking around Cusco's town.
Many people travel to Cusco to go on day trips to other places, like Machu Picchu, Sacred Valley and Rainbow Mountain, but the town of Cusco has great things to offer, making it worth spending at least half a day there, if not one or two days.
For example, you can explore the very walkable Centro Histórico area of Cusco:
Mercado Central de San Pedro is a large market selling local food, fresh fruits and souvenirs. Note that they may be closed during Peru holidays.
When visiting a Peru market, consider trying a local fruit. Some of my favorite fruits are guanabana, cherimoya and granadilla.
Cusco Main Square is an urban square surrounded by shops where you can walk around and enjoy a sunny day. Street vendors can be pushy here if you acknowledge them.
Chocolate Museum has a chocolate workshop and sells chocolate infused with spices and coca.
Several streets around this area sell souvenirs (e.g., alpaca sweaters varying in quality and prices, Peruvian art).
Tip #3: If you're going to eat the guinea pig delicacy, eat it in Cusco.
Cuy, a fried or roasted guinea pig, is one Peru's most famous dishes. Cusco has historically raised guinea pigs as food and has several restaurants that serve this delicacy.
While Americans may hesitate eating guinea pigs, there are environmental benefits to eating them compared to other meat alternatives. In Peru, raising and selling guinea pigs also help farmers get out of poverty.
I tried the guinea pig dish at Pachapapa. I value trying different, regional foods and I thought the restaurant cooked it well, but I can't say that I found the meat as delicious as some people claim it is. Also, it's a small animal, so there's not much meat to eat.
A tip from my local Peru friend: don't eat ceviche or raw seafood in Cusco as you can potentially get sick there. Lima is where you want to eat seafood in Peru.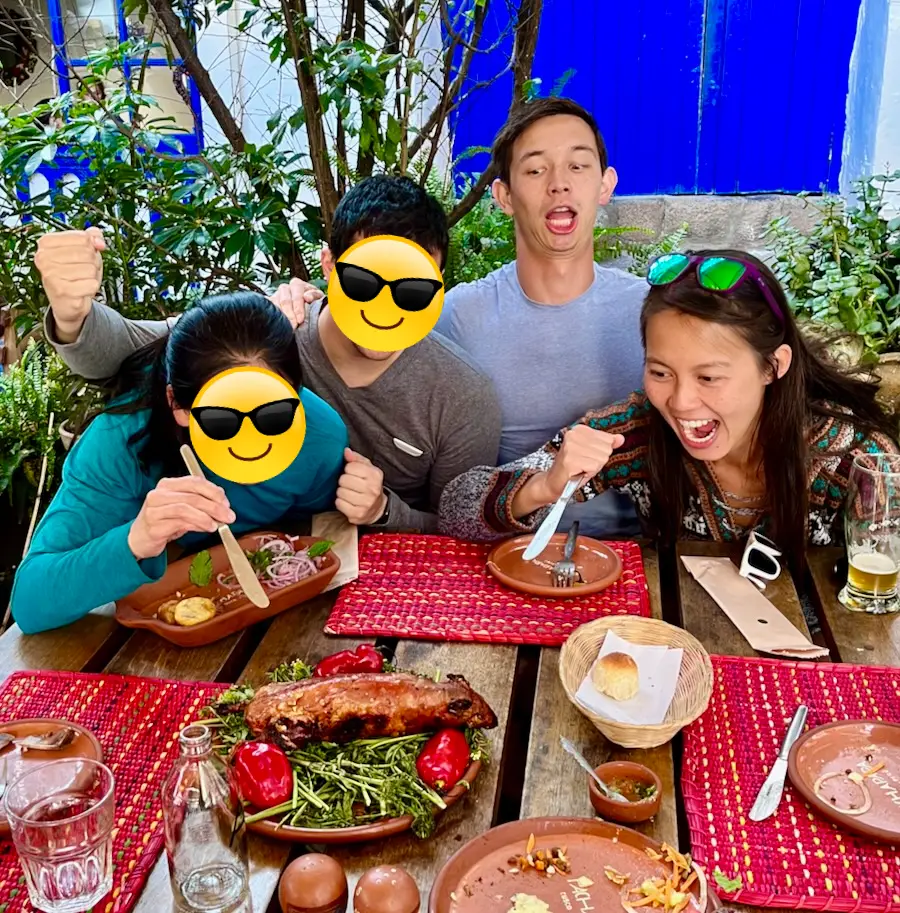 Tip #4: Arrive prepared in Cusco with cash and Wi-Fi.
Peru has a decent Wi-Fi infrastructure, but it varies by location. Despite it being a popular destination, the Cusco airport does not have Wi-Fi, so be prepared for that if you need it when you land.
Cusco also has many ATMs, but people have mixed experiences with them. Some people have no issues withdrawing cash while others have ran into ATMs that are not well-stocked with cash. Since you'll need cash in Cusco for tipping, tours and small businesses, it's best to come with cash in hand.
Tip #5: Take day trips from Cusco.
Many people travel to Cusco because of its central location to other top attractions:
Sacred Valley. A lush green valley about 1.5 hours from Cusco, Sacred Valley has Inca ruins, local markets and a much more cultural vibe than Cusco despite it also being a popular tourist area. This well-rated Sacred Valley tour also stops at Chinchero, a town of weavers selling high-quality textiles.
Some of the most high-quality souvenirs come from the town of Chinchero. Unlike Cusco, Chinchero's products are mostly made by the locals, so they're not mass produced.
10-Day Itinerary for Peru
Below is how to spend 10 days in Peru while visiting Cusco, Lima and Huacachina, and hiking the Inca Trail to Machu Picchu.
This itinerary resembles how I spent my time in Peru while incorporating improvements. It should give you an idea of how to efficiently sequence activities and visits. The Peru trip planning template below has this itinerary pre-filled.
Day 1
✈️ Fly into Cusco
⛰️ Explore Cusco's town and get acclimated to the altitude
Day 2
🧣 Day trip to Sacred Valley
Day 3-6
🥾 Inca Trail hike to Machu Picchu
Day 7
🌈 Day trip to Rainbow Mountain
❤️‍🩹 Alternatively, have a recovery day in Cusco
Day 8
✈️ Fly into Lima
💐 Explore Miraflores and Barranco
Day 9
🏂🏻 Day trip to Huacachina
Day 10
✈️ Explore Lima and fly home
I broken down all my Peru travel expenses in detail doing an itinerary similar to the one above.
Peru Trip Planning Template
To help make your travel planning easier, you can download the trip planning template below and use it as a starting point. The template has country-specific travel information as well as an itinerary, packing list and map with recommended places pinned.
The template is built on Notion, which is what I use for all my travel planning (I'm not paid to say this; I just like the tool). If you don't have Notion, creating an account is free.
If you have any questions or thoughts, feel free to leave them in the comments below.