The iconic 4-day Inca Trail hike to Machu Picchu, one of the seven Wonders of the World, is unsurprisingly on many people's bucket lists. Hiking the Inca Trail remains one of my most memorable experiences, for both the good and the challenging.
In this post, I share practical tips on hiking the Inca Trail, with a focus on how to prepare for it, what to pack and how to handle risks or bad scenarios on the trail (three of which happened to my group).
Disclosure: This post contains affiliate links. If you make a purchase through them, I may earn a small commission, at no extra cost to you. Thanks for your support!
Is Hiking the Inca Trail to Machu Picchu Worth It?
About half a million people visit Machu Picchu annually and most of them choose to see it by train and bus. They do this by getting to the city of Cusco, taking a train to the town of Aguas Calientes and then taking a bus up to Machu Picchu.
A handful people choose to see Machu Picchu by hiking the Inca Trail, the same route the Incas were believed to have taken in the 15th century.
To help you decide whether hiking the Inca Trail is worth it, here are some of the trail's highlights and lowlights.
Highlights of the Inca Trail
It's extremely satisfying to reach Machu Picchu on foot. You would be part of the roughly 15% of visitors who see Machu Picchu not by bus or train, giving you a unique perspective and appreciation for the Inca ruins.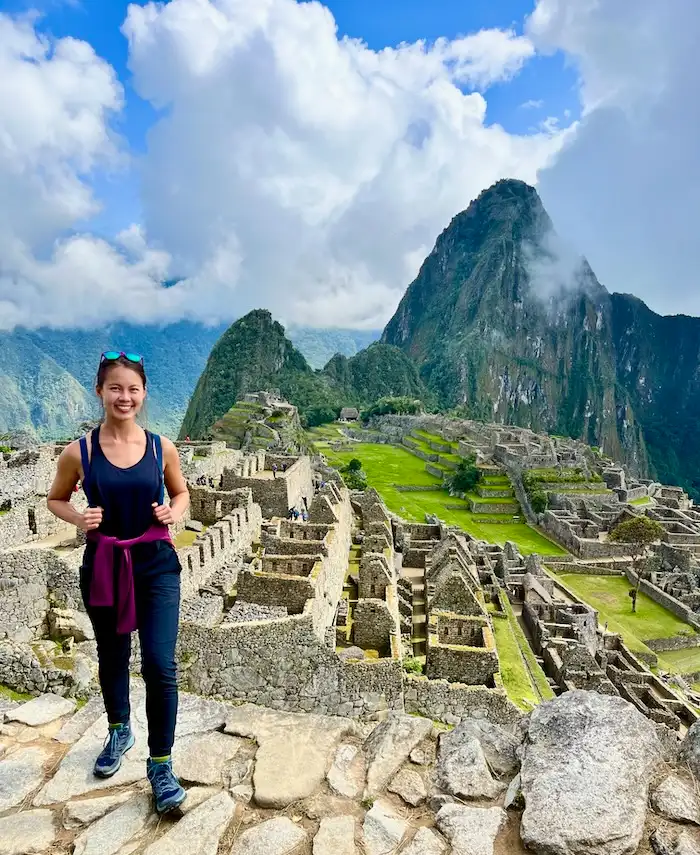 The Inca ruins and views on the trail are breathtaking. While Machu Picchu will be the most impressive structure you see, you'll see other incredible views and ruins along the trek and they will not be as crowded.
There's no cell service on the Inca trail, so you'll be unplugged. You might get cell service briefly at two points during the entire 4-day trek, so you'll be able to enjoy the trail without any phone distraction (and this is coming from someone who really enjoys their phone).
The freshly-prepared meals are amazing. I didn't expect to have some of the best meals of my Peru trip while camping on the Inca Trail. Everyone in our group was impressed with the food.
Experienced tour operators bring well-trained chef(s) on the hike to make a feast for everyone to enjoy every night (e.g., soup, all sorts of meats, salads, desserts, tea).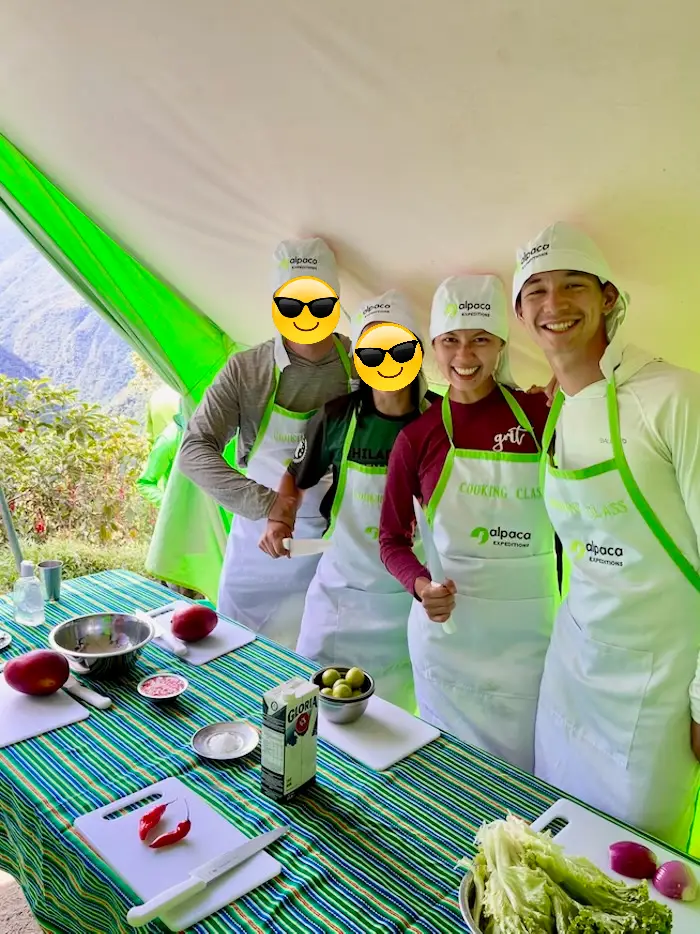 Lowlights of the Inca Trail
You have to camp and wake up early every day. There are no cabins along the Inca Trail so you will have to camp/glamp (see accommodations and facilities below). To have enough time for the trek, you'll also have to wake up before sunrise (5-6am), and at 3:30am on the last day.
A beautiful view is not guaranteed. Like many mountain areas, the Inca Trail can be foggy or rainy, so you may not always get to see the view you hiked to see.
Hiking during the dry season (April to November) reduces the chance of rain. I went in April and still got some foggy and rainy days, but they didn't last long.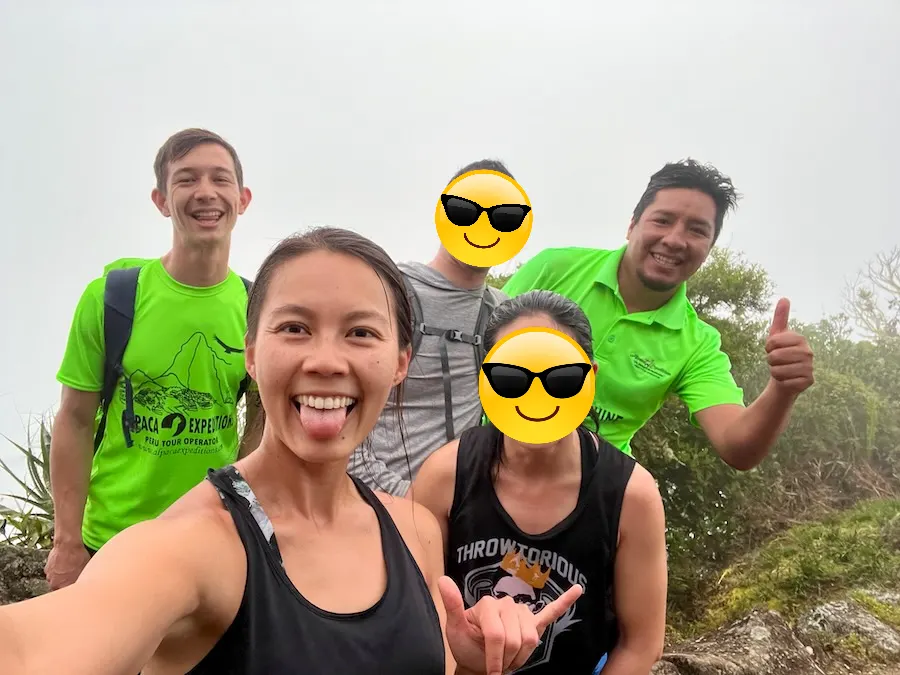 Your group can have different physical abilities. The Inca Trail is a moderate hike, so people in your group will move at different speeds. Most groups will have multiple guides (mine had three) that can split up to match different speeds, but the faster group will have to inadvertently stop at certain points to wait for the rest of the group. Sometimes, this means waiting in cold stopping points for up to an hour or more (which happened to me two times during my trek).
The Inca Trail is a challenging trek that wasn't initially on my radar, but it's one of my most unforgettable travel experiences that holds a special place in my heart as my first multi-day hike.
The Four Inca Trail Routes to Machu Picchu
Although people commonly think that there's only one Inca Trail route to Machu Picchu, there are actually four routes:
The Classic Route: The 4-day Inca Trail trek is the most popular and well-known route with ~200 tourists hiking it each day (and it would likely be more if there wasn't a limit set by the government to slow erosion). This is the one I did and write about in this post.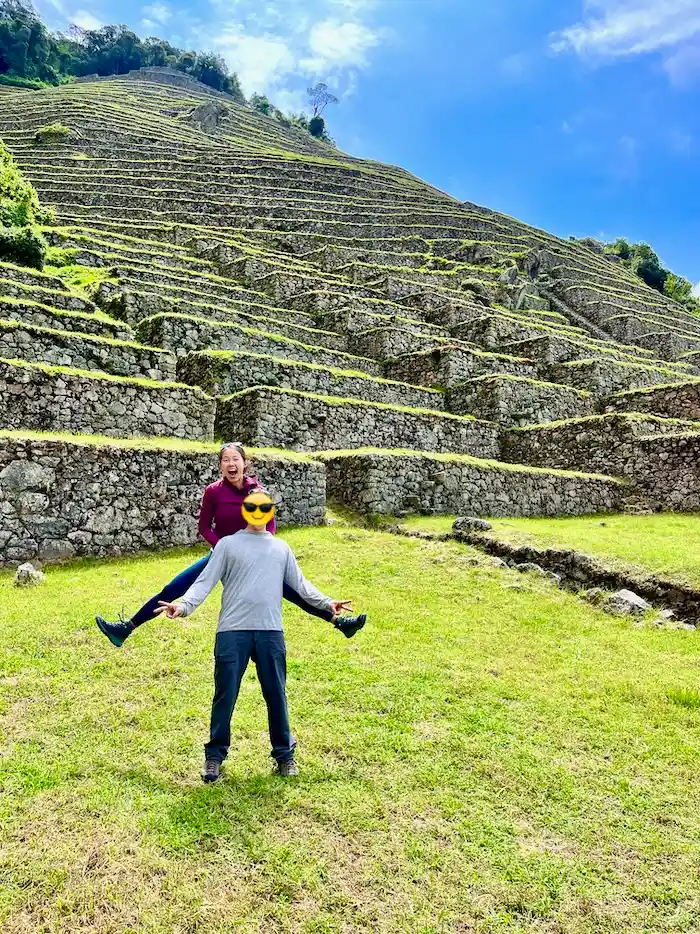 The "Easy" Route: The 2-day Inca Trail trek does the latter part of the classic Inca Trail trek from Cusco. This route is considered easy to moderate and is a good option for people who have limited time or are not in the physical shape to do four days of hiking.
The "Bonus" Route: The 5-day Inca Trail trek takes the same route as the classic 4-day trek, but stops and camps at the bonus Inca site, Llactapata. This route is considered moderate and since it's not as popular, you will likely have to book a private tour which will cost more.
The "Challenging" Route: The Salkantay 4-6 day trek has spectacular mountain sceneries and starts the trek elsewhere before joining the classic 4-day Inca Trail route. This route is considered difficult because it adds 20 miles and has a higher elevation than the classic Inca Trail trek.
Inca Trail at a Glance
Here's some important, general information on the Inca Trail.
Starting Location
📍 The Inca Trail begins with an early 4am to 5am pickup by bus in the city of Cusco. You are then driven about 50 miles (approximately 3 hours) to kilometer 82 on the railroad to Aguas Calientes town, which is where your four-day trek begins.
On the way to the Inca Trail start, you also stop for breakfast at an in-between town, usually at Urubamba or Ollantaytambo.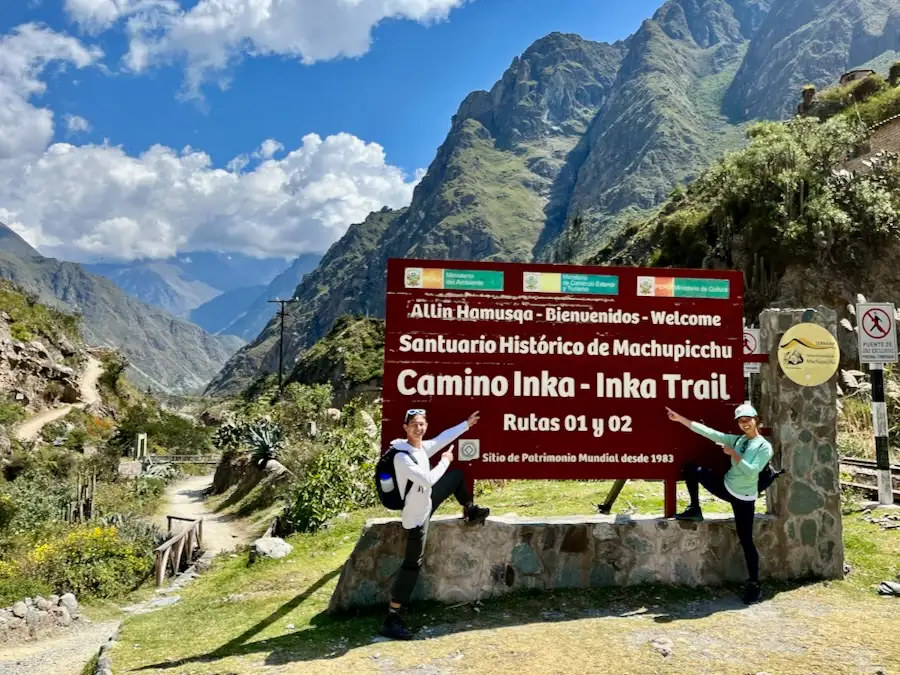 How to Hike the Inca Trail
🥾 Every trekker requires an Inca Trail permit. You are legally required a guide to hike the Inca Trail, so you must book a guide or tour operator 2 to 5 months in advance. This is especially true if you want to hike in June, July or August, which are the most popular months.
To slow down the route's erosion, the government has set a limit of 500 people per day on the Inca Trail. The limit roughly splits into 300 guides/porters and 200 tourists per day, so there's usually more demand than available slots.
Difficulty
💪🏻 Covering 26 miles at elevations up to 13,828 feet, the Inca Trail is considered a moderate hike and requires a reasonable level of physical fitness to complete.
About 50% of people not accustomed to high elevations will have some altitude sickness symptoms starting at 10,000 feet. Everyone in my tour group, regardless of fitness level, felt some level of fatigue or headache at some point.
For a different kind of tour that is still active, but requires a lower level of fitness, consider visiting Huacachina, the only natural desert oasis in South America.
Cost
💰 An Inca Trail tour cost ranges between $650 and $1,500. It usually includes Machu Picchu's $45 adult entrance fee.
I paid $870 for my tour and that was split between $715 for the initial cost and $155 for tips (see the Inca Trail tipping guide below). This is the most expensive activity I did in Peru; here's a breakdown of my travel expenses.
The general advice is that if you're paying less than $650 for an Inca Trail tour, it's likely that the tour operator is not paying their porters well. If you're paying closer to $1,500, you should expect a luxury camping experience.
Itinerary
🗓️ The classic Inca Trail hike is 26 miles of hiking and this is what it will look like by day:
Day 1: The first day is dedicated to getting adjusted to the Inca Trail. You'll make some stops along the way, including one at the Inca site, Patallacta, and another for lunch, before reaching the campsite around sunset.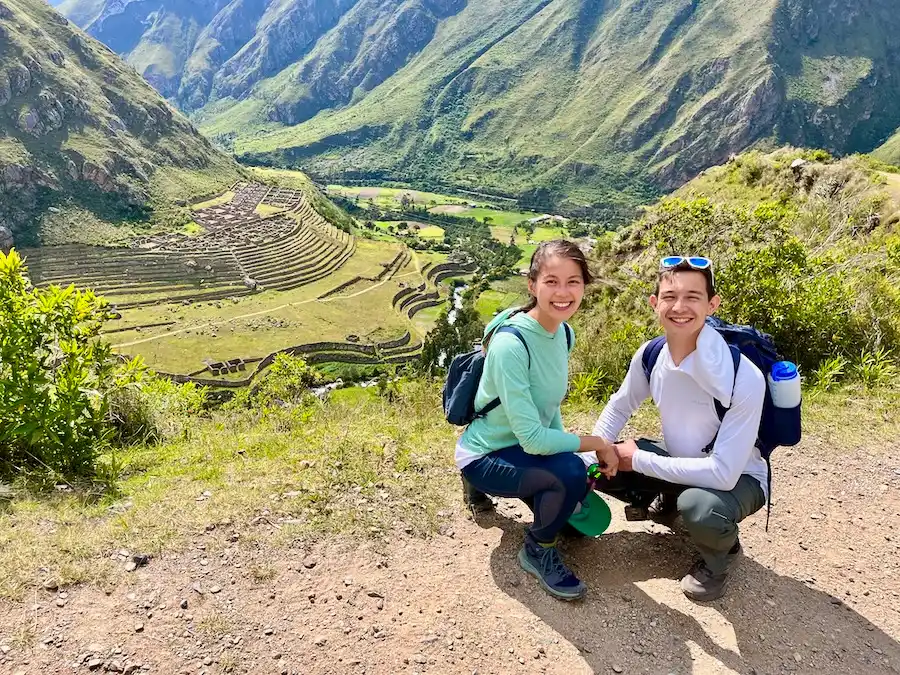 Day 2: The second day is the hardest day of the hike where you'll be hiking almost entirely upwards or downwards for most of the day. The first ascending hike is to Dead Woman's Pass, which is the highest point on the trek (the guides fondly call it the "Gringo Killer" or "Tourist Killer").
Day 3: The third day is almost entirely downhill and is considered one of the most beautiful days on the hike, passing by two Inca sites (including the ruins of Intipata) and some stunning views.
Day 4: The last day of the Inca Trail is the easiest and most exciting day where you wake up at 3:30am to line up to do the final hike to Machu Picchu. Tours usually provide a 1-2 hour guided tour of Machu Picchu before getting lunch at Aguas Calientes.
Here's what you can generally expect in terms of hike time, distance covered and elevation gain per day on the Inca Trail:
Day 1
Day 2
Day 3
Day 4
Time Hiking
6-7 hours
7-8 hours
5 hours
5 hours
Distance
7 miles
10 miles
6 miles
3 miles
Elevation Gain
1,900 ft
3,660 ft +
1,320 ft
-3,300 ft
-856 ft
Difficulty
Moderate
Hard
Moderate
Easy
Inca Trail Itinerary: Day's Hiking Time, Distance and Difficulty
The above information is based on my Inca Trail experience with Alpaca Expeditions. Other tour groups may allocate slightly different distances by day, but the above reflects a typical Inca Trail itinerary.
This 10-day Peru itinerary shows how you can incorporate the Inca Trail trek into your trip.
Best Time to Hike the Inca Trail
☀️ The Inca Trail is popular enough that people hike it year-round, but the best time to hike it is during the dry season (April to November) when there's a lower chance of rain and fog.
The most crowded times to visit are June, July and August. The Inca Trail is closed in February every year to allow the trail to recover a bit.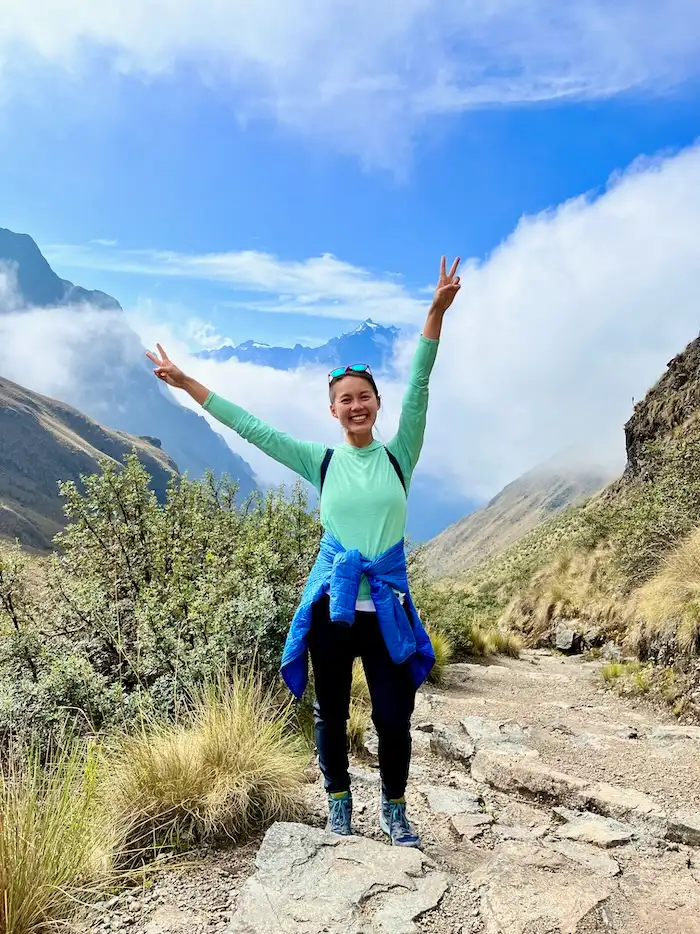 Tour Operators
🦺 Tour operators must have an Inca Trail license that's renewed annually. There are over 200 licensed operators that vary in quality, experience and social responsibility.
Choosing an Inca Trail tour operator can be overwhelming, but make sure to read reviews and get a sense of an operator's track record as it's not worth having a poor experience on the Inca Trail due to lack of research.
I booked my tour with Alpaca Expeditions after it was highly recommended to me. I found them professional and engaging, and would happily recommend them (note that I am not paid to say this). Also, because I ran into an nontrivial bad scenario, I was able to see how willing they were to help me out and ensure my group's safety.
When choosing a tour operator, another thing to consider is how they treat their porters. Porters on the Inca Trail carry everything (your belongings, tents, sleeping bags, cooking equipment) and are often indigenous Quechua-speaking locals from surrounding villages.

Porter welfare is not always easy to assess, but in general, you should be paying $650+ for a standard tour to ensure they pay their porters well.
Preparing for the Inca Trail
Here's what you need to know about the Inca Trail to prepare beforehand:
Keep in mind that I don't particularly enjoy camping, so if you're like me, a big part of it is mental preparation.
Also, I've included a detailed Inca Trail packing list at the end of this post.
Accommodations on the Inca Trail
⛺ The primary thing to know about accommodation on the Inca Trail is that there are no hotels or lodging available. You will be camping (or glamping if you pay for a luxury camping package that can include inflatable mattresses and shower tents).
Here's what you can expect from a standard camping experience on the Inca trail:
Basic camping tent and sleeping bag are provided. Tour operators will provide basic camping equipment, including chairs, tables, sleeping bag and a two-person camping tent that you can share with someone you know or another same-gendered person on the tour.
You can pay extra if you want a single tent or other equipment (e.g., sleeping pad, pillows which was included with Alpaca Expeditions, etc).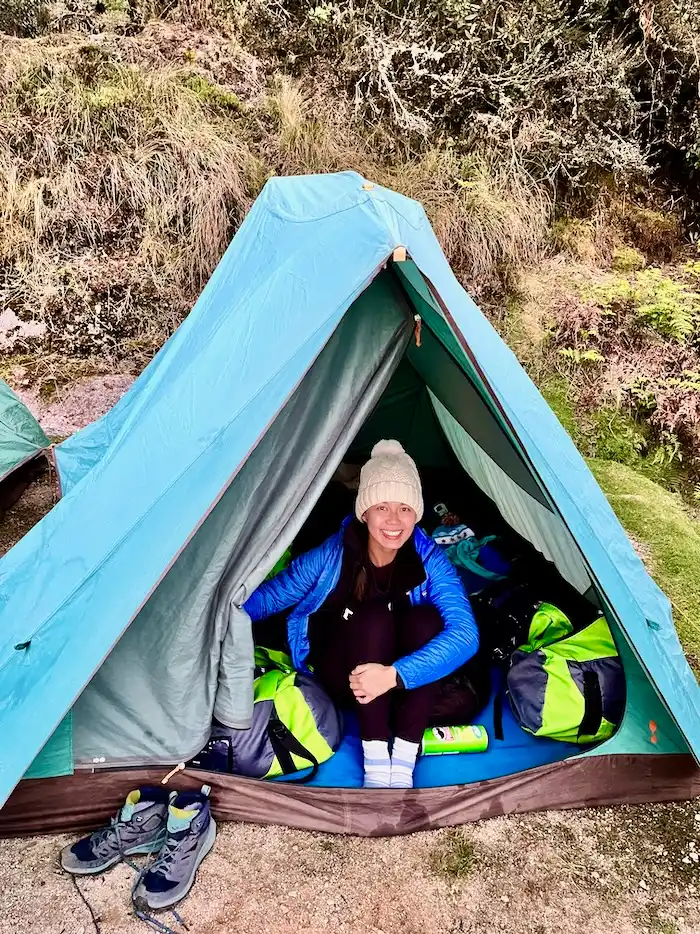 Tents are set up for you. No matter how fit you are, porters will be faster and better at hiking the Inca Trail than you. Most tour operators will have tents set up by the time you arrive at each night's campsite, but you should double check with your operator if this is important to you.
You will share campsites with other groups. There are limited number of campsites on the Inca Trail, so all tour groups will share spaces and facilities. That said, your group will stay closely together and there's noticeable space between each group.
Bathrooms on the Inca Trail
🚽 The bathroom and shower facilities on the Inca Trail will vary by stopping point and campsite.
Most toilets on the Inca Trail will be squat toilets. Also, given how remote the trail is and how many people pass by each stop, the toilets are not going to be the cleanest toilets you've used.
Make sure to bring toilet paper and hand sanitizer as neither are always available. Some tour operators will bring TP for the group, but it's convenient to carry some on you. Below is the full Inca Trail packing list.
Some operators will provide a portable toilet tent. In some campsites and stopping points, Alpaca Expeditions provided a toilet tent, which I found more pleasant to use than squat toilets.
Some locals set up toilets for trekkers to use for about ~$0.50 per person on some parts of the Inca Trail, but it's rare. Make sure you're carrying a small amount of Peruvian Soles if you want to use these.
You won't be able to shower on most days. Most campsites do not provide a shower facility, and when they do, only cold water is available so many people choose not to shower. Bring large wet wipes to keep yourself somewhat clean (you'll be very thankful when you sweat a lot under several layers of clothes during the colder days).
The water will be very cold when you brush your teeth or shower. You can skip showering as mentioned above, but you will need to brush your teeth and when you do, be prepared for very cold water.
Some operators will provide a large bowl of warm water each day. Alpaca Expeditions provided a bowl of warm water per trekker to use each night and morning to wash our hands and faces.
Keep in mind that even during its warmest months, the Inca Trail rarely goes above 70°F. Most nights will dip into the 30°s F and 40°s F.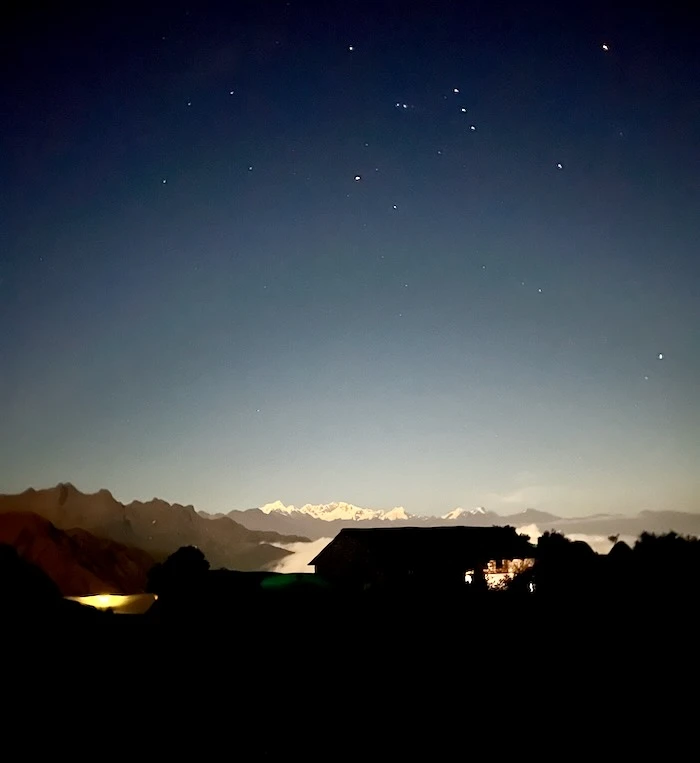 Tipping on the Inca Trail
💵 Tipping is customary and encouraged in Peru and you should expect to tip on the Inca Trail. The Inca Trail tipping guidelines below are based not only on my experience, but also on the guidelines of some tour operators.
Tipping the Guides
Tip individually: Most operators will have more than one guide and you can tip them individually based on their role and your personal experience with them (e.g., were they the head guide and had to do more education and coordination work? Did the guide help you individually and give you extra care, attention or education?). Otherwise, you can tip them as a group and request they split it equally.
How much to tip: How much you should tip the guides varies a bit, but at least $20 (or roughly 75 soles) per guide is a good baseline. My Inca Trail group ran into a bad scenario that required the guides to go above and beyond to take care of us, so we tipped closer to $30-$60 per guide.
When to tip: Inca Trail guides will stay with you until the very end of the entire experience, so you can tip them after the Machu Picchu guided tour or after lunch on the last day.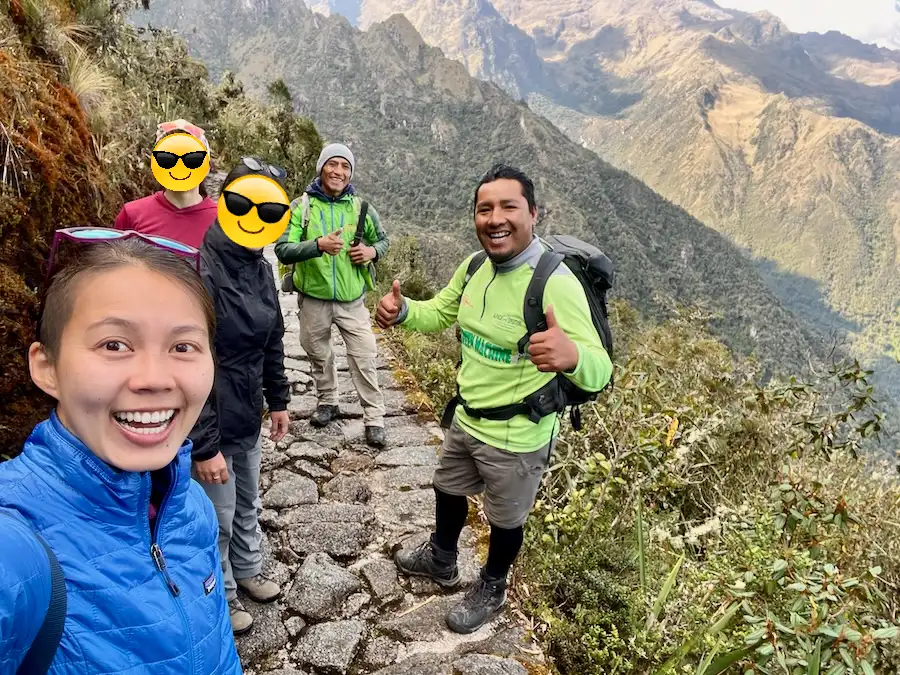 Tipping the Porters
Tip as a group: During our Alpaca Expeditions tour, there was a head porter and as a group, we pooled together our tips for him to distribute. Some people recommend tipping porters individually as some operators or guides may not distribute fairly, but the overall recommendation is to tip them as a group to avoid issues.
How much to tip: Work with your tour group to tip enough so that each porter receives at least an extra $10 (or roughly 38 soles) for four days of labor.
There's general consensus that you shouldn't overtip porters as they often don't have the financial education to save, meaning they may end up drinking the excess tip away for days after the trek.
When to tip: The porters do not attend the Machu Picchu tour on the last day so you'll usually say goodbye on the night of the third day. Alpaca Expeditions gave us an envelope to hold our tips for the head porter.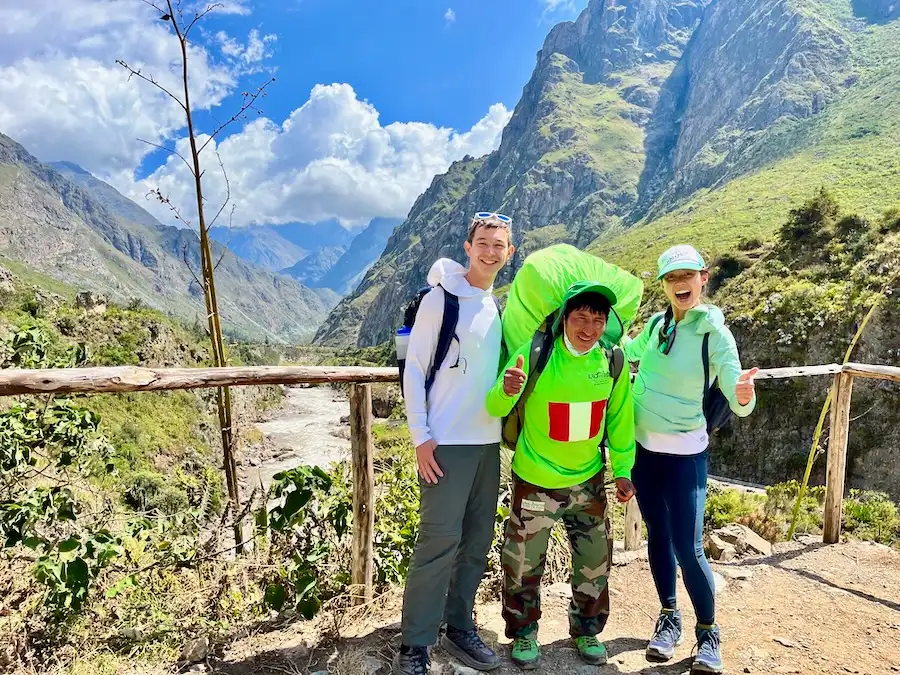 Tipping the Chef
Tip individually: Tip the chef individually and if there's more than one chef, it's good to keep the tips equal unless one chef is clearly the head chef and did more work.
How much to tip: Inca Trail chefs go through nontrivial training to provide their service and ensure they can cook a feast every night. A tip of at least $15 (or roughly 57 soles) is reasonable.
When to tip: The chefs do not attend the Machu Picchu tour on the last day so you'll usually say goodbye on the night of the third day. Alpaca Expeditions gave us an envelope to hold our tips for the chef.
Make sure to bring enough cash to tip the porters and chef before the start of the Inca Trail as there are no ATMs on the trail.
Tipping Summary
Below is a summary of how much to tip for a standard $700 to $800 Inca Trail tour.
My tip is high for the guides because my group ran into a bad scenario that required the guides to go above and beyond to take care of us.
Minimum Tip
My Tips
Guides
$20/guide
Head guide: $55
Guide 1: $35
Guide 2: $35
Chef
$15 total
$20
Porter
$10 total
$10
Total
$65-$85
$155
Minimum Tipping Guideline for the Inca Trail
Remember to bring small bills so it'll be easier to break up the tips. This will also make it easier for the head porter and guide to split the tips if necessary. This Peru cost breakdown has more tips on using cash.
Luggage and Daypack Logistics on the Inca Trail
🎒 It's important to understand that you will separate your belongings into three different bags when hiking the Inca Trail:
Your daypack. Personal belongings that you need while hiking will be in your daypack. You are responsible for carrying your own daypack the entire hike and you will always have access to it. Below is a detailed Inca Trail packing list, including what should go in your daypack.
A duffel bag. Personal belongings that you need to bring on the Inca Trail that are not in your daypack will be in a duffel bag that a porter will carry. The duffel bag will be provided to you by the tour operator.
Every night when you get to your campsite, your packed duffel bag will be given to you and you will pack it up every morning to hand back to the porters. You will not have access to your duffel bag while hiking as porters will always hike faster than you.
By law, each porter is allowed to carry up to 44 lbs of weight and each tour operator will allocate some of that weight to carrying each trekker's personal belongings (e.g., Alpaca Expeditions limited each trekker to 15 lbs of things they could bring, including the sleeping bag and pad, for porters to carry).
Your luggage. Everything else that you bring to Peru that you won't need on your Inca Trail hike will remain in your luggage. This luggage is stored in your tour operator's Cusco office space.
Here's how you can expect bag and luggage logistics to be handled:
The night before the start of your Inca Trail hike, you'll have a welcome briefing with your tour operator and they will give you a duffel bag to pack.
On the morning of day 1, you will drop off your luggage and packed duffel bag with the tour operator and only have your daypack with you. You won't see your luggage until after the trek is completed.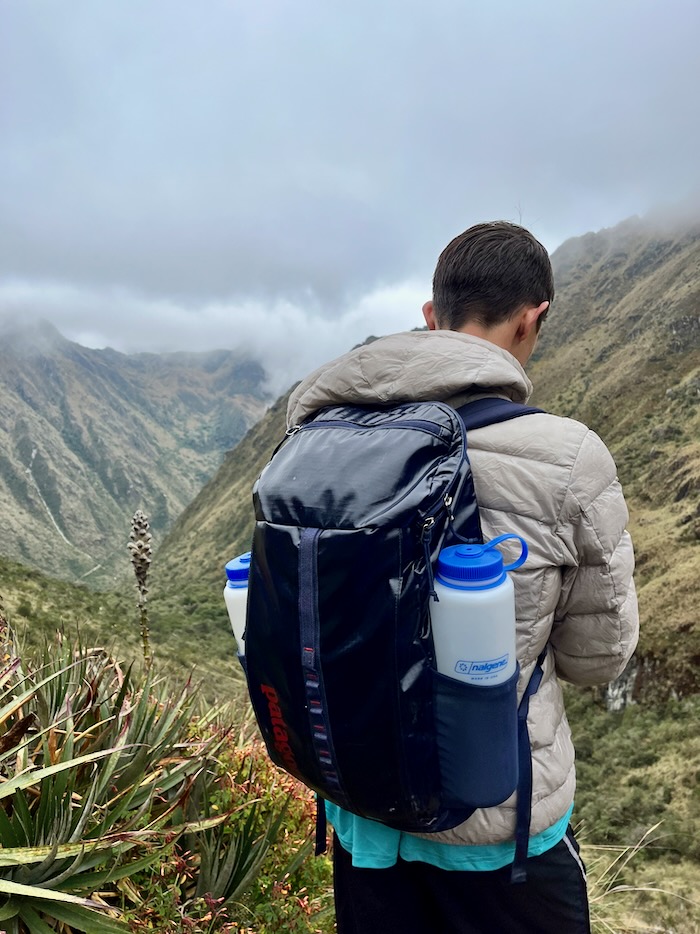 Risks and Bad Scenarios on the Inca Trail
The Inca Trail is an unforgiving hike and while many tour operators have years of experience to ensure the comfort and safety of tourists, you might still run into one or more of these risks or bad scenarios.
Altitude Sickness on the Inca Trail
Altitude sickness is common on the Inca Trail, with an estimated 50-85% of people feeling some symptoms due to the high elevation (e.g., headache, nausea, shortness of breath).
Here are some tips to help with altitude sickness on the Inca Trail:
Tip #1: Arrive in Cusco at least 2 days early to get adjusted to the higher elevation. Due to an unplanned misfortune, my partner and I arrived in Cusco the first day of the Inca Trail trek. My partner had headaches and I was lucky enough to not be impacted by altitude sickness, but most people in our tour group arrived 1-2 days earlier.
Some hotels in Cusco will provide oxygen tanks to help alleviate altitude sickness. Nicer hotels will pump oxygen into the rooms. This Peru travel guide has more tips on Cusco.
Tip #2: Drink coca tea or chew on coca leaves. Experimental findings and years of anecdotal evidence suggests that taking coca leaves can help relieve symptoms of altitude sickness. Alpaca Expeditions offered coca tea every morning on the trek, which everyone happily drank.
Tip #3: Hydrate a lot. Research shows that hydration helps reduce symptoms of altitude sickness.
Tip #4: Bring altitude sickness medication. If you know you will get altitude sickness, come prepared with medication. One of my friends took over-the-counter medication that he bought in Peru that alleviated some of his symptoms.
In the US, you will need a prescription from your doctor to access certain kinds of altitude sickness medication, so be sure to plan ahead. If you're not able to, you can find the same medications over-the-counter in Peru pharmacies.
Physical Inability to Complete the Inca Trail
Some people are not able to physically complete the Inca Trail in a timely manner (i.e., they can't make it to the campsite before sunset each day). This blog tells an honest account of such experience.
Here are some tips if you're unsure whether you're in the physical state needed to hike the Inca Trail:
Tip #1: Train specifically for the Inca Trail hike, not just any hike. Going on a few hikes for a couple of hours may not be sufficient. Make sure to wear a daypack on your training hikes, walk on uneven terrains, and hike some hills (on day 2 of the Inca Trail, you will be primarily hiking uphill or downhill for almost 10 miles).
Tip #2: If you're significantly struggling on the Inca Trail, it's best to asses your ability to finish before arriving at Dead Woman's Pass (aka "Gringo Killer") on day 2. Your guide can help you turn around before then. Once you pass Dead Woman's Pass, your guide will have to help you finish the rest of the route.
For a different kind of adventure that requires less fitness, you can go sandboarding and dune buggy riding in Huacachina.
Getting Sick on the Inca Trail
One of my tour group's misfortunes was one of us getting food poisoning on day 1 of the Inca Trail from food they ate prior to the trek.
If you get sick on the Inca Trail and…
…you haven't reached Dead Woman's Pass on day 2 yet, you have the option to turn around and not complete the Inca Trail.
…you've passed Dead Woman's Pass on day 2, you will have to complete the remainder of the Inca Trail route.
In either scenario, you'll be assigned a guide and porter(s) to help you go back or move forward while you're sick.
If you can hike, the assigned guide and/or porter will hike with you and provide individual care while the rest of the group moves ahead at standard pace.
If you can no longer hike or are hiking too slowly, porters will carry you for the remainder of the day's hike. While animals are not allowed on the trail, I've heard (but cannot verify) that they can be brought in for certain emergency situations to carry sick or injured trekkers.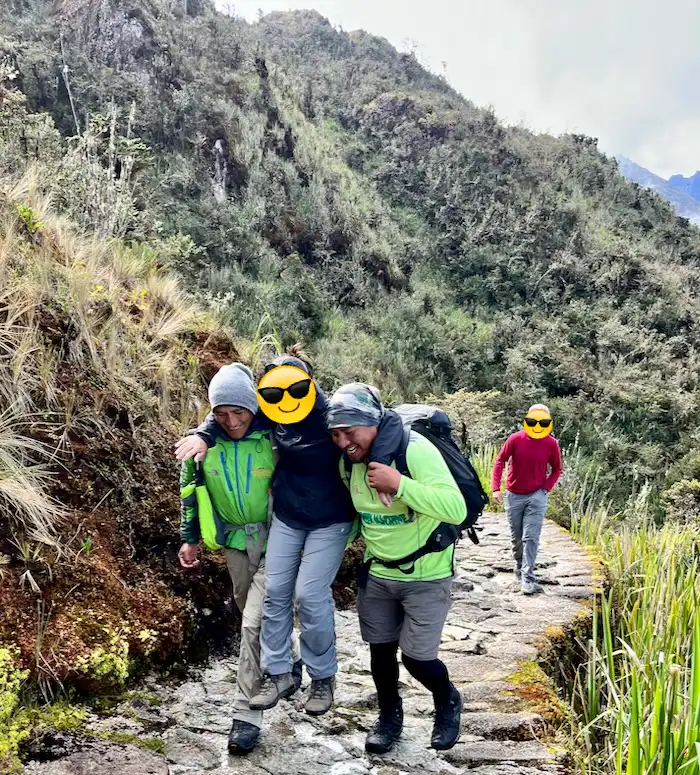 Getting Impacted by Peru Protests
Unfortunately, protests and strikes in Peru are not uncommon. My partner and I were the unlucky two people in our tour group to have been impacted by strikes not only right before the start of the Inca Trail trek, but also right after.
Peru Protests Before Your Inca Trail Hike
What happened to us: We landed in Lima and had planned to arrive in Cusco a day before the start of our Inca Trail trek. An hour before our flight to Cusco, all of Peru air traffic control went on a strike and all flights were cancelled for the day.
We looked for alternative ways to get to Cusco in the next 24 hours with no luck (the drive is long and potentially unsafe, and a bus journey would take 30+ hours).
After hours of disappointment and frustration, we managed to get on a flight that would land at 10am on day 1 of our Inca Trail hike. We had to coordinate with Alpaca Expeditions to see if it was feasible to make our trek since our tour group was scheduled to leave Cusco at 6am.
Alpaca Expeditions left two porters and one guide behind to meet us at Cusco. My partner and I got off the plane, took a taxi straight to the start of the Inca Trail hike and ended up catching up to our group with less rest and fewer stops along the way.
Making our Inca Trail trek given the circumstances required a few things to come together:
Alpaca Expeditions's willingness to be flexible and coordinate with us (hence, why choosing a tour operator with a good track record is important).
Peru's air traffic control strike ending within 24 hours so we could get on a flight the next day.
Calling airlines every hour to check flight availability. We ended up racking up $50 worth of international phone bills and got put on a flight around midnight, about 6 hours before our Inca Trail group departed.
Our ability to hike and catch up to the group despite the 4-5 hour deficit.
Here are two tips to reduce the chances of your Inca Trail hike being impacted by a Peru protest:
Tip #1: Avoid traveling during Peru holidays. I have since learned that protests in Peru are often planned during a holiday or busy travel time, giving the group on strike more negotiation leverage. We traveled to Cusco the weekend of Peru's Easter holiday when we ran into protests.
Tip #2: Arrive in Cusco 2-3 days ahead. Arriving more than a day in advance will give you more time to react and reduce the chance of a last-minute strike impacting your ability to get to Cusco.
Peru Protests After Your Inca Trail Hike
What happened to us: After finishing our 26-mile trek on the Inca Trail, our Machu Picchu guided tour and lunch in Aguas Calientes, we received the news that our train back to Cusco was not running due to more strikes.
Our tour group was given two options:
Stay in Aguas Calientes until the strike stops. This was the more comfortable option, but there was no way of knowing if the strike would last hours or days, and some of us had to catch flights out of Cusco. Aguas Calientes is also a very small town that can be walked in half a day, so there isn't much to do there.
Hike an additional 4 hours to a bus stop and get on an 8-hour bus drive back to Cusco. The strikes caused road blockages which meant the train couldn't run and buses couldn't go through regular roads, so our bus had to take the backroads.
Most of our group chose the second option and thus began our 12-hour journey back to Cusco after an exhausting 4-day trek.
The additional hike and bus ride was exhausting, frustrating and anxiety-inducing for everyone, but having survived it, it is now one of my most memorable experiences.
If you're unlucky enough to face this situation in your future Inca Trail hike, my advice is:
Tip #1: Pack plenty of snacks and water. It wasn't immediately obvious how long the journey back to Cusco would take and after a four-day hike, you will likely get hungry quickly. My group, on average, didn't pack enough snacks and had to quickly buy water at the last minute.
Tip #2: If you're risk-averse, consider staying in Aguas Calientes. The unexpected, additional 4-hour hike on the railroad tracks was unpleasant, but doable. The 8-hour bus ride through the backroads was terrifying for even the most adventurous of us. It might be worth missing your flight to avoid this bus ride.
Tip #3: Pack headlamps. We spent two hours walking in almost complete darkness by the railroad track and people who didn't bring headlamps had to stick to people who did. I was one of those people without a headlamp and can now say in that situation, you'll want your own.
Deaths on the Inca Trail
The worst of the bad scenarios on the Inca Trail is, of course, fatalities. They're very rare given how many people hike the trail annually, but they do happen.
Deaths on the Inca Trail occur primarily for three reasons:
The victim was not paying enough attention

Slipped and fell off a ledge (2013)
Fell while posing for a photo (2016)
The victim was extremely unlucky

Struck by lightning (2004)
Heavy downpour led to a landslide (2010 and 2020)
The victim had health issues exacerbated by the Inca Trail's altitude and difficulty (2022)
This is all to say that no matter how tired you are, you should always pay attention to your surroundings while hiking the Inca Trail. At certain points, Alpaca Expeditions's guides would remind us to stick close to the mountain side when passing others and ensure no one in the group got too close to the ledge during photos.
Bad Weather on the Inca Trail
The Inca Trail can get foggy and rainy at any time of the year (though the chances are lower during the dry season from April to November), causing low visibility and more slippery terrain.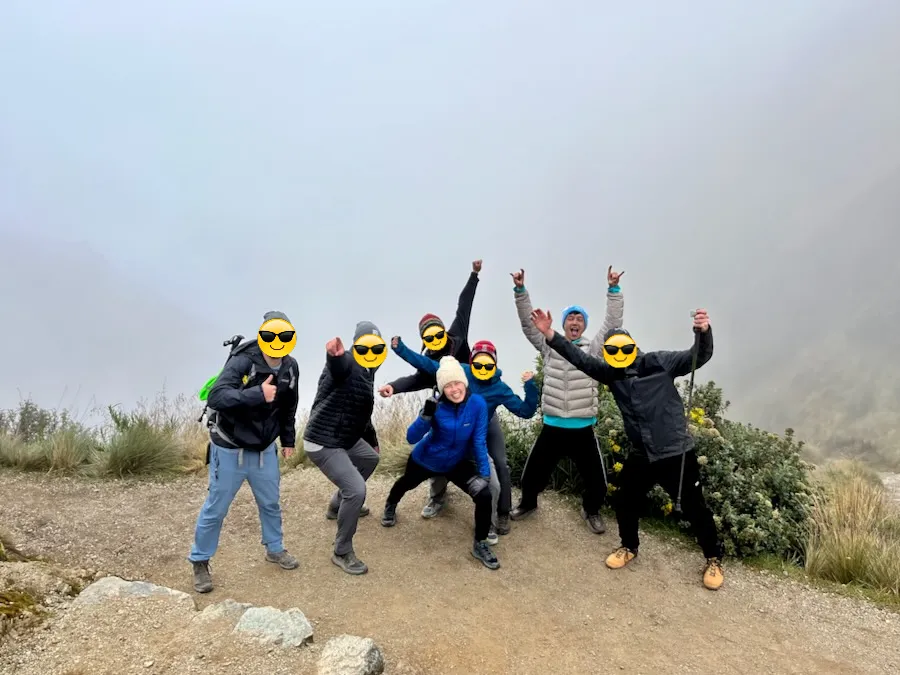 Here are some tips when preparing for and dealing with bad weather on the Inca Trail:
Tip #1: Pack for rain and cold, and ensure you have good hiking shoes. The Inca Trail's average temperature varies throughout the year, but it's rarely warmer than the mid-70°s F and lower than the low-30°s F. Make sure to pack warm, waterproof layers and comfortable, waterproof hiking shoes with good traction.
Tip #2: Be careful when passing other hikers, especially on day 4. Given the Inca Trail's popularity, you will likely get passed or pass others at some point on the trail. In some instances, the passing will occur next to steep ledges while the ground is slick.
Day 4 is the most crowded time and many hikers will try to pass each other trying to be one of the early hikers to Machu Picchu. When I did the trek, it was raining on day 4 and I saw hikers jog and squeeze past others in precarious areas.
What to Pack for the Inca Trail
One of the best ways to ensure you have a good time on the Inca Trail is to pack well and comfortably while staying under your bag's weight limit.
By law, each porter is allowed to carry up to 44 lbs of weight and they carry everything (your tent, cooking equipment, toilet tent, etc). Alpaca Expeditions limited each person to 15 lbs of things they could bring, including the sleeping bag and pad, for porters to carry.
Below is what to pack for the Inca Trail. You can scroll up to see how to split items between your duffel bag that a porter carries and your daypack.
Shoes
Hiking shoes. Bring waterproof hiking shoes that you'll feel comfortable hiking in for four days; test them in advance for multiple days to ensure you won't get blisters. Some ankle support is also recommended. I was happy in my Salomon hiking shoes.
Comfortable shoes for camp. You'll spend 3-5 hours each day at the campsite and will want to walk around in something other than your hiking shoes. Something lightweight and easy to slip on and off like a pair of Crocs is great.
Clothes
When packing clothes for the Inca Trail, remember that during even the warmest months, it rarely goes above 70°F, and most nights will dip into the 30°s F and 40°s F.
Warm hiking socks (4 sets). You'll be hiking for hours each day so maximize your comfort with hiking socks that have cushion and are moisture-wicking. Ensure they're also warm for the nights.
Warm base layer (top and bottom). Bring a warm top and bottom base for when the sun goes down. I brought my merino wool top and bottom which keeps me warm, but also doesn't become suffocating when it's hot.
Moisture-wicking tops (3-4). I brought 2 lightweight athletic tanks and 2 sun hoodies that didn't take up much space. It was nice having fresh clothes for each day, but that's not necessary if you want to save space or weight.
Hiking pants and/or leggings (2-3). Bring at least one bottom for warmer weather and one for cooler weather. I brought a hiking pant and a legging.
Warm, down jacket. You'll need a warm jacket at high elevation. During the cold nights, you might even sleep in it.
Fleece layer. For colder nights, you'll need another layer underneath your down jacket.
Waterproof gloves. You'll want gloves at high elevations and you'll especially want them if you're using hiking poles. This should go in your daypack.
Warm hat. You'll need a warm hat during the nights and for sleeping. On the colder days or in the early mornings, you'll also likely hike in it.
Sun hat. There are days where you'll be exposed to the sun without shade for hours, so bring a hat. This should go in your daypack.
Rain gear. Moments of rain are common on the Inca Trail even during the dry season. Some tour operators, like Alpaca Expeditions, will provide rain ponchos. This should go in your daypack. I brought my light rain jacket that I could easily layer over my down jacket or fleece layer as a wind breaker.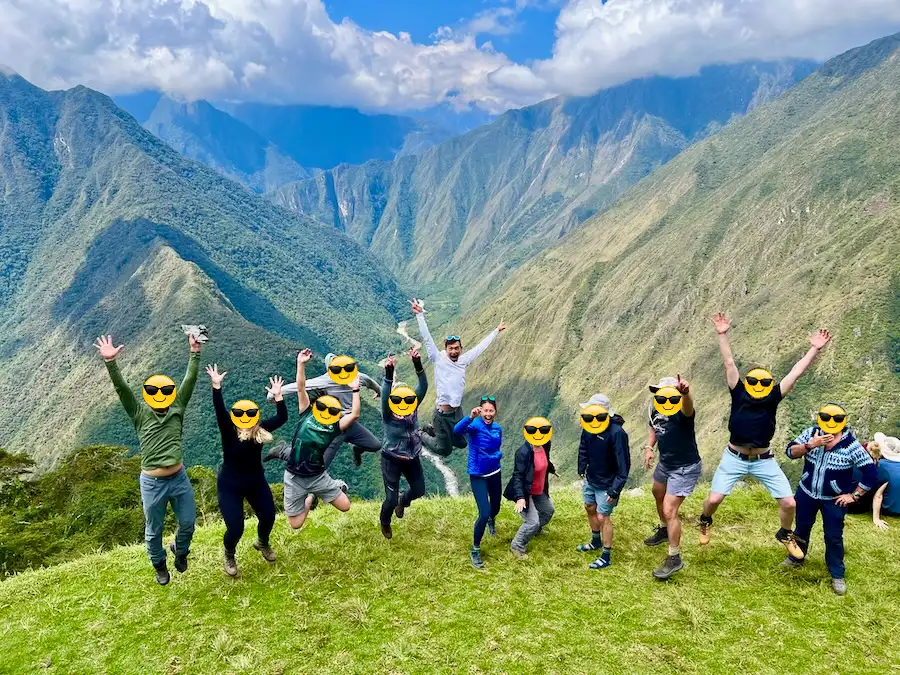 Personal Care
Wet wipes. Since you likely won't shower on most days, bring large wet wipes to feel more refreshed every night. You'll be thankful when you sweat a lot under several layers of clothes during the colder days.
Soap. Bring a bit of soap to wash your face and hands every night. Alpaca Expeditions provided each trekker with a warm bowl of water to freshen up each night.
Toothbrush and toothpaste
Ear plugs (optional). Your group's tents will be set up close to each other, so if you're a light sleeper, you'll want ear plugs in case someone snores and shifts a lot at night. I brought mine and it helped a lot
Sleeping mask (optional). If you have trouble sleeping in tents or outside, a sleeping mask can help.
Quick-dry towel (optional). Some tour operators, like Alpaca Expeditions, will provide you with a towel to dry your face and hands after washing them. Otherwise, bring a quick dry towel.
Hair tie (optional). Don't forget to bring a hair tie if you have long hair.
Miscellaneous
Passport. Your passport will be checked before you start your Inca Trail hike as foreigners need a valid one to enter Machu Picchu.
Battery pack. There are no places to charge on the Inca Trail, so bring a fully charged battery pack if you want to take photos with your phone or need to recharge your headlamp.
Large plastic bag (optional). Bring a large plastic bag to keep dirty and clean clothes separate and to help keep things somewhat organized inside your porter's duffel bag.
Hiking poles (optional). A couple of us didn't have hiking poles and were fine, but in retrospect, they would have been extremely helpful, especially during day 2 when it was almost entirely uphill and downhill. You can rent one from your tour operator or bring one in advance.
Daypack Items
Aside from the bag that your porter will carry that has a weight limit, you will also need to carry a daypack during your hike. Here are the items to pack in your Inca Trail daypack.
Reusable water bottle. Your tour operator will provide filtered water every day, but you need to bring your own water bottle to get it refilled. Because you only get a refill once a day, I recommend bringing a large water bottle like this one (which is what I brought).
Sunscreen. Bring sunscreen since there are days you'll be exposed to the sun for hours if the weather holds up. This is a great sports sunscreen I pack everywhere now, but if you want something lighter since you likely won't shower, I packed this sunscreen.
Sunglasses. There are days where you'll be exposed to the sun for hours, so bring sunglasses. I brought my athletic pair of sunglasses.
Headlamps. You'll need headlamps to navigate at night around the campsite and during the mornings since you'll always wake up before the sunrise and may even hike in the dark for a bit.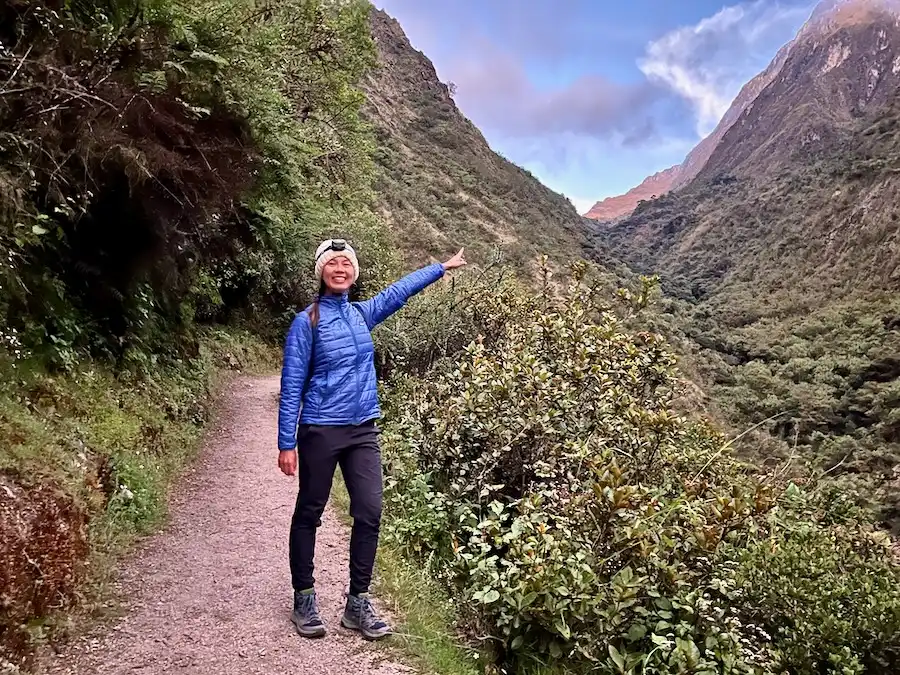 Hand sanitizer. The Inca Trail bathroom facilities often don't have soap, so bring hand sanitizer. You'll also want it when you need a snack and there are no facilities around.
Toilet paper. Bring a stash of toilet paper as most bathroom facilities won't have them. I carried a few in a ziploc bag. Some tour operators will bring TP for the group, but it's convenient to carry some on you.
Bug spray (optional). There are some mosquitos on the Inca Trail, but the cold and elevation make them uncommon. Unless it's a sunny day, you'll also be mostly covered up.
Altitude sickness medication (optional). You need a prescription for these in the US, but you can get them over-the-counter in Peru pharmacies.
The Inca Trail is an unforgettable multi-day hike and there are good reasons why it's on many people's bucket lists. Good luck and have fun on your hike!
Downloadable Packing List for Inca Trail
To help make your travel planning easier, you can download this Peru trip planner template for free and use it as a starting point. The template includes an Inca Trail packing list.
The template is built on Notion, which is what I use for all my travel planning (I'm not paid to say this; I just like the tool). If you don't have Notion, creating an account is free.
If you have any questions or thoughts, feel free to leave them in the comments below!