A country with breathtaking natural wonders and archaeological sites like Machu Picchu, Peru is a budget-friendly South American country that can be visited with a daily budget of $35 to $150.
My 10-day trip to Peru cost a total of $2,298 USD. In this post, I share:
💰 Expected trip cost
💡 Budgeting tips
💵 How much cash to bring
✈️ My trip's expenses by category
Disclosure: This post may contain affiliate links. If you make a purchase through them, I may earn a small commission, at no extra cost to you. Thanks for your support!
Is Peru Expensive To Travel To?
Peru is one of the most affordable countries to visit in South America. A popular destination in the region, Peru ranks among the top five cheapest countries to travel to in the continent.
Peru is budget-friendly like Ecuador and Bolivia, where traveling for less than $30 per day is feasible. It's not as expensive as Argentina and Brazil, where you'll likely spend at least $40 per day even when you're budget traveling.
For comparison, here are my travel daily budgets for all countries in Latin America that I visited in the same year:
* Note that Costa Rica and Belize are considered to be some of the most expensive countries in Central America.
How Much Is a Trip to Peru?
Below is how much you can expect to spend in Puerto Rico per day and during a one-week trip, depending on your travel style.
🎒 Trip Cost for a Budget Traveler
A budget traveler in Peru can expect to spend approximately $35 per day or $245 for one week of travel in Peru, excluding flights.
To travel on a budget in Peru, here are some things you can do:
Accommodation: Stay at a Peruvian hostel for as cheap as $8 a night. You can find low-budget hotels in some places for $15 a night.
Food: Eat at local restaurants for less than $11 a day, which can save you more than $10 per meal compared to eating at a more touristy restaurant.
Transportation: Take Peru's buses, which are the most common form of public transport for both short and long distances. Keep in mind that while local buses is the cheapest way to travel, they can also be difficult to navigate for foreigners.
Attractions: Avoid doing popular Peru tours like Machu Picchu, Sacred Valley and Colca Canyon to save a few hundred of dollars. Try to visit these places on your own if it's feasible (not all of them are).
Season: The best time to travel to Peru to save money is during its low season, which runs from January to April. This is during Peru's rainy season, but you'll also experience fewer crowds.
If you plan to do popular tours in Peru (e.g., the four-day Inca Trail hike to Machu Picchu), your total cost will likely be closer to a mid-range traveler's budget even if you budget in the other categories.
💰 Trip Cost for a Mid-Range Budget Traveler
A mid-range budget traveler, such as myself, can expect to spend approximately $120 per day or $840 for a one-week trip in Peru, excluding flights. I break down my Peru travel expenses by category below.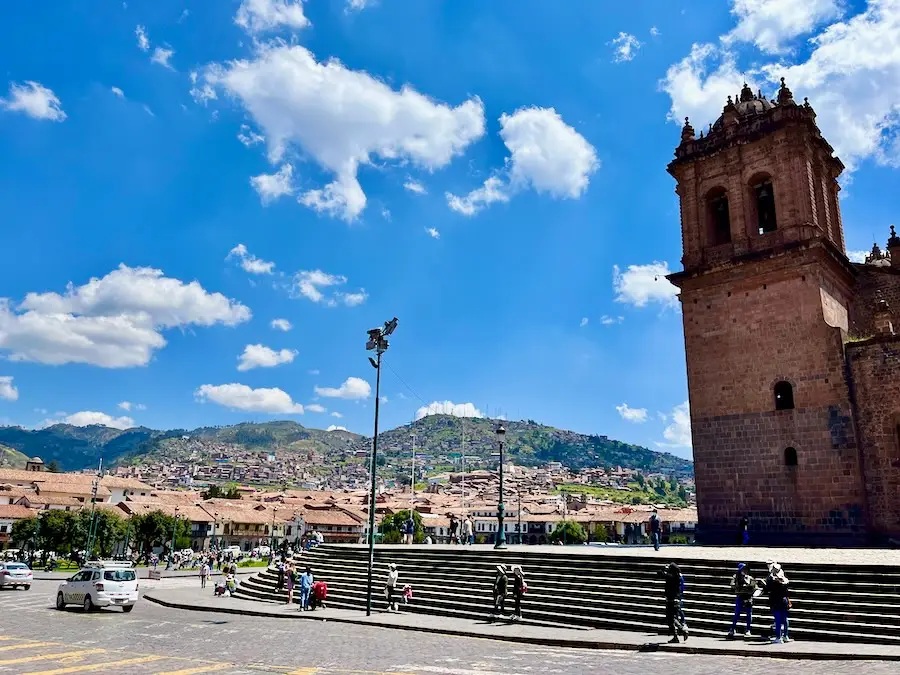 About My Peru Trip
To give context to the expenses below, here's what you need to know about my trip to Peru:
🗓️ 10 days. Most people recommend spending ten days to two weeks in Peru. I spent ten days in Peru; four of those days were spent hiking the Inca Trail and one of those days was a day trip to Huacachina.
☀️ Low season. I went to Peru in April, which is part of the low season. Peru's high season is during the dry season from May to October.
This Peru travel guide has more quick travel facts to help you plan your trip.
✌️ Two to four travelers. I traveled with one to three other people in Peru at all times, so I was able to split accommodations, food and transportation costs.
💰 Mid-range budget. I don't aim to travel on a budget, but I'm thoughtful about how and where I spend. I consider myself a mid-range budget traveler and these expenses reflect that.
💵 US dollars. All costs listed in this post are per person and in US dollars, converted from Peru's local currency, the Peruvian Sol (PEN). The exchange rate was $1 USD = S/ 3.70 at the time of writing.
Total Cost for a Peru Trip: $2,298
My 10-day trip to Peru cost a total of $2,298, including flights. I did a Peru itinerary similar to this one.
💰 Cost Breakdown

for Peru

Here are my Peru travel expenses by category:
| | Cost | % of Total Cost | Cost Per Day |
| --- | --- | --- | --- |
| ✈️ Flights | $746 | 32% | – |
| 🏠 Accommodation | $149* | 6% | $15* |
| 🍛 Food | $170* | 7% | $17* |
| 🚗 Transportation | $87 | 4% | $9 |
| ⭐ Tours & Shopping | $1,103 | 48% | $110 |
| 📱 Miscellaneous | $45 | 2% | $5 |
| Total | $2,298 | 100% | $156 |
My Peru trip's cost breakdown by category.
*The accommodation and food costs here do not include the four days that I spent camping and eating on the Inca Trail, as those are included in the tour cost.
If I were to exclude the four days I spent on the Inca Trail, my cost per day for those two categories would be:
Accommodation: $25 per day
Food: $28 per day
💵 Daily Budget in Peru: $156
If I include my flight costs, my daily budget in Peru increases to $230 per day. This puts me in between a mid-range budget and a luxury traveler in Peru.
A mid-range budget traveler can expect to spend approximately $120 per day in Peru. This is someone who is generally staying at a mid-range accommodation that costs $50 per night, eating at a mix of $ local and $$ high-end restaurants, and paying for experiences even if they're pricey (but not booking private tours).
✈️ Flight Costs to Peru: $746
My round-trip flight between Lima, Peru and the US east coast was $746.
The most expensive month to fly to Peru from the United States is August and the cheapest month to fly to Peru is January, according to Skyscanner.
🏠 Accommodation Cost in Peru: $149
My average cost of accommodation in Peru was $15 per night.
This doesn't include the nights I spent camping on the Inca Trail. If I remove the days I spent on the trail, my average accommodation cost would have been $25 per night.
| Accommodation | Total Cost | Cost Per Night |
| --- | --- | --- |
| Hotel in Lima | $46 | $46 |
| Airbnb in Lima | $54 | $14 |
| Airbnb in Cusco | $49 | $24 |
The cost of accommodation in Peru can drastically vary across accommodation types and locations. Mid-range accommodation in tourist-heavy cities like Cusco, Lima, and Aguas Calientes will be approximately $40 a night. Mid-range accommodation in quieter cities that tourists still visit like Arequipa, Trujillo and Pisac will be approximately $25 a night.
🥘 Food Cost in Peru: $170
My average cost of food in Peru was $17 per day.
This doesn't include the days I spent eating on the Inca Trail. If I remove the days I spent on the trail, my average food cost would have been $28 per day.
My most affordable meal in Peru cost $8 at a Lima cafe that served omelets and empanadas.
My most expensive meal in Peru cost $56 at Osaka, an upscale restaurant that serves Nikkei, a cuisine that fuses Japanese and Peruvian food.
You can expect to spend $25 per day on meals if you're not eating on a tight budget or at high-end restaurants in Peru.

A popular cuisine you'll see in Peru is chifa, a traditional Chinese Peruvian cuisine that mixes Cantonese elements with Peruvian ingredients. The most well-known chifa dish is lomo saltado, a steak stir fry, that you'll find on many menus. This Peru travel guide outlines more food tips.
🚙 Transportation Cost in Peru: $87
My average cost of transportation in Peru was $9 per day.
My average Uber cost to and from Lima's airport was $7 per ride.
My average Uber cost to and from the Cusco airport was $4 per ride.
For short distances, Uber is available in tourist places like Lima, Cusco and Arequipa and often offers a more competitive price than taxis. For long distances, buses are a common transportation method in Peru.
🥾 Attraction and Shopping Costs in Peru: $1,103
My average cost of attractions and shopping in Peru was $110 per day.
Even though food, accommodation and transportation can be cheap in Peru, tourist attractions and activities significantly increase the average cost in Peru for a typical visitor.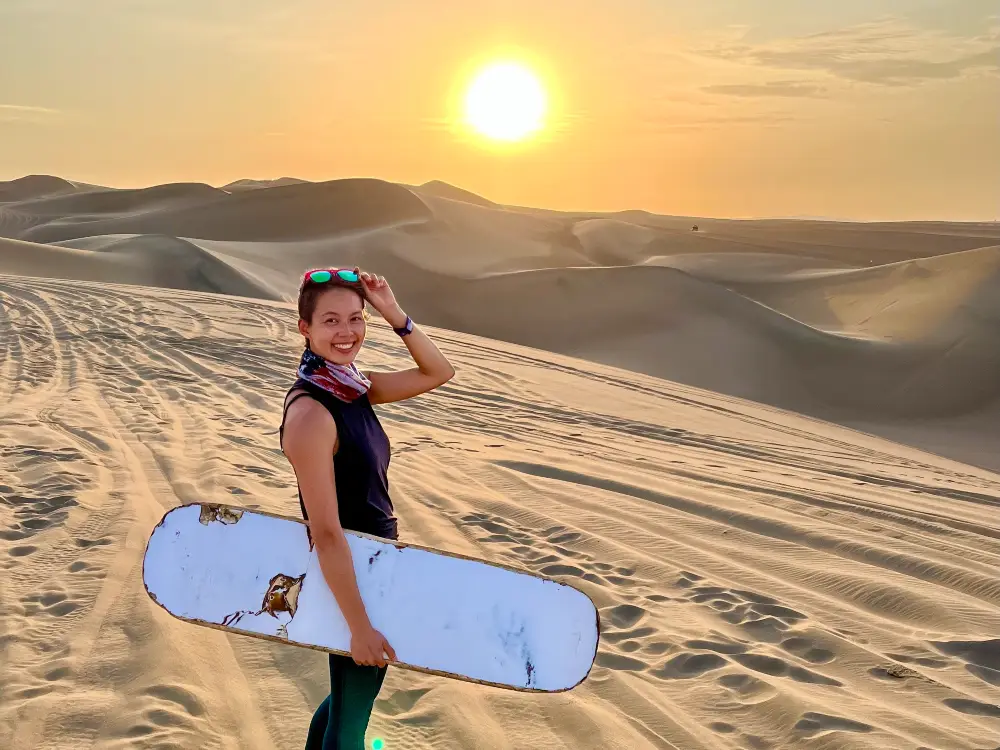 Cost of Peru's Top Attractions
Although Peru is an affordable country to visit, visiting some of its main attractions will significantly increase your trip's budget.
My unforgettable Inca Trail trek to Machu Picchu, a UNESCO World Heritage Site, was $800+ and you generally don't want to pay less than $650 for this trek. Anything less likely means that the tour operator isn't paying its porters well.
An overnight stay in Lake Titicaca, the largest freshwater lake in South America, can cost up to $260.
The Amazon Rainforest covers almost two-thirds of Peru and staying in it for a few days will cost at least $450.
📱 Miscellaneous Cost in Peru: $45
At the time that I traveled, the US required a negative covid test for travelers to return, so I spent $20 on a test.
My Inca Trail trek was scheduled during two Peru protests, so I also spent $25 on international calls to get my flights and trek sorted out.
Do You Need Cash in Peru?
Peru's economy is still largely based on cash transactions, so make sure to bring cash. Peru's credit card infrastructure is good in larger cities like Lima, but small businesses in cities still require cash.
Here are some tips on using cash and credit cards in Peru.
💵 Tip #1: USD is widely accepted in Peru.
Both US dollars and Peruvian soles are widely used in Peru, so you can withdraw cash in either currency. If you use USD, expect to receive change in soles and remember that you may not get a favorable exchange rate.
🏧 Tip #2: Bring at least $50 worth of cash per day to Peru.
You can expect to spend at least $30 to $100 per day in Peru, so carrying around $50 (or roughly S/ 190) should be sufficient if you plan to make several trips to ATMs. (Note that not all ATMs, especially ones in Cusco, are well stocked with cash). Places I needed cash in Peru include:
Local markets
Tour guide tips
Local restaurants and cafes
Souvenir shops
I kept my cash in my crossbody phone pouch (it feels secure enough for me), but if you want extra protection against pickpocketing, you can carry a hidden money belt.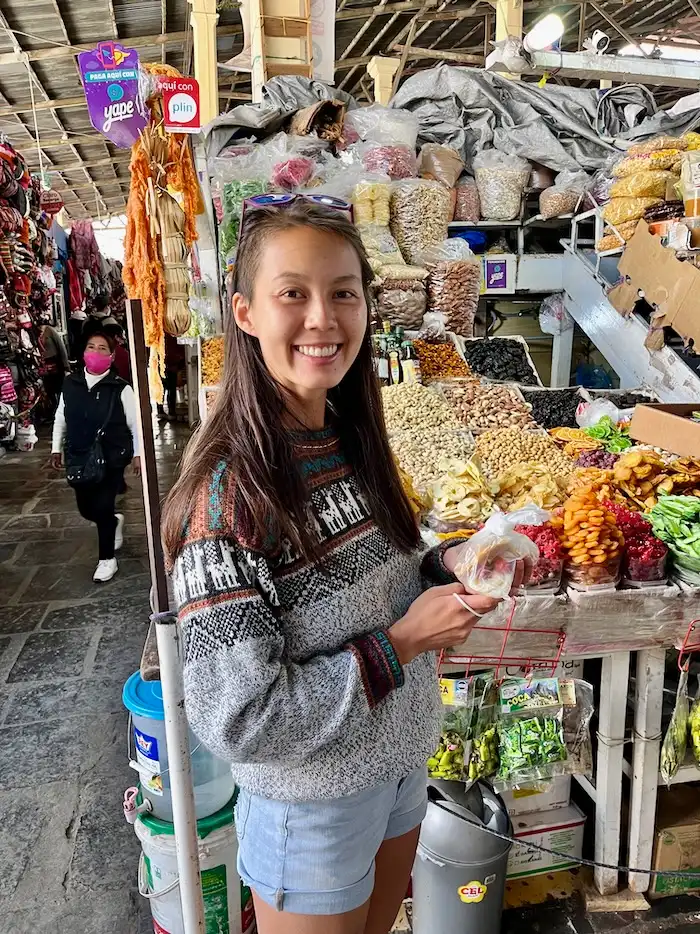 💰 Tip #3: Tipping is expected and customary in Peru.
Tipping is best done through cash and small bills, especially when you're tipping tour guides who may need to split tips with other workers. A 10% to 15% tip is standard in Peru for tourists.
This Peru travel guide has other essential travel tips.
Peru Trip Planning Template
To make your travel planning easier, download the trip planning template below and use it as a starting point. The template has country-specific travel information as well as an itinerary, packing list and map with recommended places pinned.
The template is built on Notion, which is what I use for all my travel planning (I'm not paid to say this; I just like the tool). If you don't have Notion, creating an account is free.
If you have any questions or thoughts, feel free to leave them in the comments below.
🧋 This site is run entirely by me, Lukiih. I spend hours writing each article to ensure its accuracy and conciseness. If you find my site helpful, you can say thanks by buying me bubble tea!