With a population of about 100 people, Huacachina, Peru is visited by tens of thousands of people every year. Surrounding a small, natural lake, Huacachina is a desert oasis known for sandboarding and dune buggy riding.
My day trip to Huachachina was thrillingly fun. Here, I share practical tips on doing a day trip tour to Huacachina from Lima, with a focus on what to wear and expect regarding activities, difficulty, safety and transportation.
Disclosure: This post may contain affiliate links. If you make a purchase through them, I may earn a small commission, at no extra cost to you. Thanks for your support!
Is a Day Trip to Huacachina Worth It?
To help you decide whether a Huacachina day trip is worth it, here are some of the trip's highlights and lowlights.
Highlights of a Huacachina Day Trip
Huacachina is known as one of the greatest places to sandboard in the world. Sandboarding is like snowboarding, but on sand (see below for how easy it is if it's your first time). With tall sand dunes and fluffy sand, Huacachina is ideal for sandboarders of all levels and hosts the Sandboarding World Cup annually.
Sandboarding and dune buggy riding are extremely fun and thrilling for first timers. I've never done either (and frankly, barely knew what either activity entailed before my Peru trip). Most people in my tour group agreed both experiences were thrilling.
The only natural desert oasis in South America, Huacachina can feel like another planet. With a natural lake in the middle of endless sand dunes, being in Huacachina can feel like you're in another world if you've never experienced a sprawling desert. The sunsets in Huacachina are also unreal.
Lowlights of a Huacachina Day Trip
Huacachina is a long bus ride from Lima. The only way to get to Huacachina is by driving and it is 5 hours each way from Peru's capital (see how to visit below). Huacachina is usually a 1 to 2 day trip for visitors, so it's a long drive for a short visit.
It's difficult to maximize your day trip in Huacachina given the transportation options. Most visitors go to Huacachina through a tour and every tour I researched makes one additional stop along the route (usually in Ballestas Islands), which means you don't get to maximize your time in Huacachina.
I always aim to write three lowlights and highlights for each trip event, but my trip to Huacachina was so much fun, it's legitimately hard to think of a third lowlight (unless getting sand everywhere counts as one).
For a different kind of adventure in Peru, check out the Inca Trail to Machu Picchu, which can be anywhere from 2 to 6 days long.
Huacachina at a Glance
Here is some general information for doing a day trip to Huacachina.
🏂🏻 Known for: Huacachina is known for its natural, desert lake, sandboarding, dune buggy riding, wineries and cooling pools.
📍 Location: Huacachina is located 191 miles (about a 5 hour drive) south of Lima and is 2 miles away from the closest district, Ica.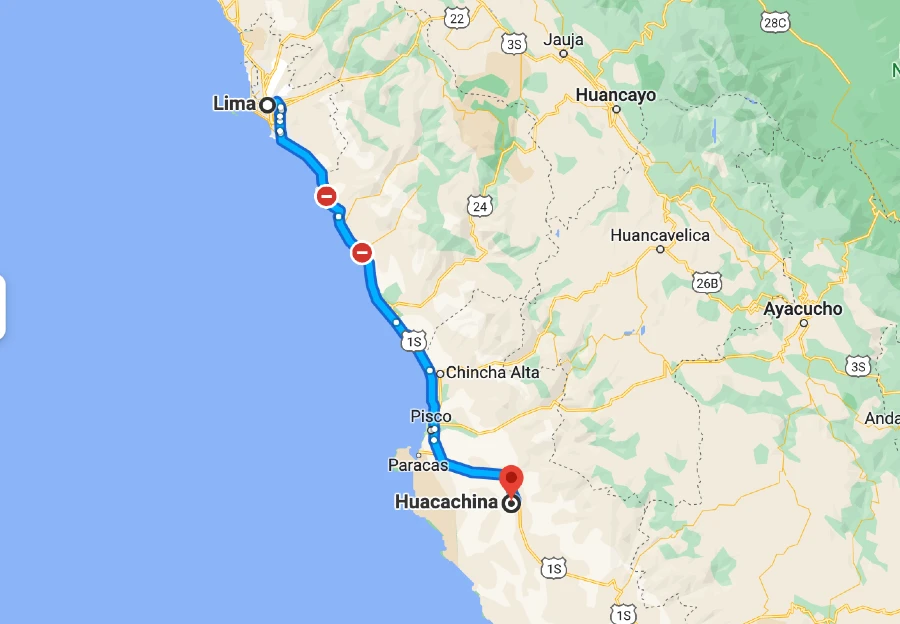 🚌 How to visit: Huacachina and the nearby Ica district don't have a commercial airport, so your only option for getting to Huacachina is by vehicle. You can:
Take a public bus. Local buses run from Lima to Ica on a daily basis. Once you get to Ica, you'll have to take a taxi to Huacachina (about a 10-minute drive). The bus is an affordable option, but not geared towards tourists, so navigating the system and ensuring you get on a safe, quality bus can be challenging.
Book a tour. Most people visiting Huacachina book a tour, which provides direct bus transportation from Lima to Huacachina. Day trip tours will cost at least $120 (scroll down for tour operators with high ratings).
Drive yourself. The highway connecting Lima and Huacachina is straightforward, but many people don't rent cars in Peru for a variety of reasons: it's not necessarily more affordable, the road conditions can be poor, signal is not strong everywhere and Peruvian drivers have a notorious reputation for being aggressive drivers.
Hire a private taxi. The most convenient, but expensive, way is to hire a private taxi from Lima to Huacachina. They can depart on your schedule.
⏳ How long to visit: Most visitors recommend staying in Huacachina for 1 to 2 days. Given how small the village is (it only has 100 residents), you can easily do all of Huacahina's main attractions in less than 48 hours. I booked a tour, so I stayed for a full day.
This Peru travel guide shows how you can incorporate a day trip to Huacachina into your trip.
💰 Cost: If you're visiting Huacachina through a tour (the most common way), expect to pay $120-$140 for a day trip and $150-$160 for a 2-day trip. I paid $135 for my day trip tour.
☀️ Best time to visit: The best time to visit Huacachina is from May to September, when Peru is in its dry season. This timeframe also avoids the hottest desert time in Huacachina (highs of 86°F), which is from December to March.
🚐 Tour operators: There are several tour operators operating trips between Lima and Huacachina. Peru Hop is the most well-known one and the one I booked because it came highly recommended to me by a friend.
Peru Hop claims to be the only direct bus to Huacachina, but you can find other operators that also provide direct transportation that have high ratings:
Adanny Tours includes the standard Ballestas Island stop and an extra winery stop before reaching Huacachina.
When booking tour operators to Huachachina, look for operators with a good track record and high ratings. This will not only ensure that your trip is well-run, but it also ensures it is safe (see dune buggy riding safety below).
How Difficult is Sandboarding in Huacachina?
As someone who doesn't skateboard or snowboard, I wondered, "How easy is it to pick up sandboarding?" Now that I've done it, here are two tips about sandboarding in Huacachina:
Tip #1: Sandboarding in Huacachina is easy because you don't need to stand up. Most visitors don't have sandboarding experience. You'll be asked to lay flat on your stomach with your head forward on the board that's provided for you and your guide will push you down a sand dune.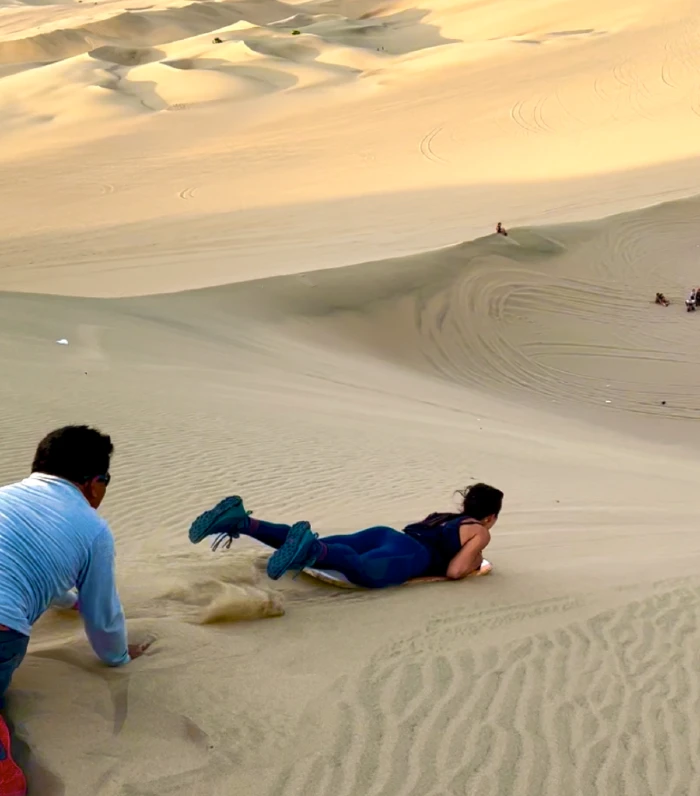 Your primary jobs as a rookie sandboarder are to keep your legs up and to hold on to your board. If you accidentally put your legs down, you'll just slow down your momentum and/or not go as straight.
Tip #2: You can try standing up, but you realistically won't have time to master sandboarding. When you visit with a tour, you only have about an hour of sandboarding where you'll get to slide about 3 to 5 times (see below for more details on what to expect). You may get to go on a small sand dune that allows you try standing up, but it's unlikely that you'll master it in such a short period of time (a few people, including myself, tried).
This is all to say that sandboarding in Huacachina is not difficult for first-timers and will be doable for anyone willing to slide down a sand dune on their stomach.
Huacachina Sandboarding and Dune Buggy Safety
If you've never sandboarded or rode a dune buggy before, and are concerned about safety, below are some things to keep in mind.
Is Sandboarding in Huacachina Safe?
Here are four things to know about sandboarding safety in Huacachina:
You don't need to stand up, so you likely won't fall. As mentioned above, most visitors are instructed to lay down on their boards. If you want to try standing up, you can ask, but you'll likely be unsuccessful unless you're an experienced snowboarder.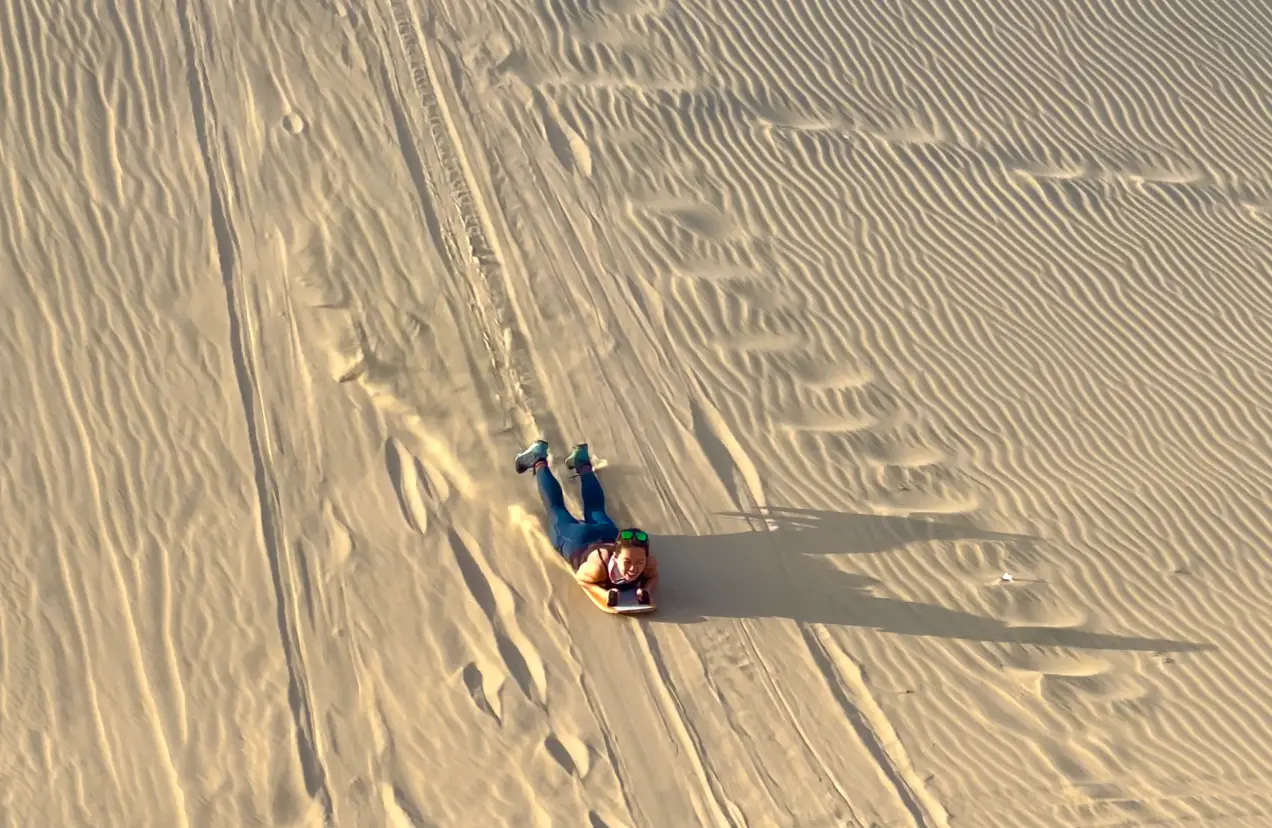 If you fall or roll off your board, the sand is very soft and your momentum will decrease. It's very unlikely that you'll have serious injuries while sliding down a sand dune.
You're far away from other sandboarders. There are a ton of sand dunes around Huacachina and guides will ensure that you are not sliding down near another sandboarder. For the big hills with a single lane, the guides will make sure the person before you has completely finished sliding before letting you go.
Only licensed, experienced drivers are allowed to drive dune buggies (see the dune buggy riding safety below). These drivers know to avoid sandboarding areas, so you won't have a visitor driving a dune buggy into you and injuring you.
Is Dune Buggy Riding in Huacachina Safe?
In case you don't know what dune buggy riding is: you're in an open vehicle specifically designed to drive on sand dunes and your driver will drive up and down the sand dunes at high speeds. It feels like a small roller coaster ride and it's thrilling (this is coming from someone who doesn't like roller coasters).
Here are two things to know about the safety of riding a dune buggy in Huacachina:
Only experienced drivers are allowed to drive. As mentioned above, visitors are not allowed to rent and drive dune buggies in Huacachina for safety reasons. Many dune buggy drivers have been driving for years (my driver had been driving one for 12 years) and know the surrounding areas to avoid sandboarders.
You will be strapped into your dune buggy. Your driver should make sure everyone is strapped in, tell you to remove your hat so it doesn't fly off and to hold on to your bag tightly before they start driving.
The safest thing you can do is to book a tour operator with a good track record, because it's more likely that they partner with experienced dune buggy drivers with vehicles in good shape.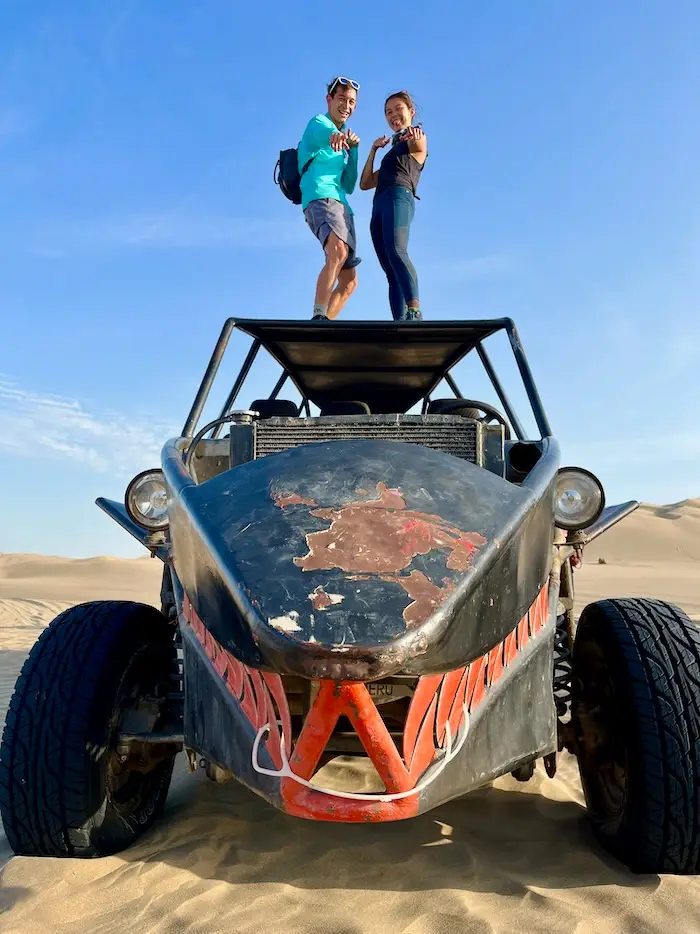 Tips and What To Expect on a Huacachina Day Trip
Below is what you can expect on a standard Huacachina day trip tour with some tips and my actual timestamps.
I did my tour with Peru Hop so that's the tour company my experience is based on, but you can generally expect the same things from other tour companies.
Early pickup at or near your accommodation and a four-hour drive (~6am-10am). Since it takes 5 hours to travel from Lima one way, most tour operators will have a 4am to 6am pickup time. You'll travel for about 4 hours before reaching your first destination.
The Huacachina early pickup time followed by a long ride means that you should consider bringing breakfast or snacks, and/or items that will help you sleep on a bus (ear plugs, a sleeping mask).
1st Highlight: Arrive at Ballestas Islands (10am-12pm). You'll stop at Paracas beach town and go on a 2-hour speedboat tour of the Ballestas Islands (also known as the "poor man's Galapagos") where you'll get to see penguins and sea lions, and learn why these islands are important for Peru. Some of the facts I learned here were unexpected and fascinating.
If you get motion sick on boats like me, it's a good idea to pack some medications or anything that helps during your Ballestas Islands tour. You won't feel sick when the speedboat is running, but it makes several stops for long enough for you to feel the waves rocking the boat.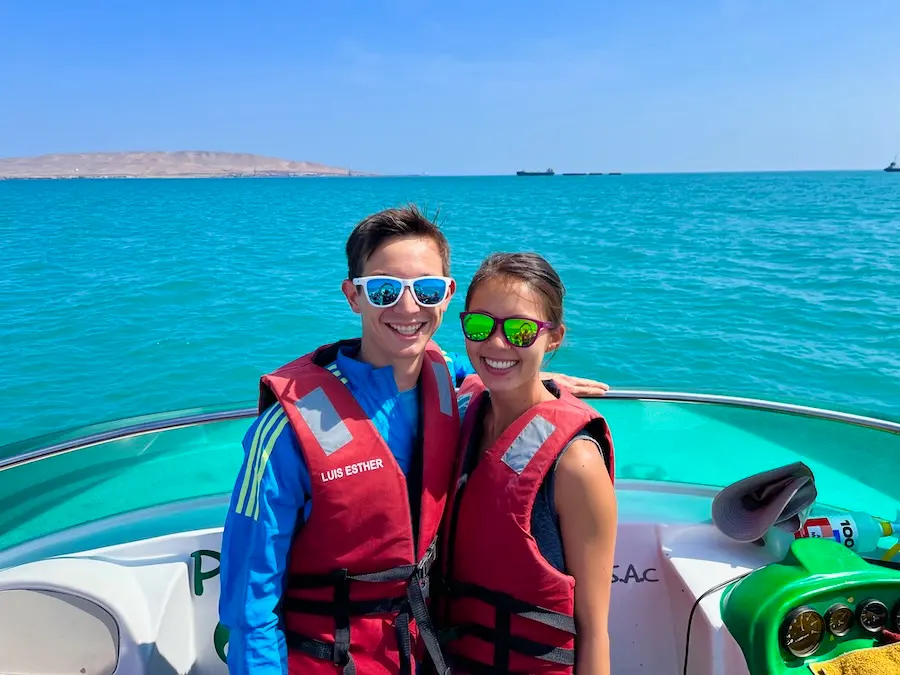 Some people suggest bringing a swimsuit underneath your clothes for the Ballestas Islands tour, but I think that's unnecessary unless you're traveling during the wet season.
Lunch at Paracas (12pm-1pm). You'll then have lunch in the town of Paracas. I wouldn't say food is the highlight of the tour, but it's sufficient.
Drive 1.5 hours to Huacachina and store your belongings (1pm-3pm). Once you arrive in Huacachina, you'll be bombarded with people selling you buffs to protect your face from the sand and wind (you can buy a nicer buff beforehand). The tour operator will instruct you to store your belongings at a partner hostel or shop.
You won't want to carry many things while sandboarding and dune buggy riding (see what to wear below). Peru Hop let us store our belongings at a hostel. It was safe in that it was a room that was out of sight, but there were no locks, so anyone could access it.
Get settled in and hike a sand dune (3pm-4:30pm). You'll spend 1 to 1.5 hours settling in as the tour operator coordinates your activities. Some tour guides, like Peru Hop's guide, will hike a sand dune as an optional activity while you're waiting.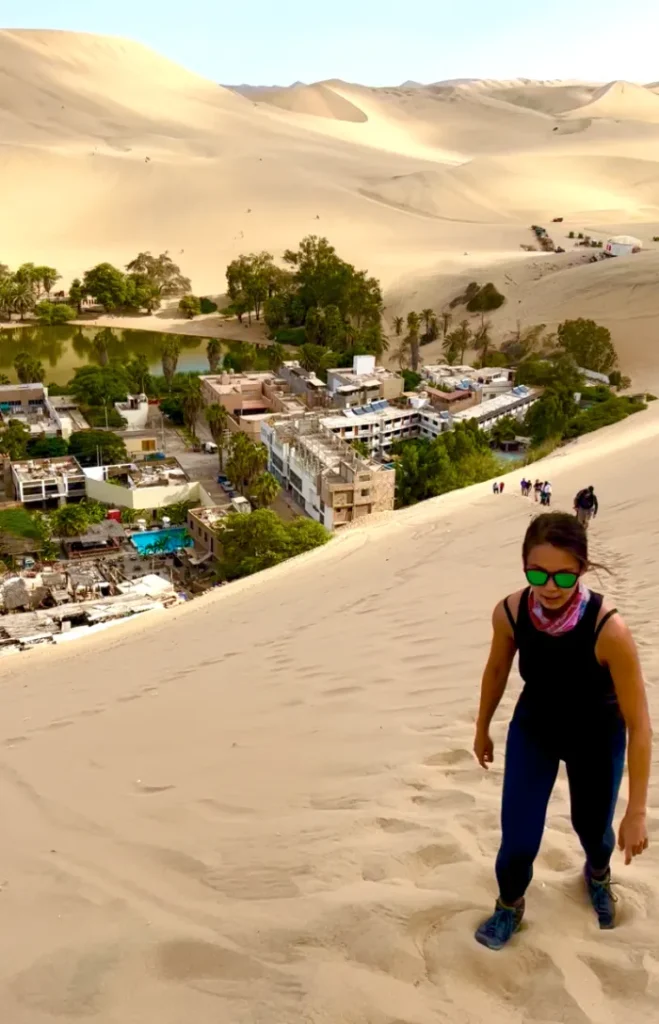 If you're offered the opportunity to hike a sand dune and are fit enough to hike steep hills, I highly recommend it. It's a fun physical challenge, the views are amazing and the "half slide, half walk" back down is amusing.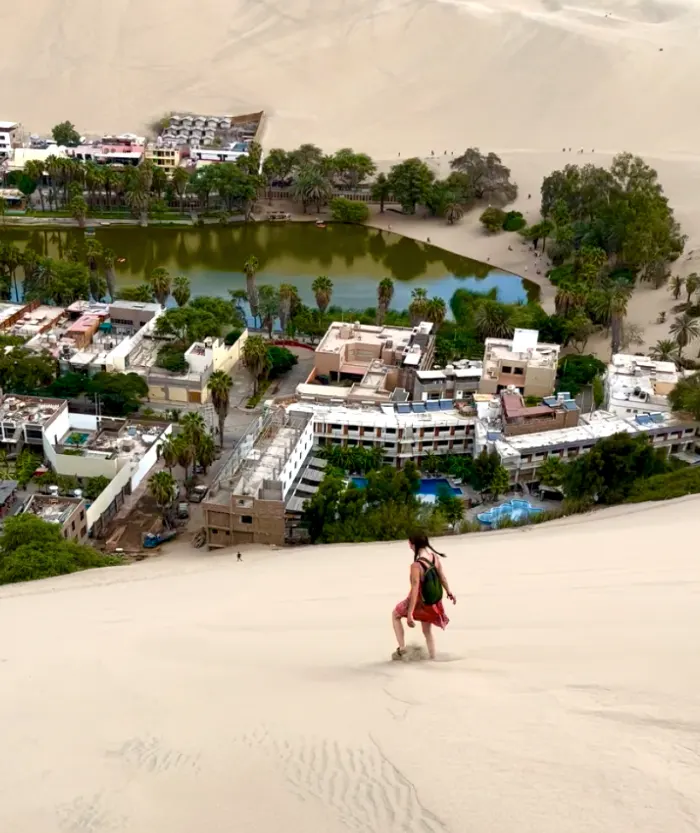 2nd Highlight: Ride a dune buggy (4:30pm-5pm). One of Huacachina's main attractions is riding a dune buggy. It's best if you don't know what to expect and just go in with a fun, open mind. I had a blast, but I think I would have been nervous had I known what it was beforehand.
Tipping is customary and expected in Peru, so bring some cash for your dune buggy driver. This Peru cost breakdown outlines other cash tips in Peru.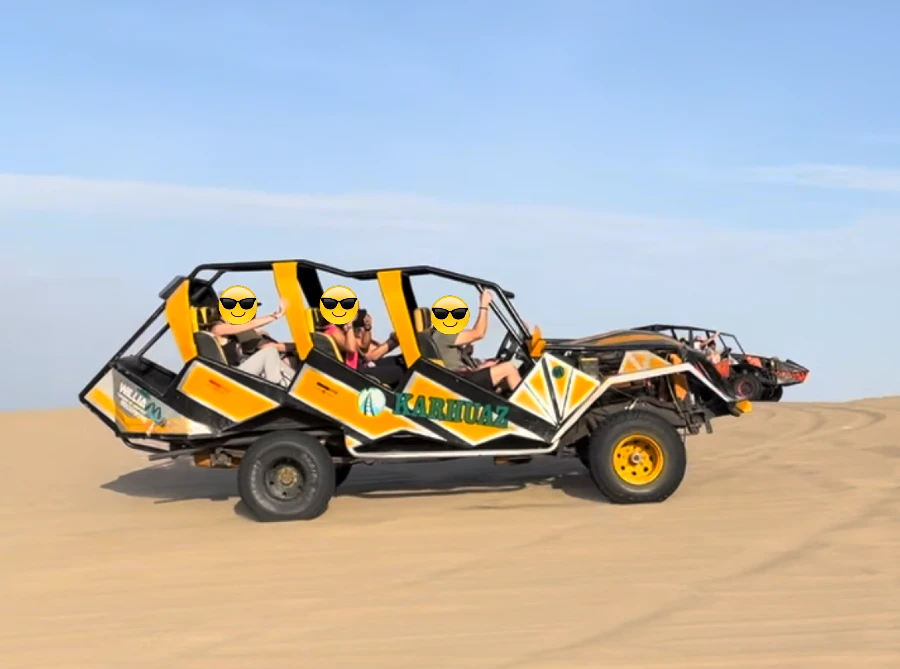 3rd Highlight: Sandboarding (5pm-6pm). Huacachina is known for its soft and steep sand that makes it perfect for sandboarding. You'll be given boards and be able to slide down sand dunes of different heights and steepness. If you're experienced, you can stand up on your board, but most people will lay down.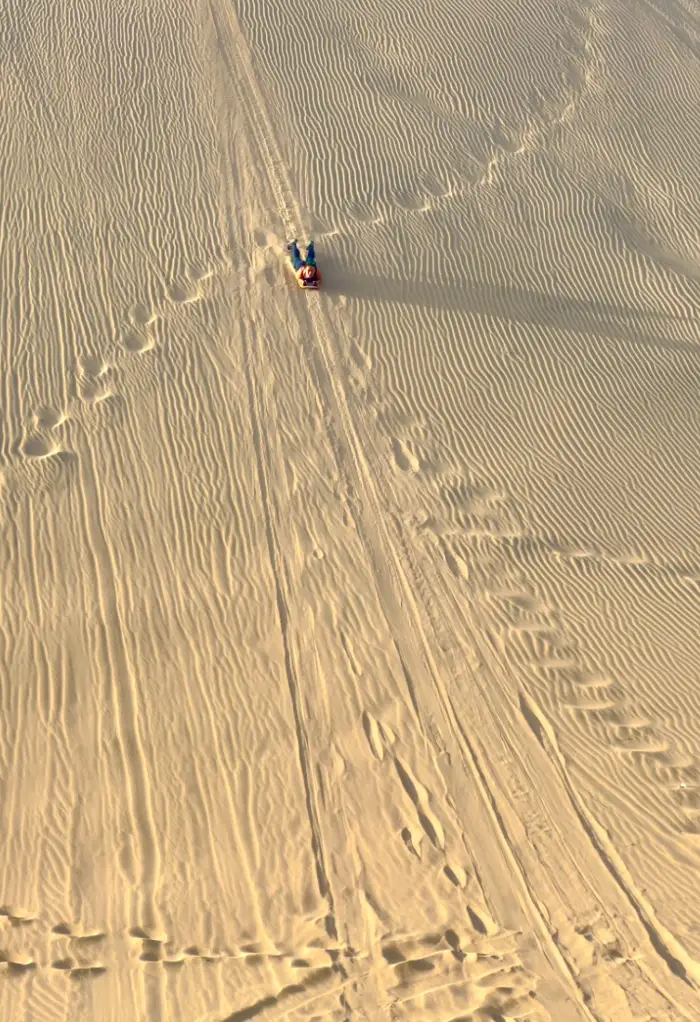 Catch the sunset and eat dinner (6pm-7pm). Before heading back to your belongings, you'll be able to catch the Huacachina sunset, which can look unreal against the endless sand dunes. You'll then be given a little less than an hour to grab dinner anywhere in the village.
Head back to Lima for a late arrival time (7pm-12am). At the end, you'll make the 5-hour drive back from Huacachina to Lima. This Peru travel guide has tips for visiting Lima.
Packing List for a Huacachina Day Trip Tour
A Huacachina day trip tour will last about 18 hours, from 6am to midnight, and you'll need to pack for a five-hour bus ride, speedboat tour, sand dune hiking, sandboarding and dune buggy riding. Here's what to pack and wear to Huacachina.
The Peru trip planning template below has this packing list in a downloadable Notion.
What to Pack to Huacachina
Here are the items to bring on the trip and then store before hiking a sand dune, sandboarding or riding a dune buggy in Huacachina:
Snacks. It's a long, active trip and you're only provided lunch and dinner, so bring breakfast and some snacks.
You can buy snacks in Paracas and Huacachina, but you might want them during the bus ride before arriving at those stops.
Raincoat. If you're traveling during the wet season (December to February), consider bringing a raincoat with you to Huacachina.
Light jacket (optional). If you're wearing a tank or short sleeve, consider bringing a light jacket for the bus ride, as some buses can be cool.
Ear plugs and sleeping masks (optional). Since you'll be picked up early (between 4am and 6am) and arrive back to Lima around midnight, you might want to catch some sleep on the bus ride. Consider bringing ear plugs and a sleeping mask if they help you sleep.
If you want, you can bring a small daypack while hiking a sand dune, sandboarding or riding a dune buggy. Here's what to carry in your daypack:
Small daypack. Bring something easy to carry that you don't mind getting sandy. I brought my Fjallraven mini bag which fit everything nicely and was easy to hold on to during the dune buggy ride.
Phone or camera. Bring your phone or camera for photos and make sure it's tucked away during sandboarding.
Sunscreen (optional). You'll want sunscreen to protect yourself against Huacachina's sun. I recommend packing a sports sunscreen in your daypack if you think you'll need to reapply within 3 hours, which is roughly how long you'll be out in the sun.
Cash. Bring cash to tip your dune buggy driver as tipping is customary and expected in Peru. This Peru cost breakdown has more cash tips.
What to Wear in Huacachina
When in doubt about what to wear in Huacachina, remember that you want to be light and protect yourself against the sun and sand.
A breathable top (tank, short sleeve or long sleeve). Huacachina will be warm (it gets down to 68°F during the winters), so you want to wear something athletic and breathable. For more protection, opt for a sun hoodie.
Athletic or breathable bottom (shorts, leggings or loose pants). I wore leggings, my partner wore shorts and I saw other people wearing loose pants. All of these options seem to work. I even saw one woman wearing a loose, athletic dress. You don't want to wear jeans.
Sunglasses. When you're sliding down a sand dune or riding a dune buggy, you'll want to protect your eyes from sand. I brought my athletic sunglasses, which were very helpful.
Sunscreen. You'll want sunscreen to protect yourself against Huacachina's sun. I recommend a sports sunscreen.
Light hiking shoes. Running shoes are fine in Huacachina, but you might feel more comfortable with the extra support of lightweight hiking shoes. I wore my Salomon hiking shoes.
Buff. As mentioned, many sellers in Huacachina will try to sell you a buff if you don't have one to protect your face from wind and sand. Bring a nicer buff, buy one there or be ready to eat a lot of sand.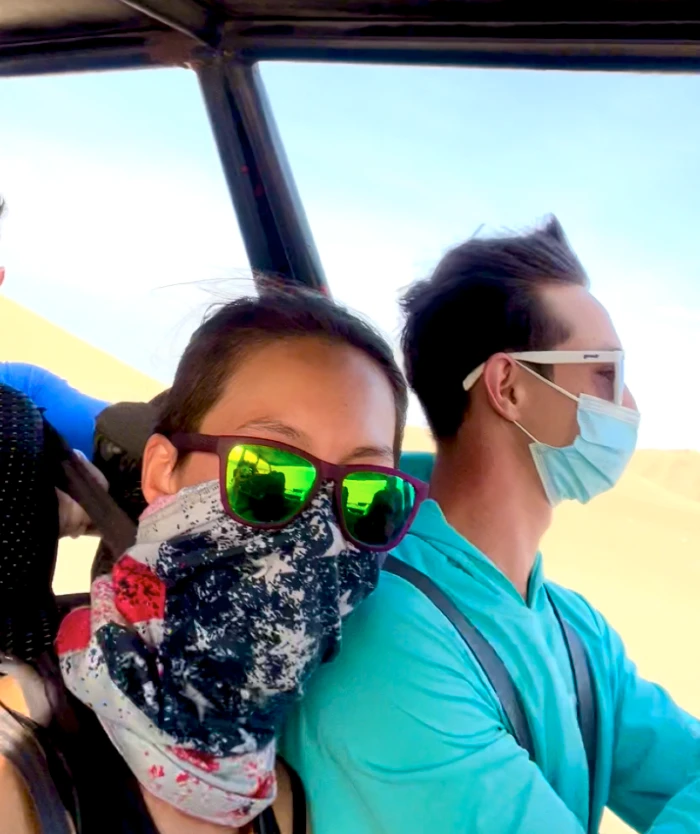 Sports bra (optional). Given the Huacachina activities, I brought and recommend wearing a sports bra over a regular bra.
Sun hat (optional). I didn't bring a sun hat, but I saw a few people wearing one for extra sun protection. Make sure to take it off during your dune buggy ride though!
Peru Trip Planning Template
To make your travel planning easier, download the trip planning template below and use it as a starting point. The template has country-specific travel information as well as an itinerary, packing list and map with recommended places pinned.
The template is built on Notion, which is what I use for all my travel planning (I'm not paid to say this; I just like the tool). If you don't have Notion, creating an account is free.
If you have any questions or thoughts, feel free to leave them in the comments below.
🧋 This site is run entirely by me, Lukiih. I spend hours writing each article to ensure its accuracy and conciseness. If you find my site helpful, you can say thanks by buying me bubble tea!