The only English-speaking country in Central America, Belize is known for its ocean and jungle experiences like the world-renowned Great Blue Hole and the popular ATM Cave.
Here, I share Belize travel facts to save you trip research time, practical tips for visiting Belize, great things to do and how do them all in a 1-week itinerary. I also include a Belize-specific trip planning template.
This post is focused on Ambergris Caye and San Ignacio, which are Belize's #1 island and mainland stops, respectively.
Disclosure: This post contains affiliate links. If you make a purchase through them, I may earn a small commission, at no extra cost to you. Thanks for your support!
Important Travel Facts for Belize
Here is some general information on Belize to save you travel research time:
⭐ Known for: Belize is known for snorkeling and scuba diving sites, Maya ruins and sacred caves. Tourists planning a Belize vacation are usually interested in going into the ocean, seeing fish and marine animals and exploring different ruins.
🛃 Visa: US nationals are visa-exempt for Belize for up to 30 days.
💬 Language: Belize is the only country in Central America that has English as their official language.
🌎 Time zone: Belize's time zone is Central Standard Time.
💰 Currency: Belize's currency is the Belize Dollar and $1 USD equaled $2 BZD at the time of writing.
🔌 Outlet: Belize has the same outlet type as the US (the 2-pronged flat type), so an adapter may not be needed.
💧 Tap water: Belize's tap water is overall safe to drink, but most hotels and restaurants will provide bottled or filtered water.
Bring a reusable water bottle to fill up on water and avoid having to pay for bottled water. I brought a water bottle that keeps water cold for hours.
💳 Credit card: Credit cards are widely accepted in Belize, but cash is sometimes needed.
💵 Tipping: A 10-15% tip is welcomed and appreciated, but not mandatory in Belize.
☀️ When to visit: The most popular time to visit Belize is during the dry season, which runs from December to May. June to November is the rainy and low season when hotels and tours tend to provide slightly discounted rates. I went in July and had to deal with intermittent rain, but the weather was mostly warm and sunny the entire time. Here's a packing list for Belize in the rainy season.
⌛ How long to visit: You'll want 3 to 5 days in Belize if you plan to stay in one location. You'll need at least a week if you want to do more than one area in Belize (e.g., if you want to visit both the mainland and an island).
5 General Tips for Visiting Belize
Here are five general tips when traveling to Belize:
Tip #1: There's no need to exchange USD. USD is widely accepted in Belize, but they'll often give you change in Belize dollars. Everyone uses a $1 USD to $2 BZD exchange rate. My hotel was willing to exchange currency at the end of my trip.
Belize is one of the few countries in the world that has pegged their currency to the US dollar at a constant exchange rate. The Belize dollar has had a 2:1 exchange ratio with the USD since 1978, so you don't have to worry about getting a bad exchange rate when paying with USD.
Tip #2: Be prepared for long transportation times. Unless you're willing to pay a premium to take flights from local airlines (which usually cost $100+), be prepared to spend 1+ hours traveling between the airport, mainland and islands by shuttle and water taxi.
Tip #3: Tours differ between the low and high seasons. During the low season, some tours and services are limited or not available at all. You also won't need to necessarily book popular tours in advance (e.g., ATM Cave tour), but they may get rained out.
Tip #4: Beware of catcalling. Some parts of Belize are notoriously known for catcalling if you're traveling with just women. I traveled with a female friend during the off season and we experienced catcalling both in San Ignacio and San Pedro, Ambergris Caye at least once every time we walked on the streets, but we were rarely approached or followed.
Tip #5: Bring mosquito repellent and sunscreen. You're visiting a tropical region, so bring both. It's cheaper to bring them than to buy them in Belize. I tend to get bitten and I find that this insect repellent lotion works better than the spray alternative (per the CDC: "DEET offer the best protection against mosquito bites.") I also brought this face sunscreen which is dermatologist-recommended and applies smoothly.
Getting Around Belize
Belize has one international airport, Philip S.W. Goldson International Airport (BZE), located in Belize City. From there, you can head east to one of the islands, Ambergris Caye or or Caye Caulker, or west to mainland San Ignacio in the Cayo district.
Belize does not have ridesharing services like Uber or Lyft.
Getting Around Ambergris Caye
From the Belize City airport, you can get to Ambergris Caye in two ways:
By water taxi. This is the standard of getting to Belize's island. It's about a 90-minute boat ride and costs approximately $30 per person. This is a good option unless you get motion sickness like me.
By flying with a local airline. There are two local airlines in Belize: Maya Island Air and Tropic Air. The flight will take approximately 20 minutes and cost over $100 per person. The The Tropic Air flight I took went to both Ambergris Caye and Caye Caulker in the same flight and stopped at Caye Caulker first.
Belize's local, small airlines are not available every day everywhere, so check their flight schedules in advance.

If you book your flight in advance and miss your flight, they will put you on the next available one. They have planes leaving frequently whenever they have enough passengers and the planes only need ~8 passengers to take off.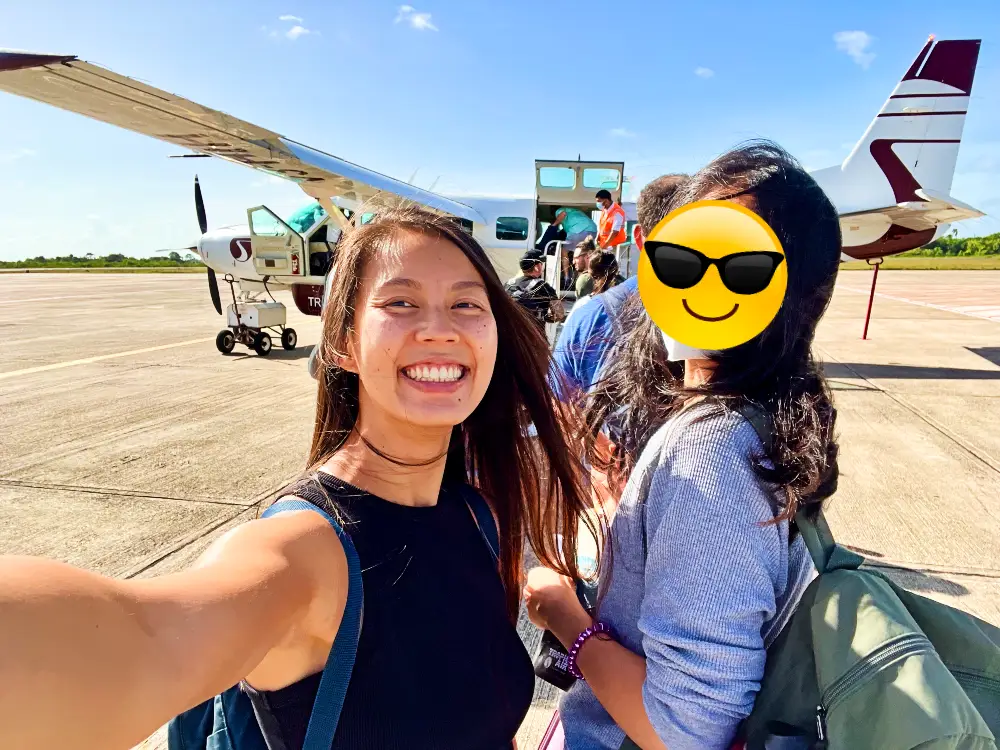 While on Ambergris Caye, you can get around in two ways:
By walking. The downtown area, San Pedro, is very walkable.
When walking around San Pedro, avoid walking on Pescador Dr. as there are no sidewalks there. Walk next to the beach or on the other parallel streets.
By renting a golf cart. There are generally no cars on Ambergris Caye; locals and tourists drive around in golf carts. If you want to explore areas outside of San Pedro, you'll need a golf cart. There are several golf cart rental places in San Pedro.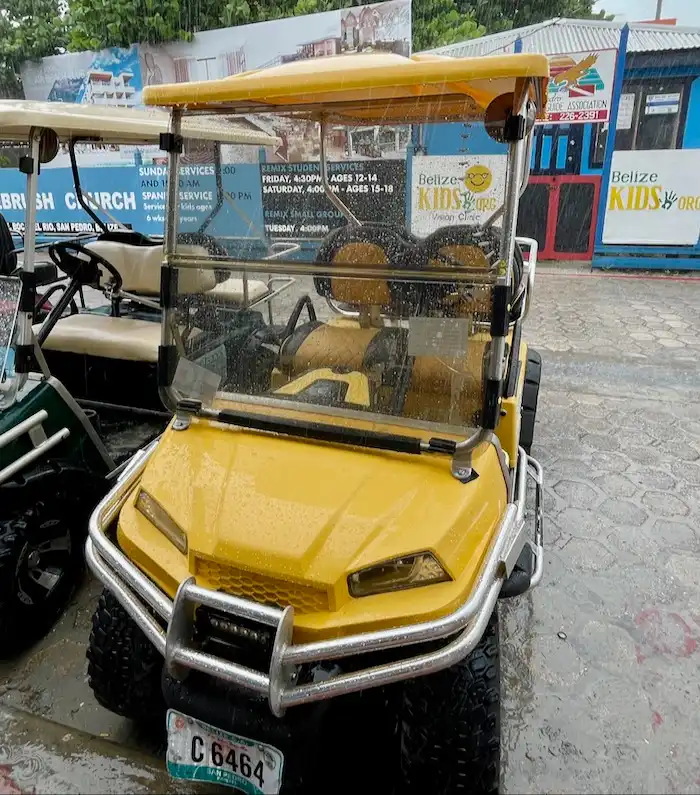 Getting Around San Ignacio
From the Belize City airport, you can get to San Ignacio in three ways:
By renting a car. You don't need an IDP (International Driver's Permit) to drive in Belize. Your US license is sufficient.
By booking a shared shuttle. Booking a shared shuttle is the most cost-efficient method to get to San Ignacio, but may take longer depending on where others in the shuttle want to go and be dropped off. You also might not get to determine the departure time. I took a shared shuttle from San Ignacio to the airport and it cost $56 for 4 people.
By hiring a private shuttle. Booking a private shuttle is not as cost-efficient or flexible as a car or a shared shuttle, but you can request 1-2 stops along the way and set the departure time.
You can also take a small plane from Ambergris Caye directly to San Ignacio and vice versa to save significant time and avoid the water taxi. The flight takes ~45 minutes and costs $200+.
If you fly into San Ignacio, their airport (CYD) is tiny and 15 minutes away from downtown. There are no taxis waiting around, so ask your hotel to call one in advance if you don't want to wait. I had the airport attendee call one when I arrived and waited 20 minutes for it.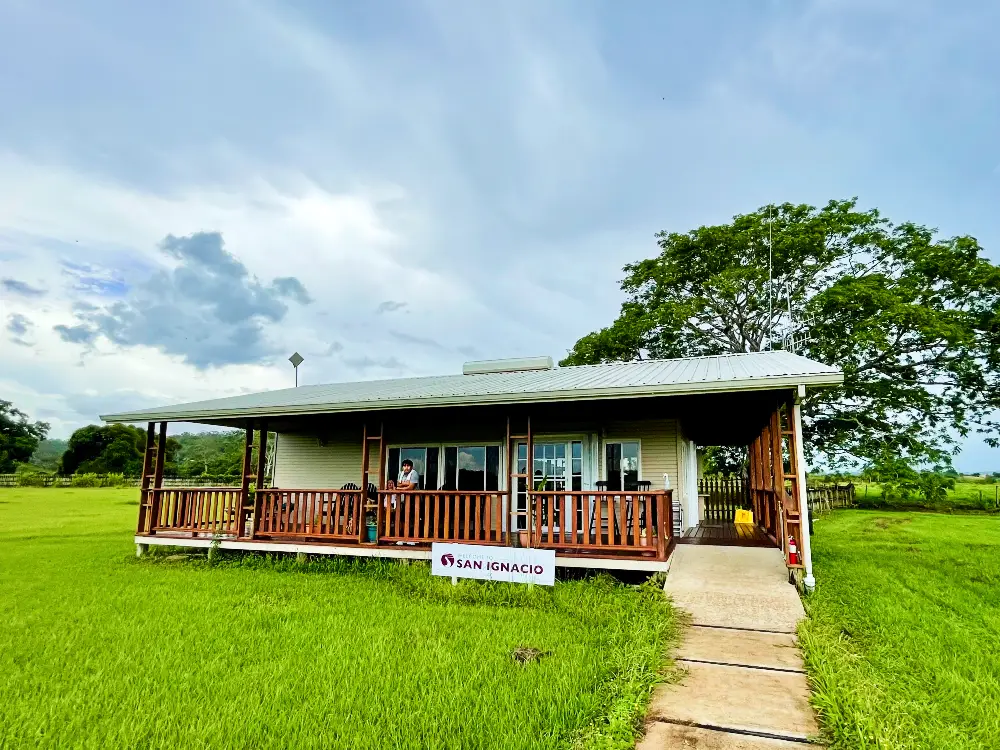 While in San Ignacio, you can get around in three ways:
By walking. The downtown area of San Ignacio is small and walkable, but most of the resorts and hostels are further away on a hill.
By calling a taxis. Taxis in Belize look like ordinary cars, but have a green license plates. Taxis in San Ignacio have a flat rate per person. When I travelled in 2022, the rate was $2.50 per person.
The quality of the taxis can vary in San Ignacio (e.g., I rode a taxi that didn't have any seat belts). If you find a taxi driver that you like, you can ask for their number and arrange rides through WhatsApp.
By relying on tour transportations. Almost all tour packages will include transportation to and from your hotel and the tour's destination.
1-Week Itinerary for Belize
Below is how to spend a week in Belize to experience both an island and the mainland. This itinerary assumes a more efficient (and therefore more expensive) way of traveling, so if you're on a tighter budget, you'll need to budget more transportation time.
A week in Belize is long enough to fit an island and mainland visit. If you have less than a week, it's better to choose one area to explore or else you might feel rushed trying to explore multiple places.
This itinerary resembles how I spent my time in Belize while incorporating improvements. I've included some of my actual timestamps to give you an idea of how long you might need for each activity and how to efficiently sequence things.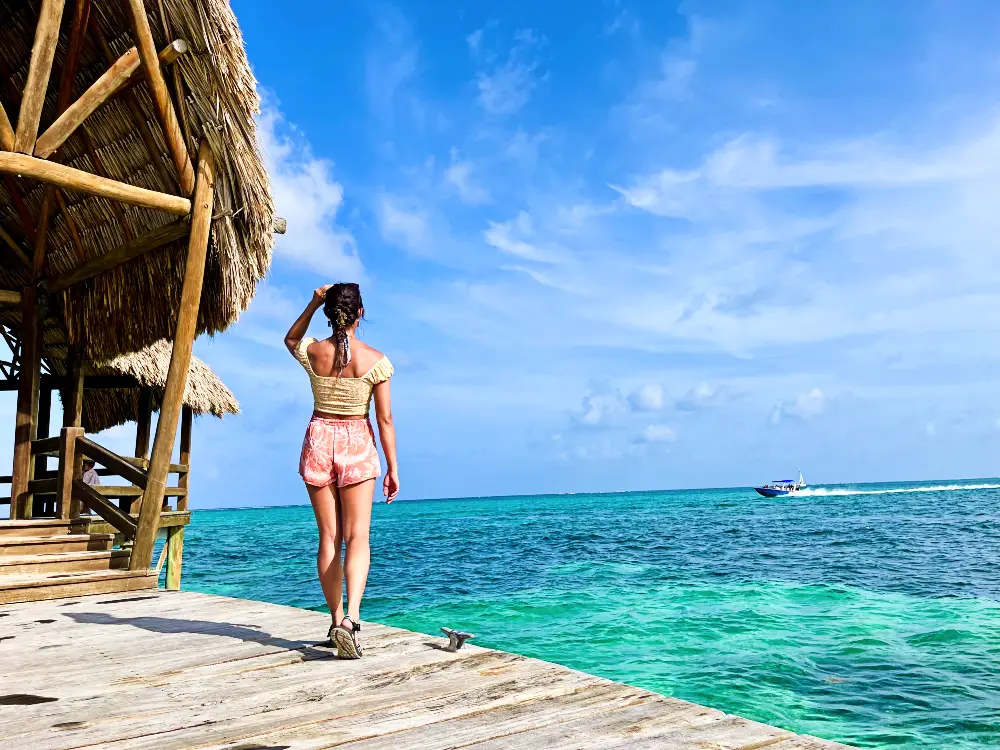 7 Great Things To Do in Ambergris Caye
Ambergris Caye is the largest and most popular island in Belize and here are 5 great things to do there. I mention other activities further below.
This Google Map has all the Ambergris Caye places mentioned on this list.
1. Snorkel at Hol Chan Reserve and Shark Ray Alley
Why: Belize is famous for snorkeling, and the Belize Barrier Reef and Hol Chan Reserve are the top, most well-known sites.
You'll likely be able to see plenty of tropical fish, stingrays, sea turtles and nurse sharks (which are harmless to humans if not bothered). I was able to see all those animals even during the low, rainy season.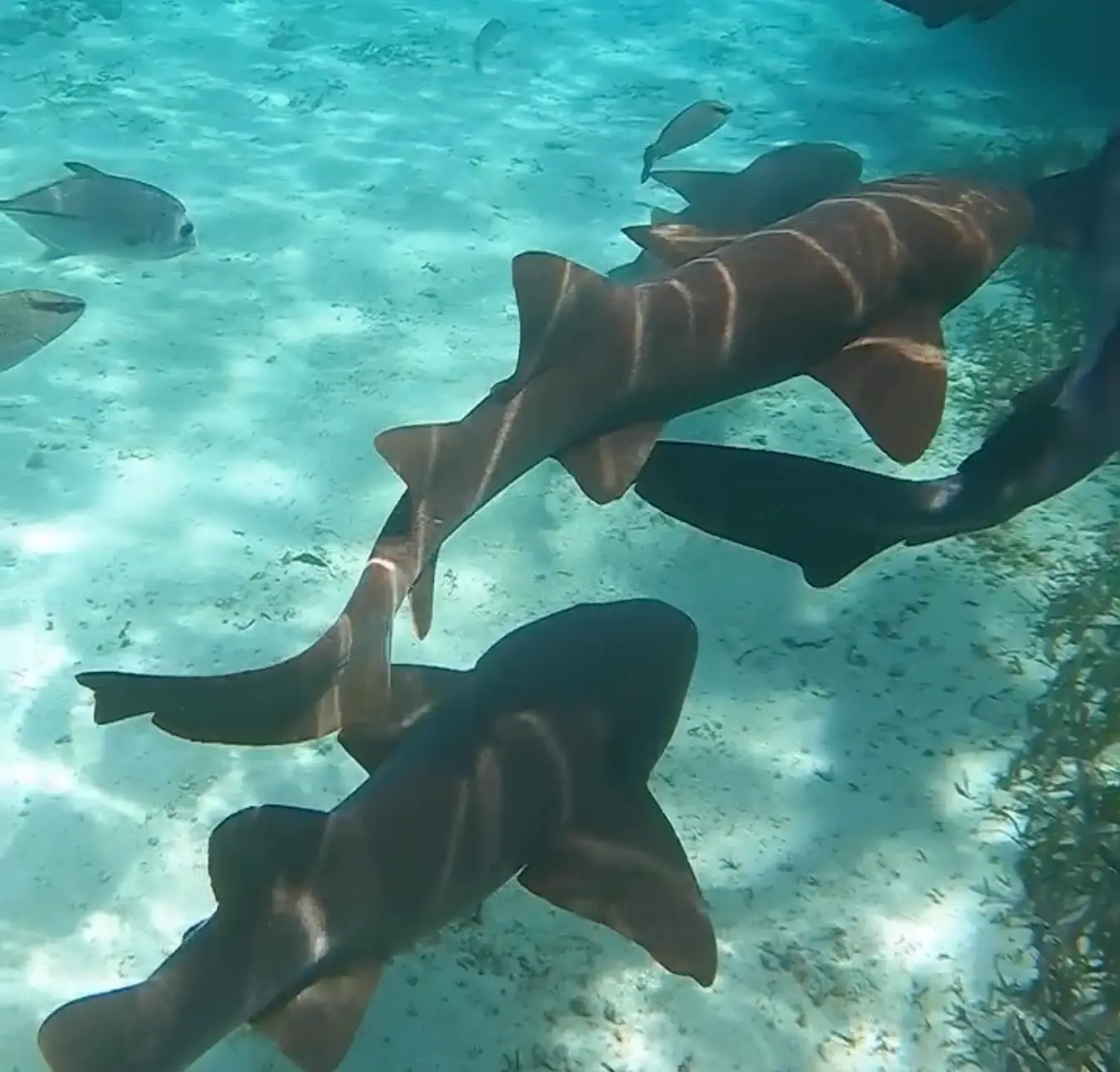 Getting there: You're required to book a tour to go to Hol Chan Reserve and Shark Ray Alley (a lot of tours will visit both sites) and there are several tour operators to choose from (here's a highly-rated one).
I asked my hotel to book on my behalf since it looked like a lot of tour operators provided more or less the same experience. They'll provide snorkel gears and transport you to the snorkeling sites by boat, which takes about 12 minutes.
Remember to wear reef-safe sunscreen when snorkeling in the Belize Barrier Reef. I tried several reef-safe sunscreens and recommend this travel-sized mineral sunscreen, which I found much easier to apply than others.
Duration: Most Hol Chan Reserve snorkeling tours will last half a day, approximately 4 to 5 hours long.
Cost: You can expect to pay $90+ during peak season and $60+ during the low season for a Hol Chan Reserve snorkeling tour. I paid $65 during the low season for a 4-hour tour.
2. Visit the Great Blue Hole
Why: The Blue Hole is a marine sinkhole and one of Belize's most iconic attractions.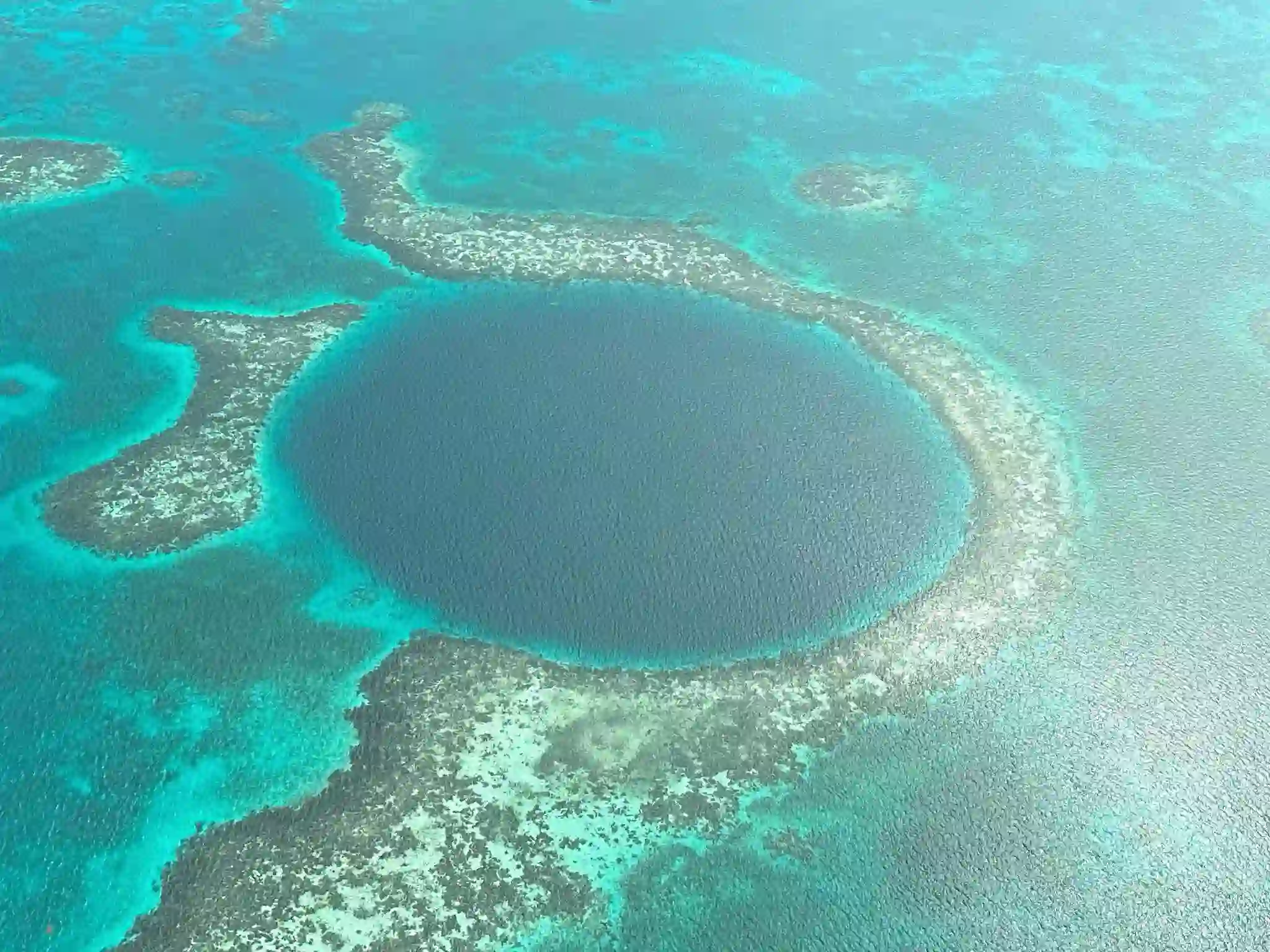 Getting there: The Great Blue Hole is ~50 miles from Ambergris Caye. You can visit the Blue Hole in two ways:
Snorkel and scuba dive in it. Book through a tour operator and they usually take you to 2-3 stops, including the Blue Hole.
Take a helicopter flyover tour to view it from the sky. There are several companies that offer this, ranging from those that offer a standard tour (usually fits 8-10 people) and those that offer a private charter helicopter.
Duration: Snorkeling/scuba diving the Blue Hole is usually a full-day tour that starts early in the morning (usually from 5:30am to 4:30pm). Taking a standard helicopter tour usually takes 1 or more hours.
Cost: Snorkeling/scuba diving the Blue Hole is usually $250+ per person. A flyover tour is usually $100+ per person.
3. Jump off a swimming dock
Why: All beaches in Belize are open to the public, but Belize is not known for sweeping beaches with white sand. Instead, it's a great place to enter the ocean through swimming docks and you'll see locals and tourists jumping in from them.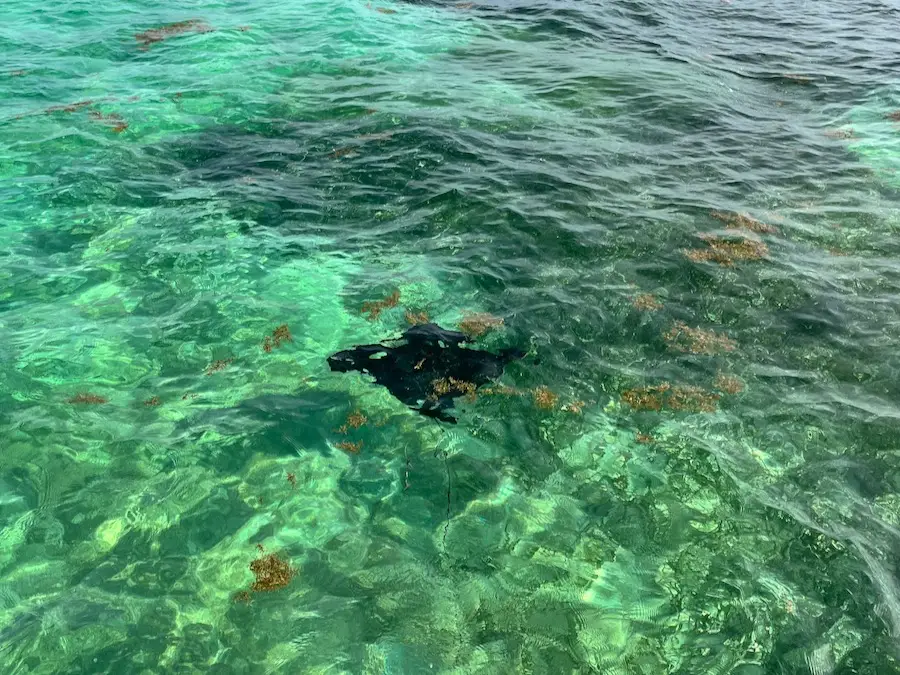 Getting there: There are several docks around Ambergris Caye. The two that I visited and can recommend are:
Ramon's Village, a popular dock for both locals and tourists. I saw stingrays swim by both times I visited.
Matachica Resort, a dock further north, but within driving distance by golf cart if you're staying in San Pedro. It has a more luxurious feel than Ramon's Village, but the latter has a better area for swimming in my opinion.
Duration: You can usually spend 1 to 2 hours hanging out by the swimming docks.
Cost: Swimming docks do not have entrance fees, so they're free. However, you will have to pay to rent equipment, towels or chairs if you want those.
All beaches in Belize are open to the public, so you can visit docks at places you're not staying at. However, you can't use the hotel's equipment if you're not a guest there, so make sure to bring towels, gears, etc. I didn't rent anything and just brought my lightweight quick-dry towel with me.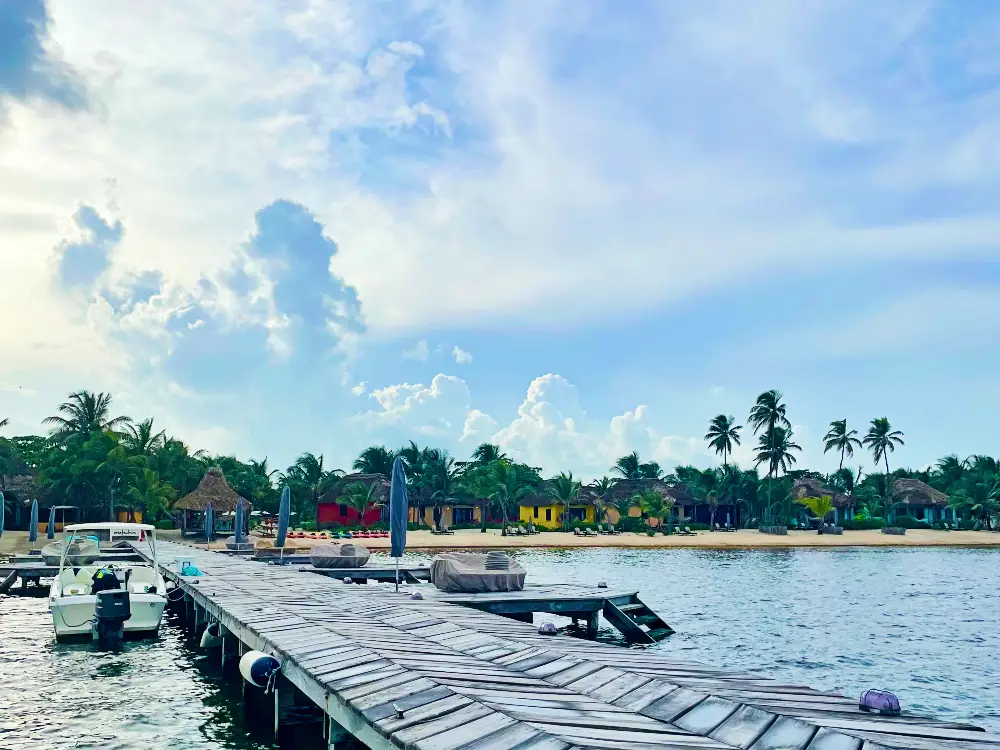 4. Explore San Pedro
Why: San Pedro is Ambergris Caye's downtown area offering all sorts of shops and restaurants to check out. It's also the place where you'll see more of the local life.
What to visit:
Local restaurants. Elvi's Kitchen serves an incredible octopus and is a nice sit-down establishment. El Fogon Restaurant serves one of the best ceviches I've ever eaten. DandE's makes homemade ice cream with many flavors. Hungry Grouper serves all kinds of delicious fish.
Some restaurants will also have art for sale. I bought my 3-piece at Elvi's Kitchen; they partner with San Pedro Originals Art.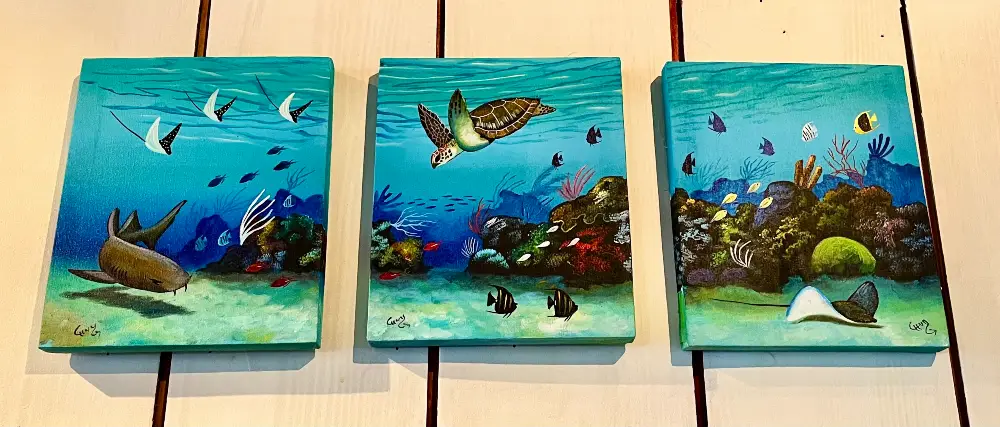 Other shops. If you walk around, you'll be able to find a variety of shops. For example, Belize Chocolate Company has really great chocolate chip cookies and offers chocolate-making classes.
The central park. San Pedro's Central Park will host local events and have food stalls on Friday nights. The pork rib hot dog I got here was juicy and amazing.
5. Visit Secret Beach
Why: Although Ambergris Caye is not necessarily known for sweeping, white beaches, Secret Beach is one of the few beaches you can visit for clearer water, nice sand and a more typical beach vibe with tons of beach chairs, picnic tables in the water, umbrellas, food stalls and massage spas.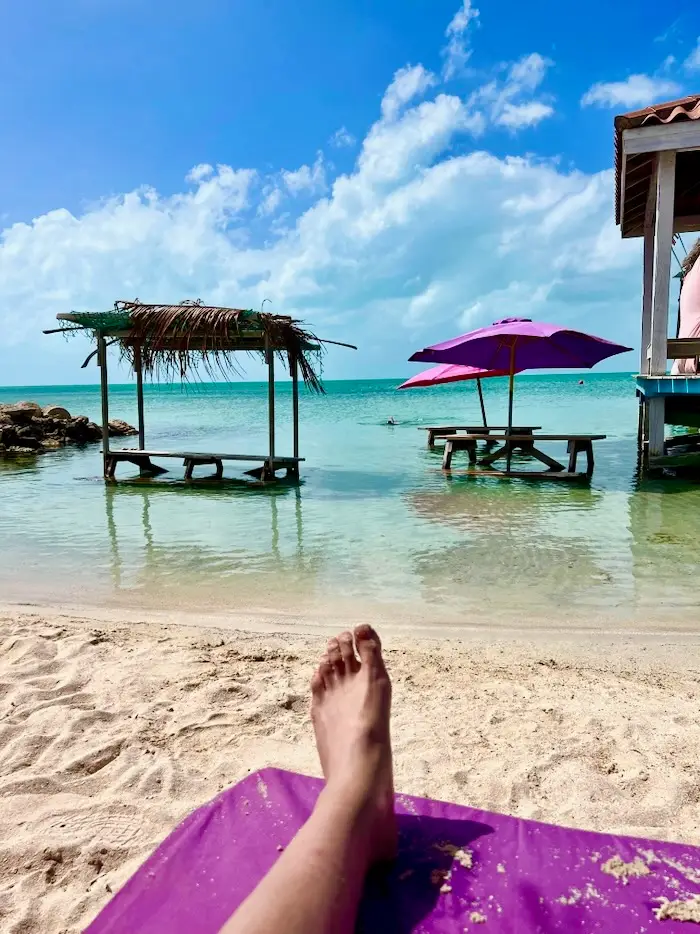 Getting there: Secret Beach is located on the west side of Ambergris Caye, so you'll need to rent a golf cart and spend approximately 30 minutes driving there from San Pedro.
From San Pedro, you can break up the drive to Secret Beach by stopping at the touristy The Truck Stop food area.
Duration: You can easily spend 2 hours to an entire afternoon on Secret Beach. Remember to account for the one hour round-trip drive from San Pedro.
Cost: All beaches in Belize are open to the public, so there's no entrance fee to Secret Beach. You will have to pay to rent beach equipment.
Several places on Secret Beach will allow you to use their beach equipment if you spend a minimum on food and drinks. However, not all places seem to strictly enforce this.
6. Take a day trip to Caye Caulker
Why: Caye Caulker is Belize's #2 island stop and is a quieter, less touristy and cheaper island than Ambergris Caye. Iguana Reef Inn does a marine life feeding every afternoon where you can have sting rays calmly swim up to you. The island also has cheaper, longer snorkeling tours and amazing local food.
My friend did a 6-hour snorkeling tour with Salt Life Eco Tours and highly recommends them. They had great awareness and respect for the environment and knew where to spot marine life.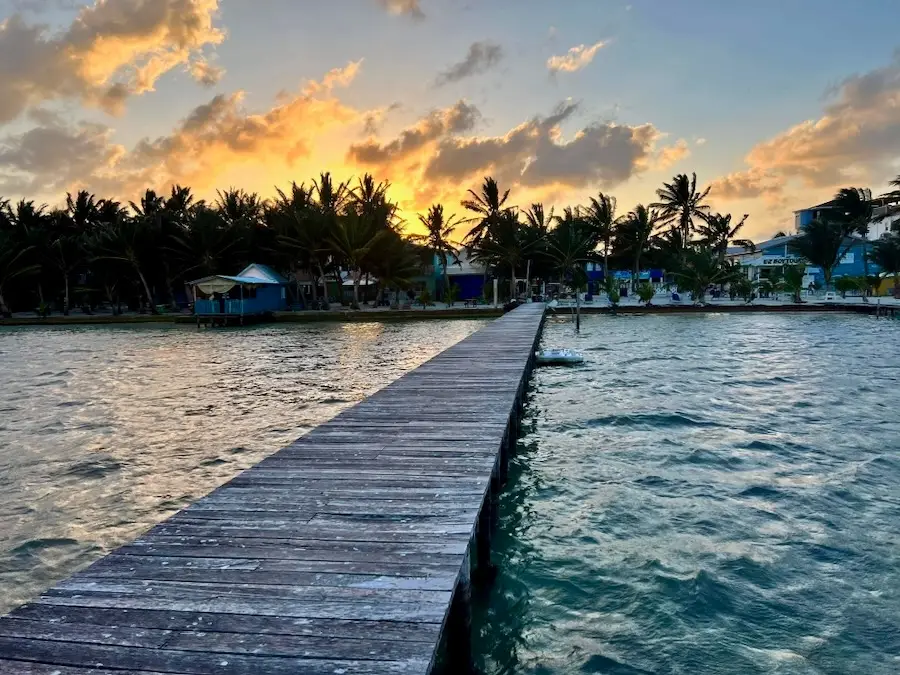 Getting there: Caye Caulker is a 10-minute flight or 45-minute ferry ride from Ambergris Caye. Like Ambergris Caye, Caye Caulker does not allow cars on the island, so you can get around by walking, biking or renting a golf cart.
Duration: Caye Caulker is a small island and you can easily spend a full-day there snorkeling and exploring.
Cost: A boat ride to Caye Caulker from Ambergris Caye ranges from $20-$30 each way. A 6-hour snorkeling tour in Caye Caulker will be a little less than $100 during the high season. Accommodation and food will, on average, be cheaper on Caye Caulker compared to Ambergris Caye.
7. Yoga or relax by the ocean
Why: Doing yoga or meditating by the ocean gives you the option to do a non-water activity after spending all day in the water. Even if you're not a yogi (like me), staring out over the Belize water is very serene.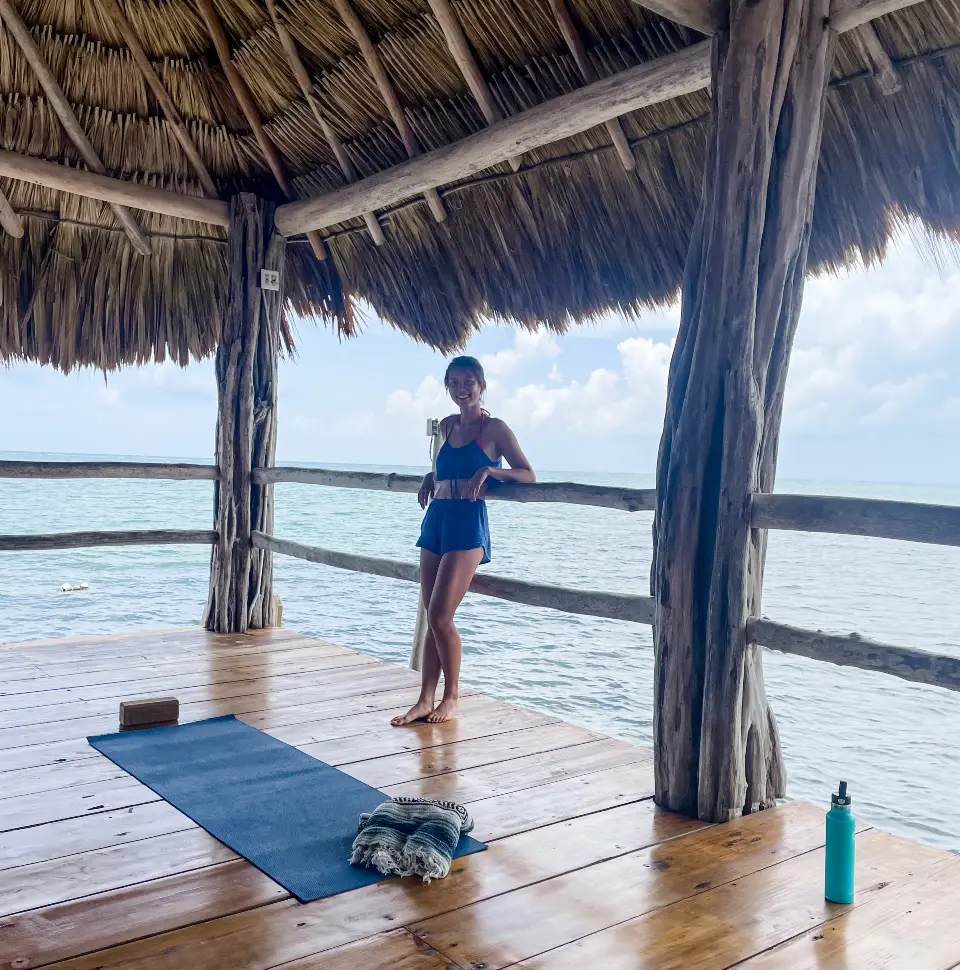 Where to do yoga: There are a few resorts that offer yoga (e.g., Ramon's Village, Las Terrazas Resort, Victoria's House). Their yoga locations vary (e.g., by the beach or the ocean, on sand or not). The one I did was at Ak'bol since they offer walk-in at a time that was convenient for me.
Duration: Most yoga classes are between 1-2 hours long.
Cost: My walk-in yoga was $20 for 1 hour that ran to 1.5 hours.
Other Activities in Ambergris Caye
If you're spending more than 4+ days in Ambergris Caye, here are other activities you can do in no particular order of recommendation:
Catamaran sailing tours, varying from sunset, all-day and fishing-focused tours
Get your scuba diving certification
Night scuba dives
There are several tour operators that will run mainland/jungle tours from Ambergris Caye, but you will have to budget for long transportation times (usually over an hour).
6 Great Things To Do in San Ignacio
A town in the Cayo district, San Ignacio is the #1 stop in mainland Belize and here are 5 great things to do here. I mention other activities further below.
This Google Map has all San Ignacio places mentioned on this list.
1. Hike, swim and climb the ATM cave
Why: The Actun Tunichil Muknal (ATM) is one of the world's top sacred caves (per National Geographic) containing Maya human sacrifices. This is one of the most popular tours in Belize and is the #1 thing I recommend doing.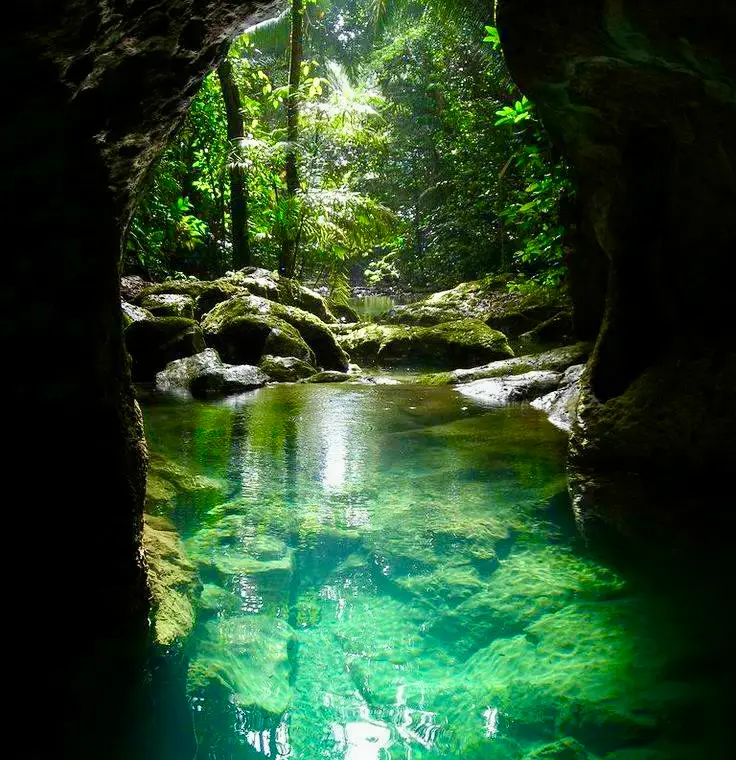 Getting there: A tour guide is required for visiting the ATM Cave. Book a tour via your hotel or a tour operator (I booked this one and recommend them). There are only ~25 licensed guides in Belize and there's a limit on how many people can enter the cave per day. Book in advance if you're visiting during the peak, dry season.
Duration: The ATM cave tour is a full-day tour usually lasting from 8am to 4pm.
Cost: I paid $125 during the off-season.
One of the most challenging things to plan for in Belize is figuring out what to wear for the ATM Cave tour since it involves hiking, swimming, climbing and being inside a cave for a few hours. This ATM cave guide outlines what to wear, pack and expect.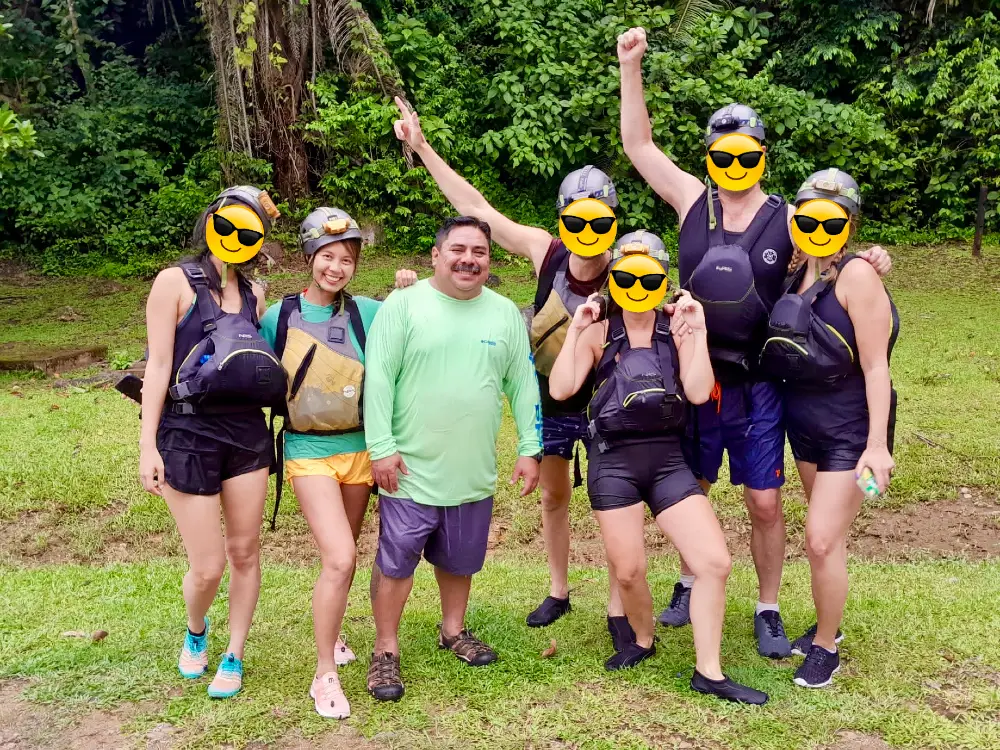 2. Hold a baby iguana at the Green Iguana Conservation Project
Why: Green iguanas are an endangered specie in Belize. The Green Iguana Conservation Project tour gives educational information, offers the Adopt an Iguana program, and raises scholarship funds for local children. It's one of the #1 things to do in San Ignacio per Tripadvisor.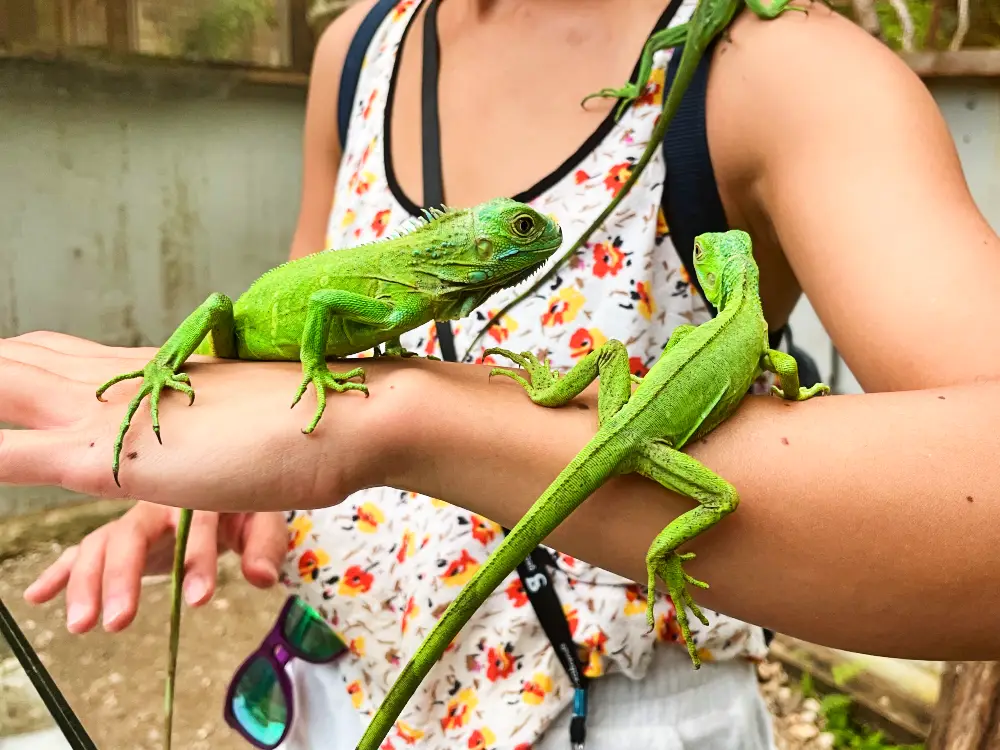 Getting there: The conservation project is located in the San Ignacio Resort hotel in the downtown area and runs daily on the hour. The last tour runs at 4pm.
Duration: The green iguana tour lasts 1 hour.
Cost: The tour costs ~$12 per person.
Call a day ahead to get reservations; they were running out of tour slots even when I visited during the rainy, low travel season.
3. Get a panoramic view on Xunantunich, a Maya ruin
Why: Xunantunich is one of Belize's most well-known Maya ruins. Visiting it means you get to climb up one of Belize's tallest structures for a panoramic view and learn about its mysterious history, which includes a ghost story and the unknown disappearance of its 200,000 inhabitants in 750 AD.
Getting there: You can drive to and visit Xunantunich on your own, or book a tour to learn more about the ruin (I booked this tour). You have to briefly cross a river via a hand-cranked ferry to get there.
One unique way of visiting Xunantunich is by horseback (you ride the horse from San Ignacio to the ruins, and dismount right before entering the site). Here's a thorough guide on visiting Xunantunich by horseback.
Duration: Budget 2-3 hours to visit Xunantunich on your own since it's a 30-minute drive one way. If you book a horseback tour, expect to spend 5-6 hours.
Cost: The entrance fee for Xunantunich is $5 for tourists. A tour can cost from $75-$120.
4. Eat amazing local food
Why: The local food in San Ignacio is delicious and affordable. Staying at your resort or hotel means eating more expensive food that's really not better in my opinion.
Where to eat:
San Ignacio Market has local vendors selling food for $5-$10, fresh produce and gift items and is open until 3pm. My favorite meals were eaten here.
Remember to bring cash and that tips are customary in Belize. This Belize cost breakdown has more information on when cash is needed while traveling.
Martha's Kitchen has a solid Belizean breakfast for $11 and is a cute sit-down place.
Pop's Restaurant is another place for a great Belizean breakfast and other amazing food.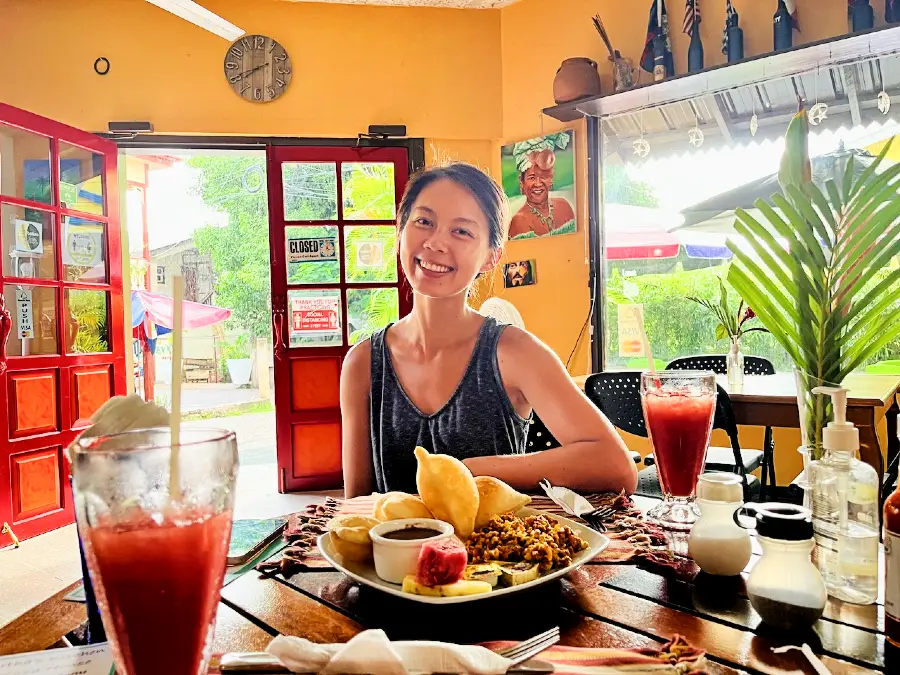 5. Explore Cahal Pech
Why: Cahal Pech is a small Maya ruin within the San Ignacio town. Although Xunantunich is more popular, visitors are more free to wander around and explore Cahal Pech, which makes it more fun for some.
Getting there: Cahal Pech is a 25-minute walk or a 5-minute taxi ride from the center of San Ignacio's town.
Duration: Cahal Pech is small, but you can spend an hour to 90 minutes exploring the ruins.
Cost: Cahal Pech has an entrance fee of $5.
6. Visit the Belize Zoo
Why: The Belize Zoo features animals that are hard to find elsewhere (e.g., tapirs, pumas). Many of them are rehabilitated and rescued.
Getting there: The Belize Zoo is between San Ignacio and Belize City airport, so it's best to visit while en route to or from the airport.
Duration: 1 to 2 hours is a sufficient amount of time to spend at the Belize Zoo.
Cost: The Belize Zoo entrance fee is $15 for adults.
Other Activities in San Ignacio
If you're spending more than 3+ days in San Ignacio, here are other activities you can do in no particular order of recommendation:
Guatemala Tikal Maya ruin, which also allows you to go to Guatemala
Caracol Maya ruin (here's a highly-rated tour), the biggest Maya city in Belize
Barton Creek canoeing tours (here's a well-rated tour), a canoe tour through caves
Mountain Pine Ridge, a forest where you can hike and visit waterfalls
Jungle zip lining over Belize's canopy
Cave tubing
Chocolate farm tours
My Top Belize Recommendations
Ambergris Caye
Favorite Tour: Hol Chan Marine Reserve snorkeling – swimming with nurse sharks is a delight.
Favorite Place to Eat: El Fogon – one of the best ceviches.
San Ignacio
Favorite Day Tour: ATM Cave – it's an incredible, adventurous and unique tour.
Favorite Short Tour: Green Iguana Tour – getting to hold baby iguanas is a highlight.
If you're visiting Belize during the rainy season, which runs from June to November, here's a Belize rainy season packing list.
Where I Stayed In Belize
Where I Stayed In Ambergris Caye
Factors I considered:
Proximity to San Pedro. I wanted to be near San Pedro so I could walk to and eat at local restaurants and be close to some of the snorkeling tour's meeting area.
Not close to the San Pedro airport. I assumed the airport might be loud and bustling.
Where I stayed:
Hotel: I stayed in San Pedro at Blue Tang Inn and paid $56/night/person.
Pros: The rooms had plenty of space and the hotel is located near San Pedro, but in a more secluded corner. They served a simple, but satisfying breakfast every morning. The staff was nice and helped book several tours.
Cons: The curtains didn't block a lot of light, so if you're a light sleeper, it's a good idea to bring a sleeping mask.
Where I Stayed In San Ignacio
Factors I considered:
Amenities. I don't usually put weight on amenities since I plan to spend most of my time outside my accommodations, but since I traveled to Belize during their wet season, I wanted to have amenities in case I was rained out.
Where I stayed:
Hotel: I stayed at Cahal Pech Village Resort and paid $46/night/person.
Pros: The resort is located on a hill and has a very nice view. Almost all rooms have a balcony view.
Cons: The 30-minute hilly walk to the downtown area didn't turn out to be as pleasant as I had hoped (due to the hill, the lack of sidewalks and cat callers), so I wished I had stayed closer to downtown. The pool was constantly full of screaming kids, so the resort never felt like a nice, relaxing getaway.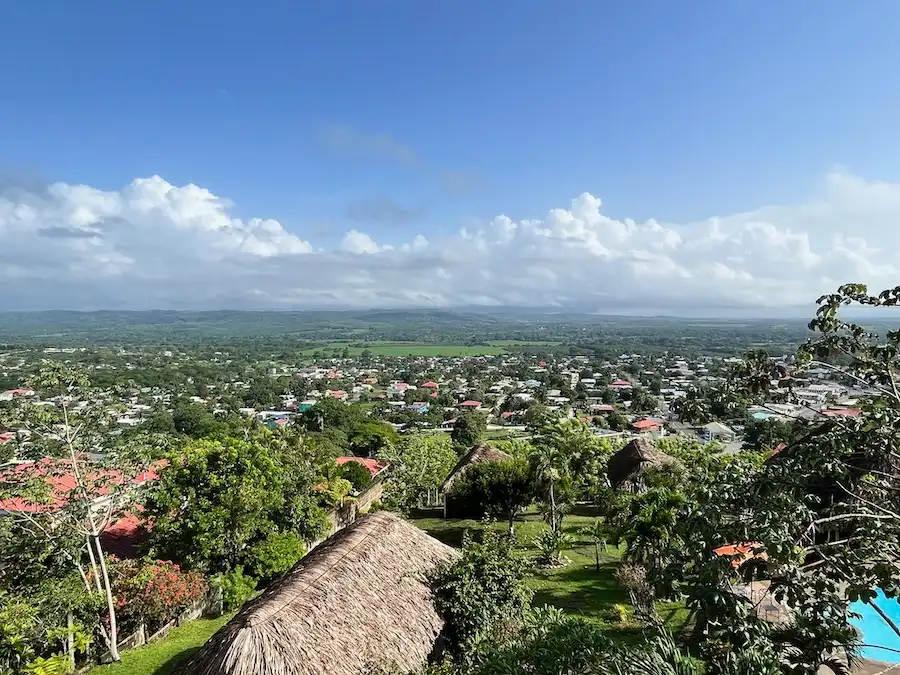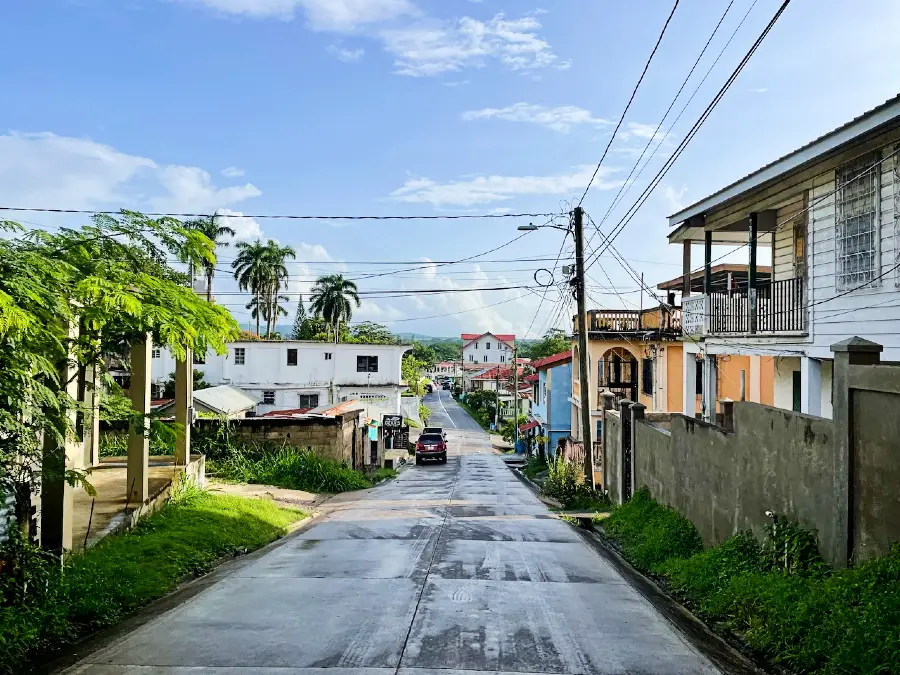 Planning Template for Your Belize Trip
To help make your travel planning easier, you can download my template for free and use it as a starting point. The template has country-specific information shared in this post.
The template is built on Notion, which is what I use for all my travel planning (I'm not paid to say this; I just like the tool). If you don't have Notion, creating an account is free.
If you have any questions or thoughts, feel free to leave them in the comments below!