The only English-speaking country in Central America, Belize is known for its stunning barrier reef, world-famous Great Blue Hole, Maya ruins and the world's first jaguar reserve.
I spent a memorable and adventurous week in Belize and here, I share my practical travel tips on visiting it. This post covers:
🗓️ Optimized 7-day itinerary
📍 Map with key attractions pinned
🚙 How to get around
🏠 Tips on where to stay
Planning a trip to Belize? This Belize guide covers things to know before getting there, including how to get around, tipping etiquette, safety and common scams.
Disclosure: This post may contain affiliate links. If you make a purchase through them, I may earn a small commission, at no extra cost to you. Thanks for your support!
Belize Map With Recommended Places
This Belize map has all the recommended places pinned and organized by itinerary day.
7-Day Itinerary for Belize
Below is a great way to spend a week in the small country of Belize.
About This Itinerary
This one-week Belize itinerary takes you through three destinations covering a mix of jungle, ocean, cave and wildlife experiences.
With seven days in Belize, you have enough time to visit Belize's islands and mainland. If you have less than a week, it's better to choose one area to explore or you might feel rushed trying to explore multiple places.
This one-week itinerary is the improved version of my Belize itinerary. I've included some of my suggested durations to give you an idea of how long you might need for each activity.
Belize Itinerary
The Belize trip planner below has this itinerary prefilled.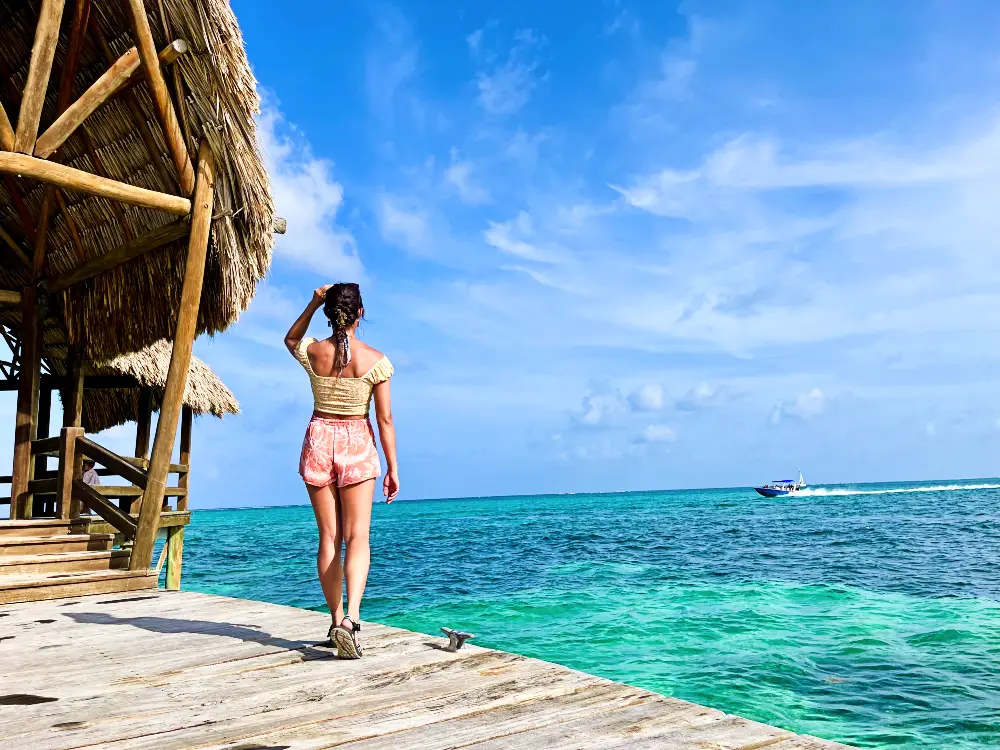 Belize Itinerary Details
This itinerary starts in Belize's most popular island, Ambergris Caye, with a day trip to Caye Caulker, and then takes you to the #1 mainland stop, San Ignacio in the Cayo district.
You can also do this itinerary in reverse (i.e., go to San Ignacio first, then Ambergris Caye and Caye Caulker).
Belize has one international airport, Philip S.W. Goldson International Airport (BZE), located in Belize City. After landing, head east to Ambergris Caye.
How To Get From Belize City to Ambergris Caye
From the Belize City international airport, you can get to Ambergris Caye by either taking a water taxi or booking a short flight with a local airline.
🛥️ Water taxi. Water taxis are the most common way to get to Belize's islands. From Belize City, Ambergris Caye is about a 90-minute boat ride and costs $30 USD per person. This is the most budget-friendly and common transportation option, but it's not ideal if you get motion sickness like me.
🛩️ Local airline. There are two local airlines in Belize, Maya Island Air and Tropic Air, that will take you to Belize's islands. The flight from Belize City to Ambergris Caye will take approximately 20 minutes and costs over $100 USD per person.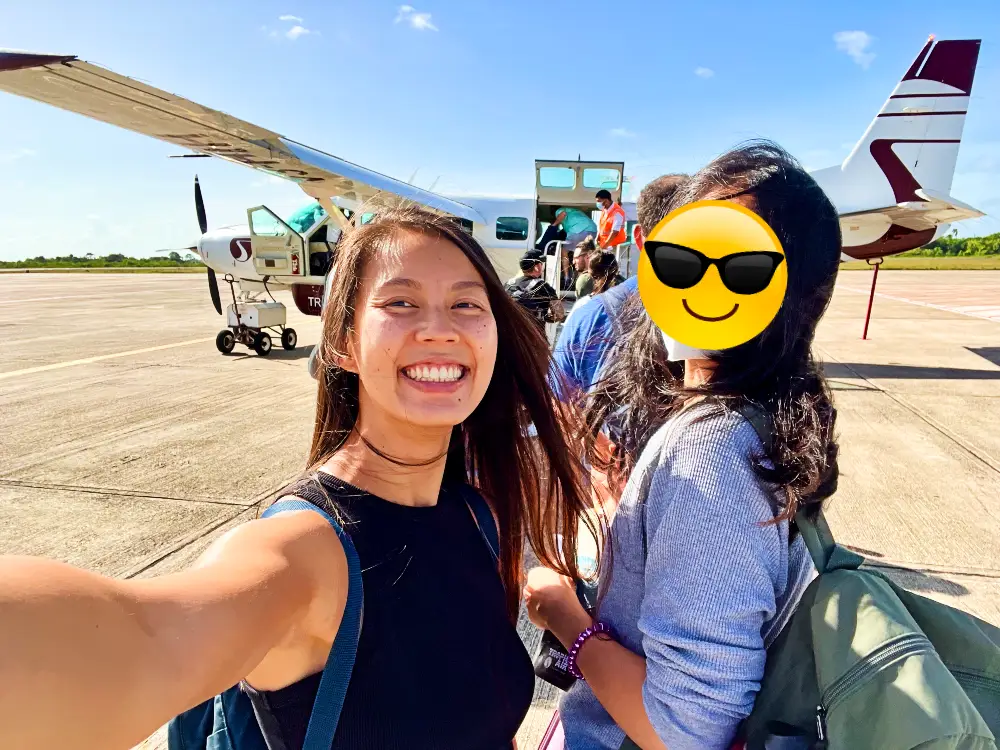 Belize's local, small airlines are not available every day everywhere, so check their flight schedules in advance.
If you book your flight in advance and miss your flight, they will put you on the next available one. They have planes leaving frequently whenever they have enough passengers.
Getting Around Ambergris Caye
Once you get to Ambergris Caye, you can get around by walking or by renting a golf cart.
👟 Walking. The downtown area, San Pedro, is pedestrian-friendly. When walking around San Pedro, avoid walking on Pescador Dr. as there are no sidewalks there. Walk on the main street, Barrier Reef Drive, instead.
🚙 Golf cart. Both Ambergris Caye and the nearby island, Caye Caulker, do not generally have cars, so locals and tourists drive golf carts instead. If you want to explore areas outside of San Pedro, you'll need to rent a golf cart to get around.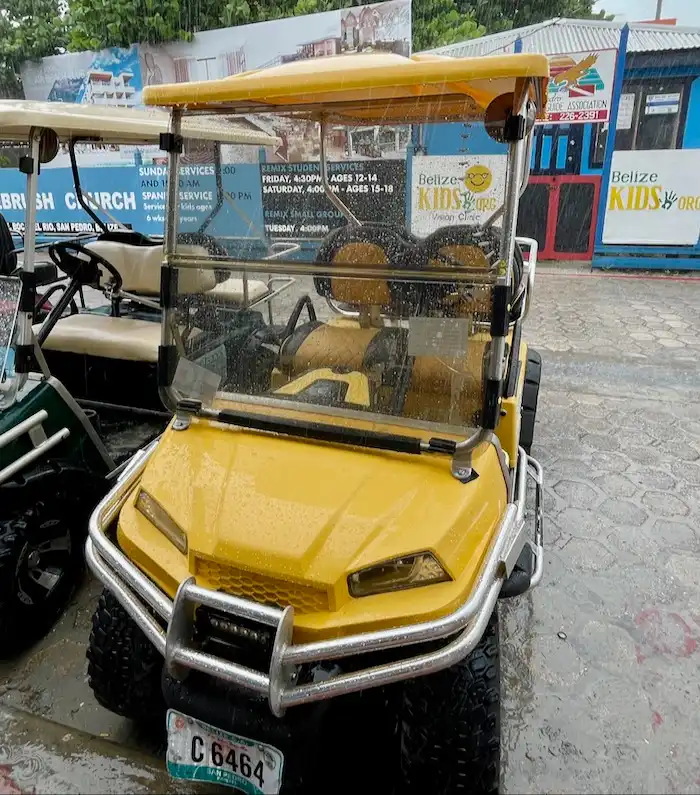 Day 1: San Pedro and Swimming Dock
On your first day, familiarize yourself with the island's downtown area and cool off in the ocean.
Stop #1: San Pedro
Your first stop is San Pedro, Ambergris Caye's downtown area.
🤔 Why: San Pedro is a walkable small town with shops, restaurants, bars, galleries and palm trees. It's also known to have a lively nightlife with live music and beach bars.
San Pedro is one of the main areas in Ambergris Caye as everywhere else on the island is mostly resorts or small one-off shops. You'll also be able to experience the local life more there.
🛍️ What to visit: San Pedro has a few places that are worth checking out.
Local restaurants. Elvi's Kitchen is a nice sit-down establishment that serves an amazing grilled octopus. El Fogon Restaurant serves one of the best ceviches I've ever eaten. DandE's makes homemade ice cream with a wide variety of flavors. Hungry Grouper serves all kinds of delicious fish and sometimes plays live music.
Some restaurants will also have art for sale. I bought my three-piece art at Elvi's Kitchen, which partners with San Pedro Originals Art Gallery.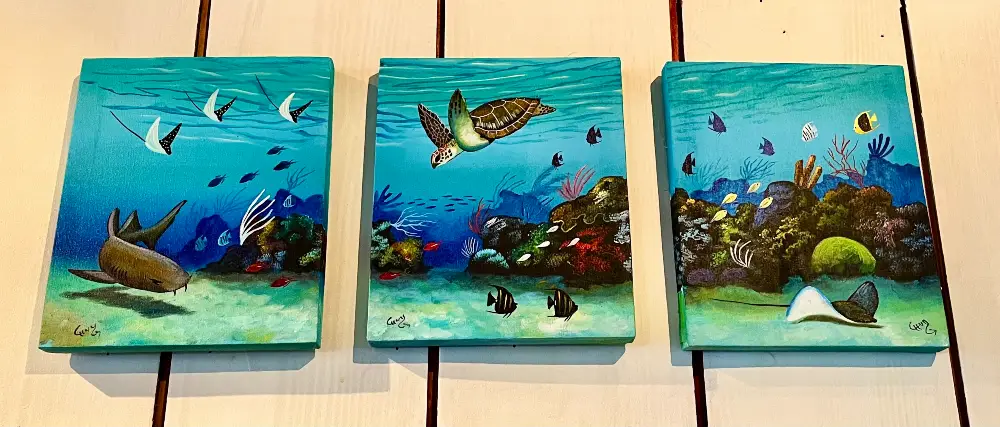 Miscellaneous shops. If you walk around, you'll be able to find a variety of other arts and crafts, souvenir and dessert shops. For example, Belize Chocolate Company has great chocolate chip cookies and offers chocolate-making classes.
The park. San Pedro's Central Park will host local events and have food stalls on Friday nights. The pork rib hot dog I got here was amazingly juicy.
⏰ Suggested duration: You can spend a half day exploring San Pedro. I walked around the area almost every day for a few hours, mostly looking for local restaurants to eat at.
🍀 My take: It's easy to never really explore San Pedro if you're staying at a resort further north or south of the downtown area, which means that you miss out on the local life and much better food in my opinion.
Stop #2: Belize's Swimming Dock
After you're done exploring San Pedro, cool off at a swimming dock.
🤔 Why: Belize's islands are not known for sweeping white sand beaches. Instead, Ambergris Caye is a great place to enter the ocean through swimming docks and you'll see locals and tourists jumping in from them.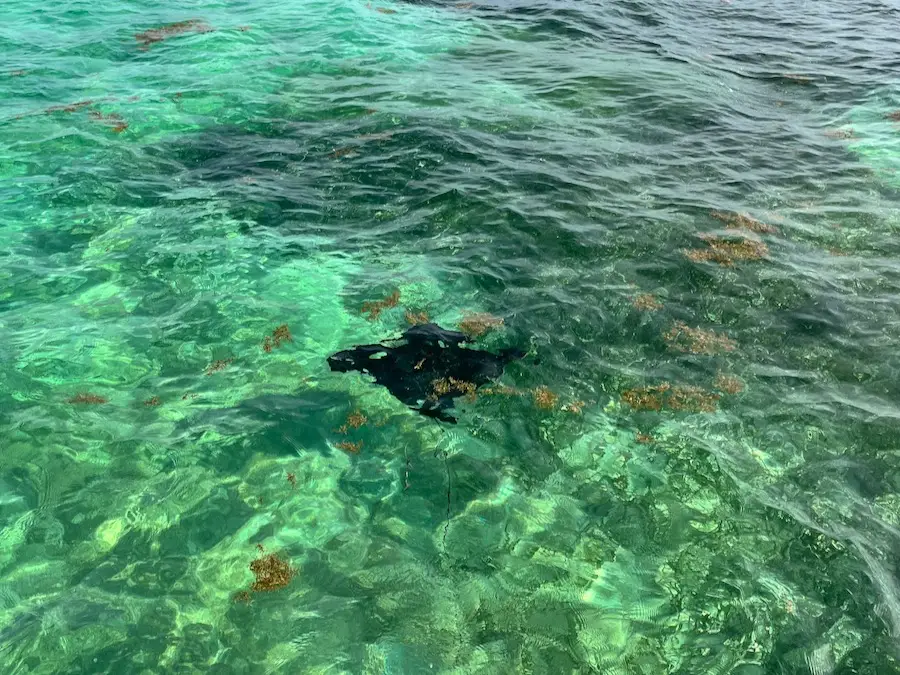 🏊‍♀️ Where to go: There are several docks around Ambergris Caye. Here are the two docks that I visited and can recommend:
Ramon's Village is a popular dock for both locals and tourists. I saw stingrays swim by both times I visited; they didn't bother anyone as they generally stayed close to the ocean floor and most people are a few feet above them.
Matachica Resort is a dock further north, but within driving distance by a golf cart if you're staying in San Pedro. It has a more luxurious feel than Ramon's Village, but the latter has a better area for swimming in my opinion.
⏰ Suggested duration: You can usually spend one to two hours hanging out by a swimming dock.
💰 Expected cost: Ambergris Caye's swimming docks do not have entrance fees, so they're free. However, you will have to pay to rent equipment, towels or chairs if you want to use those things.
All beaches in Belize are open to the public, so you can visit docks at places you're not staying at. You just can't use the hotel's equipment if you're not a guest there, so make sure to bring towels, gear, etc. I didn't rent anything and just brought my lightweight quick-dry towel with me.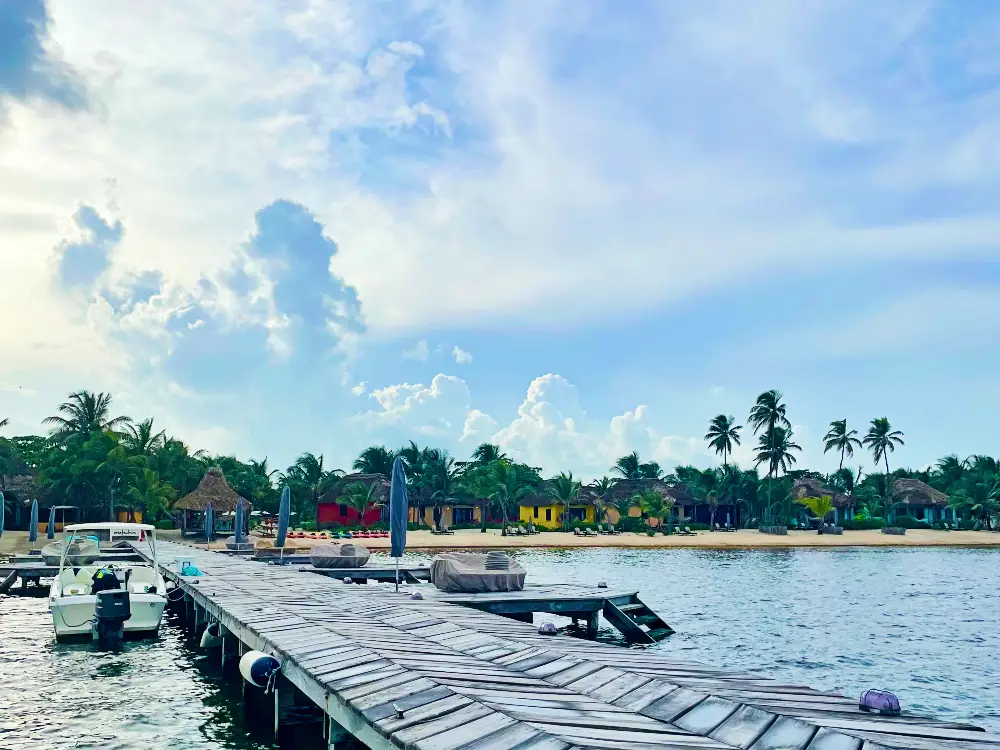 🍀 My take: Jumping into the ocean from a swimming dock is the best way to get into the ocean in Ambergris Caye. The beach areas are nowhere near as nice as the sand is not that great and some areas are covered in seaweed. You also have a higher chance of seeing marine animals from the swimming docks than near the beach.
Stop #3: Dinner in San Pedro
Once you're done enjoying the ocean, head back to the downtown area for dinner and wrap up your first day. See above for some of the local restaurants I recommend.
Day 2: Belize Barrier Reef and Secret Beach
On your second day in Ambergris Caye, snorkel in the world's second largest barrier reef and check out one of the island's better beaches.
Stop #1: Hol Chan Reserve and Shark Ray Alley
Start your second morning with a snorkel tour of a UNESCO World Heritage Site, the Belize Barrer Reef.
🤔 Why: The Hol Chan Marine Reserve, which is part of the Belize Barrier Reef, is a top, well-known snorkeling site. You'll be able to see plenty of tropical fish, stingrays, sea turtles and nurse sharks which are harmless to humans if not bothered.
Although the dry season is the best time to visit Belize, I visited during the rainy season and was able to clearly see the colorful marine wildlife during my snorkeling tour.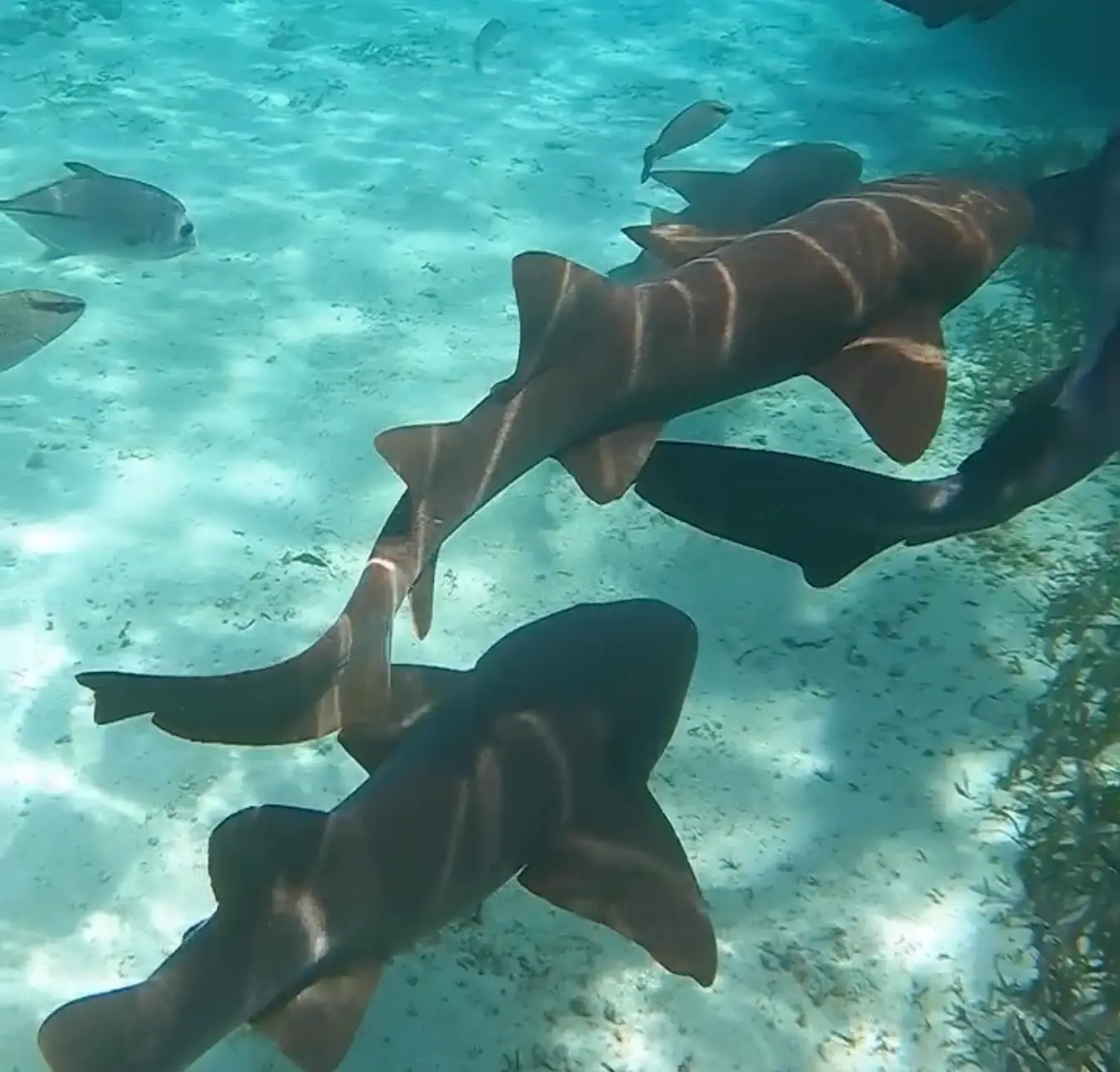 🛥️ Getting there: Since the reef is a protected area, you're required to book a tour to snorkel or scuba dive there. Many tours will visit both sites, like this highly-rated Hol Chan Marine Reserve tour that also includes a stop at Caye Caulker as well.
I asked my hotel to book a Hol Chan Reserve tour on my behalf since it looked like a lot of tour operators provided similar experiences. Tour operators will provide snorkel gear and transport you to the snorkeling sites by boat, which takes about 12 minutes.
Remember to wear reef-safe sunscreen when snorkeling in the Belize Barrier Reef. I tried several reef-safe sunscreens and recommend this travel-sized mineral sunscreen, which I find easier to apply than others.
⏰ Suggested duration: Most Hol Chan Reserve snorkeling tours will last half a day for approximately four to five hours.
💰 Expected cost: You can expect to pay $90+ USD during peak season and $60+ USD during the low season for a Hol Chan Reserve snorkeling tour. I paid $65 USD during the low season for a four-hour tour.
🍀 My take: This is one of the best things you can do in Belize. I've snorkeled in several places around the world and Hol Chan Marine Reserve was one of the most accessible and fish-filled experiences I've had. Also, swimming with nurse sharks was an incredible experience.
Stop #2: Truck Stop and Secret Beach
After snorkeling, rent a golf cart to drive to one of the island's better beaches.
🤔 Why: Although Ambergris Caye is not necessarily known for sweeping, white beaches, Secret Beach is one of the few beaches you can visit. It has clear water, nice sand and a more typical beach vibe with beach chairs, picnic tables in the water, umbrellas, food stalls and massage spas.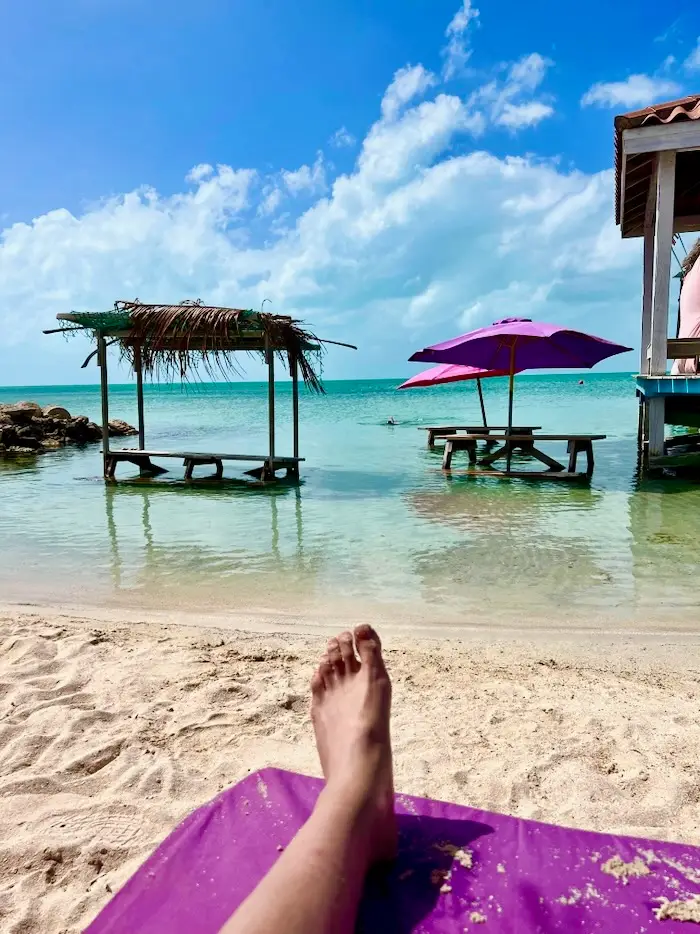 🚗 Getting there: Secret Beach is located on the west side of Ambergris Caye, so you'll need to rent a golf cart and spend approximately 30 minutes driving there from San Pedro.
From San Pedro, you can break up the drive to Secret Beach by stopping at the tourist-friendly The Truck Stop for lunch.
⏰ Suggested duration: You can spend two hours to an entire afternoon at Secret Beach. Remember to account for the one-hour round-trip drive from San Pedro.
💰 Expected cost: All beaches in Belize are open to the public, so there's no entrance fee to Secret Beach. You will have to pay to rent beach equipment.
Several places on Secret Beach will allow you to use their beach equipment if you spend a minimum on food and drinks. However, not all places seem to strictly enforce this.
🍀 My take: If you're hoping for a more "beach vibe" type of afternoon, Secret Beach is your best bet on Ambergris Caye.
Day 3: Great Blue Hole and Caye Caulker
On the third day, visit the famous sinkhole or a nearby island for a change of scenery.
Stop #1: The Great Blue Hole
🤔 Why: The Blue Hole is a marine sinkhole and one of Belize's most iconic attractions.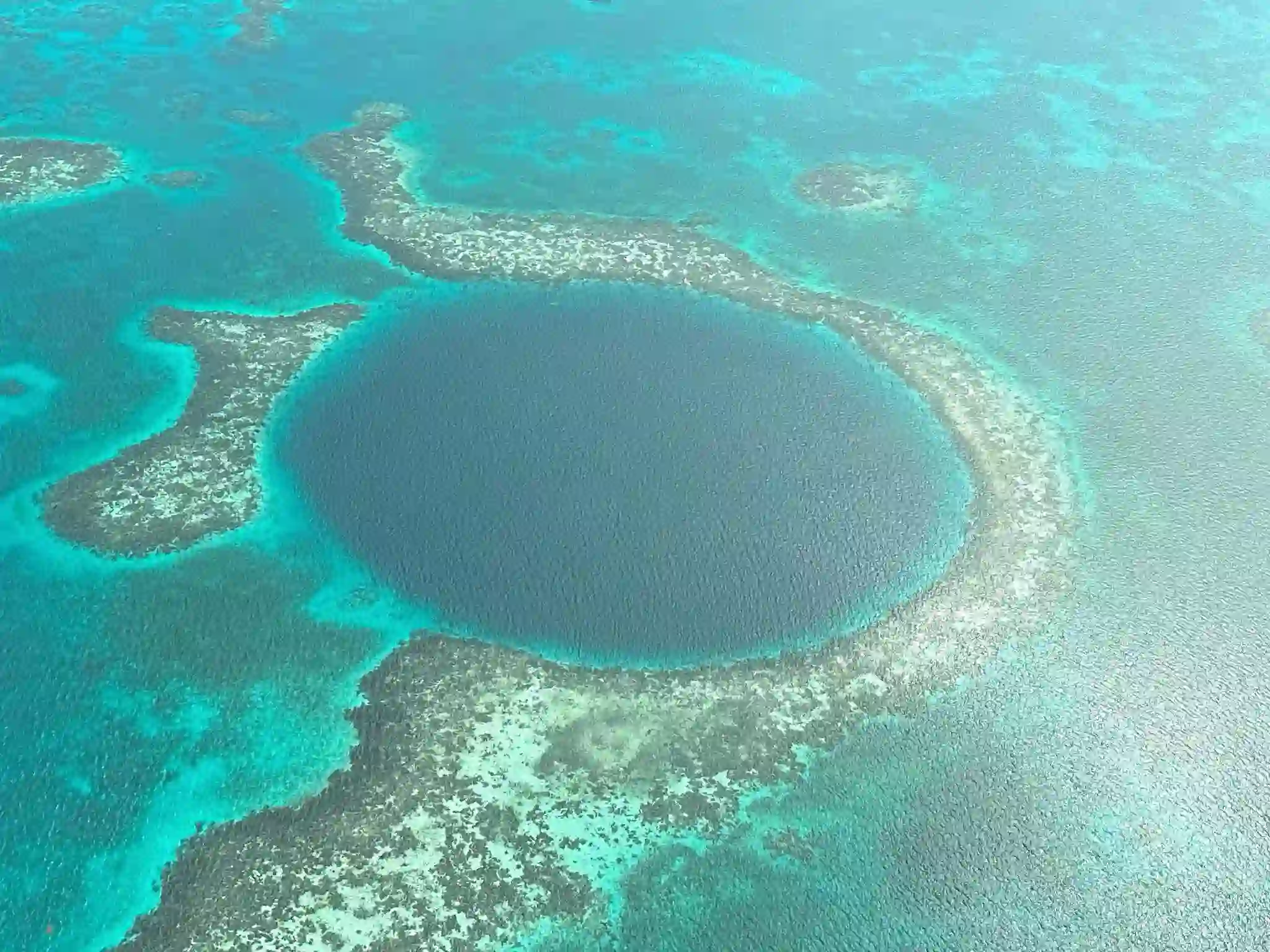 🤿 Getting there: The Great Blue Hole is ~50 miles from Ambergris Caye and you can visit it by either taking a helicopter or a scuba dive/snorkel tour.
Snorkel and scuba tour. Many full-day snorkel/scuba tours will make three stops and one of them is usually the Great Blue Hole.
Helicopter flyover tour. Several companies offer the Great Blue Hole flyover tour. Some offer a standard tour that usually includes 8-10 people and others offer a private charter helicopter tour.
⏰ Suggested duration: Snorkeling/scuba diving the Blue Hole is usually a full-day tour that starts early in the morning (5:30 am to 6:30 am). Taking a standard helicopter tour usually takes about an hour or two.
💰 Expected cost: The snorkeling/scuba diving tours are usually $250 USD per person. The helicopter tours are usually $100 USD or more per person.
🍀 My take: Visiting the Great Blue Hole is an iconic thing to do in Belize. I didn't do it because it wasn't personally worth it. I heard that the snorkeling in the Blue Hole isn't remarkable and I get motion sick on helicopters, but my friend who did the helicopter tour said it was breathtaking.
Stop #2: Caye Caulker Day Trip
After the Great Blue Hole, visit Belize's second most popular island. If you want to skip the sinkhole, you can also spend a full day in Caye Caulker instead.
🤔 Why: Caye Caulker is a quieter, less touristy and cheaper island than Ambergris Caye. Iguana Reef Inn does a marine life feeding every afternoon where you can have sting rays calmly swim up to you. The island also has cheaper, longer snorkeling tours and amazing local food.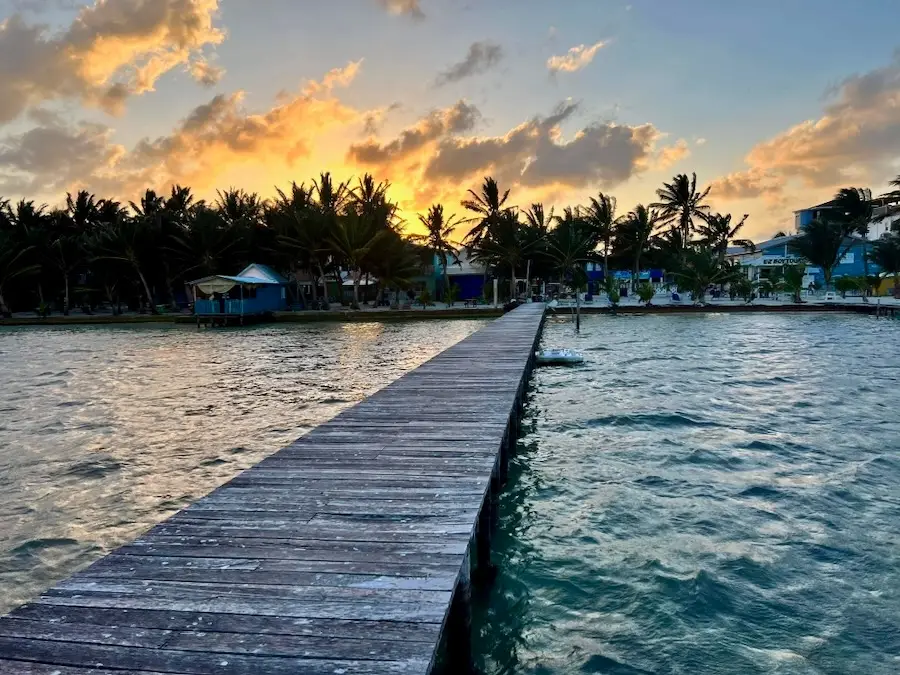 🛥️ Getting there: Caye Caulker is a 10-minute flight or 45-minute ferry ride from Ambergris Caye.
Taking a tour: My friend did a six-hour snorkeling tour with Salt Life Eco Tours and highly recommends them. They had great awareness and respect for the environment and knew where to spot marine life.
Taking the ferry: There are several ferry companies that operate a water taxi between the two islands. The ferry terminal is located on the east side of Ambergris Caye in San Pedro.
Like Ambergris Caye, Caye Caulker does not allow cars on the island, so you can get around by walking, biking or renting a golf cart.
⏰ Suggested duration: Caye Caulker is a small island where you can spend a full day there snorkeling and exploring.
💰 Expected cost: A boat ride to Caye Caulker from Ambergris Caye ranges from $20 to $30 USD each way. A six-hour snorkeling tour in Caye Caulker will be a little less than $100 USD during the high season. Accommodation and food will, on average, be cheaper on Caye Caulker compared to Ambergris Caye.
🍀 My take: Given how close Caye Caulker is and how different its atmosphere is from Ambergris Caye, it's worth making a day trip out there to see a different island.
Day 4: Head to San Ignacio
On the fourth day, enjoy a last morning on the island before heading to the mainland for the market and to hold and learn about green iguanas.
Stop #1: Yoga By The Ocean
Have a relaxing morning by the ocean before heading to the mainland. You can do a walk-in morning yoga class if you want an activity.
🤔 Why: Doing yoga or meditating by the ocean gives you the option to do a non-water activity after spending several days in the water. Even if you're not a yogi (I'm not one), staring out over the Belize water while going through yoga poses is very serene.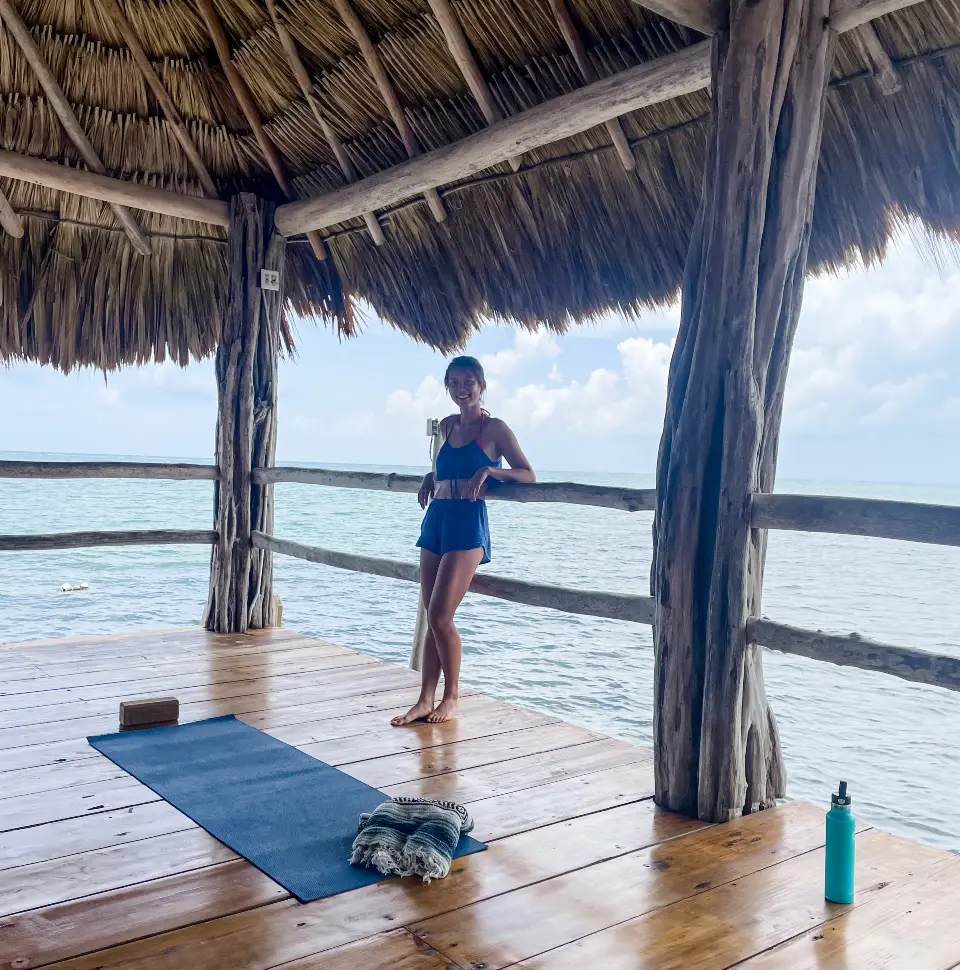 🧘‍♀️ Where to go: There are a few resorts that offer yoga (e.g., Ramon's Village, Las Terrazas Resort, Victoria's House). Their yoga locations vary (e.g., by the beach or the ocean, on sand or not). The one I did was at Ak'bol since they offer walk-in at a time that was convenient for me.
⏰ Suggested duration: Most yoga classes are between one to two hours long.
💰 Expected cost: My walk-in yoga was $20 USD for an hour, but it ran to an hour and a half.
🍀 My take: As mentioned above, yoga by the water is a great way to take a break from all the water-based activities in Ambergris Caye.
Stop #2: Get To San Ignacio
In the late morning, make your way to Belize's mainland destination, San Ignacio. You can do this by taking a local flight or taking a water taxi and then a shuttle.
✈️ Local airline. San Ignacio has a tiny airport, Maya Flats Airstrip (CYD), so you can take a small plane from Ambergris Caye directly to San Ignacio (and vice versa). This is the best way to save a significant amount of transportation time. The flight takes about 45 minutes and costs $200+ USD.
There are no taxis waiting around the tiny airport, so ask your hotel to call one in advance if you don't want to wait. I had the airport attendee call one when I arrived and I had to wait 20 minutes for it.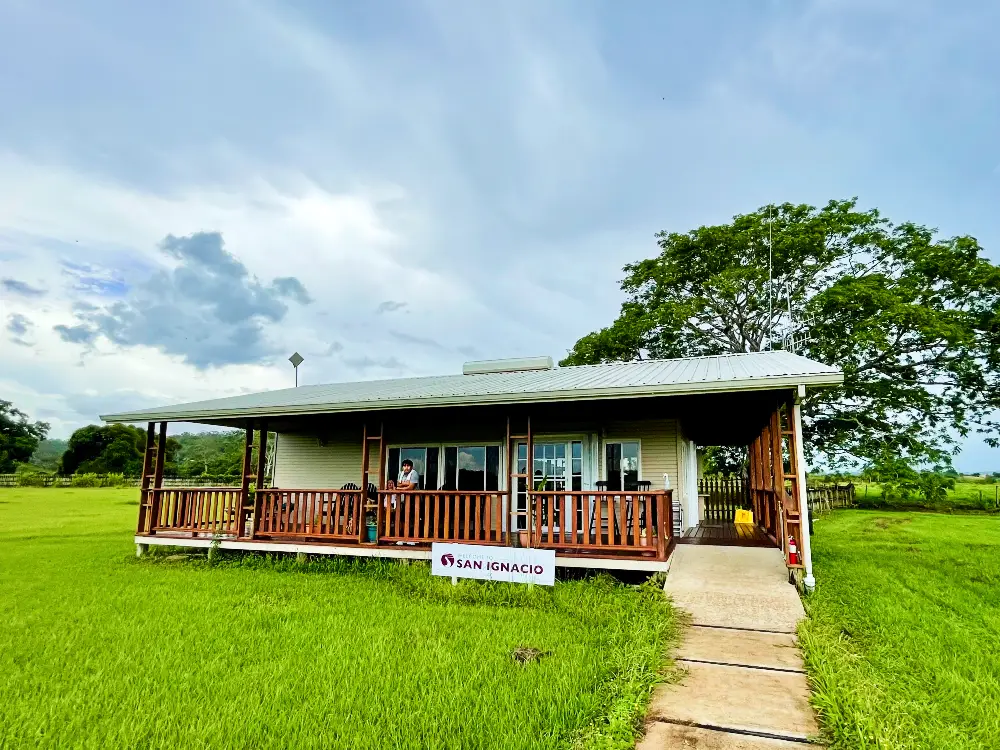 🚐 Water taxi and shared shuttle. After taking a water taxi from the island to Belize City, booking a shared shuttle is the most cost-efficient method to get to San Ignacio from Belize City. A private shuttle will be more convenient, but significantly more expensive. I took a shared shuttle from San Ignacio to the airport and it cost $56 USD per person for four people.
Belize does not have ridesharing services like Uber or Lyft. The country's only public transportation is the local bus.
Getting Around San Ignacio
While in the town of San Ignacio, you can get around in four ways: by walking, calling taxis, relying on tour transportation or renting a car.
👟 Walking. The downtown area of San Ignacio is small and walkable, but most of the resorts and hostels are further away on a hill.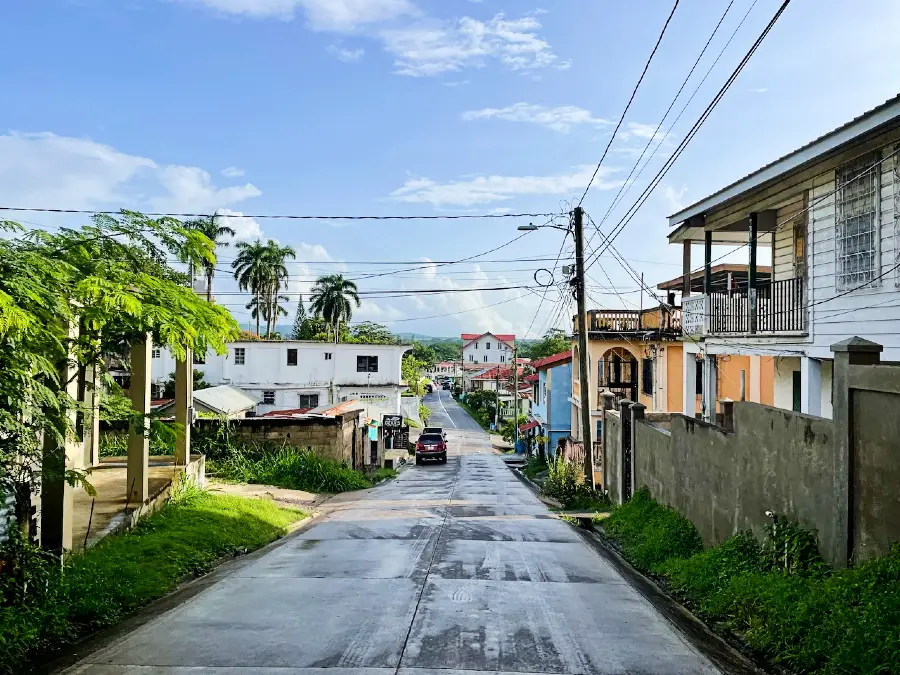 🚕 Taxis. Taxis in Belize look like ordinary cars, but have a green license plate. Taxis in San Ignacio have a flat rate per person. When I visited, the flat rate was $2.50 USD.
The quality of the taxis can vary in San Ignacio (e.g., I rode a taxi that didn't have any seat belts). If you find a taxi driver that you like, you can ask for their number and arrange rides through WhatsApp moving forward.
🚐 Tour transportations. Almost all tour packages in Belize will include transportation to and from your hotel and the tour's destination.
🚗 Rental car. To rent a car in Belize, your United States license is sufficient (you won't need an International Driver's License). Note that many cars in Belize are fairly old and will not be in great shape.
Stop #3: San Ignacio Market
Upon arriving in San Ignacio, head to the local market before they close.
🤔 Why: The local food in San Ignacio is delicious and extremely affordable. San Ignacio Market has local vendors selling food for $5 to $10 USD, fresh produce and gift items and is open until 3 pm.
⏰ Suggested duration: The San Ignacio Market is small enough that you only need an hour or less there, especially on the weekdays.
Remember to bring cash and that tips are customary in Belize. This Belize cost breakdown has more information on when cash is needed while traveling.
🍀 My take: My favorite meals in Belize were eaten at this market, so I highly recommend stopping by at least once.
Stop #4: The Green Iguana Conservation Project
After lunch, head to see some green iguanas before they close.
🤔 Why: Green iguanas are an endangered specie in Belize. The Green Iguana Conservation Project tour gives educational information, offers the Adopt an Iguana program, and raises scholarship funds for local children. It's one of the #1 things to do in San Ignacio per Tripadvisor.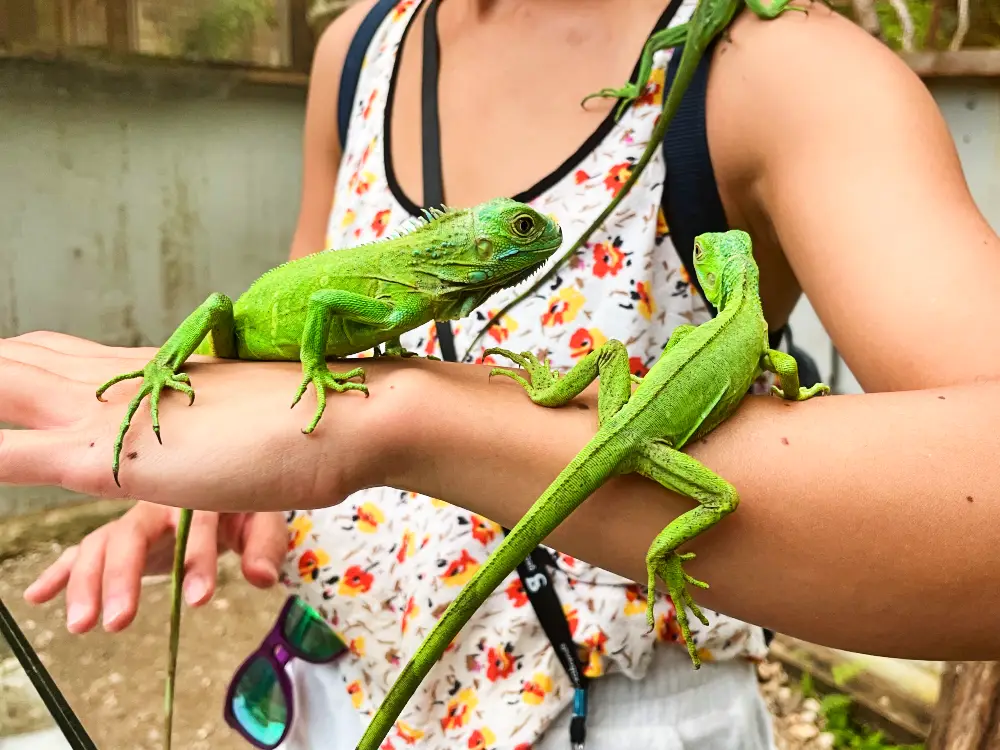 👟 Getting there: The conservation project is located in the San Ignacio Resort hotel in the downtown area and runs daily on the hour. The last tour runs at 4 pm.
⏰ Suggested duration: The green iguana tour lasts exactly one hour.
💰 Expected cost: The green iguana tour costs ~$12 USD per person.
Call a day ahead to get reservations; they were running out of tour slots even when I visited during the rainy, low travel season.
🍀 My take: This is a fun, educational tour that doesn't require a lot of commitment. This was also the first time I've held iguanas and I was pleasantly surprised by how adorable and easy it was to hold them.
Stop #5: Dinner in Downtown San Ignacio
Spend the rest of the night relaxing and exploring the downtown area before an adventurous tour the next day.
🤔 Why: The San Ignacio downtown area features shops and restaurants. When I visited, live music and street vendors were set up during one weekend evening. Some of the best restaurants are:
Martha's Kitchen, which has a solid Belizean breakfast for $11 USD and is a cute sit-down place.
Pop's Restaurant, which is another great place for a Belizean breakfast and other amazing food.
Fry jacks, deep-fried dough pieces, are a traditional food that is included in Belizean breakfasts and they're delicious.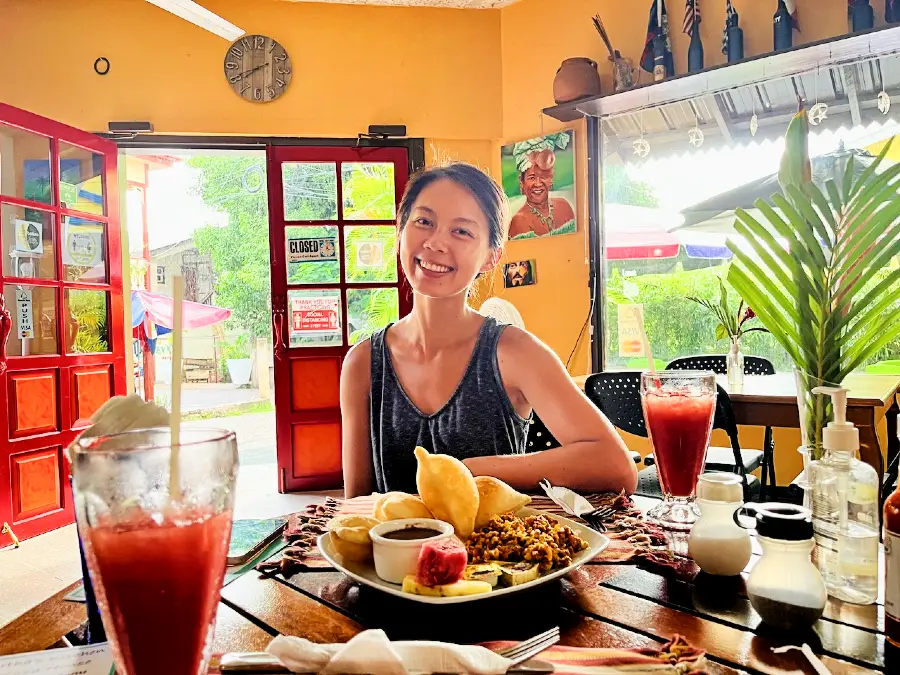 🍀 My take: The food in the downtown area of San Ignacio is much better and cheaper than the food you'll find at your hotel or resort.
Day 5: ATM Cave
On your fifth day in Belize, have breakfast in the early morning before heading out on an all-day adventurous tour.
All-Day Stop: Hike, swim and climb the ATM cave
🤔 Why: One of the most popular things to do in Belize, the Actun Tunichil Muknal (ATM) is one of the world's top sacred caves (per National Geographic) containing Maya human sacrifices. Exploring the cave requires a short hike, and some swimming and climbing.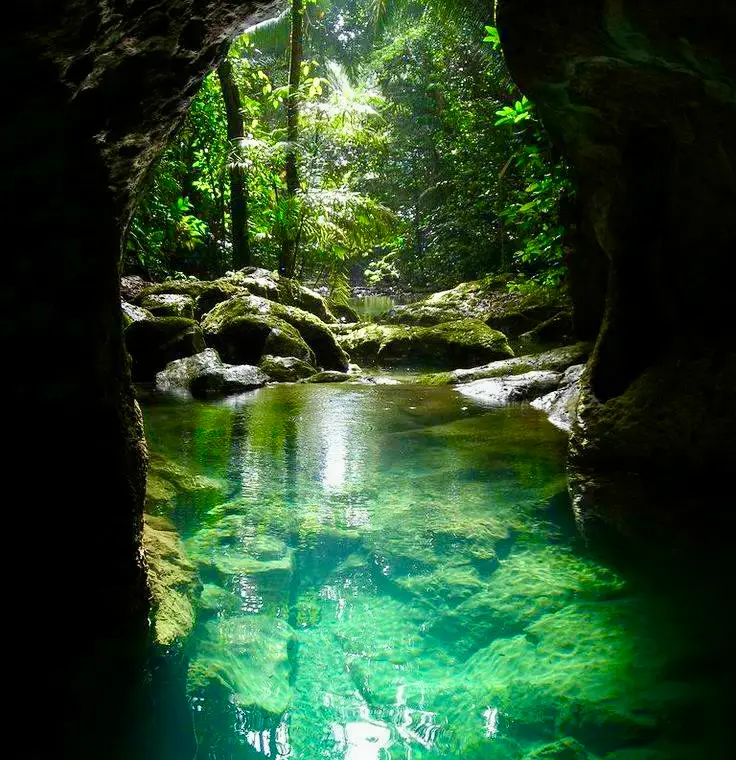 🚐 Getting there: A tour guide is required for visiting the ATM Cave. Book a tour through your hotel or a tour operator (I booked with Maya Walks and recommend them).
There are only ~25 licensed guides in Belize and there's a limit on how many people can enter the cave per day. Book in advance if you're visiting during the peak, dry season.
⏰ Duration: The ATM cave tour is a full-day tour usually lasting from 8 am to 4 pm.
💰 Expected cost: You can expect to pay $90+ USD for the ATM cave tour. I paid $125 USD for the ATM cave tour during the off-season.
One of the most challenging things to plan for in Belize is figuring out what to wear for the ATM Cave tour since it involves hiking, swimming, climbing and being inside a cave for a few hours. This ATM cave guide outlines what to wear, pack and expect.
🍀 My take: The ATM cave was one of my trip's highlights. I highly recommend it to anyone looking for an adventurous experience.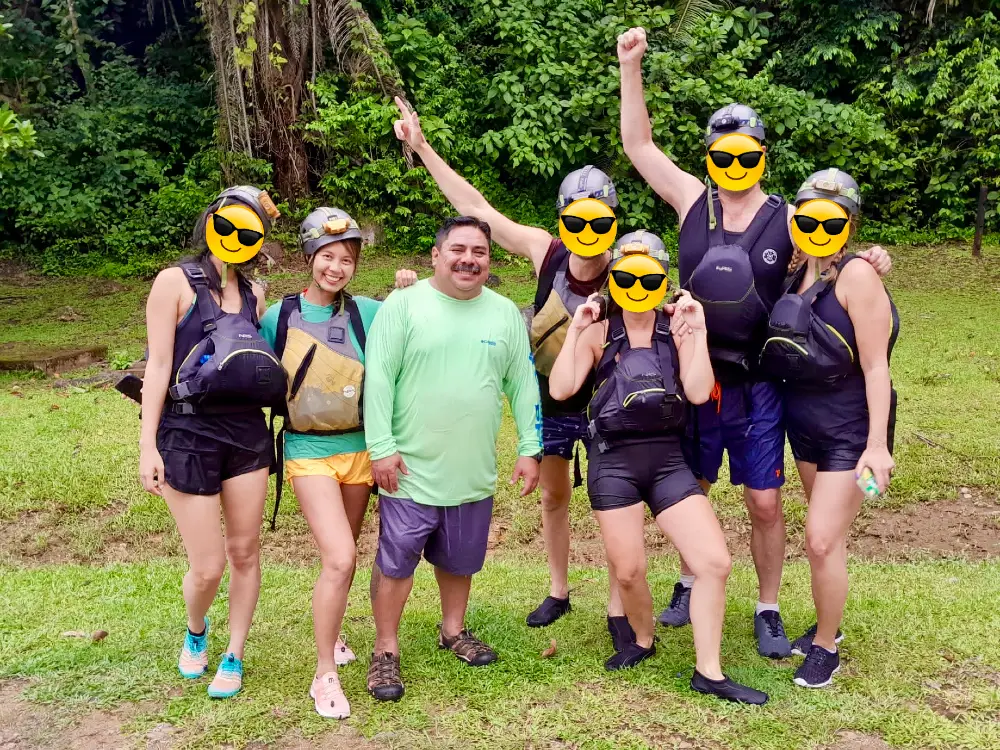 After the ATM Cave tour, you'll likely be tired, so spend the rest of your day relaxing near the ocean or by a swimming pool.
Day 6: Maya Ruins
On your second to last day in Belize, visit some of the country's biggest attractions: Maya ruins.
Stop #1: Xunantunich
Start your morning with a visit to one of Belize's most well-known Maya ruins.
🤔 Why: Visting Xunantunich means you get to climb up one of Belize's tallest structures for a panoramic view and learn about its mysterious history, which includes a ghost story and the unknown disappearance of its 200,000 inhabitants in 750 AD.
🚗 Getting there: You can drive to and visit Xunantunich on your own, or book a tour to learn more about the ruin (I booked this tour with MayaWalks). You have to briefly cross a river via a hand-cranked ferry to get there.
One unique way of visiting Xunantunich is by horseback. You ride the horse from San Ignacio to the ruins and dismount right before entering the site. Here's a thorough guide on visiting Xunantunich by horseback.
⏰ Suggested duration: Budget two to three hours to visit Xunantunich on your own since it's a 30-minute drive one way. If you book a horseback tour, expect to spend five to six hours.
💰 Expected cost: The entrance fee for Xunantunich is $5 USD for tourists. A tour can cost from $75 to $120 USD.
🍀 My take: Xunantunich is one of the most impressive Maya ruins that's also easily accessible from San Ignacio. I wouldn't call this ruins a must-visit, but climbing it and seeing Guatemala's border from the top was pretty cool. You might also get lucky and see some howler monkeys there.
Stop #2: Cahal Pech
After visiting Xunantunich and getting some lunch, head over to a smaller, nearby archaeological site.
🤔 Why: Cahal Pech is a small Maya ruin within the town of San Ignacio. Although Xunantunich is more popular, visitors are freer to wander and explore Cahal Pech, which makes it more fun for some.
👟 Getting there: Cahal Pech is a 25-minute walk or a 5-minute taxi ride from the center of San Ignacio's town.
⏰ Suggested duration: Cahal Pech is small, but you can spend an hour to 90 minutes exploring the ruins.
💰 Expected cost: Cahal Pech has an entrance fee of $5 USD.
🍀 My take: Given its size, Cahal Pech is not a must-visit, but it's very close to San Ignacio, so if you have an hour to kill, this is a great way to spend it.
Day 7: Belize Zoo and Depart
On your last day, stop by the zoo before heading out of Belize.
Stop #1: The Belize Zoo
While on your way to the airport from San Ignacio, make a stop at the zoo.
🤔 Why: The Belize Zoo features animals that are hard to find elsewhere (e.g., tapirs, pumas). Many of them are rehabilitated and rescued.
🚗 Getting there: The Belize Zoo is between San Ignacio and Belize City airport, so it's best to visit while en route to or from the airport.
⏰ Suggested duration: One to two hours is sufficient time to spend at the Belize Zoo.
💰 Expected cost: The Belize Zoo entrance fee is $15 USD for adults.
🍀 My take: I wasn't able to make it to the Belize Zoo like I wanted to, but I've heard great things about it and wished I had prioritized it more.
Stop #2: Belize City International Airport
After the Belize Zoo, take a 40-minute shuttle or taxi to the international airport to head home.
Other Activities in San Ignacio
If you're spending more than three days in San Ignacio, here are other activities you can do in no particular order of recommendation:
Guatemala Tikal Maya ruin, which also allows you to go to Guatemala
Caracol Maya ruin (here's a highly-rated tour), the biggest Maya city in Belize
Barton Creek canoeing tours (here's a well-rated tour), a canoe tour through caves
Mountain Pine Ridge, a forest where you can hike and visit waterfalls
Jungle zip-lining over Belize's canopy
Cave tubing
Chocolate farm tours
Accommodations in Belize
Here's what to consider when choosing where to stay in Ambergris Caye and San Ignacio and where I ended up staying.
Ambergris Caye Accommodation
🏠 What To Consider
When choosing accommodation in Ambergris Caye, here are two things to consider:
Proximity to San Pedro. I wanted to be near San Pedro so I could walk to and eat at local restaurants and be close to some of the snorkeling tour's meeting areas.
Not close to the San Pedro airport. There's a chance the airport might be loud and bustling.
🏠 Where I Stayed
I stayed in San Pedro at Blue Tang Inn and paid $56 USD per person per night. My honest thoughts on this hotel are:
Pros: The rooms had plenty of space and the hotel is located near San Pedro, but in a more secluded corner. They served a simple, but satisfying breakfast every morning. The staff was nice and helped book several tours.
Cons: The curtains didn't block a lot of light, so if you're a light sleeper, it's a good idea to bring a sleeping mask.
San Ignacio Accommodation
🏠 What To Consider
Amenities. I don't usually put weight on amenities since I plan to spend most of my time outside my accommodations, but since I traveled to Belize during their wet season, I wanted to have amenities in case my tours were rained out.
🏠 Where I

Stayed

I stayed at Cahal Pech Village Resort and paid $46 USD per person per night. My honest thoughts on this hotel are:
Pros: The resort is located on a hill and has a very nice view. Almost all rooms have a balcony view.
Cons: The 30-minute hilly walk to the downtown area didn't turn out to be as pleasant as I had hoped (due to the hill, the lack of sidewalks and cat callers), so I wished I had stayed closer to downtown.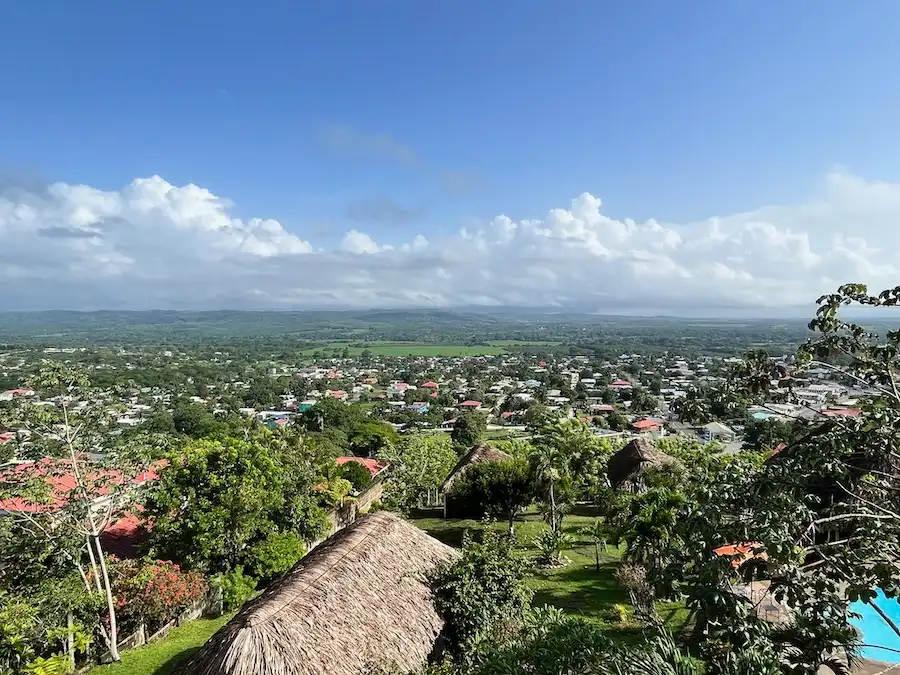 Belize Trip Planner
To make your travel planning easier, download the trip planning template below and use it as a starting point. The template has country-specific travel information as well as an itinerary, packing list and map with recommended places pinned.
The template is built on Notion, which is what I use for all my travel planning (I'm not paid to say this; I just like the tool). If you don't have Notion, creating an account is free.
If you have any questions or thoughts, feel free to leave them in the comments below.
🧋 This site is run entirely by me, Lukiih. I spend hours writing each article to ensure its accuracy and conciseness. If you find my site helpful, you can say thanks by buying me bubble tea!