One of the most popular Central American countries to visit, Belize is known for its stunning barrier reef, ancient Maya ruins, numerous small islands and extensive cave systems.
I spent an adventurous week in Belize and in this travel guide, I share practical travel tips that are especially useful for first-time visitors who are planning a trip there.
Disclosure: This post may contain affiliate links. If you make a purchase through them, I may earn a small commission, at no extra cost to you. Thanks for your support!
1. Top Places To Visit in Belize
Below are the best places to visit in Belize and their top attractions.
Belize's Best Islands: Ambergris Caye and Caye Caulker
✨ Known For: Belize's islands are known for world-class snorkeling and scuba diving, an endless number of water-based activities and fish-filled marine reserves.
📍 Location: Ambergris Caye and Caye Caulker are Belize's two most popular islands and both are located in the Caribbean Sea. The islands are 10 minutes apart by plane.
🤿 Top Attractions: Both islands have access to Belize's top island attractions: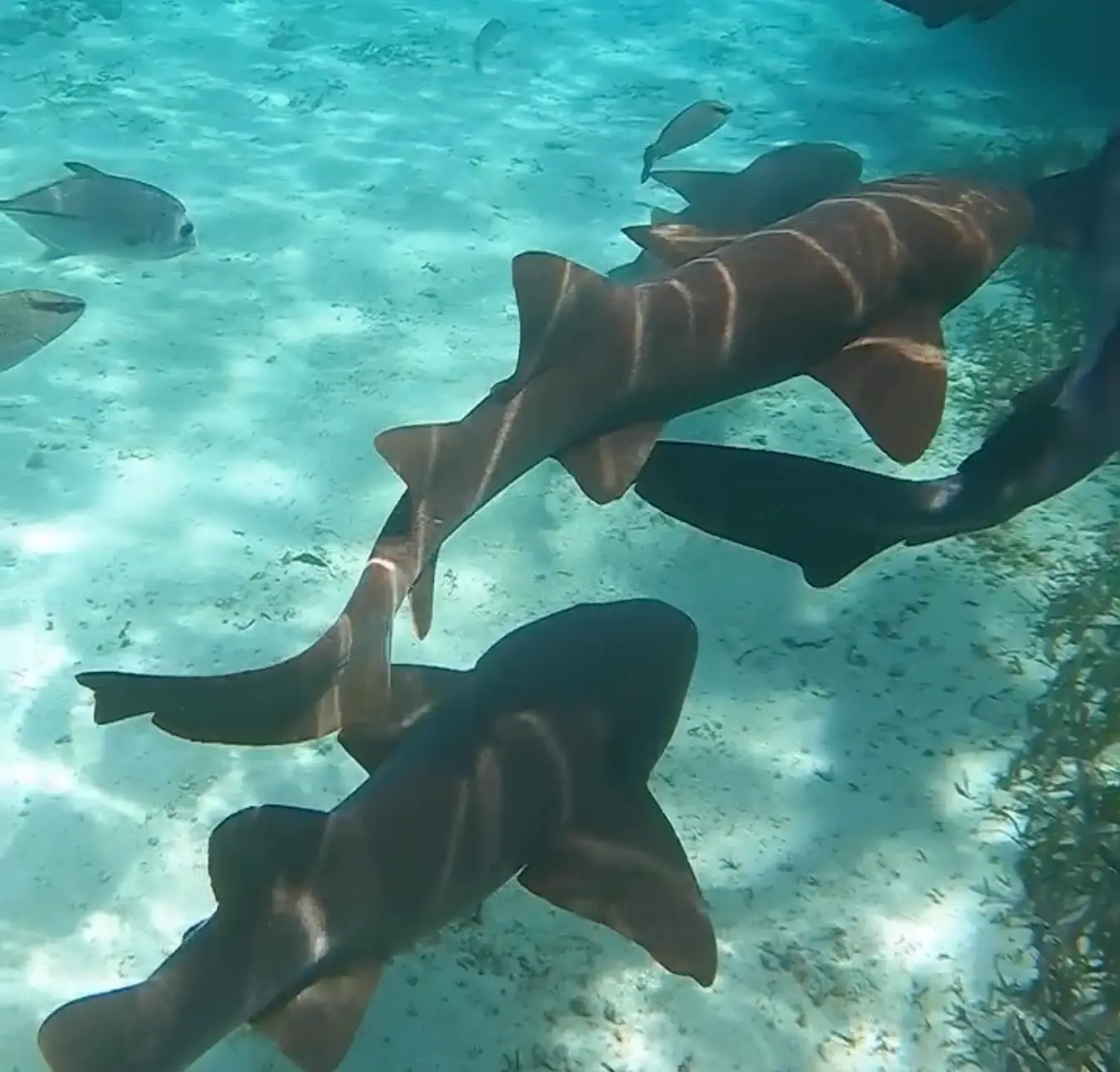 The Great Blue Hole is a famous marine sinkhole. Visitors can scuba dive in it or view the stunning natural wonder from above through a two-hour helicopter tour.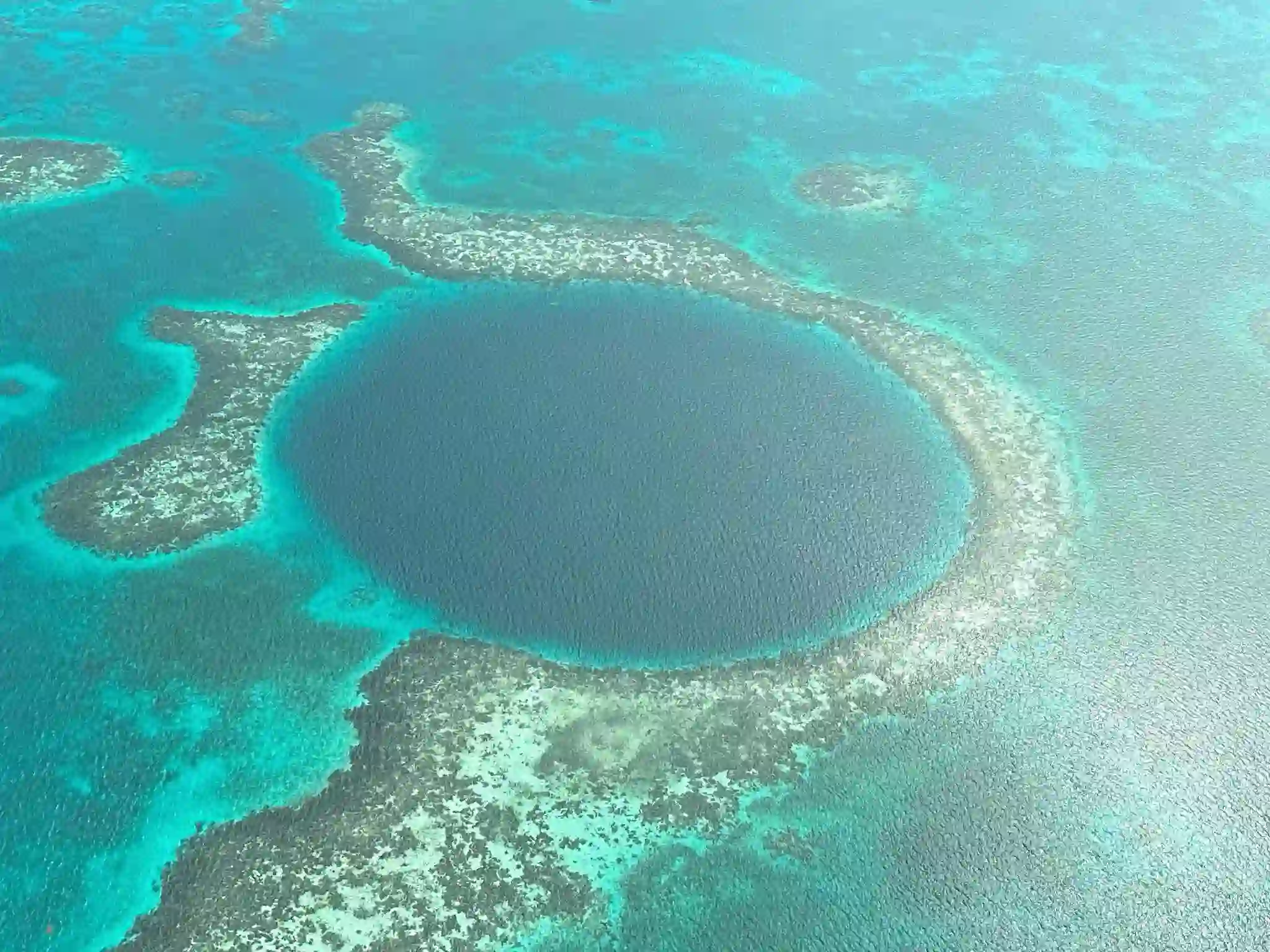 The popular downtown area of San Pedro in Ambergris Caye is lively and filled with shops, restaurants and live music.
🍀 My Experience: I spent four days in Ambergris Caye doing an itinerary similar to this one. I particularly enjoyed snorkeling with nurse sharks as it was my first time being so close to them. While four days was a sufficient amount of time for me, anyone who loves water activities can easily stay on the island for a week or longer.
Belize's Best Mainland Area: San Ignacio
✨ Known For: San Ignacio is Belize's most popular mainland stop and is known to be a great place to access Maya ruins and Belize's sacred cave.
📍 Location: San Ignacio is in the Cayo District and located about a two-hour drive west from the Belize international airport.
✨ Top Attractions: San Ignacio is a great place to catch a guided tour of some of Belize's best attractions:
Xunantunich is a Maya ruin with one of the second tallest structures in Belize. If you climb to the top of Xunantunich, you can see the Guatemalan border. Here's a highly-rated tour that has almost only five-star reviews.
Caracol is a Maya archaeological site that features massive pyramids in lush rainforests and offers panoramic views. This well-rated Caracol tour also takes you to a pool and cave.
Belize Zoo is closest to the airport, but many visitors still visit it as a day trip from the Cayo district. The zoo houses animals that are hard to find elsewhere (e.g., tapirs and pumas).
🍀 My Experience: I spent three days in San Ignacio doing an itinerary similar to this one. The ATM cave tour is one of my favorite guided adventure tours ever and I highly recommend it to most visitors.
Belize's Best Beach Area: Placencia
✨ Known For: Placencia is a beach area known for its soft white sand and clear blue water.
📍 Location: Placencia is on Belize's coast, about a two-and-a-half-hour drive south of the international airport.
🏖️ Top Attractions: Placencia is a popular place to snorkel, scuba dive and relax at the beach. A short drive away is Cockscomb Basin Wildlife Sanctuary, the world's first jaguar reserve and one of Belize's 17 national parks.
🍀 My Experience: I only had one week in Belize and prioritized visiting Ambergris Caye and San Ignacio over Placencia. Based on my research and what my friends say, Placencia is the go-to place in Belize if you want a beach vacation.
2. Speaking English in Belize
🗣️ Language: Belize is the only country in Central America that speaks English as its official language, making it a popular destination for travelers from the United States, Canada and some European countries.
🇬🇧 Historical Context: Belize is a former British colony, but it was originally inhabited by indigenous Maya people, so almost half of the local population also speaks Belizean Creole.
🍀 My Experience: As an American, I had no trouble navigating or communicating in Belize. I met several English-speaking expats, digital nomads and retired people who chose to travel in Belize partially because of the language accessibility.
3. Visa and Exit Fees for Belize
🛃 Visa: A tourist visa is not required for United States nationals visiting Belize for up to 30 days.
💰 Entry/Exit Fees: Belize doesn't have an entry fee, but it has a $55.50 airport departure or exit fee for tourists flying out of the country. This amount is usually already included in your airline ticket under "taxes and fees".
If the exit fee is not included in your flight ticket, you must pay it in cash at the Belize airport.
🍀 My Experience: My Belize exit fee was included in my United Airlines ticket. Here's a screenshot of my ticket's taxes and fees section:

4. Best Time To Visit Belize
☀️ Best Time: Belize is a tropical country with warm weather year-round. The best and most popular time to visit Belize is during the dry season when there are still bursts of rain, but typically not enough to cancel or impact travel plans.
🌧️ Seasons: Here's a quick overview of Belize's two seasons:
The dry season runs from December to May and coincides with the country's high season. Belize receives most of its tourists in March. During the dry seasons, average temperatures range from 73°F to 82°F.
The wet season runs from June to late November. During the rainy season, average temperatures range from 79°F to 86°F, and rain is frequent.
During the low season, some tours and services are limited or can get canceled due to rain. At the same time, you don't need to worry about popular tours, like the ATM Cave tour, being booked out and you will get better deals.
🍀 My Experience: I went to Belize in July during the rainy season and experienced intermittent rain, but the weather was mostly warm and sunny.
This Belize rainy season guide describes what it's like to visit during the wet season and how to best prepare for it.
5. How Long To Visit Belize
🗓️ Ideal Duration: The length of your Belize vacation depends on how many places you want to visit.
You'll want to spend three to five days in Belize if you plan to visit one destination.
You'll need at least a week if you plan to do more than one area in Belize (e.g., if you want to visit both the mainland and an island).
Transportation times between different areas can take several hours, so it's not worth moving around too much unless you have a week in Belize.
🍀 My Experience: I stayed in Belize for a week doing an itinerary similar to this one. A week was a sufficient amount of time for me to enjoy a lot of the best things Belize is known for, including snorkeling, spelunking, visiting local markets and visiting Maya ruins.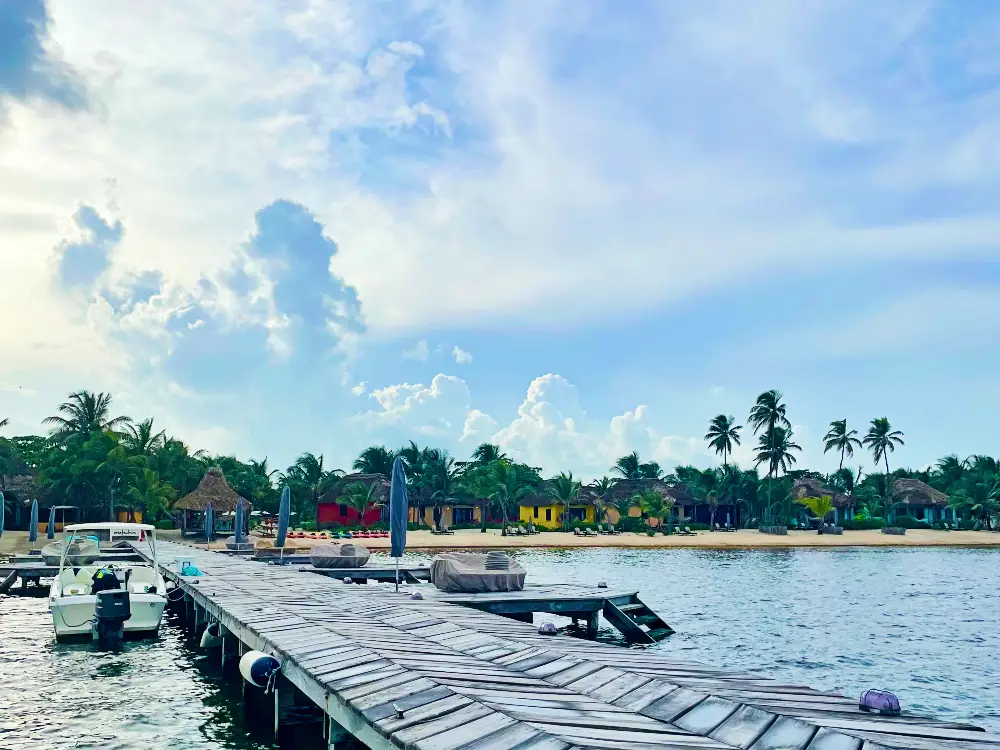 6. Budgeting and Costs for Belize
💰 Cost Ranking: Belize is the second most expensive country to visit in Central America, behind Costa Rica. Part of the reason is that Belize imports almost everything, so prices are higher.
For visitors concerned about costs and hoping to do a budget trip to Central or South America, know that other countries like Panama, Ecuador and Peru are much more affordable to visit.
💵 Expected Budget: A budget traveler can expect to spend about $60 USD per day and a mid-range budget traveler, such as myself, can expect to spend approximately $150 to $200 USD per day in Belize, excluding flights.
🍀 My Experience: I break down all my travel expenses in this Belize cost breakdown. As an American, I didn't find the prices in Belize unreasonable, but I was sometimes surprised by them because it's still a developing country.
7. Cash and Tipping in Belize
💰 Currency: The local currency is the Belize dollar (BZD), but there's no need to exchange US dollars. The US dollar is widely accepted, but you'll often receive change in Belize dollars.
Belize is one of the few countries in the world that has pegged its currency to the US dollar at a constant exchange rate. The Belize dollar has had a 2:1 exchange ratio with the USD since 1978, so you don't have to worry about getting a bad exchange rate when paying with USD.
💳 Credit Cards: Credit cards are widely accepted in Belize, but cash is sometimes needed for tipping tour guides, eating at local markets and making certain large purchases. ATMs are widely available in tourist areas of Belize.
💵 Tipping Etiquette: A 10% to 15% tip is welcomed and appreciated, but not mandatory in Belize.
🍀 My Experience: Everyone l encountered (e.g., street vendors, local guides, souvenir shop owners, waiters) used a $1 USD to $2 BZD exchange rate. My hotel was very willing to exchange my Belize dollars for USD at the end of my trip.
8. Safety and Scams in Belize
⚠️ Safety Rating: Like many other countries in Central and South America, Belize is safe to visit in tourist areas, but it's otherwise a country where you need to exercise some precautions and avoid bad areas.
Belize City, where the international airport is located, is not a recommended place to stay or visit by the US Department of State as it has a relatively high violent crime and robbery rate.
🥷🏻 Common Crimes: The most common crimes against tourists are petty theft and pickpocketing. It's rare for tourists to experience violent crime in Belize.
💰 Common Scams: Common scams in Belize are similar to tourist scams elsewhere (e.g., taxis taking you to places where they earn a commission, the bird poop scam).
🍀 My Experience: I didn't have any issues with theft, scams or violence in Belize. One thing I did experience is that if you're only traveling with other women, cat-calling is a norm and will happen often, even in popular tourist areas.

My female friend and I were never approached or touched, but we experienced cat-calling almost every time we walked around. Other online sources seem to agree that cat-calling is a problem in Belize when you're traveling with just women, making Belize not an ideal place for solo female travel.
9. Health Concerns in Belize
💧 Tap Water: Belize's tap water is safe to drink in some areas, but not all. Most hotels, restaurants and tours will provide filtered or bottled water.
🦟 Mosquitos: Belize has a tropical climate and disease-carrying mosquitos.
💉 Vaccines: Here are the vaccines recommended by the CDC when traveling to Belize.
🍀 My Experience: I brought my reusable water bottle, which I was able to refill at restaurants and my hotel with no issue. I also tend to get bitten and I find that this mosquito repellent lotion works better than the spray alternative (per the CDC: "DEET offers the best protection against mosquito bites.")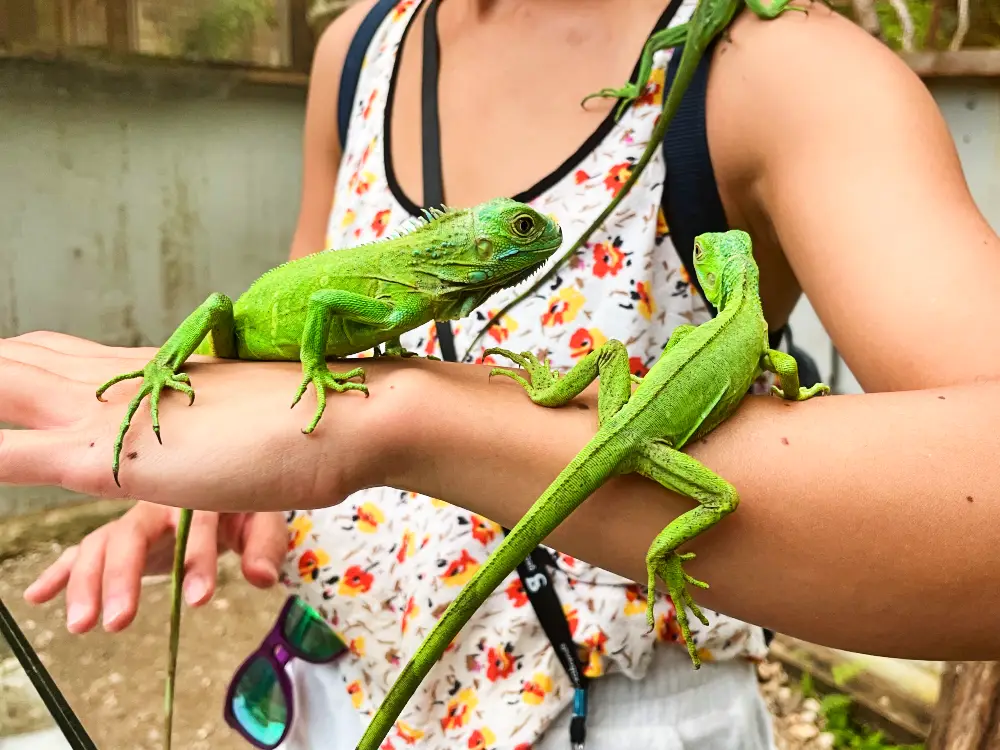 10. How To Get Around Belize
There are several ways to get around Belize and you can easily travel around the country without renting a car.
✈️ Airport: Belize has one international airport, Philip S.W. Goldson International Airport (BZE), in Belize City. From there, you can head east to one of the islands, west to San Ignacio or south to Placencia.
Getting Around Belize's Islands
From the international airport, you can get to Ambergris Caye and Caye Caulker by taking a water taxi or a short flight with a domestic airline.
🛥️ Water taxi. Water taxis are the most common way to get to Belize's islands. Ambergris Caye is about a 90-minute boat ride and costs $30 USD per person from the airport. This is a good option unless you get motion sickness like me.
🛩️ Local airline. There are two local airlines in Belize, Maya Island Air and Tropic Air, that will transport you to the islands in small planes that carry about eight passengers. The flight from the airport to Ambergris Caye will take about 20 minutes and costs over $100 USD per person.
Belize's local, small airlines operate on a schedule, so check their flight schedules in advance.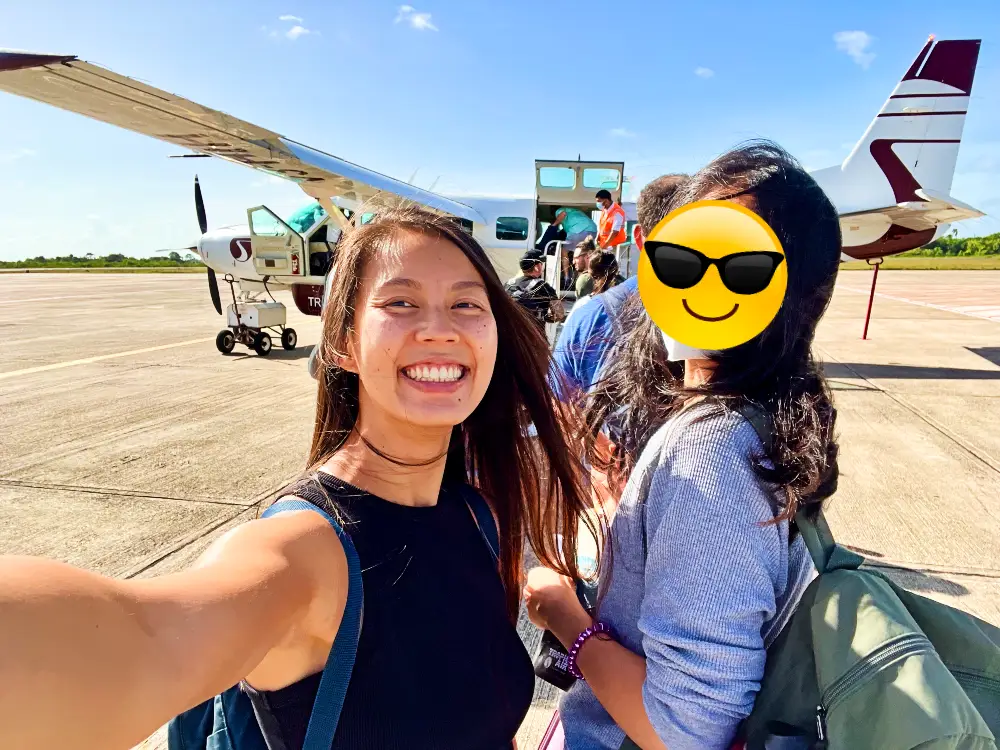 Once you get to one of Belize's islands, you can get around by walking or renting a golf cart.
👟 Walking. Both islands are compact enough that their main areas can be explored on foot.
🚙 Golf cart rental. There are generally no cars on Belize's islands, so locals and tourists drive around in golf carts. If you want to explore areas outside of Ambergris Caye's downtown area, San Pedro, you'll need to rent a golf cart.
Getting Around Belize's Mainland
From the Belize City airport, you can get to San Ignacio or Placencia by car, shuttle, bus or flight.
🚐 Shuttle. Booking a shuttle is one of the best ways to get to different areas in Belize. Several companies offer shared and private shuttles with budget and convenience tradeoffs.
🚌 Bus. Belize's only public transportation is the local bus and this is the most cost-efficient way to get around Belize.
✈️ Local airline. Both San Ignacio and Placencia have a small airport so you can take a local airline to them. This will save you significant travel time, but will cost you over $100 USD per flight.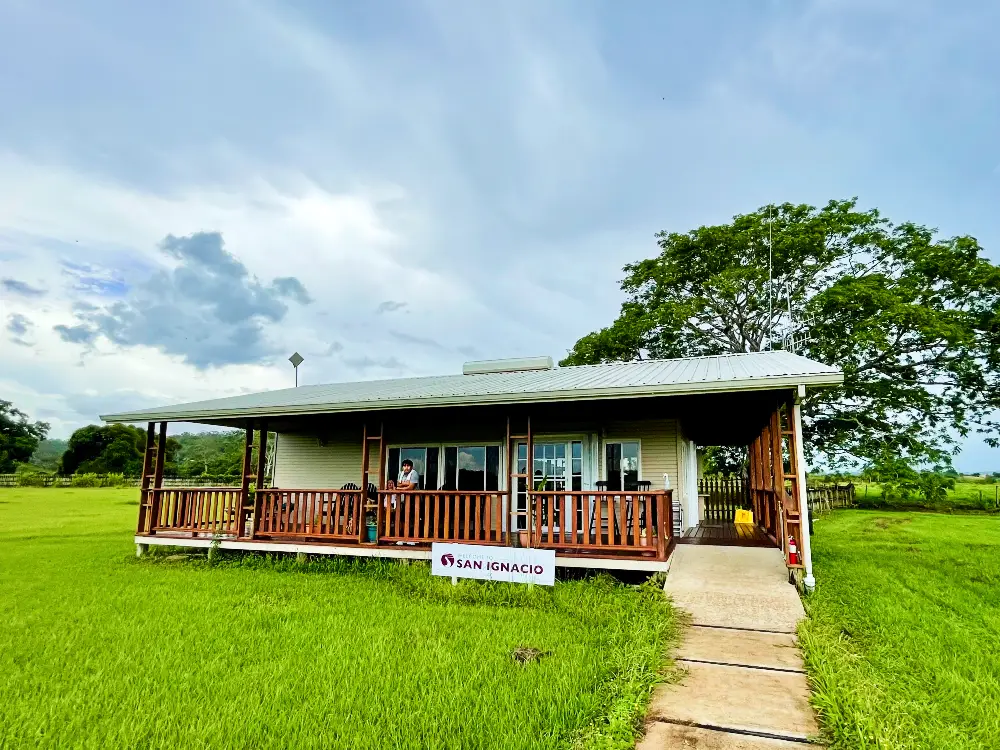 🚗 Car rental. To rent a car in Belize, you don't need an IDP (International Driver's Permit) as your United States license is sufficient.
While in San Ignacio, you can get around by walking, calling taxis, relying on tour transportation or renting a car. Placencia is similar, except that it's easier to travel by foot and you can also rent a bike.
👟 Walking. The downtown area of San Ignacio is small and walkable, so you can walk almost everywhere in the town.
🚕 Taxis. Taxis in Belize look like ordinary cars, but have a green license plate. They are available in both San Ignacio and Placencia.
Belize does not have ridesharing services like Uber or Lyft.
🚐 Tour transportations. Almost all tour packages in Belize will include transportation to and from your hotel and the tour's destination.
11. Essential Things To Pack for Belize
🎒 Packing List: No matter where you go in Belize, here are the essential things to pack and bring with you:
Sunscreen. Belize receives a lot of sun and is a country with warm temperatures. Make sure to bring reef-safe sunscreen if you plan to go into the ocean, especially if you're visiting the Belize Barrier Reef.
Outlet adapter, if you're not from the United States. Belize has the same outlet type as the United States (type A, which has two flat parallel pins).
Reusable water bottle. Belize's tap water is safe to drink in some areas, but not all. Most hotels, restaurants and tours will provide filtered or bottled water. I brought my reusable, insulated water bottle, which kept my water cold for hours.
Bathing suit. Belize has a lot of water activities and even if you're in mainland San Ignacio, you'll need a bathing suit for the popular ATM Cave tour.
This Belize rainy season guide has a list of things to pack for the wet season.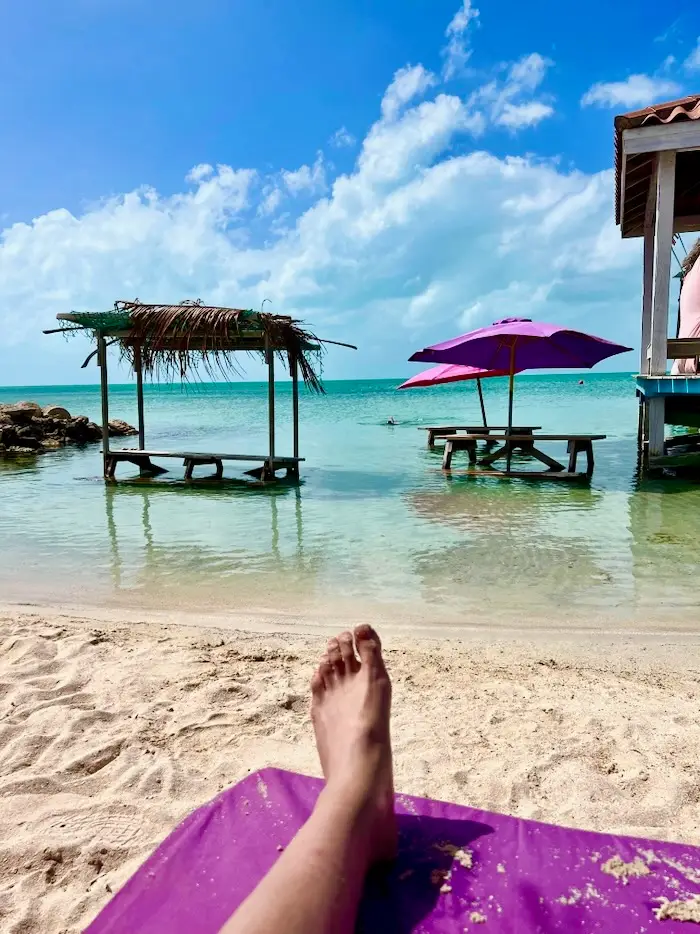 12. Food and Animals in Belize
🥘 Food: Belize is a melting pot and its local dishes reflect a fusion of different cultures. Local dishes to try include fry jacks (fluffy, deep-fried dough), the Belizean breakfast (includes eggs and sausages), fish ceviche, conch fritters and jerk chicken.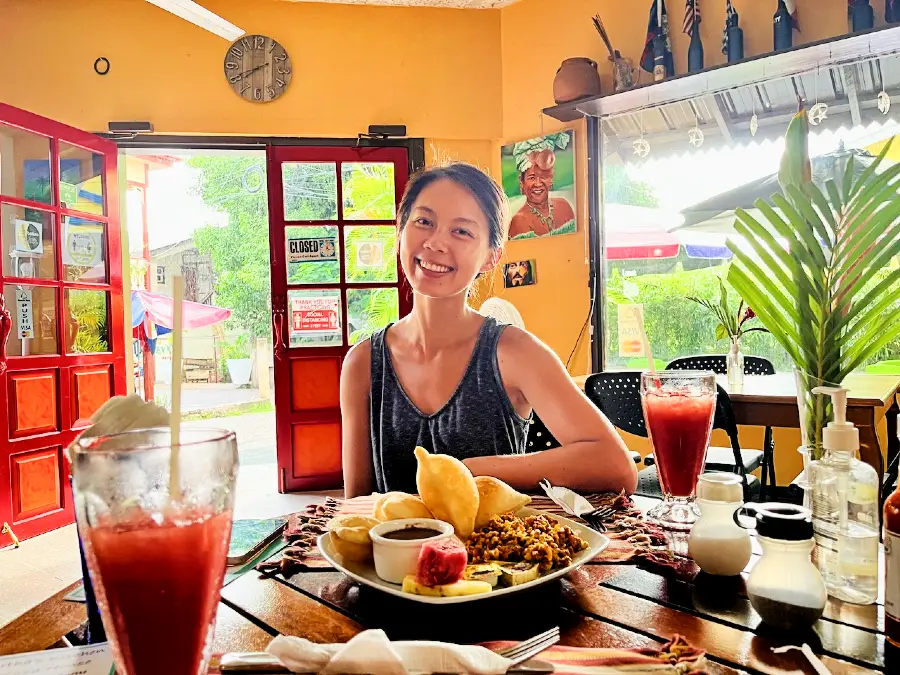 Belize has several local markets where you can try street food at highly affordable prices. Some of my favorite meals were at San Pedro's night market and San Ignacio Market.
🥭 Fruits: Belize has fresh, delicious fruits that you can buy and try at the side of the road. Some fruits to try include soursop (one of my favorites), mango, papaya, pineapple and dragon fruit.
🙊 Animals: Belize also has a lot of wildlife and even if you don't do a guided tour to specifically see these various animals, you will see them if you keep your eyes open. While visiting Mayan ruins, hiking through rainforests or snorkeling, you might see howler monkeys, coatis, dolphins, nurse sharks and sea turtles.
13. Amazing 7-Day Belize Itinerary
Seven days is a great amount of time to spend in Belize. This will allow you to visit both an island and a mainland area, giving you the chance to enjoy water, jungle and cave experiences.
This Belize itinerary combines a trip to the islands with mainland San Ignacio for a one-week trip.
Summary: Belize at a Glance
Here's a quick summary of important trip-planning information for Belize:
📍 Popular Destinations: Ambergris Caye, Caye Caulker, San Ignacio and Placencia
☀️ Best Time To Visit: Dry season (December to May)
🗓️ How Long To Visit: 3-5 days for one area; 7+ days for two or more areas
🛃 Visa: Not required for United States citizens visiting for less than 30 days
💰 Currency: Belize Dollar. USD is widely accepted.
💳 Credit Cards: Widely accepted; cash is sometimes needed
💵 Tipping Etiquette: 10%-15% tip welcomed, but not mandatory
💬 Language: English
🌎 Time Zone: Central Standard Time (see current time)
💧 Tap Water: Whether it is safe to drink varies by area
🔌 Outlet Type: Same as the United States; type A, the two flat parallel pins
🌐 Wi-Fi: Not widely available; make sure to get a SIM card for mobile data
My Google Fi's international plan worked extremely well during my Belize trip. You can get a $20 credit when you use my Google Fi referral code here.
🎒 What To Pack: Reef-safe sunscreen, mosquito repellent, reusable water bottle, bathing suit
🏠 Booking Resources: Booking.com for lowest accommodation rates, Viator for great tour experiences
Belize Trip Planner
To make your travel planning easier, download the trip planning template below and use it as a starting point. The template has country-specific travel information as well as an itinerary, packing list and map with recommended places pinned.
The template is built on Notion, which is what I use for all my travel planning (I'm not paid to say this; I just like the tool). If you don't have Notion, creating an account is free.
If you have any questions or thoughts, feel free to leave them in the comments below.
🧋 This site is run entirely by me, Lukiih. I spend hours writing each article to ensure its accuracy and conciseness. If you find my site helpful, you can say thanks by buying me bubble tea!