One of Belize's most popular attractions, the Actun Tunichil Muknal (ATM) cave tour, entails hiking, climbing, spelunking and swimming. Exploring this cave that plunges four miles deep into the earth is one of my all-time favorite tours.
Since photos aren't allowed on the ATM cave tour, this top sacred cave can be a mystery. I share practical tips here to help you prepare for it. This post covers:
💡 What to expect
🦺 Safety and difficulty
💰 How much it costs
🧦 What to pack and wear
🍀 My honest review of the cave
Planning a trip to Belize? This Belize guide covers things to know before getting there, including the best places to visit, how to get around, common scams and safety.
Disclosure: This post may contain affiliate links. If you make a purchase through them, I may earn a small commission, at no extra cost to you. Thanks for your support!
Is the ATM Cave Tour Worth It?
Whether you want to spend a full day in the ATM cave comes down to personal preference, but here are a few reasons why the experience might be worth it to you:
The ATM cave tour is an extremely unique, cool spelunking (i.e., cave exploration) experience in a safe environment. The guides go through extensive training to take you miles deep underground.
This experience combines hiking, swimming and climbing in an accessible way. Your tour group might even get lucky and take the more "adventurous" and challenging route (more on that below).
In short, the ATM cave is a thrilling, memorable experience and worth it if:
You enjoy active experiences that require some physical fitness
Want to learn more about Maya history and human sacrifices
Don't mind getting wet and being in small places
ATM Cave Tour at a Glance
Here is some general information on the ATM cave tour in Belize.
🇧🇿 What is the ATM Cave?
The Actun Tunichil Muknal cave (ATM), also known as "Cave of the Stone Sepulcher," is a four-mile deep cave in Belize in Central America. It's considered a sacred site and visitors can only go 2.7 miles deep into the cave for safety reasons.
📍Location
The ATM cave is located inside the Tapir Mountain Nature Reserve, approximately 20 miles east of the popular Belize mainland town, San Ignacio.
This Belize itinerary has more details on great things to do from San Ignacio.
🚗 How To Visit
You're required to have a tour guide for the ATM cave. You cannot hike to or explore the cave on your own. In other words, you will have to book a tour to visit the cave.
There are only about 25 licensed guides for the ATM cave tour in Belize. Most of them have been doing this tour for over a decade as it requires extensive training.
💪 ATM Cave Difficulty
The ATM cave requires a level of hiking, swimming, climbing and spelunking that fit people can appreciate, but it is also very accessible.
The ATM cave tour guides are known to have been able to accommodate visitors who don't know how to swim or are claustrophobic. In other words, you do not need to be a strong swimmer to do the ATM tour.
Kids are welcome to do the ATM cave tour, but are required to be at least 40 inches in height.
Guides do not recommend doing the ATM cave tour if you're pregnant, have a walking disability or have a heart condition.
If the ATM cave is not your cup of tea, consider doing another activity like visiting Xunantunich by horseback.
⏳ ATM Cave Duration
The ATM cave tour takes a full day. It's an eight-hour tour that starts in the morning around 8 am and ends around 4 pm, but you'll only be inside the cave for approximately three hours.
See below for details on how the tour breaks down.
💰 ATM Cave Tour Price
The ATM cave tour typically costs $115 to $125 USD. This includes the licensed guide, the tour, transportation and lunch. I paid $110 USD, making it the most expensive activity I did in Belize.
I traveled to Belize during the wet season, so the tour company offered a slight discount if I booked on the spot.

Once I realized negotiation was an option, I negotiated the price down to $110 USD by offering to book two tours on the spot. The other tour I booked was visiting Xunantunich on horseback.
👩‍👩‍👧‍👧 ATM Cave Tour Group Size
A typical ATM cave tour group has eight people or fewer per guide. My group had six people since I visited during the low, rainy season.
🚌 ATM Cave Tour Companies
There are several ATM cave tour companies, including MayaWalks (the operator I booked and can recommend), Cayo Inland Expeditions, Belize Family Adventure and Belize Caving Expeditions.
Only 125 people are allowed in the ATM cave per day. During the high season (late November to mid-April), the ATM cave can get booked up, so it's best to book in advance. You cannot book tickets at the entrance; all tickets must be booked through an operator.

If you visit during the low season, the ATM cave can be rained out at the last minute. Here's a Belize guide on traveling during the rainy season.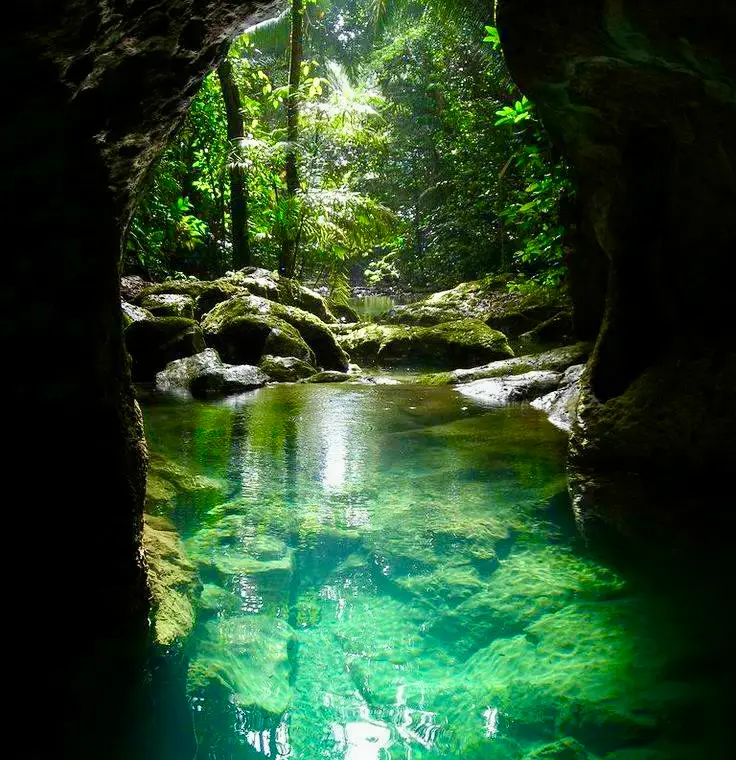 What To Expect on the ATM Cave Tour
You'll be hiking, swimming and climbing during the ATM cave tour. 80% of your time will be in water so packing correctly is important.
Summary Breakdown of the ATM Cave Tour
The summary breakdown of the ATM cave tour is as followed:
1-hour drive with a snack stop
45-minute hike with three river crossings
2-3 hours of cave exploration
45-minute easy hike back
Lunch
45-minute drive back to your hotel in San Ignacio.
Detailed Breakdown of the ATM Cave Tour
Here are the details of what to expect on the ATM cave tour:
Transportation to the park's entrance. You'll get picked up and driven approximately one hour to the start of the hike. You'll stop for snacks that you can eat after the cave tour and before the second hike back.
Gear up. At the starting location, you'll gear up (e.g., put on a helmet, life jacket, shoes) and leave all your stuff in the vehicle (e.g., cell phones, camera, change of dry clothes, sunscreen, etc.)
Phones and cameras are not allowed on the hike or in the ATM cave.
Hike with three river crossings. You'll start with a 45-minute easy, flat hike that's mostly shaded in the jungle. There are three river crossings during the hike:

The first river crossing is within a minute of the hike and is chest-high. This is why they don't recommend putting on sunscreen or bug spray as it will wash right off.
The latter two river crossings are approximately shin-high.
The ATM cave hike's water levels are always the same (e.g., chest-high and shin-high during the river crossings) and do not change with the season.
Approach the cave. At the entrance of the cave, you'll leave your water bottle and snacks behind because you'll need all four of your limbs for spelunking.
Cave exploration. The cave exploration starts with a short swim. You'll turn on your headlamp and be in the cave for two to three hours, often walking in water.
Something not advertised: The ATM cave has multiple routes. Your guide will assess and choose the route that best fits your group's overall comfort and fitness level.

– Adventurous routes can include crawling through tight crevices, swimming in the dark, etc. This is the type of route my group did and the group seemed to have a blast.

– Easy routes are mostly walking through water, but you'll still need to watch out for shin-splitting rocks. This is the route I saw most groups do.
Sock switch. At the midpoint, you'll take off your shoes and put on socks to enter the protected area of the cave. The socks are mandatory for preservation purposes; you cannot walk on bare feet.
Human sacrifices. You'll see and hear the stories of the skeletal remains of the 10+ human sacrifices, which is what this cave is famous for. Before seeing the famed "Crystal Maiden," you'll go up a 12-foot metal ladder, two people at a time.
Cave exit. You'll exit the cave (not necessarily back through the same route), take a snack break and hike 45 minutes back the way you came through the same three river crossings again.
Dry off. Back at the vehicle, you'll dry off and switch to dry clothes. There's a bathroom facility with spacious stalls.
Lunch. The tour will have lunch ready. At my tour, rum punch and chicken with rice and beans were provided.
Drive back. The tour ends with the drive back. Tip the guide if you enjoyed it; they work hard!
In Belize, tips are welcome and customary, but not mandatory.
What To Wear and Bring on the ATM Cave Tour
Since you'll be in water 80% of the time and doing activities ranging from hiking and swimming to climbing and spelunking, it's important to wear and pack the right clothes for the ATM cave tour.
The ATM cave tour packing list is split into two lists: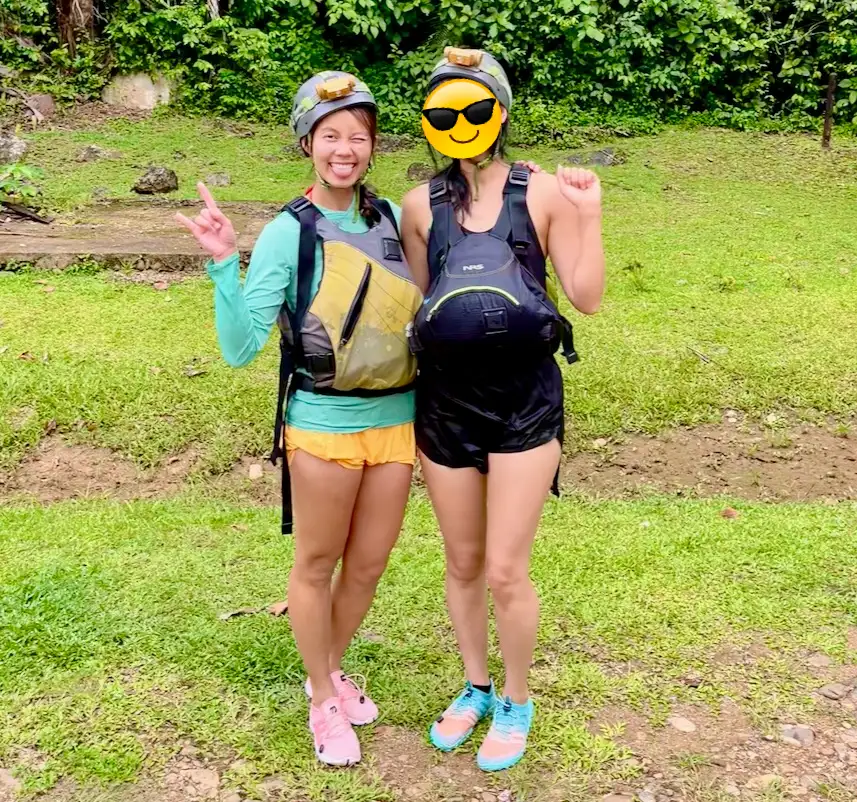 🧦 What To Wear and Bring on the ATM Cave's Hike
Here's what you need to bring and wear during the hike and cave exploration portion of the ATM cave tour:
Closed-toe shoes. You are required to wear closed-toe shoes on the ATM cave tour. Here are three tips on what kind of shoes to wear:

Water shoes are adequate as long as they have some traction or grip. I bought these water shoes specifically for the ATM cave tour and they worked well. My friend bought these water shoes that had a bit more traction than mine and also thought they worked well.
I considered getting Keens, but having done the ATM cave tour, I now think they're overkill. Some people wore them and said they liked not having to worry about jamming their toes while walking in the water.
Tennis shoes are not recommended unless you don't mind having wet shoes for a while.
Some tour operators will provide shoes as part of the package (they don't seem to advertise this for some reason). They have a limited supply and the shoes may not be as comfortable.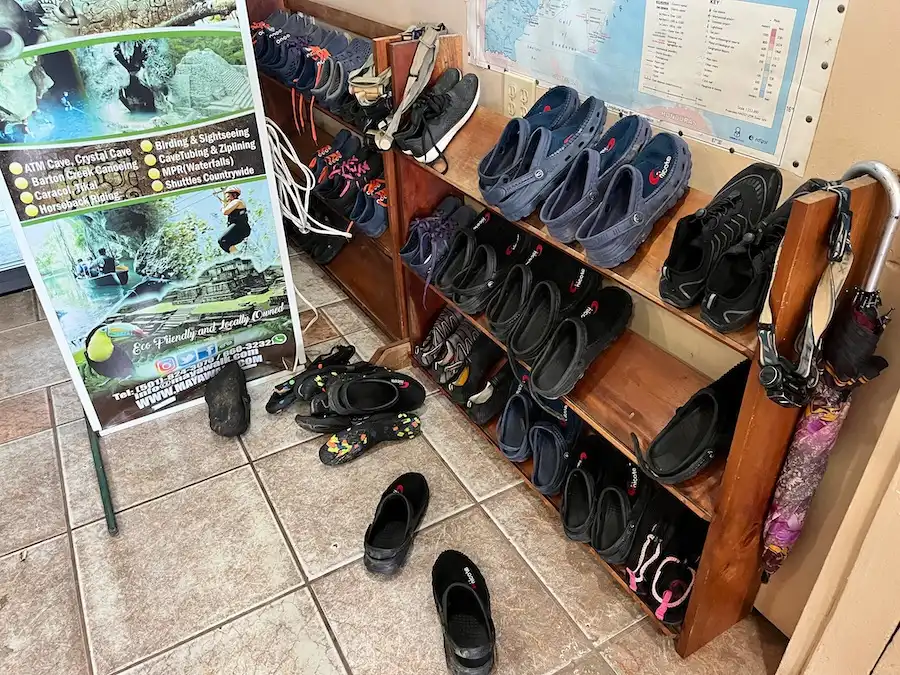 A moisture-wicking top. A tank top, short sleeve or long sleeve shirt are all appropriate tops for the ATM cave tour. Most people wore a tank or short sleeves, but the guides wear long sleeves for some warmth, so I copied them. I wore my moisture-wicking sun hoodie.
The ATM cave can be a bit cold at the beginning, but overall, you'll be moving around and won't feel cold, even when you're in the water. This is coming from someone who runs very cold.
Swimsuit. You'll wear your bathing suit underneath your top as you'll be in water 80% of the time. Bikinis or a one-piece both work. Bikinis are not technically allowed on the tour, but no one will bother you as long as you have a top covering your bikini, which is what I did.
Shorts or leggings. Most people wore shorts during the ATM cave tour. Wear leggings or long pants if you're concerned about scratches during the cave exploration. I wore quick-dry shorts and that was sufficient for me.
Socks. As mentioned above, you're required to wear socks during some portions of the ATM cave tour for cave preservation purposes. You can wear them from the start or bring them along until you need to switch into them.
Consider bringing throwaway socks if you don't want to deal with wet or muddy socks afterward.
Reusable water bottle. The guides recommend bringing some snacks and a water bottle on the hike to the cave. We left our water bottles outside the ATM cave entrance, which felt secure since everyone in the jungle is on the tour. I brought my insulated reusable water bottle which meant my water was cold for hours.
Snacks. Your guide will make a stop for snacks before the hike.
👟 What to Bring and Leave in the Vehicle
There are items that you will need to bring to the ATM cave tour and leave behind in the vehicle (see below for this list) before the start of the hike:
Dry shoes to change into after the tour. I wore my Chacos which allowed my feet to air dry.
Quick dry towel to dry off after the hike. I brought these quick dry towels and they worked great throughout my Belize trip.
Cash for tipping the guide afterwards. The guide is also the driver.
In Belize, tipping is welcomed and appreciated, but not mandatory. A 10-15% tip from tourists is standard. This Belize trip cost breakdown has more tips on using cash.
Plastic bag to hold wet clothes. I used some cheap dry sacks which I bought specifically for this trip.
Change of clothes (optional). In case you want to wear something different than what you initially had one, bring a change of clothes.
First aid kit (optional) for any scratches you get during the cave exploration. I brought one and didn't use it.
Sunglasses (optional). I didn't bring sunglasses and don't think they're necessary, but some people liked it for the hike back after being in a dark cave.
Bug spray (optional). You won't need bug spray for the hike and cave (it'll get washed right off), but you might want it for lunch since you'll eat in an open-air area. I get bitten a lot and I think bug-repellent lotion works better than the spray alternatives.
The Belize trip planner below has this packing list in a downloadable Notion.
What Not To Pack
Here's what not to pack for the ATM cave tour:
Dry bag for carrying things. They will not allow you to carry a bag during the hike or cave, but I brought them to isolate my wet clothes after the tour.
Waterproof phone case. Phones are not allowed during the hike or cave exploration. They are very strict about this.
Sunscreen. Sunscreen will wash off at the beginning of the hike and you won't need it for the cave or lunch since the area is shaded.
This Belize rainy season guide outlines what to generally pack during the wet season, which runs from June to November.
Belize Trip Planner
To make your travel planning easier, download the trip planning template below and use it as a starting point. The template has country-specific travel information as well as an itinerary, packing list and map with recommended places pinned.
The template is built on Notion, which is what I use for all my travel planning (I'm not paid to say this; I just like the tool). If you don't have Notion, creating an account is free.
If you have any questions or thoughts, feel free to leave them in the comments below.
🧋 This site is run entirely by me, Lukiih. I spend hours writing each article to ensure its accuracy and conciseness. If you find my site helpful, you can say thanks by buying me bubble tea!