One of the most visited places in Europe, Barcelona is a cosmopolitan city with Michelin-star restaurants, world-famous architecture like La Sagrada Familia and hiking trails one hour and a half away on Montserrat mountain.
Wandering the streets of Barcelona was one of my favorite experiences in Europe and here, I share practical tips on visiting it. This post covers:
🗓️ Four-day itinerary that optimizes your time in Barcelona
📍 Barcelona map with key places pinned
✏️ Barcelona trip planning template
💡 Practical tips when visiting Barcelona from a local
🚇 How to get around and where to stay in Barcelona
Disclosure: This post may contain affiliate links. If you make a purchase through them, I may earn a small commission, at no extra cost to you. Thanks for your support!
Trip Planning Information for Barcelona
Here is some important travel information on Barcelona and Spain to save you trip planning time.
⭐ Known For
Barcelona is a cosmopolitan city known for:
Architecture (it's particularly famous for La Sagrada Familia, an eclectic temple by the famous Catalan architect, Antoni Gaudí)
Culinary prowess and famous for its tapas, which are traditional Spanish appetizers
Colorful neighborhoods
📍 Location
Barcelona is located on the northeast coast of Spain in the Iberian Peninsula. It's approximately 390 miles east of Madrid, which is about a two-and-a-half-hour train ride or a one-hour-and-a-half flight.
💬 Language
Barcelona has two official languages, Catalan and Spanish. A majority of the population in Barcelona considers themselves fully bilingual. English is widely spoken in Barcelona, especially by people working in the tourism industry.
Some basic Spanish and Catalan phrases to learn when visiting Barcelona include:
– "Hola," which means "Hello"
– "Gracias/Gràcies" which means "Thank you"
🛃 Visa
A visa is not required for United States nationals visiting Spain for up to 90 days.
Starting in 2024, United States travelers will need to meet a new travel authorization requirement called ETIAS to enter Spain.
🌎 Time Zone
Barcelona's time zone is Central European Standard Time. Here's the country's current time.
💰 Currency
Barcelona uses the euro. At the time of writing, the exchange rate was $1 USD = €0.94.
USD is not widely accepted in Barcelona, so you'll need to exchange currencies if you're paying with cash.
💳 Credit Card
Credit cards are widely accepted in Barcelona, but you should carry a small amount of cash for small purchases.
💵 Tipping Etiquette
Tipping is not expected in Barcelona, but you can tip 5% to 10% for good service and it will be appreciated.
🔌 Outlet
Barcelona uses the standard European plug (two prongs with a round pin), so United States travelers will have to bring an adapter. I bought and used this well-rated plug adapter.
💧Tap Water
Tap water is safe to drink in Barcelona, but some locals and tourists will say that it's not the best-tasting water.
☀️ Best Time To Visit
The most popular time to visit Barcelona is from April to June when the weather is in the 70s°F.
I visited in May, which was perfect weather for exploring the city in short sleeves and jeans, but a tad cold for the beach.
🗓️ How Long To Visit
Most people recommend spending two to three days in Barcelona, which will give you enough time to see many of the top attractions.
I stayed for four days, which gave me enough time to do some of the top attractions, do a hike with a panoramic view in Montserrat and bake in some downtime.
The Barcelona trip planning template has all the information above in a downloadable Notion.
5 Essential Tips for Visiting Barcelona
Here are five practical tips when traveling to Barcelona.
🎟️ Tip #1: Book popular attractions in advance.
During the peak season (April to June), many of Barcelona's top attractions, like La Sagrada Familia, should be booked one to three weeks in advance or they will be sold out. You can also expect long lines (sometimes over an hour long), so consider paying a premium for skip-the-line tickets if you don't want to wait.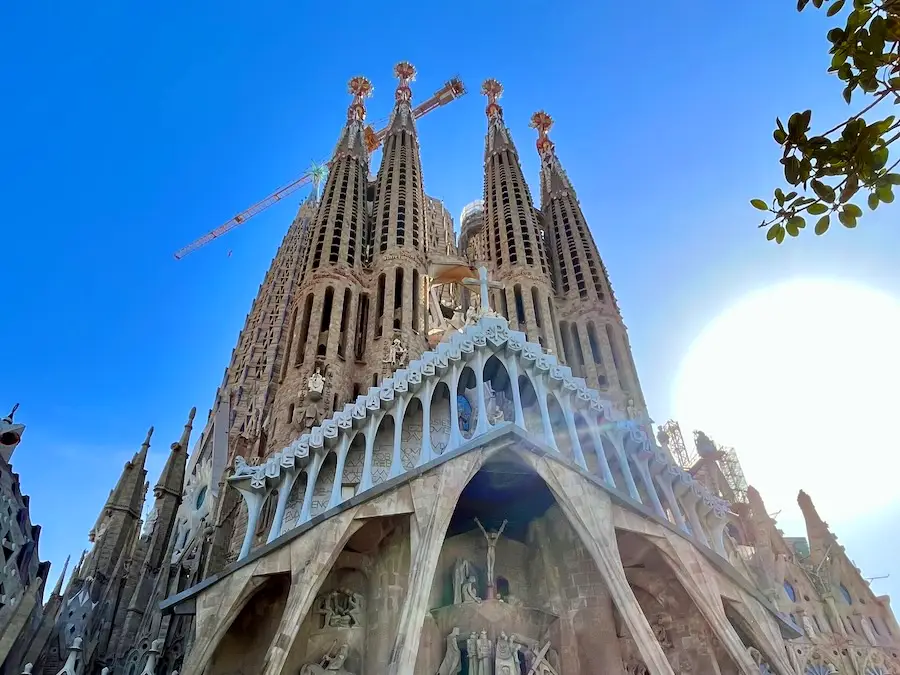 🍤 Tip #2: Expect to eat at a later time.
In Barcelona, like in the rest of Spain, lunchtime is closer to 2pm and dinner time is closer to 8pm. You can also take advantage of this by eating a bit earlier to avoid the lunch and dinner rush, but check restaurants' hours to make sure they're serving food.
🚇 Tip #3: Take public transport.
Barcelona has an extensive public transport system that you should take advantage of. It's also a city where you can see many locals and tourists walking around. See below for tips on getting around Barcelona.
🏰 Tip #4: Don't try to see all of Gaudí's works at once.
Antoni Gaudi's architectural masterpieces are some of Europe's most popular attractions. Gaudí has 10 famous works in Barcelona and you can easily burn out trying to see them all. Aim to see two to three Gaudí sights at most per day if you want to take the time to fully appreciate them.
🏠 Tip #5: Stay in accommodation close to Barcelona's central area.
Barcelona's metro is extensive and can get you to many places, but you can also explore a lot of different neighborhoods on foot. Many people will say (and I now agree after my stay) that within 10 minutes of Plaça de Catalunya is the ideal area to find accommodation.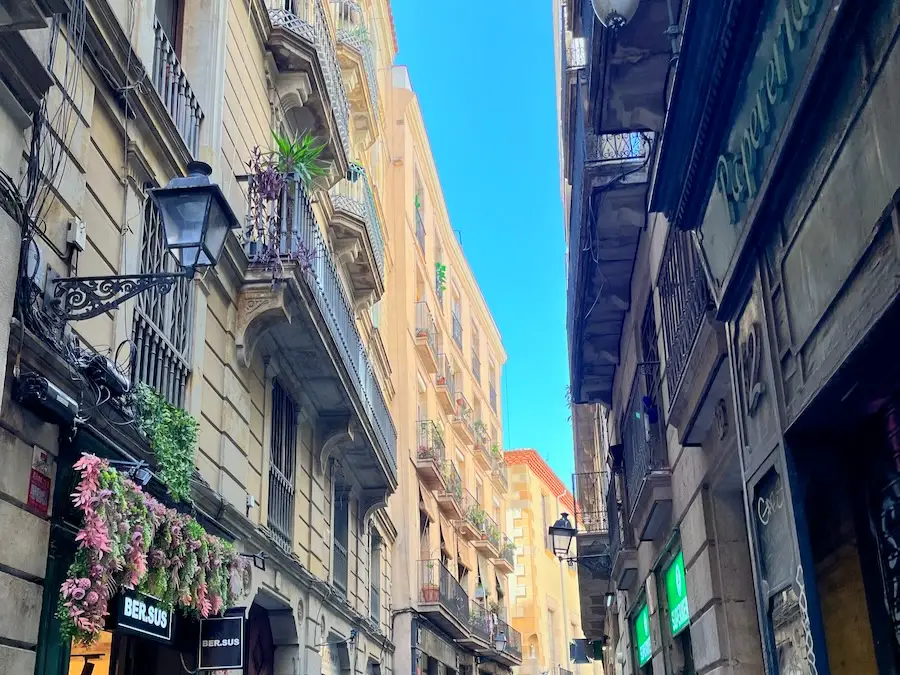 Getting Around Barcelona
Getting to Barcelona from the Airport
Barcelona's airport, Josep Tarradellas Barcelona-El Prat Airport (BCN), is 10 miles away from Barcelona's city center.
Getting into Barcelona from the airport takes anywhere from 15 to 45 minutes depending on traffic, method of transportation and exact destination.
You can get to Barcelona from the airport by calling a taxi, using a ridesharing app, taking the metro or taking the bus.
🚕 Taxi
Barcelona's taxis are painted yellow and black. You can expect to pay $30 USD or more for a taxi ride into the city. Welcome Pickups, a highly-rated airport transfer service, is also a good option for the same price as a regular taxi if you want to have your ride ready when you land.
🚙 Ridesharing App
Barcelona has Uber and Lyft, so you can check prices on the app, but they're generally only slightly cheaper than taxis.
🚇 Metro
Barcelona has an extensive metro system and you can pay ~$4 USD one-way to take the metro line L9 Sud from both airport terminals T1 and T2 into the city.
Evaluate whether it's worth getting the Barcelona Card, which offers unlimited public transportation rides as well as discounts to some of Barcelona's main attractions.
🚌 Express Bus
Barcelona has an express bus called Aerobus that costs $7 USD one-way. Aerobus runs their A1 and A2 buses from the T1 and T2 terminals, respectively, and they make the same stops.
I took the Aerobus to Barcelona because it's reliable and took me to Plaça España, which is where I needed to go.
Getting Around Barcelona
Once you're in Barcelona, you can get around by walking, taking a taxi or using a ridesharing app, but the best way to get around Barcelona is by riding their extensive public transportation system, which includes the metro, train (called FGC) and tram.
I primarily traveled around Barcelona by metro and train. Here are tips on taking Barcelona's public transport:
You can save some money by buying an "integrated ticket". An integrated ticket gives you access to the Barcelona metro, train and tram for a set number of times or period of time. For example, a single metro ride costs ~$2.60 USD, but a T-casual card gives you 10 rides for ~$12 USD for Zone 1, which is what you mainly need if you're staying inside Barcelona's center.
If you're looking to get outside of Barcelona's center, a popular destination is Montserrat, which has over a dozen hiking trails. A metro and train ride will get you to the mountain in 90 minutes.
4-Day Itinerary for Barcelona
Below is how to spend four active days in Barcelona while visiting some of the city's top attractions, doing a day hike at Montserrat and exploring the different neighborhoods.
This four-day itinerary is the improved version of my Barcelona itinerary. I've included some of my actual timestamps to give you an idea of how long you might need for each activity and how to efficiently sequence things.
It's also an active itinerary in that if you walk everywhere as sequenced, you can cover four to six miles per day for a total of 12 to 18 miles by the end of the trip, not including the suggested six-mile moderate hike on day 3. You can easily make it less walking-heavy by taking public transportation.
Barcelona Itinerary
The Barcelona trip planning template has this itinerary prefilled.
I share all my travel expenses from doing a similar itinerary in this Barcelona cost breakdown.
Barcelona Map With Recommended Places
This Barcelona Map has all the places recommended pinned and organized by itinerary day.
About This 4-Day Barcelona Itinerary
This four-day itinerary was put together thoughtfully with the help of a local friend. Below are the explanations and details behind this Barcelona itinerary with practical tips sprinkled in.
Day 1: Get to Know Barcelona
Stop #1: Gothic Quarter
On your first day, settle in and start getting the vibe of Barcelona by visiting the historic center of Barcelona's Ciutat Vella (which is "Old City" in Catalan), Gothic Quarter. Make sure to stop at the Barcelona Cathedral, one of the city's most important and famous churches.
👟 How to: You can explore the center by taking a Gothic Quarter walking tour or a free walking tour hosted by a local guide, which is what I did.
⏰ Suggested duration: The Gothic Quarter walking tours last two to two-and-a-half hours, which is also roughly how long you can spend walking around this area.
💰 Expected cost: Barcelona walking tours are usually around $20 USD. The free walking tours are tip-based, so you can give any amount you like at the end.
🍀 My take: Doing a walking tour right after arriving can be tiring for some people, but I found it nice and relieving to not have to figure out where to go on day 1.
Stop #2: El Born
Continue heading northeast to the trendy El Born neighborhood for a different vibe. On the way there, you can stop by Picasso Museum which thoroughly documents his artistic progression.
⏰ Suggested duration: You can spend an hour or more walking through the neighborhood and looking at trendy shops, restaurants, bars and spas.
💰 Expected cost: El Born is free to walk around, but know that some of the trendy shops can get pricey.
🍀 My take: Don't worry too much about where to walk; El Born is a great place to wander around aimlessly.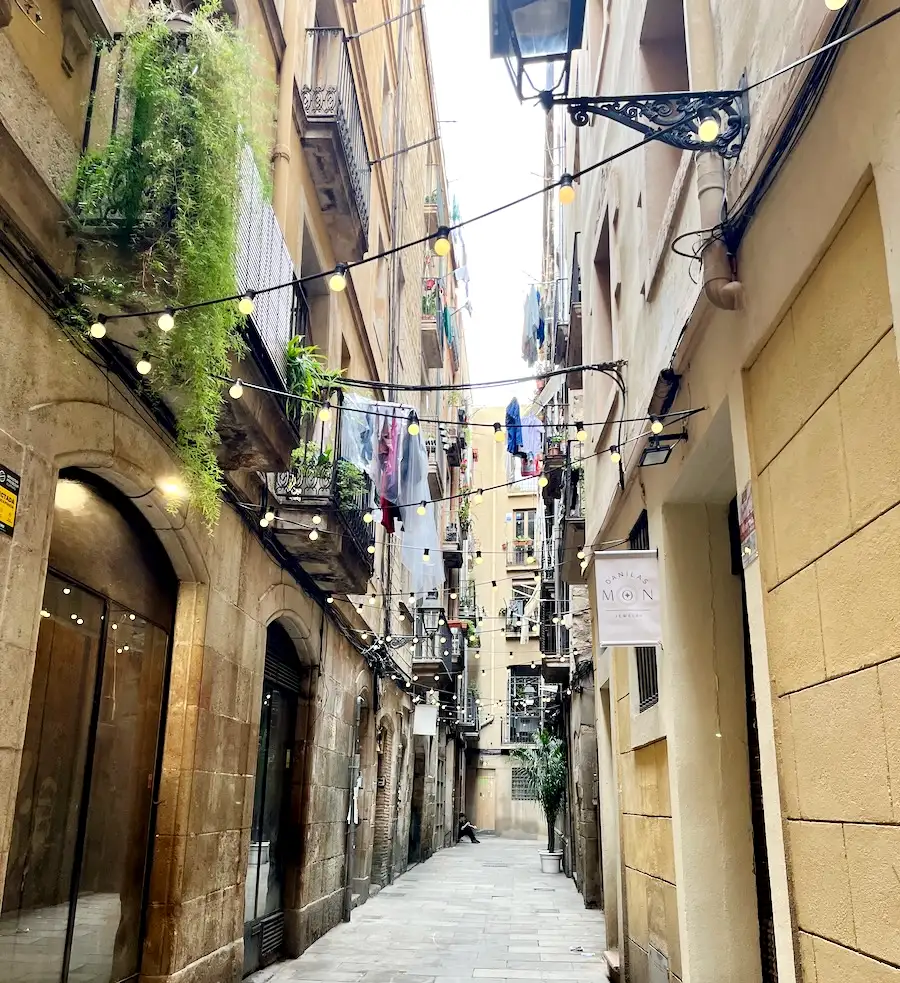 Dr Stravinsky is a cool bar in El Born that serves unique drinks and is recommended by locals. They have a "drink profile" menu that helps you choose a drink based on the types of flavors you like.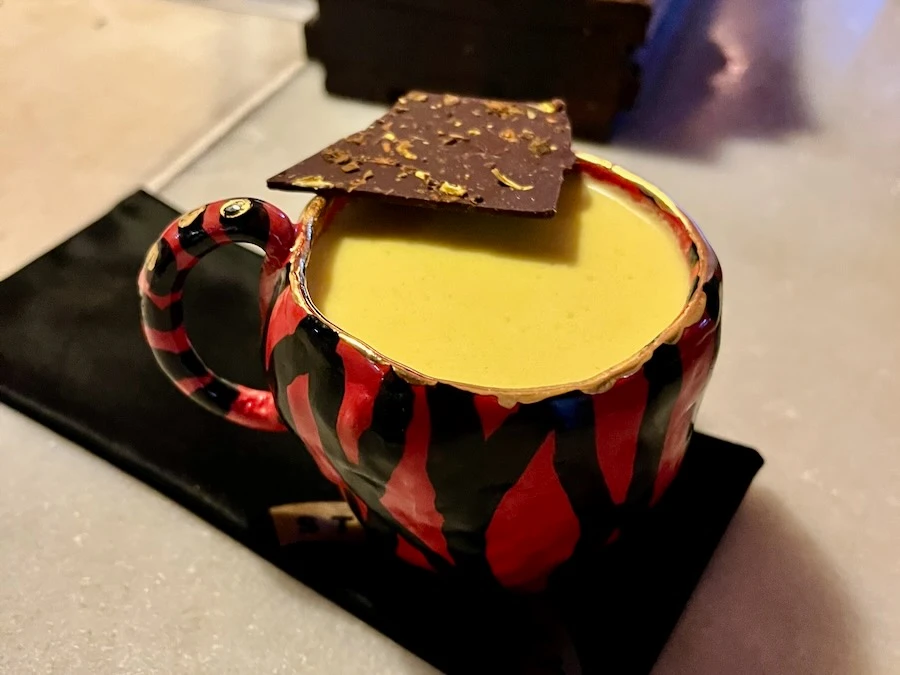 Stop #3: Parc de la Ciutadella
Keep heading northeast to the largest park in Barcelona, Parc de la Ciutadella, a great spot to people-watch and see a mix of locals and tourists relaxing and taking casual strolls. You'll also likely see street performers and a few vendors.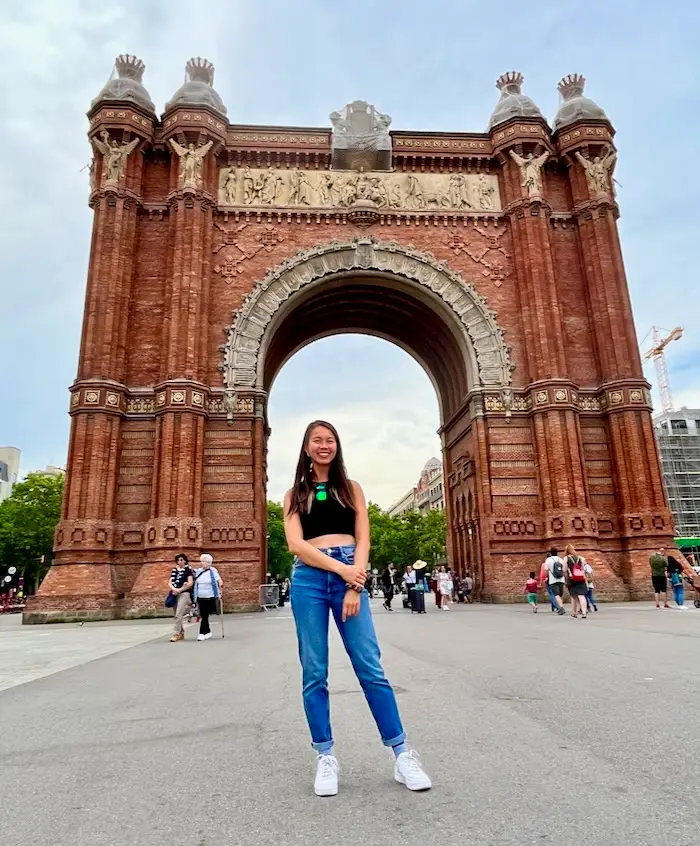 Stop #4: Tapas Dinner
Barcelona is known for its excellent cuisine so on day 1, it's worth finding a tapas restaurant (tapas translates to "a smart portion of food") where you can try a sampling of Spain's most famous appetizers
💰 Expected cost: A tapa generally costs $3 to $5 USD with some upscale restaurants charging double the price.
🍀 My take: One of my favorite tapas is "pulpo a la gallega", which is octopus with potatoes and paprika. However, it was generally served in a large portion. For smaller tapas, I loved "jamón Ibérico" (cured ham) and "pimientos de padron" (small, hot peppers).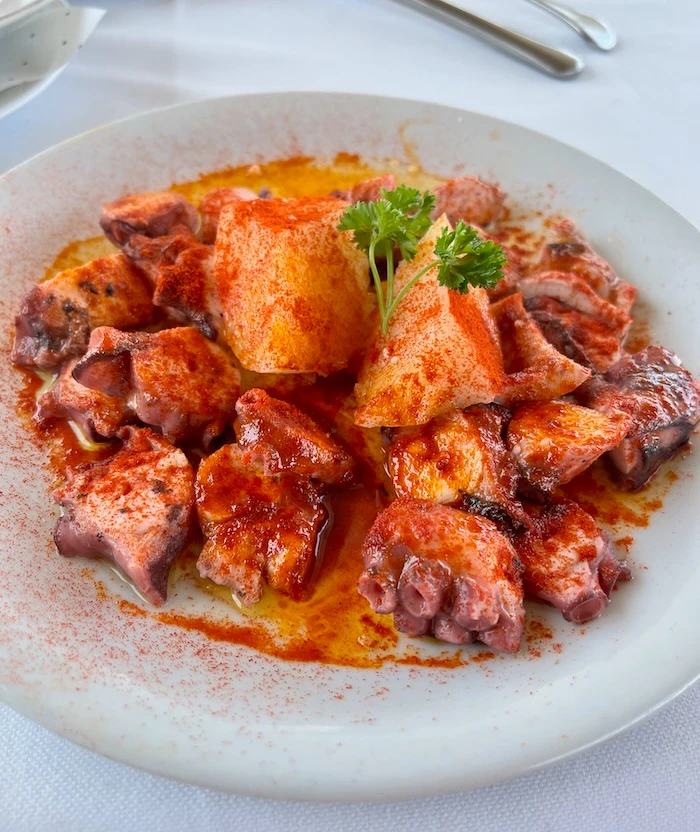 Day 2: See the Works of Gaudí
Stop #1: La Sagrada Familia
No Barcelona visit is complete without seeing an architectural masterpiece by Antoni Gaudi, the most influential Catalan artist in modern Spain. La Sagrada Familia, an eccentric temple and a UNESCO World Heritage Site, is the most famous of all of Gaudí's works.
⏰ Suggested duration: You can expect to spend one to two hours in La Sagrada Familia if you do the self-guided audio tour. If you visit during the peak season, you might have to budget an hour of waiting in line.
💰 Expected Cost: La Sagrada Familia's entrance fee starts at €26 (~$27 USD) which includes a self-guided audio tour. The price increases to ~$32 USD for a group tour and ~$43 USD to visit the temple's towers.
🍀 My take: I had visited dozens of temples by this point in my Europe trip and La Sagrada Familia is by far the most breathtaking one. It is well worth visiting.
La Sagrada Familia is almost always crowded, so book your tickets in advance. Visitors have had to book weeks in advance during the peak season. If you don't want to wait in line (which can be an hour long), you can pay a premium to skip the line.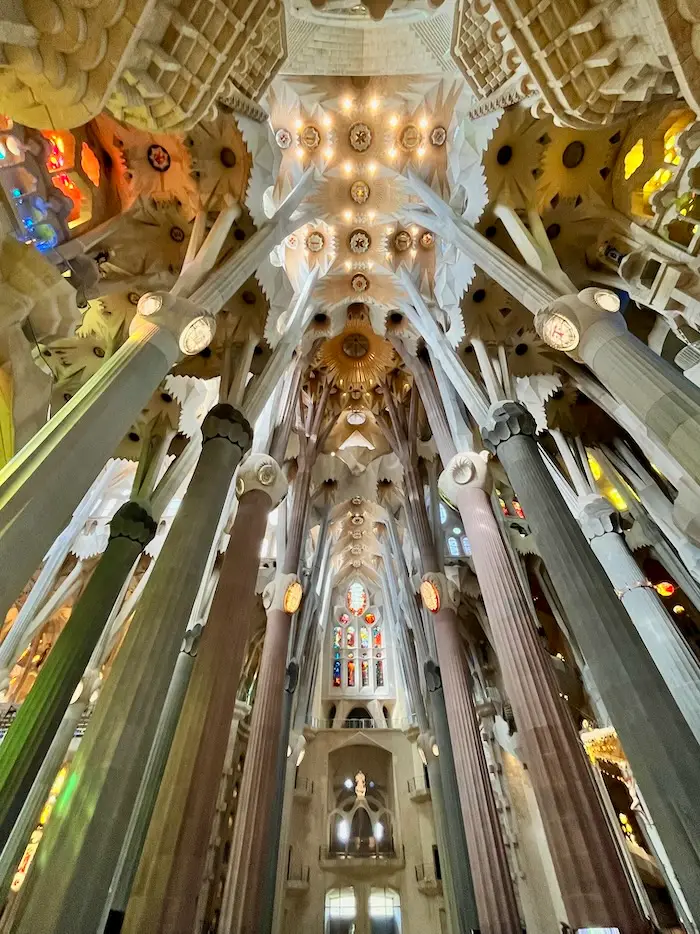 Stop #2: Tapas at Vinitus
A 25-minute walk from La Sagrada Familia, Vinitus is an amazing tapas restaurant that has a standout Burnt Saint Teresa torrija (bread pudding). Their staff are helpful and very willing to help you with recommendations.
⏰ Suggested duration: Expect a long wait at Vinitus. Avoid peak lunch and dinner hours to shorten your wait to less than 30 minutes. Once you're seated, service is relatively fast for Barcelona.
💰 Expected cost: I visited Vinitus twice and averaged $27 USD per meal, but could have brought the price down to $20 USD had I been sharing plates and not traveling solo.
🍀 My take: Vinitus's tapas were incredible, but it was their Burnt Saint Teresa torrija, a Spanish-style french toast, that made me go back a second time within four days.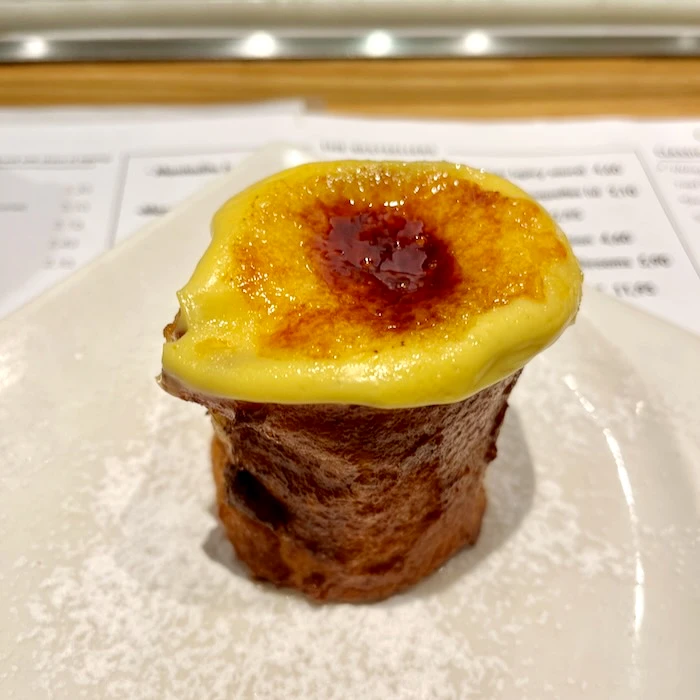 Stop #3: More Gaudí
After lunch, you can visit another of Gaudí's works. Alternatively, you can skip to stop #4 and return to this afterwards if you need an architectural break (which is what I did). From Vinitus, you can visit:
🏠 Casa Batlló. A short walk from Vinitus, Casa Batlló is an eccentric Gaudí house enhanced with optional VR experiences. I thoroughly enjoyed my solo, self-guided tour here. The entrance fee starts at ~$30 USD online and increases to ~$35 USD at the box office.
🏰 La Pedrera-Casa Milà. A 10-minute walk from Vinitus, La Pedrera is another one of Gaudí's home masterpieces. The entrance fee is €25 (~$27 USD) and the internet's consensus seems to be that Casa Batlló is a better value than La Pedrera for what you get.
🌈 Park Güell. A 20-minute metro ride from Vinitus, Park Güell is one of Gaudí's most popular and iconic landmarks, so tickets get frequently sold out during the peak season. The entrance fee is €10 (~$10.50 USD) and you can see parts of it from outside the park if you don't want to pay. You can also pay a premium to skip the line and get a guided Park Güell tour.
If you want a break from Gaudí and check out a building by another renowned Catalan architect, consider visiting Casa Amatller instead.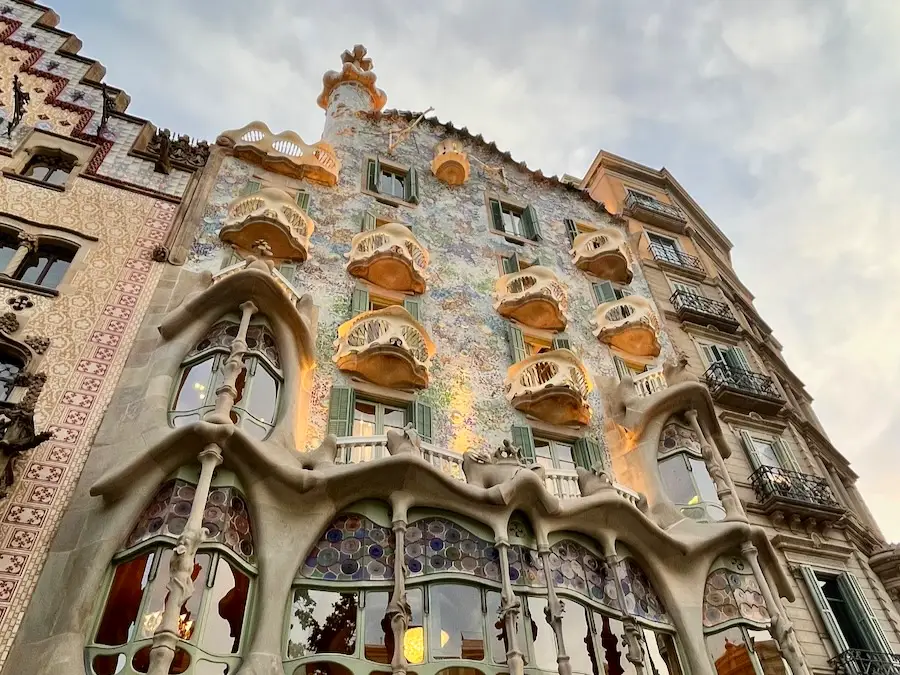 Stop #4: Las Ramblas
From one of Gaudí's works, you can walk or metro down to La Rambla, also known as Las Ramblas, (the starting point is Plaça de Catalunya), a pedestrian-only, wide boulevard filled with stalls, flower shops, artists and more. It's a tourist hot spot with a lot of energy in some parts.
⏰ Suggested duration: You can spend one to three hours walking around Las Ramblas and checking out stalls.
💰 Expected cost: Las Ramblas has no entrance fee, but it's lined with vendor stalls, so expect to spend a few euros while walking around.
🍀 My take: While on Las Ramblas, make sure to stop by Mercado de La Boqueria before they close at 8:30pm to get some fresh fruits and snacks. The market is cash-only.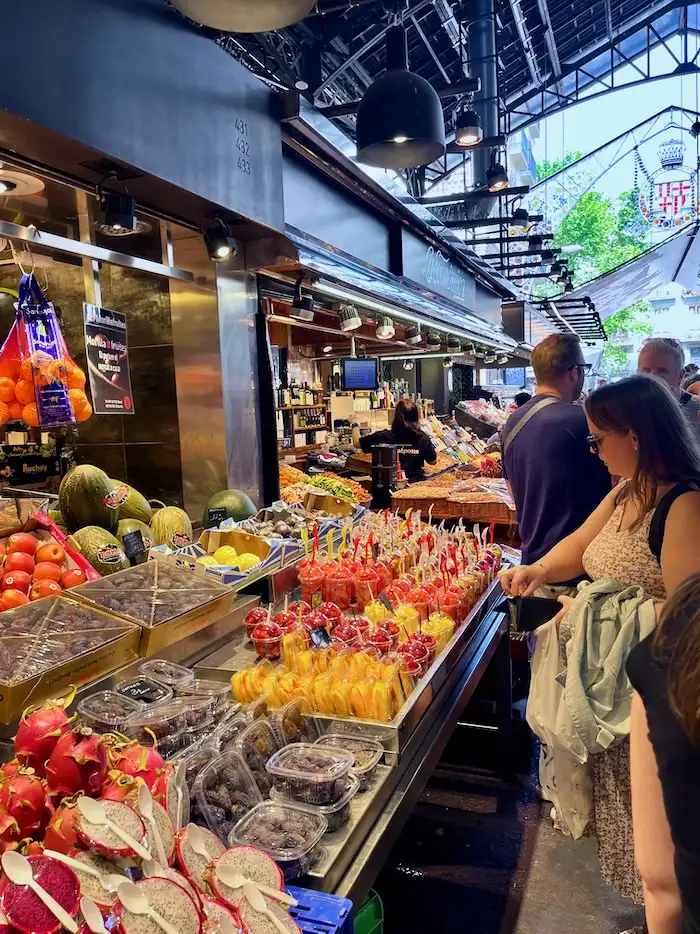 Day 3: Hike Near Barcelona
All-Day Stop: Montserrat
After two days of exploring Barcelona, consider taking a day trip one and a half hours outside of it by visiting popular Montserrat and hiking one of the many trails there.
This Montserrat day hike guide outlines how to visit and hike a moderate loop with a panoramic view.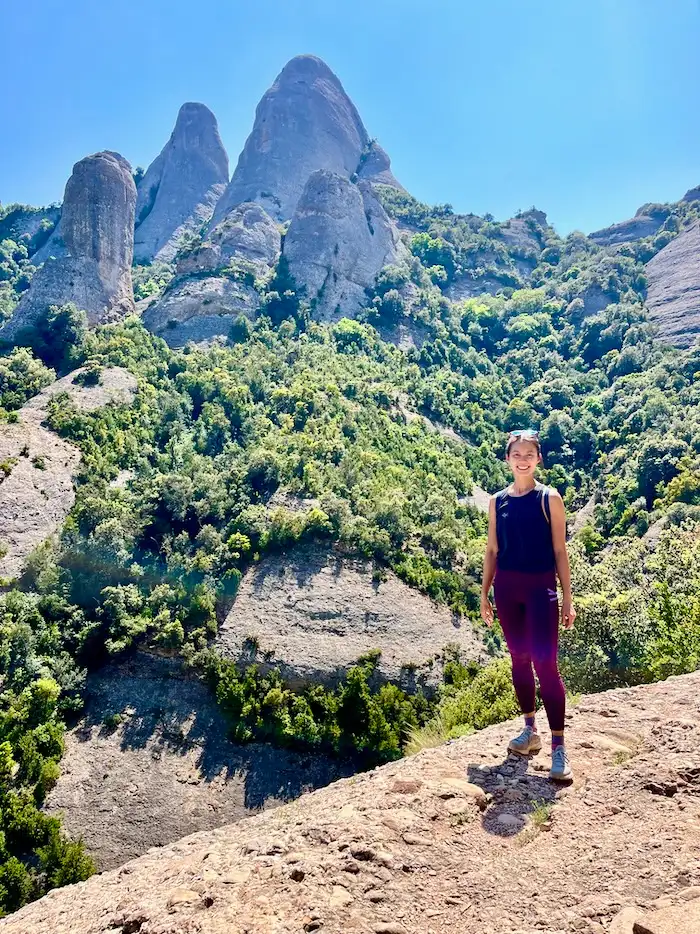 Day 4: Visit Other Neighborhoods
Stop #1: La Barceloneta
On your last day in Barcelona, start in La Barceloneta, an older and more local neighborhood that used to be inhabited by fishermen and is now located next to the popular Barceloneta Beach. Enjoy the beach and eat more tapas at La Cova Fumada or Barceloneta restaurant if you can get a reservation.
⏰ Suggested duration: La Barceloneta is big enough and has enough different things to do that you can spend a half day or full day here.
🍀 My take: My favorite part of Barceloneta was walking through the older, local and quieter streets of the neighborhood that are starkly different from the more tourist, trendy streets of El Born. I also spent an hour in the Museum of the History of Catalonia, which has an exceptional self-guided audio tour.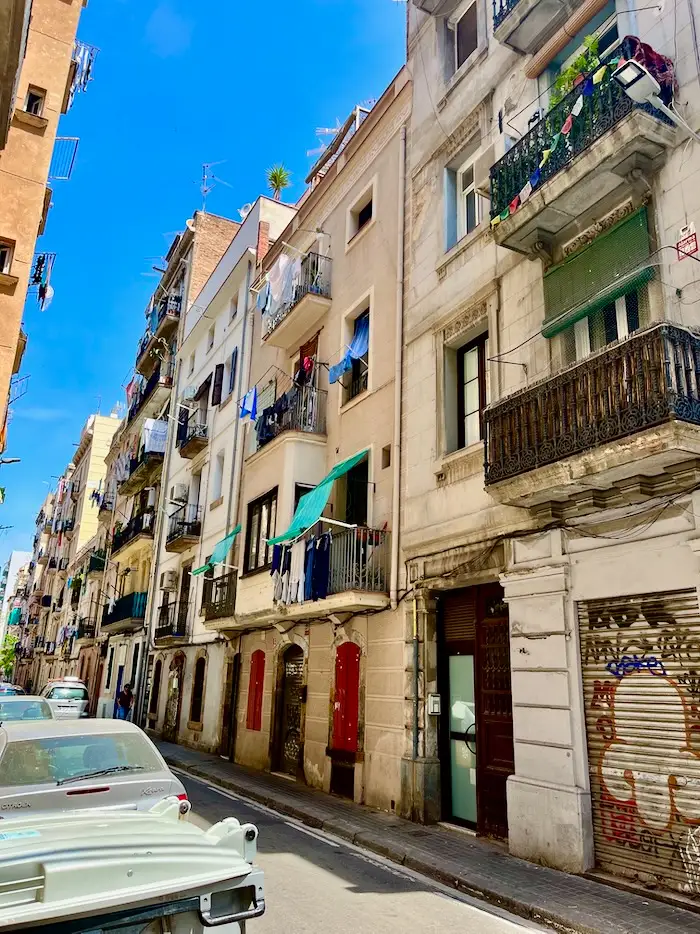 Stop #2: El Poble-sec
After La Barceloneta, head over to El Poble-sec area to walk around and sightsee. You can walk 2.5 miles there or take the metro to Espanya station. At Poble-sec, you can:
As of March 2023, Barcelona is going through a drought so the Magic Fountain shows are on pause at the moment.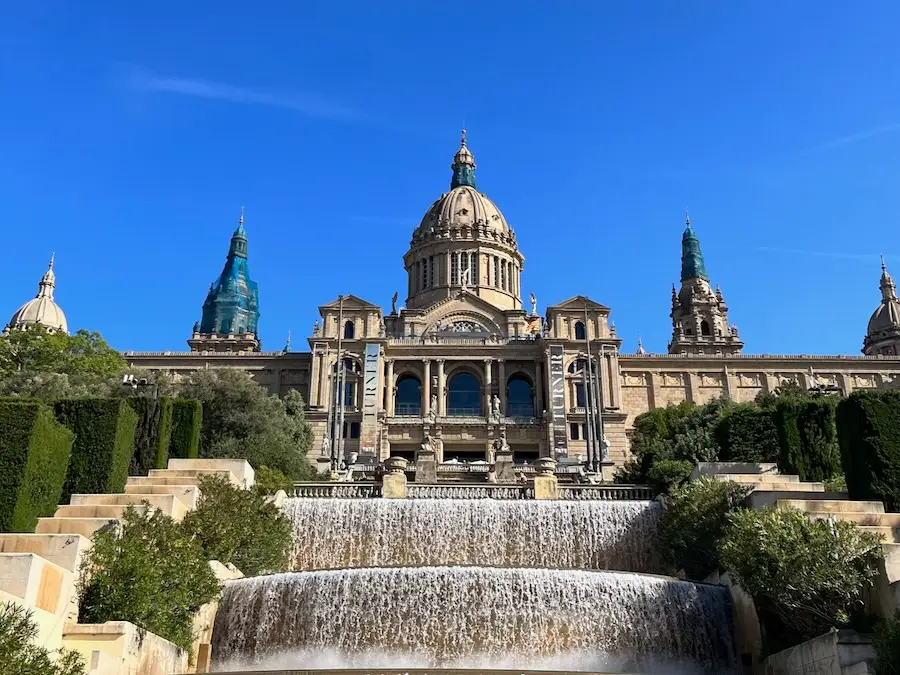 Bonus Stop: Camp Nou
⚽️ If you're a big soccer fan, head 30 minutes north of El Poble-sec to reach Camp Nou, the third-largest football stadium in Europe. Camp Nou has been the home of FB Barcelona since 1957. Even if there's no game happening, you can take a tour and visit its museum.
Accommodation in Barcelona
Here's what to consider when choosing where to stay in Barcelona and where I ended up staying.
🏠 What To Consider
When choosing accommodation in Barcelona, here are some things to consider:
Walking distance to different neighborhoods. I wanted to stay in the center of Barcelona to easily access different neighborhoods, so the Gothic Quarter area was ideal for me. I also liked being near Mercado de La Boqueria for quick snack stops.
Price and luxury tradeoff. The center of Barcelona is expensive, especially during the high season, which is when I visited. Mid-range hotels were $80 to $100 USD a night. Since I was traveling solo and didn't have someone to split a room with, I opted for a cheaper room in an Airbnb.
🏠 Where I Stayed
During my trip to Barcelona, I stayed at an Airbnb room in the Gothic Quarter and paid $54 USD per night. This was my first time staying in a hostel-style Airbnb room and here are my honest thoughts on it:
Pros: The Airbnb host was helpful, flexible and knowledgeable, the place was clean and the location was great. I had access to the living room and balcony which was nice for taking a break from sightseeing.
Cons: Since it was a cheap place for its location, I only rented a room and had to share bathrooms with up to 6 other people, which sometimes was extremely inconvenient.
Barcelona Trip Planning Template
To make your travel planning easier, download the trip planning template below and use it as a starting point. The template has country-specific travel information as well as an itinerary, packing list and map with recommended places pinned.
The template is built on Notion, which is what I use for all my travel planning (I'm not paid to say this; I just like the tool). If you don't have Notion, creating an account is free.
If you have any questions or thoughts, feel free to leave them in the comments below.
🧋 This site is run entirely by me, Lukiih. I spend hours writing each article to ensure its accuracy and conciseness. If you find my site helpful, you can say thanks by buying me bubble tea!