Montserrat is a famous mountain about an hour northwest of Barcelona that gives visitors the chance to escape the city. A popular day trip from Barcelona, Montserrat has over a dozen hiking trails ranging from easy two-mile hikes to hard ten-mile hikes.
I thoroughly enjoyed solo hiking to a panoramic view in Montserrat and here, I share my practical tips on hiking there. This post covers:
⛰️ Montserrat overview
🚗 How to get to Montserrat
🥾 Best moderate hike there
💡 Tips on hiking a trail there
💧 What to wear and pack
Disclosure: This post may contain affiliate links. If you make a purchase through them, I may earn a small commission, at no extra cost to you. Thanks for your support!
Montserrat at a Glance
Here is some general information on Montserrat to help you plan your hike.
📍Location
Montserrat is a mountain that's about 40 miles northwest of Barcelona and should not be confused with Montserrat the Caribbean island.
🗓️ Best Time To Visit
The most popular time to visit Montserrat is during the spring, from March to May when the weather is dry and mild (60s °F) and you have a good chance of enjoying a clear day.
Montserrat follows Barcelona's seasons and weather conditions, so it's hot in the summer from June to September (80s °F) and mildly cold in the winter from November to February (50s °F).
⏳ How Long To Visit
Most people visit Montserrat as a day trip and spend a full day there since transportation takes one to two hours depending on how you get there.
If you want to spend a night at Montserrat to do a longer hike and visit all the attractions, the mountain has some accommodations.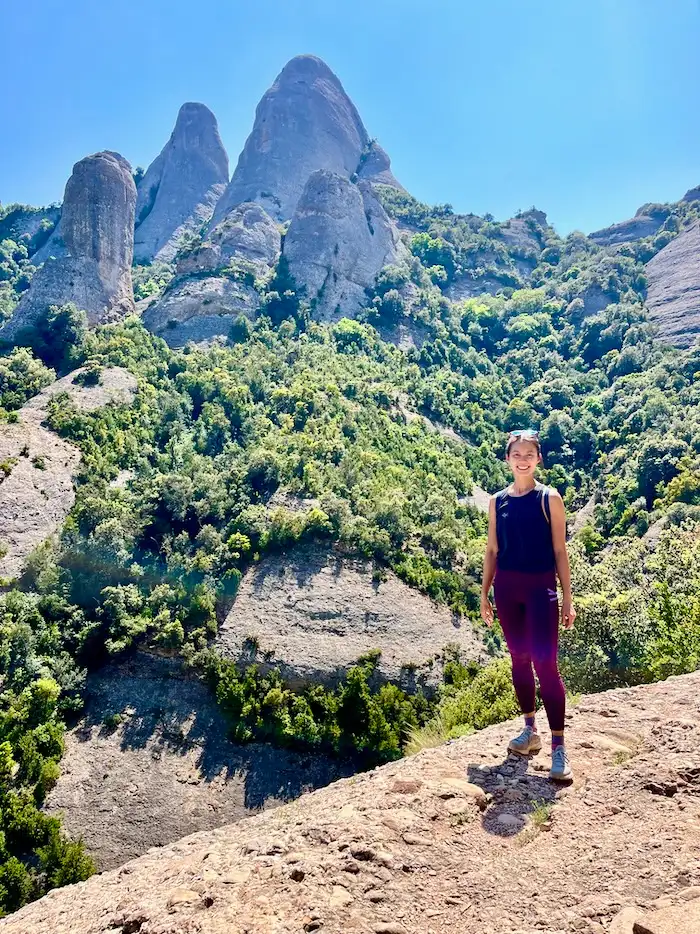 💰 Cost
There's no entrance fee to access the Montserrat hiking trails, so you'll only have to account for transportation and any tour or attraction costs (if you decide to do one).
Hiking Montserrat is a great inexpensive activity to do in Barcelona. This Barcelona cost breakdown outlines all my travel expenses.
⛪️ Things To Do in Montserrat
This guide will focus on doing a moderate hiking loop that leads to a panoramic view during your Montserrat day trip. I think this is a great way to escape the city for a bit during your Barcelona vacation.
However, most visitors go to Montserrat to see its many religious attractions:
Santa Maria de Montserrat Abbey is a Benedictine monastery and Montserrat's most popular attraction as it is the home of the famous Black Madonna statue called "The Black Virgin of Montserrat" or "La Moreneta."
Santa Cova Chapel is a chapel embedded on the side of a mountain that holds significant religious meaning. It offers a stunning view on a clear day.
St. Miquel's Cross is a prominent and significant cross in a scenic location. The hike I recommend below passes by this cross.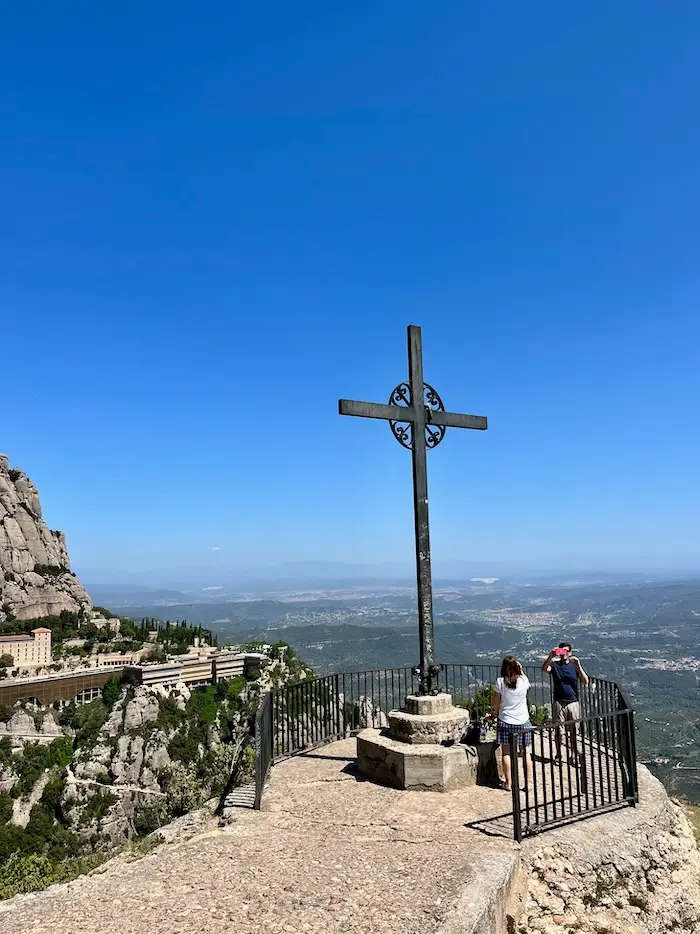 Montserrat is also a popular place for rock climbers. While hiking around the trails, you might see some of them roped in and climbing up the face of a moutain.
🕜 Hours Of Operation
Montserrat has several attractions that have different hours of operation. The famous Monastery of Montserrat is open from 7 am to 8 pm. If you're hoping to grab a bite before heading back to Barcelona, the cafeteria closes at 5:45 pm on weekdays and 6:45 pm on weekends.
Montserrat's hiking trails don't have set hours of operation, but make sure to check the train and cable car timetables so that you don't get stranded on the mountain.
Sant Jeroni Summit Loop Overview
Montserrat has 18 hiking trails ranging from easy to hard. The Sant Jeroni Summit Loop is one of the most well-rated moderate trails in Montserrat. It is the one I chose to do and will cover in detail in this guide.
🤩 Why This Loop?
Here are three reasons why the Sant Jeroni Summit Loop is one of the best hikes in Montserrat:
It takes you to the highest peak of the mountain where you can get a panoramic view.
It's the perfect length to hike if you're doing a day trip from Barcelona and traveling by public transportation.
It's a relatively quiet hike where you'll see very few people, giving you a nice break from the bustling city experience of Barcelona.
If you don't want to do a moderate hike, Montserrat has a dozen other hiking trails that fit a wide variety of fitness levels.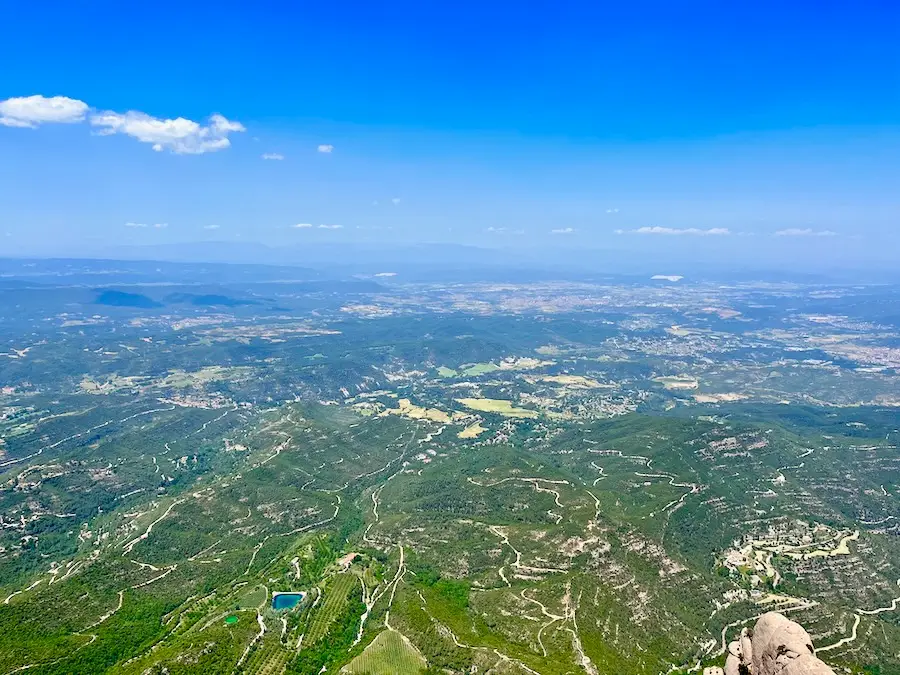 🥾 Trail's Information
Here's some quick information on the Sant Jeroni Summit Loop:
Elevation Gain: 1,978 feet
Average Time To Complete: 3.5 hours
You can cut this hike in half by taking the funicular de Sant Joan to a high observation deck where you can continue the hike to the summit of Sant Jeroni.
How To Get to Montserrat
There are several ways to get to Montserrat from Barcelona. Note that:
You first have to travel to the bottom of the mountain. You can do this by train (R5 line), car, tour or bus from Barcelona.
Once you arrive at the bottom of the mountain, you have to get to the top of the mountain, which is where the basilica and most trailheads are located.
When people say "Montserrat" or "Montserrat Monastery", they mean the top of Montserrat. You can get to the top of Montserrat by car, cable car, rack railway, tour or hiking.
🚆 Train and Cable Car
I took the train and cable car to Montserrat and found it convenient, but a bit tricky to figure out. I paid ~$35 USD round-trip during the peak season and it took about one and a half hours one-way.
Here are step-by-step instructions on how to get to Montserrat by train and cable car:
Train Ticket: At the station, buy an R5 line train ticket to Aeri de Montserrat (here's the R5 line timetable; you first need to input the origin and destination stations). You can't buy this ticket online, so you have to buy it at the station.
At a Pl. Espanya station kiosk, you have the option to buy: 1) just the train ticket or 2) a combined train and cable car ticket to save money (see prices here). Credit cards are accepted.
R5 Train: From Plaça Espanya, take the R5 line to Aeri de Montserrat towards Manresa. The R5 line (look for teal-blue color) is run by FGC and the train ride is roughly an hour long. If you get lost in the train station, look for a lime-green square symbol: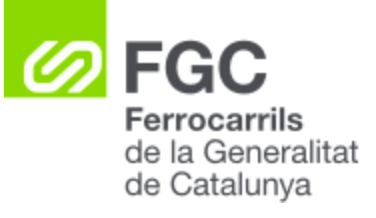 Google Maps will tell you to take the R5 line to Monistrol de Montserrat. If you want to take the cable car, do NOT get off there and make sure to get off at Aeri de Montserrat station.
Cable Car: Once you get to Aeri de Montserrat, you'll see signs to take the yellow cable car to Montserrat.

Purchasing the cable car ticket: If you didn't buy the combined train and cable car ticket earlier, you can purchase a cable car ticket at the station (here are the ticket prices).
Cable car duration: The cable car ride itself is 5-10 minutes, but depending on how many others are waiting in line, the trip can take 30 minutes including the wait time.
Cable car timing: The cable car comes approximately every 15 minutes, but during the high season, it will leave whenever there are enough passengers in the car. When leaving Montserrat, make sure to know the time of the last cable car so you don't get stranded.
Arrival: At the end of the cable car ride (location here), you'll arrive at Montserrat and can start the Sant Jeroni Summit Loop.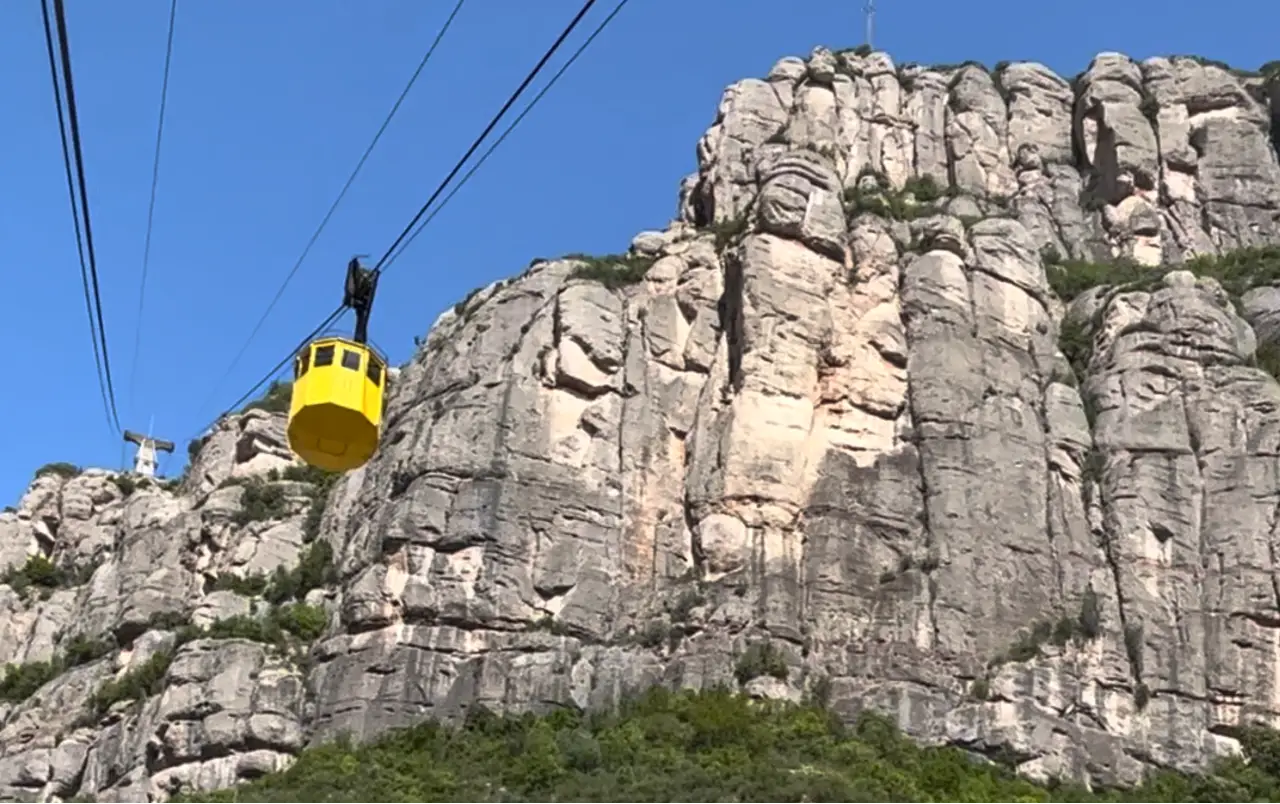 🚆 Train and Rack Railway
An alternative to riding the cable car is riding the rack railway (a.k.a. "funicular" or "cremallera") to Montserrat if you're uncomfortable with heights. The price is the same as the cable car and it takes 5-10 minutes longer, so the overall trip is a bit over an hour and a half.
Here's how to get to Montserrat by train and rack railway:
Get to the metro station and buy the train ticket. Take the Barcelona Metro to Plaça Espanya station and buy an R5 line train ticket to Monistrol de Montserrat.
At a Pl. Esapnya station kiosk, you have the option to buy: 1) just the train ticket or 2) a combined train and rack railway ticket to save money (see prices here). Credit cards are accepted. The rack railway and cable car tickets are not interchangeable, so make sure you buy the right ticket.
Ride the rack railway. At the Monistrol de Montserrat, you can follow the instructions to take the rack railway, which is a 15-minute ride. There's a ticket kiosk at the station to buy a ticket if you didn't buy the combined train and rack railway ticket earlier.
Arrive at Montserrat. At the end of the rack railway ride, you'll arrive at Montserrat and can start hiking once you find the trailhead.
🚙 Rental Car
If you decide to rent a car and drive to Montserrat from Barcelona, you will have two parking options once you arrive:
Monistrol-Vila Parking. You can park at the bottom of the Montserrat mountain at Monistrol-Vila. The parking lot is sizable (~1000 car spaces).

Parking there is free, but you will have to pay for and take the rack railway or do a 1.5-hour hike up to the top of Montserrat. This also means you have to know the rack railway's timetable to make sure you can catch the last ride back down.
Montserrat Monastery Parking. You can also drive up the mountain and park near the monastery here. The parking lot has space for ~400 cars. Be aware that parking here can be expensive and is calculated by time and the kind of car you have, but it is open 24 hours.
🚐 Tour
If you find getting to Montserrat overwhelming or inconvenient, you can also book a tour that will take care of transportation for you. There are various types of Montserrat tours from Barcelona, including:
Montserrat guided hike, which I considered doing initially, but ended up deciding that I was up for the challenge of hiking it on my own.
🚌 Bus
There's a bus operated by Autocares Julia that runs from Barcelona to Montserrat (see timetables here). The journey takes approximately 75 minutes and costs about $5.50 USD.
Although the bus is a great cheap option, most people choose to get to Montserrat by train because it's more comfortable.
6 Tips When Hiking Sant Jeroni Summit Loop
Once you get to Montserrat, you can hike the Sant Jeroni Summit Loop. Here are six tips when hiking the loop:
Tip #1: Download the Alltrails map in advance.
There's no cell service during the Sant Jeroni Summit Loop, so download the map ahead. There are many trails and if you're hiking it by yourself like me, you can easily make a wrong turn, so it's good to check the GPS once in a while.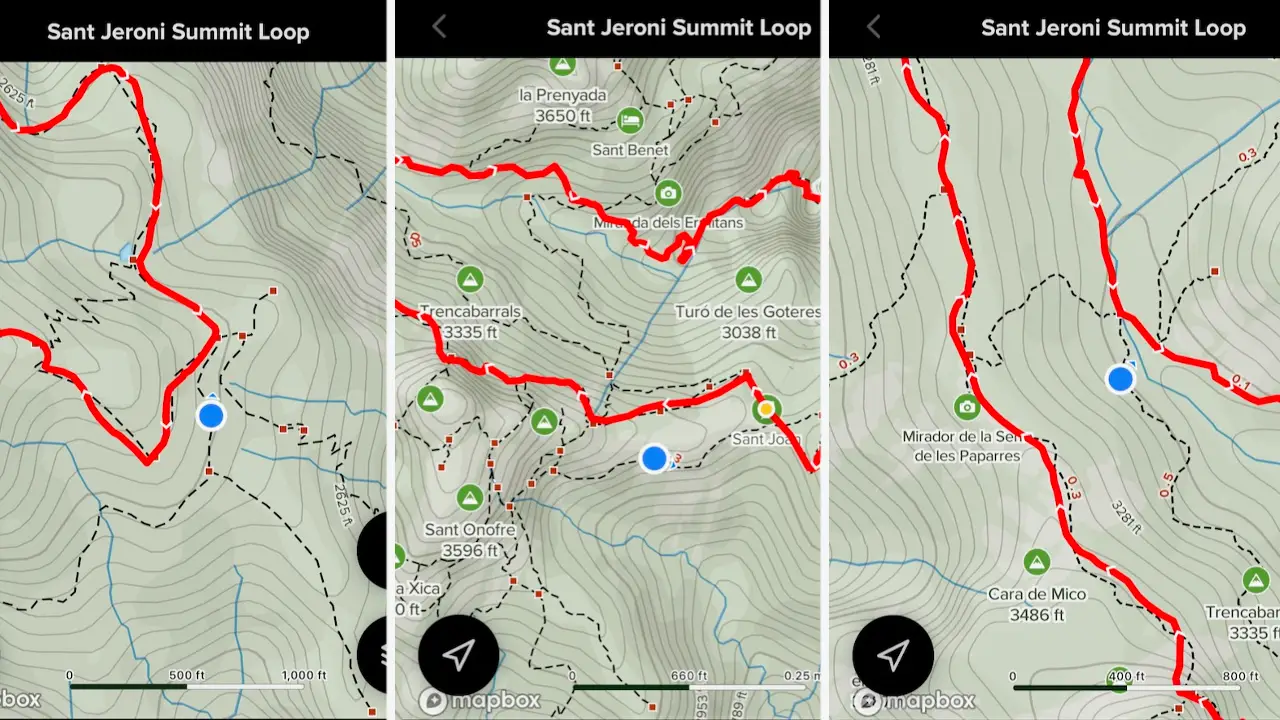 Tip #2: Pack enough water and some snacks.
There are no water fountains on the Sant Jeroni Summit Loop, so make sure you have enough water for a six-mile hike that has elevation.
I packed cold water in my insulated 24 oz water bottle and bought a standard sports drink, which was sufficient for me. I also packed a small sandwich snack to enjoy at the summit, which I reached around lunchtime.
Tip #3: Stop by the tourist office to double-check the trailhead's location.
The Sant Jeroni Summit Loop's trailhead is not clearly marked and can be tricky to find, so it's not a bad idea to double-check the start with the tourist office.
The trailhead starts and ends around here; you should be walking up a slight incline and pass St. Miquel's Cross within 20 to 30 minutes.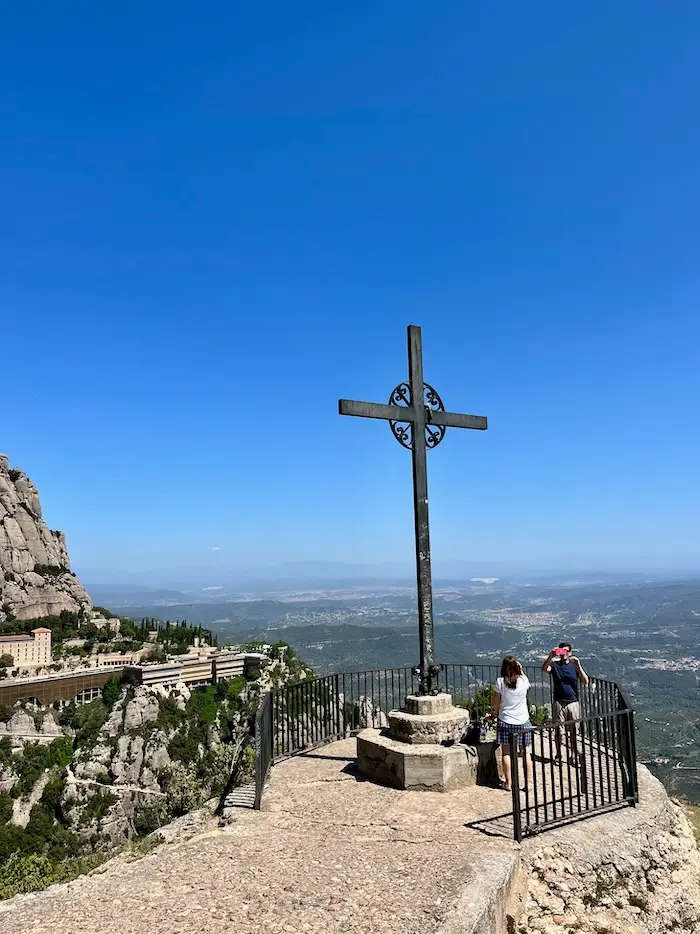 Tip #4: The terrain can vary, but running shoes are sufficient.
During the hike, you'll walk on well-maintained paths, take some stone stairs, go on dirt roads and squeeze through some rocks, all of which are doable in running shoes.
I wore my Asics running shoes and thought everything was very manageable.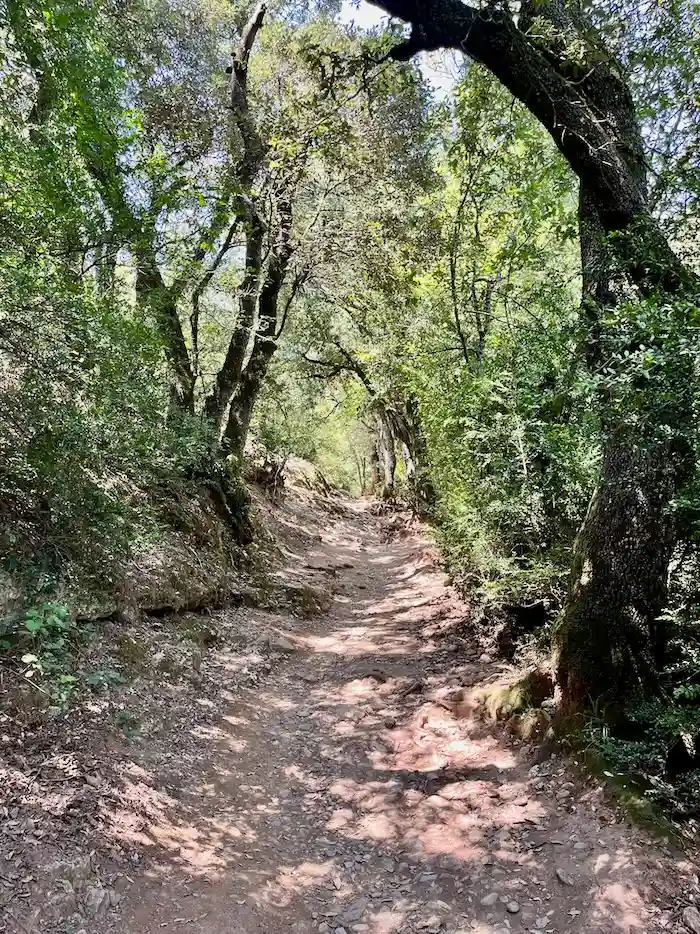 Tip #5: Make time for the panoramic view.
At the summit, you will have to climb steep stairs to be on the platform with the panoramic view, which I thought was well worth it.
I stayed near the summit for about 30 minutes to enjoy the breathtaking views.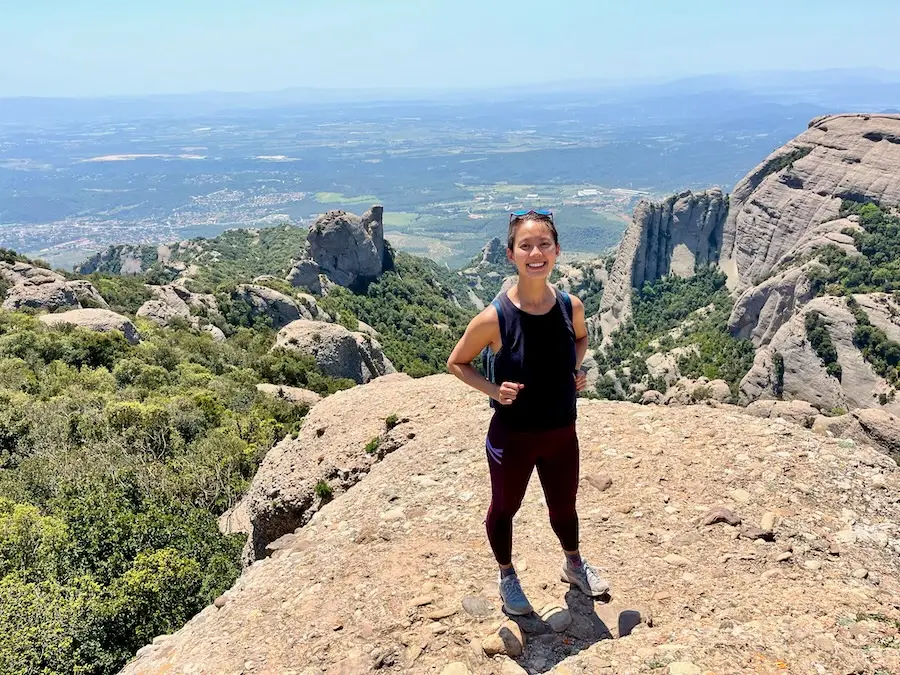 Tip #6: If you're in a rush, you can take the Sant Joan funicular to cut an hour from the hike.
If for some reason you need to make the hike shorter, the Sant Joan funicular will take you to the top Sant Joan funicular station here, which will cut an hour from your hike. (You won't pass by St. Miquel's Cross if you do this.)
The funicular ride takes about seven minutes and runs approximately every 20 minutes.
Montserrat Day Trip With Hike Itinerary
Below is how to spend a day trip in Montserrat while hiking the Sant Jeroni Summit Loop.
I've included my actual timestamps to give you an idea of how long you might need for each activity and how to efficiently sequence them.
9 am
Start leaving Barcelona; get to Plaça Espanya station
9–10 am
Take the R5 train and arrive at Aeri de Montserrat
10–10:30 am
Take the Montserrat cable car and look around the monastery; visit the tourist office to get a map
10:30–11 am
Start the Sant Jeroni Summit Loop and enjoy the view at St. Miquel's Cross
11 am–12:30 pm
Reach the Sant Jeroni summit and enjoy your lunch/snack
12:30–2 pm
Finish the loop
2–4 pm
Explore Montserrat if you have free time:
– Visit the Monastery of Montserrat and see the Black Madonna
– Visit the museum
Head out between 4–6 pm
Catch the cable car and take the train back to Barcelona
This Barcelona itinerary shows how to incorporate this day trip into your vacation.
Barcelona Trip Planner
To make your travel planning easier, download the trip planning template below and use it as a starting point. The template has country-specific travel information as well as an itinerary, packing list and map with recommended places pinned.
The template is built on Notion, which is what I use for all my travel planning (I'm not paid to say this; I just like the tool). If you don't have Notion, creating an account is free.
If you have any questions or thoughts, feel free to leave them in the comments below.
🧋 This site is run entirely by me, Lukiih. I spend hours writing each article to ensure its accuracy and conciseness. If you find my site helpful, you can say thanks by buying me bubble tea!