A city in Spain known for stunning architecture and delicious cuisine, Barcelona is a semi-affordable city in Europe that can be visited with a budget of $80 to $140 USD a day.
My four-day trip to Barcelona, Spain cost a total of $721 USD. In this post, I share:
💰 Barcelona expected costs
💡 Barcelona-specific budgeting tips
✈️ My trip's travel expenses
💵 How much cash is needed in Barcelona
Disclosure: This post contains affiliate links. If you make a purchase through them, I may earn a small commission, at no extra cost to you. Thanks for your support!
Is Barcelona Expensive To Travel To?
💰 Barcelona is an expensive city for Spain, but semi-affordable for Europe. Comparing Spain's top two destinations, Barcelona is, on average, more expensive than the capital, Madrid. For a mid-range budget traveler, you can expect to spend approximately:
$150 per day in Barcelona
$120 per day in Madrid
Compared to other European cities like London, Paris, Venice and Edinburg, Barcelona is cheaper on average. Spain is also generally more affordable than the UK and Italy. Here is how much I spent per day in these European countries that I visited in the same year as Barcelona:
My Barcelona trip's cost per day: $155
My Italy trip's cost per day: $131 (I traveled with others and split accommodation, transportation and food costs)
🎒 A budget traveler can expect to spend approximately $80 per day or $320 for four days of travel in Barcelona, not including flights. To travel on a budget in Barcelona, here are some things you can do:
Accommodation: Stay at a hostel for $30 a night.
Food: Eat and get groceries at Barcelona's markets (e.g., Mercado de La Boqueria) where you can get <$10 cheap eats and ~$2 fruits, which can save you more than $15 on food per day.
Attractions: Take free walking tours around Barcelona; a few tour companies offer these.
💳 A mid-range budget traveler can expect to spend approximately $150 per day or $560 for a four-day trip in Barcelona, not including flights. Read on for my mid-range budget travel breakdown.
About My Barcelona Trip
To give context to the expenses below, here's what you need to know about my trip to Barcelona:
🗓️ Four days. Most people recommend spending three days in Barcelona. I spent four days there, which gave me enough time to see some of the top attractions, do a day hike and have some downtime.
☀️ High season. I visited Barcelona in May, which is considered the start of the high season. Barcelona's peak season runs from May to September.
The cheapest months to visit Barcelona are during the shoulder seasons, from February to May and from October to November. Accommodations and tours are more affordable during those months.
✌️ Solo traveling. Unlike most of my other trips, I traveled to Barcelona solo, so I wasn't able to split accommodation, transportation or food costs with anyone.
💰 Mid-range budget. I don't aim to travel on a budget, but I'm thoughtful about how and where I spend. I consider myself a mid-range budget traveler and these expenses reflect that.
⏰ Last minute. I booked my trip at the last minute (one to one and a half weeks in advance) while traveling in Europe, so my accommodation and flight expenses are higher than normal.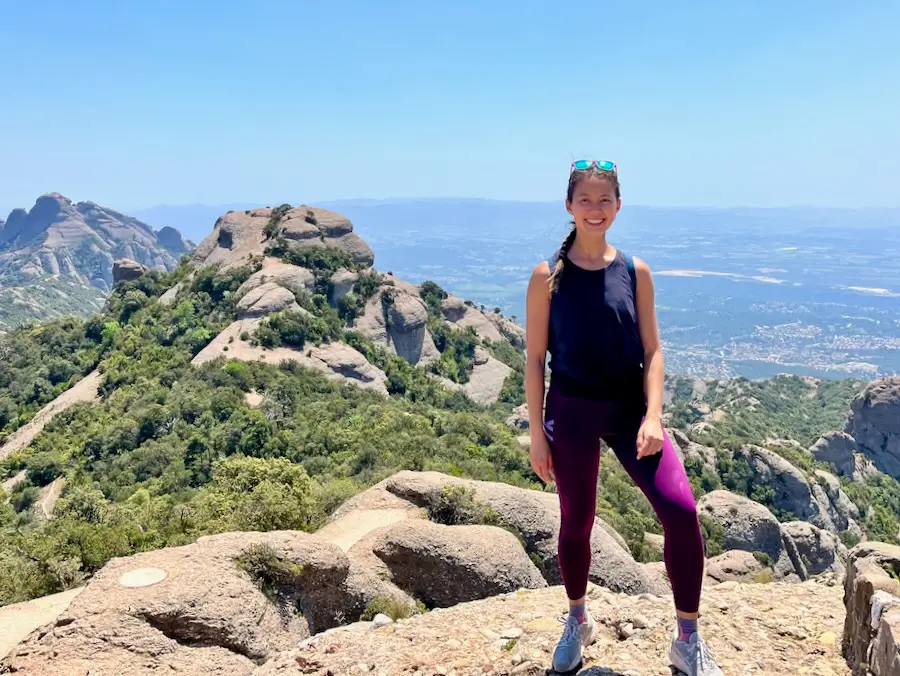 Total Cost for a Barcelona Trip: $721
I spent $721 in Barcelona during my four-day trip with an itinerary similar to this one.
All costs listed in this post are per person and in USD, converted from the euro ($1 USD equaled €0.92 at the time of writing).
USD is not widely accepted in Spain, so you will have to pay in euros. Some big hotels and merchants may accept USD. See tips on using cash below.
Cost Breakdown

for Barcelona

Here are my Barcelona travel expenses by category:
| | Cost | % of Total Cost | Cost Per Day |
| --- | --- | --- | --- |
| ✈️ Flights | $100 | 14% | – |
| 🏠 Accommodation | $215 | 30% | $54 |
| 🍛 Food | $261 | 36% | $65 |
| 🚗 Transportation | $60 | 8% | $15 |
| ⭐ Entertainment & Shopping | $85 | 12% | $21 |
| Total | $721 | 100% | $155 |
My Barcelona trip's cost breakdown.
Cost per Day in Barcelona: $155
If I include my flight costs, my Barcelona trip came out to $180 per day.
A mid-range budget traveler can expect to spend $150 per day in Barcelona. This is generally someone who is staying at <$100 per night hotels, eating at $ to $$ restaurants, taking Barcelona's metro, and paying for experiences even if they're pricey, but not booking private tours.
Flight Costs to Barcelona: $100
My last-minute flight (booked a bit under two weeks in advance) from Rome to Barcelona was $100.
Flights between the EU nations are relatively inexpensive (<$100). A one-way flight from Italy to Spain can range from $20 to $100, so I booked a plane ticket that's on the higher end.
You can expect to pay an average of $500 for a flight from the east coast of the US to Spain. The most expensive months to fly to Barcelona from the USA are June and July and the cheapest month to fly to Barcelona is January, according to Kayak.
Accommodation Cost in Barcelona: $215
My average cost of accommodation in Barcelona was $54 per night.
Here are some of my accommodation details that likely impacted the cost:
Booked on Airbnb where I had a private room with a lock and shared a bathroom with 4+ other visitors, including the hosts.
Traveled during peak season and booked at the last minute (1 week in advance), so it was difficult to find any mid-range accommodations for less than $100.
Stayed in the popular and happening Gothic Quarter area, which also made the price higher. I would have paid less had I been willing to stay in a less central area.
The cost of accommodation in Barcelona will vary between the low and high seasons, but on average, you can expect to pay approximately $70 per night for a mid-range accommodation and $100 per night during peak season.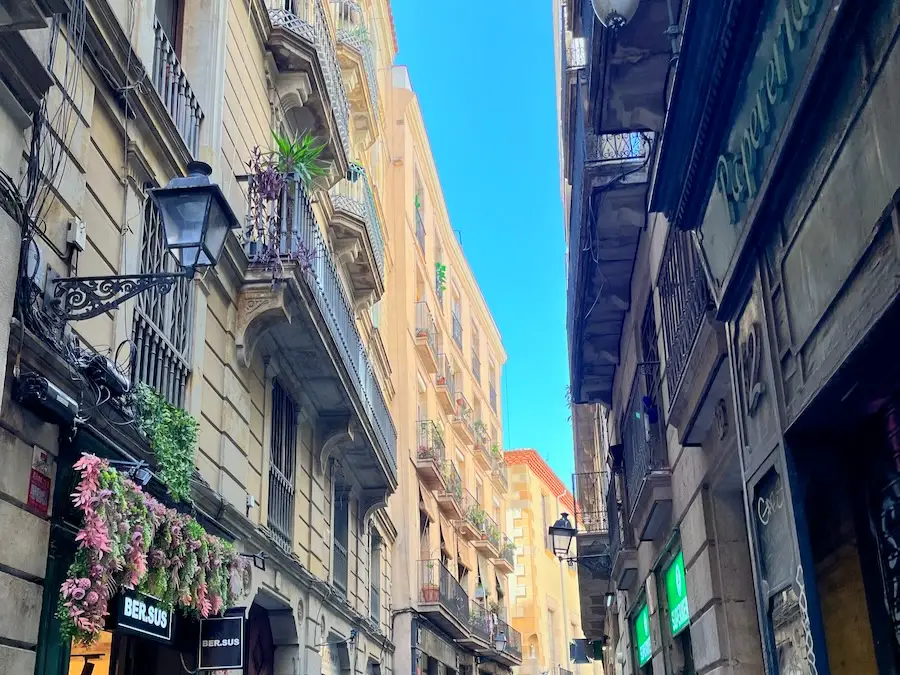 Food Cost in Barcelona: $261
My average cost of food in Barcelona was $65 per day.
My most expensive meal in Barcelona cost $65 at Capet, a Michelin Guide restaurant, which I thought was very good. Barcelona is such a culinary powerhouse that you can easily find really good food for cheaper.
My least expensive meal in Barcelona cost $13 at Agüelo013 tapas restaurant.
I'm not much of a drinker, but I also spent $17 on a very unique cocktail bar, Dr. Stravinsky, that I recommend.
You can expect to spend ~$50 per day on meals if you're not eating on a tight budget or at high-end restaurants in Barcelona. Compared to cities in the US, Barcelona has a lot of Michelin-star restaurants that are more affordable on average.
It's very common and popular to eat tapas, traditional small plate specialties, in Barcelona. Vinitus is one of my favorite tapas restaurants and I spent $30 per meal there on average. The portions are on the larger side and I prioritized trying different tapas, so my cost would have been closer to ~$20 per meal had I been traveling with someone else.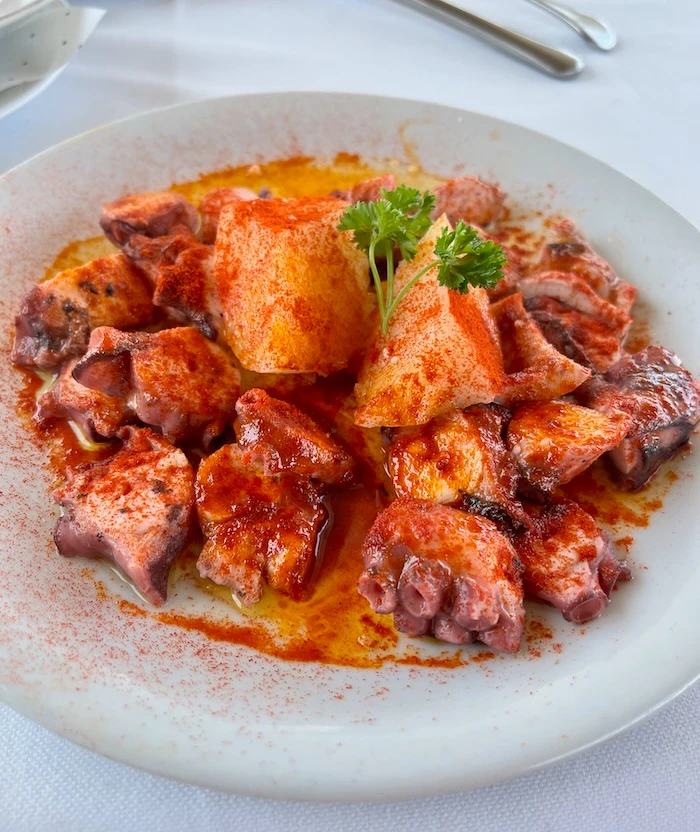 Transportation Cost in Barcelona: $60
My average cost of transportation in Barcelona was $15 per day.
My total cost for Barcelona's public transportation: $18
One-way bus ride from the airport to Barcelona: $7
Round-trip metro tickets to Montserrat, including round-trip cable car ride: $35
Barcelona has an extensive metro system that you should take advantage of. A single ride costs €2.40 (~$2.60) and a T-Casual Card, which covers ten rides, costs €11.35 (~$12.25).
Riding the metro is significantly cheaper than calling an Uber or taxi. For example, a metro ride to the Barcelona Airport costs $5 while an Uber ride costs ~$30.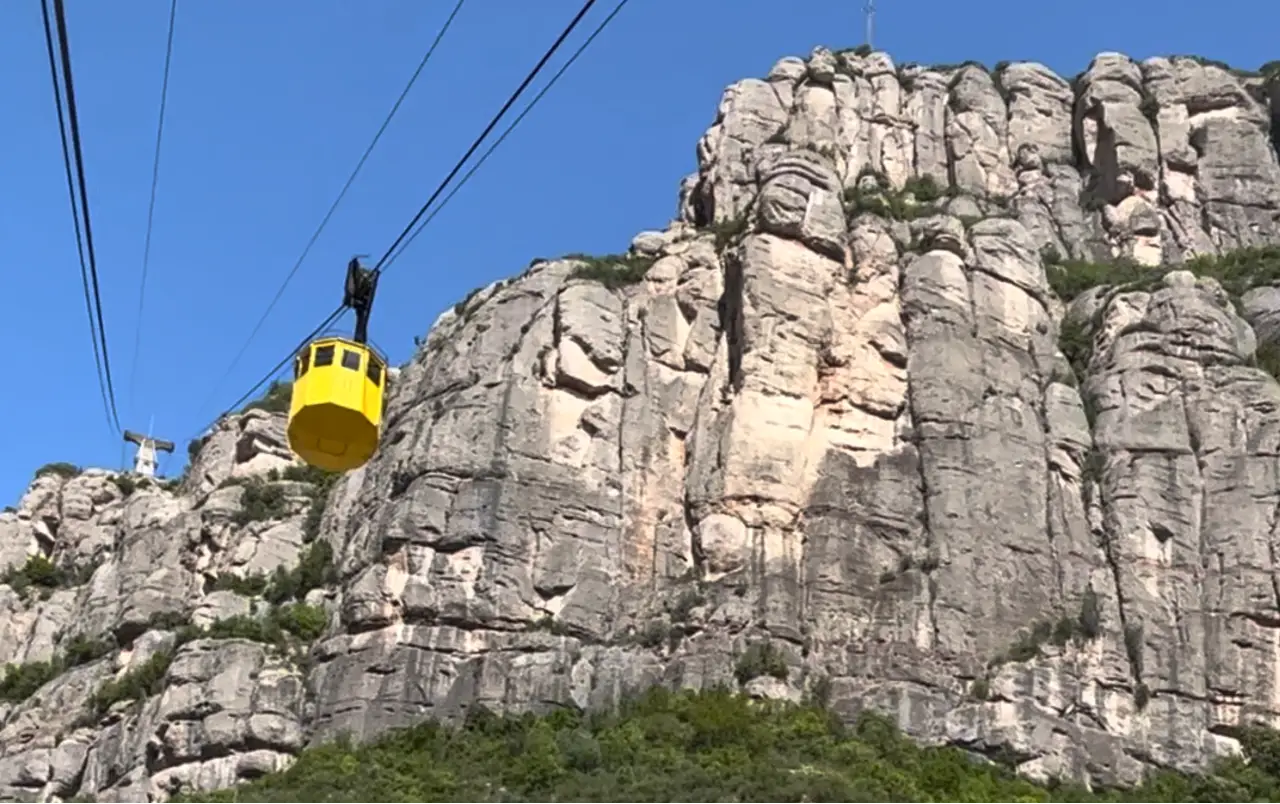 Activities and Tours Costs in Barcelona: $85
My average cost of activities in Barcelona was $21 per day.
La Sagrada Familia is Barcelona's #1 attraction, so if you visit during the high season (May to September), make sure to book tickets more than a week in advance and expect long lines. You can pay for a tour to skip the line.
This Barcelona travel guide outlines an active 4-day itinerary that incorporates a day hike.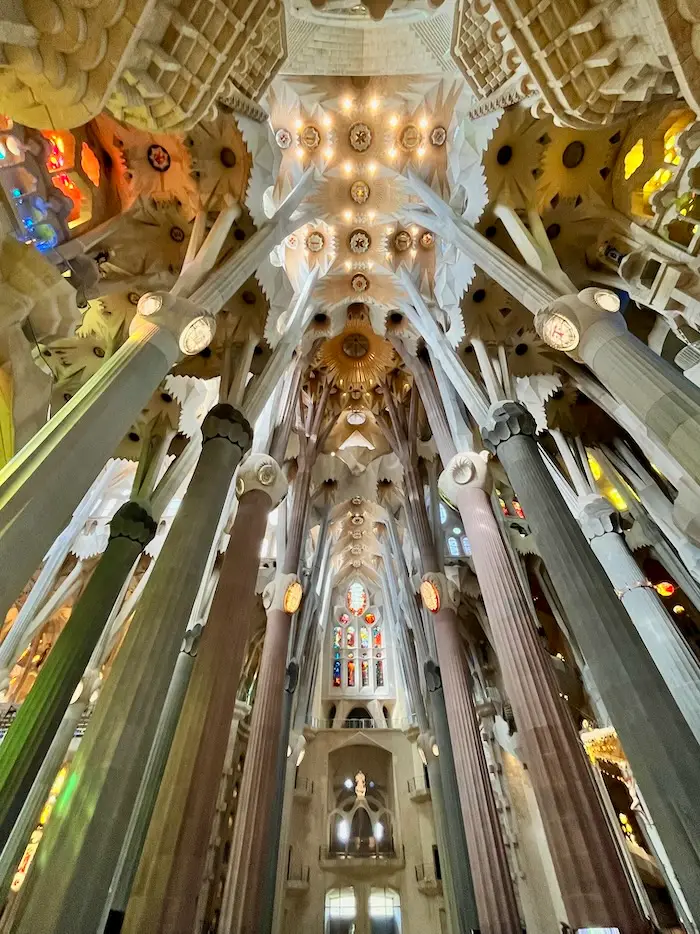 Do You Need Cash in Barcelona?
Like many touristy European cities, Barcelona has a good credit card infrastructure, but you'll need cash for small purchases, so bring a small amount of cash to Barcelona.
Here are some tips on using cash and credit cards in Barcelona:
Tip #1: Withdraw cash in euros.
Spain's currency is the euro and USD is not widely accepted in Spain.
Avoid Euronet ATMs when withdrawing cash in Barcelona. Throughout Europe, Euronet ATMs consistently have high fees and use terrible exchange rates, so unless you're in desperate need of cash, I would avoid them.
Tip #2: Bring ~$15 worth of cash per day to Barcelona.
During my 4-day trip in Barcelona, I spent roughly $45 in cash (or $11 per day). I otherwise used my credit card whenever possible. I spent approximately:
$10 at small cafes where the purchases had a credit card minimum (e.g., coffee)
$25 at markets (e.g., the popular Mercado de La Boqueria is cash-only)
$10 on tour guide tips
I kept my cash in my crossbody phone pouch (it feels secure enough for me), but if you want extra protection against pickpocketing, you can carry a hidden money belt.
Tip #3: Tipping is not expected in Barcelona, but appreciated.
You should only tip for great service in Barcelona and even then, it's not obligatory.
Tipping tour guides is not mandatory. For a large tour group size, you can add a $5 tip if you like.
Many restaurants take credit cards and you can add a 10%-15% tip to the bill by asking the waiter/waitress.
Barcelona Trip Planning Template
To help make your travel planning easier, you can download the trip planning template below and use it as a starting point. The template has country-specific travel information as well as an itinerary, packing list and map with recommended places pinned.
The template is built on Notion, which is what I use for all my travel planning (I'm not paid to say this; I just like the tool). If you don't have Notion, creating an account is free.
If you have any questions or thoughts, feel free to leave them in the comments below.
More Barcelona Travel Guides
🧋 This site is run entirely by me, Lukiih. I spend hours writing each article to ensure its accuracy and conciseness. If you find my site helpful, you can say thanks by buying me a bubble tea!