When I traveled to Taiwan, I enjoyed my trip so much that I wanted to live there. Taiwan is an island country with affordable, delicious food; metro-accessible hiking trails and hot springs; and Japanese-influenced culture and temples.
Here, I share practical tips on Taiwan based on hours of research, actual experience, and crowdsourcing recommendations from my Taiwanese friends. I also share a 5-7 day itinerary showing how to do everything recommended and a Taiwan-specific planning template.
This post is focused on Taipei, the capital of Taiwan, one of the richest cities in Asia, and a cultural and commercial hub that mixes modern and traditional life. Taipei is where visitors, including myself, tend to spend most of their time during their first trip to Taiwan.
Disclosure: This post contains affiliate links. If you make a purchase through them, I may earn a small commission, at no extra cost to you. Thanks for your support!
Quick Travel Facts for Taiwan
Here is some general information on Taiwan to save you travel research time:
⭐ Known for: Taiwan is known for street food and night markets, having open-minded and polite locals and being in the home of Taipei 101, one of the tallest buildings in the world.
🛃 Visa: A Taiwan visa is not required for US nationals visiting up to 90 days.
💬 Language: Taiwan's official language is Mandarin Chinese. 25% of the population speak English in the capital, Taipei, but English is otherwise not widely spoken.
🌎 Time zone: Taiwan's time zone is the Taipei Standard Time.
💰 Currency: Taiwan's currency is the New Taiwan Dollar and $1 USD = 30 NT at the time of writing.
🔌 Outlet: Taiwan has the same outlet type as the US (i.e., type A, which is the two flat parallel pins, and type B, which is the two flat parallel pins and a grounding pin), so an adapter may not be needed. During my Taiwan visit, I never had to use my adapter.
💧 Tap water: Taiwan's tap water is safe to drink and generally higher quality than a lot of advanced nations, but locals filter and buy bottled waters anyway.
💳 Credit card: You should carry cash at all times as Taiwan's economy is largely based on cash transactions, even at established businesses. Some larger businesses will accept card.
💵 Tipping: Tipping is not expected in Taiwan, but consider tipping service workers (e.g., tour guides). Most restaurants add a 10% service charge when dining in.
☀️ When to visit: September to November are popular times to travel to Taiwan when the weather is mild. April to October is the summer season (65°F-85°F) and October to April is the winter season (mild 65°F-75°F).
⌛ How long to visit: You'll need a minimum of 3 days to explore Taipei, and you add 1-2 days for each day trip you plan to take from Taipei. I visited for a week and felt that I could have stayed longer.
5 General Tips for Visiting Taiwan
My friend, Ella Park-Chan, lived in Taiwan for 3 years and provided these helpful tips to me:
Tip #1: Bring toilet paper for bathrooms. Many public bathrooms don't have toilet paper and a lot of them are squat toilets. I folded a few sheets of TP and carried them around in a Ziploc in my bag.
Tip #2: Use Taiwan's metro (aka the MRT) and visit their stations. The MRT has everything, including clean bathrooms, water fountains, charging stations and trash cans (street trash cans are not common in some areas).
Tip #3: Visit the Family Marts and 7-11s because they are nice. Unlike the 7-11's in the US, the convenience stores in Taiwan provide packaged meals, a place to eat and rest, ATMs and a convenient way to print.
Tip #4: Be respectful and follow the rules. Taiwan was colonized by Japan for 50 years, so it has strong Japanese influence. One of them is that the locals are polite and tend to follow the rules (e.g., they wait in line when boarding the metro, stand on the right side of the escalators to let others pass).
Tip #5: Bring mosquito repellent (optional). Mosquitos in Taipei can spread dengue fever and you'll see signs around the city encouraging you to protect yourself. Although most of the population won't have a severe reaction, if you're a mosquito magnet (like me), consider bringing some mosquito repellent. I like to use a bug repellent lotion since I think it works better than the spray alternatives.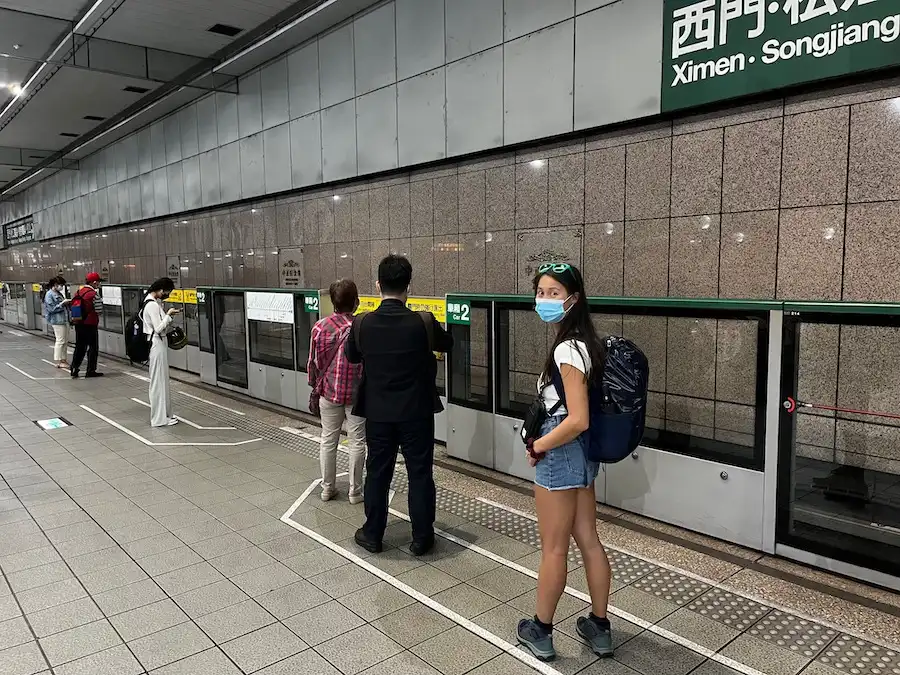 Getting Around Taipei
Once you land in Taoyuan International Airport (TPE), you can take the metro (the MRT) or taxi into Taipei.
In Taipei, you can take public transportation, which I highly recommend, or other methods of transportation.
Public Transportation
MRT (Mass Rapid Transit). Taipei's metro, the MRT, is a great way to get around Taipei. There is a separate line that runs to/from the airport.
How to buy a ride: Buy a one-time blue token or an EasyCard (aka IC Card) at the station kiosks. The station kiosks only accept cash; I found that the station attendants are willing to break larger bills.
Riding the MRT: Taiwan has a polite culture that tends to follow the rule, so remember to act accordingly when riding the MRT. The MRT tends to be very quiet and is always on time.
If you are going to be frequently riding the MRT like I did, I recommend getting an EasyCard for convenience, despite the 100 NT (~$3) non-refundable cost of it. Any remaining balance on your EasyCard can be refunded at the end of your trip.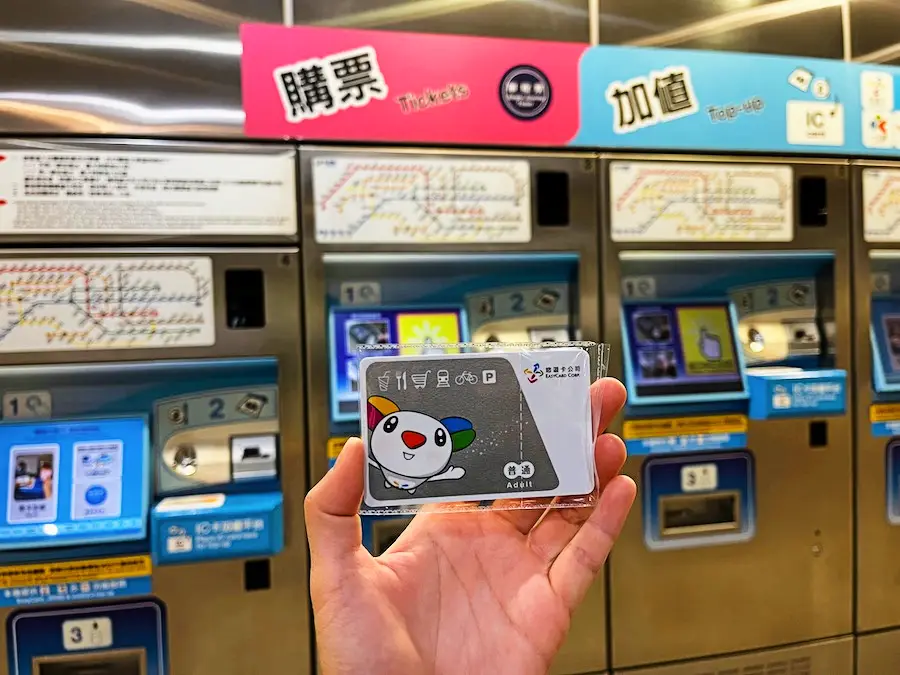 Take advantage of Taipei's MRT; it's clean, safe and affordable. It was my primary way of getting around. I spent $25 on the MRT during the week I stayed in Taiwan.
Bus. The bus system in Taiwan is also very convenient.
How to hail a bus: When waiting at a bus station, wave to the bus or it won't stop (this happened to me; I stood at the station and the bus continued on without stopping).
How to ride the bus: You can use the MRT EasyCard to ride the bus. When you board the bus, tap your card once. Tap it another time when exiting the bus.
Heads up if you're planning a tight schedule: Google Maps didn't have accurate Taiwan bus schedules.
Bike. There are several Youbike docking stations in Taipei that you can use once you register your card at a station.
Train (aka TRA). The train system is great for day trips outside of Taipei (e.g., to Hualien). The two best ways to purchase and claim your train ticket are:
Through a Taiwanese mobile app (iOS, Android). Booking a ticket only reserves it, so you need to claim it as well. If you don't claim your ticket (whether in person or digitally) within 20 minutes of departure time, they can give it to someone else. Once you download the app and get through the small annoyance of figuring out how to turn on "English-mode", booking and claiming your ticket through the app is easy. If your booking has multiple tickets, each rider will have to download the app to claim their specific ticket.
In person. That way, you don't have to deal with the potentially confusing mobile app. Note that some Hualien train times are very popular and need to be booked in advance. When I booked a train to Hualien a week in advance, a few of the afternoon departures were sold out.
Don't book train tickets through the website. It's confusing and the only way to claim a ticket digitally is through the mobile app.
Most trains will depart from the Taipei Main Station. Google Maps has several "Taipei Main Stations" depending on whether you're catching a train, bus or the MRT. Double check the "Subway services" section of the location on Google Maps to make sure it is the right place for your need.
Other Ways to Get Around
Ride sharing. Taiwan has Uber, which is fairly affordable (a 35-minute trip cost me $12). Given how great the public transport system is, I mainly used Uber to save nontrivial travel time (e.g., I used it to go to the Beitou Hot Springs to cut the travel time from 1+ hour to ~30 minutes).
Taxi. Taiwan's taxi are yellow and can be found around Taipei. I used the taxi once to get to Taipei from the airport since there weren't any Uber around and I wasn't yet familiar with Taipei's MRT yet.
Car. You need an IDP (International Driver Permit) to rent a car. Taiwan drives on the right-hand side like the US.
Scooter. Many locals travel via scooter/moped, but you'll likely need an IDP or a local license depending on where you rent a scooter.
10 Great Things To Do in Taipei
After spending an activity-packed week in Taiwan, here is what I recommend doing in approximate order of priority.
This Google Map has all Taiwan places mentioned in this list.
1. Hike up Elephant Mountain
Why: Elephant Mountain is a metro-accessible hike that will give you an amazing view of Taipei that includes one of the tallest buildings in the world, Taipei 101.
What to do: Walk up Elephant Mountain's ~600 steps and get a great view of Taipei. There are also several other trails if you want to extend your hike.
Take photos at the overlooks. The view at the summit is not great as it's blocked by trees.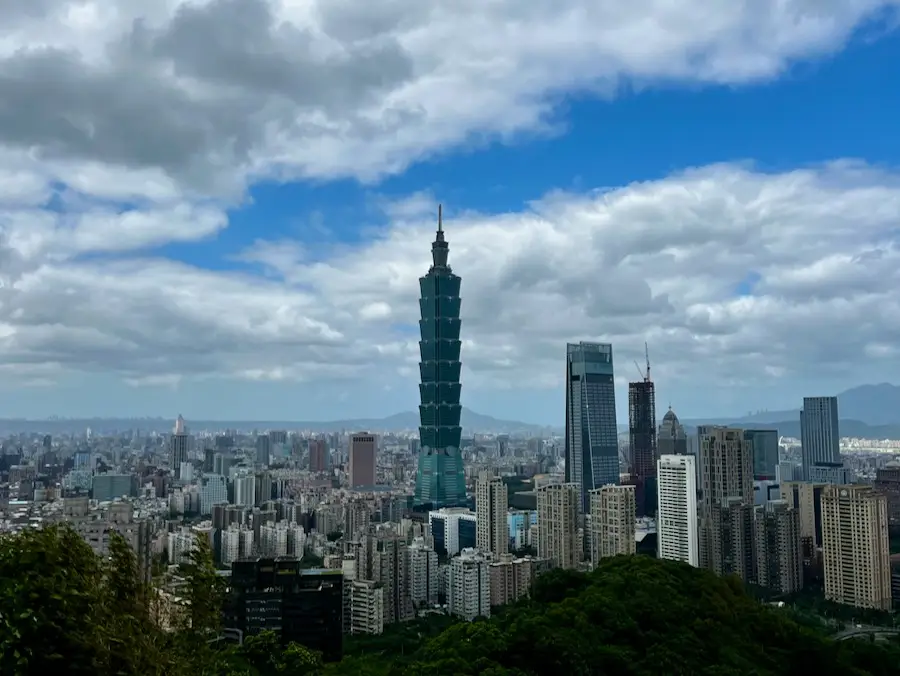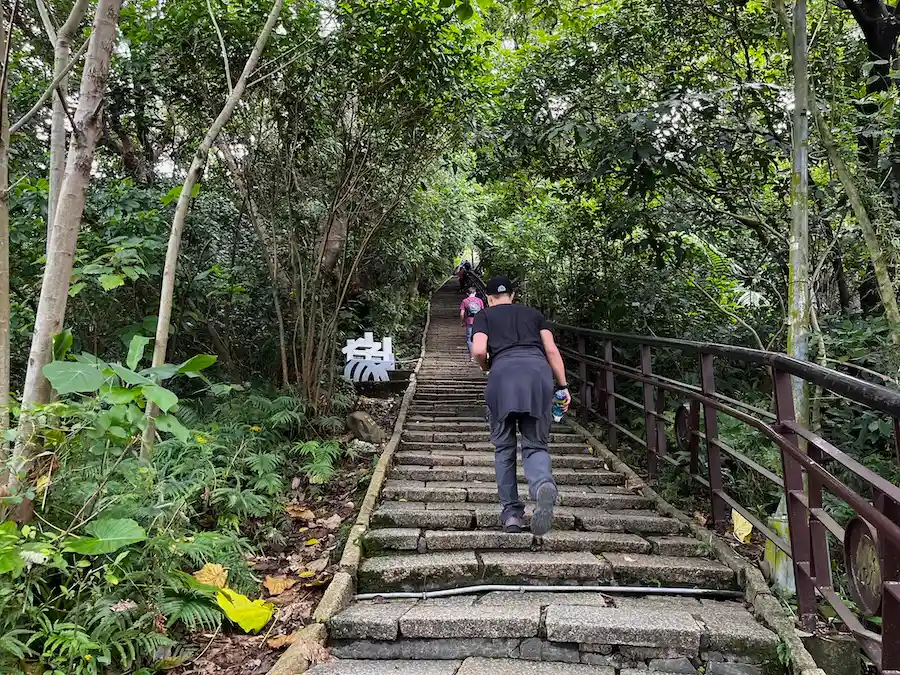 Getting there: Take the MRT to Xiangshan Station, take exit 2, and walk 10 minutes along the park until you see a set of steep stairs, which will be the start of Elephant Mountain.
Duration: You'll likely spending 30-90 minutes hiking Elephant Mountain, depending on how fast you want to hike the stairs and how many photos you take.
Cost: Free; Elephant Mountain doesn't have an entrance fee.
My take: Elephant Mountain is great if you want a metro-accessible activity that will get your heart rate up while rewarding you with a view.
2. Take a day trip to Jiufen and hike Teapot Mountain along the way
Why: Jiufen is a small, charming Japanese-inspired village in the mountains an hour east of Taipei. It's known as the town that inspired Spirited Away, but director Miyazaki denies this.
What to do: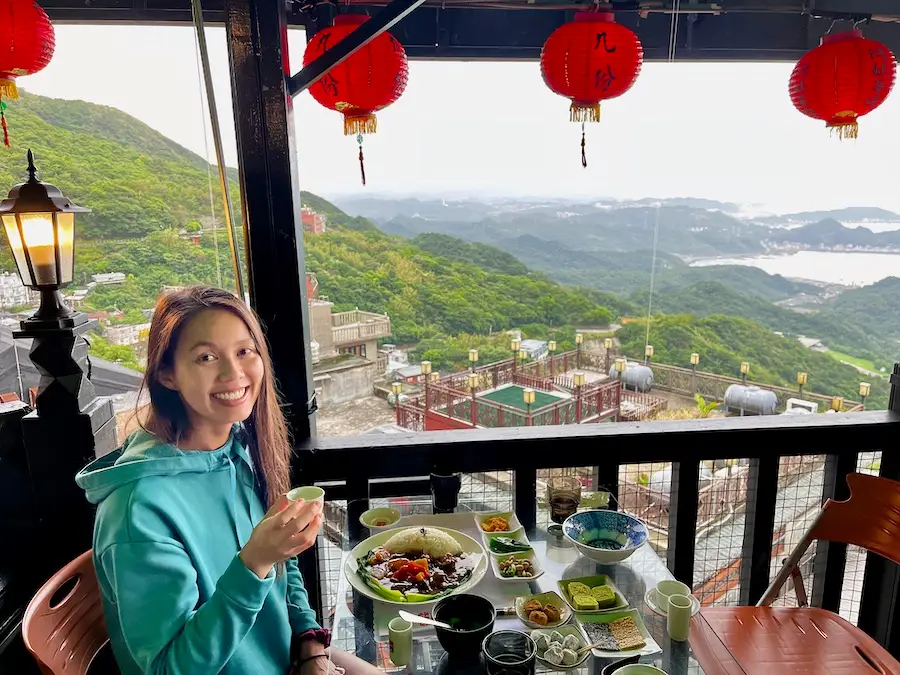 Walk through Old Street, and look at shops and sample local snacks and quick bites (e.g., Taiwanese sweet sausage on a stick, almond tofu with tapioca dessert, mochi-like rice cakes with red bean).
Getting there: You can take a taxi (1 hour, $30-$40) or express bus (1.5 hours) from Taipei to Jiufen. A local friend rented a car and drove me directly there. If transportation is difficult, you can also take a group tour.
If you're visiting Jiufen by car or taxi, you can take a stop by the Golden Waterfall and/or hike up Teapot Mountain on the way.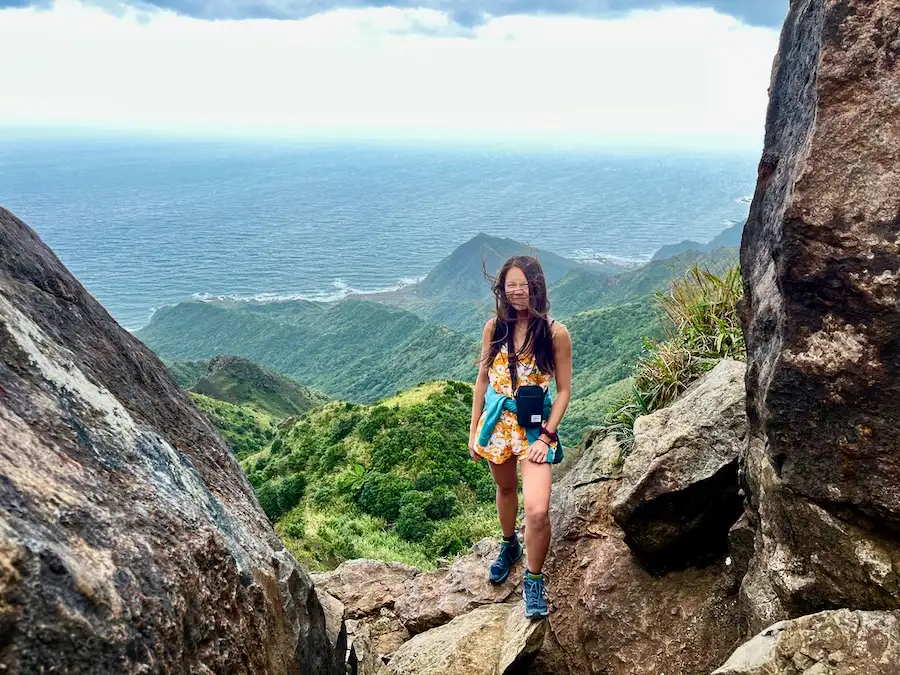 Duration: You can spend half a day or a day in Jiufen. You'll likely spend 2-4 hours in Jiufen and 1 hour traveling each way. If you add in Teapot Mountain and Golden Waterfall, it'll be a full day trip.
Cost: There's no entrance fee to Jiufen. Jiufen and Teapot Mountain parking costs were ~$3 each.
My take: Jiufen is a cute town that's worth the drive, especially if you're able to make the waterfall and mountain stops along the way. The tea experience at the tea house is especially unique and charming, albeit brief.
For more hikes and nature, consider visiting Taroko Gorge, one of Taiwan's top natural attractions.
3. Eat amazing, affordable food
Why: Taiwan is known for delicious and affordable food; it's often a foodie's paradise.
What and where to eat: Below are Taipei restaurants I tried and loved that were recommended to me by my friend, Ella Park-Chan, who lived in Taiwan for 3 years. I spent an average of $12 per day on food.
Din Tai Fung. Internationally known for its amazing soup dumplings (tasty broth and thin skins), this is the original DTF location. I also love their spicy noodle, spicy pickled cucumber and chocolate soup dumplings. I spent $17 here and waited 15 minutes around closing time. Expect a long wait (~1 hour) during peak lunch and dinner times.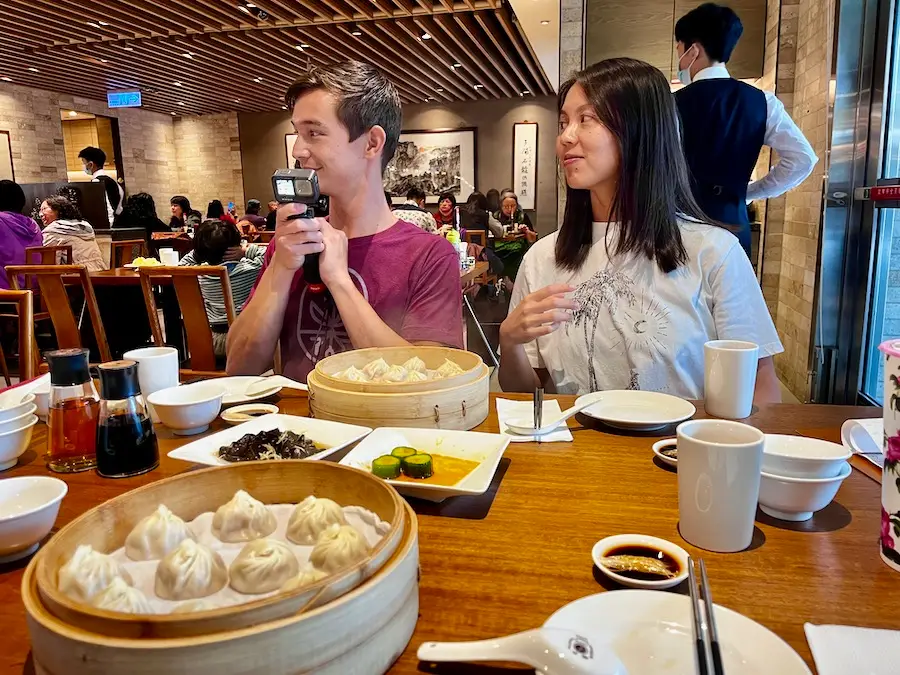 Fuhang Soy Milk. I was told this was the #1 breakfast place by more than one local. Their sweet soy milk was delicious and their salty soy milk was one of the most unique things I've eaten. Get there before 8am if you want to wait less than 30 minutes. I spent $3 here. Cash only.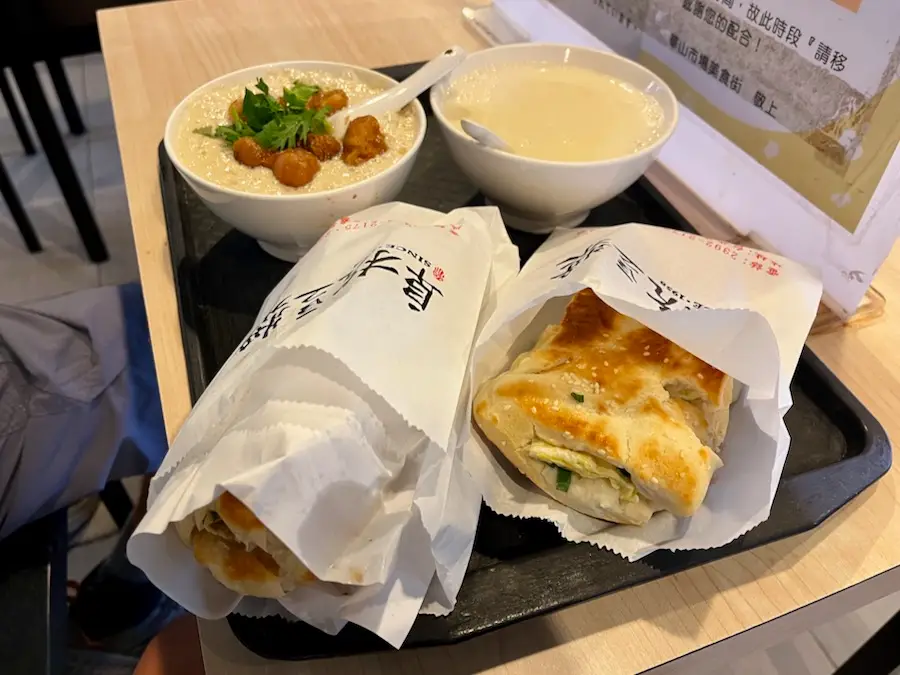 Lao Shandong Homemade Noodles. Beef noodle soup is a must-have in Taiwan and this local place serves them well with no frills. I spent $6 here for a regular bowl and some side dishes. Cash only.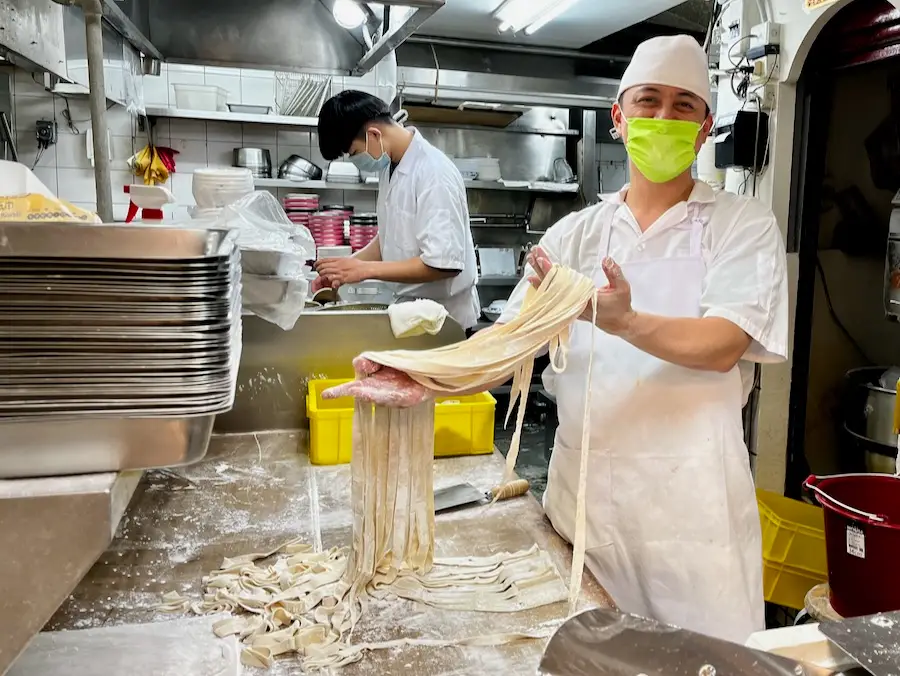 CoCo (multiple locations). Bubble tea originated from Taiwan, so you'll easily find a bubble tea shop everywhere. CoCo is one of the popular chains and I thought their tapioca pearls were fresh and chewy.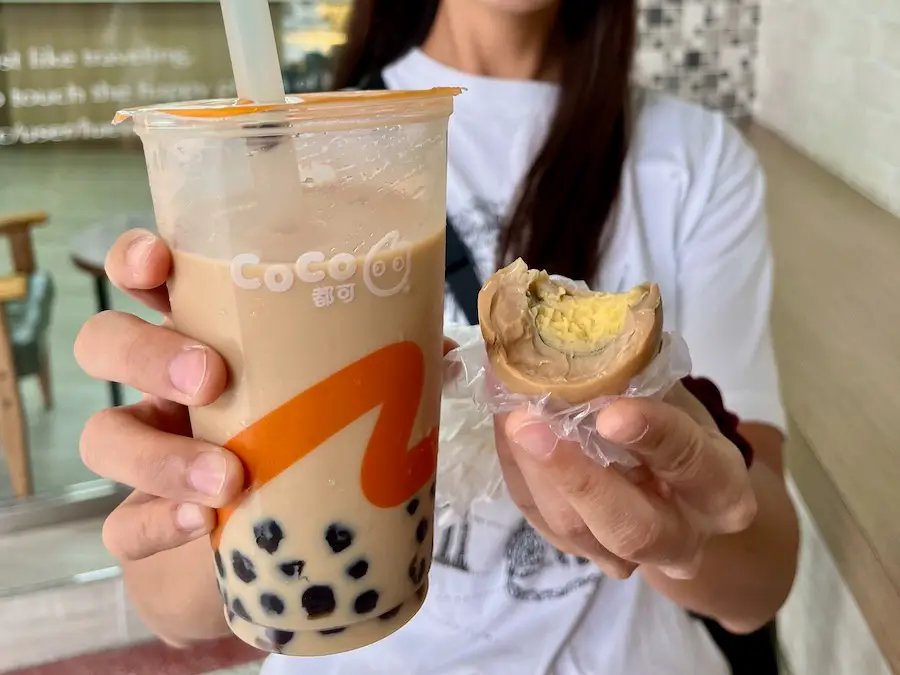 Chia Te Bakery. Taiwan is famous for their pineapple cakes and this place is known to serve some of the best. I thoroughly enjoyed their various different flavors (e.g., salty egg yolk, red bean, melon) and packed a few to bring home.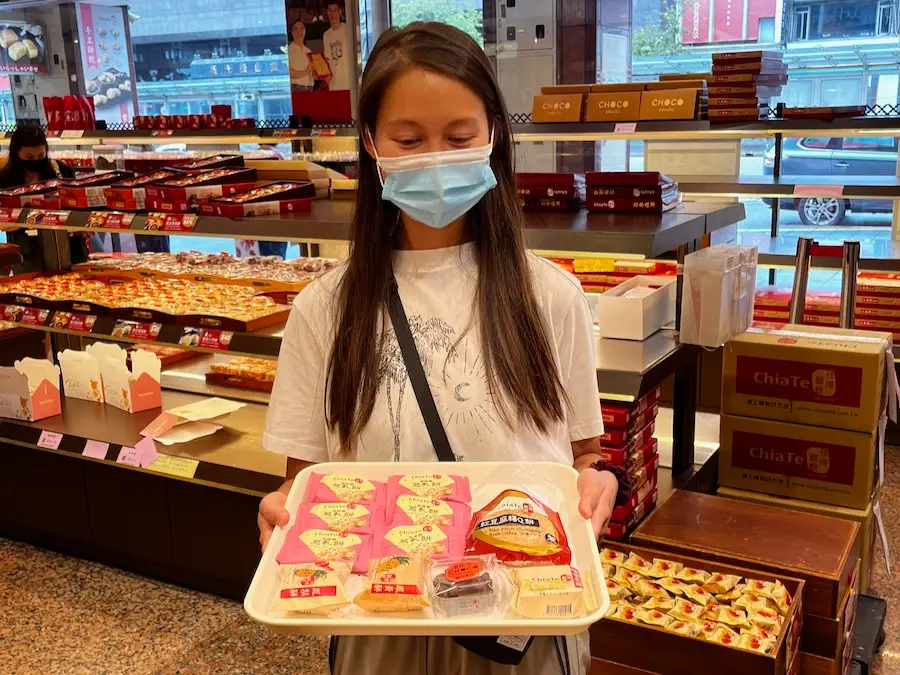 Orange. An upscale place, this was one of the best shabu shabu I've ever had for a relatively affordable price. Advanced reservations are required. I spent $40 here, which made it the most expensive meal I had in Taiwan.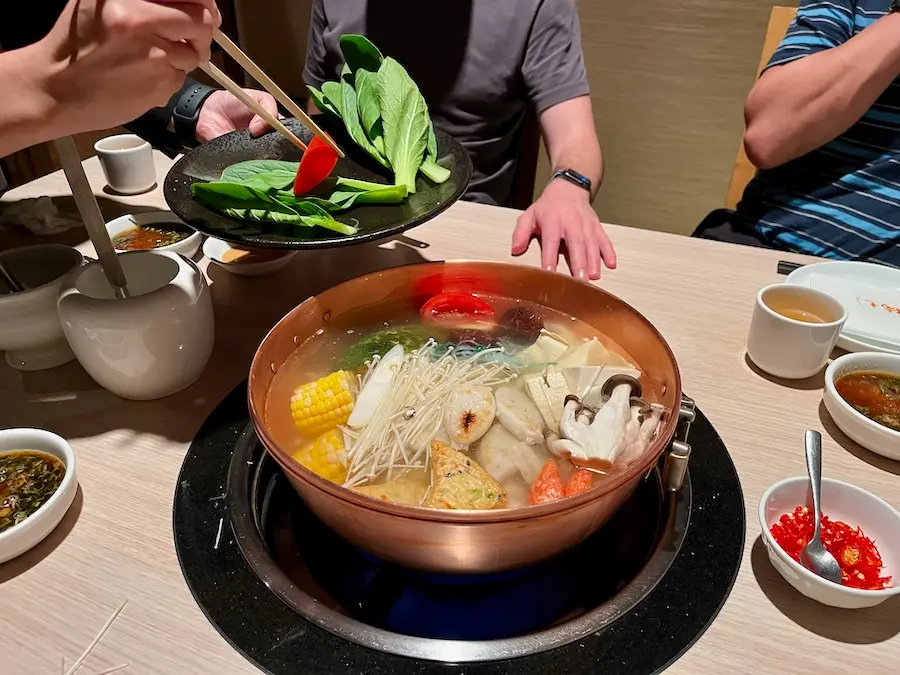 Xiang Duck Taipei. If you're craving peking duck, this place makes them with a delicious crispy skin. Their "milk dessert" is one of my favorite desserts. I spent $24 here.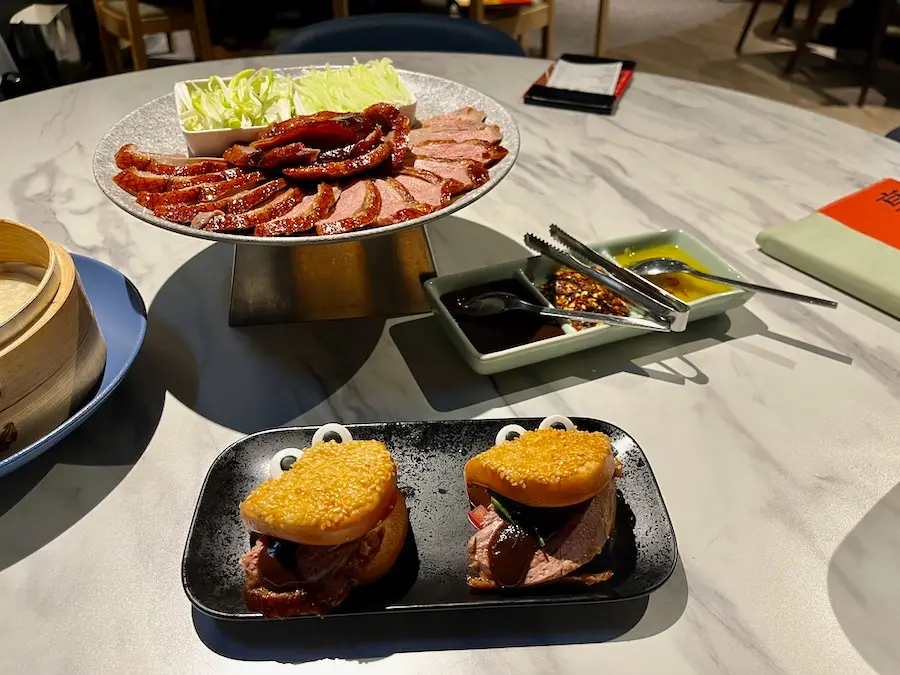 My take: Regardless if you're foodie or not, given the quality to price ratio, it's a loss if you don't try some quintessential Taiwanese food.
4. Take a trip to Taroko Gorge and stay a night in Hualien
Why: Taroko Gorge, the hallmark of Taroko National Park, is one of Taiwan's top scenic attractions, known for its marble mountains, shrines and sky-blue river. It's a popular destination for hikers and tourists.
What to do: There are several sites to visit inside Taroko Gorge, including:
Shakadang Trail, one of the most popular trails, running along a very blue river. Get there early to beat the traffic. There are snack stalls available ~1 mile into the trail.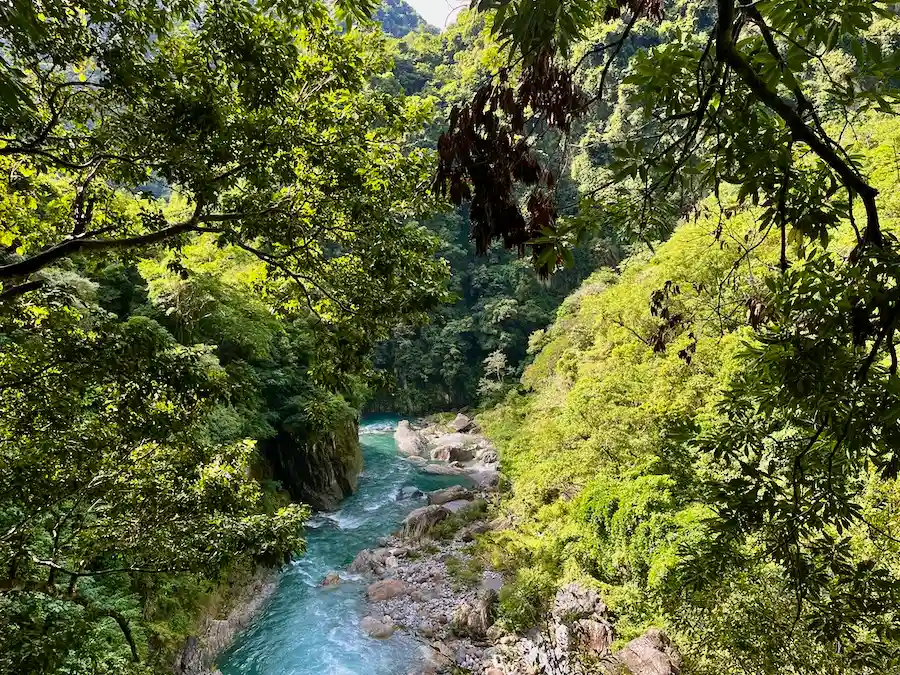 Eternal Spring Shrine, a shrine nested inside a mountain to commemorate the 200+ workers who died building the highway in the early 1900s.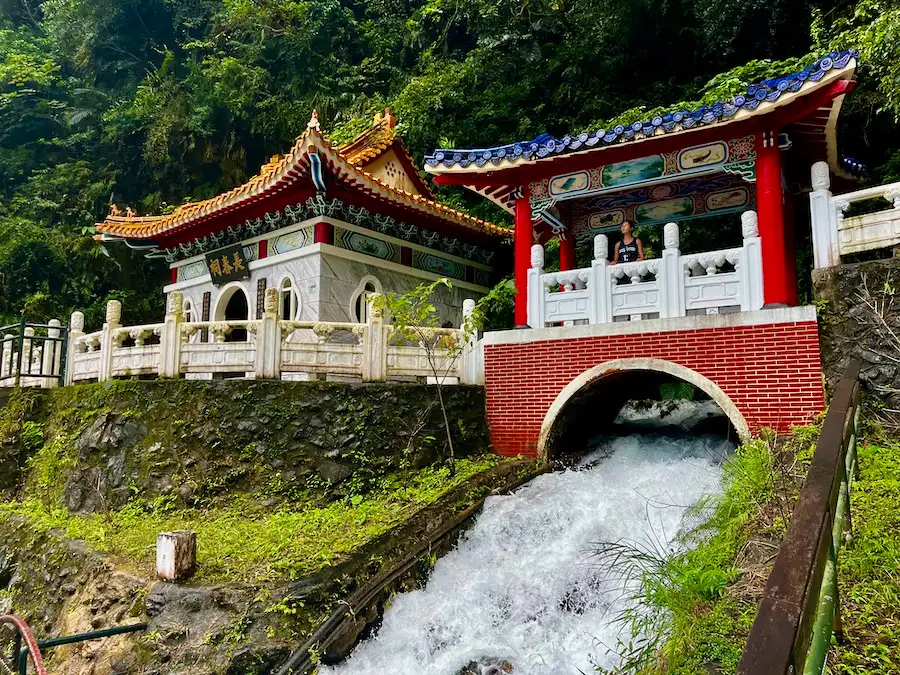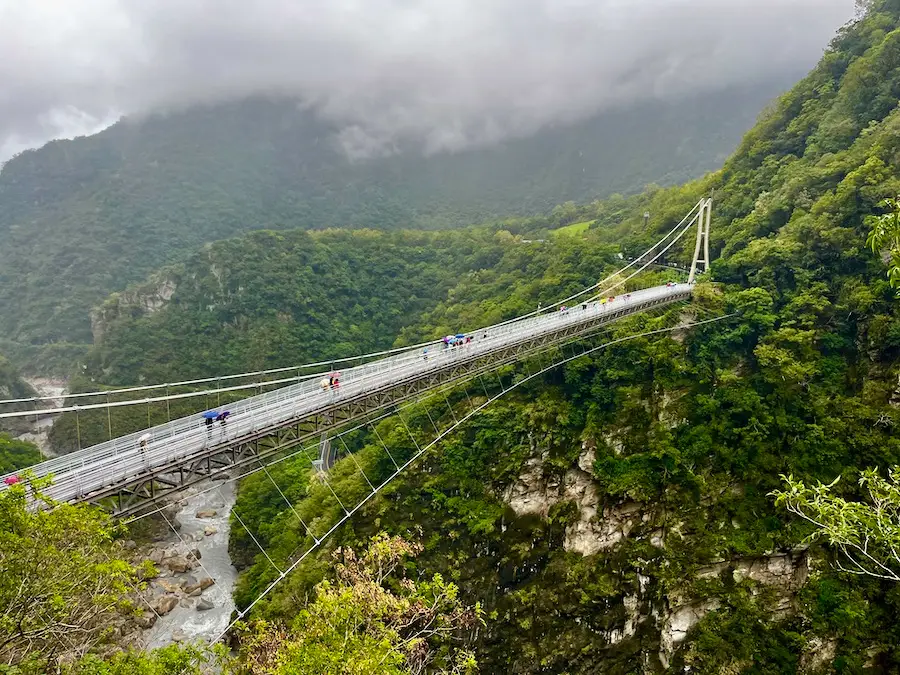 Hualien City is the closest city to Taroko Gorge. Hualien is quieter than Taipei, but has a huge, lively night market called Dongdamen that I thought was better than Taipei's popular Ningxia night market.
Getting there: To get to Taroko Gorge, you need to travel to Hualien first by taking a train from the Taipei Main Station. You can also do a day tour from Taipei that directly goes to Taroko Gorge by bus, but I recommend enjoying Hualien and breaking up the travel time.
This thorough day trip guide to Taroko Gorge outlines in detail how to visit the national park and what are its top attractions.
Duration: You can visit Taroko Gorge in a single day or over 2 days with a night in Hualien. I did the latter and enjoyed exploring Hualien.
Cost: There's no entrance fee for Taroko National Park. The round trip train to Hualien was $28 for me. My Hualien Airbnb was $40, split between two people, and my tour cost $93 including tip. The tour was on the pricier end (larger groups are cheaper and our tour only had 3 people total), but I thought it was worth it.
My take: If you have the time to get out of Taipei, Hualien feels like a great first-timer's day trip that offers beautiful nature and a big night market.
5. Eat at a night market
Why: Taiwan is famous for its lively night markets and street foods. You can try many different local food all in one area.
Where to eat: There are usually 3 recommended Taipei night markets: Ningxia, Raohe and Shilin. My favorite night market was actually Dongdamen in Hualien due to its size, food diversity and quality. For Taipei, Raohe and Ningxia has similar food quality and serve slightly different foods, but the former felt bigger than the latter. I didn't make it out to Shilin.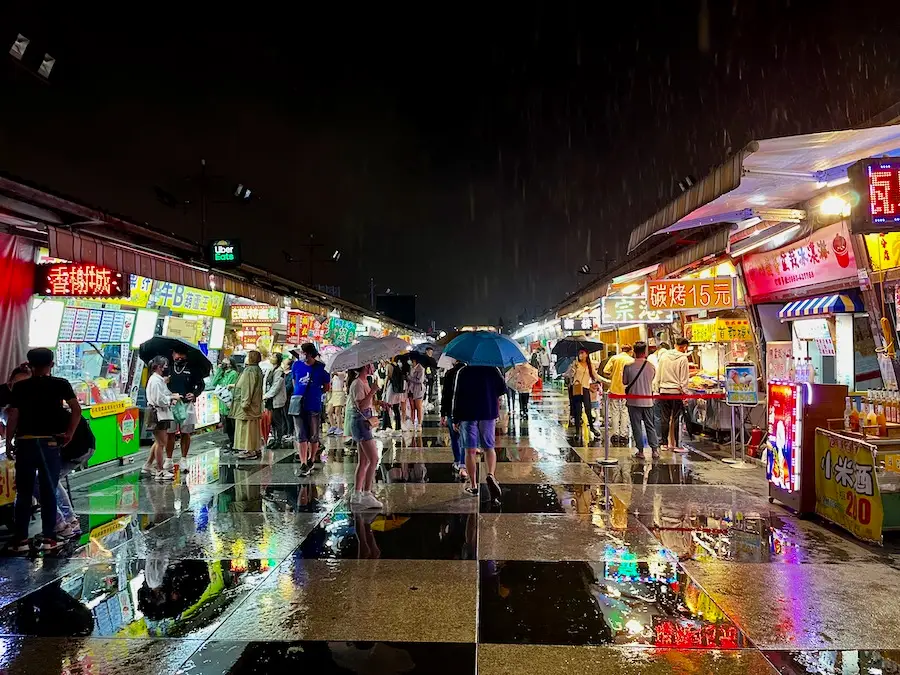 What to eat: Street food recommended to me by my Taiwanese friends that I think are worth trying include:
Spicy scallion with fried egg: the sauce they use is incredible. I ate 3 of these. The "spicy" sauce is not that spicy. The ones in Dongdamen were much better than the one I had in Taipei.
Fried sweet potato balls: extremely good and not as heavy or oily as they look. I only saw this in Ningxia and Raohe, and not Dongdamen.
Oyster omelette: unique Taiwanese dish that's worth trying. I only saw this in Ningxia and Raohe, and not Dongdamen.
Grilled squid on a stick: these were much more tasty than I expected. The vendors know how to grill it to a good consistency and the sauce has good flavor. These are at all night markets.
Stinky tofu: a Taiwanese delicacy that you might hate, but that's worth trying for fun. These are at all night markets.
Duration: You can spend 1-3 hours at a night market, depending on how long you want to wander around and how many food items you want to try.
Cost: Night markets don't have an entrance fee. On average, I spent $1-2 per food item.
Bring cash and small change for the night market.
My take: My local friend, Ella, summed it up best, "I feel like it would be weird if you don't go to a night market while you're in Taiwan."
6. Catch the morning prayers in Lungshan Temple
Why: Lungshan Temple is a beautiful, 300-year-old temple where locals pray at 6am and 8am daily. The song-like prayers are for the various Chinese deities and last ~1 hour.
What to do: While listening to the prayers, you can walk around and silently look at the temple's architectural details.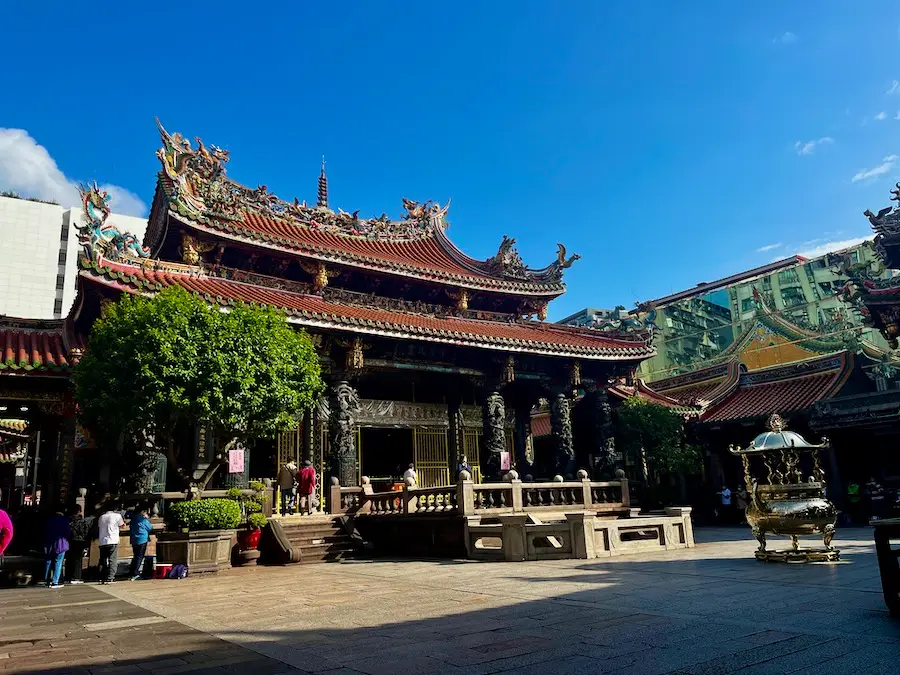 Getting there: Lungshan Temple is in the Wunhua District, the oldest and most historic district in Taiwan. You can take the MRT to Longshan Temple Station and walk 3 minutes.
Duration: 30-60 minutes is sufficient for a stroll around Lungshan Temple.
Cost: Free; Lungshan Temple doesn't have an entrance fee.
My take: If you like observing peaceful spiritual ceremonies, catching the prayers is worth the early visit. If you simply like temple designs, stop by Lungshan Temple at any time of the day. Even if you don't visit the temple, walking through Wunhua District has a much older feel than other parts of Taipei.
7. Go up to Taipei 101's observatory
Why: Taipei 101 is one of the tallest buildings in the world and its observatory is well designed while giving a great view of Taipei.
What to do:
Go up in one of the fastest elevators in the world (it was the fastest from 2004-2015) and watch the sunset from the observatory.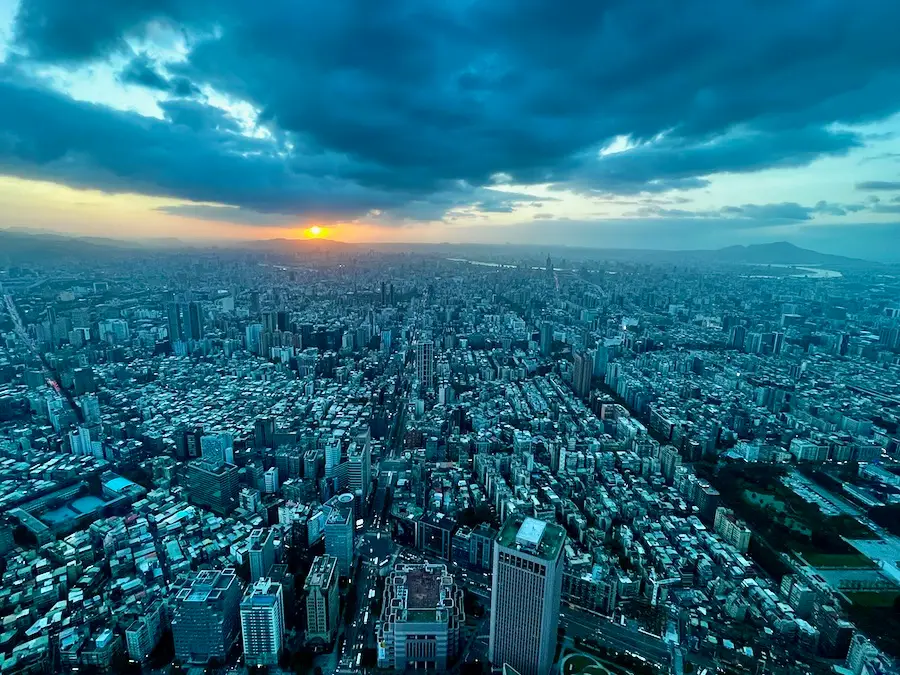 Take a fun photo at one of Taipei 101's many photo stations.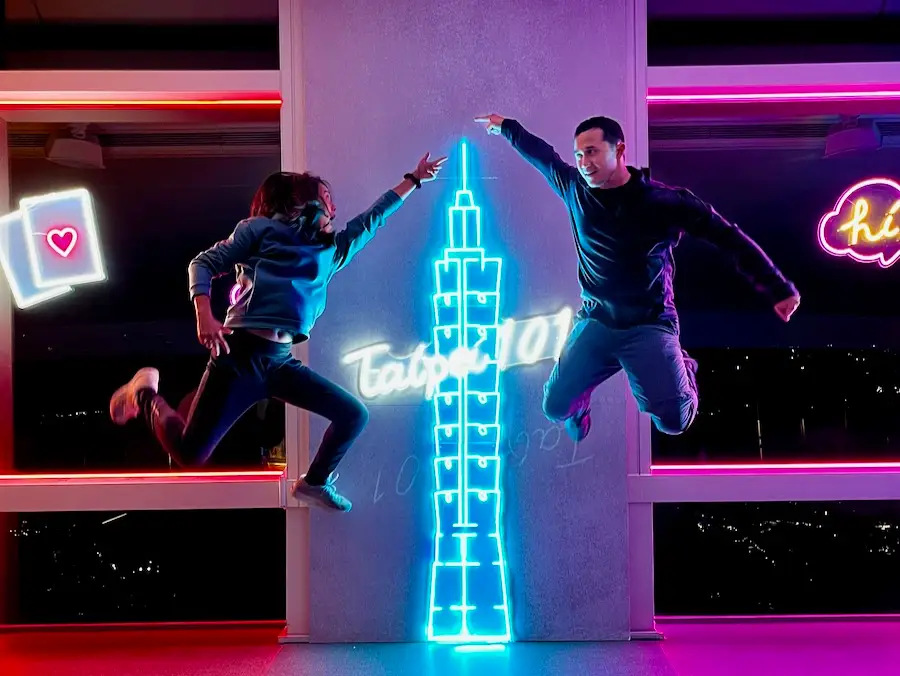 Learn about Taipei 101's "mass damper" to learn how the building is wind and earthquake-proof.
Getting there: Take the MRT to Taipei 101 Station and walk a minute. You can book tickets on the 5th floor of Taipei 101.
Duration: 30-60 minutes is sufficient to see all four sides of Taipei 101's observatory and to take some photos.
Cost: Taipei 101's observatory has an $18 entrance fee.
My take: I generally don't find observatories impressive, but Taipei 101's is the best one I've been to. The photo booths are fun, the mass damper exhibit is scientifically interesting, and the view is impressive at sunset.
8. Visit the Chiang Kai-shek Memorial Hall
Why: Chiang Kai-shek is not only a national monument and popular spot, but it's also surrounded by a pretty park area where locals hang out. There is also a beautiful concert hall and a theater building inside the park.
What to do:
Walk or run round the park and look at the three stunning buildings. During the day time, you can also watch the locals use the park for community activities.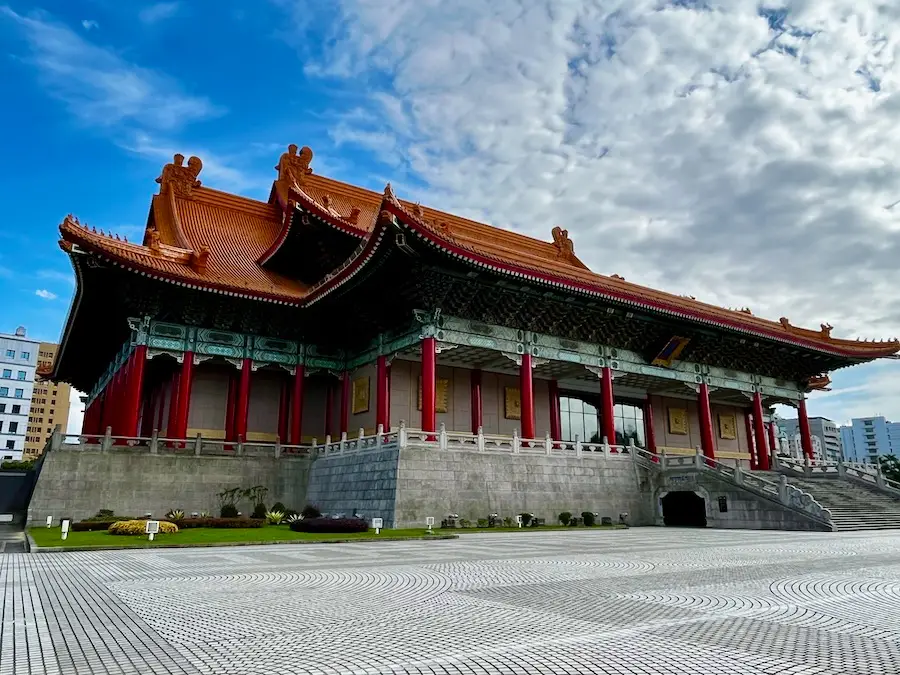 Watch the changing of the guards in Chiang Kai-shek's building. They do it every hour and it can be viewed indoors or outdoors, after you climb the stairs.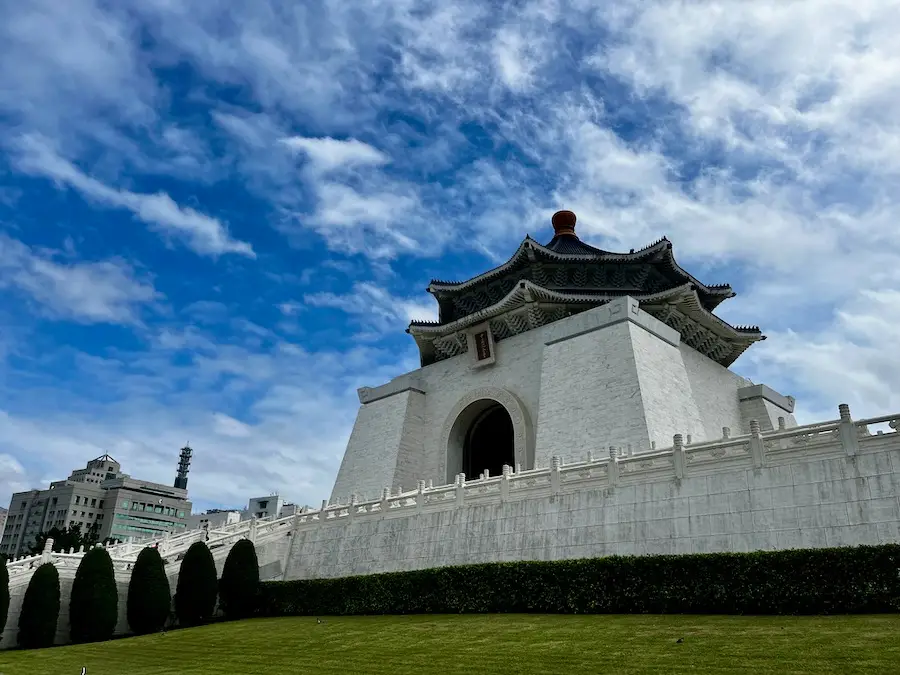 Getting there: Take the MRT to Chiang Kai-shek Station and walk 2 minutes over to Chiang Kai-shek Memorial Hall.
How long to visit: 60-90 minutes will allow you to walk the entire park and look at all 3 buildings near the Chiang Kai-shek Memorial Hall.
Cost: Free; Chiang Kai-shek Memorial Hall doesn't have an entrance fee.
My take: If you're tight on time or are not interested in going inside any of the buildings, the park surrounding the memorial hall is well-designed enough to warrant a visit. I also find it fascinating to watch the older locals at the park engaging in their active, community exercises and comparing it to what I see in the US.
9. Walk around Ximending District
Why: Ximending District is a walkable district with shopping, food, street art and Japanese culture. It's also a very happening location, especially during at night, where you might catch a few street performers.
What to do:
Walk along the streets and check out the shops, which include: tattoo parlors, arcade games, trendy bubble tea flavor places, claw machine arcades, graffiti art, and more. I got a nice haircut here for $30 (this includes tip).
If you go at night, street performers and a few food stalls will appear. Note: the Dian Dian Tea stall serves pawpaw smoothies, which is hard to get at other places.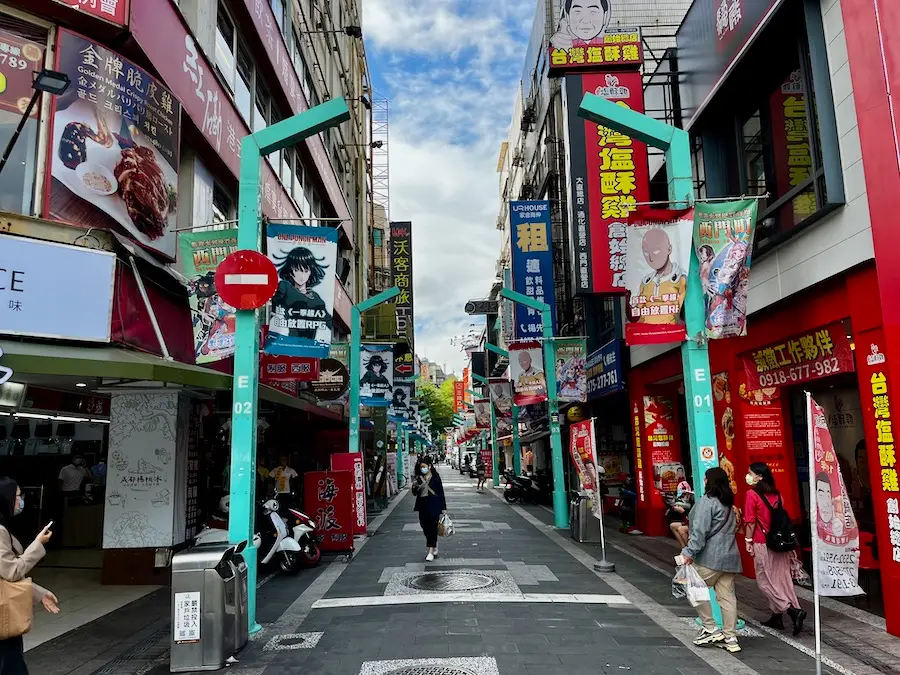 Getting there: Take the MRT to Ximen Station and walk 2 minutes to the Ximending District.
Duration: You can spend anywhere between 1 hour for a quick stroll to a full day of exploring and shopping at Ximending District.
Cost: There's no entrance fee to the district.
My take: Ximending District is fun to check out if you want to be around a younger, busier and more touristy area of Taipei.
10. Take a dip in a Beitou hot springs
Why: Beitou's hot springs may not be the most beautiful, but its close proximity to Taipei makes it a popular destination to relax and get away from the city.
Where to visit: There are several hot springs in the Beitou area and they vary in different ways: distance from the MRT, public vs. private, mixed sex vs. sex segregated, and price point. I visited the hot spring at Spring City Resort, which was public and mixed sex since I wanted to be with my friends.
The most interesting thing offered at the Spring City Resort was a hot marble stone that you could peacefully lay on.
Getting there: Take the MRT to the Beitou Station and walk or shuttle to your preferred hot spring.
Duration: You'll need at least 3-4 hours to visit a Beitou hot spring, including the 40+ minutes needed get to the Beitou area from Taipei.
Cost: The price point for the hot springs vary from budget to more luxury. I paid $25 at Spring City Resort, which was in the middle, and that included a shower, locker, towel, shower cap and sandals.
My take: The hot springs in Beitou are not a "must" visit. I think it's only worth it if you want a more relaxing experience a metro-ride away.
5 Other Things To Do in Taiwan
In no priority order, here are five other popular things to do in Taiwan if you're staying for a longer period of time:
Sun Moon Lake: About 3 hours south of Taipei, Taiwan's most famous lake is a beautiful spot for swimming and boating, with stunning views of the surrounding mountains.
National Palace Museum: Located in Taipei, the National Palace Museum is home to the world's largest collection of Chinese artifacts and art. The "Jaded Cabbage" is their most famous art piece.
Yangmingshan National Park: About 20 minutes north of Taipei and accessible by public transportation, Yangmingshan National Park is home to hot springs, terraced ponds and even a crater lake.
Taipei Tianhou Temple: A 15-minute walk from Lungshan Temple, Tianhou Temple is ornate temple dedicated to Mazu, the Chinese goddess of the sea, and one of the oldest temples in Taipei.
Taiwan Lantern Festival: Hosted every year in February or March, the Taiwan Lantern Festival marks the end of New Years celebrations and is celebrated by lighting up lanterns, a centuries-old tradition.
5-7 Day Itinerary for Taipei
Below is how to spend 5 days in Taiwan while doing all the top activities and eating all the food mentioned above. For more downtime, you can do everything in 6-7 days.
This itinerary resembles how I spent my time in Taiwan while incorporating improvements. I've included my actual timestamps to give you an idea of how long you might need for each activity and how to efficiently sequence things.
My Taiwan's trip cost breakdown is based on an itinerary similar to the one above and has tips to reduce costs.
Where I Stayed In Taipei
Here are the places I stayed in Taipei and my thoughts on them.
Factors I considered:
Proximity to MRT station. Since I knew I was going to rely on Taipei's public transport system, I wanted to stay near an MRT station.
General neighborhood. I did a basic check of general neighborhoods that are good for visitors to stay at.
Price. Since I spend most of my time outside my accommodations, I don't care too much for amenities and wanted a place that was less than $50/night/person, which is very doable in Taipei.
Where I stayed:
Hotel #1: I stayed at CHECK Inn Express near the Dongmen station and paid $36/night/person.
Pros: It was a relatively local place with enough shops, attractions and restaurants within walking distance. The hotel was very straightforward with no extra frills or amenities.
Cons: The rooms are very small (e.g., there's no place to open your carry-on luggage) and housekeeping wasn't included. For around the same price, you can stay at a much more happening place, hence why I also stayed at hotel #2.
Hotel #2: I also stayed at Amba in Ximending and paid $40/night/person.
Pros: Ximending is a very happening place, with lots of attractions and food options at night. The rooms were nice and the included breakfast has a lot of food options.
Cons: This is nit-picky, but the gap under the entrance door was fairly wide. I could hear hallway noises and I think that's how mosquitos kept entering the room.
Planning Template for Your Taiwan Trip
To help make your travel planning easier, you can download my template for free and use it as a starting point. The template has country-specific information shared in this post.
The template is built on Notion, which is what I use for all my travel planning (I'm not paid to say this; I just like the tool). If you don't have Notion, creating an account is free.
If you have any questions or thoughts, feel free to leave them in the comments below!