Jiufen, one of Taiwan's most popular day trips, is a small village that's a 40-minute drive east of Taipei. With a landscape that features traditional teahouses nestled in a mountain, Jiufen is one of the few attractions I emphatically recommend despite it being touristy.
I visited Jiufen with a local Taiwanese friend during my one-week trip to Taiwan and here, I share practical tips on doing a day trip there. This post covers:
🗓️ Jiufen full-day itinerary
✨ Top things to do in Jiufen and my honest reviews of them
🚗 How to get to Jiufen
💡 Practical tips when visiting Jiufen
📍 Popular nearby attractions
✏️ Taiwan trip planning template
Disclosure: This post may contain affiliate links. If you make a purchase through them, I may earn a small commission, at no extra cost to you. Thanks for your support!
Jiufen at a Glance
Here's some general information on Jiufen to help you plan your trip.
🍵 Known For
The town of Jiufen is known for its teahouses, picturesque mountain views and Old Street, a narrow, atmospheric road that's lined with shops and food stalls.
Due to Jiufen's aesthetics, many sources claim that it is the village that inspired Spirited Away, but director Hayao Miyazaki has directly denied this. The movie you should know about is City of Sadness, which was filmed in Jiufen and is one of Taiwan's most renowned films.
🏮 Vibe
Jiufen has a vibrant atmosphere that's often packed with locals and tourists shopping, eating and walking around. It feels traditional due to the architecture and teahouses.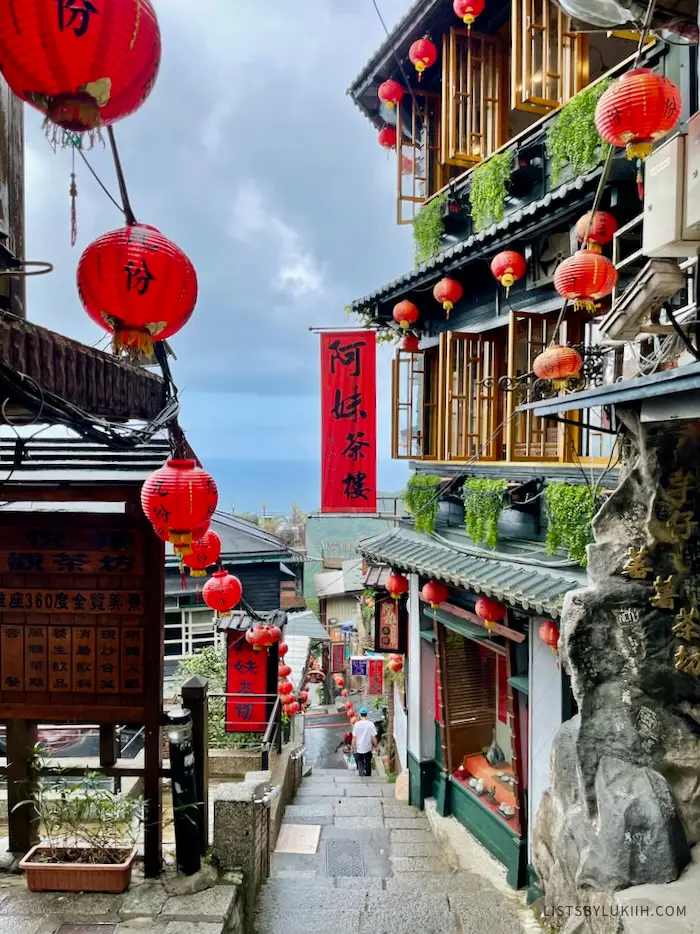 📍 Location
Jiufen is located 20 miles east of Taipei, the capital of Taiwan, in the Ruifang District. See below for how to get to Jiufen from Taipei.
If you're visiting Jiufen from Taipei, this Taiwan travel guide features a Taipei itinerary and outlines ten great things to do.
☀️ Best Time To Visit
The best time to visit Jiufen is in the spring (March to May) and fall (September to November), when the weather is mild (averaging 60°F to 80°F) and the crowds aren't at their highest level yet. I visited Jiufen in October on a Thursday and I was able to wear a romper with a hoodie.
🗓️ How Long To Visit
Jiufen is most often visited as a day trip, but you can easily turn it into a two-day destination by staying the night and visiting some of the noteworthy surrounding attractions. I did a day trip from Taipei, which allowed me to spend several hours in Jiufen and go to some nearby attractions.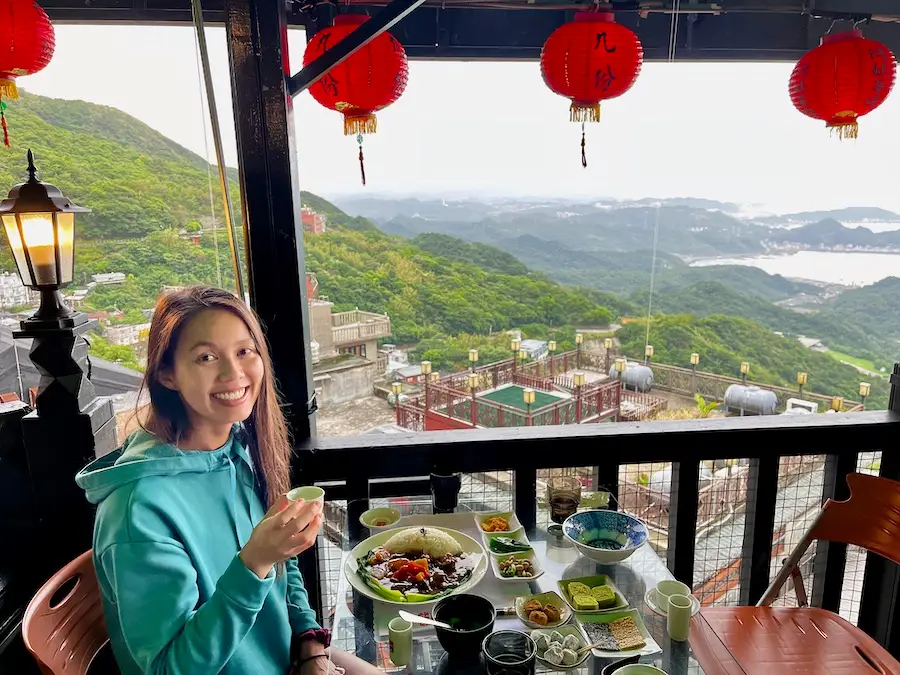 3 Essential Tips for Visiting Jiufen
Here are three practical tips on visiting Jiufen village.
💰 Tip #1: Bring cash.
Like other parts of Taiwan, Jiufen largely operates on cash, so make sure to bring more than $1000 NT (~$30 USD) to spend on food vendors, museum entrance tickets, teahouse experiences and parking fees.
👟 Tip #2: Wear comfortable shoes if you're hiking.
Jiufen has some stairs, but it's overall very pedestrian-friendly. However, if you're planning to do one of its nearby hikes, make sure to wear comfortable shoes. You won't need hiking shoes, but I recommend sneakers or running shoes.
🚌 Tip #3: Figure out your transportation in advance.
There are several ways to get to Jiufen, but it can get overly crowded during peak travel season (e.g., buses get full, train tickets get sold out, drivers run into heavy traffic).
During the peak season, not having a transportation plan can result in longer wait times or missing things entirely.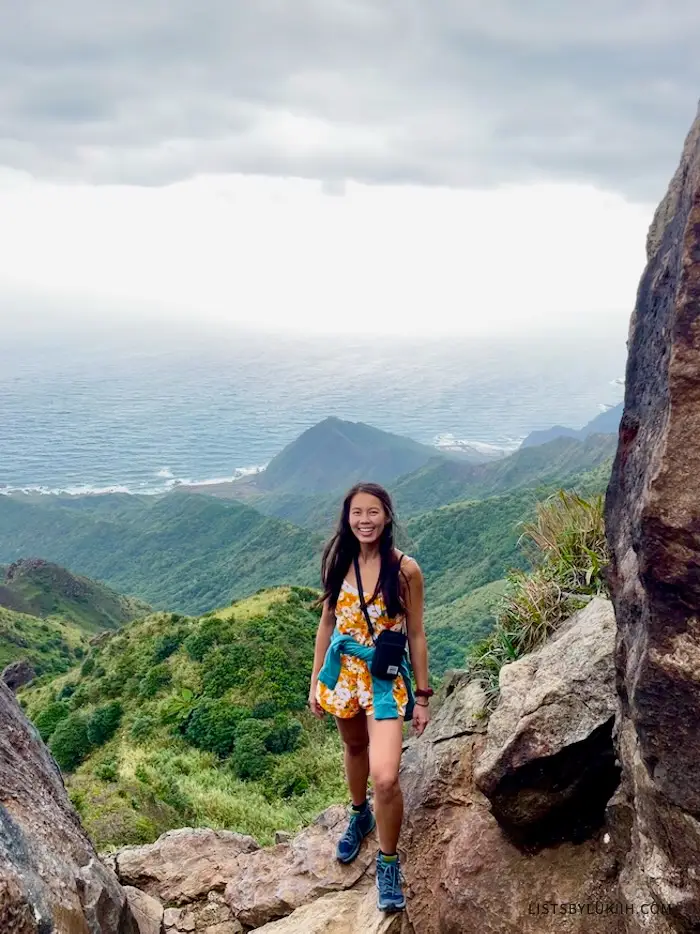 How To Get To Jiufen
You can get to Jiufen from Taipei in four different ways: by taking public transportation, calling a taxi/Uber, hiring a driver or booking a tour.
🚆 Public Transportation
There's no direct train from Taipei to Jiufen, so you'll need to take a direct bus or a combination of train and bus towards Ruifang Station.
Option 1: Direct Bus
The only direct bus from Taipei to Jiufen is bus 965. You can catch the 965 bus at MRT Beimen Station and it'll take you to a bus station that's a 7-minute walk from Jiufen Old Street.

The bus ride will take a little over an hour and costs $90 NT (~$2.95 USD) one-way.
Option 2: Train Then Bus
You can also take a train and then a bus to get to Jiufen from Taipei. There are several train and bus combinations you can take. Check Google Maps for the best combination to catch based on your departure or arrival time.

The train will always be a TRA train departing from Taipei Main Station and you can check the TRA train schedule here (type in "Taipei" as the departure station and "Ruifang" as the arrival station). After the train, you will have to transfer to a bus (e.g., the 1062, the 788). In total, this trip will take one hour to one hour and a half, and cost about $2 USD one-way.
During Taiwan's peak travel season, the 1062 bus can get very full and you might have to wait for up to 30 minutes to get on an available bus.
🚕 Taxi or Uber
The easiest way to get to Jiufen is by car, but it's not the cheapest.
You can take a 30 to 45-minute taxi or Uber from Taipei to Jiufen which will cost around $40 USD one-way. Note that there are organized tours, like this well-rated Jiufen tour, that take you to Jiufen for around the same price as taking a taxi or Uber.
All of the attractions in Jiufen are within walking distance, but the town also has nearby attractions that require a vehicle. If you want to visit attractions outside of Jiufen, prepare to take a taxi or Uber to get there.
🚗 Hire a Driver
You can also hire a private driver to take you from Taipei to Jiufen and these will cost around $50 USD one-way.
🚌 Organized Guided Tour
One of the most convenient ways to get to Jiufen from Taipei is to take a guided tour. This highly-rated private Jiufen tour not only stops in Old Street, but also at some of the nearby top attractions.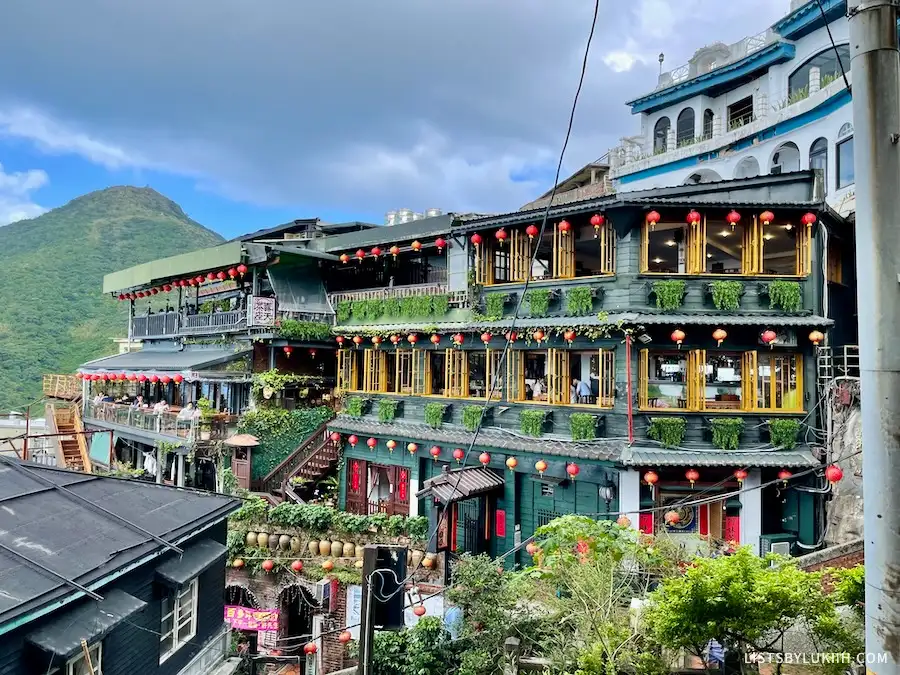 Jiufen Map with Recommended Places
This Taiwan map has all the Jiufen recommended places mentioned in the list below. It also has top attractions pinned for Taipei and Taroko Gorge.
Jiufen Day Trip Itinerary
Below is a great way to organize a Jiufen day trip from Taipei if you're doing it on your own and not through a Jiufen tour.
This day trip itinerary is the improved version of my Jiufen itinerary. I've included some of my actual timestamps to give you an idea of how long you might need for each activity and how to efficiently sequence things.
Jiufen Itinerary
The Taiwan trip planning template has this Jiufen itinerary prefilled.
If you want to see how a Jiufen day trip can fit into a Taipei itinerary, check out this Taiwan travel guide.
4 Great Things To Do in Jiufen
After spending a full day in Jiufen with a local friend, here are four great things I recommend doing in rough priority order.
Everything on this list is within walking distance once you're in Jiufen. Any activities or attractions that require a drive are listed further below under Jiufen's nearby attractions.
1. Walk around Jiufen Old Street
🤔 Why: Jiufen's main attraction is Old Street (also called Jishan Street), a winding, narrow street surrounded by shops and stalls serving traditional Taiwanese snacks.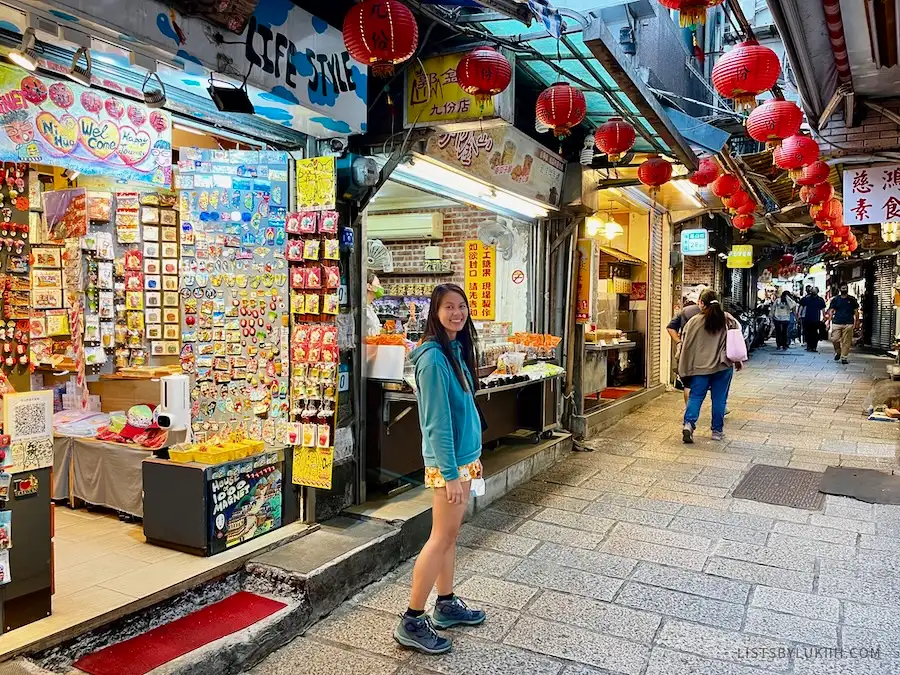 ✨ What to do there: A great way to explore Old Street is just to meander through it while eating, shopping, taking photos and enjoying the atmosphere. You can: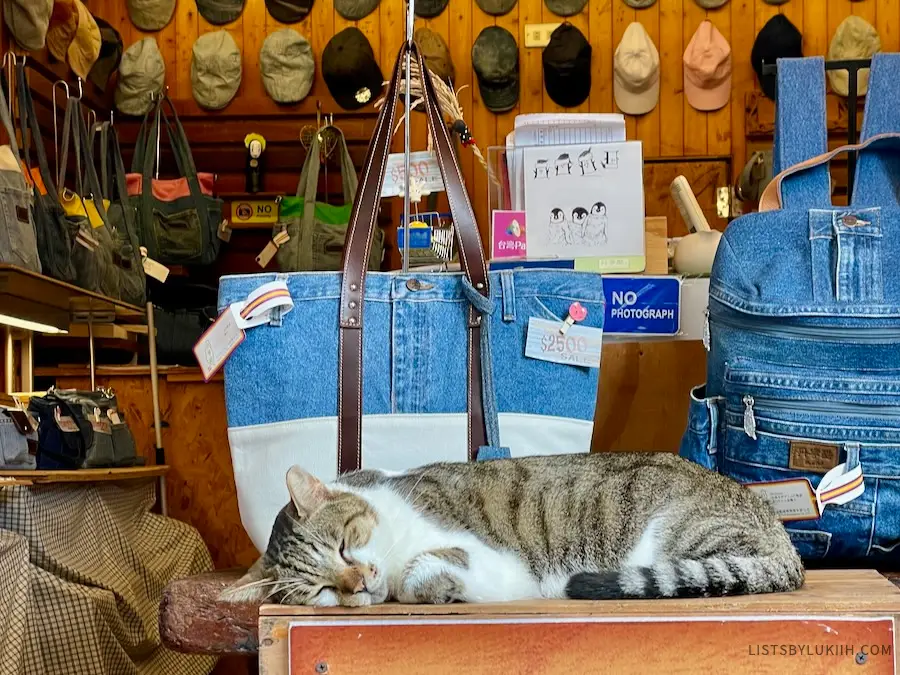 ⏰ Suggested duration: You can spend one to two hours walking around Old Street before you start running out of things to see. Without including the time I spent on lunch, I spent about an hour exploring Old Street.
💰 Expected cost: Jiufen Old Street does not have an entrance fee, but be ready to spend a few dollars shopping and eating your way through it. I spent less than $10 USD per person sampling five food stalls on Old Street.
Many attractions in Taiwan are free. This Taiwan travel guide outlines other free things to do in Taipei.
🍀 My take: Jiufen Old Street is small, but very lively and fun to walk through. The atmospheric street is almost worth the trip to Jiufen by itself.
2. Drink tea at a traditional teahouse
🤔 Why: One of the most iconic and aesthetic things to do in Jiufen is to have tea at a traditional teahouse. During this unique experience, you get to learn how tea is traditionally prepared and enjoy a tea set with snacks.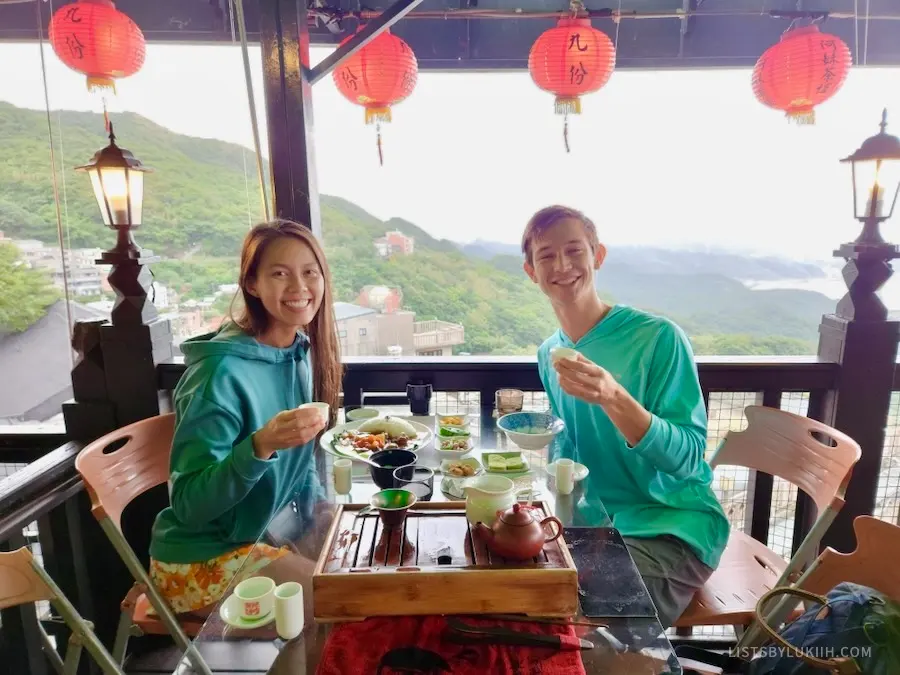 ✨ Where to visit: Jiufen's most famous tea houses are Amei Teahouse, which has an iconic terrace decorated with red lanterns, and Jiufen Teahouse, which has an ornate interior. Other tea houses in Jiufen include:
The wait at Amei Teahouse and Jiufen Teahouse can get very long on the weekends and during the peak travel season. They used to offer a tea set you can buy in advance to guarantee a timed entry, but that's no longer available.
⏰ Suggested duration: You can expect to spend an hour eating and drinking at a Jiufen teahouse. I stayed at Amei Teahouse for almost exactly an hour for lunch and tea.
💰 Expected cost: You can expect to spend $10 to $20 USD for a tea set experience in one of Jiufen's tea houses. I spent $19 USD per person at Amei Teahouse, which included a tea set as well as lunch.
🍀 My take: The tea experience at Amei Teahouse wasn't as elaborate as I expected, but it was still extremely fun to experience it. The views from Amei Teahouse's terrace were excellent as I was sitting towards the outer area.
3. Sample Taiwanese street foods and snacks
🤔 Why: Jiufen Old Street is lined with vendors that sell all sorts of Taiwanese street food, snacks and desserts. You won't be able to find some of these Jiufen foods at the night markets in Taipei.
🍚 What to try: Here are six famous, traditional food and snacks to try in Jiufen Old Street:
Almond tofu pudding. A popular dessert that's mildly sweet, almond tofu pudding was my favorite snack I tried in Old Street. I decided to get it with boba and brown sugar, but you can get it with fruit toppings instead.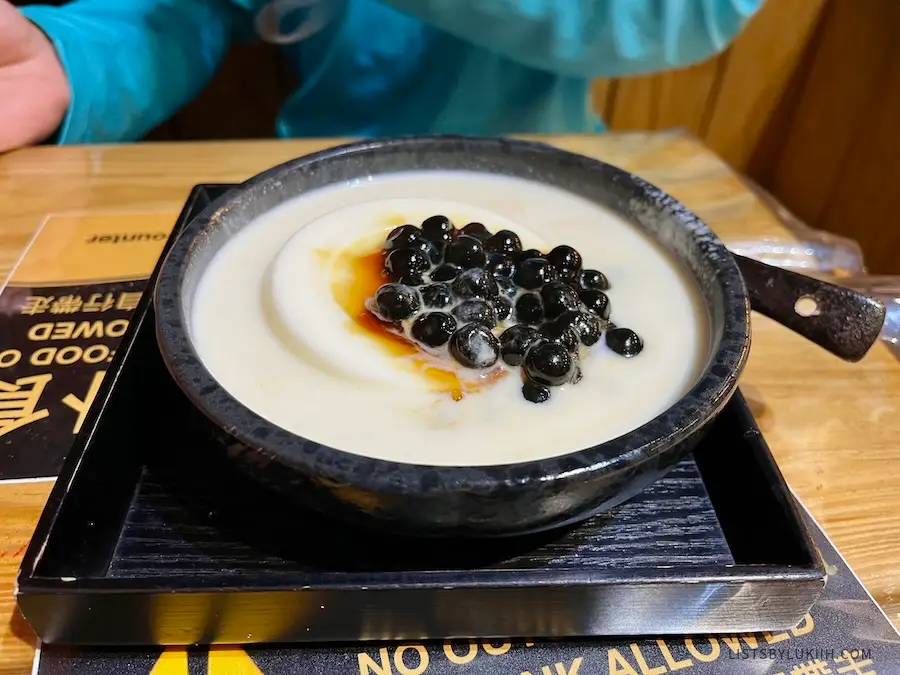 Glutinous rice cake. One of the most unique snacks to try in Jiufen is glutinous rice cakes, which are little patties that have a mochi-like texture on the outside and savory or sweet fillings inside. The savory ones were interesting to me, but too gingery for my preference.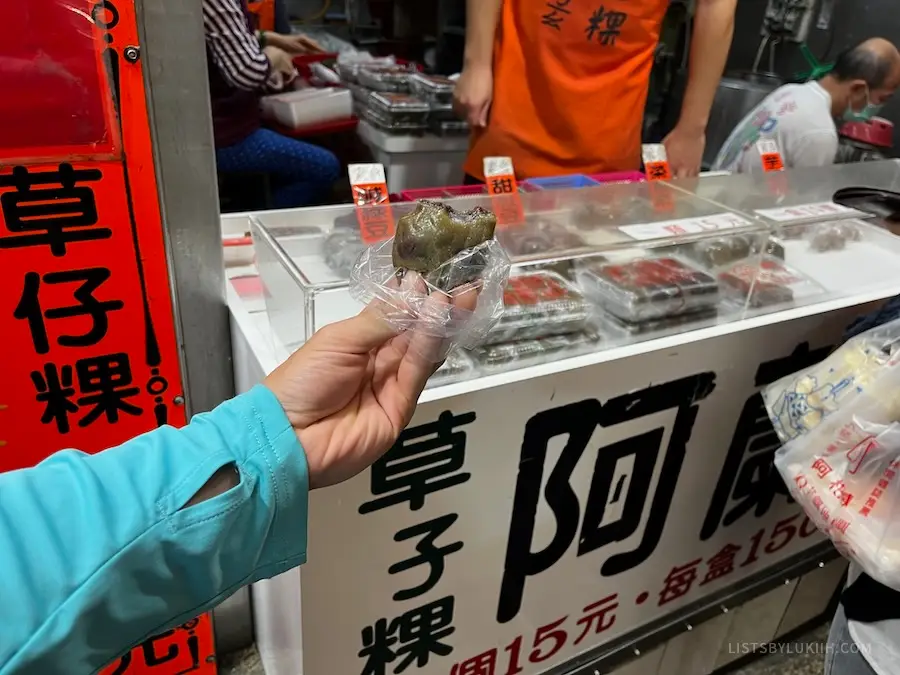 Taiwanese sausage. These sausages are usually served on a stick and have a chewier texture and sweeter taste than other types of sausages. Eating Taiwanese sausages was a good break from eating all the other sweet desserts.
White radish cake. These radish or turnip cakes are sliced and served with shallots and sweet soy sauce. I found the texture and taste interesting, but it wasn't my favorite.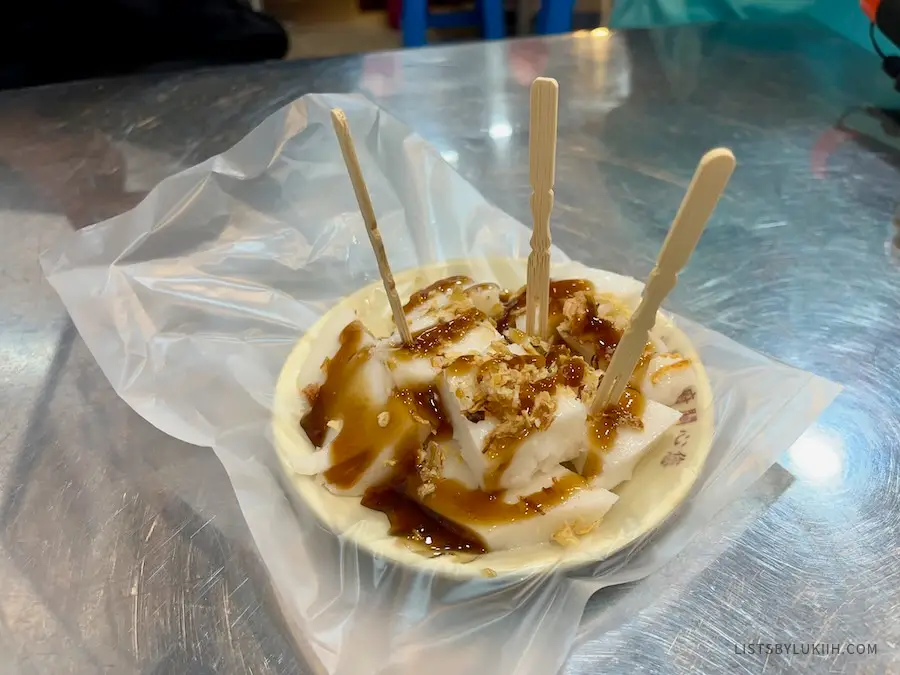 Peanut ice cream roll. Peanut ice cream rolls, which consist of ice cream scoops served in a crepe and topped with candied peanut shavings, are one of Jiufen's most popular snacks.
Taro ball soup. Taro balls, which are small, chewy balls often made out of sweet potato, can be found in several markets in Taiwan, but Jiufen's taro balls are the most famous ones.
💰 Expected cost: The majority of snacks in Jiufen Old Street will cost $30 to $60 NT (~$1 to $3 USD). I spent less than $10 USD per person trying five snacks and getting a rice bowl.
🍀 My take: Jiufen Old Street has an overwhelming number of snack options to try. It makes sense to prioritize eating one to two of the famous ones, but given the low prices, I also recommend going on a tasting adventure and trying multiple things that pique your interest.
4. Hike the Keelung Mountain Trail
🤔 Why: For a view of Jiufen and even Taipei on clear days, you can hike the Keelung Mountain Trail located about a 5-minute walk from Old Street.
⏰ Suggested duration: The Keelung Mountain Trail is beginner-friendly, but steep and takes about an hour to complete.
💰 Expected cost: Free, the Keelung Mountain Trail does not have an entrance fee.
🍀 My take: The Keelung Mountain Trail gives you similar views to the Teapot Mountain hike, so I did the latter instead because it has a rock scramble. Keelung Mountain is a better option if you want a shorter and closer hike.
For more hikes and natures, consider visiting Taroko Gorge, one of Taiwan's top natural attractions.
5 Jiufen's Nearby Attractions
Jiufen's town is small and you might want to do other things after four hours there. Here are five famous attractions near Jiufen that you can visit in rough priority order.
Everything listed here will require a short drive from Jiufen unless you're willing to walk for more than 30 minutes between them. One of my friends walked between Golden Waterfall, Teapot Mountain and Jiufen, and said he wouldn't recommend it because it's unpleasant and takes up too much time for a day trip.
1. Hike Teapot Mountain for amazing views
🤔 Why: Teapot Mountain has breathtaking coastal views of Jiufen and a fun, optional rock scramble at the top.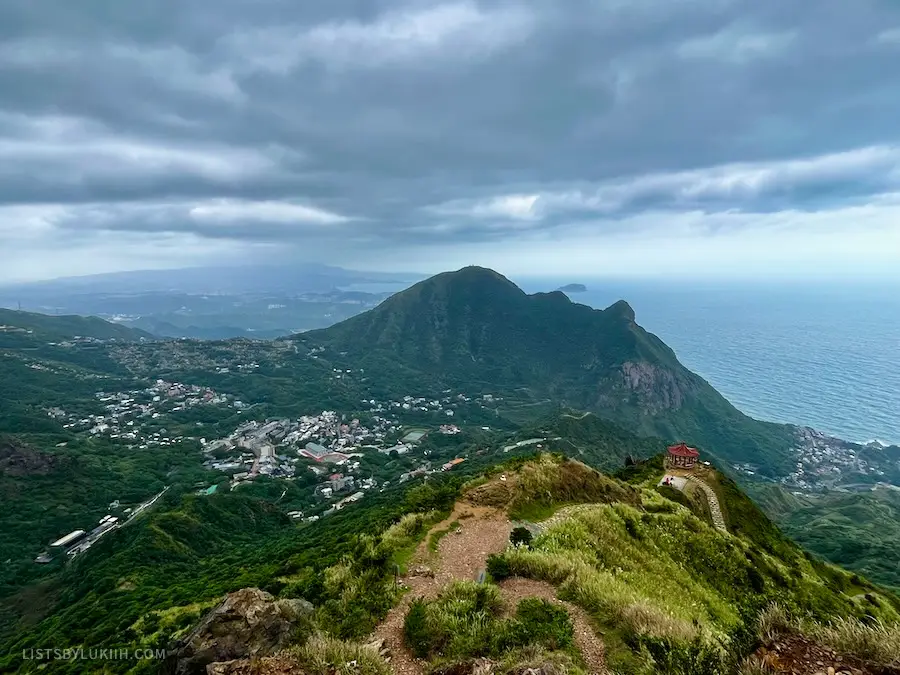 🚗 Getting there: You can start the Teapot Mountain Trail at its trailhead here or from the Gold Museum.
⏰ Suggested duration: Teapot Mountain is 2.2 miles long and takes a little less than two hours to complete.
💰 Expected cost: There is no entrance fee to access Teapot Mountain, but the Quan Ji Tang parking lot near the trailhead costs $3 USD per vehicle.
The parking lot has a vending machine where you can buy Asian sports drinks for less than $1 USD. I highly recommend getting FIN or Pocari Sweat, which are refreshing and less sugary than Gatorade.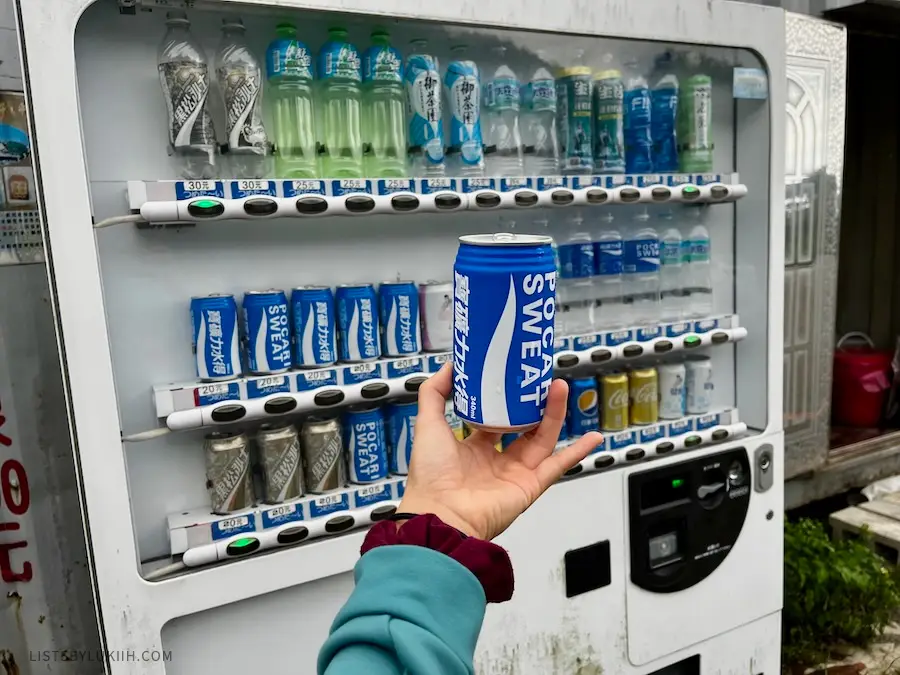 🍀 My take: Teapot Mountain was my stop before Jiufen Old Street and hiking it was a great experience right before my tea and lunch experience at a Jiufen teahouse. The rock scramble was incredibly fun and the beautiful scenery is well worth the hike.
For more hikes and natures, consider visiting Taroko Gorge, one of Taiwan's top natural attractions.
2. Make a quick stop at the Golden Waterfall
🤔 Why: The Golden Waterfall is a waterfall near Jiufen with a distinct, natural golden coloring from all the minerals in the water and soil. It's a popular place for a quick stop.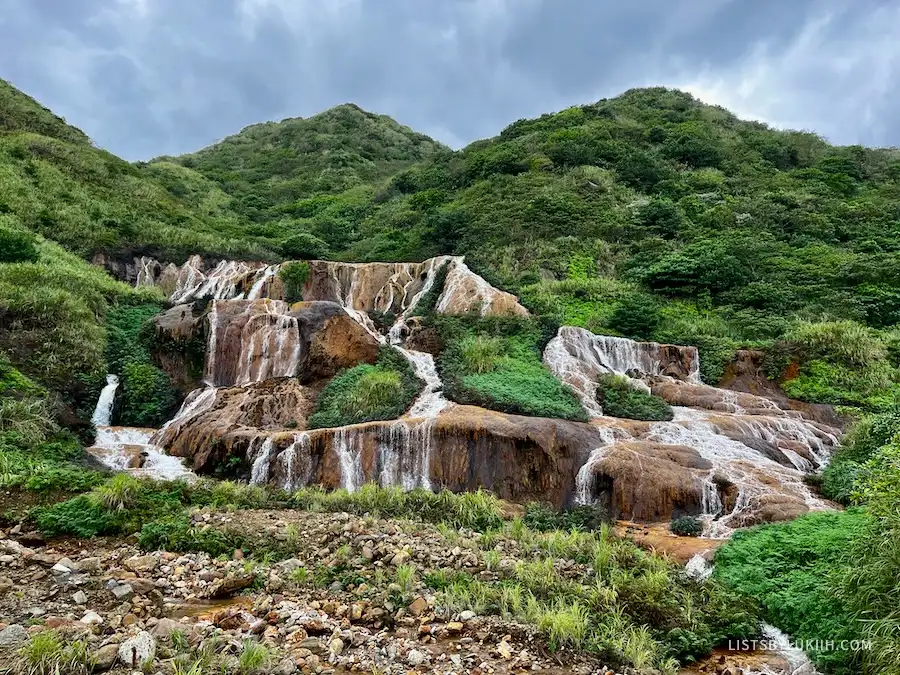 🚗 Getting there: The Golden Waterfall is a 10-minute drive from Jiufen Old Street. You can take a taxi there or get there via an organized tour. Highly-rated Jiufen tours like this one will often include the Golden Waterfall as a quick stop.
⏰ Suggested duration: There's not much else around the Golden Waterfall beside the waterfall, so expect to do a quick 10 to 15-minute stop to look at it.
💰 Expected cost: Free; the Golden Waterfall has no parking or entrance fee.
🍀 My take: Golden Waterfall is a nice, quick stop if your transportation is easy or cheap. I wouldn't necessarily recommend it if you have to go out of your way to see it.
3. Visit the Gold Museum for some history
🤔 Why: The Gold Museum is the main attraction of Jinguashi, a former mining town near Jiufen that developed during a gold rush. You can learn about the town's notable historic mines while being surrounded by lush, green trees at the museum.
🚗 Getting there: The Gold Museum is a 15-minute drive from Old Street. You can also walk to it from Old Street in a little over 30 minutes.
For a long hike, you can walk from Jiufen to Gold Museum to start the Teapot Mountain Trail hike from there.
⏰ Suggested duration: You can spend one to two hours at the Gold Museum visiting about eight of its different sections.
💰 Expected cost: The entrance fee to the Gold Museum is $80 NT (~$2.61 USD).
🍀 My take: I didn't make it to the Gold Museum during my Jiufen trip. I would have prioritized it had I wanted to hike Teapot Mountain later in the day since there's a trailhead there. I hear it's a great place to be indoors after a hot day in Jiufen in the summer.
4. Visit Shifen Waterfall
🤔 Why: Shifen Waterfall, a scenic ledge waterfall located in Pingxi District, is a popular tourist attraction. Once there, you can walk around, buy snacks, look at souvenir shops, and admire the waterfall from a distance. Shifen Waterfall is a 15-minute walk from Shifen Old Street, which has small shops and is known for sky lanterns.
🚗 Getting there: Shifen Waterfall is a 30-minute drive and a one-hour bus/train ride south of Jiufen. Organized tours, like this highly-rated one that also stops in Jiufen, will often include a tour of Jiufen, Shifen Waterfall and Golden Waterfall.
⏰ Suggested duration: You can spend an hour walking the entire park area around Shifen Waterfall.
💰 Expected cost: Shifen Waterfall doesn't have an entrance fee, but you'll have to pay a little over $1 USD for parking if you go by car.
🍀 My take: Shifen Waterfall looks more scenic and epic than Golden Waterfall, but it's significantly farther away from Jiufen, so it'll be harder to fit into a day trip, especially if you choose to prioritize hiking Teapot Mountain, which is what I did.
5. Feed cats at Houtong Cat Village
🤔 Why: Houtong Cat Village is a small, quiet village that is known for its large population of stray cats. You'll see a few cats in Jiufen Old Street, but you'll be surrounded by them in Houtong Cat Village.
🚗 Getting there: Houtong Cat Village is a 15-minute drive or 30-minute bus/train ride from Jiufen.
⏰ Suggested duration: You can spend an hour or two walking around Houtong Cat Village.
💰 Expected cost: Free; Houtong Cat Village does not have an entrance fee.
🍀 My take: Houtong Cat Village is small and quiet, so there's not much else to do there. It's a great place to go to if you want to explore a less touristy side of the Ruifang District, but it doesn't seem like it's worth the transportation time unless you love cats.
Taiwan Trip Planning Template
To make your travel planning easier, download the trip planning template below and use it as a starting point. The template has country-specific travel information as well as an itinerary, packing list and map with recommended places pinned.
The template is built on Notion, which is what I use for all my travel planning (I'm not paid to say this; I just like the tool). If you don't have Notion, creating an account is free.
If you have any questions or thoughts, feel free to leave them in the comments below.
🧋 This site is run entirely by me, Lukiih. I spend hours writing each article to ensure its accuracy and conciseness. If you find my site helpful, you can say thanks by buying me bubble tea!