Taiwan is an island country where locals and visitors have easy access to beautiful nature. Taroko Gorge, the hallmark of Taroko National Park, is one of Taiwan's top natural attractions and an accessible day trip from the capital, Taipei. At the national park, you'll see sky-blue water, marble mountains, shrines, waterfalls, plunging canyons and more.
Here, I share practical tips on how to get to Taroko Gorge, what its top attractions are, what a day trip looks like and what to wear when visiting it.
Disclosure: This post contains affiliate links. If you make a purchase through them, I may earn a small commission, at no extra cost to you. Thanks for your support!
Taroko Gorge at a Glance
Here is some general information on Taroko National Park:
📍Location: Located on the east side of Taiwan, Taroko National Park is near Hualien City. Most people visiting Taroko Gorge either travel from Taipei or Hualien City.
From Taipei, you'll have to travel ~90 miles (approximately 2.5 hours on the train) southeast to the national park. See below for details on how to get to Taroko Gorge from Taipei.
From Hualien City, Taroko Gorge is ~15 miles north (about a 30 minute drive).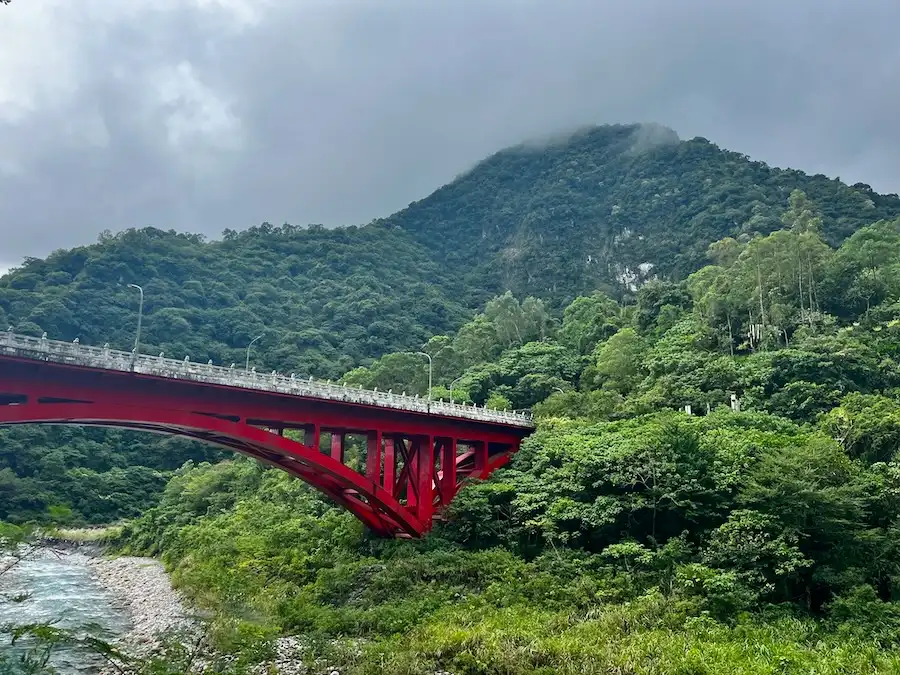 🕜 Hours of operation: According to Taroko National Park's official site, the park is "open to the public at all times and all days of the year".
⏳ How long to visit: Taroko National Park has over a dozen attractions and is 26 miles wide, so you can do a full-day trip to visit its top attractions or you can stay for 2-3 days to deeply explore the park and do a few hikes. In this post, I will focus on how to do a day trip in Taroko Gorge.
💰 Cost: Taroko National Park doesn't have an entrance fee, so it's free. The only exception is Zhuilu Old Trail, a narrow trail with limited edge protection, which has a 100 NT (~$3.33) fee.
If you visit Taroko Gorge with a tour group, expect to pay ~$100 for a full-day tour especially if you want it to be English-speaking. Multi-day tours are also available for $250+.
A lot of attractions in Taiwan are free and have no entrance fee. This Taiwan cost breakdown outlines all my trip's expenses.
How To Get To and Visit Taroko Gorge
There are several ways to get to and explore Taroko Gorge, including by car, train, cycling, bus and tour. There's a mountain highway (yellow line in the map below) that runs east-west across the national park and each trail and attraction is located near the highway.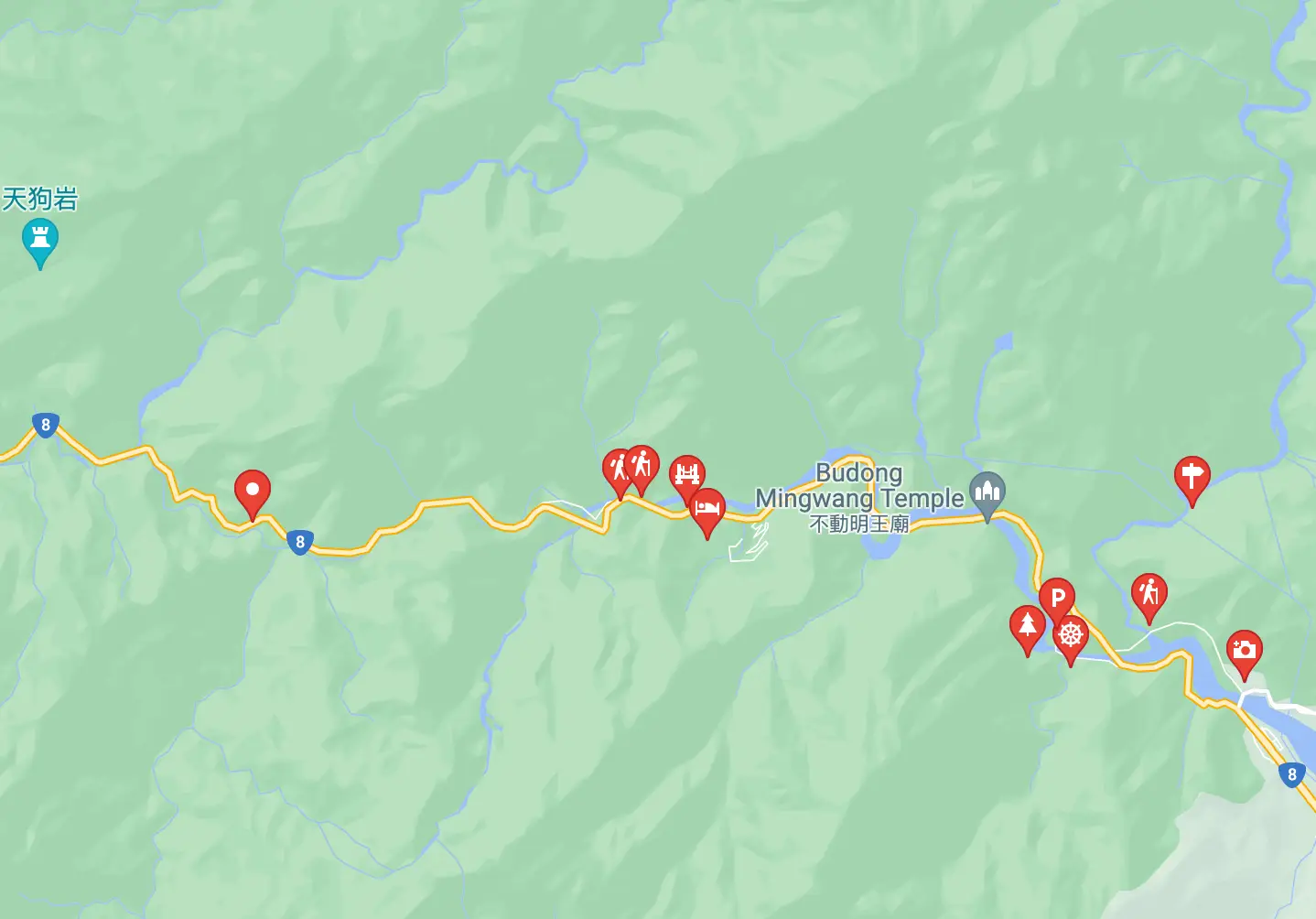 From Taipei
To get to Taroko National Park from Taipei, you can:
Take a tour that leaves from Taipei. All Taipei Taroko Gorge tours will include round-trip transportation. Tour groups will either provide a private vehicle to drive you (like this tour) or take care of train tickets for you (like this tour).
Since it takes ~2.5 hours to travel one way, Taroko Gorge tours from Taipei usually have very early pickup times, around 5:30am or 6:30am.
Take the train down to Hualien City and go from there. The quickest and most convenient way to get to Taroko Gorge from Taipei is by taking a train down to Hualien City and then doing a tour from there. Here's how to take the train:

Which train to take: The fastest trains to Hualien City are the Taroko Express and Puyuma Express, which cost 440 NT (~$14.60) per trip. These trains will take you to Hualien City in under 2.5 hours whereas the other trains will take 3-4 hours. You can see the train schedules on Taiwan Railway's site.

Purchasing train tickets through a Taiwanese mobile app (iOS, Android): This is the most convenient way to get a ticket online since the train's website is confusing and doesn't let you claim the ticket.

Booking a ticket only reserves it, so you need to claim it as well. If you don't claim your ticket (whether in person or digitally) within 20 minutes of departure time, they can give it to someone else.
Once you download the app and get through the small annoyance of figuring out how to turn on "English mode", booking and claiming your ticket through the app is easy.
If your booking has multiple tickets, each rider will have to download the app to claim their specific ticket.

Purchasing train tickets in person: If you don't want to deal with the potentially confusing mobile app, you can also purchase the train tickets in person. Some Hualien train times are very popular and need to be booked in advance. When I booked a train to Hualien a week in advance, some of the afternoon departures were already sold out.
Most trains will depart from the Taipei Main Station. Google Maps has several "Taipei Main Stations" depending on whether you're catching a train, bus or the MRT. Double check the "Subway services" section of the location on Google Maps to make sure it is the right place.
It's feasible to do a one-day trip to Taroko Gorge from Taipei, but since it takes 5 hours round-trip to get there, I suggest spending a night exploring nearby Hualien City.

This will allow you to have more time flexibility (where you don't have to wake up at 5am and get back to Taipei at 7pm) and explore Hualien's night market, which was my favorite Taiwan night market when I visited.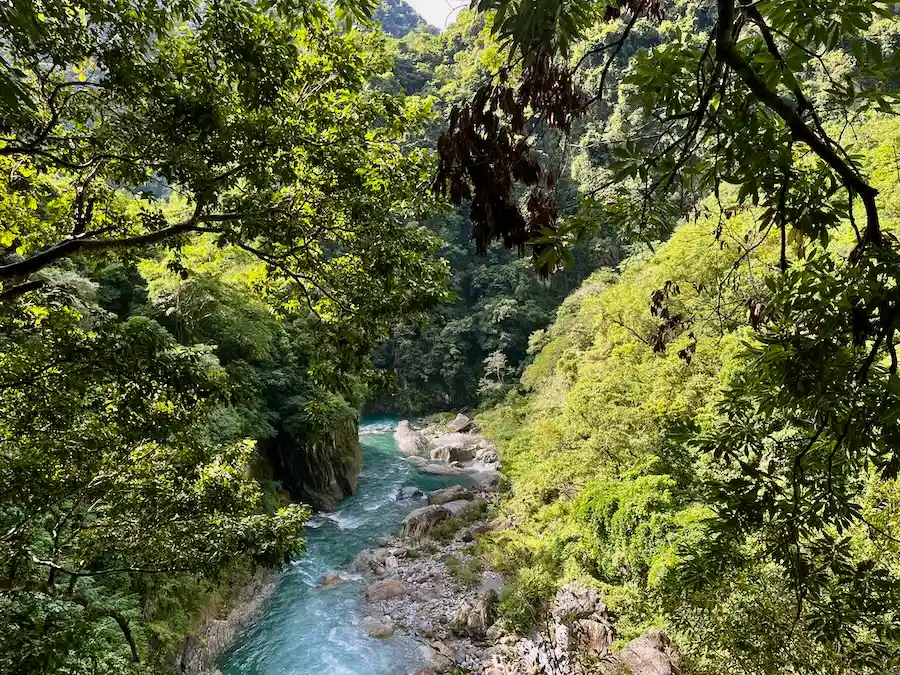 From Hualien City
Once you're in Hualien City, Taroko Gorge's entrance is a 30-minute drive away, and you can get there and explore it in several ways:
By car or motorbike rental. Renting a car or motorbike to drive to and through Taroko Gorge on your own will give you the most flexibility. However, you must have an IDP (International Driver's Permit) to drive in Taiwan legally. Once you're in the park, you'll need to navigate to the different attractions on your own.
Navigating through Taroko Gorge is not difficult as most attractions are on a main road, Zhongbu Cross-island Highway. However, parking can be difficult (some points of attractions do not have sufficient parking when it's crowded). You should also be aware of any road closures and research the best times to visit each attraction.
By hiring a driver. If you can't or don't want to drive/navigate, you can hire a driver to take you to the different attractions in Taroko Gorge. This option will also give you some flexibility. A driver will have basic knowledge of the park, but will not give you an in-depth tour of it.
By bus. For the most affordable, but inconvenient option, you can also explore Taroko Park by a tourist shuttle bus. The bus you want is the 1133A bus and it costs 250 NT (~$8.30) for a full-day pass. You'll need to look up bus stop locations and the bus timetable to make sure you can visit all the attractions within a reasonable time (the bus doesn't come that frequently).
By cycling. For those who are more adventurous, you can get to and explore Taroko Gorge by renting a bike and cycling through the park. It's best to cycle through the park when it's less crowded (not during any holidays or the weekends) as some roads are fairly narrow and you'll need to share them with vehicles.
By hiring a guide. The most convenient way to get to and see Taraoko Gorge is through a tour. They'll pick you up at your accommodation or Hualien train station and all you need to do is follow a guide with very little planning. You also get to learn a lot more about the park. I did my tour through Island Life Taiwan and highly recommend my tour guide, Iris, who was knowledgable (she knew how to avoid the crowds), energetic and entertaining.
Top 3 Attractions in Taroko Gorge
Taroko Gorge has over a dozen attractions and things to do, including waterfalls, trail hikes and shrines. I visited over a half of them and researched all of them, and here are the top 3 attractions based on reviews and my personal experience.
This Google Map has all the Taroko Gorge locations mentioned on this list.
1. Hike the Shakadang Trail
Why: The Shakadang Trail is a crowd favorite where you hike an easy, paved path for about 3 miles. Almost the entire way, you will get to see stunning, sky-blue water flowing through rivers. You'll see some wildlife, crouch below low tunnels and get some beautiful nature views.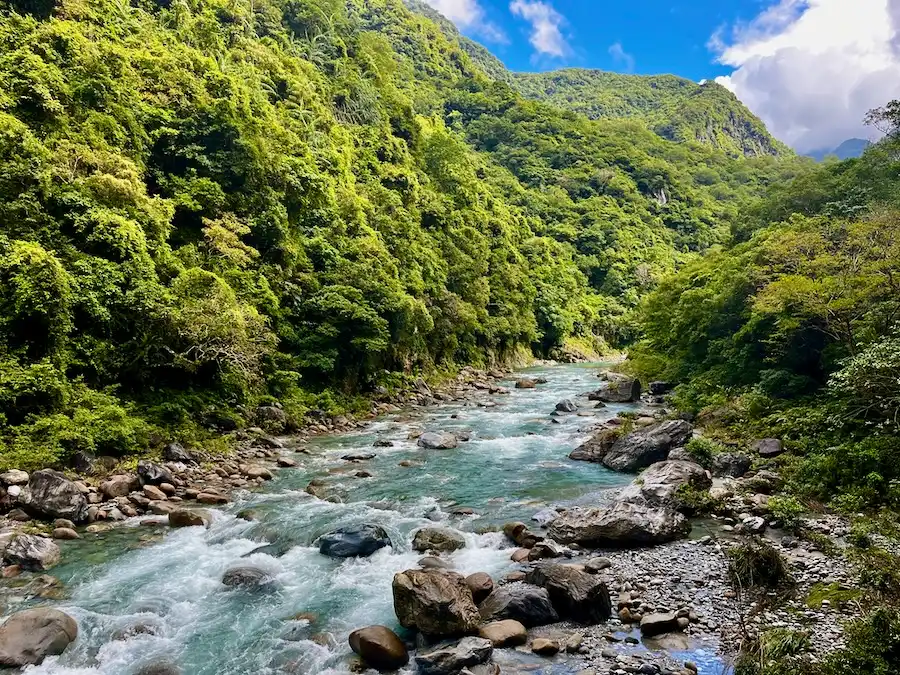 About a mile into the trail, you'll come across Trukku people, the Taiwanese aboriginal people, selling beverages, snacks and gifts in a few small stalls. Make sure to bring some cash if you want to buy something and support them.
Location: The Shakadang Trail starts here, near the entrance of Taroko National Park.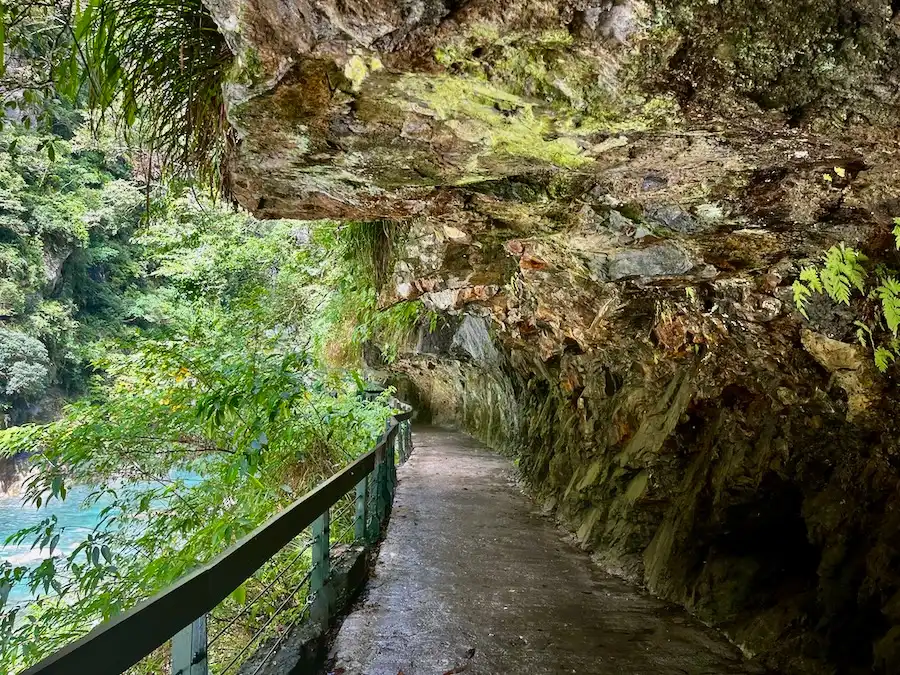 Duration: The Shakadang Trail takes approximately 2 hours to hike if you walk the entire 3 miles.
Being one of the most popular attractions in Tarako Gorge and closest to the entrance, Shakadang Trail can get extremely crowded so it's best to go as early as possible. We were on the trail by 9am and it was mostly empty, but Taiwan had just opened its border for tourism, so there were fewer tourists than usual.
2. Visit the Eternal Spring Shrine
Why: The Eternal Spring Shrine, another popular tourist stop, is a cluster of colorful shrines tucked into the mountain with a waterfall spewing out underneath. It was built to honor the 200+ workers who died while working on the highway in the early 1900s.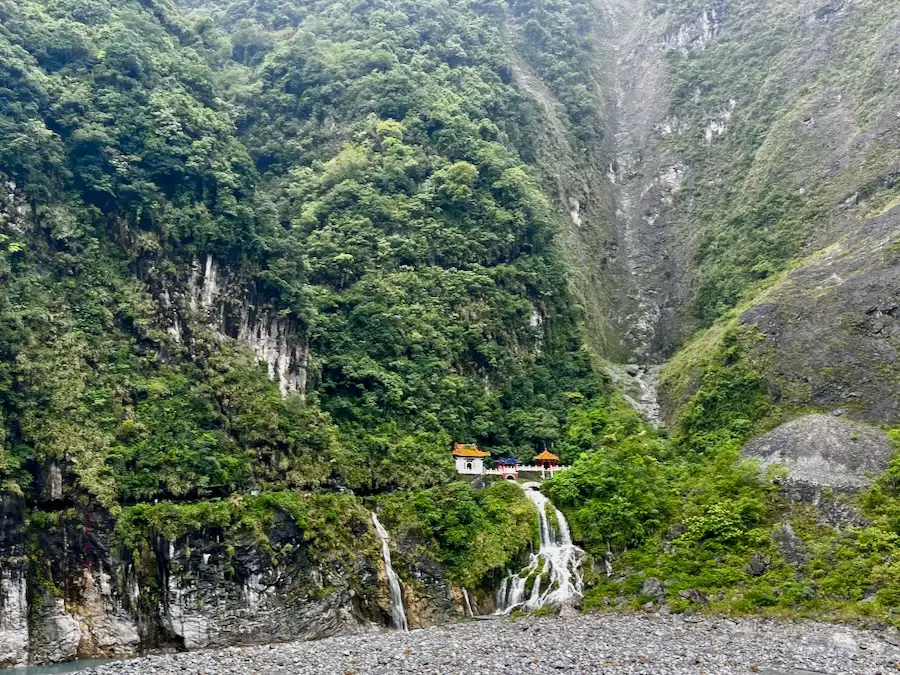 Location: You can see the Eternal Spring Shrine from the parking lot here, which is also where you can start the walk to the shrine after crossing a bridge and going into some tunnels.
Duration: If you take the tunnel to the Eternal Spring Shrine, you'll likely spend about 20 minutes walking and visiting it. If the tunnels are closed due to a landslide, you can spend 10 minutes looking at the surrounding area.
3. Walk the Buluowan Suspension Bridge
Why: The Buluowan Suspension Bridge is one of Taiwan's tallest bridges, but it leads to nowhere. It was built to give a beautiful panoramic view of the valley.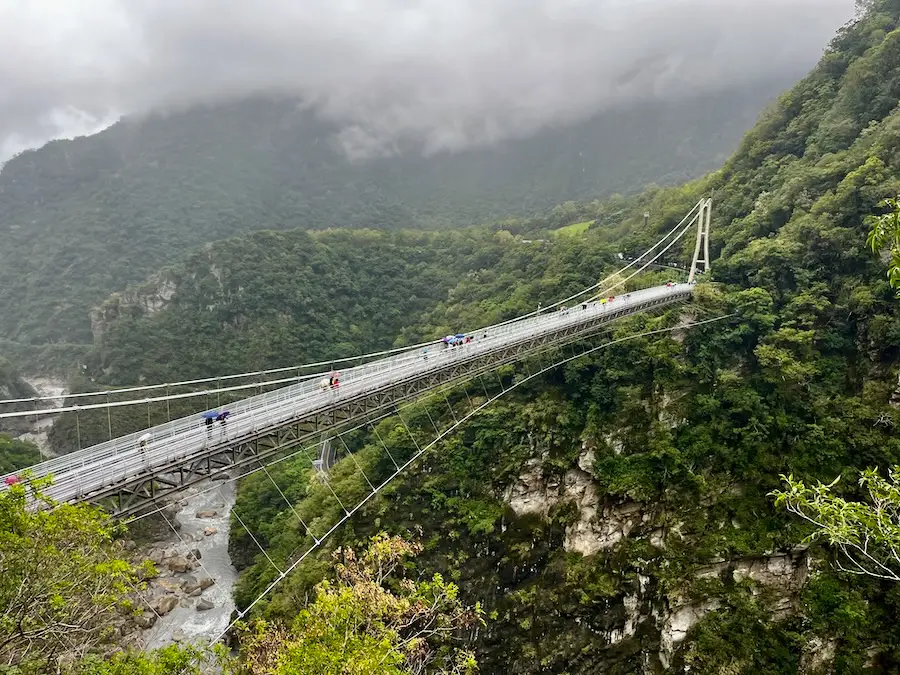 Location: To visit the Buluowan Suspension Bridge, you can park here and walk to the terrace before crossing the bridge.
Duration: You can expect to spend 20-30 minutes visiting and crossing the Buluowan Suspension Bridge.
7 Other Things To Do in Taroko Gorge
If you can spend an entire day or more at Taroko Gorge, here are 7 other things you can do there.
1. Swallow Grotto
Swallow Grotto is one of the narrowest parts of Taroko Gorge, with amazingly sheer cliffs. In this area, the marble cliffs have little holes that are popular nesting spots for swallows. Due to falling rocks, you're advised to wear a hard hat when visiting this area (the park provides them for free).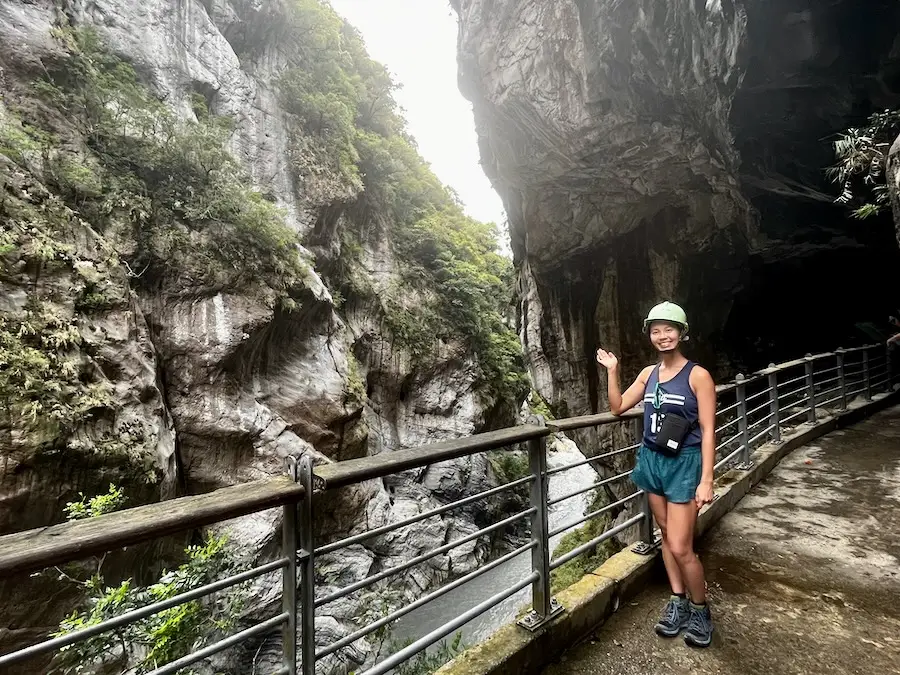 2. Lunch at Taroko Village Hotel
There are several restaurants you can eat at in Taroko Gorge and Tarako Village Hotel is one of the few where you can have a delicious, amazing aboriginal meal. My lunch was included as part of my tour package.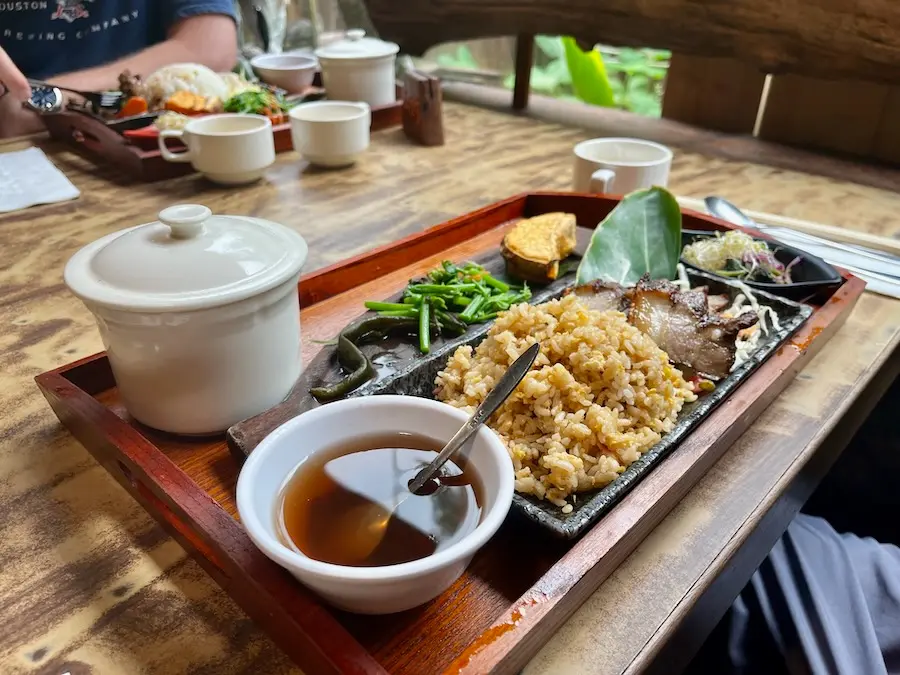 3. Zhuilu Old Trail
Zhuilu Old Trail is a narrow trail with limited edge protection next to a 1,500+ feet cliff drop. It's a difficult hike that takes hours and requires a permit. The number of visitors is also limited to ~100 per day (increases to ~150 a day on weekends). Had I known more about this trail, this would have been how I spent my second day in Taroko National Park.
4. Tunnel of Nine Turns
The Tunnel of Nine Turns is a well-maintained 30-minute walk featuring nine turns. It's a fairly scenic route, but also one that felt the most man-made.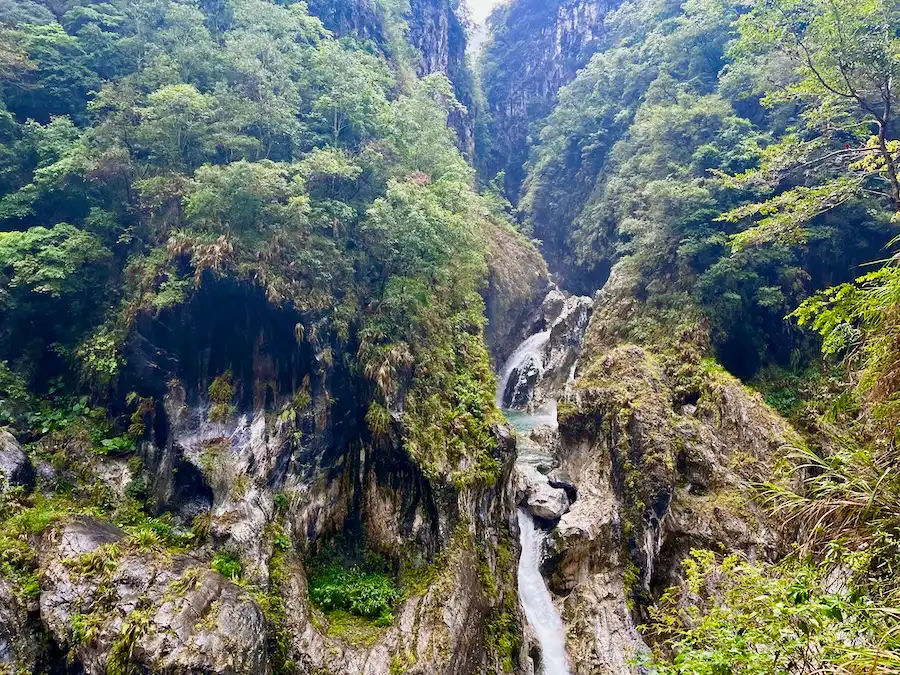 5. Changuang Temple
Changuang Temple is near Eternal Spring Shrine and can be barely seen from far away. You can visit the temple if you walk 15 more minutes from Eternal Spring Shrine.
6. Baiyang Trail and Falls
The Baiyang Trail is an easy hike that is less than an hour and features a waterfall, cliffs and tunnels. It's recommended that you bring a flashlight if you plan to visit it, as there are no lights in the tunnels.
7. Qixingtan Beach
Qixingtan Beach is not inside Taroko Gorge, but it's a good halfway stop between the national park and Hualien City. The beach is filled with gray and silver pebbles against a clear, blue ocean.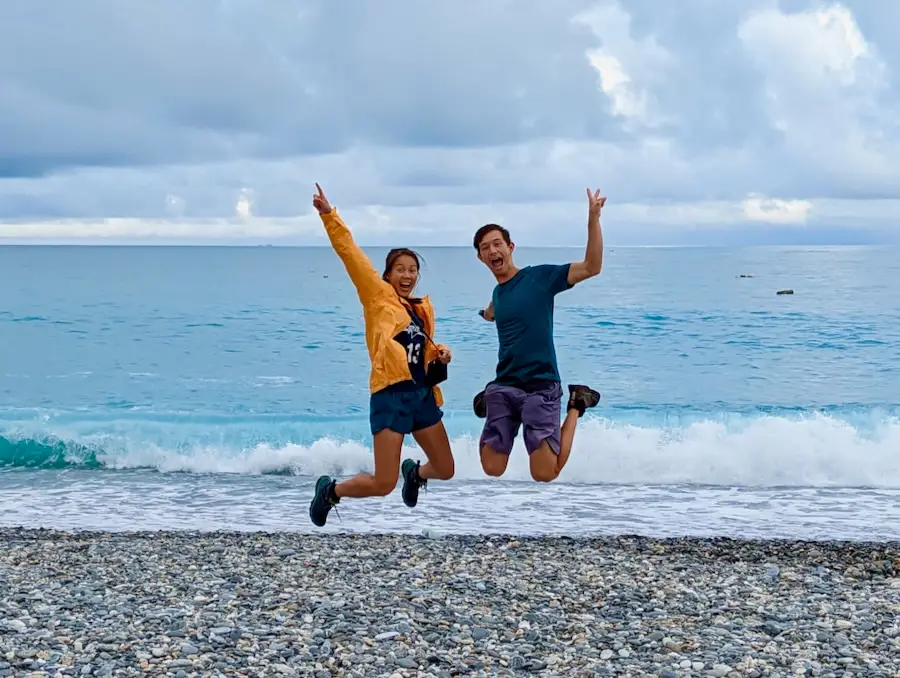 1-Day Taroko Gorge Itinerary
Below is how to spend a day trip in Taroko Gorge while doing all the top attractions mentioned above. I've included my actual timestamps to give you an idea of how long you might need for each activity and how to efficiently sequence them.
This itinerary also resembles a typical Taroko National Park day tour, so you can get an idea of what a day tour looks like.
Modifications to the Day Trip Itinerary
If you don't have to be back before 4pm to catch a train to Taipei, you can visit the Changuang Temple after Eternal Spring Shrine since they share the same parking lot.
If you don't have to be back before 4pm to catch a train to Taipei, you can head further west to hike the Baiyan Trail after the Tunnel of Nine Turns.
If you have a second day in Hualien City, I highly recommend visiting Hualien's night market. I would also consider doing more hikes in Taroko Gorge, including the Zhuilu Old Trail which requires advanced preparation.
This Taiwan travel guide has 10 great things to do in Taipei and general tips. It also includes a Notion trip template made specifically for Taiwan.
What To Pack and Wear When Visiting Taroko Gorge
Here's what to wear and pack when visiting Taroko Gorge.
Light rain jacket. Taroko Gorge has four seasons and it can rain all year around, with the wettest month being October and the driest month being December. When I visited in October, the day started dry, but rained in the afternoon, so I was glad I brought my rain jacket.
Umbrella (optional). Many other visitors brought umbrellas instead since the rain can be abrupt and hard. Some areas, like on the Buluowan Bridge, can get windy, so make sure to pack a windproof umbrella.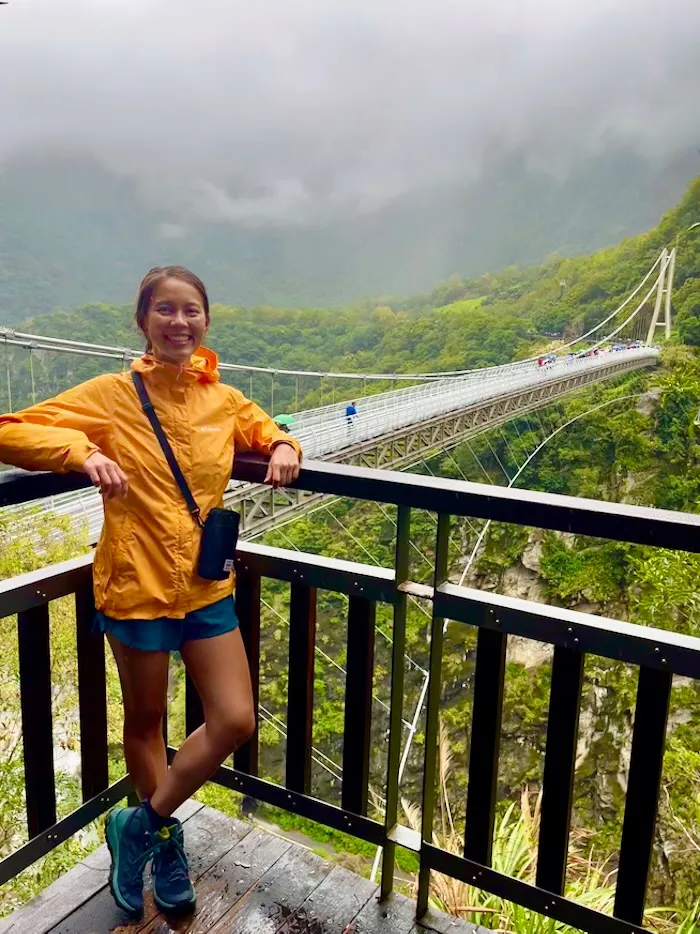 Running shoes or hiking shoes. The paths in Taroko National Park are well-maintained, so you can visit most of the park on just a pair of running shoes with some traction. I wore my hiking shoes, which I don't think was necessary for the terrain, but I was glad that they were waterproof.
Water. Most attractions in the park will not have water readily available, so bring some water. I brought my reusable water bottle that kept my water cold for hours, which is great since the weather is mostly humid and warm in Taroko Gorge.
Mosquito repellent. Taiwan has mosquitos that can spread dengue fever (you'll see signs in Taipei encouraging you to protect yourself), so you'll want to pack bug spray. I like to use this bug repellent lotion since I think it works better than the spray alternatives.
Flashlight (optional). If you plan to visit Baiyan Trail, bringing a flashlight is recommended since some tunnels don't have light.
Snacks. The park doesn't have food and snack stations readily available (and some of them run low on inventory), so you might also want to bring some snacks.
If you have any questions or thoughts, feel free to leave them in the comments below!